Friends do I have some gorgeous eye candy for you today!!  It's time for another Parade of Homes house tour and I know you're going to be blown away with the beautiful interiors of this home!  Let's take a look at this English Tudor house.
The English Tudor house is located inside the beltline in Raleigh, North Carolina.  If you're not from around here, that means it's in a prime location being within I-440.  If living close to downtown in an established area with access to night life, parks and nature trails and shopping and dining is important to you, all while being in walking distance to some of these amenities is important to you, then living in this area is worth the higher price tag.
With that being said, this home features 5 bedrooms, 4.5 bathrooms at 4,739 square feet and when I viewed it during Parade of Homes, it was listed at $1,699,900.
Grab a snack and your beverage of choice and let's take a tour of this stunning home!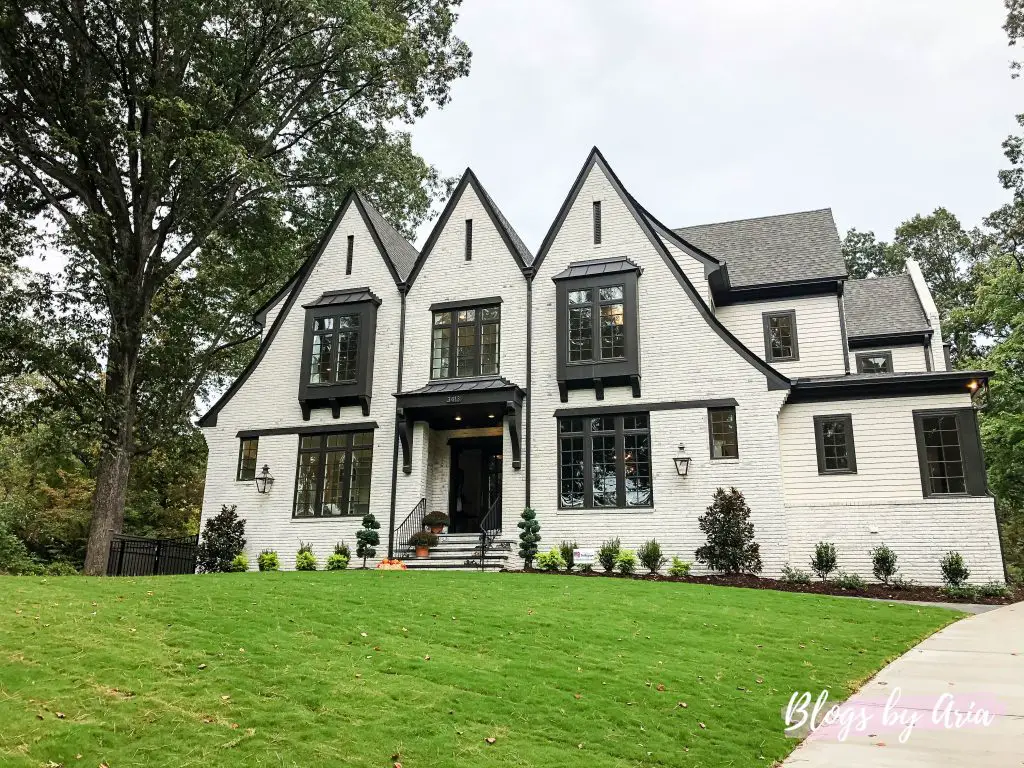 The style of this estate is called English arts and crafts design.  The steep pitched gables, white washed brick and dark trim make this home pop against the greenery surrounding it.  I'm seeing more and more of these English Tudor style homes in the Triangle and I must say…I'm here for it!
DINING ROOM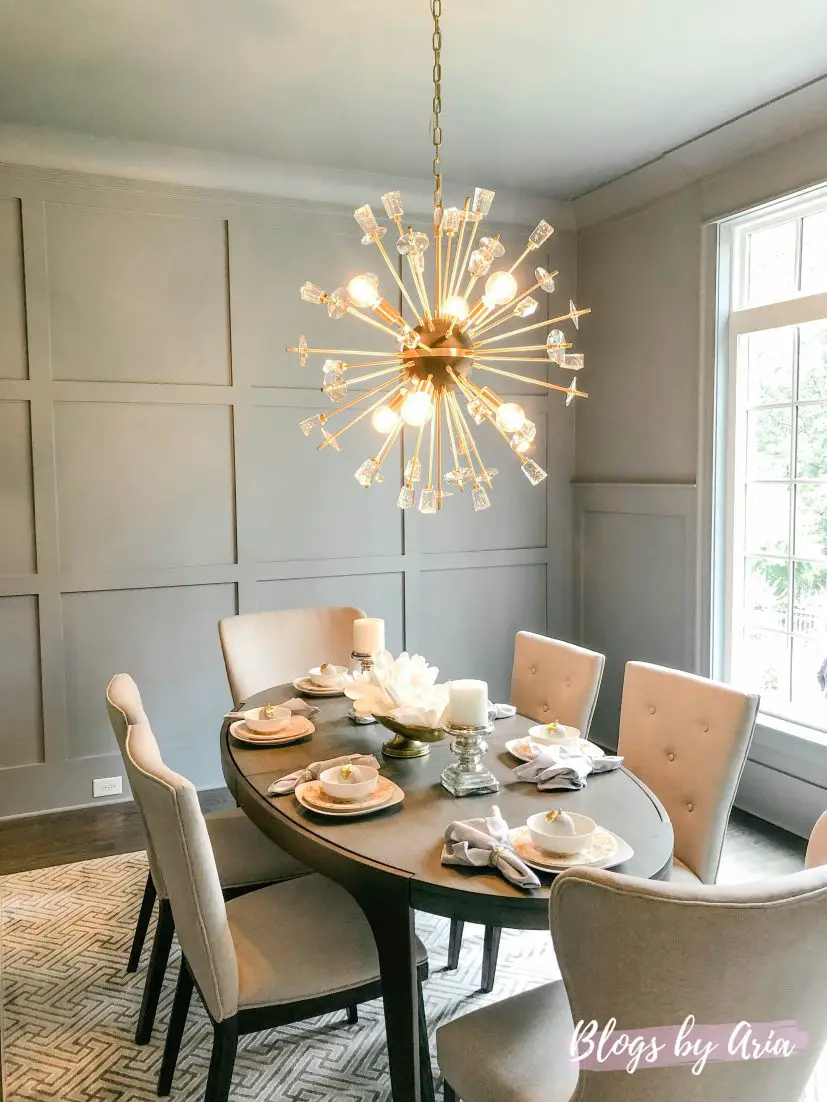 Right off the entry is the formal dining room.  Now when I saw this space I was in awe.  It has drama for sure!
Talk about drama!!!  This light fixture is stunning!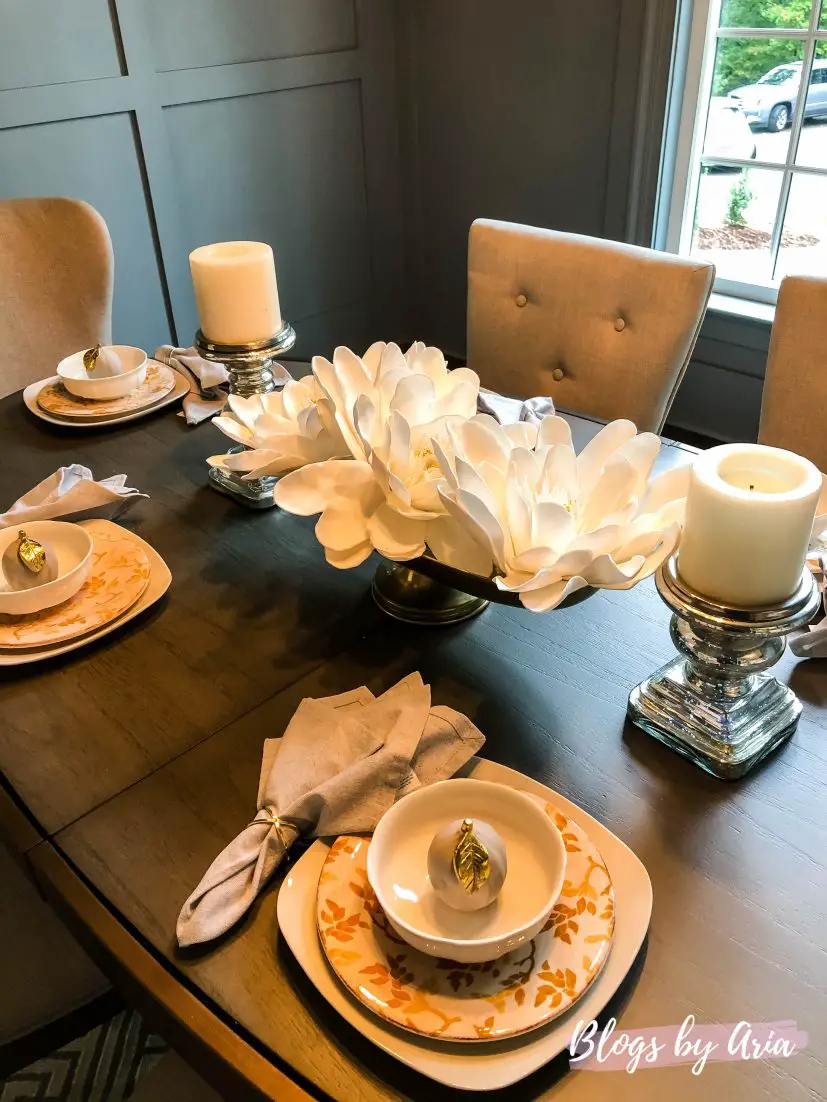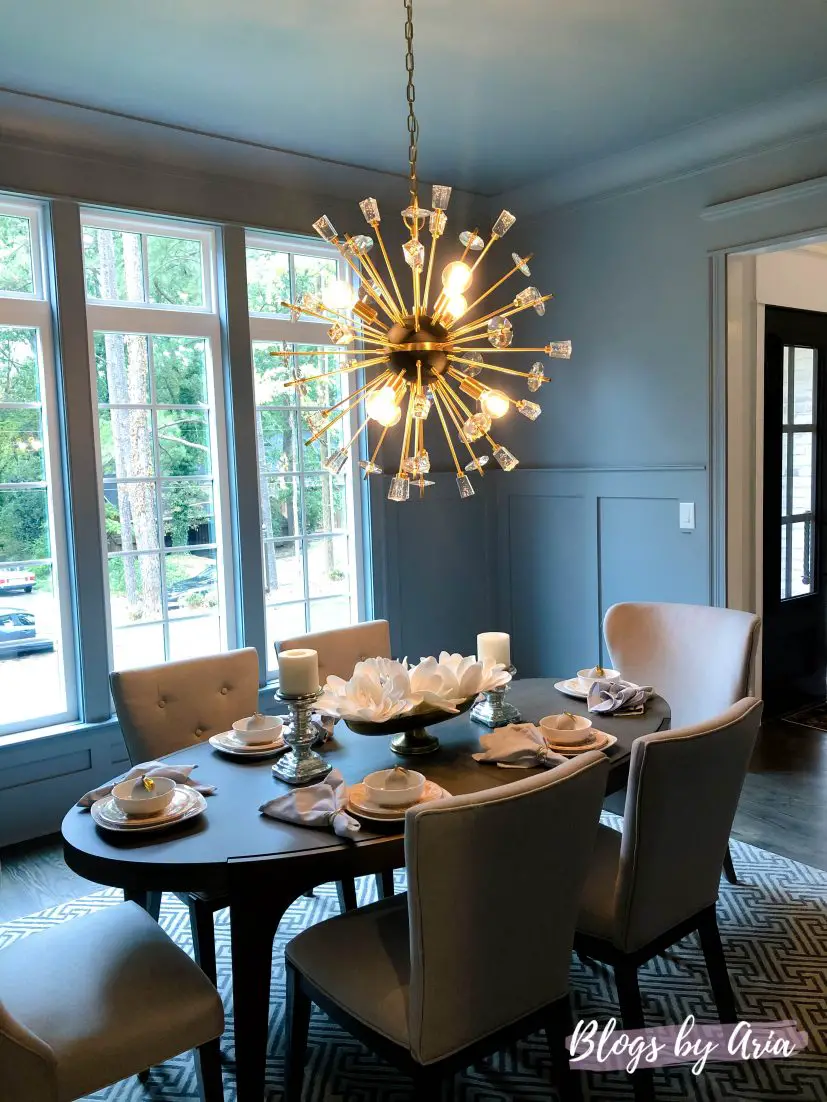 KITCHEN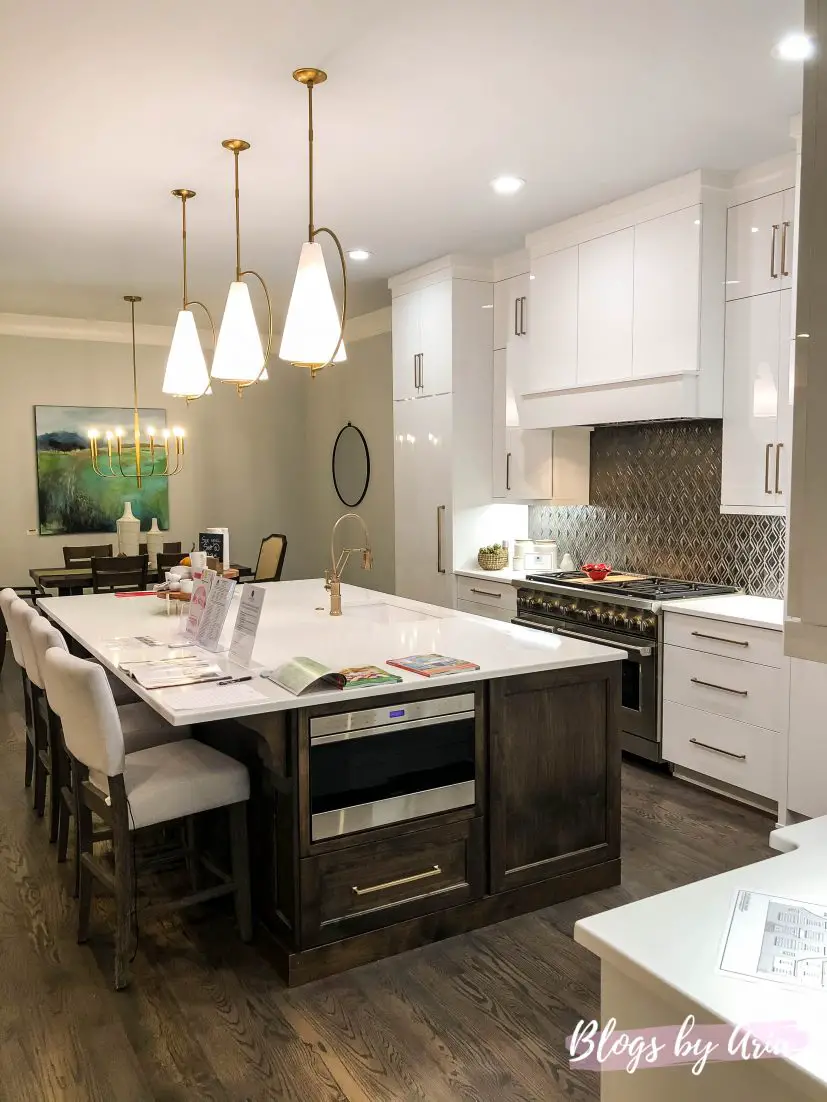 As you walk into the kitchen I think the first thing you may think is "bling bling!"  It's pretty shiny!  If a sleek, modern look is what you like then you'll love this kitchen.  I do love the layout and the storage in this kitchen, I would just change the finishes to suit my taste.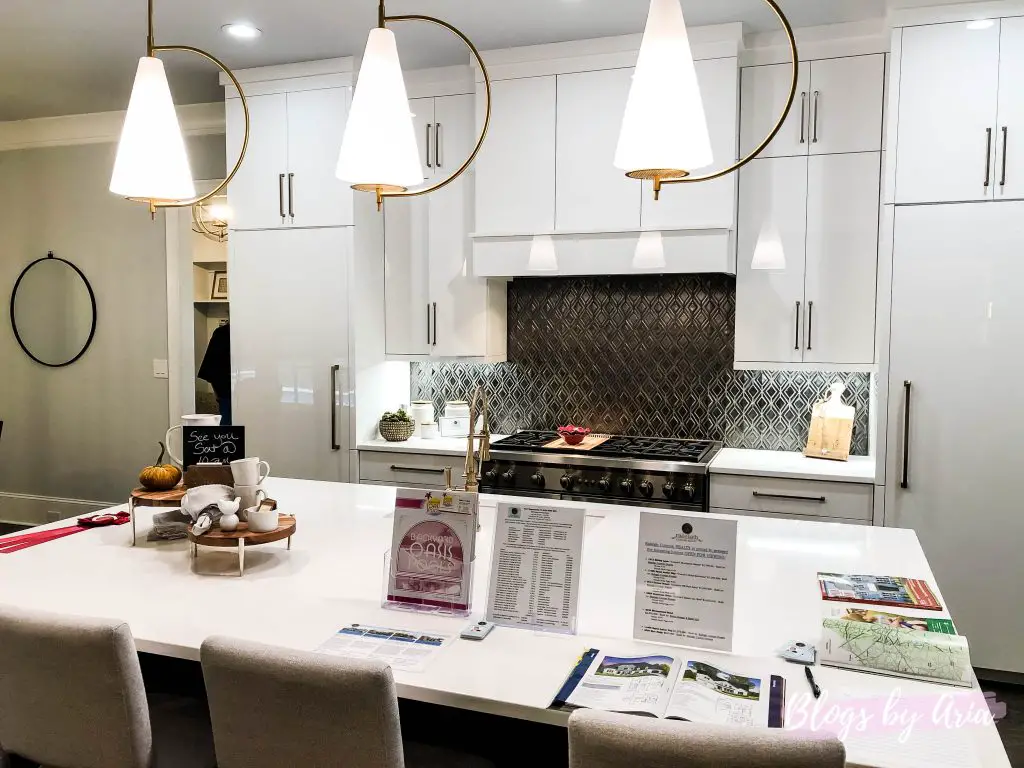 I wish I could have taken this picture without the promotional materials but you can still see just how large this island is and how awesome this kitchen is.  On the left you can see access to the mud room.
This luxury six burner gas stove is one beautiful appliance!  If a stove can be deemed sexy I'd say this is one sexy stove! 😉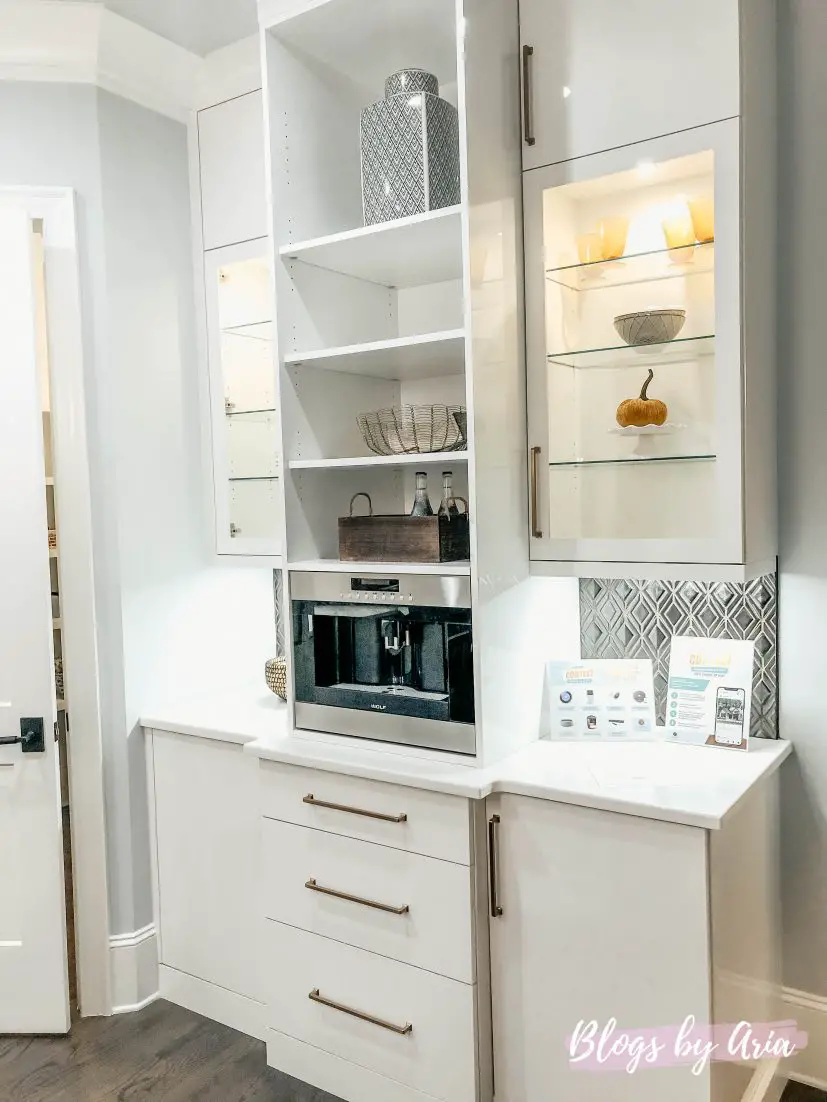 Before we get to the pantry, we have a coffee station and a lot more storage, both functional and decorative.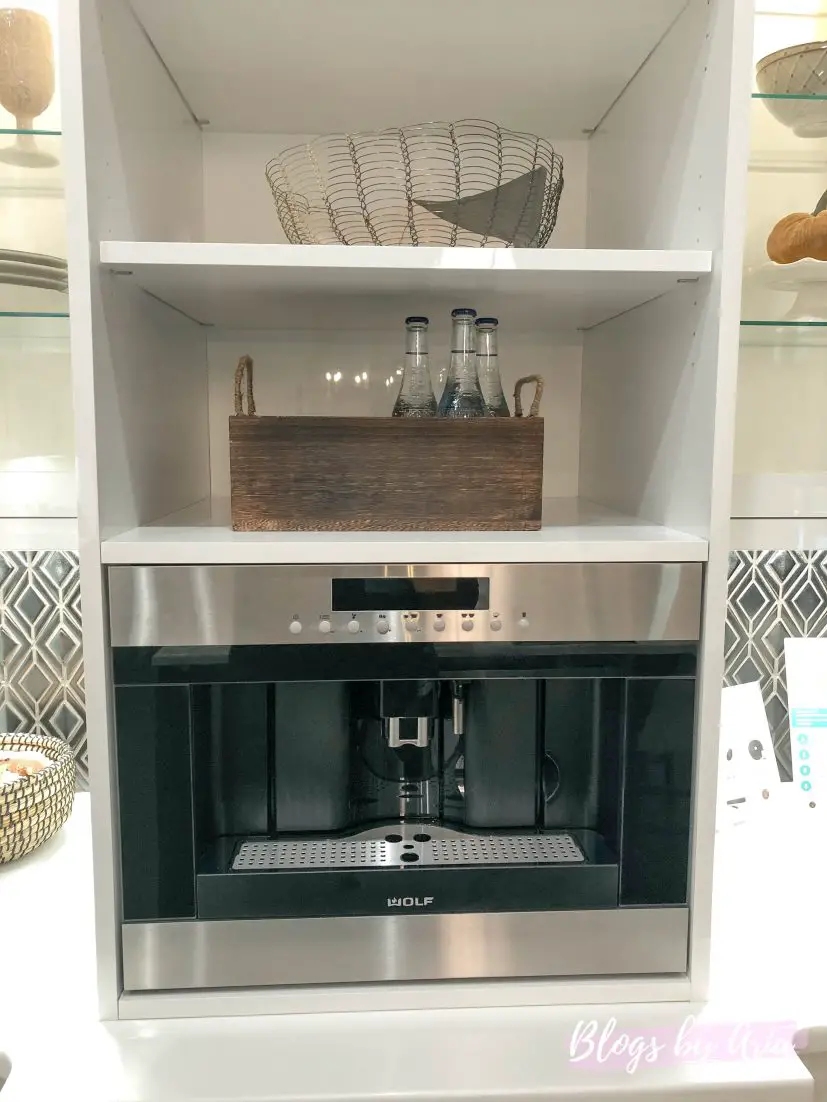 If more storage is needed, this nice size walk in pantry is the icing on the cake for this kitchen!
BREAKFAST NOOK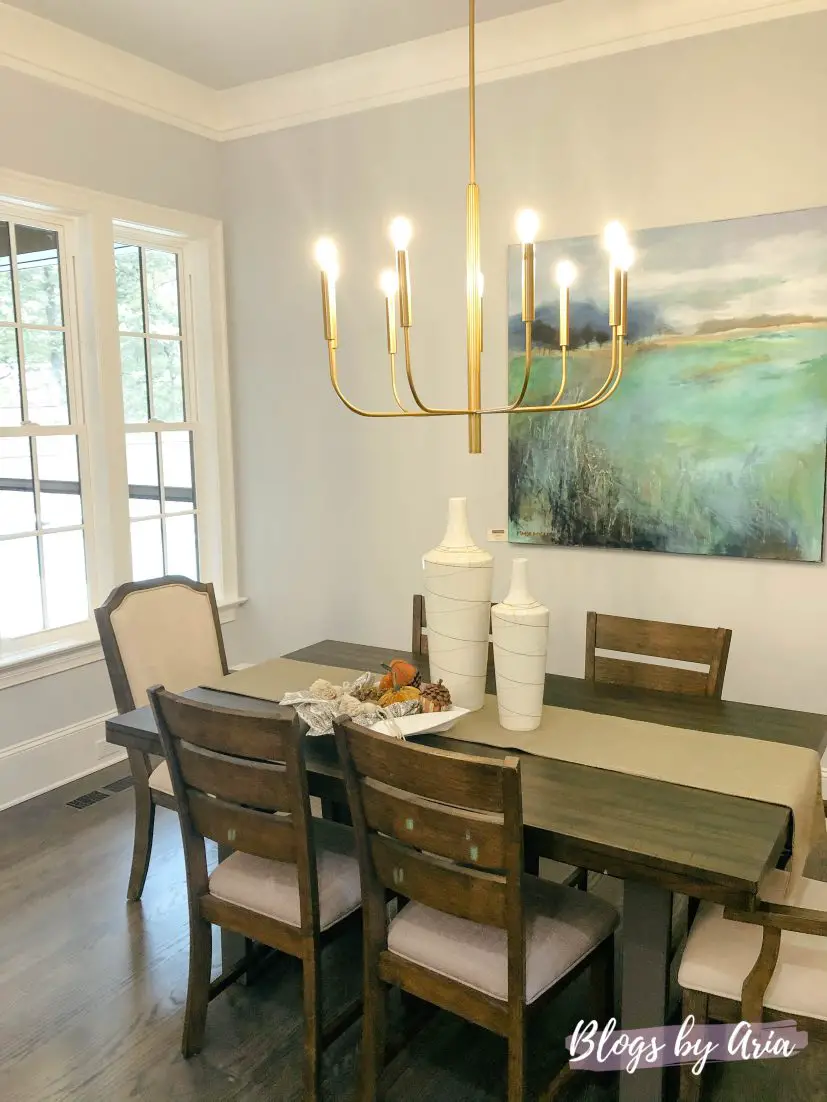 FAMILY ROOM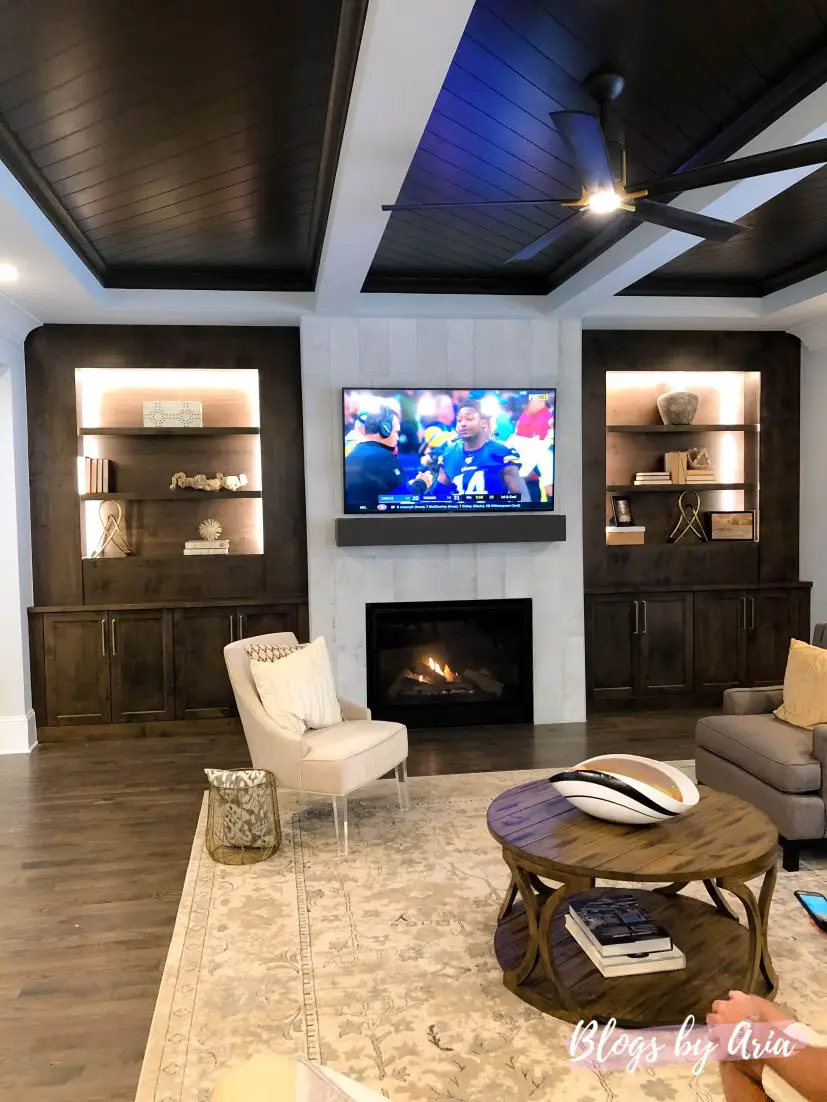 The family room is the center of the home and is open to the kitchen, breakfast nook and you'll see in a moment, the gorgeous screened porch.  I do love the wood inset panels on the ceiling, that's a nice touch.  I'm always a fan of built-ins and I do like the ones here, although I'd prefer them to be white.
MUDROOM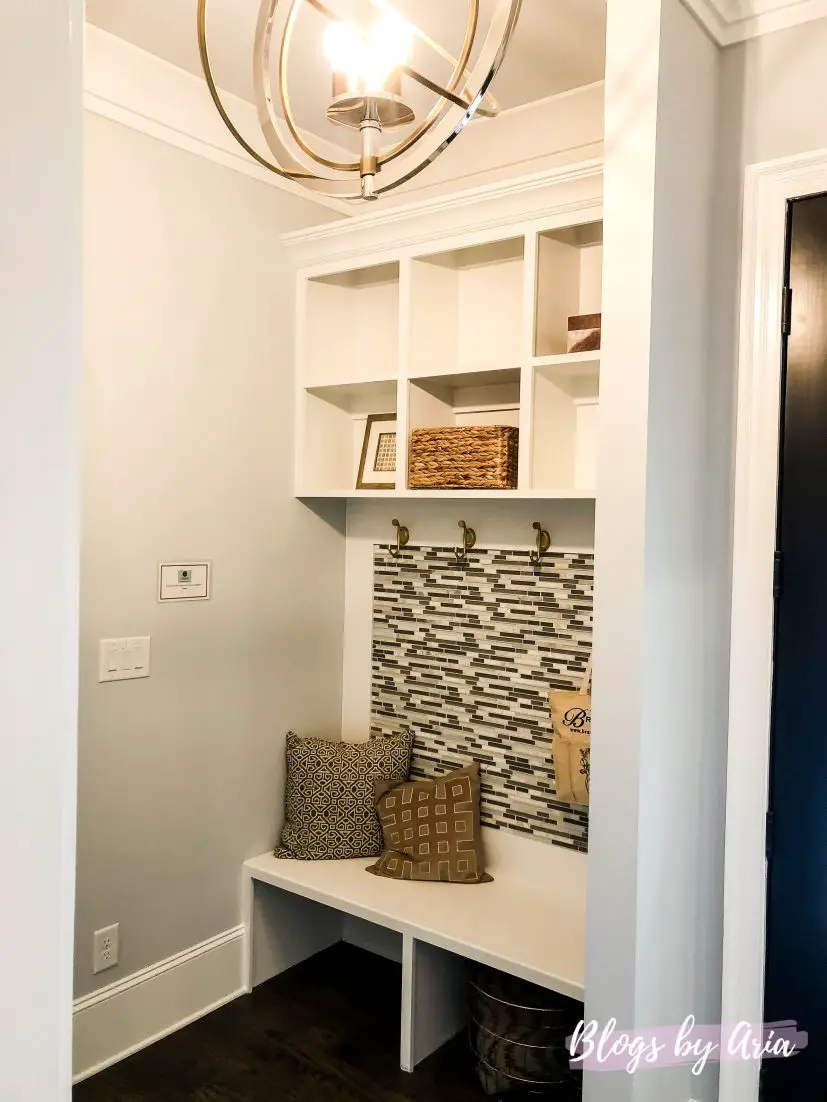 For as spacious as this home is, I'd expect a larger mud room space.  With five bedrooms this mud room is certainly inadequate if you ask me, especially at this price point.  If this was a much smaller home I would like this mud room.
LAUNDRY ROOM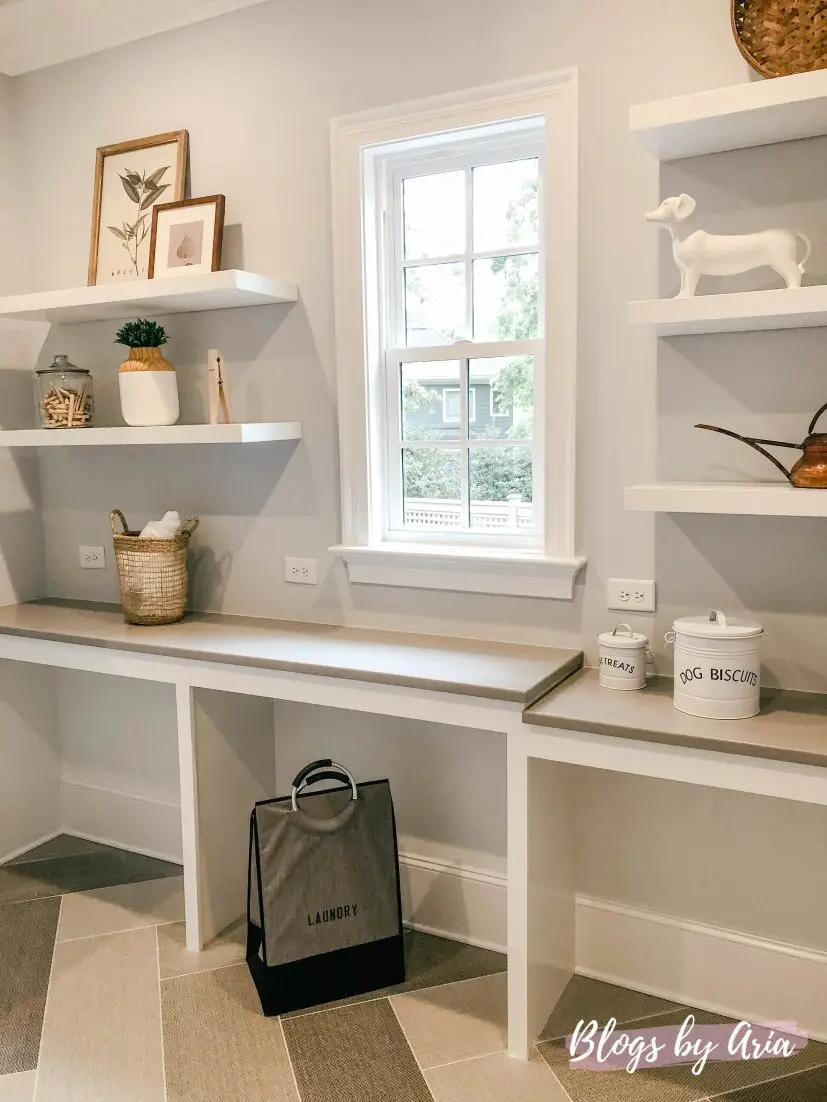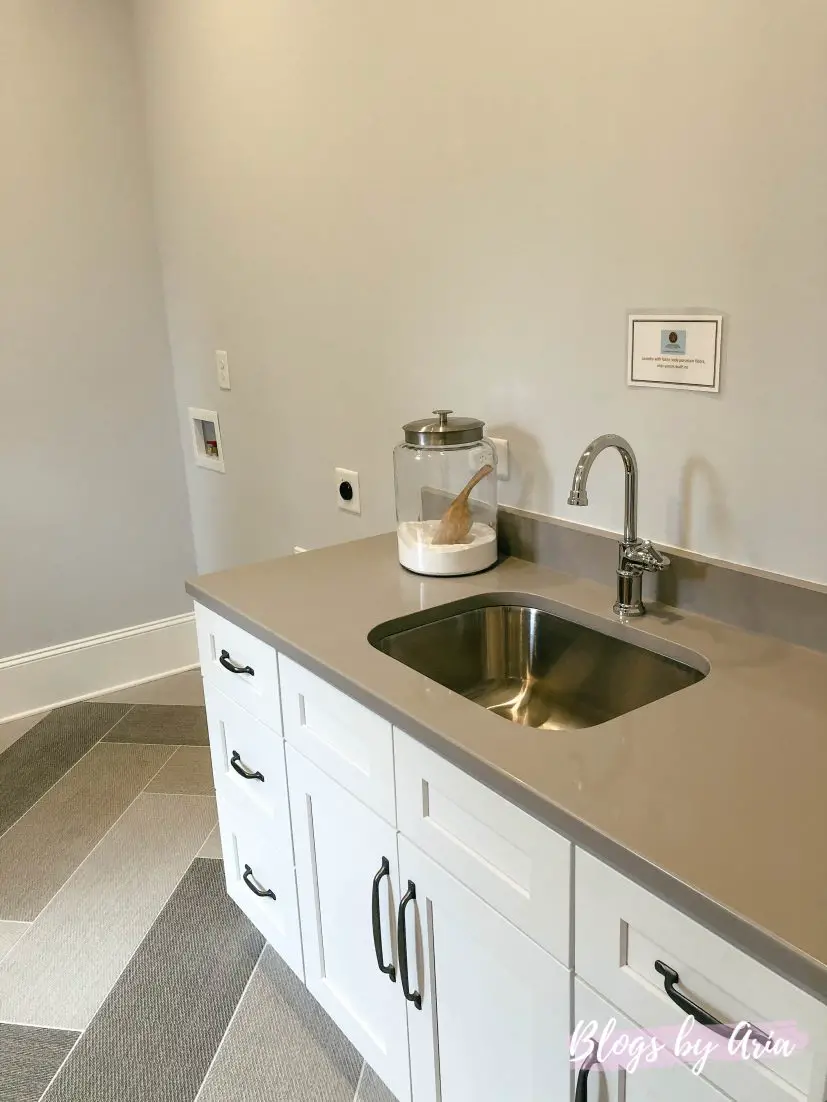 What the mud room lacks, the laundry room greatly makes up for.  The laundry room has these unique fabric look porcelain tile floors in a herringbone pattern.  And it features custom built ins with floating shelves.
SCREENED PORCH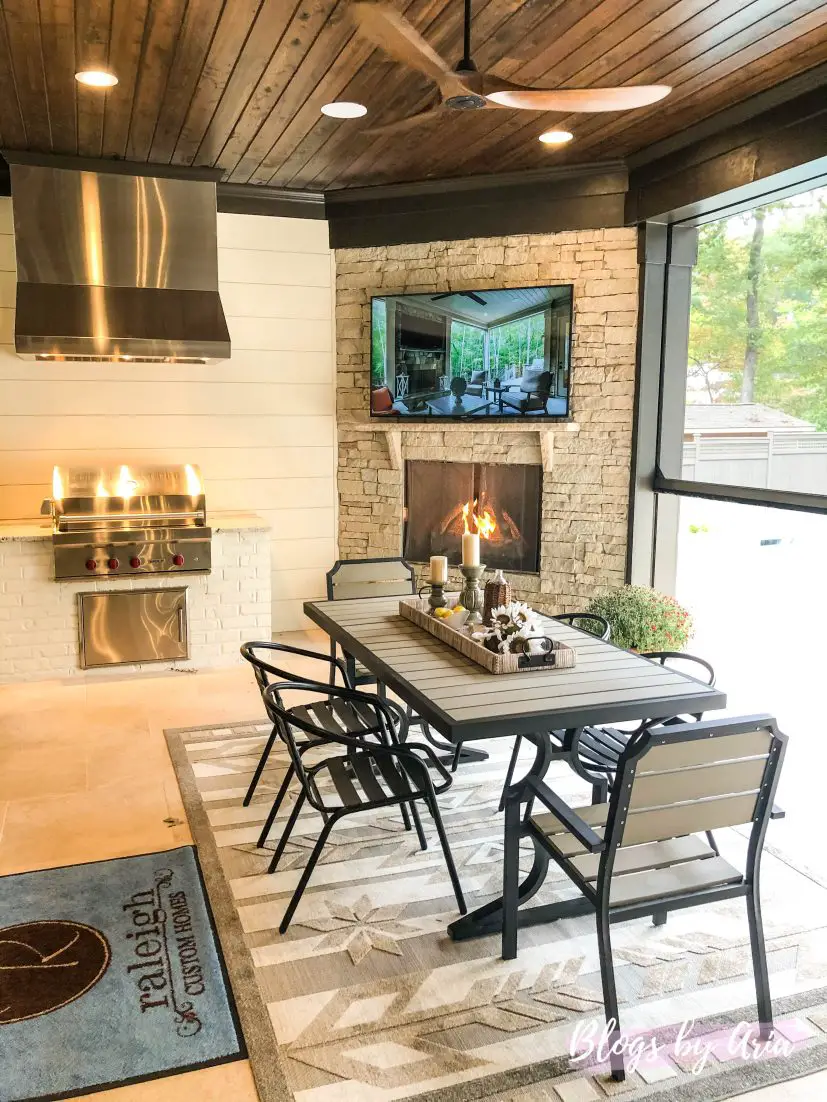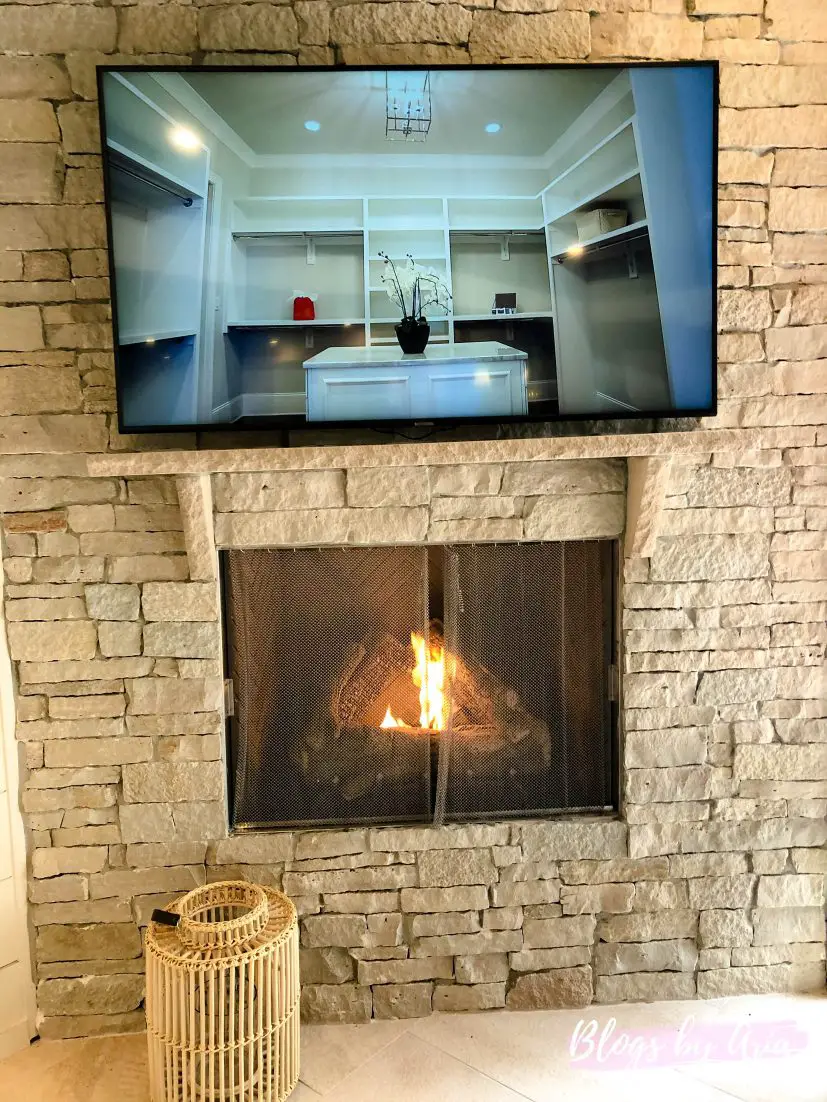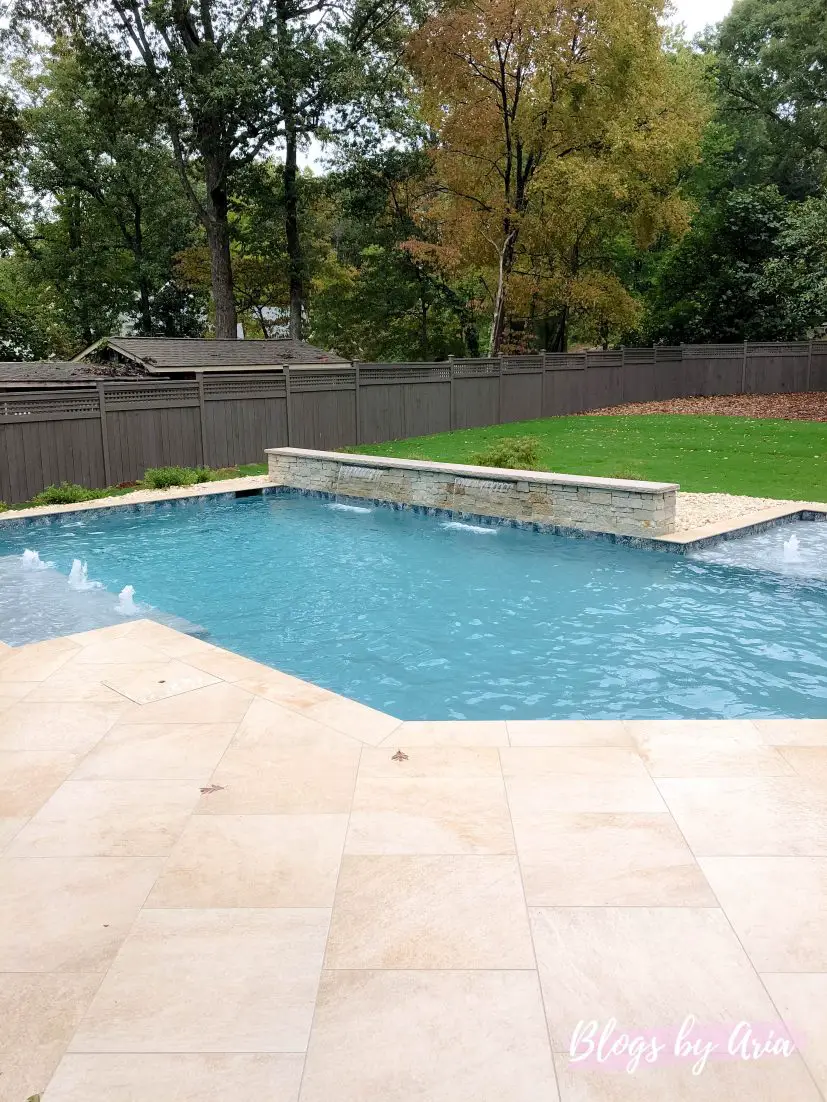 For this location, this size yard is a real premium.  As an added bonus there's a good size pool too.
You may be looking at the background of this picture and notice the other houses aren't as large or stately as this house there's a reason for that.  When you're driving around established neighborhoods in the heart of Raleigh you'll see a lot of standard houses that you'd expect to find in older neighborhoods built around the 1960's and 1970's.
What a lot of builders are doing, is buying those older houses as cheaply as they can, and then tearing them down and building these large square foot homes that for now look out of place but eventually will become the norm.
Some people don't like this practice and I understand that.  I'm pretty indifferent towards it.  And I'm sure this is happening across the country.  While I was touring homes last Fall, I overheard a lot of conversations on this subject and sounds like a lot of people are not a fan.
MASTER BEDROOM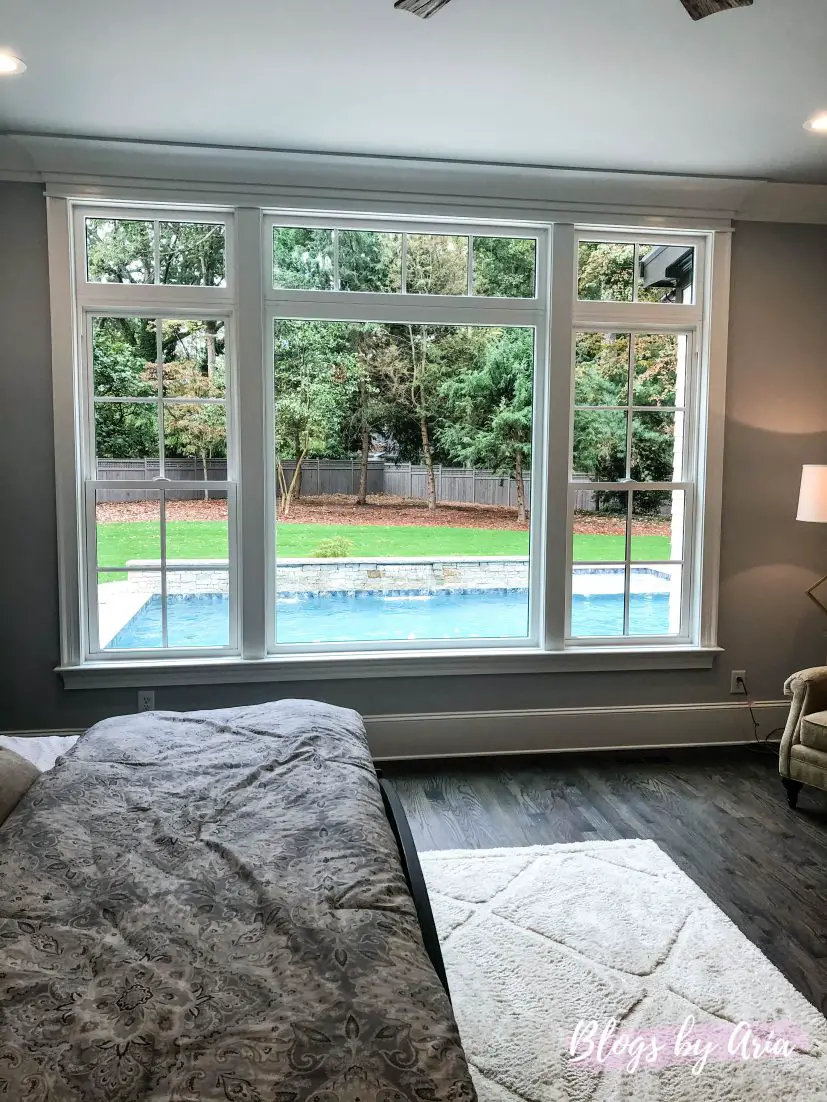 The master bedroom is a relevantly nice size.  Not too large or too small.  The real bonus is the view of the pool and backyard.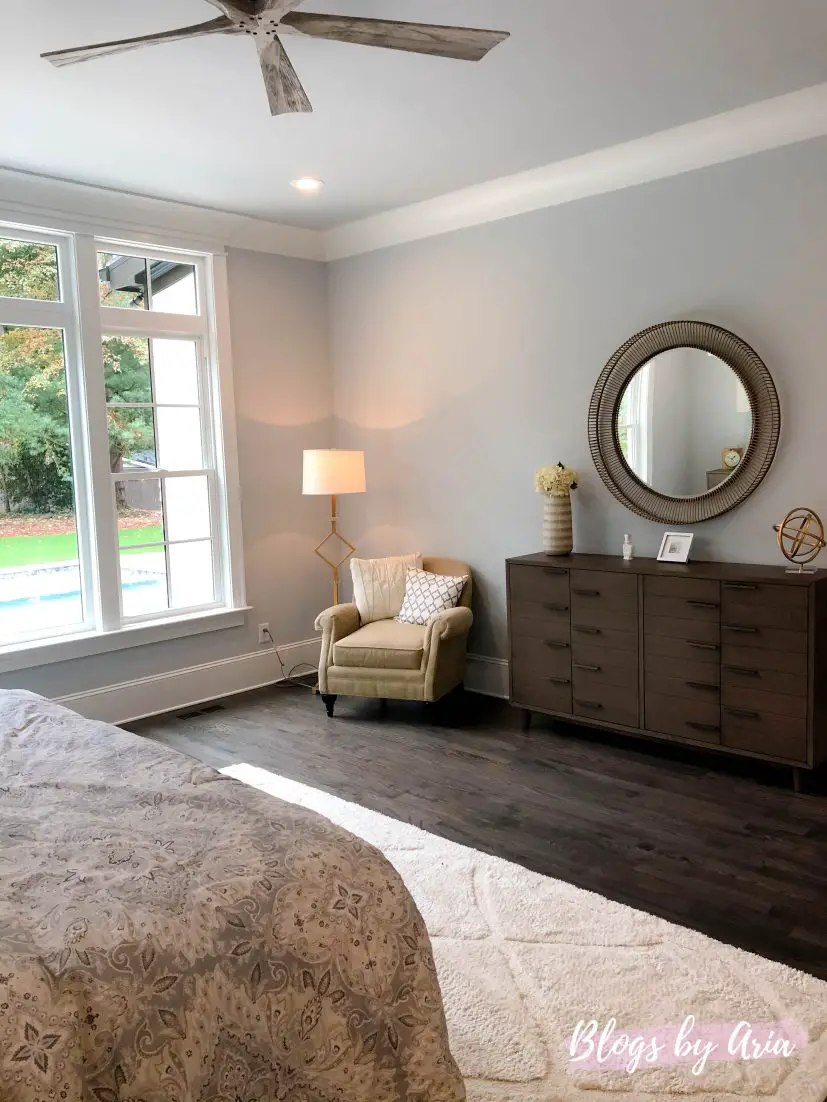 MASTER BATHROOM & CLOSET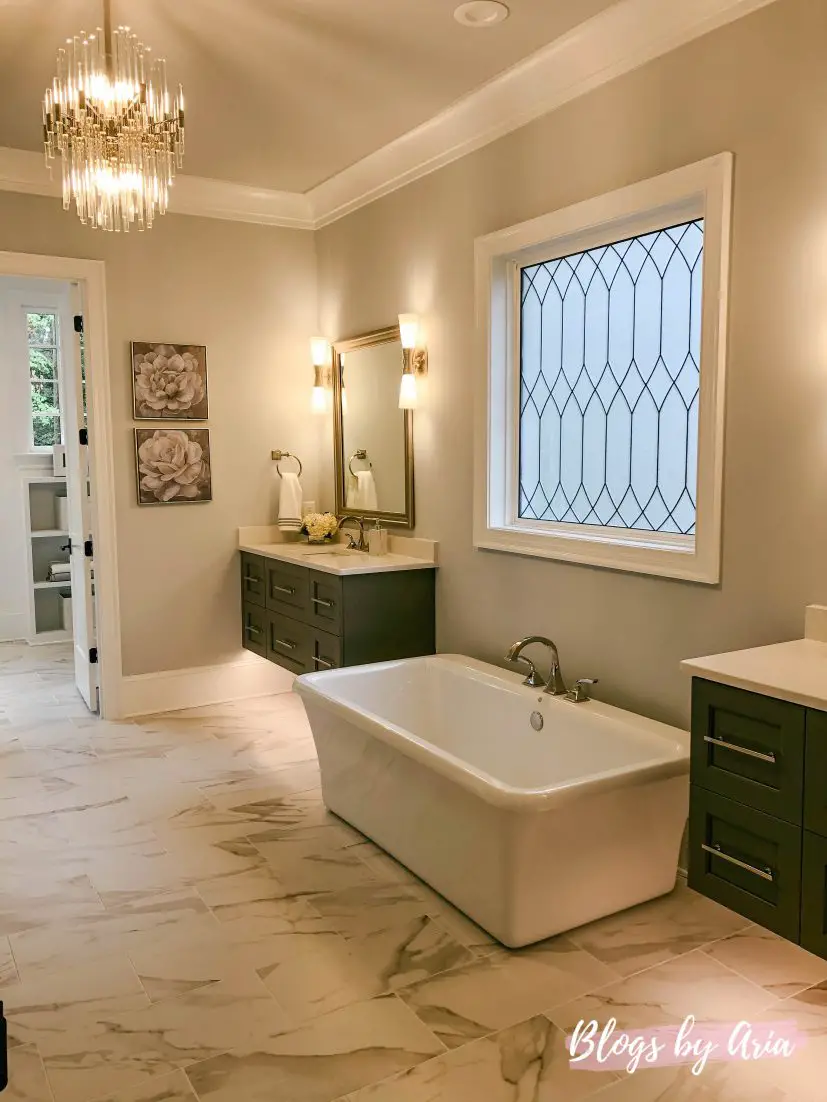 What I love about this master bathroom is this soaker tub.  This is the style of standalone bathtub that I like with the wider rim and I do like the rectangular shape.  The other thing I love is the unique window.  It's like a stained glass window without the stain.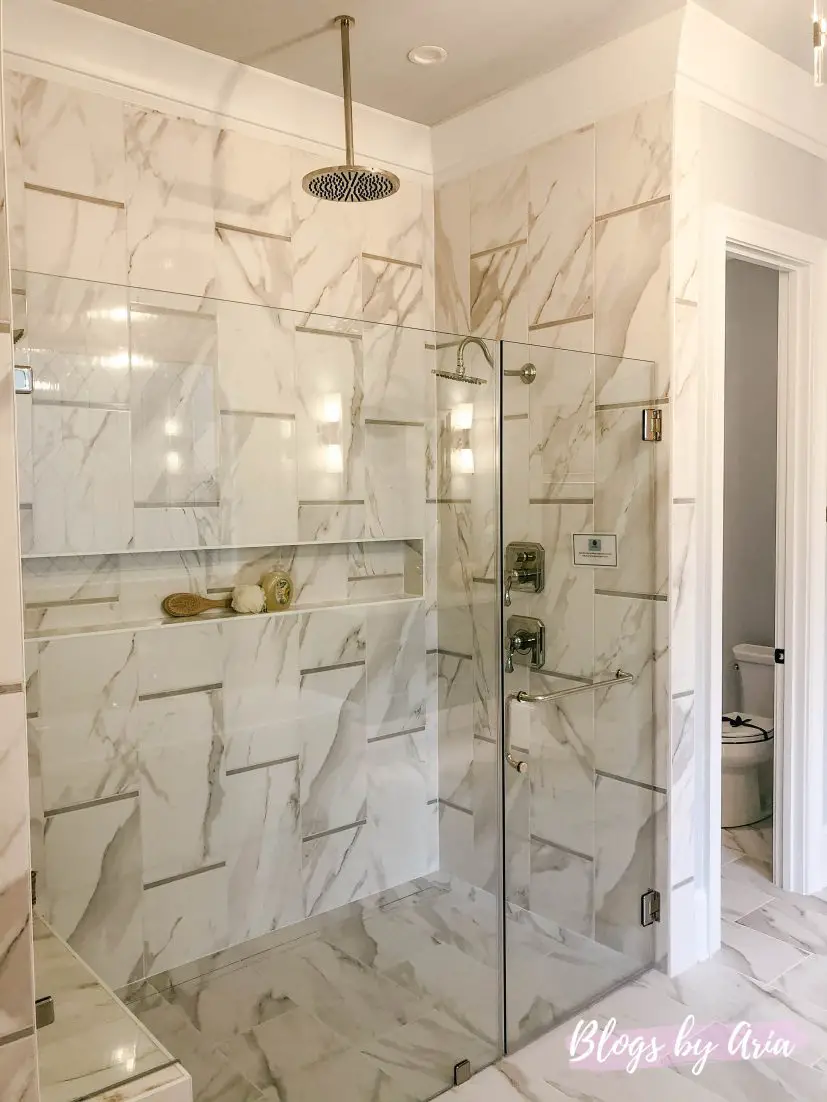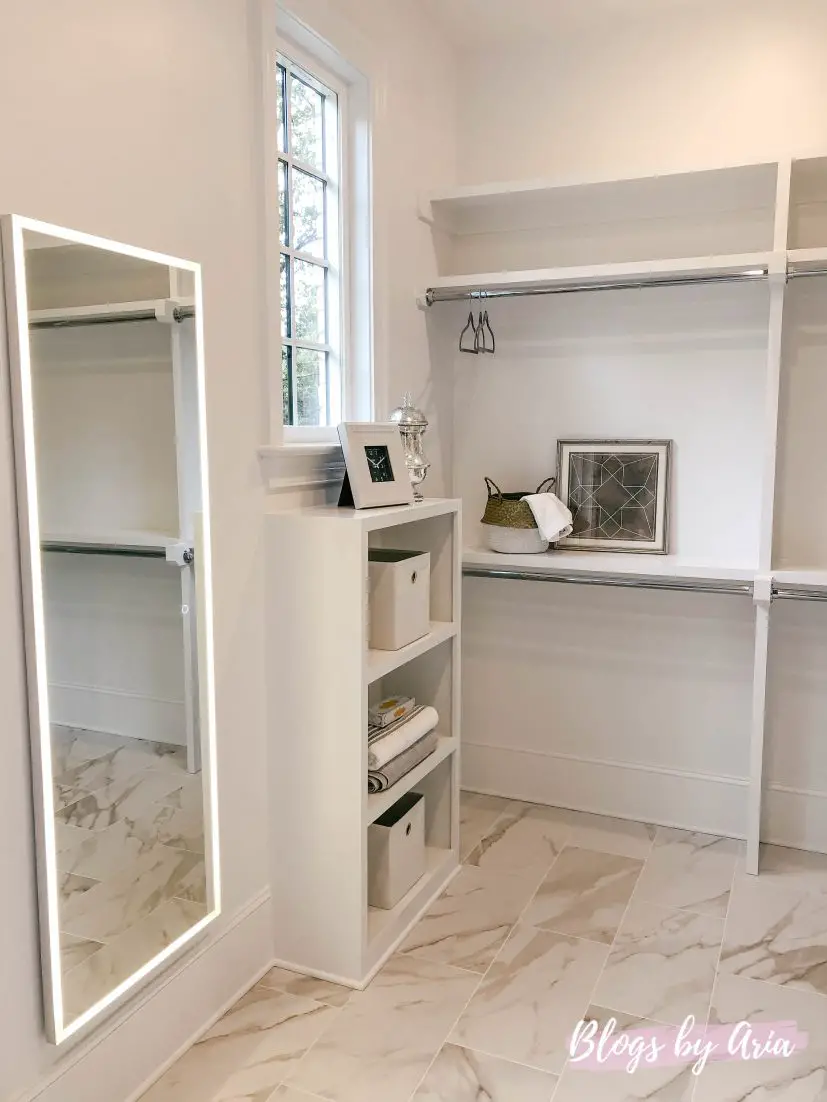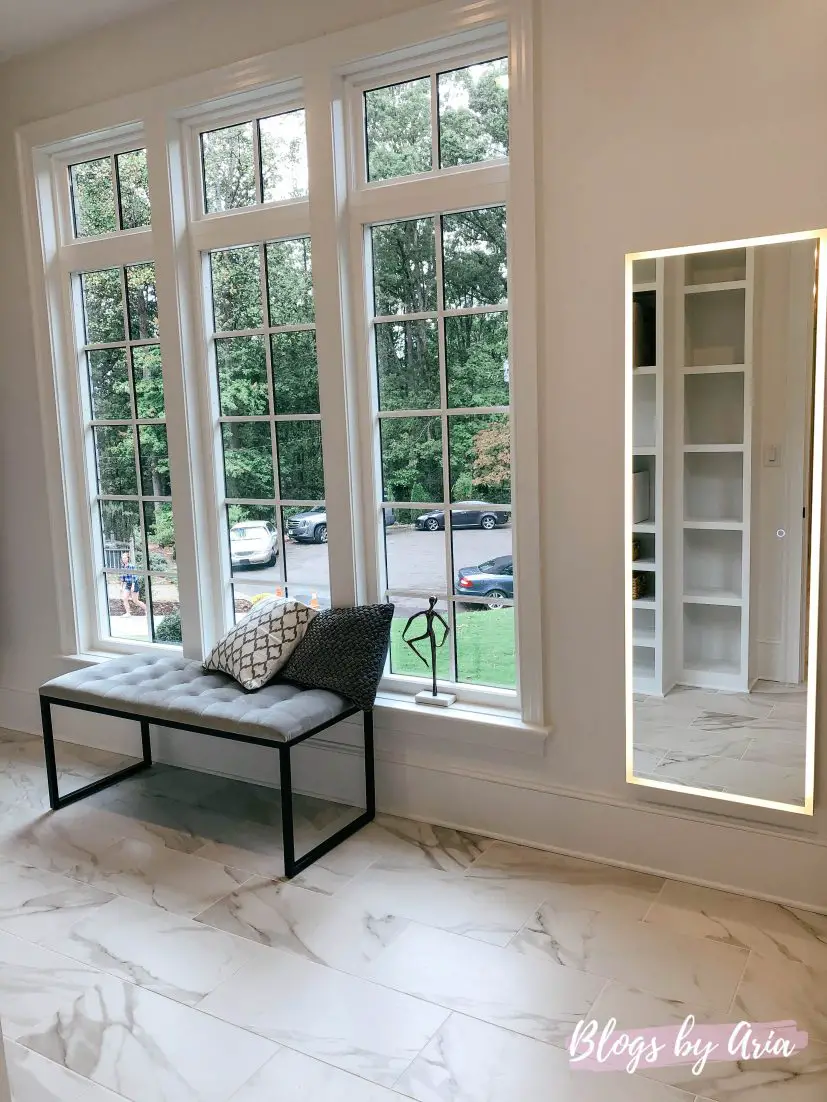 From this shot you can see this home is located on a cul-de-sac which is always a plus in my book.
You can also see the gorgeous tile flooring and LED back-lit mirror perfect for those outfit selfies!
Let's take a look upstairs.  Anytime I see path lighting on the stairs I am a fan.  It's such a useful feature especially when the master is on the first floor and the secondary bedrooms are on the second floor.
TECH SPACE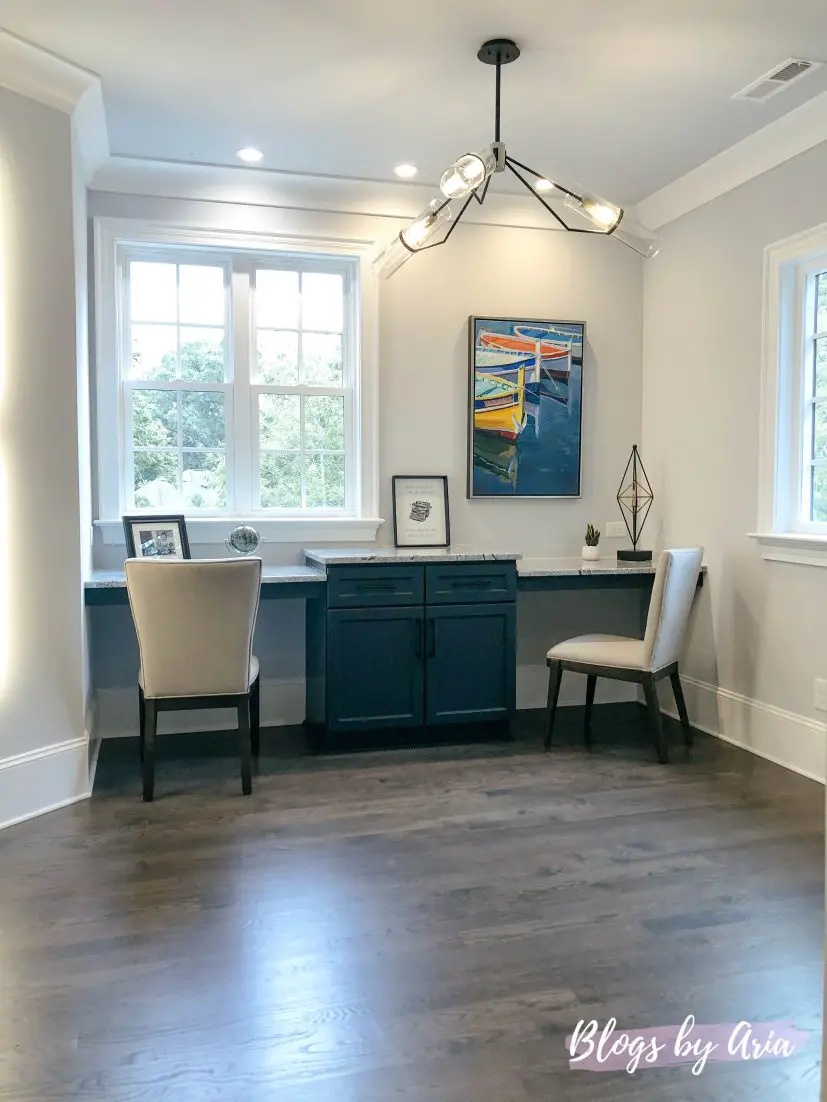 As you come upstairs you're greeted with this tech space/loft.  If the desk wasn't built-in this would be a loft space.  It features LED uplighting and a pretty cool light feature.
GUEST BATHROOM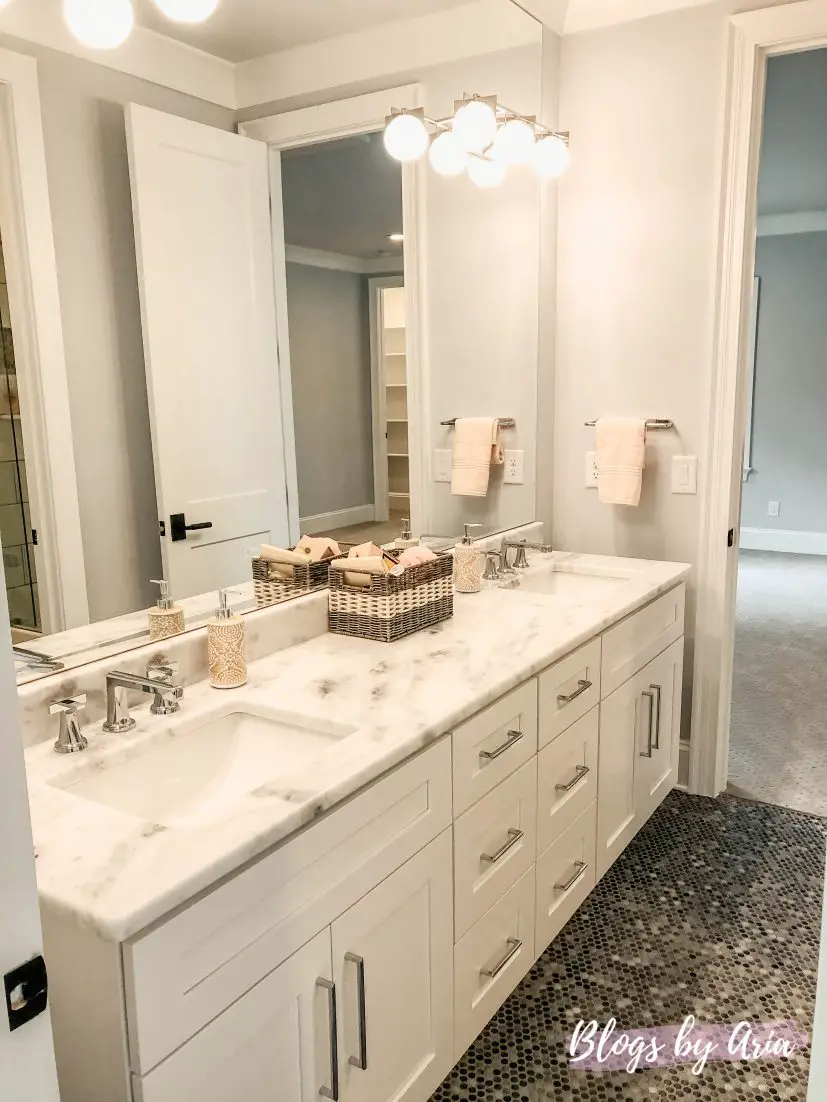 What I do love throughout this home are the bathrooms.  Each bathroom is unique and they all have features that I want in my own bathrooms.  In this bathroom I love the pebble flooring.
GAME ROOM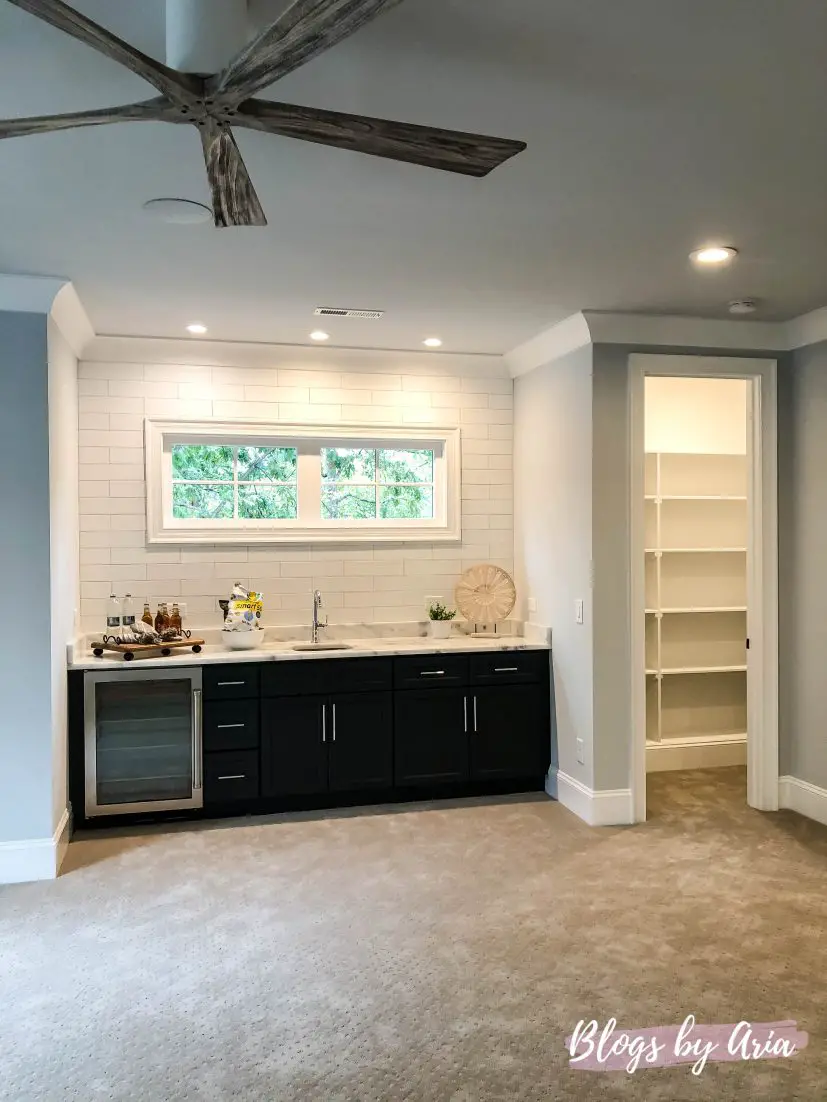 The bonus room features this bump out bar area with extra long subway tile surround.
CRAFT ROOM/OFFICE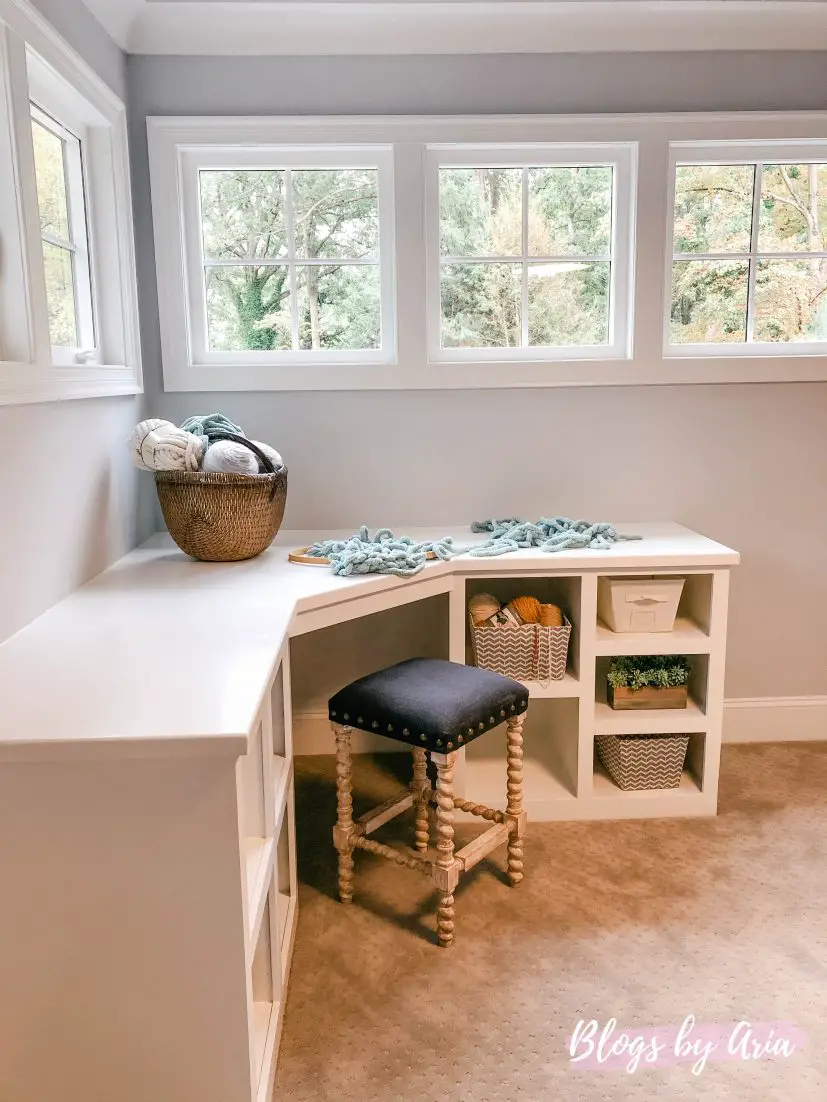 They're calling this a craft room with a built-in hobby desk.  It can certainly be that or it can be a home office.  Interestingly enough, on the floor plan they have this marked as an exercise room so it can truly be anything you need it to be.
In addition to the tech space, craft room and bonus room the second floor has three bedrooms.
BATHROOM DESIGN
One of the features I love throughout this home is the back-lit mirrors in the bathrooms and the master closet!  What a great idea!  Not only is the lighting a bright idea (get it 😉 ) but they're selfie lights.  As with so many aspects of this English Tudor house…I'm so here for it!
I am obsessed with these basket weave floors! Aren't they stunning?!
If you enjoyed taking a tour of this English Tudor house then you'll also love Cape Cod Manor that is built by the same builder.  When we lived in Greenville, it was by taking these house tours for Parade of Homes that I would get a feel for the primary builders in the area.  Now in Raleigh I'm doing the same thing and I'm loving seeing all of the unique builders and get a feel for who they are and they're style.
Stay tuned for more gorgeous house tours and you can catch up on any that you missed here.