Looking for a quick way to add a festive touch to your kitchen?  You can create this fun farmhouse Christmas Tiered Tray in no time!
CHRISTMAS TIERED TRAY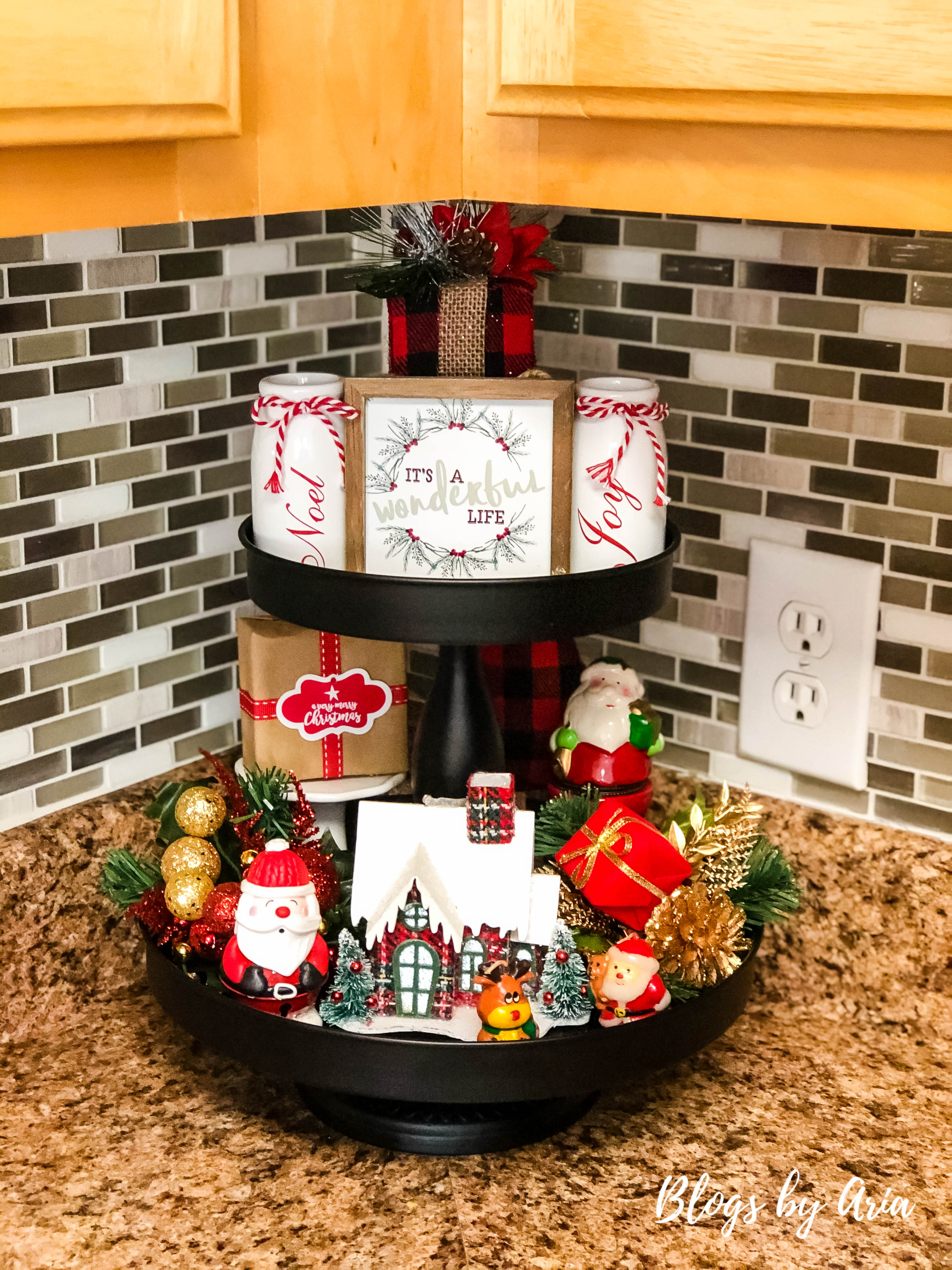 This is my Christmas tiered tray…so far!  I love decorating my tiered tray because it's a fun and easy way to start the decorating process.
I say start, but in reality I should say it's the only thing I can say is finished so far for our holiday decor.
My tiered tray features decor from Hobby Lobby, Walmart and items I've had for years.
There's so many fun and festive ways to decorate a tiered tray, especially for the holidays.  I didn't really focus on a theme but I knew that I would stick to traditional holiday colors.
You can see how I decorated this tiered tray for fall here.
*this post includes affiliate links for your shopping convenience, you can read more about affiliate links by reading my Disclosure*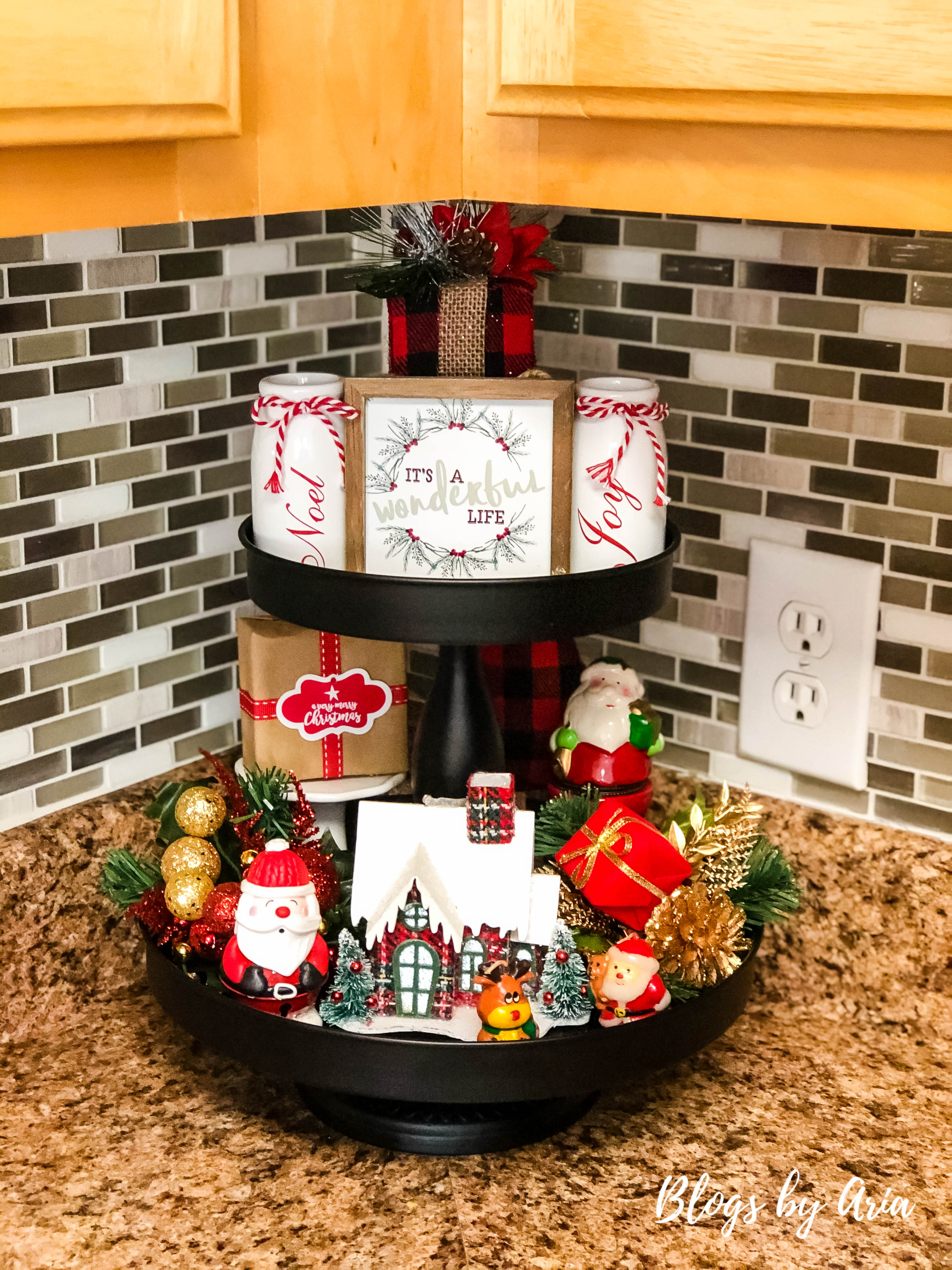 A tiered tray is never really completed but I don't see myself tweaking this too much.  Maybe I'll add some battery operated twinkling lights.  That would be a fun addition.
What I used to create this farmhouse Christmas tiered tray:
The Noel and Joy mini milk jugs are from Hobby Lobby but I can't find a link for them and the last time I was in the store I didn't see them.  Everything else on the tiered tray I already have had from previous years.
HOW TO DECORATE A TWO TIERED STAND
The first tip I want you to know is that ornaments make great tiered tray decor items.  That house is an ornament!  So are the presents and the sign.  You can either remove the ribbons or just move them to the back in case you want to use them as an ornament in the future.
My second tip for decorating a tiered tray is to use picks.  These are from Hobby Lobby and I originally bought them because I thought I could put them into my noel and joy little milk jugs but they were too big.  (I bought them on separate trips)
Picks are a great way to fill out a tiered tray.  I may end up getting another one to fill out the back of the tray.
Lastly, use risers in order to create height and dimension.  You can see one of the risers I used under the brown present and I have one under the buffalo check ornament too.  I got them from the Target dollar spot I think in the fall and didn't end up using them.
But want to know a secret?  I also use rolls of washi tape under some of my other items, like under that Santa Clause on the right.  So definitely use what you have!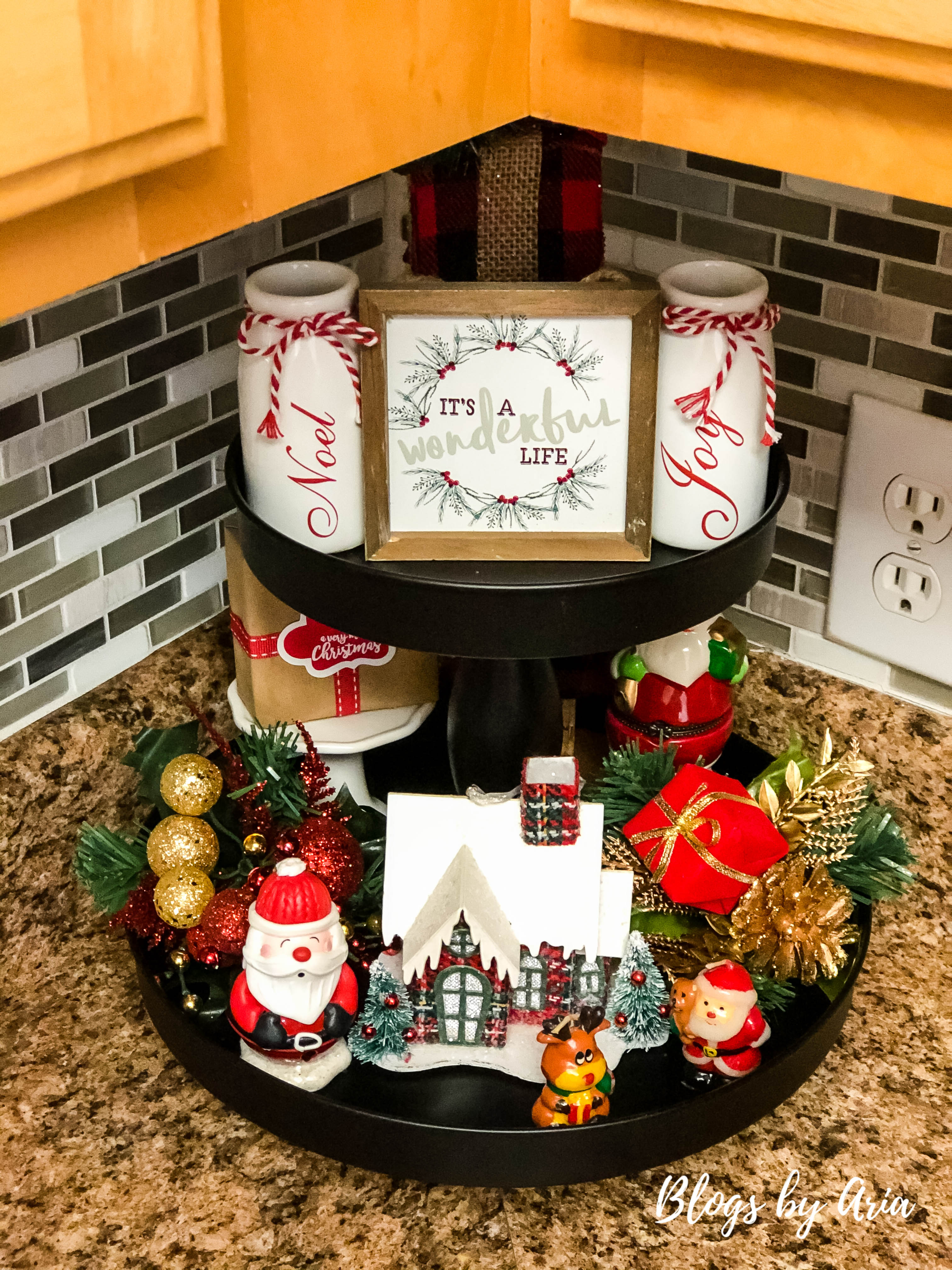 TIERED TRAY DECORATING IDEAS
I keep our tiered tray in this corner of my kitchen.  But there are so many tiered tray shapes and sizes and they can go just about anywhere.  On a bookshelf, in the bathroom, as a table centerpiece…so many opportunities to add a tiered tray.
Not only are tiered trays a quick and easy way to add decor, they're inexpensive too.  Everything that I purchased for my Christmas tiered tray was under $20 total.  All of the Hobby Lobby items were half off and the items from Walmart were under $3 each.
I'm always looking for other tiered tray options that are budget friendly because I find decorating my tiered tray so fun!  I've had my eye on this tiered tray for a while now I just haven't pulled the trigger yet.
Now that I've "finished" decorating my Christmas tiered tray I feel like I'm in the Christmas decorating mood!  Who am I kidding, I've been in the mood 😉
I've been watching all the Hallmark Christmas movies so I'm definitely in the mood 🙂