I've got Christmas on the brain and if you're like me you're looking for inspiration to help you decide how to decorate your home this year.  This being our first year in this home, I am very excited to decorate our home for the holidays!  Today I'm going to share some of the inspiration that I'll be using as I decorate our space for Christmas.
Recently I was scrolling through Pinterest and I saw a few Christmas decor ideas that I hadn't thought of before.  Maybe it's because the decorating ideas wouldn't have worked in our previous home and now I can see them working for us.  Or maybe I hadn't seen them before, I'm not sure.  What I do know is that I love to decorate for Christmas and making my home feel festive.
Last Christmas we got our new Christmas tree and I decorated our home in a traditional Christmas plaid theme.  This year I'm going to build on that theme and I'm excited to bring what I see in my mind to fruition.  In the meantime, let me show you what ideas I've been inspired by to use in our home this holiday season.
*this post includes affiliate links for your shopping convenience, you can read more about affiliate links by reading my Disclosure*
Christmas Chandelier Garland
We have a light fixture in our dining room that I think adding garland to would work out wonderfully.  I'm thinking of doing standard green garland and adding ribbon and perhaps some twinkle lights.
The other idea I have is to use a more flowy pine garland like this pine and pinecone garland I've seen at Hobby Lobby instead and forgo the ribbon.  If not that particular garland, then I did find this affordable mixed greenery garland at Walmart.  When I saw it I knew it would be great to use on our light fixture and I'm going to try the Hobby Lobby garland somewhere else.
Christmas Headboard Garland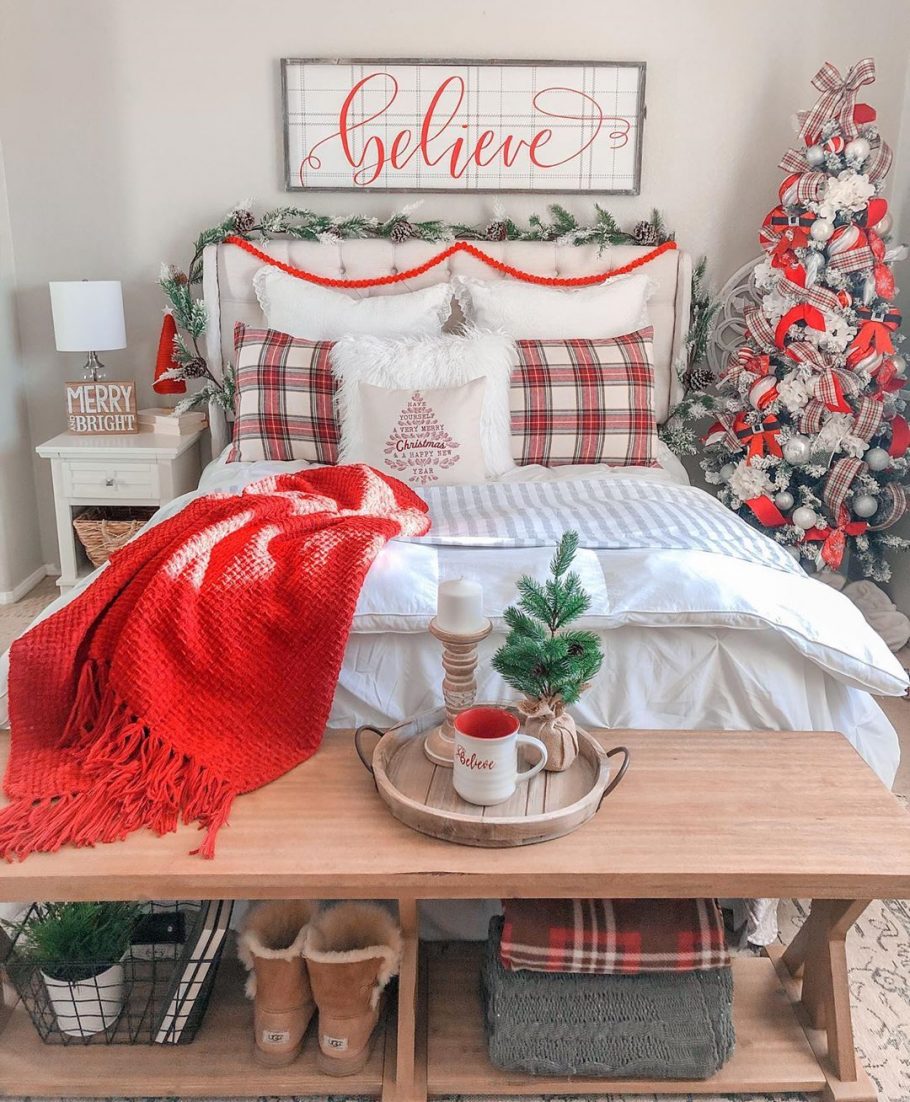 While we're talking about garland, I have lots of ideas of ways to use garland throughout our home.  One way I really want to try is to have garland on our headboard.
Now, I can't say that my husband would be on board.  But I want to give it a shot.  This is where I plan to use the pine and pinecone garland.  All Christmas decor is half off at Hobby Lobby now through Christmas by the way!
If I can't swing the garland on the headboard, then I can add a garland swag or some greenery over some holiday wall art.  Right now I have my eye on this mistletoe sign I saw recently at Kirkland's.  I think that would be cute over our bed.
Holiday Bedding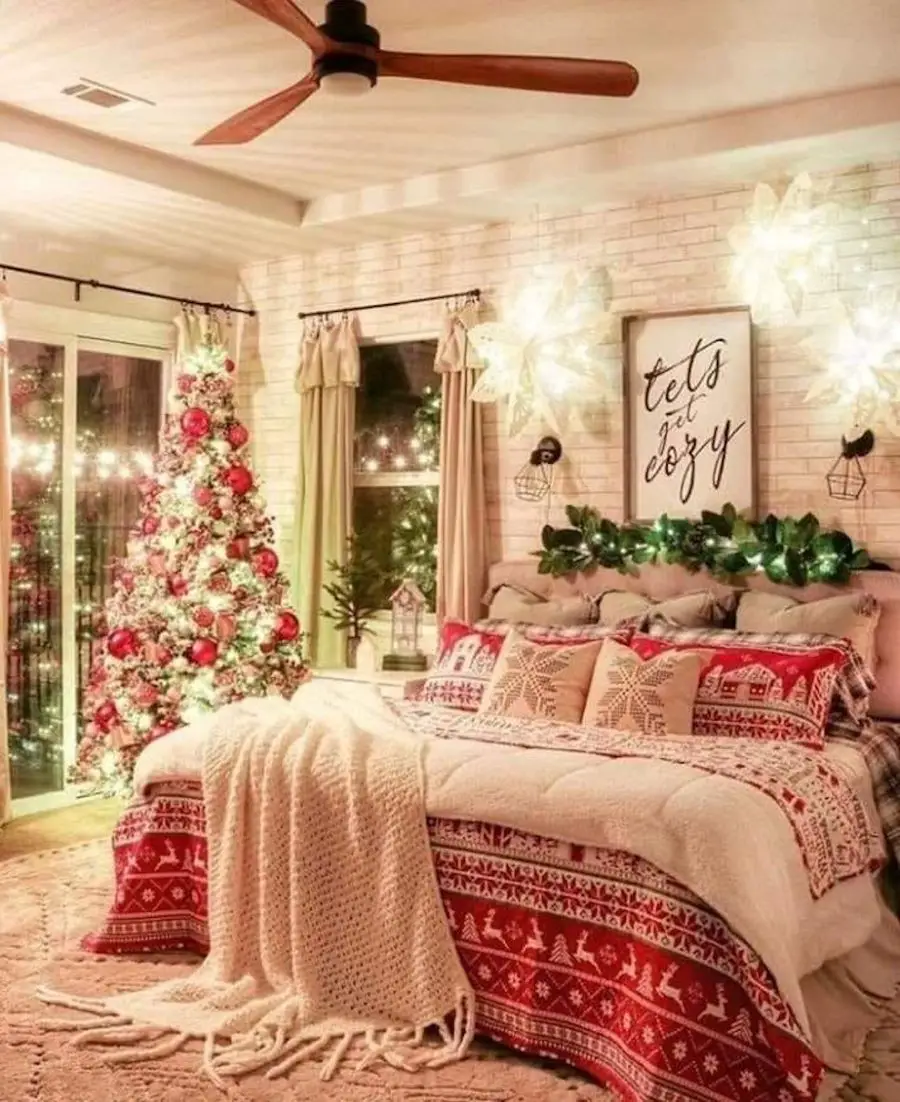 While we're in the bedroom, for so long I've wanted to use holiday themed bedding in all of our bedrooms.  My husband is finally on board so I've been looking for some options.
I'll definitely share what we end up going with to make our bedroom a little festive.  Although I don't want to spend too much, I also don't want to try to go the cheap route.  I've learned the hard way that when it comes to bedding, it's better to pay for quality.
With holiday bedding, it's something I look forward to bringing out year after year.  So I definitely want it to hold up well over time.
Christmas in the Kitchen
Last year I decorated our kitchen for Christmas and I plan to do the same this year.  Our kitchen in our new home is white now and I know it will make the garland we use look even better.  Or vice versa 🙂  I really like the simple idea of adding a small wreath to the dishwasher!
Nutcracker Fireplace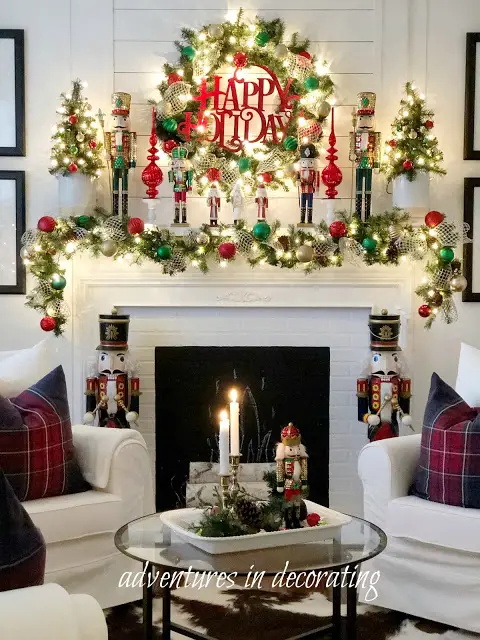 In case you didn't know, I have a slight obsession with nutcrackers.  Last year I saw these tall nutcrackers that I wanted to get.  They would look perfect at the foot of stairs or standing guard at a fireplace, the way Becca at Adventures in Decorating did.  She seems to love nutcrackers as much as I do!
Window Garland
Another aspect of holiday decor  I'm inspired to try is using garland along our windows.  I think this can be accomplished rather inexpensively.  Using simple garland with twinkle lights and perhaps some red ribbon and bows and voila!  It's a Christmas miracle! 🙂
Christmas Porch Ideas
Lastly, I am excited to decorate our porch for Christmas.  Nothing too fancy.  I mentioned before that I found a topiary set from Walmart.  It would be nice to add garland around the front door too.  Or maybe we can hang Christmas lights.  That part will really be up to my husband, since he'd be the one doing the hanging.  I've mentioned it to him and there's already nails up where it appears Christmas lights were before.  So we'll see!
Decorating for the Christmas Season
I'm really excited to decorate for Christmas in our new home!  In case you couldn't tell 🙂  Although I have lots of holiday decorating inspiration and ideas, I know that I can't do it all.  Not this year anyway.  And that's okay.  The specific ideas I shared today are things that I really want to do this year and can feasibly do.
Each coming year I'll be able to do more.  It's so easy to get caught up in keeping up when it comes to the holidays.  That's not what it's all about for me.  Am I excited to be able to decorate in new and exciting ways this year?  Heck yeah I am!  But as much as I may want several trees and this and that, I know that in due time I'll be able to do that.  For now, I'm happy to decorate the space I have with what I have (and can afford) now.
Right now I am already thinking about watching Hallmark Christmas movies, lighting up my tree every night and going to see Christmas lights.  Sure I love to decorate for the holidays more than any other time of the year.  But it's about so much more than that for me.
After this crazy whirlwind year, I think we all just want to slow down and enjoy the holiday season.  It's going to look different, and probably feel different.  I'm excited to enjoy it and soak it all in.  And I hope you are too.  Let's enjoy this holiday season together!