I have a confession to make.  I've been watching Christmas movies on Hallmark Channel for the past few weekends.  It's really the only time of year that I watch Hallmark movies and I'm not ashamed.  Aside from seeing Christmas commercials since November 1st, and Black Friday ads being released left and right, and just this evening I saw my first house with Christmas lights.  To be honest, it's too soon for me.  Sorry not sorry.
My son Jordan has said recently that he hates that Christmas has already taken over.  He says can't we at least wait a couple of weeks?  I hear you son, I hear you.
When we went trick or treating my daughter Brianna came back from a house and said "Mom, they already have a Christmas tree up.  That's crazy!"  I said maybe they're a blogger 🙂
I can't speak for everyone but I feel like it's been a rough year.  Not to go political here but we're in some interesting times to say the least.  We have no idea if we're going to be at war when we wake up in the morning.  From church shootings, to concert shootings, to terrorist attacks to racial tensions (Kaepernick still doesn't have a spot on a team) to natural disasters… it's a lot.  It's too much.  And it's my thought that maybe, just maybe, we can escape the real world by focusing on Christmas.  Because Christmas is a happy time.  It makes you smile.  It takes you back to a time when you were a child and things were pure.  So for that reason, I say it's not too soon.  What do you think?
So in that Christmas spirit I'd thought I'd share a few things I'm obsessed with for the holidays.  And for now I'll just have to be obsessed and that's it because we're cutting back this season.  So that means less gifts, no debt and no new holiday decorations.  That's probably the hardest part for me.  I always enjoy adding to our holiday decor but outside of an ornament or two, that's all it's going to be.  Next year will be a different story.  But it doesn't stop me from daydreaming and visualizing 😉
*this post includes affiliate links for your shopping convenience, you can read more about affiliate links by reading my Disclosure*
Christmas Trees
We're in need of an upgraded tree but alas it must make it another year.  Something I'm currently obsessed with is a flocked Christmas tree.  Honestly I've been obsessed since I started seeing them pop up on Instagram last year and I've wanted one ever since.
I've looked at lots of flocked trees and none of them look as good as the King Flock by King of Christmas.  It's simply gorgeous.  Now…let me say that as much as I am in love with this flocked tree, I don't think it should be your primary tree.  So if I could only have one tree I wouldn't go flocked.  Again, these are my own opinions.  No need to clutch your pearls 😉  But when I have a home that can accommodate more than one Christmas tree, then by all means, one of them should be flocked.  I think a flocked tree is perfect for maybe a dining room or a living room if you have a family room or great room for your more traditional tree.
Off topic: I am in love with the built-ins in the above picture with the top moldings and those lights.  Love!!
What I'm loving for my primary tree is this gorgeous flip tree from Balsam Hill.  It's stunning.  You can get it in different lighting options, clear, multi or both with a remote and what's most fascinating about this tree is that it's a flip tree.  Meaning instead of breaking down the tree and putting it up in parts each year, it comes mostly ready to go.  You'll have the topper that you add to it but the tree comes on a wheel type of situation and you invert it upright.  When you click on this link for the tree you'll see what I mean.  It's worth paying more for it in my opinion.
It's hard to say what size tree you need unless you know how high your ceilings are.  My current tree is 6 feet or maybe 6.5 feet and I really want a 7.5 foot tree.  But in a different house we could have much higher ceilings so you would want to think about that and your tree topper before making that decision.
The last tree I'm sharing is also from Balsam Hill and it would be perfect for a foyer.  Of course depending on how your home is situated.  But in my mind, a nice slim tree is perfect for an entryway or dining room or if you're short on space, your living room.  Oooh or maybe in a loft or stairway landing.  Can you hear the wheels turning in my head? 😉
This is the Cathedral Fir Tree from Balsam Hill.  Too thin?  Maybe, but I like it.  Would I have more than three trees in my dream home?  Probably.  But for now these are the three I would get.  The rest are yet to come to me.  What do you think about Christmas trees in the bedroom?  I think that may be a bit overboard for me.  But never say never 😉
Christmas Decor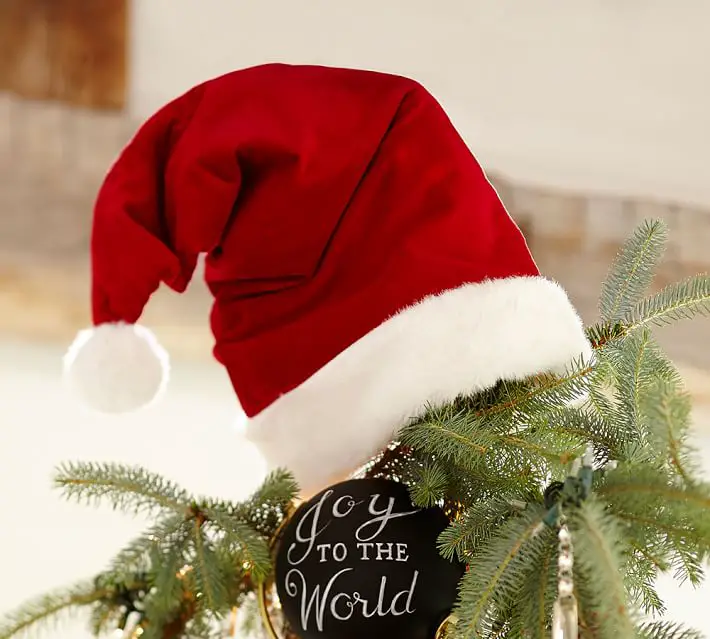 I have wanted this Pottery Barn Santa Hat tree topper for a while now.  I'm surprised it's still in stock.  They bring it back each year and I hope they continue to do that because when we have a second tree I would love to have this be the topper.  Like on that flocked tree!  But it's not for me now with the one tree.  I'm cool with Santa but for our main tree I prefer our angel or star tree topper.  One day I will have this Santa Hat tree topper though.
I have another confession to make… I am a super sappy dork.  In case you didn't already know 😉  So it's my dream to have Christmas sheets for everyone's bed in our home.  The whole bed doesn't go Christmas but the sheets do.  So when you turn back your comforter you see a pop of Christmas all month long! 🙂  I was talking about this with a friend recently and turns out I'm not the only one 😉  Tell me these jumping reindeer sheets don't make you smile!
These jumping reindeer sheets are sadly sold out, but these cute candy cane sheets are similar!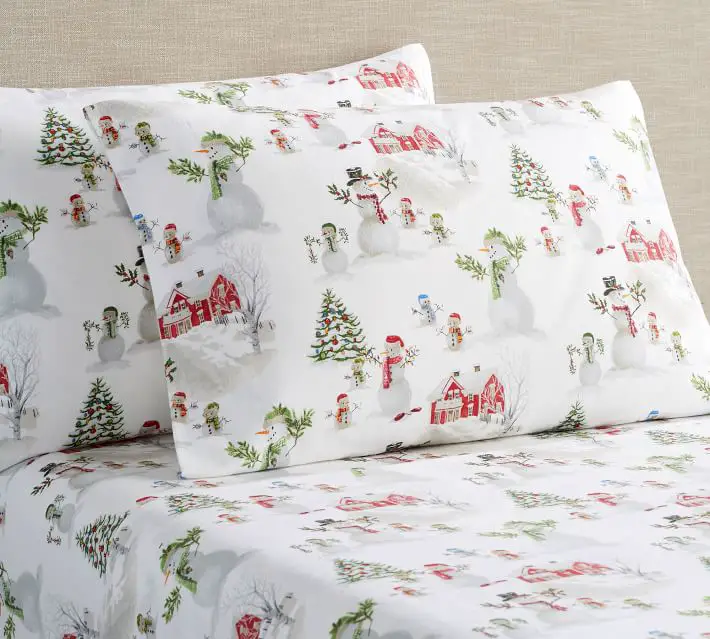 These snowman flannel sheets are simply perfect.  I know my kids would love them because I sure do.
And who can resist Snoopy?  The Peanuts Christmas movies are tradition in our home so these sheets would fit right in around here.
Clearly you can see that I have a love affair with Pottery Barn.  I'm not ashamed.  I love them.  And I'm willing to splurge in some areas and save in others.  Typically I'm for saving when it comes to pillows but this one is a splurge.  But I love this sleigh bell pillow.  It works on both the bed and the sofa or chair.  I suggest if you'd rather not splurge on pillows to check out places like Kirklands, Hobby Lobby, Target, Kohl's and JcPenney in person and you'll find some lovely holiday pillows at a bit more lovely of a price.
We love our stockings that we have.  I got them from JcPenney back when Brianna was born and added Jordan's when he was born.  I've checked to see if I could find them online but I can't.  What do you do if you have two fireplaces?  You get more stockings right?  I love these natural fair isle stockings from Pottery Barn Kids.  I can see them stuffed or unstuffed, either way they are definitely my style.
I just love these knit style stockings so much I had to round up a few more for you to see!
CHRISTMAS KNIT STOCKINGS

I've rounded up some fun Black Santa Christmas sheets from crib, to toddler to Queen size beds!  It's so important for more and more representation to let little kids see a Santa Claus that looks like them!  I believe this is the first step for sure!
BLACK SANTA SHEETS AND PILLOWS

Christmas Signs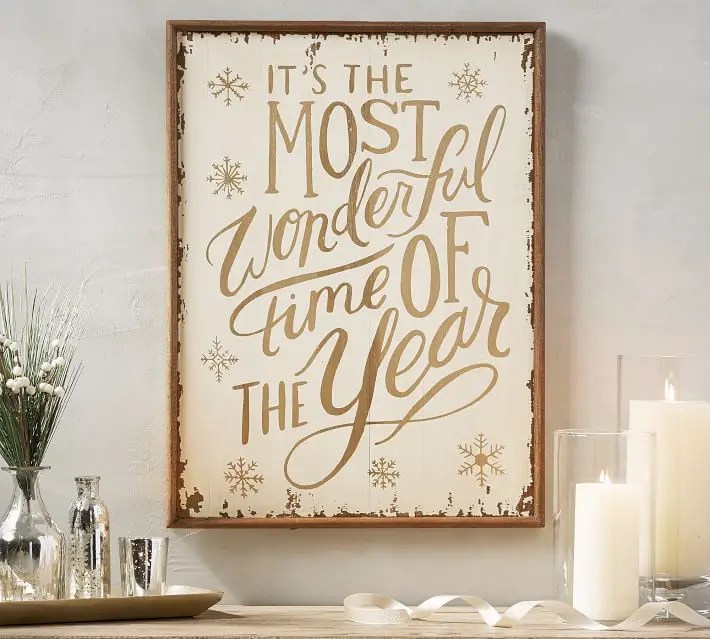 Okay the last thing I'm obsessed with is this "It's the Most Wonderful Time of the Year" sign from you guessed it, Pottery Barn.  I love the overall feel of the sign.  I love the rustic touches which is saying a lot coming from me.  I'm not much of a rustic kind of gal.  I've seen a lot of great signs on Instagram and I decided to find some on Etsy as well. (Always be sure to check the reviews when buying on Etsy)
I just love this Oh Holy Night sign.  One of my favorite Christmas songs.
I also really love this Oh Holy Night sign too.  You can never have too many right?  At least that's what I would tell myself to justify buying them both 🙂
I'm loving this Oh Come Let Us Adore Him sign.  Honestly any sign about my Savior is going to be just perfect!
Thank you for spending some time with me today 🙂  Turns out it's not too soon for Christmas after all.  We don't put our Christmas tree up until the weekend after Thanksgiving traditionally but I can totally see us putting up our Christmas tree maybe a couple of weeks before that in the future 😉  I'm flexible like that!  Whenever you put up your holiday decor I hope you got a few ideas from today's post.  If you did let me know in the comments down below.  Thank you for reading 🙂
**This post is not sponsored by King of Christmas, Balsam Hill, Etsy or Pottery Barn, although wouldn't that be so cool!  One day! **