Welcome back to another Parade of Homes tour!  Unfortunately these posts have come few and far between, but today I can finally share another stunning home with you.  I'm sharing Forest Grove Manor today and it's one of my favorites homes I've seen.  Believe it or not, I still have homes I didn't get to share from the 2018 tour.  As of this moment, the 2020 Parade of Homes is still slated to occur later this fall, so fingers crossed for that!  I'll be there in my mask 🙂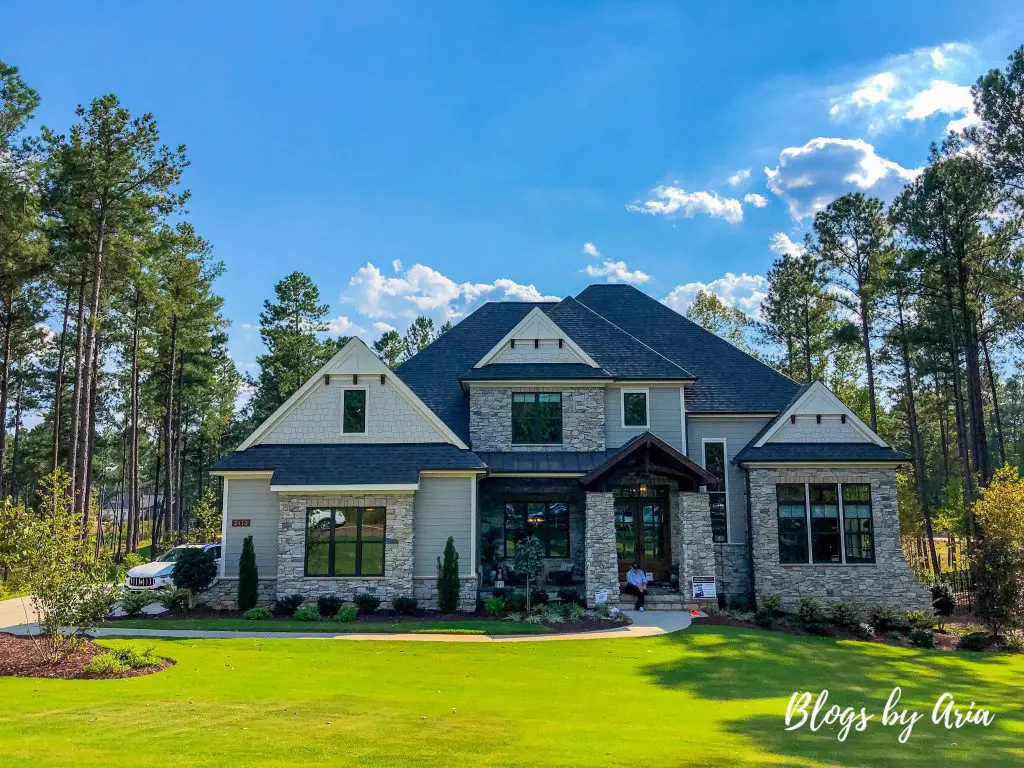 You may immediately be able to spot the similarities from the architecture of this home and other homes I've shared like the Ballantyne house and the Bradford house.
This gorgeous home is located in Wake Forest, North Carolina.  It is in the same community as the Avalon house and the Ashton Woods house that I've featured on the blog.
It has 4 bedrooms and 4 bathrooms and has 4,878 square feet of living space.  At the time of viewing, it was listed at $1,475,000.
There are so many favorite spaces in this home and I hope you love them too.  This architect pays such great attention to detail.  You'll see as we continue to tour this home.
When you walk into Forest Grove Manor you are greeted with this gorgeous staircase in the foyer.  This curved space is the perfect place for a slim Christmas tree.
Off to the right of the foyer is a den/home office.  I love the rustic reclaimed barnwood doors.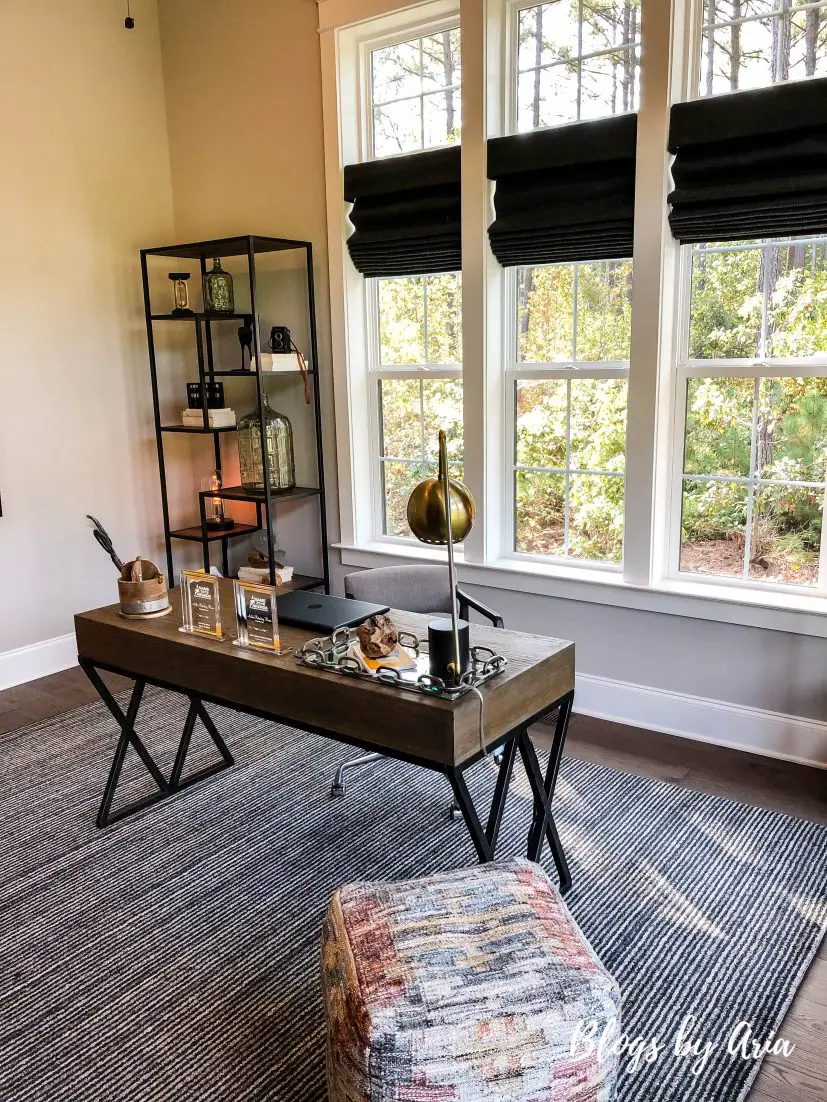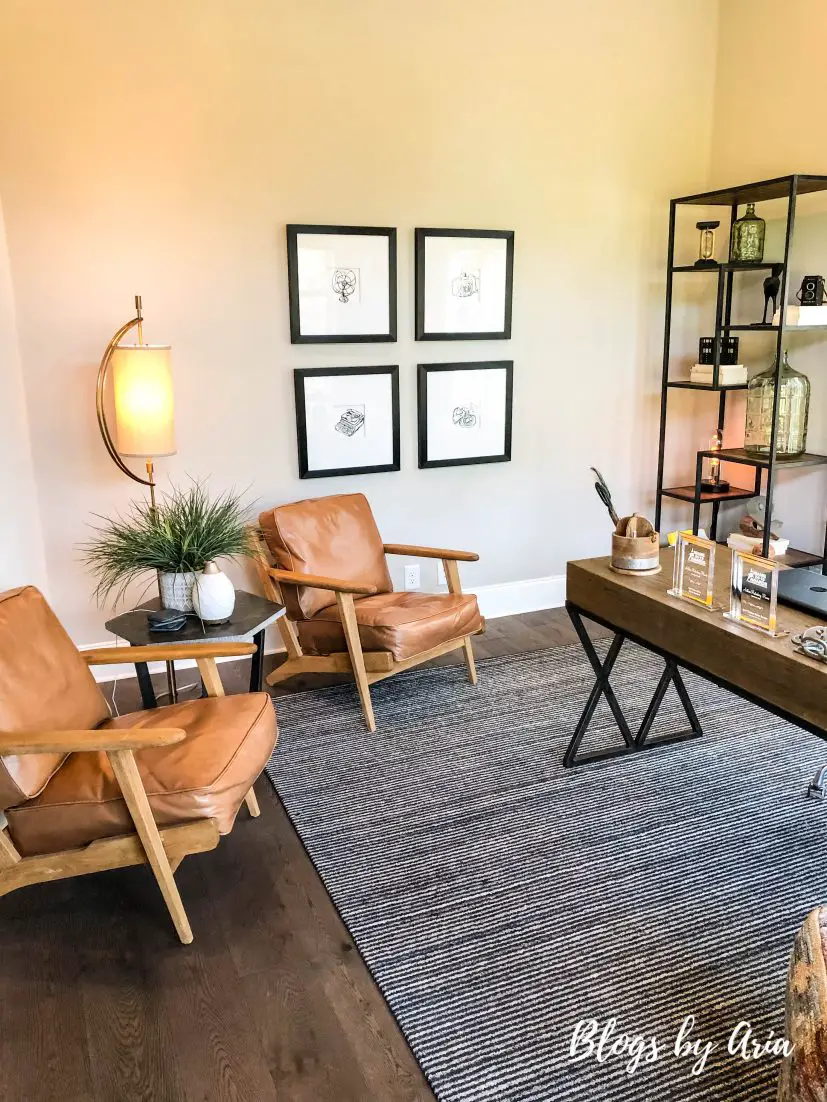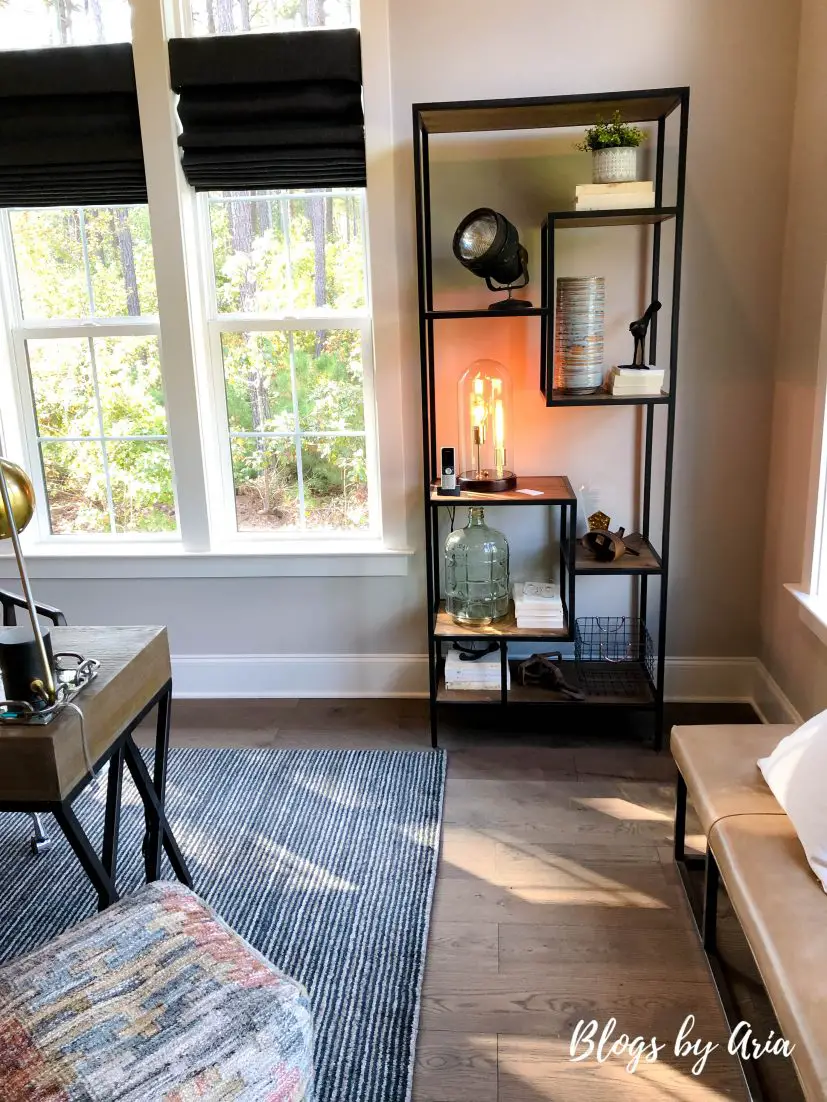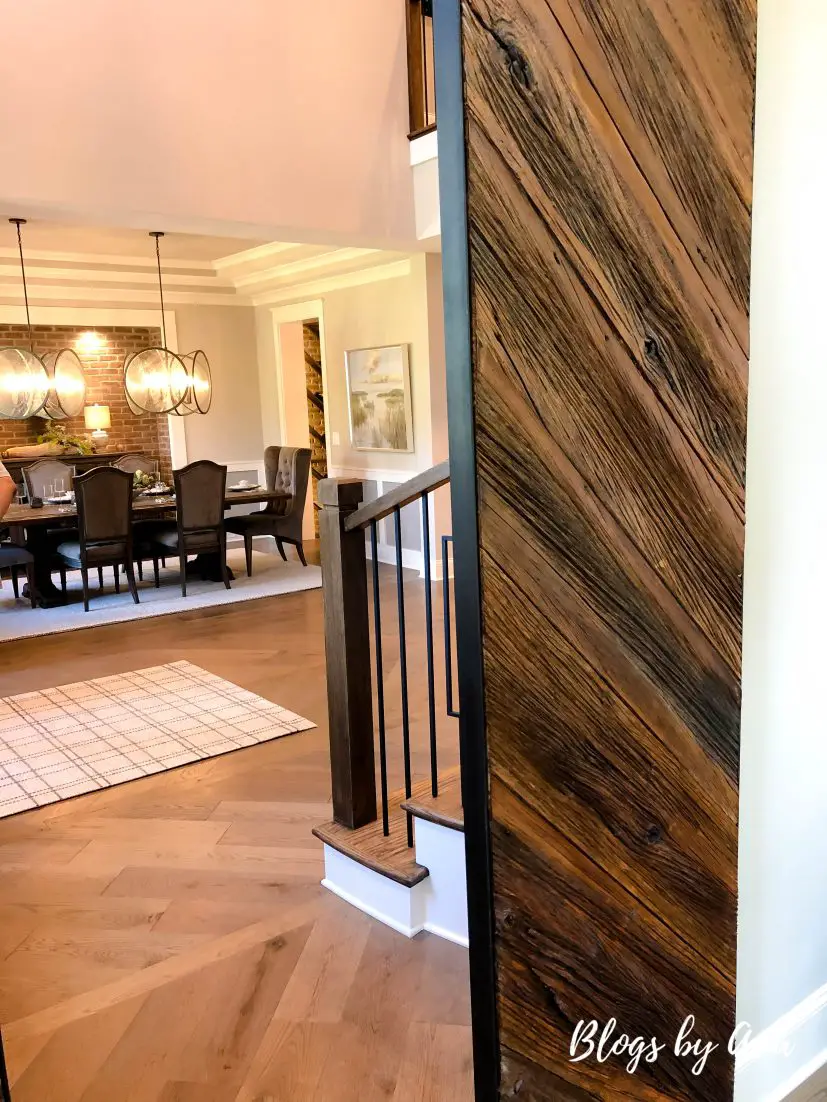 Across from the office you can see one of my favorite rooms in this home.  The dining room!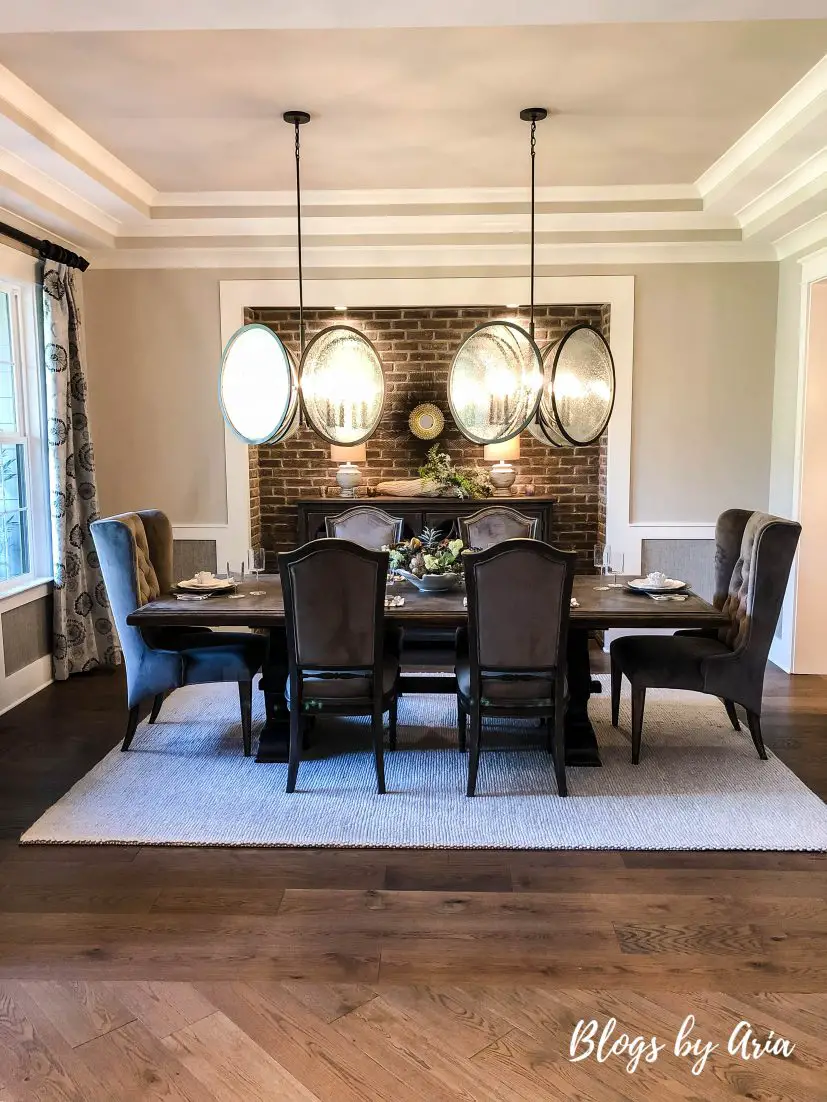 Take a moment to take in all of the details packed into this dining room!  I love this room so much we'd eat dinner in it every night!
From the brick accent niche perfect for a sideboard, to the double trey ceiling to the gray fabric wainscoting panels…don't get whiplash trying to take it all in!  And of course the show stopper light fixtures.
This dining room is perfect for entertaining for sure.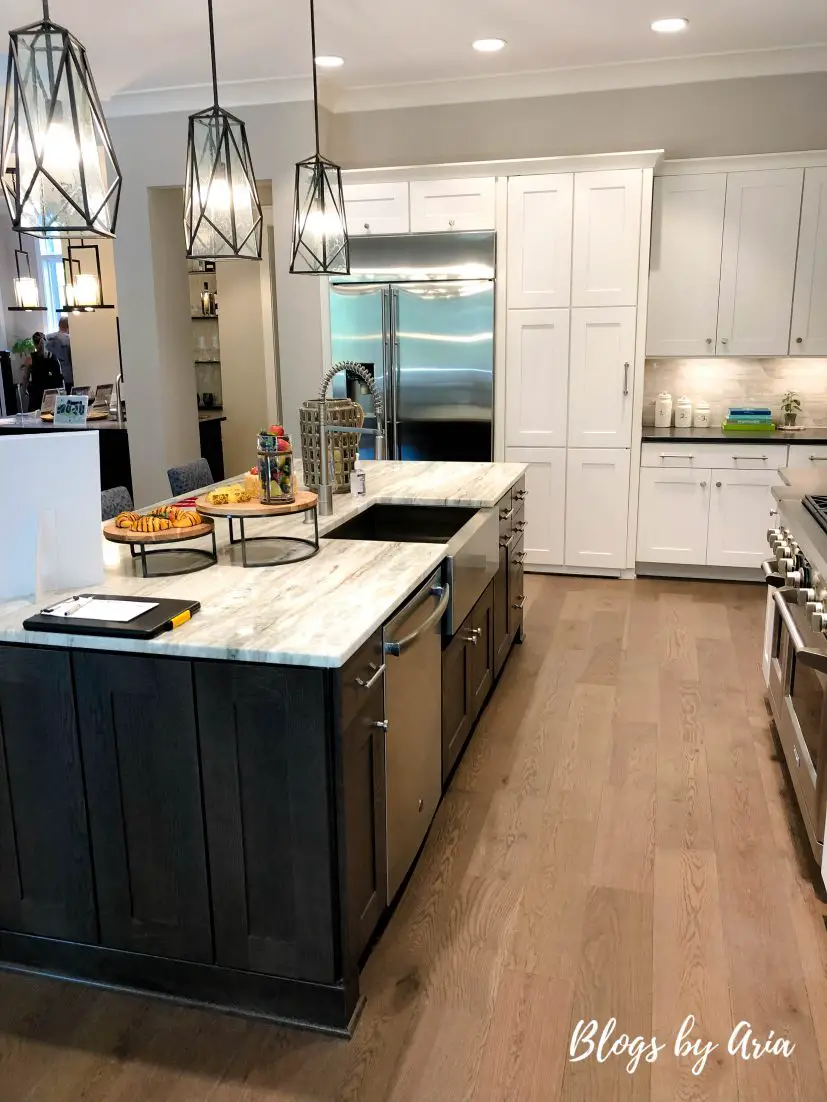 Moving on from the dining room to the kitchen.  There is a bar that, I've mentioned in other posts with this builder, is a signature feature for them.  I can look past that because the rest of the house is pretty much perfect.
Hmmm.  I wonder what is that next to the refrigerator?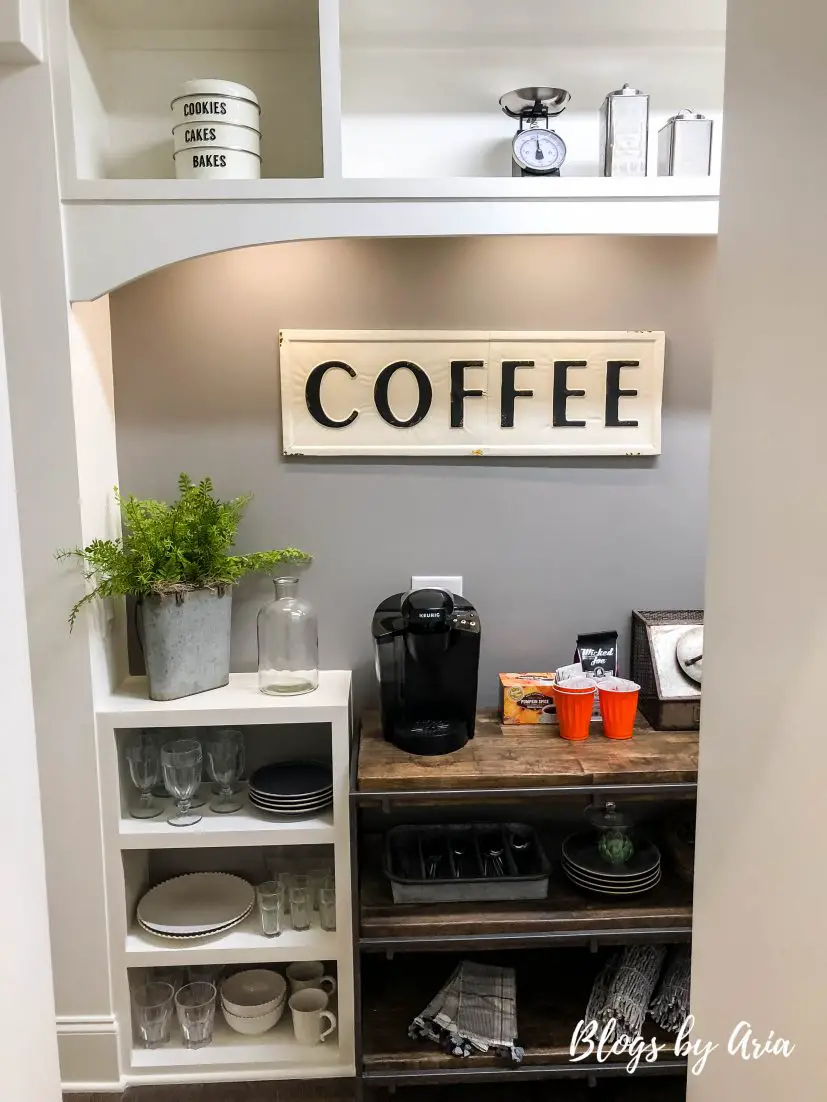 If you guessed a walk in pantry with a built-in coffee bar you would be right!  If coffee isn't your thing, you could put an extra fridge or chest freezer in here in it's place.  I love this set up though, don't you?
Before we move on to other areas of the home, this is the breakfast nook.  Not only does it have a beautiful view, it gives you a great idea for a fall tablescape.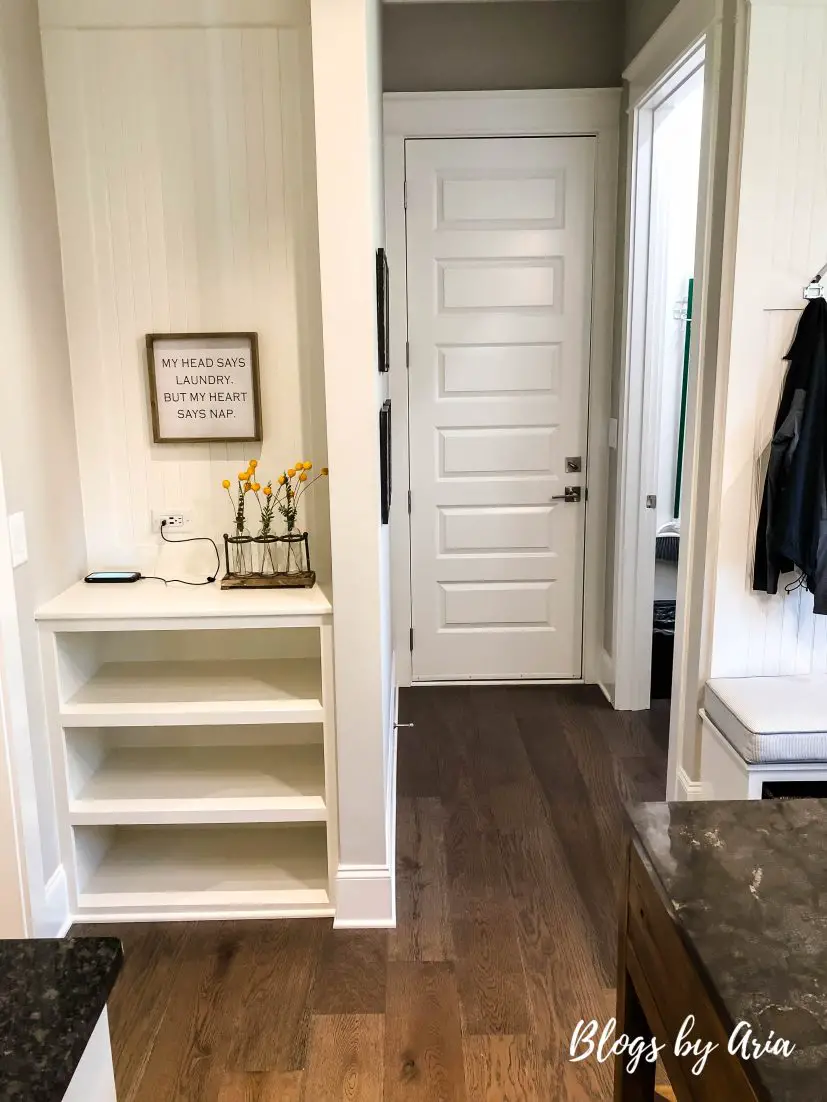 Off of the opposite side of kitchen (the side with the walk in pantry) is access to the garage, mudroom and laundry room.  It's a space that serves multiple uses…
And it has the space for everything.
Mudroom, laundry room and a gift wrapping station!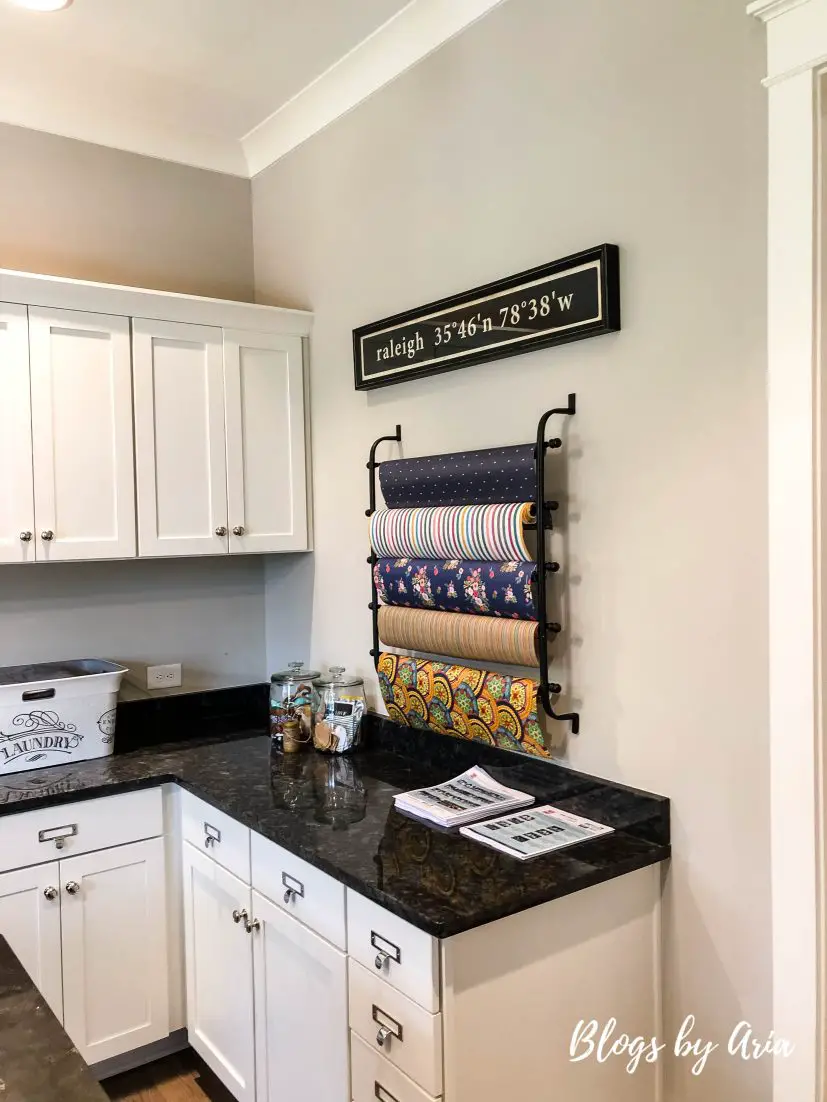 Of course, if you know me, you know I'd love this house for that alone!  But seriously, isn't this space a dream?
I love the cabinets with the filing cabinet pulls.  So much so, that I couldn't stop taking pictures of them.
Back off of the breakfast nook, there is a guest bedroom with it's own en suite.  I just love this tile in a small space like this.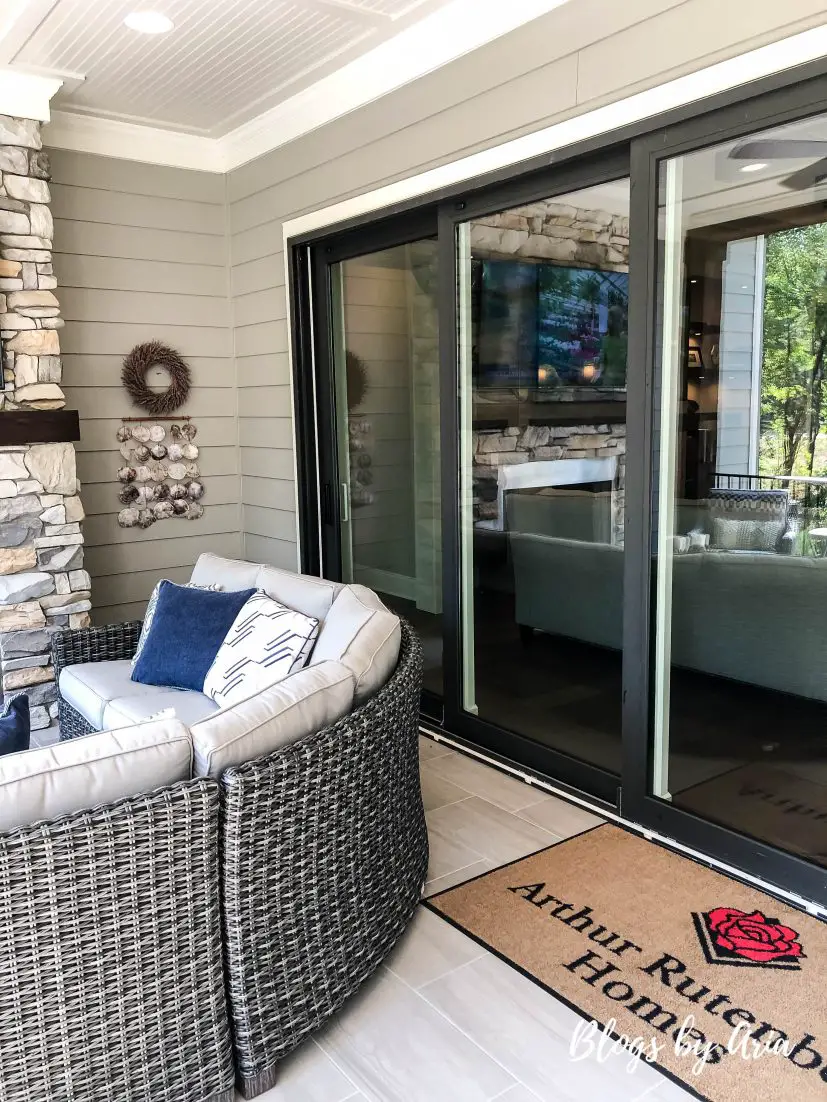 Let's pop outside for a quick second.  What you can't fully see is the stone fireplace with a mounted TV.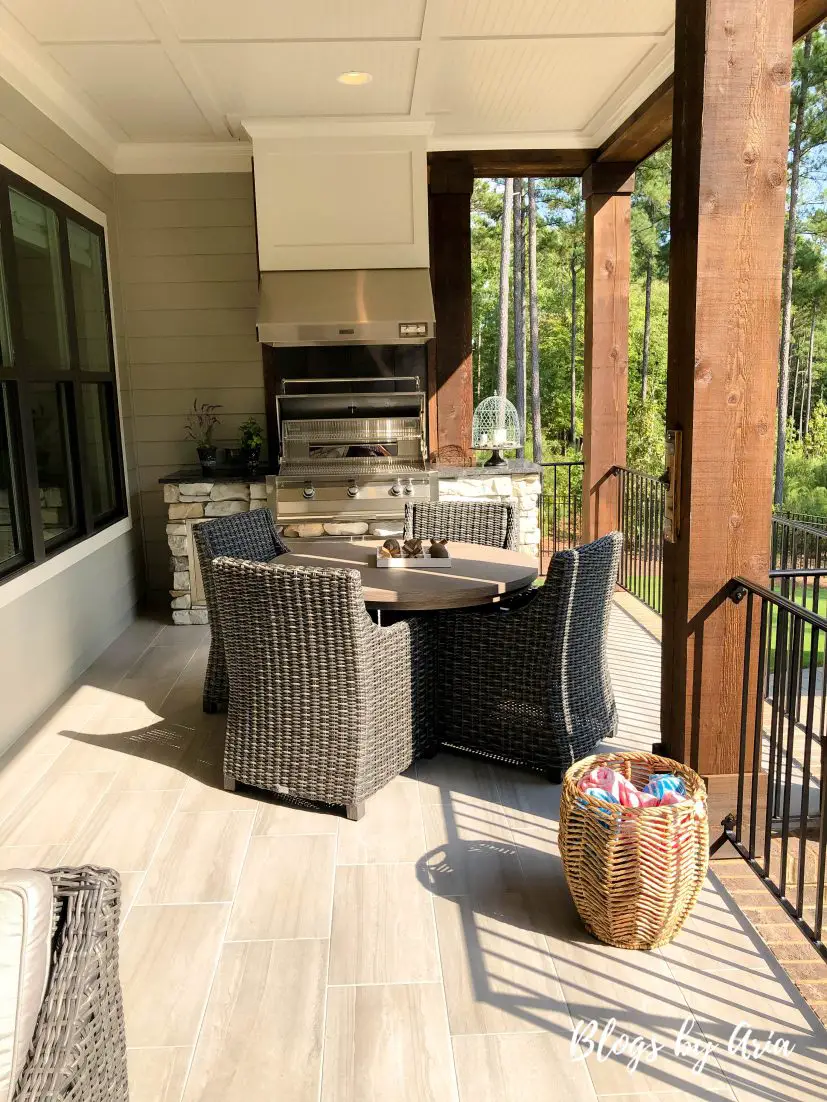 On the opposite side of the back porch is the built-in grill and dining area.
A well manicured lawn with a lovely saltwater pool.  Man that would feel so perfect right about now.  If there's anything I've learned during this quarantine is that when we buy a house we need to have our own swimming pool.  North Carolina summers are hot!  So are the springs and the falls.  I think the maintenance is worth the coolness of the water on a hot North Carolina day.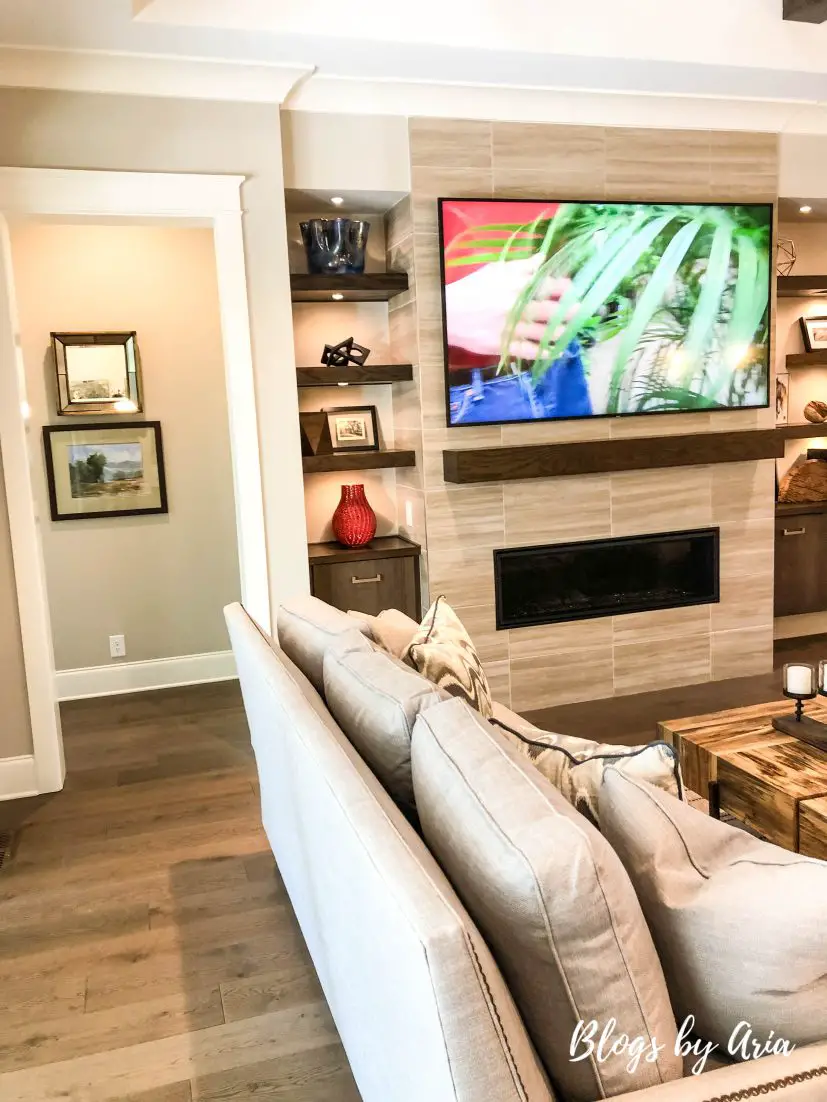 Stepping off of my soap box and into the living room.  Ummm, the one shot I got of the living room.  You can see the tile from the fireplace is the same tile from the back porch.
Isn't this master bedroom lovely?  I love so much about this room.  The big, beautiful windows.  The planked ceilings.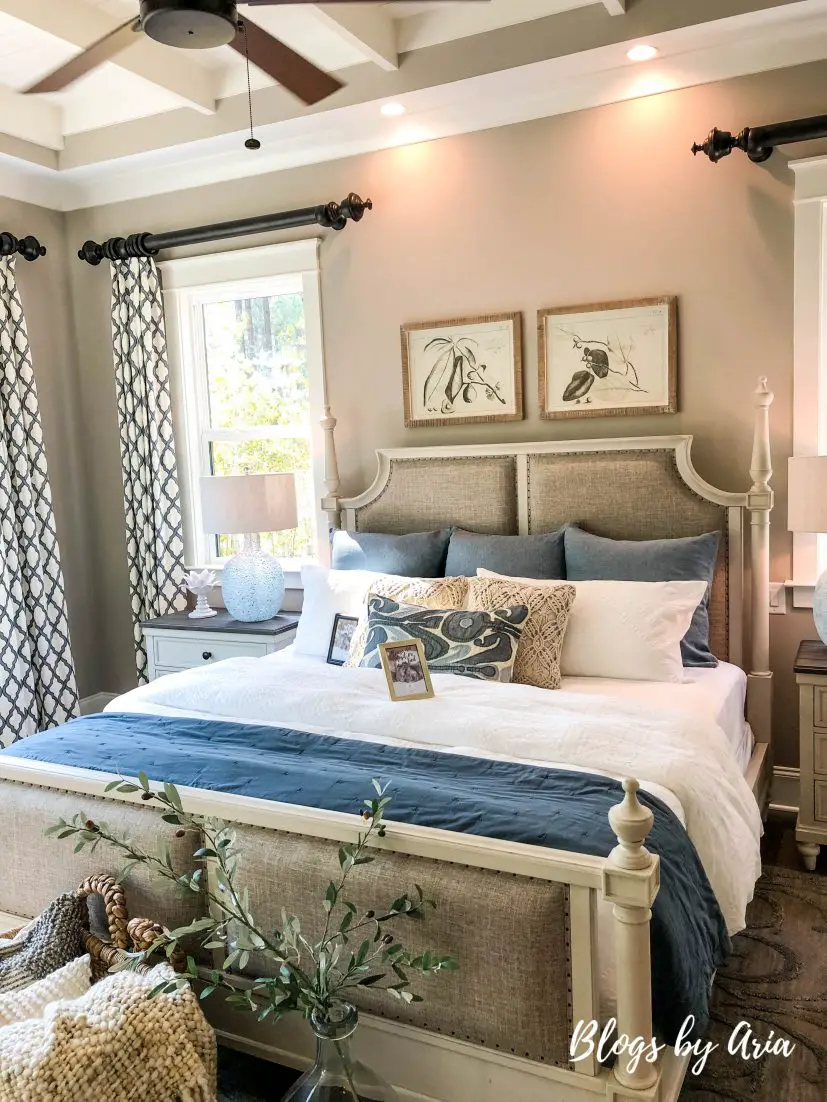 Can I just pick up this bedding and all of this decor and place it my bedroom please?  So much interior design inspiration.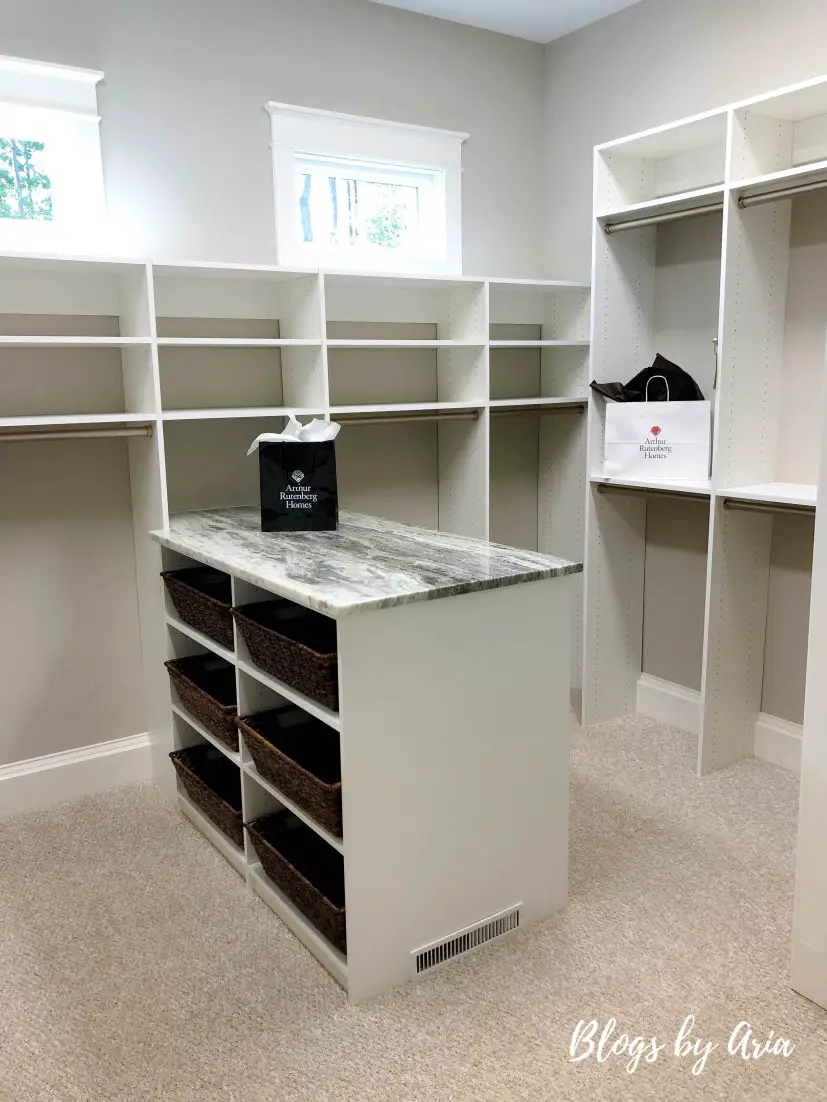 Admittedly, there are a lot of pictures I usually get that I didn't in this home.  And that's okay.  Because I have one space in this home that could really stand alone in its own post.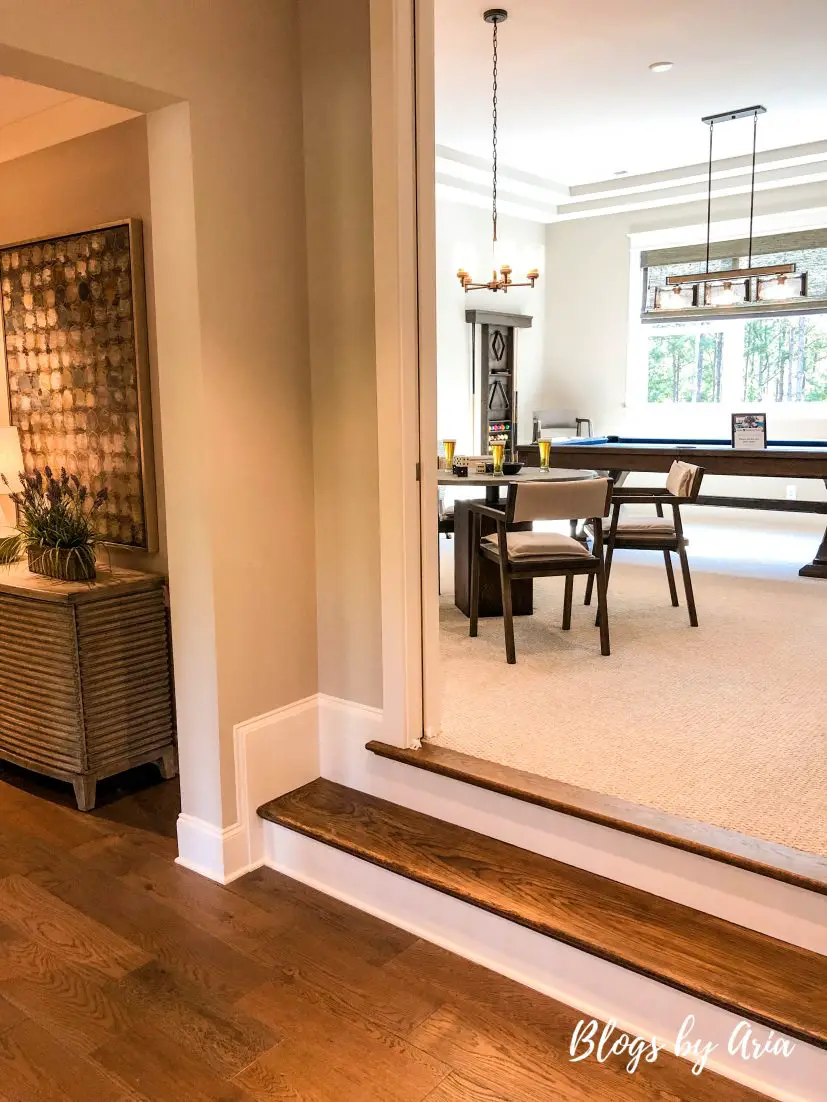 When walking upstairs you see the entrance to the bonus room and you assume it'll just be an ordinary bonus room.  Well there is nothing ordinary about this room.  You'll see why…
As you can see you walk in and see a pool table and a card playing table.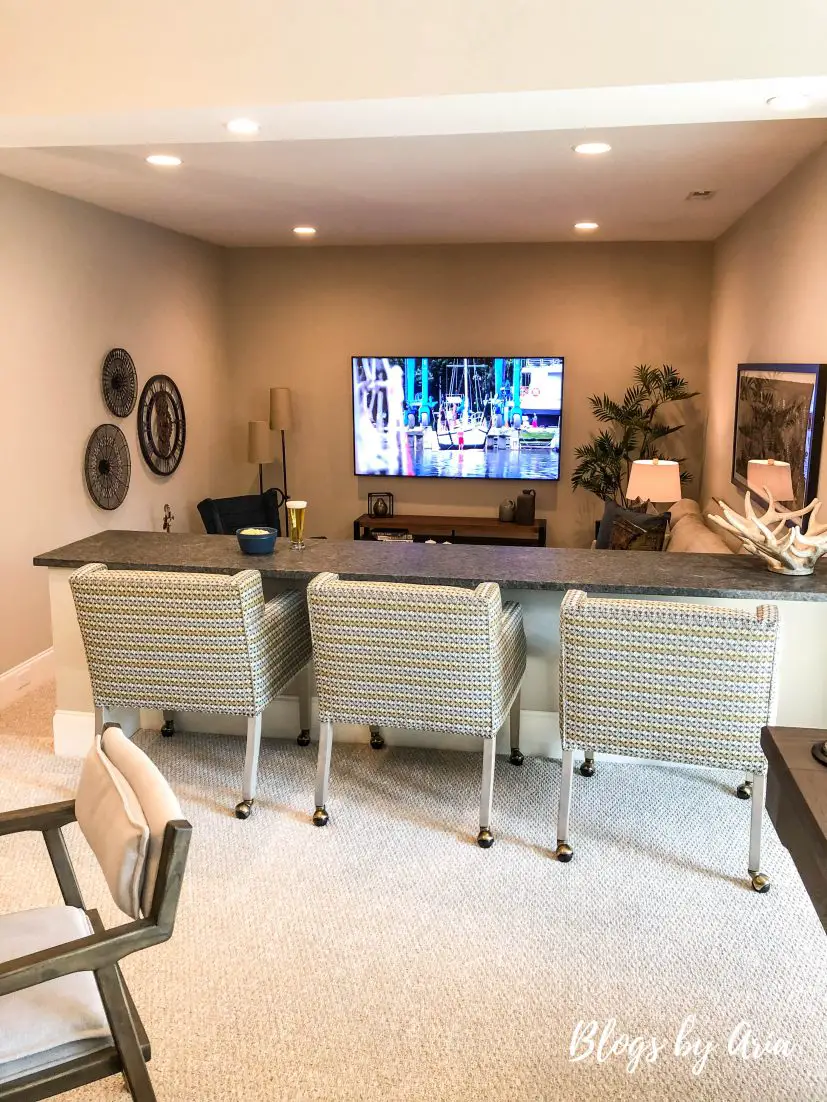 But wait, there's more!  This is a dream man cave!  Whether it's used for the grown ups, the teens or the kids it's perfect for all of the above.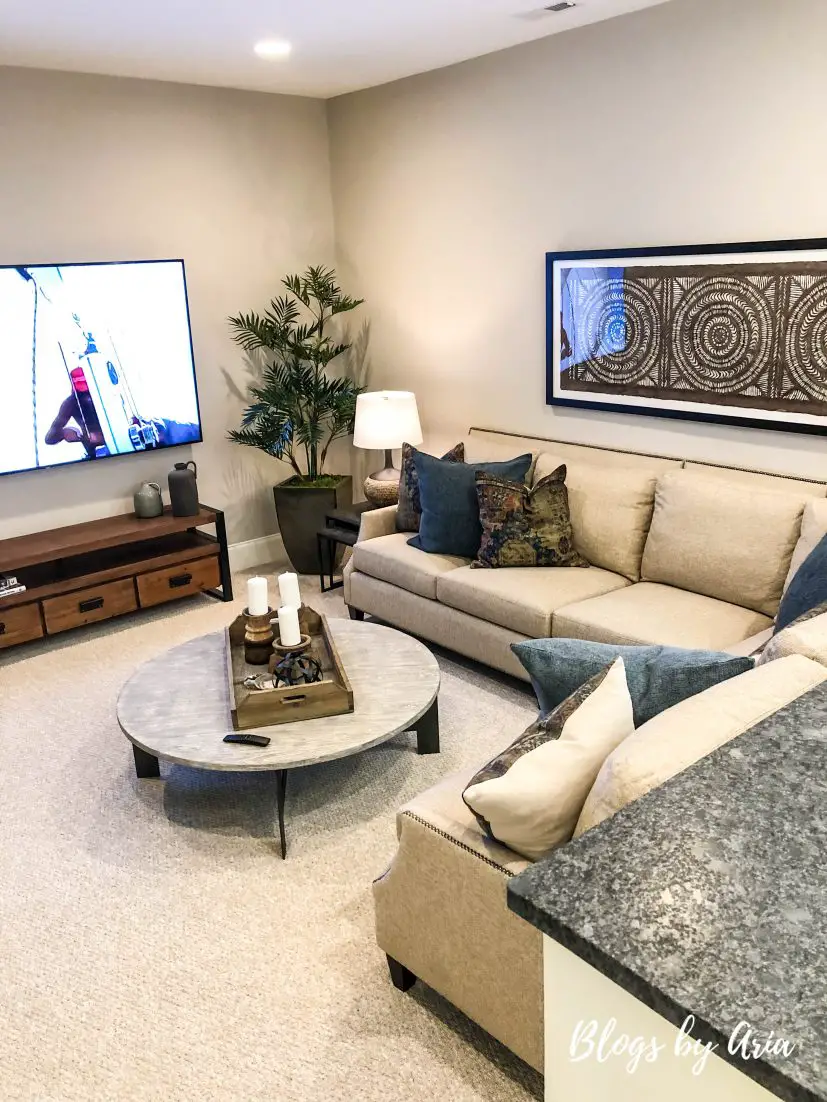 This sunken rec room is perfect for family movie night or watching the big game.  It's nice and comfortable.
If you don't want food in this space the bar is perfect to be able to still be part of the action.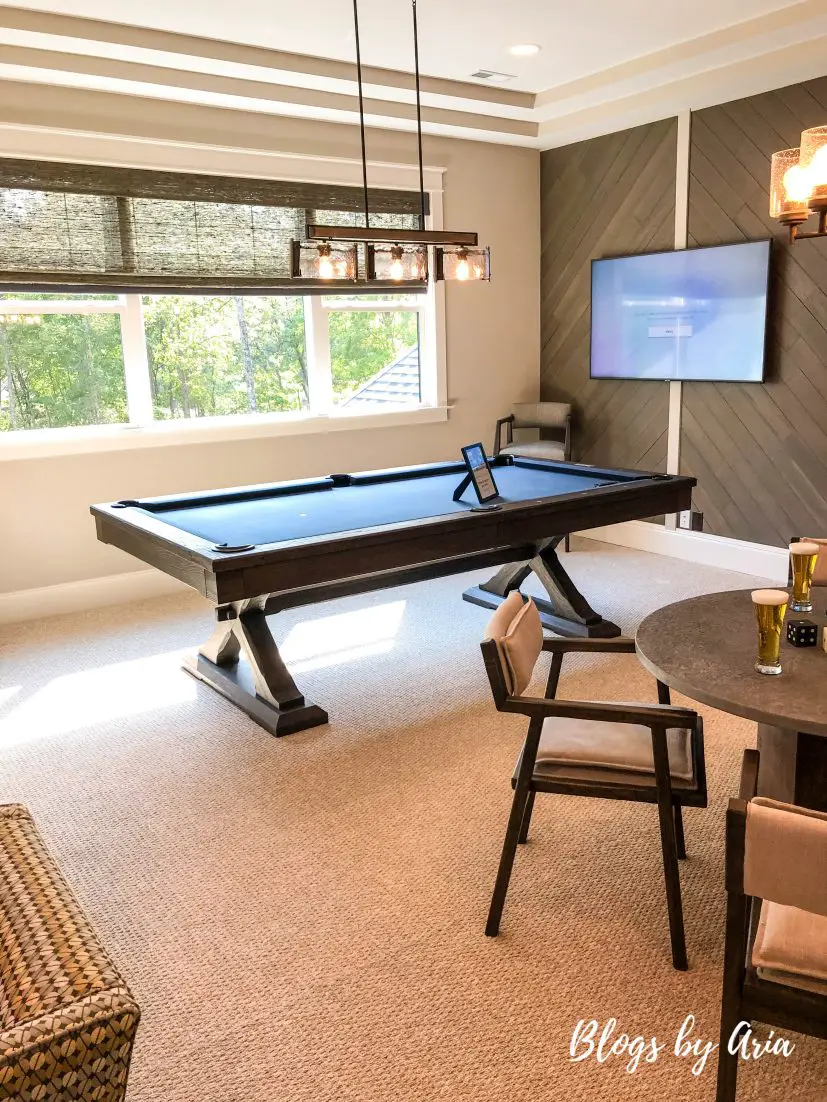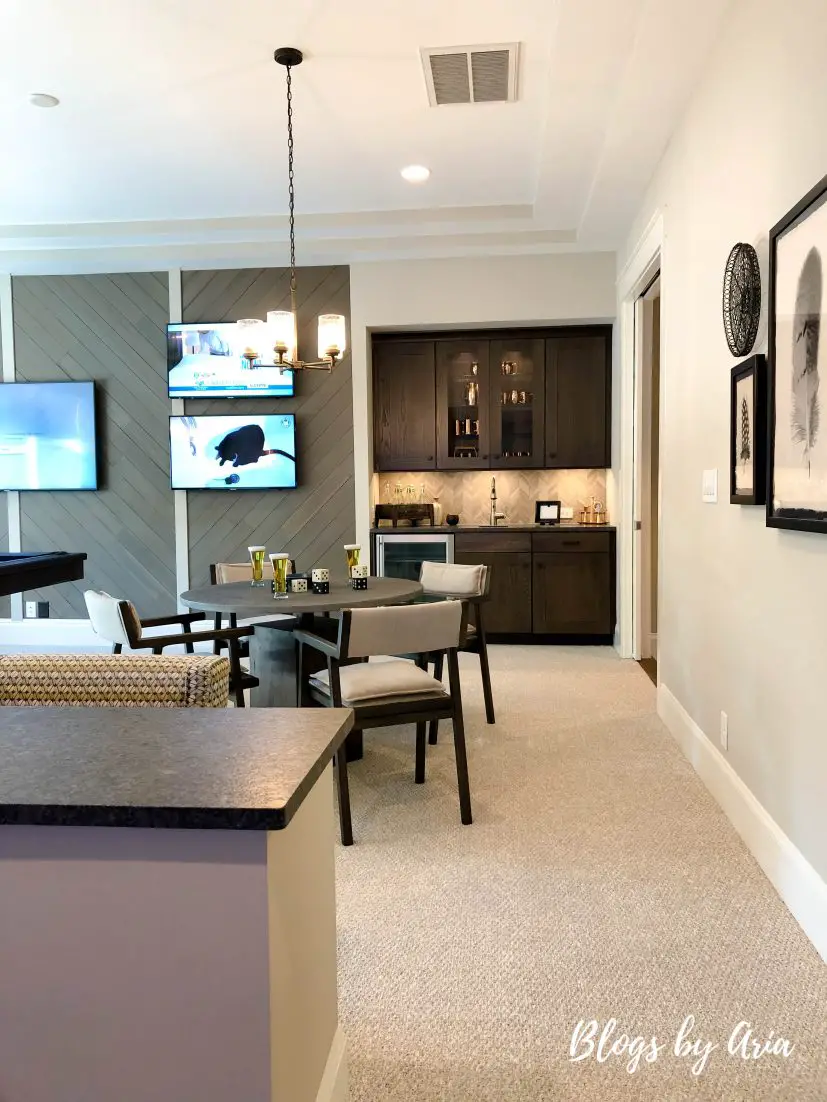 What I wish I could capture in a larger picture, that you can piece together, is the three TV's on the game room wall.  During playoffs or March Madness the party will be at this house!
This rec room is definitely something I would like to include in my dream house for sure.  I don't think I've seen anything quite like this before in a house.  It's like a scaled down Buffalo Wild Wings.
Also on the second floor are two bedrooms each with their own bathrooms.  In addition to that there is yet another bonus room and exercise room.  Seriously, this home was built for me! 😉
To me this is a great home for a family of four with older kids and teenagers.  For me, I like to have everyone at home (never as much as we've been as of late) but spread out.  Everyone would have their own space in this house and plenty of it.
I hope you enjoyed taking a tour of Forest Grove Manor and got some inspiration.  It's always so fun to not only tour beautiful homes but to bring them here and share them with you!