Another beautiful day and another beautiful Parade of Homes house tour!  Today we're going to take a walk through the Camberly modern farmhouse.  I so enjoy touring houses and I hope you enjoy taking these tours with me too!
*this post includes affiliate links for your shopping convenience, you can read more about affiliate links by reading my Disclosure*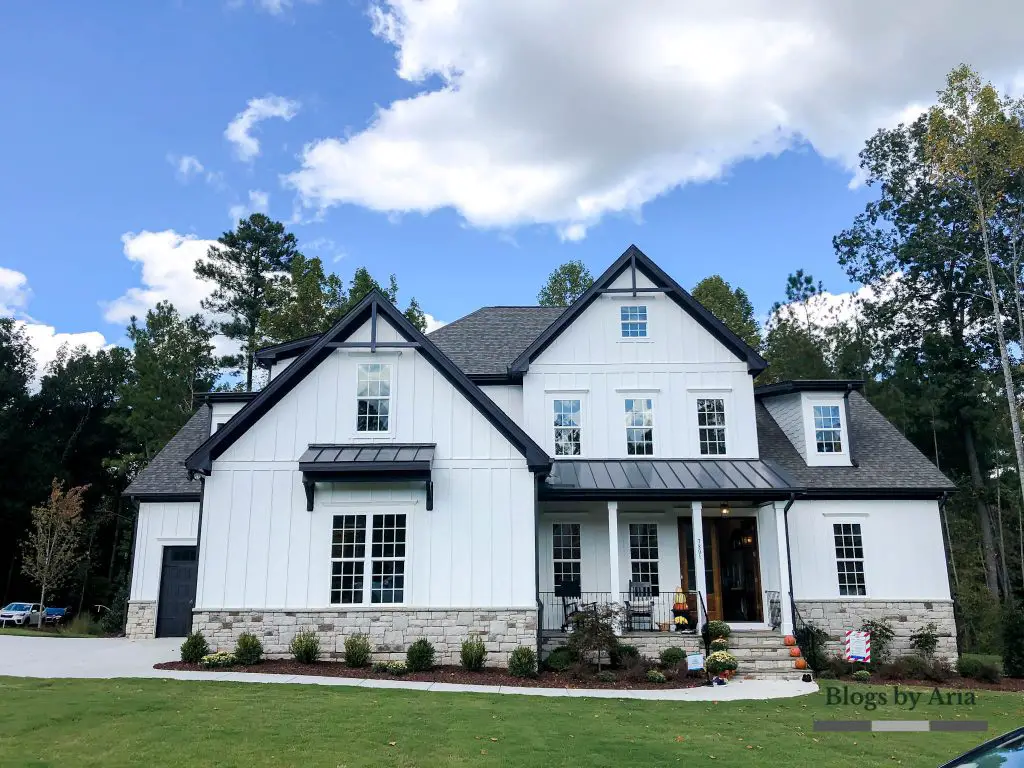 Welcome to the Camberly modern farmhouse!  Located in Wake Forest, North Carolina this modern farmhouse has four bedrooms, five bathrooms, a three car garage and is 3,917 square feet!  At the time of viewing this house last fall, it was listed at $800,000.
This modern farmhouse is located in a neighborhood I've toured before and love.  Some of the other houses I've shared from this neighborhood include: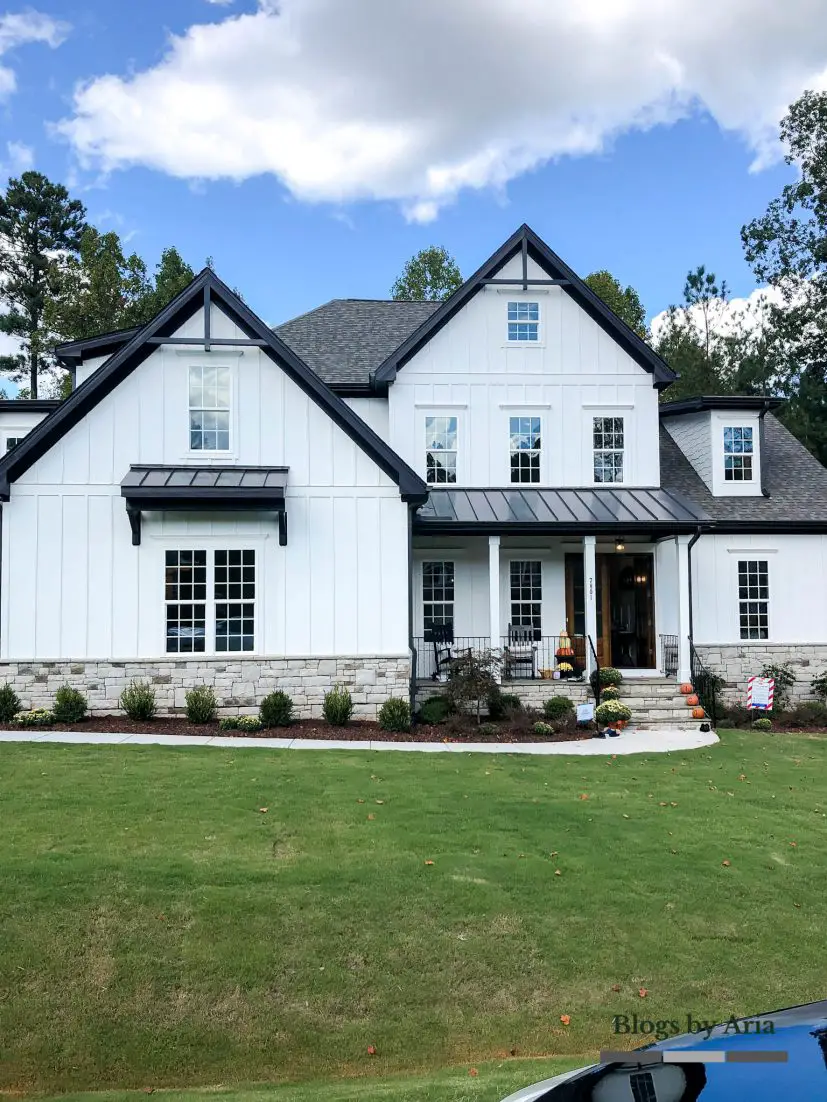 I love the curb appeal as you come upon the Camberly modern farmhouse.  The white board and batten is accented by black trim and awnings.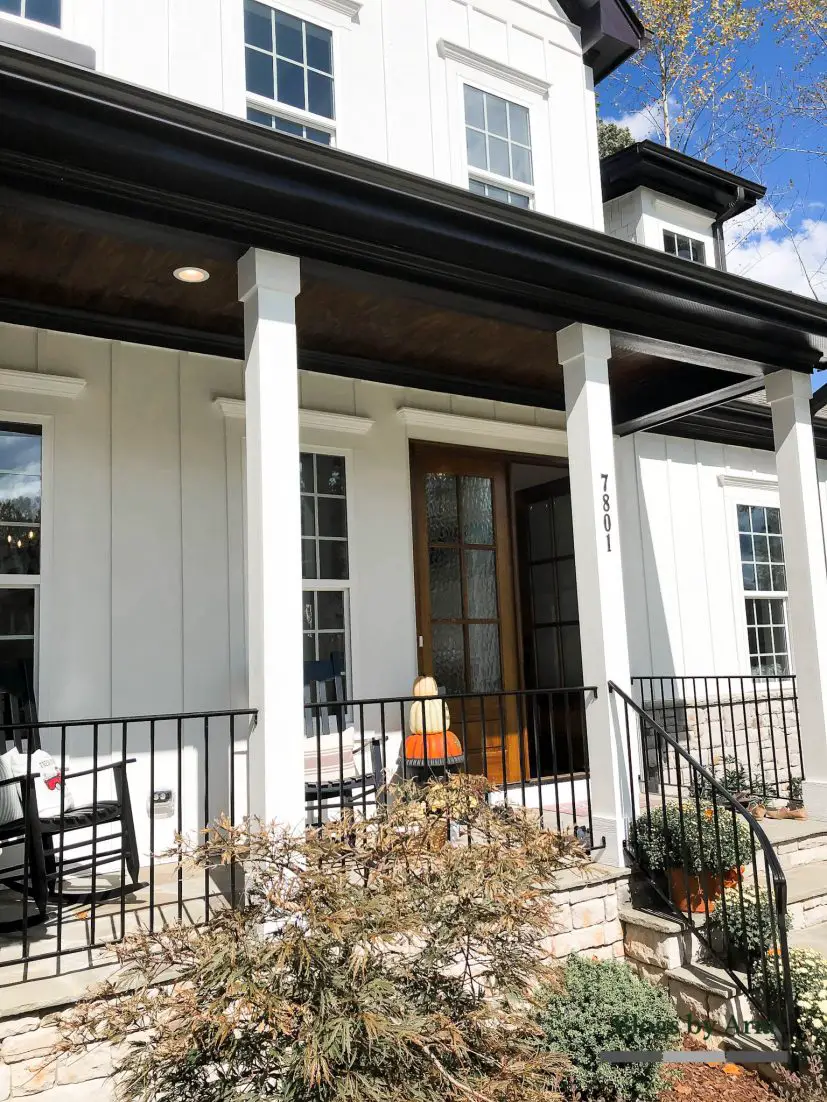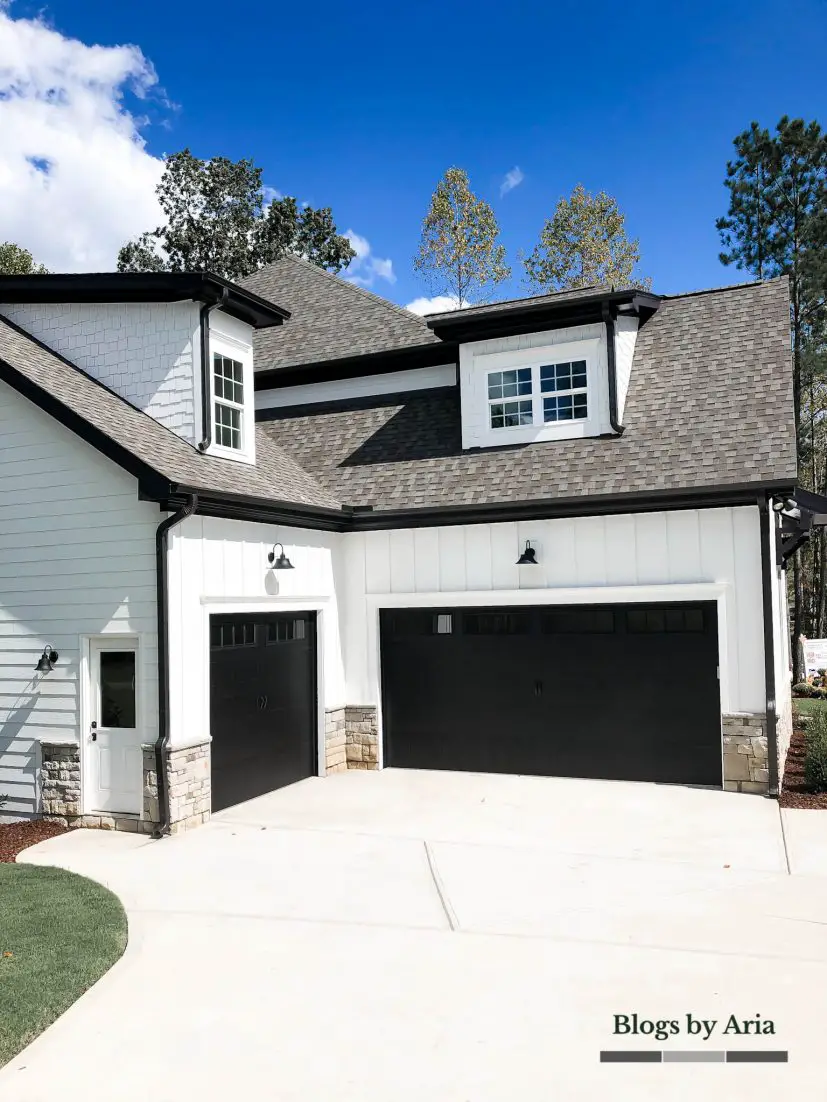 The board and batten continues to the three car garage.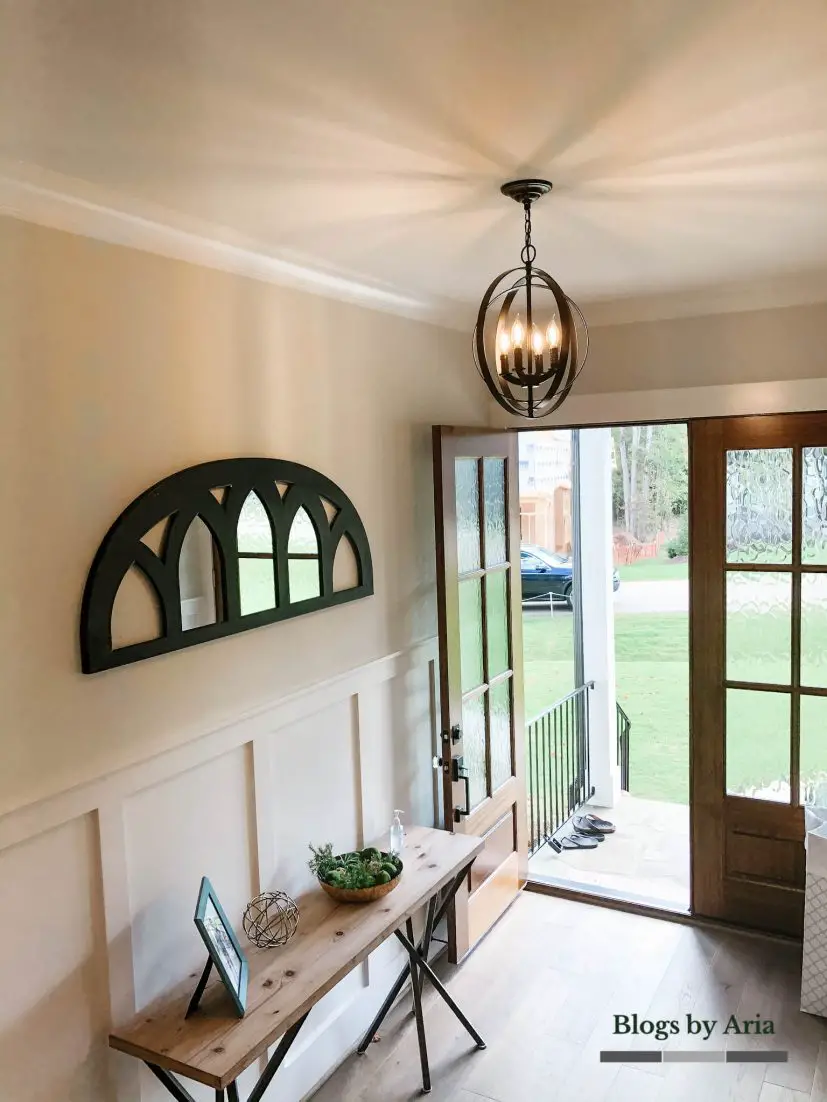 The entryway features double doors with privacy glass and wainscoting trimwork.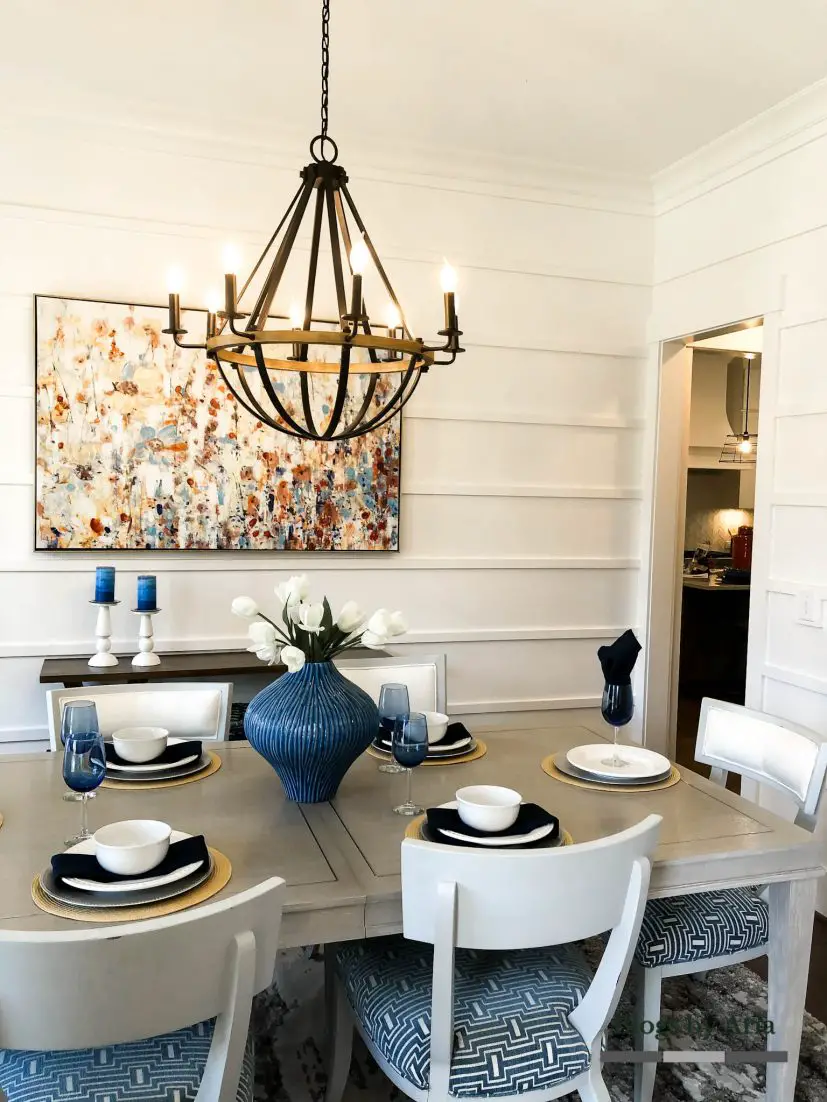 How cool is the horizontal board and batten trim in the dining room?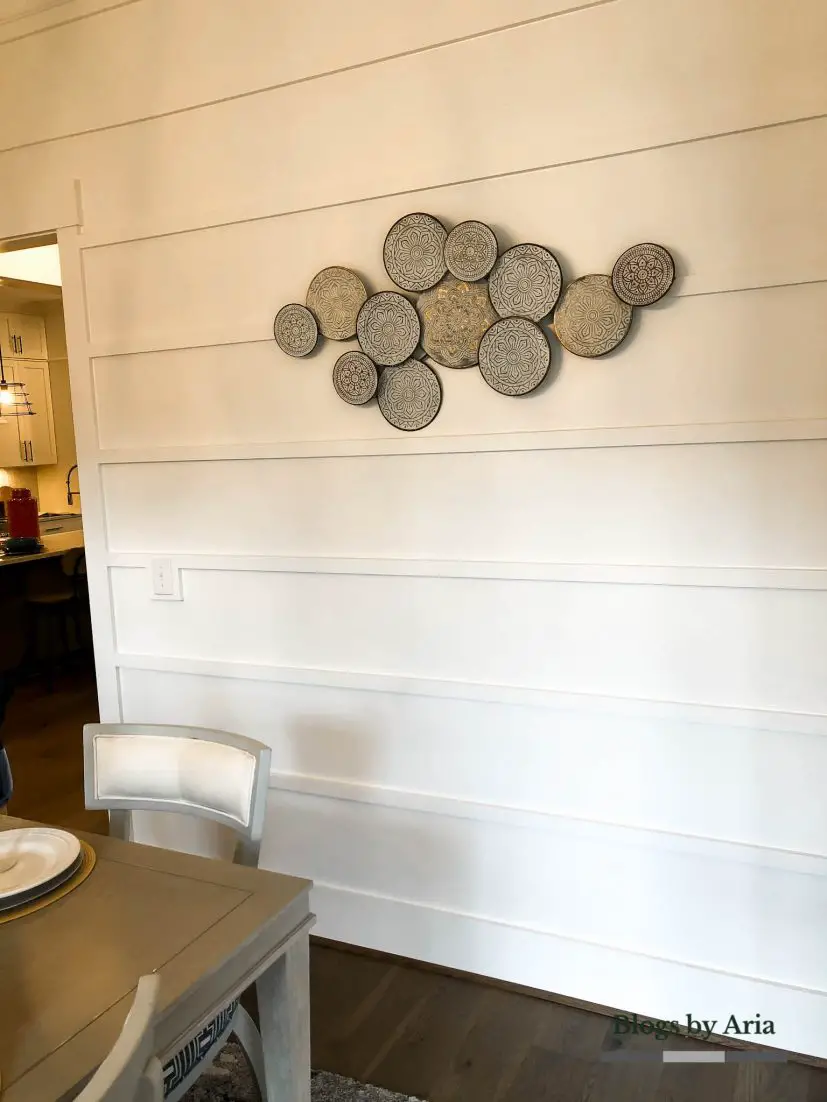 A little personality was added to the fronts of the stairs.  If you want to recreate this look on your stairs you can with peel and stick stair riser vinyl.  I found some similar options on Amazon and also on Etsy.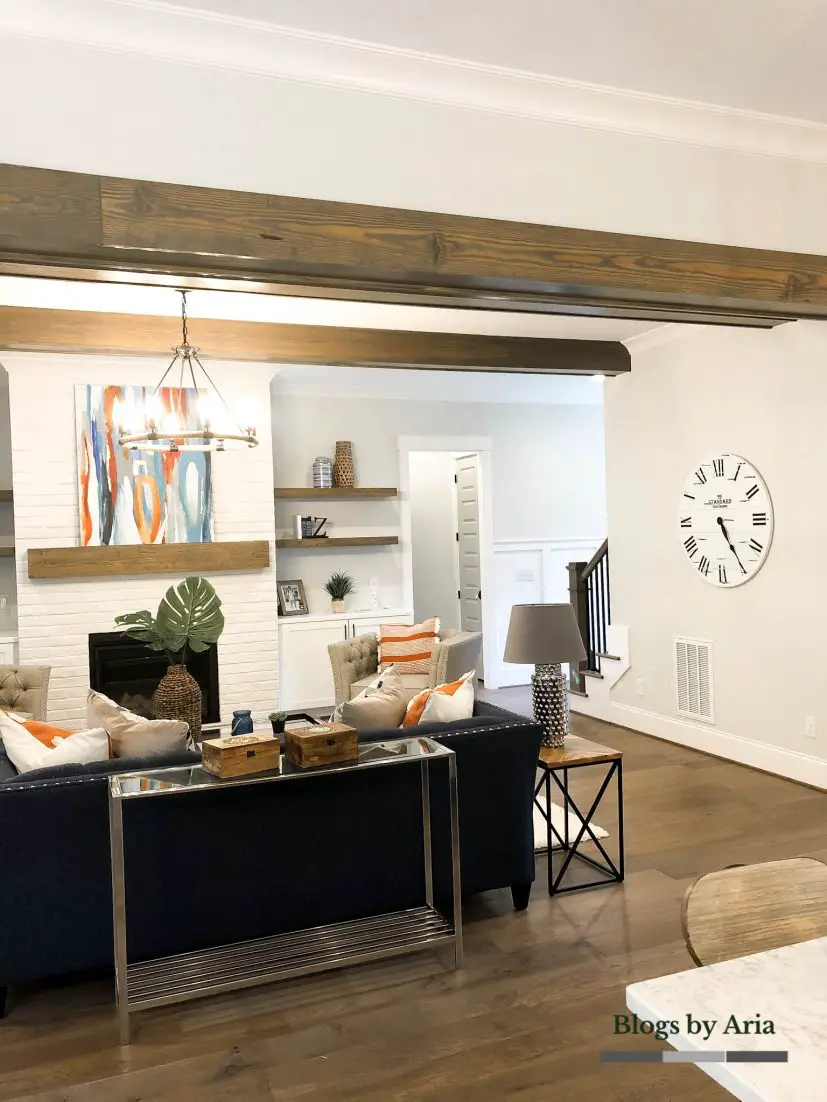 One of the features that I like in a modern farmhouse are wooden beams.  You'll see them make an appearance more down below.  Wooden beams can be used to accent ceilings and to separate rooms without walls.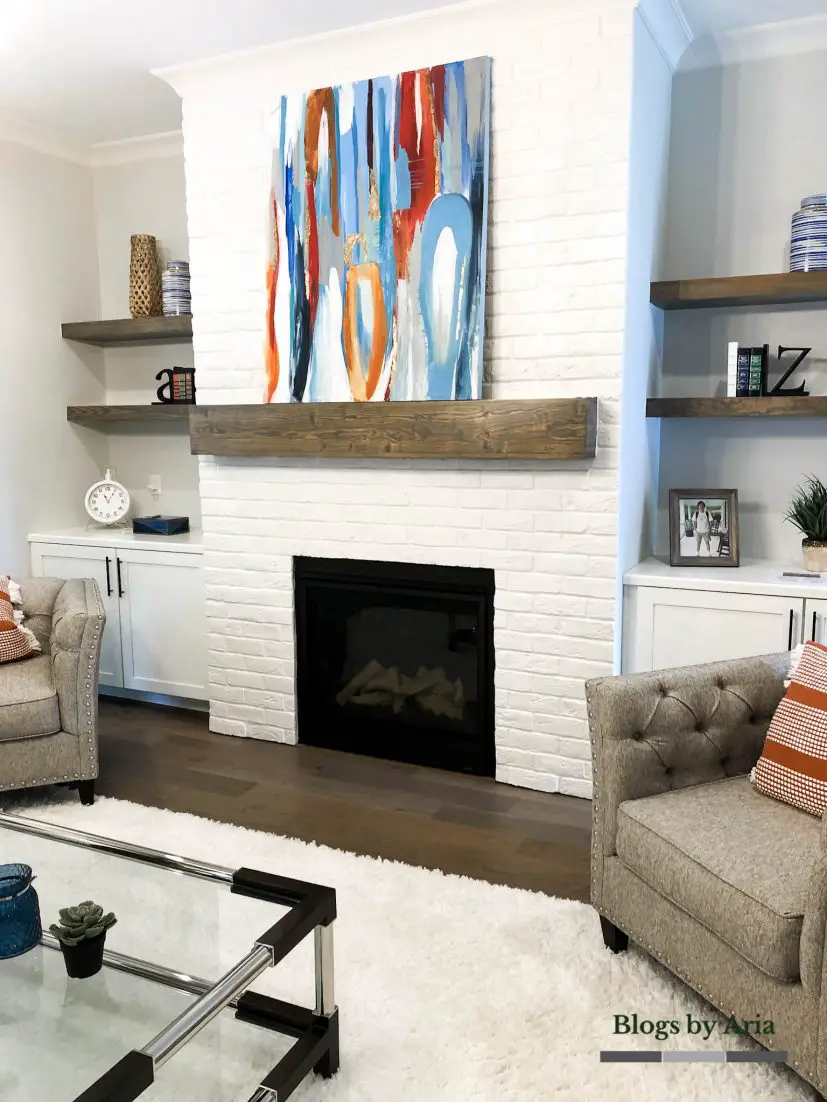 The family room features a painted white brick fireplace with a wood beam mantel that ties in with the wood beam floating shelves.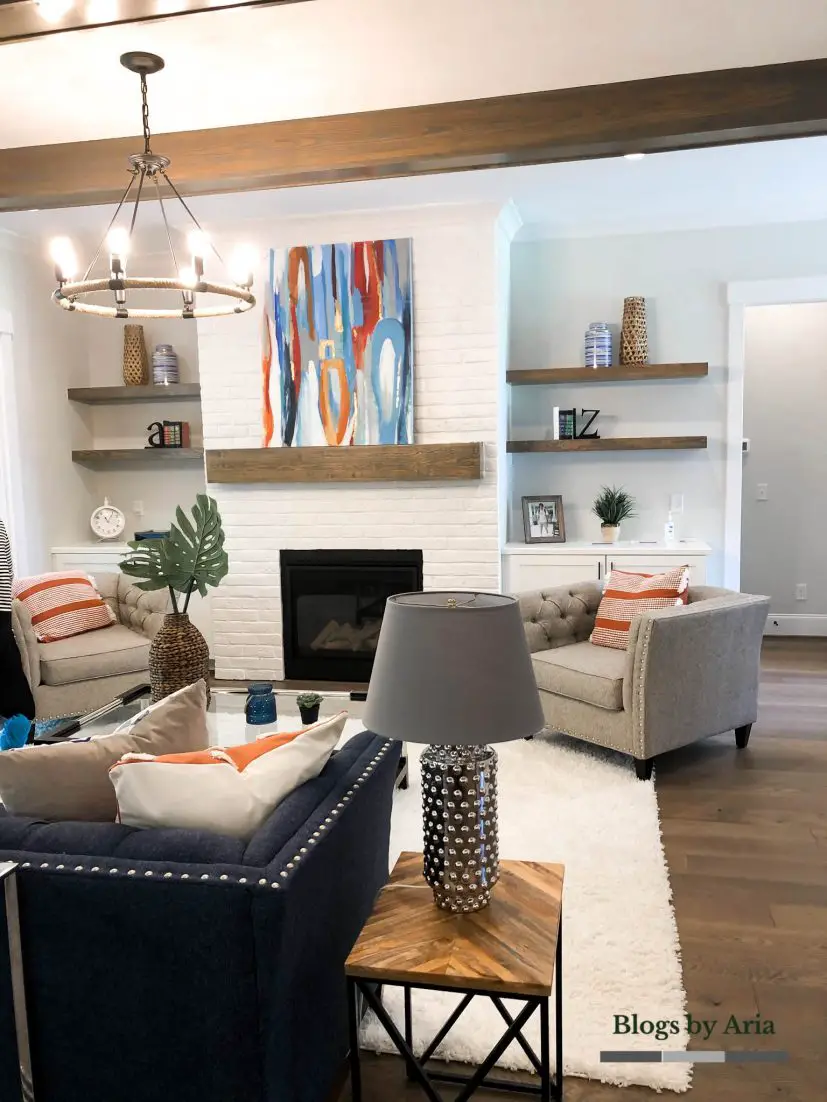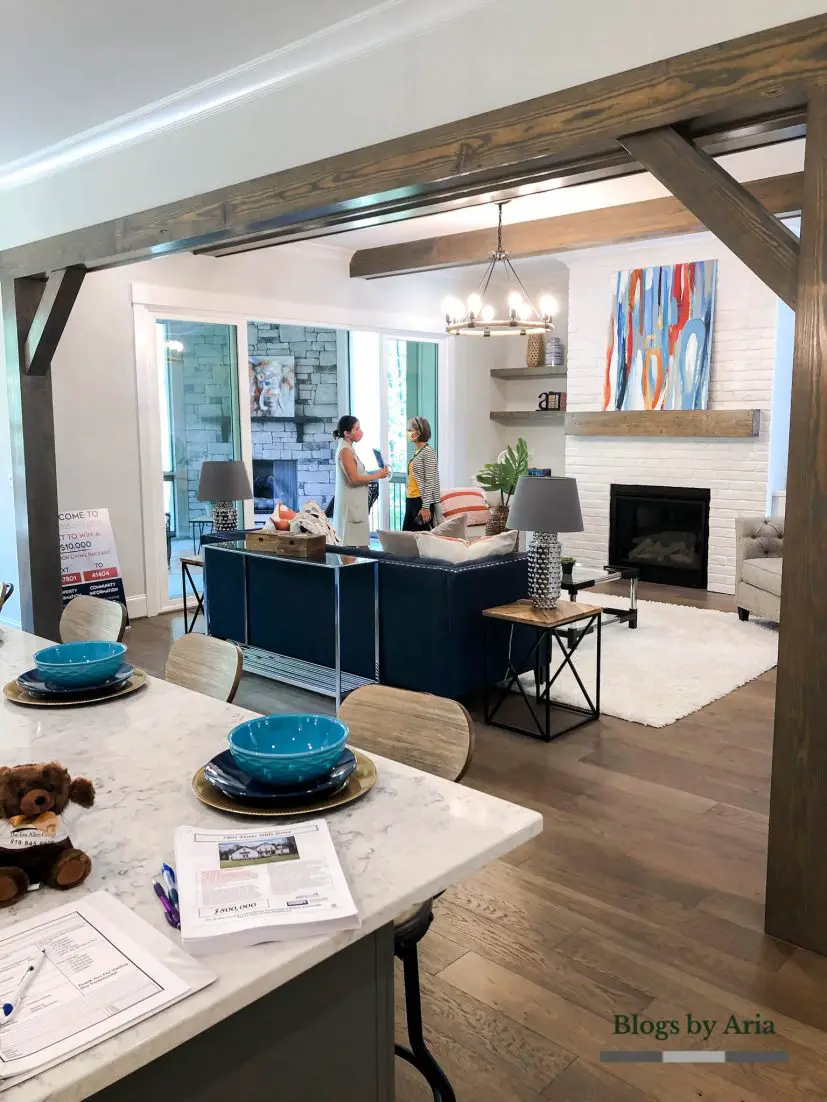 I didn't get to step outside, but you can see the covered porch off of the living room that features a stone fireplace.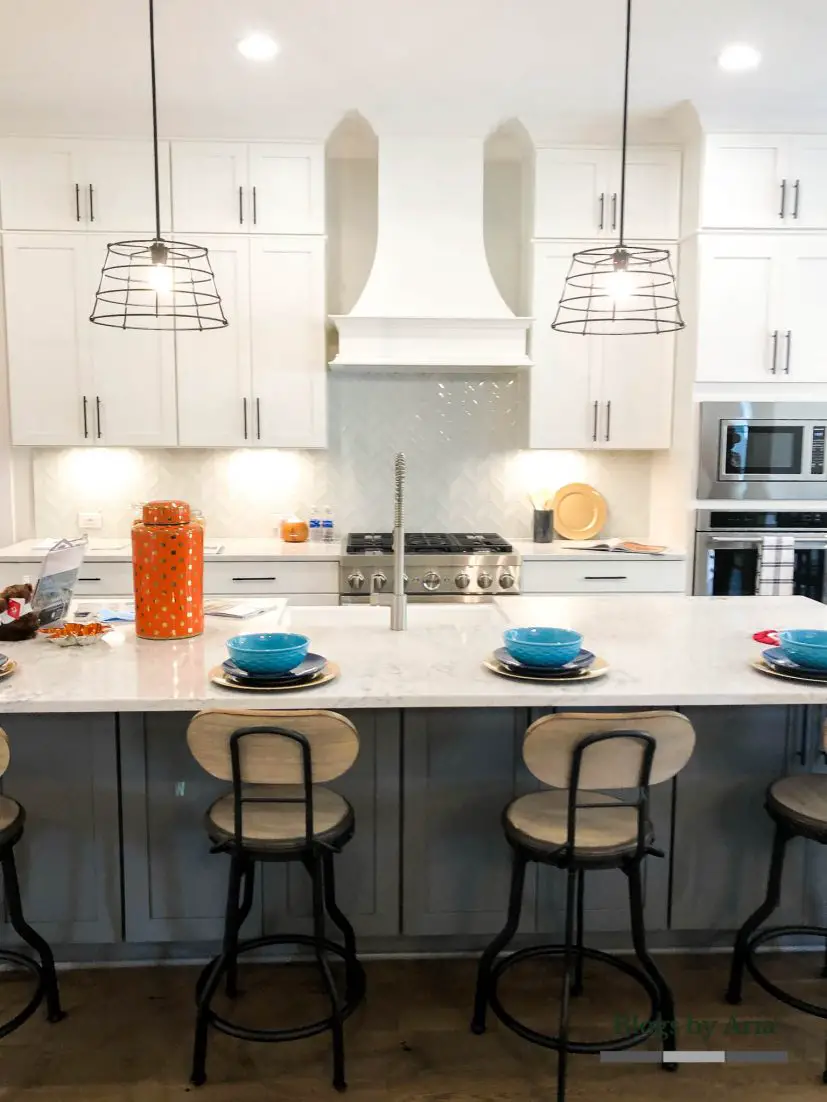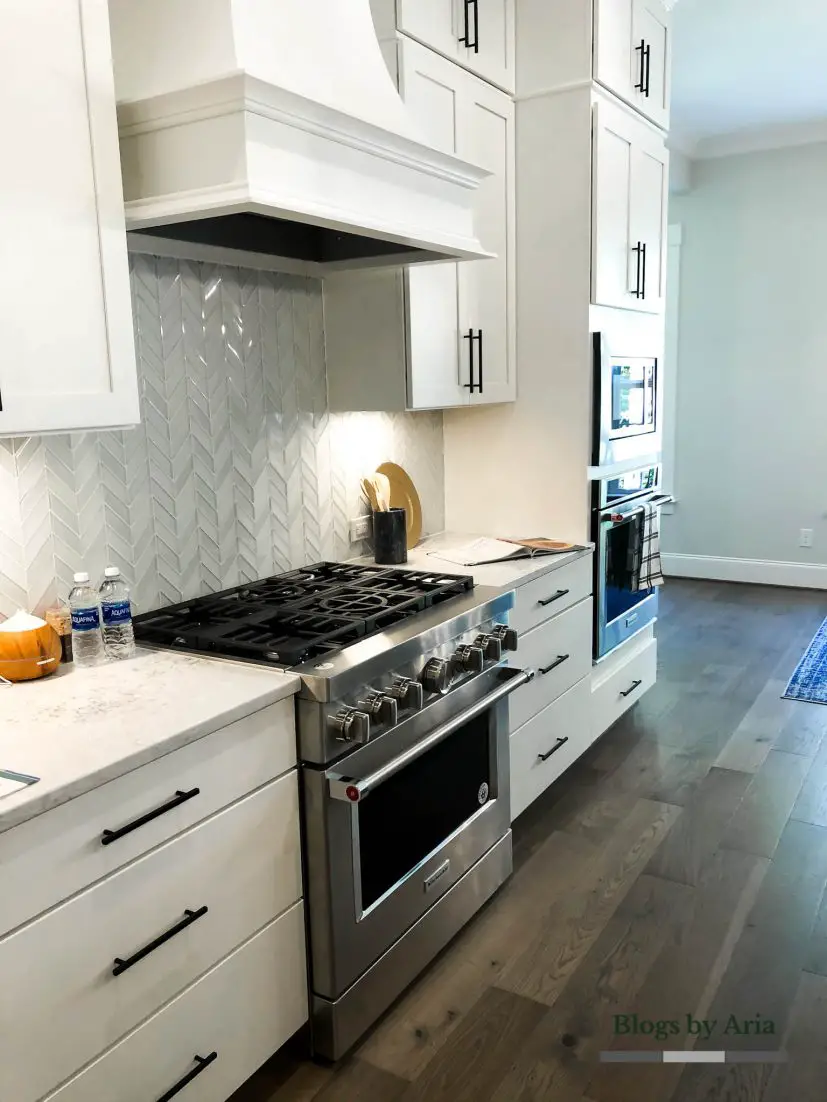 You can't go wrong with a classic white shaker style cabinet in my book!  And I love the glass tile backsplash!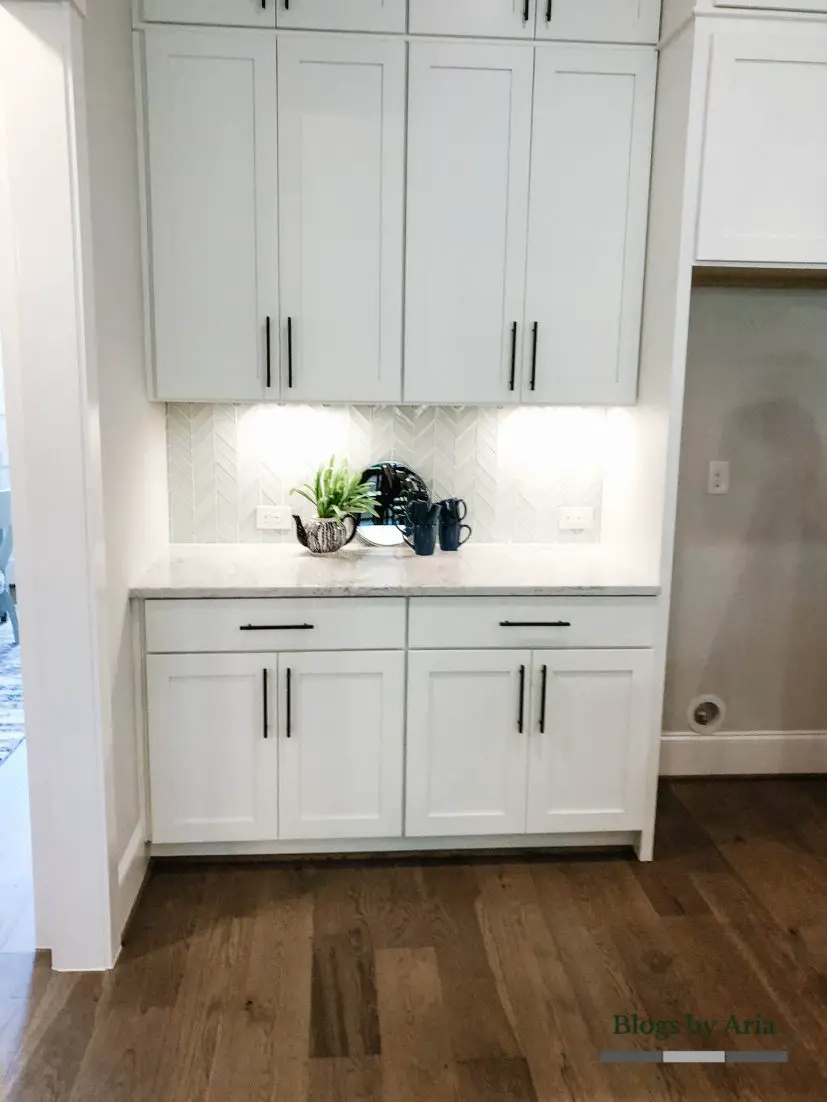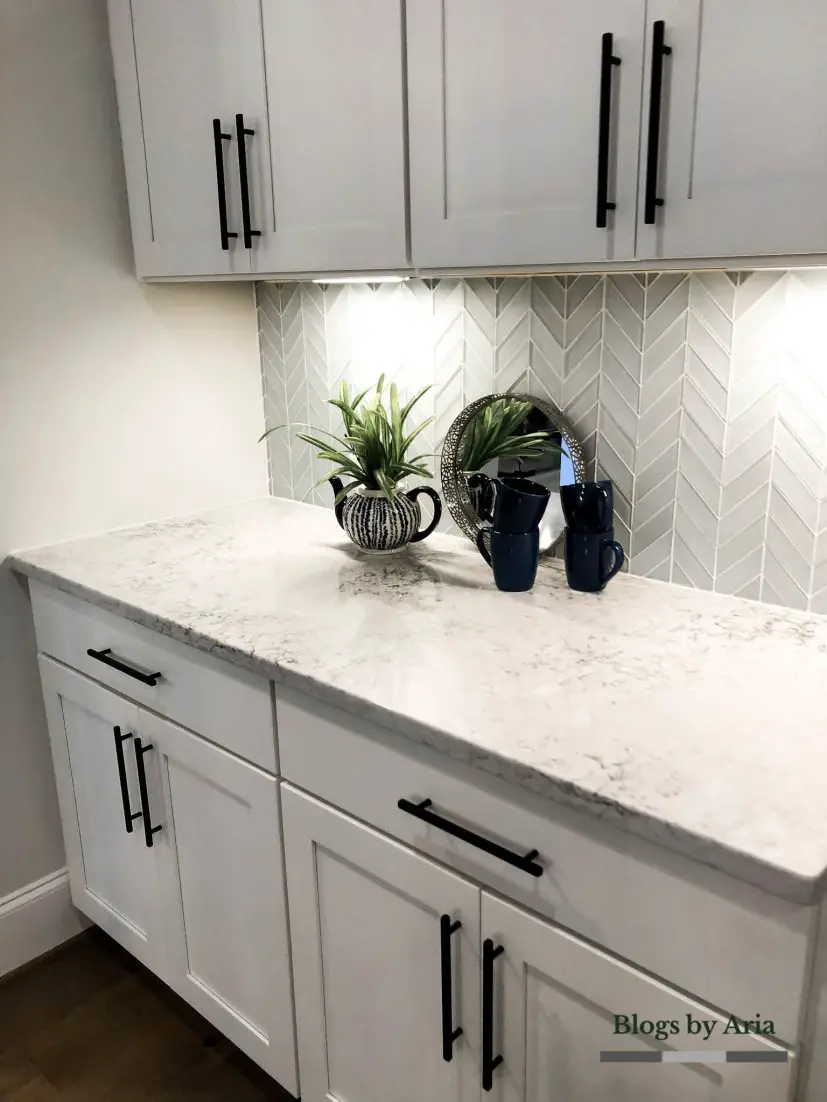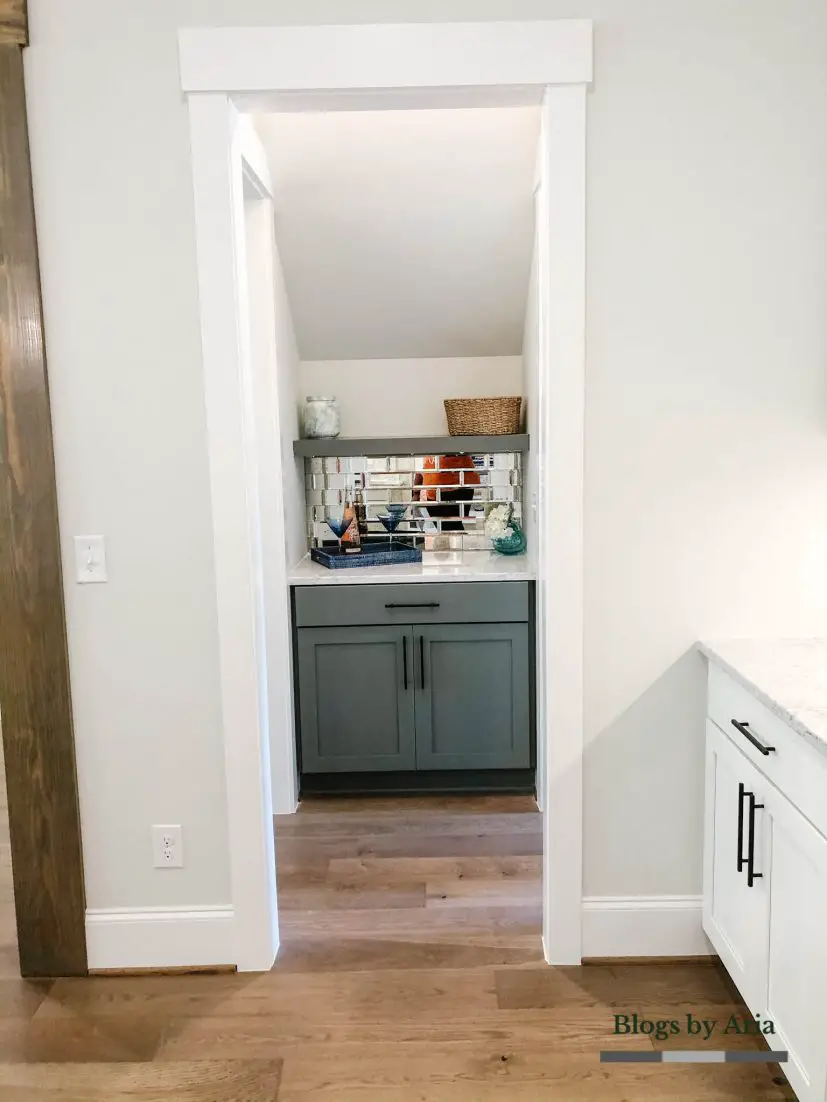 Standing in the kitchen you can see the butler's pantry.  You don't have to have a large space to make extra storage and I can appreciate the builder making use of this space.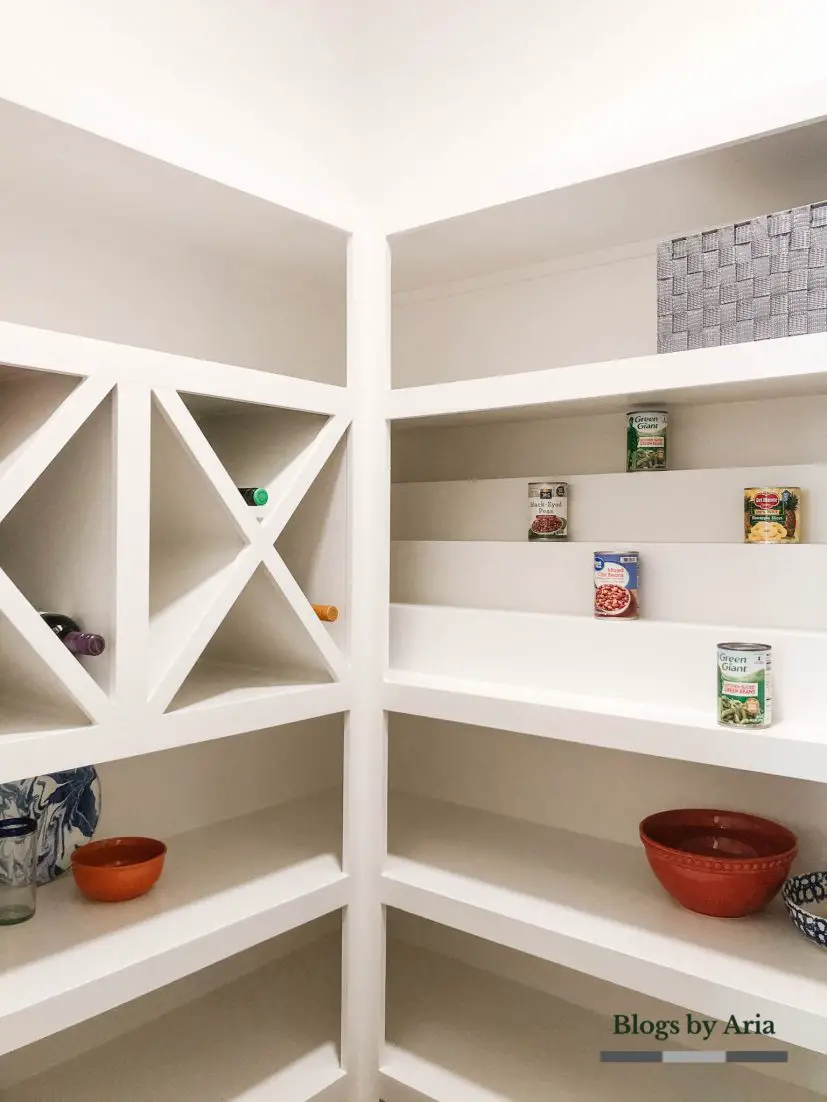 One of my favorite things to see in a pantry is extra attention to detail.  Like these built in can organizers and wine organizer.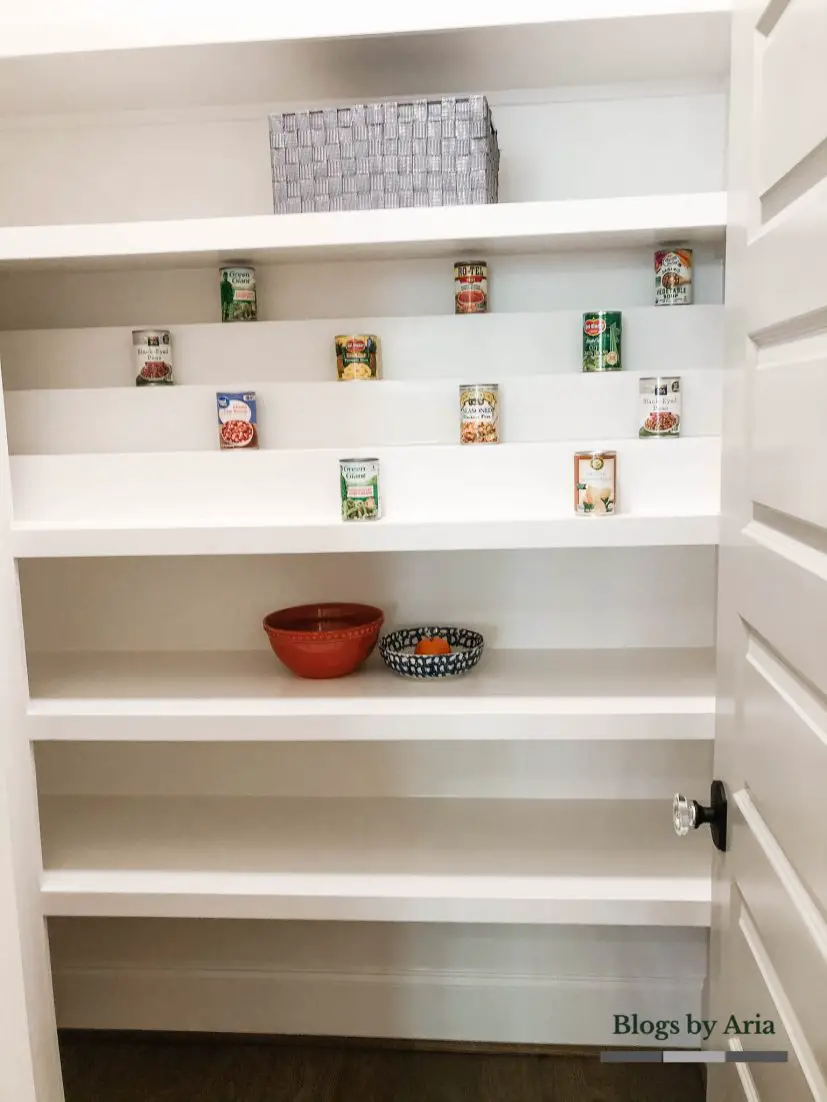 The pantry is a very good size too.  I'd totally love this pantry can you tell? 🙂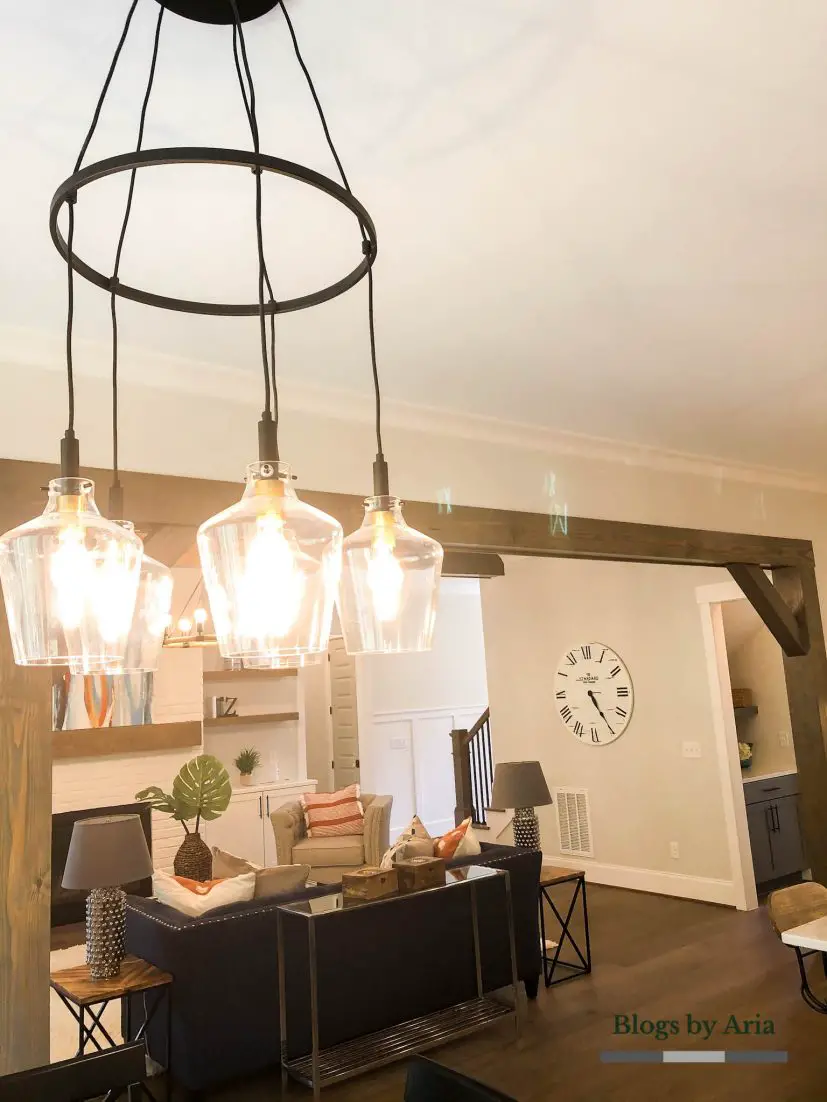 I had to share this shot to show you this cool light fixture!  And from here you can also get a good view of the butler's pantry.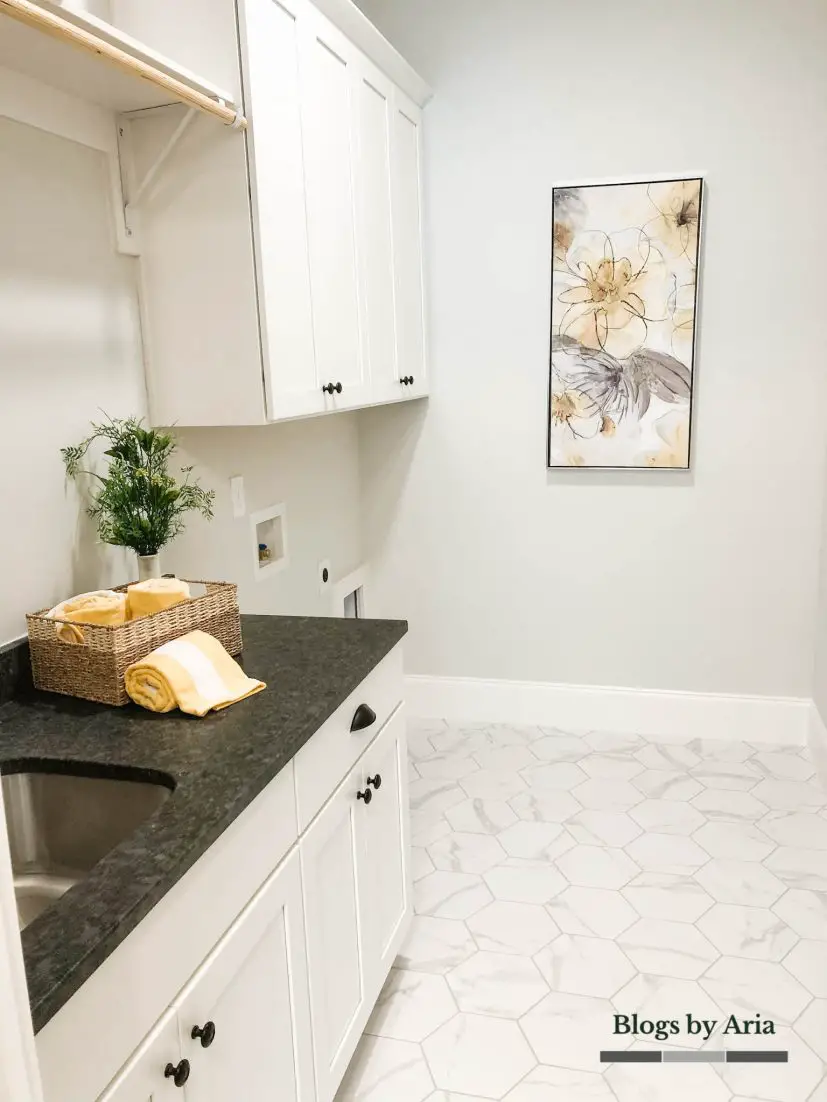 The laundry room is a good size and I love the honeycomb floor tile.  In my last home tour I complained about the laundry room but there's no complaints here!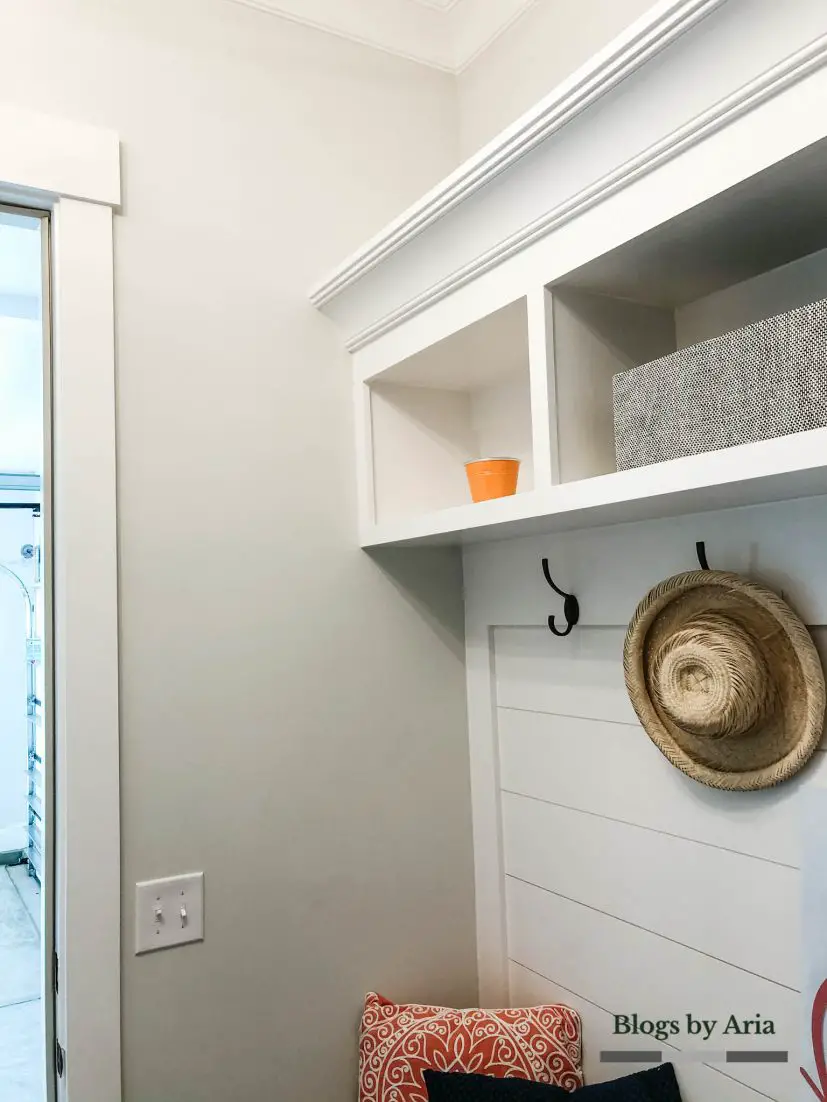 The mudroom features inset shiplap that gives it the modern farmhouse feel.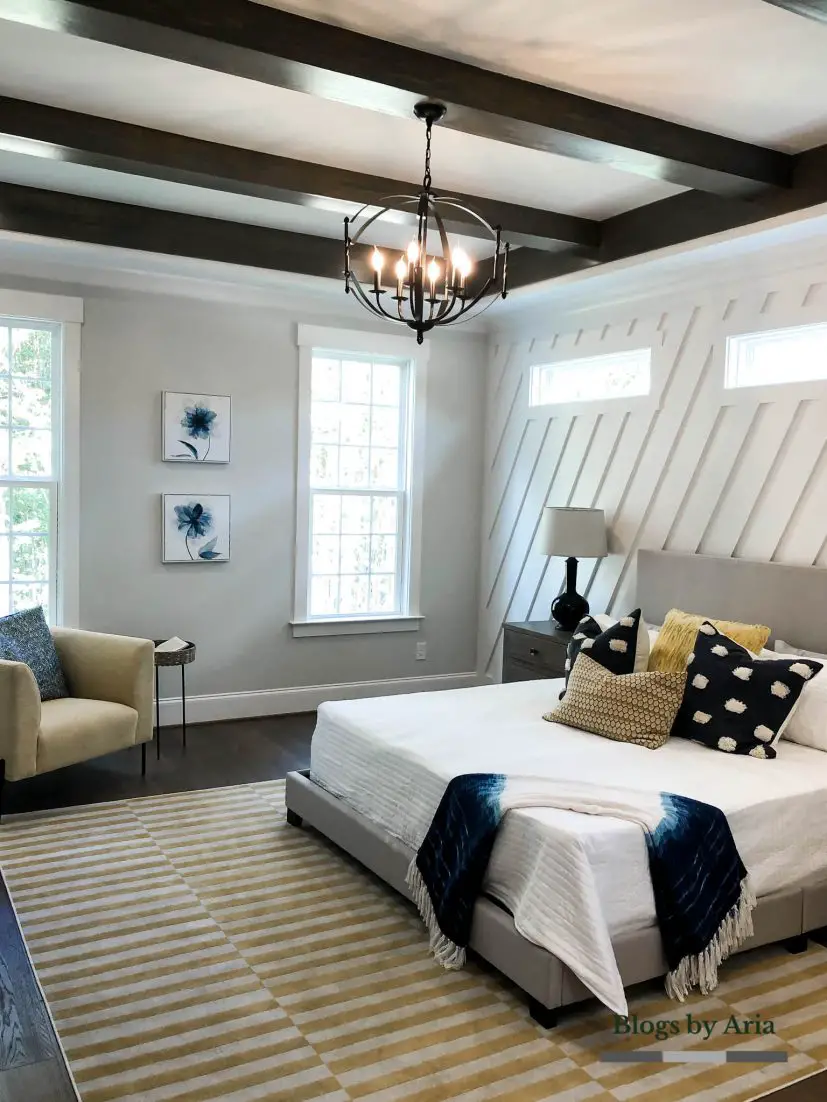 The master bedroom is on the main floor and features an exquisite custom trim feature wall.  What do you think of it?  It's not my taste, personally.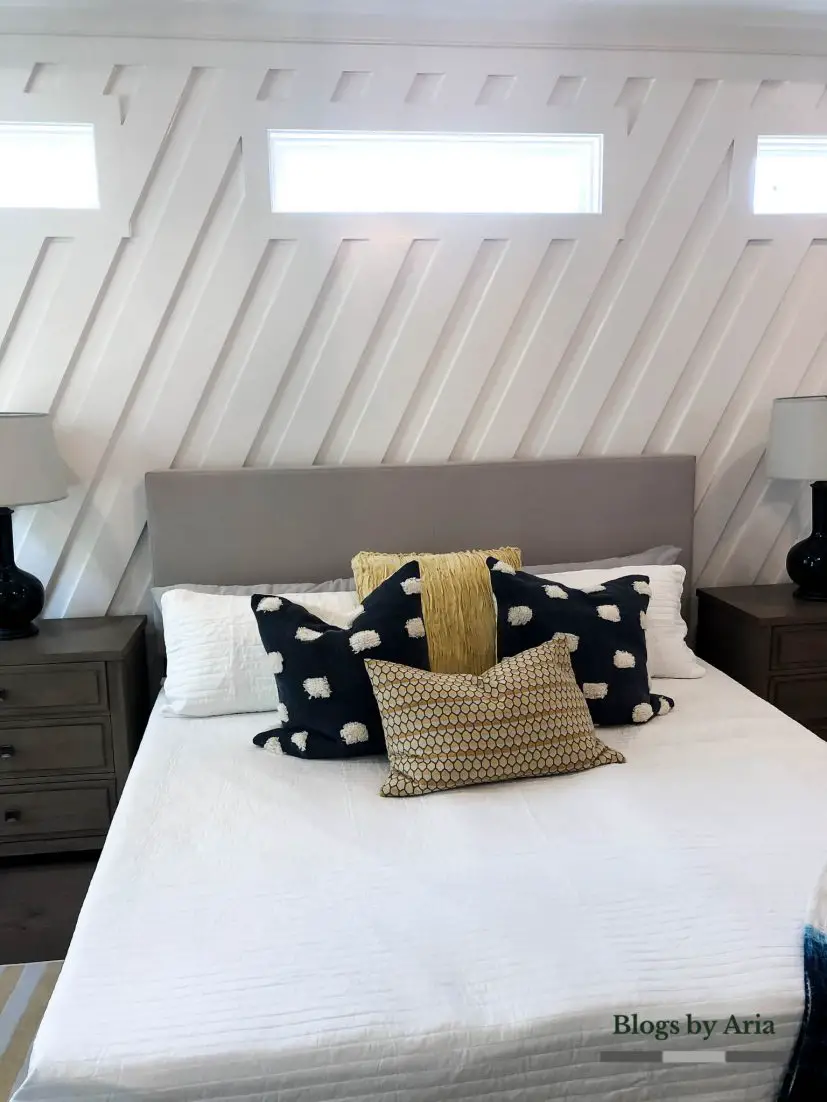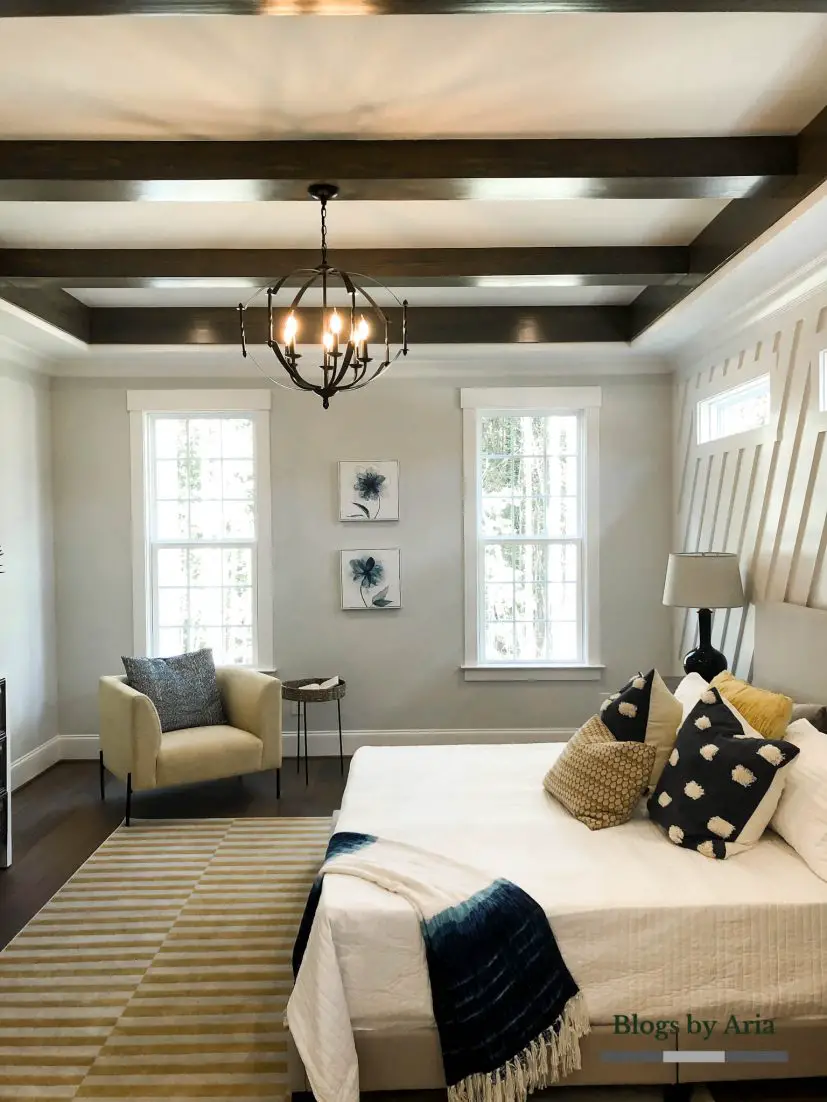 But I do love the beams on the ceiling.  That's a trend I hope doesn't go away any time soon.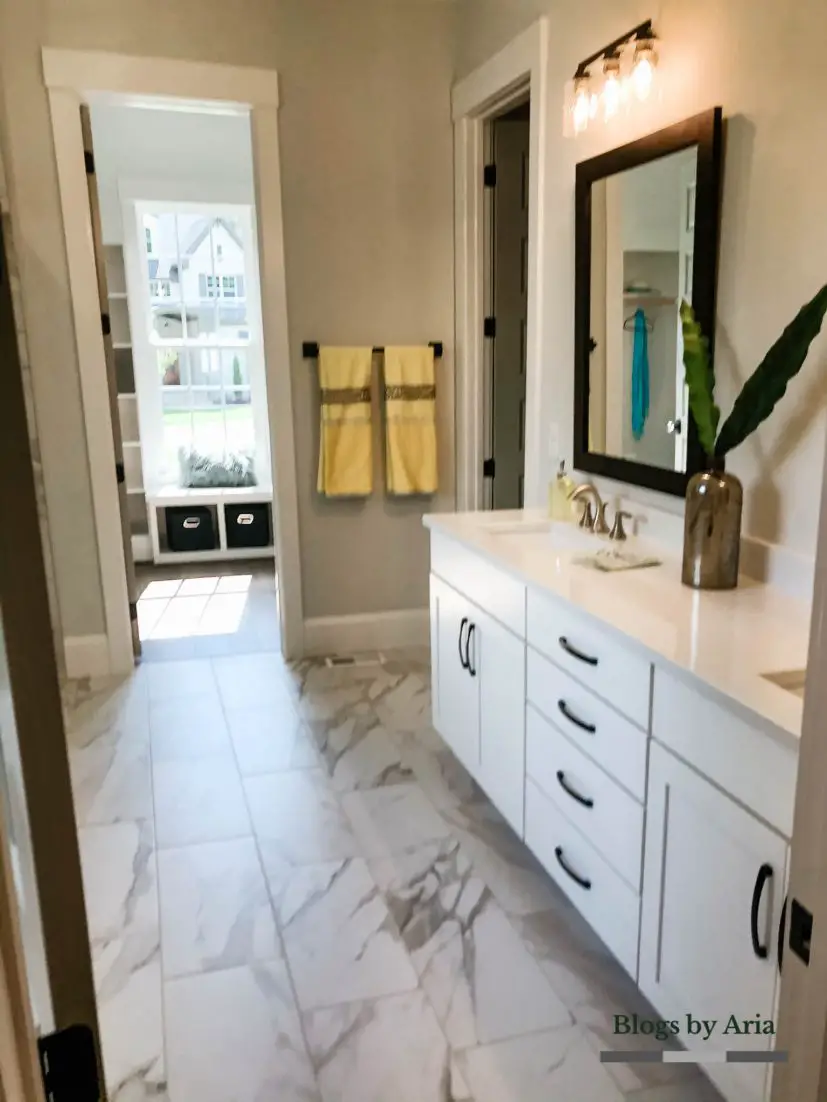 The master bathroom is a good size and has a good flow into the master closet.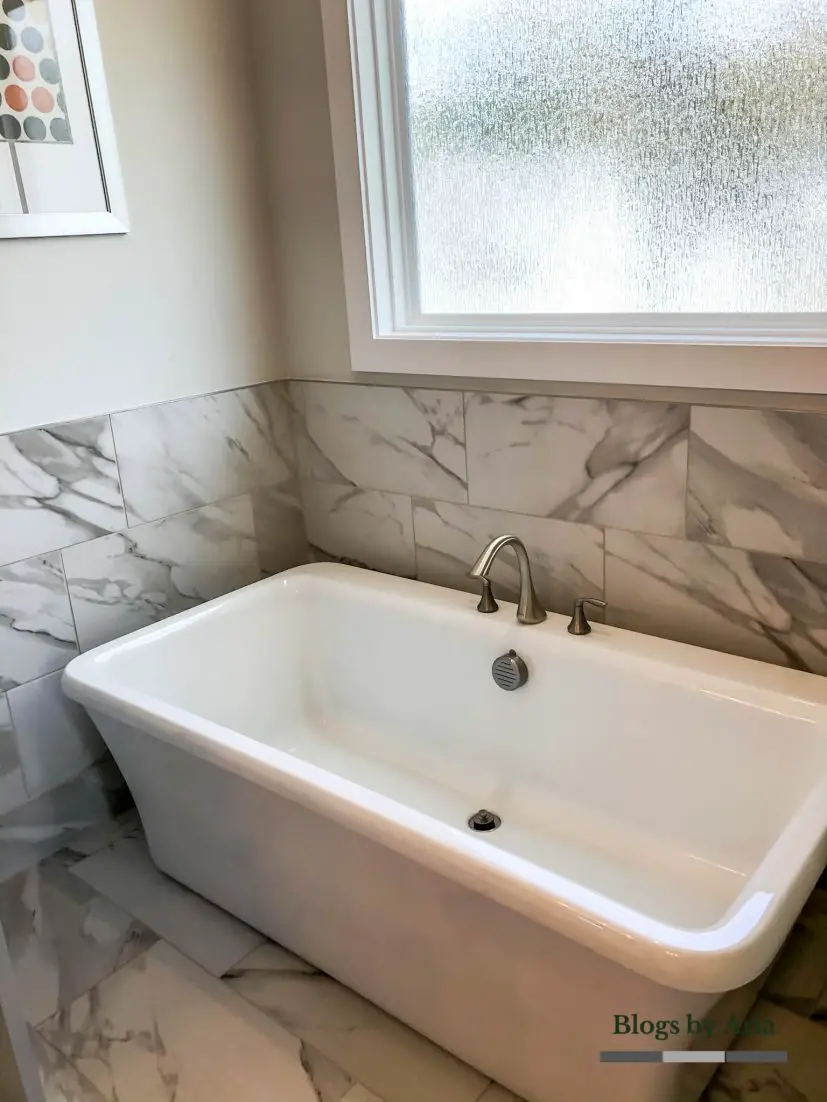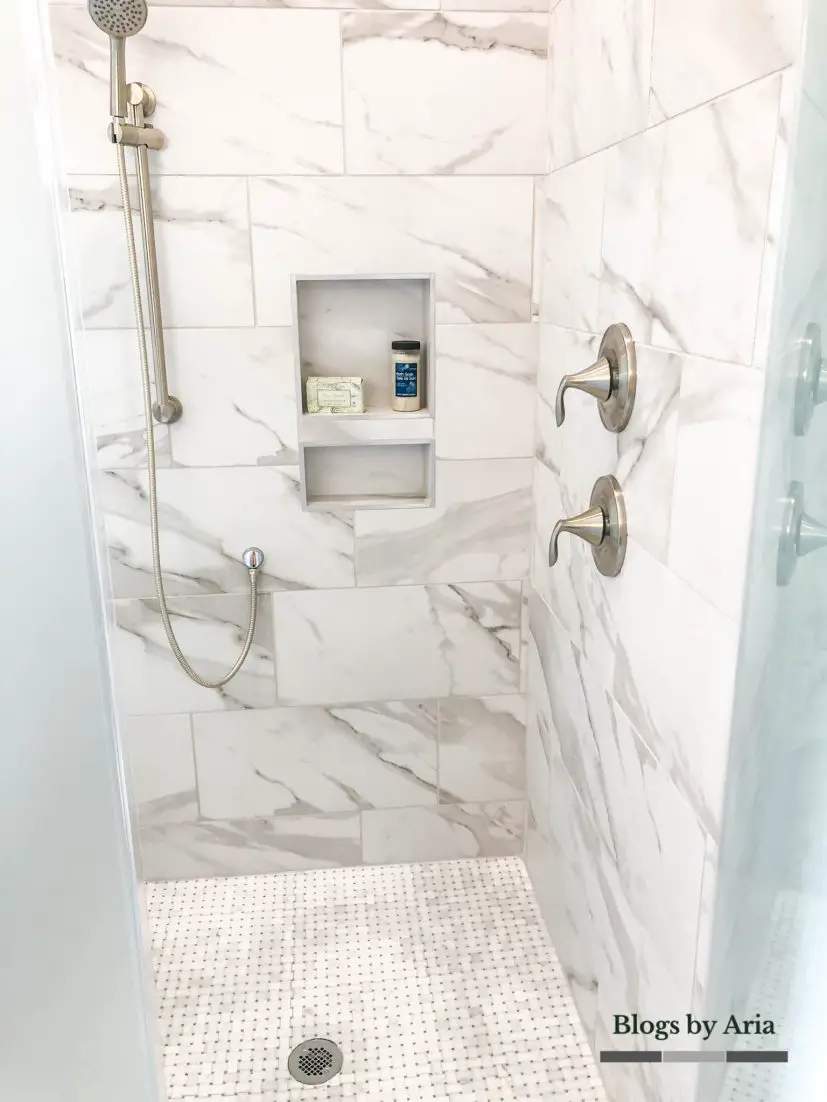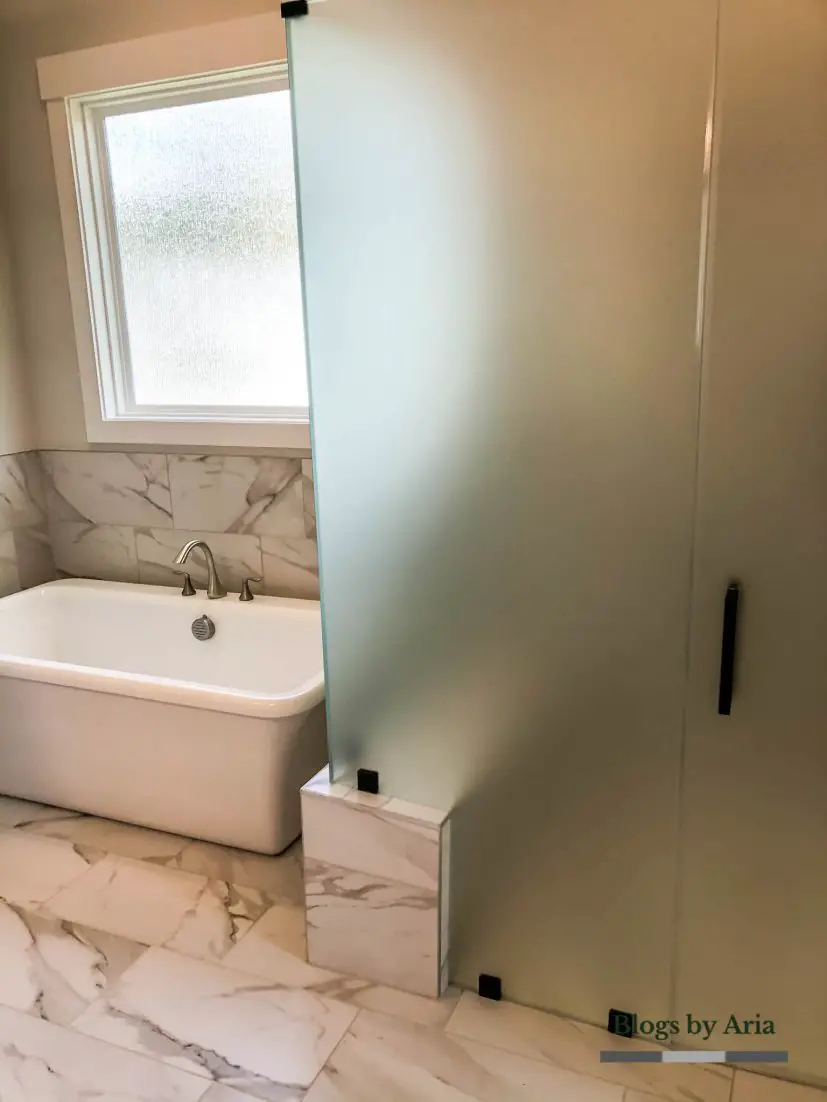 The shower features frosted glass doors for privacy.  I won't lie, I kind of like the idea.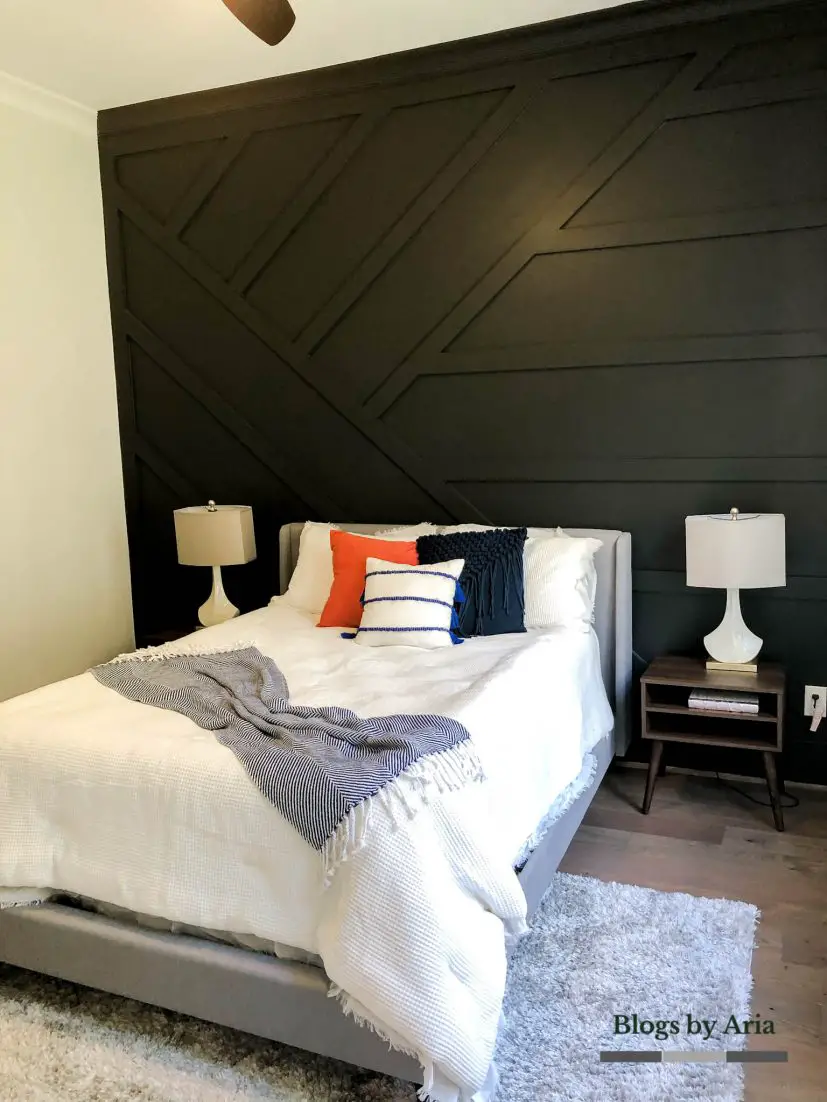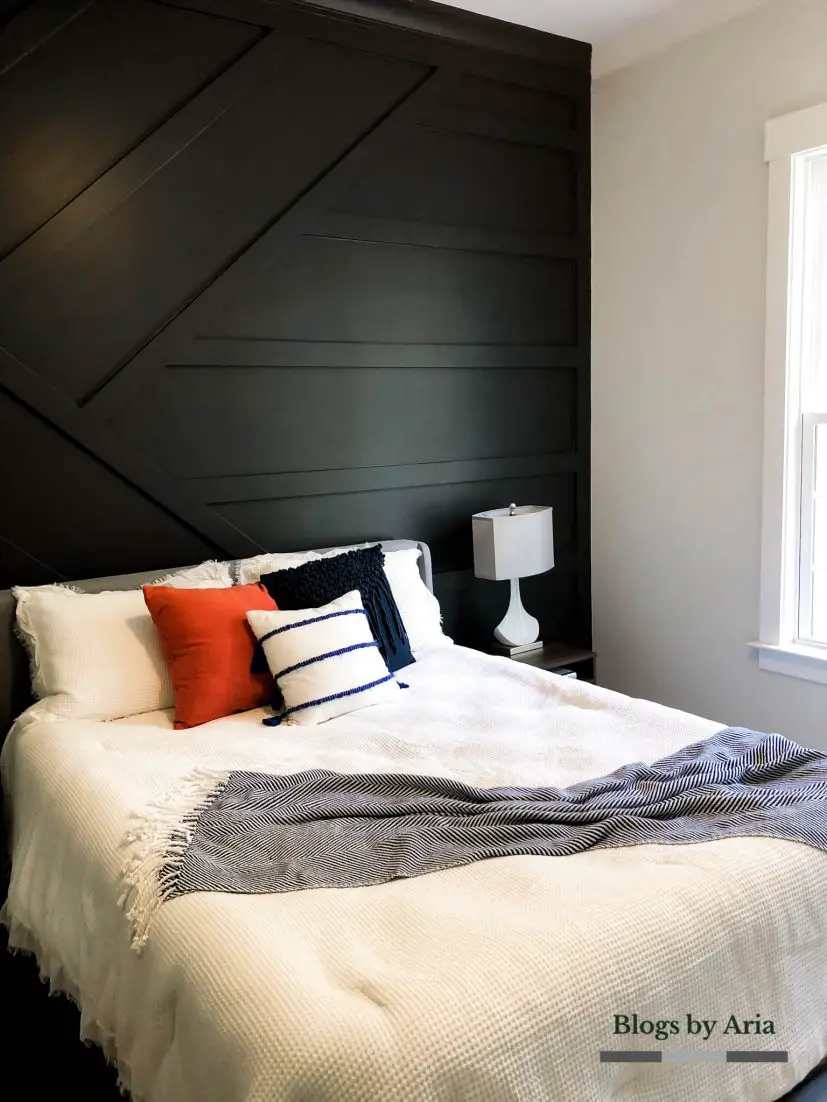 On the first floor towards the back of the house, off the breakfast nook is the study.  It can also be used as a guest bedroom as they have it staged.  The room doesn't have it's own dedicated ensuite, but it does have a full bathroom right outside of it.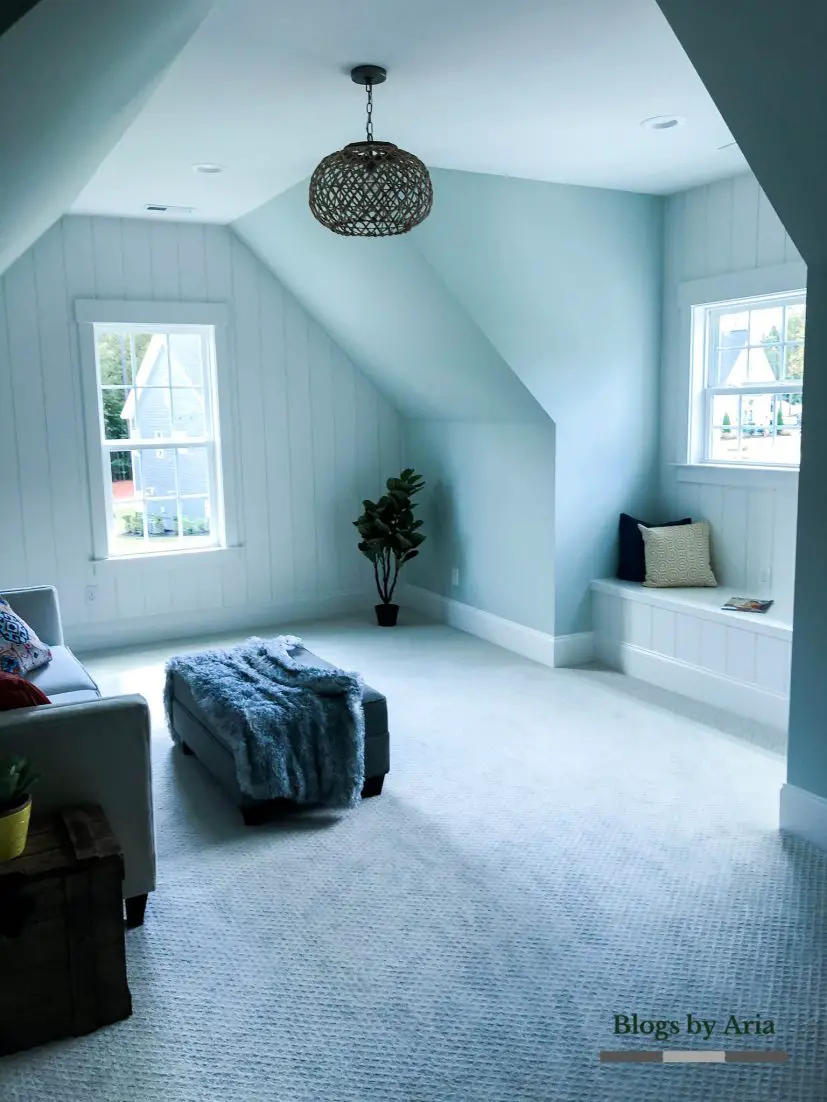 On the second floor there are three oversized bedrooms, a home office and game room.  This is the game room and it features board and batten and vertical shiplap.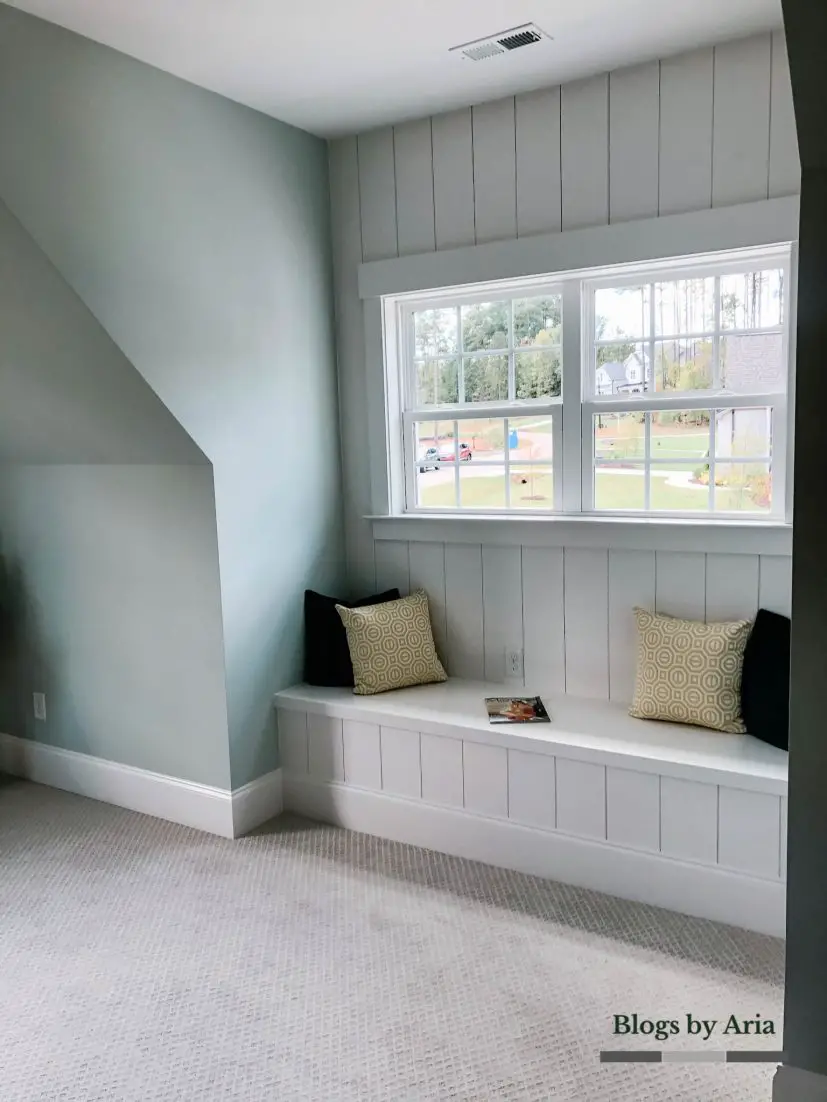 Love the built-in bench for extra seating.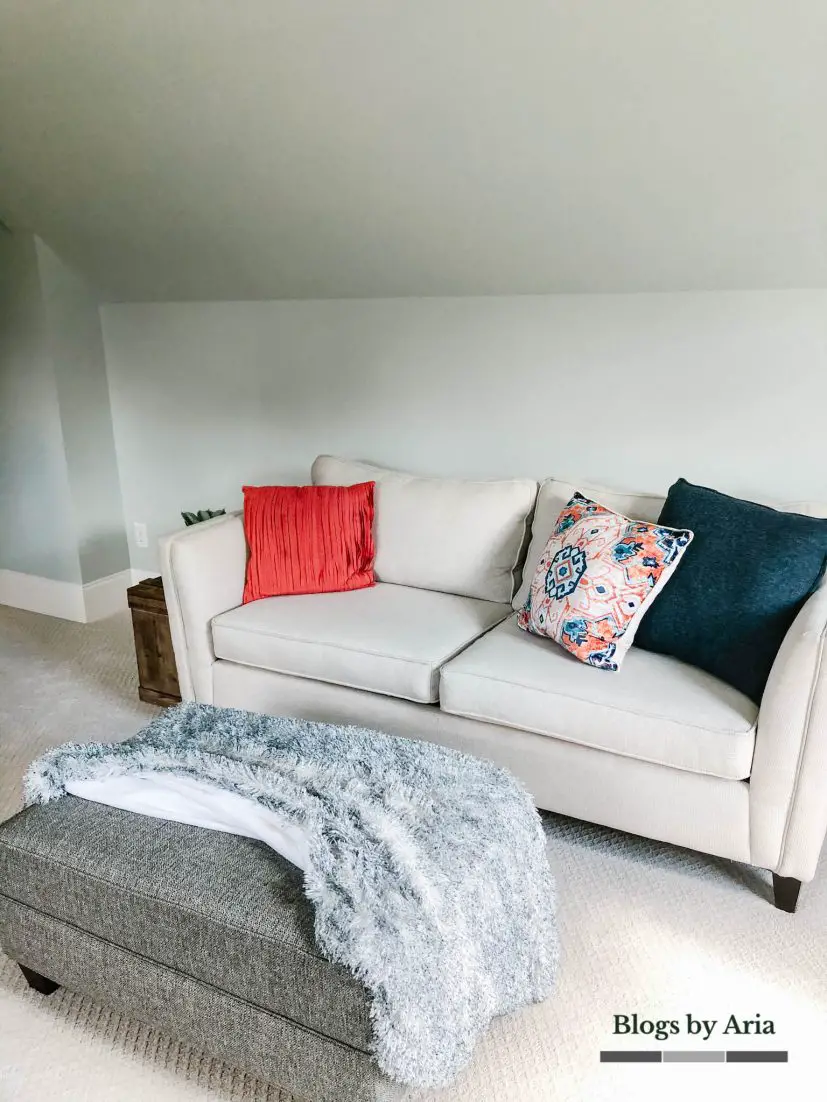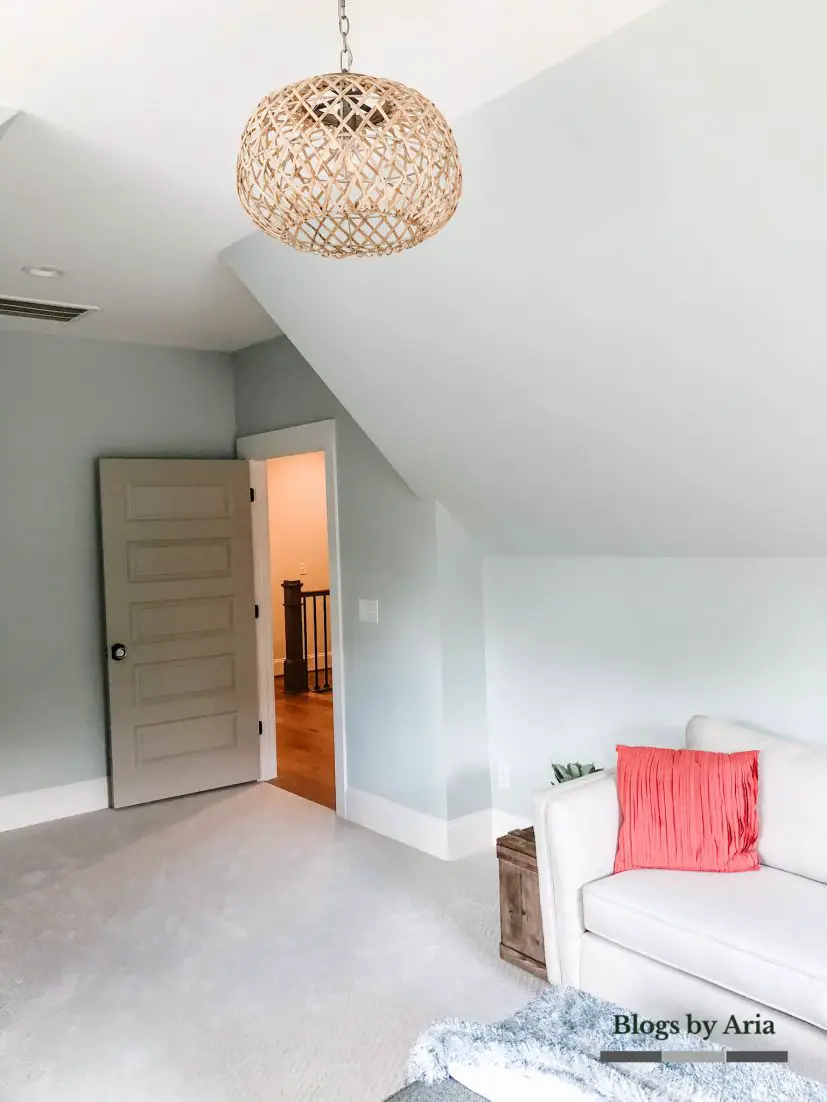 Also I love this lighting fixture!
I hope you enjoyed touring the Camberly modern farmhouse with me today 🙂  It's always fun to see new designs and ideas.  There are still a ton of homes I have to share so I'm working on getting them up on the blog soon!  Until next time my friend ♥