Decorating for fall this year has been so much fun!  You'll see a lot of the gorgeous traditional hues throughout my home.  When it came to decorating my favorite bookshelf for fall, I wanted to stick to a more neutral color palate.  If you're looking for neutral fall decor ideas, you've come to the right place!  Let me show you my neutral fall styled bookshelf.
Last year I thought that I wanted to go all neutral for fall.  But I began to realize that I was going a bit too neutral.  Don't get me wrong.  I love seeing pictures of white pumpkins all over.  And I love a good white pumpkin myself.  But I just can't get enough of harvest colors.
*this post includes affiliate links for your shopping convenience, you can read more about affiliate links by reading my Disclosure*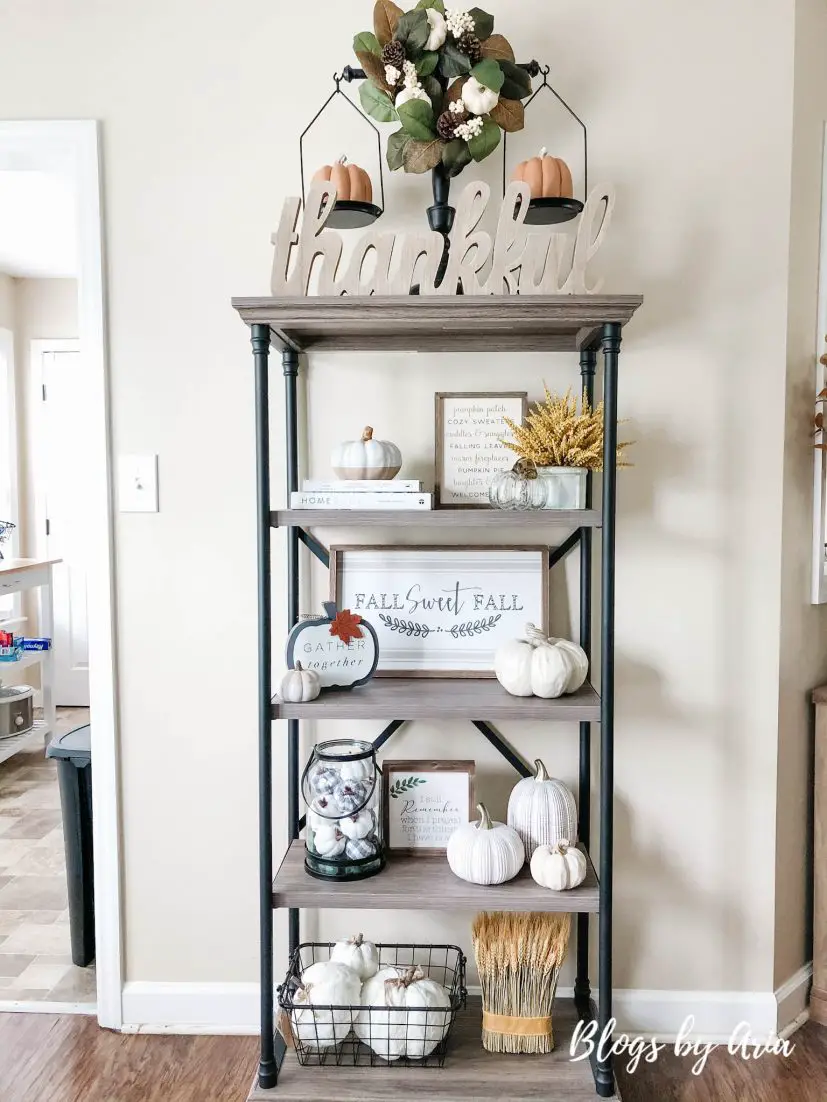 When making my fall decor plan I looked at my decor from last year.  I pulled out my fall bins from last year and realized that I didn't have a whole lot to work with.  Almost everything I have from last season I still love even if I may not use it this year.
As I shopped for fall decor this year I was looking for a lot of pumpkins.  Big pumpkins, small pumpkins, orange pumpkins, green pumpkins…you get what I'm saying.  And as I was decorating throughout my home, I decided that I wanted to keep this particular bookshelf a bit more neutral than the rest of my space.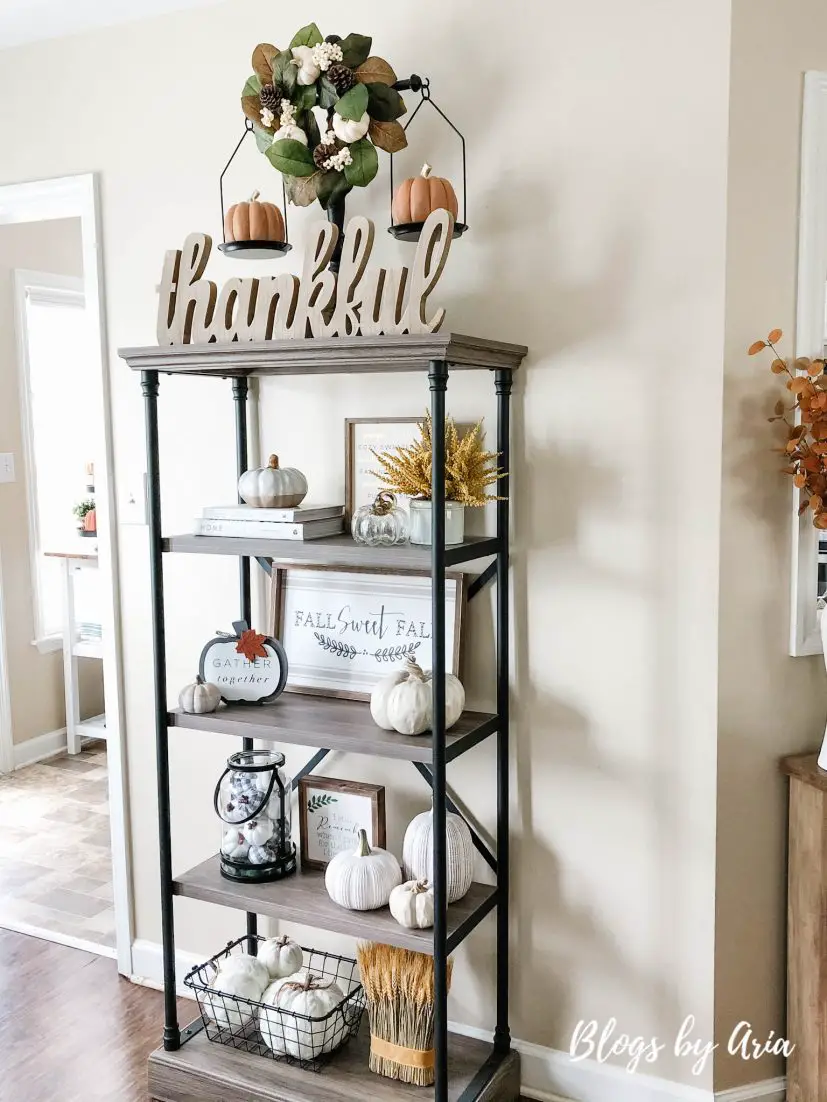 Let me walk you through my neutral fall styled bookshelf.  Starting with the bookcase itself.  It's the cast iron bookshelf from Target.  Our living room and dining room is an open layout.  So technically it's in my dining room, but I'm still styling it as if it's in my living room.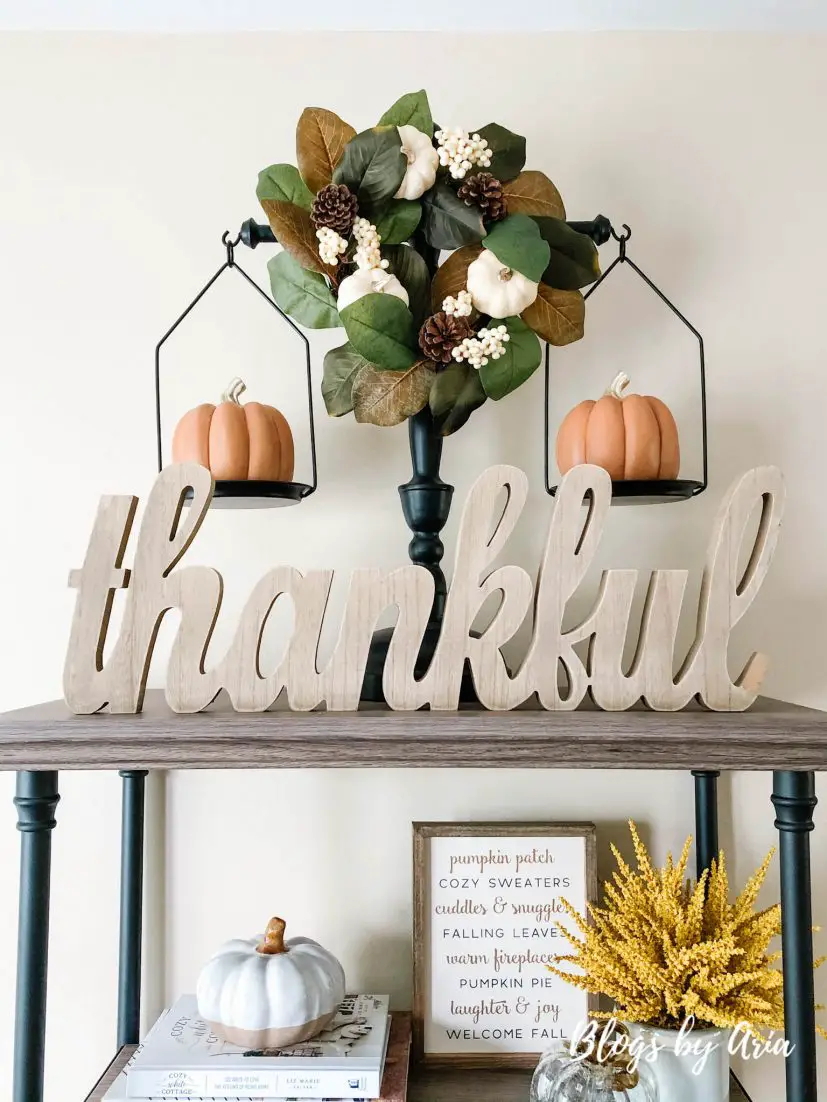 Starting from the top and working our way down, we start with my black metal scale that I've wanted for so long.  I didn't feel I had a space for it in our last home.  As I was decorating for fall this year I thought this would be the perfect spot for it!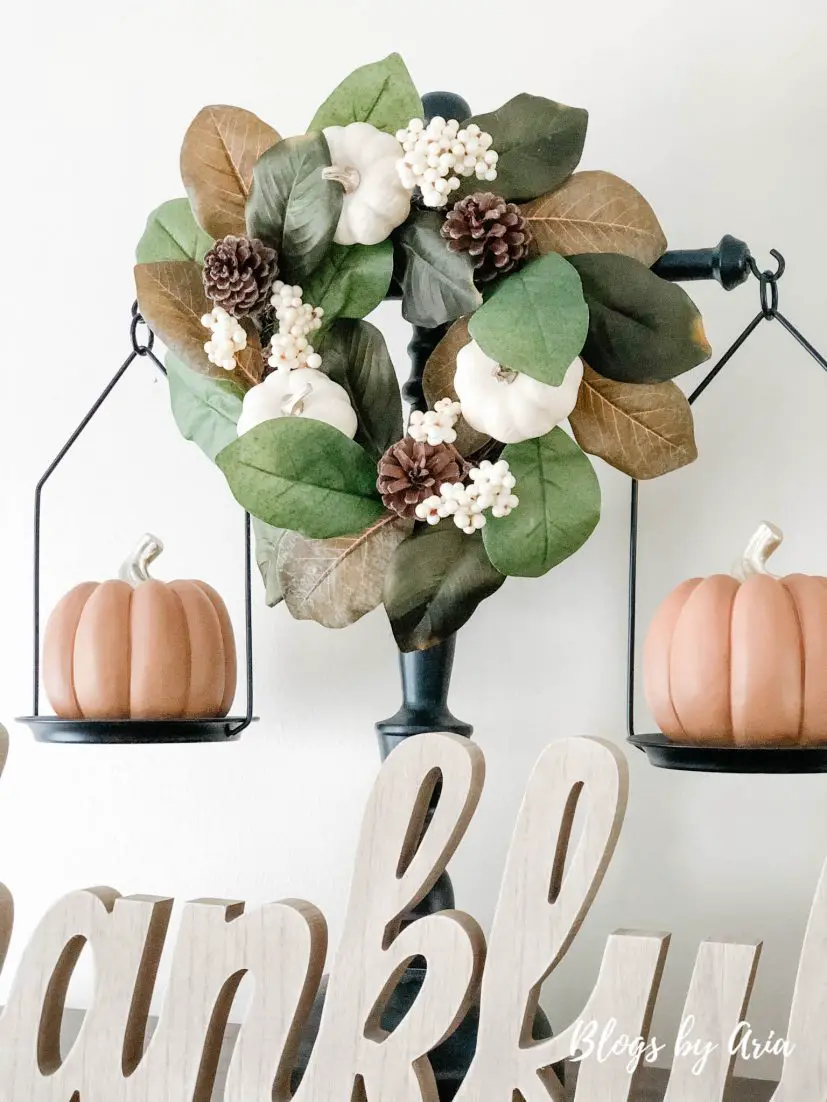 The scale was nice on its own but I saw this pumpkin and magnolia wreath and thought it would be a nice addition too.  I'm going to live with it a few days and see if I want to keep it here or find another spot for it.  I already have a few ideas in mind.
These gorgeous chalk paint pumpkins are neutral enough that I thought they'd look perfect with the scale.  If I do say so myself, I'd say I was right! 😉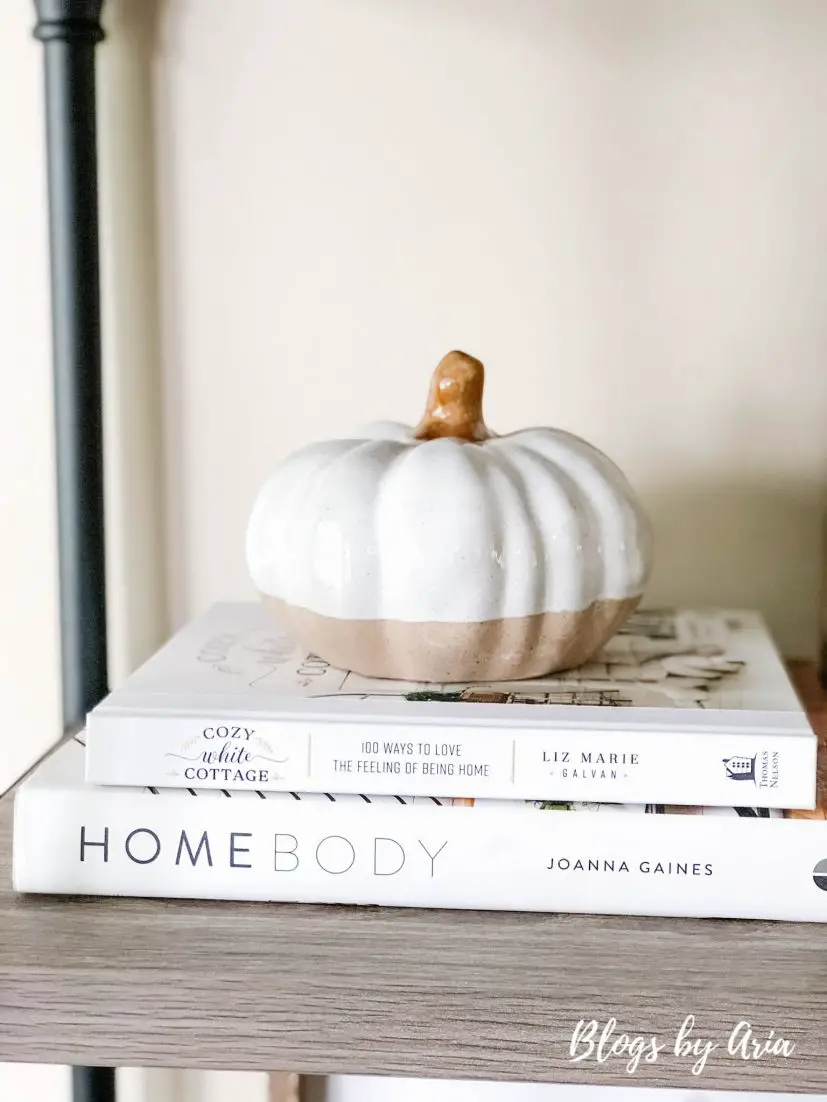 white pumpkin | Cozy White Cottage book | Homebody book
Originally I had these coffee table books and pumpkin on my coffee table.  I ended up going in a different direction with my coffee table centerpiece, and I really like how this looks.  At least there are a couple of books on my bookshelf 😉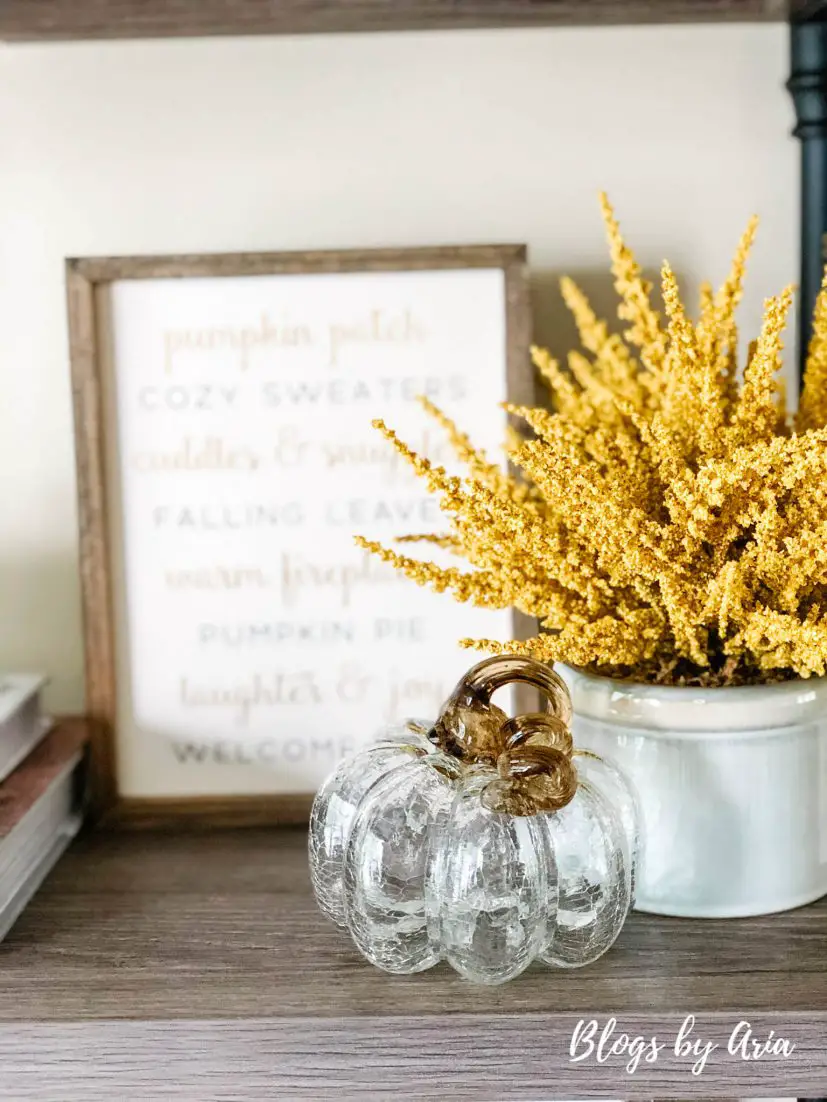 My goldenrod plant is a fun Target find I got in early July.  I don't know about the supply levels in your stores but I've learned, even with Target, that if I like it I need to go ahead and buy it otherwise it's highly likely that it won't be there when you go back.  Both the sign and glass pumpkin I got last year from Kirkland's and Michael's respectively.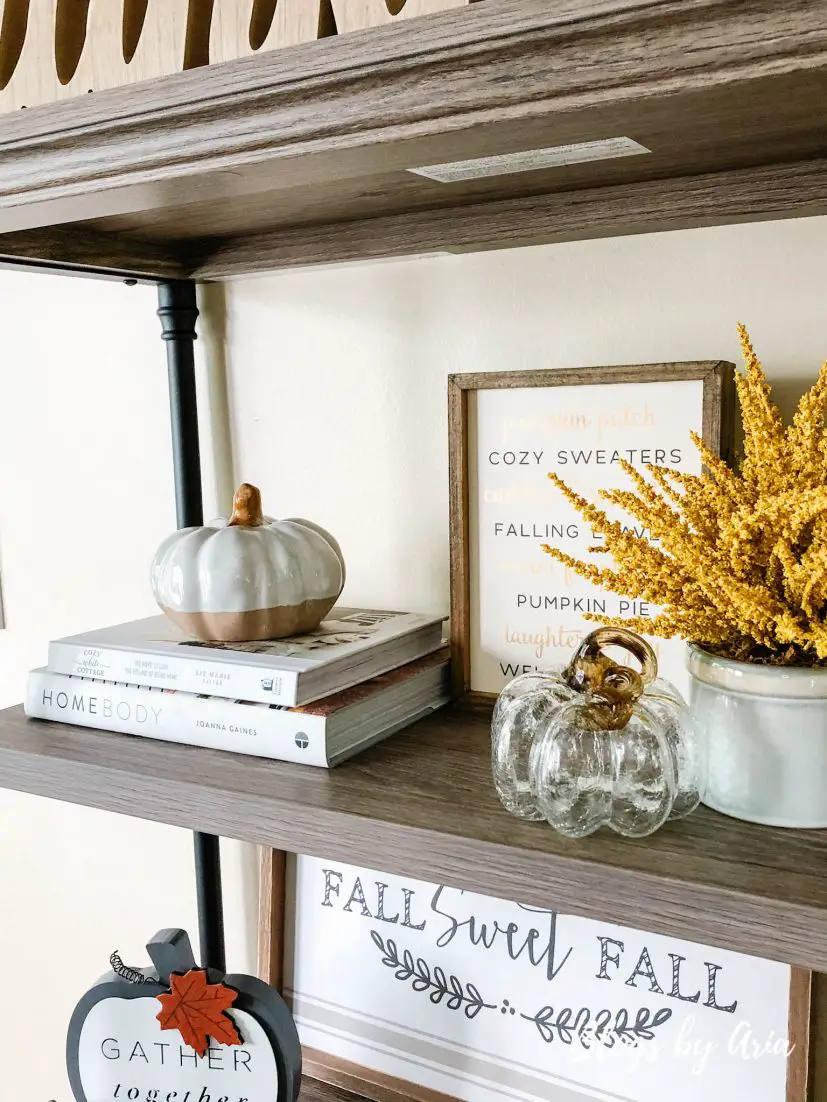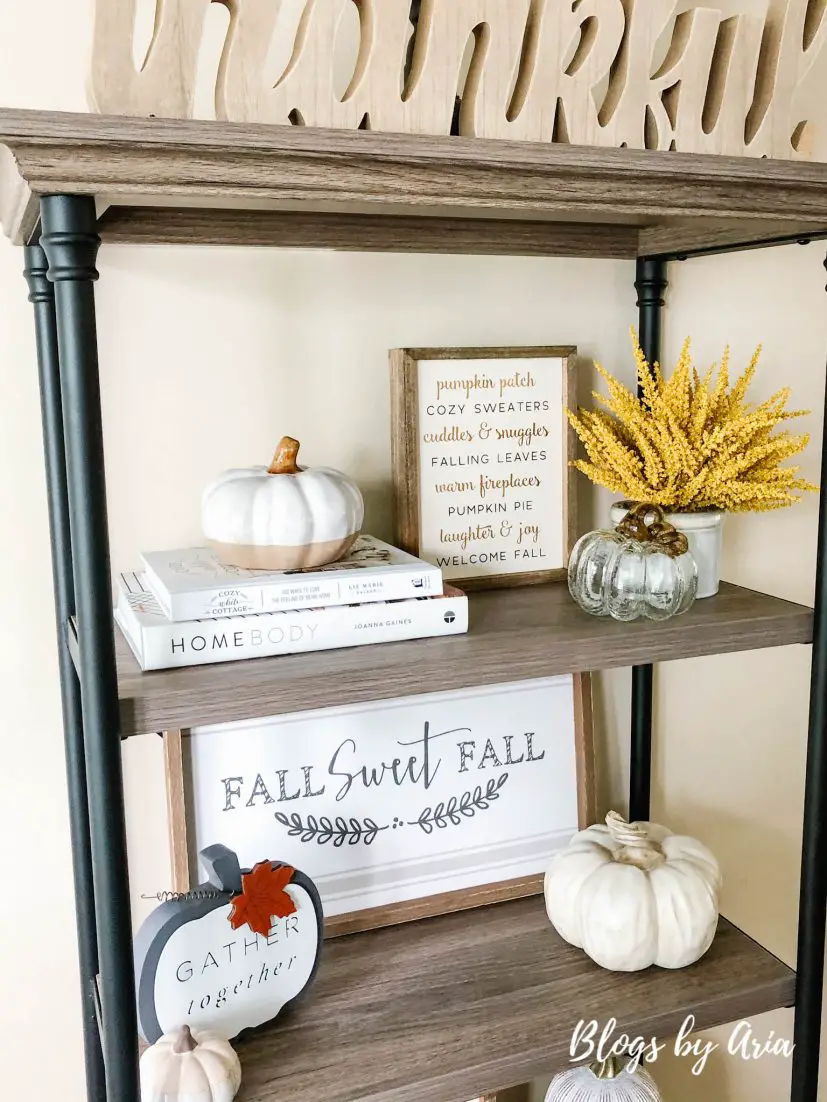 My Fall Sweet Fall sign is from Hobby Lobby and I got it last year but it is still available this year.  Honestly I don't know where it would go on a wall but it fits well here don't you think?  On the opposite side I have this twisted cream pumpkin.  Originally I wanted the orange version but when I saw it in store I was captivated by the cream option.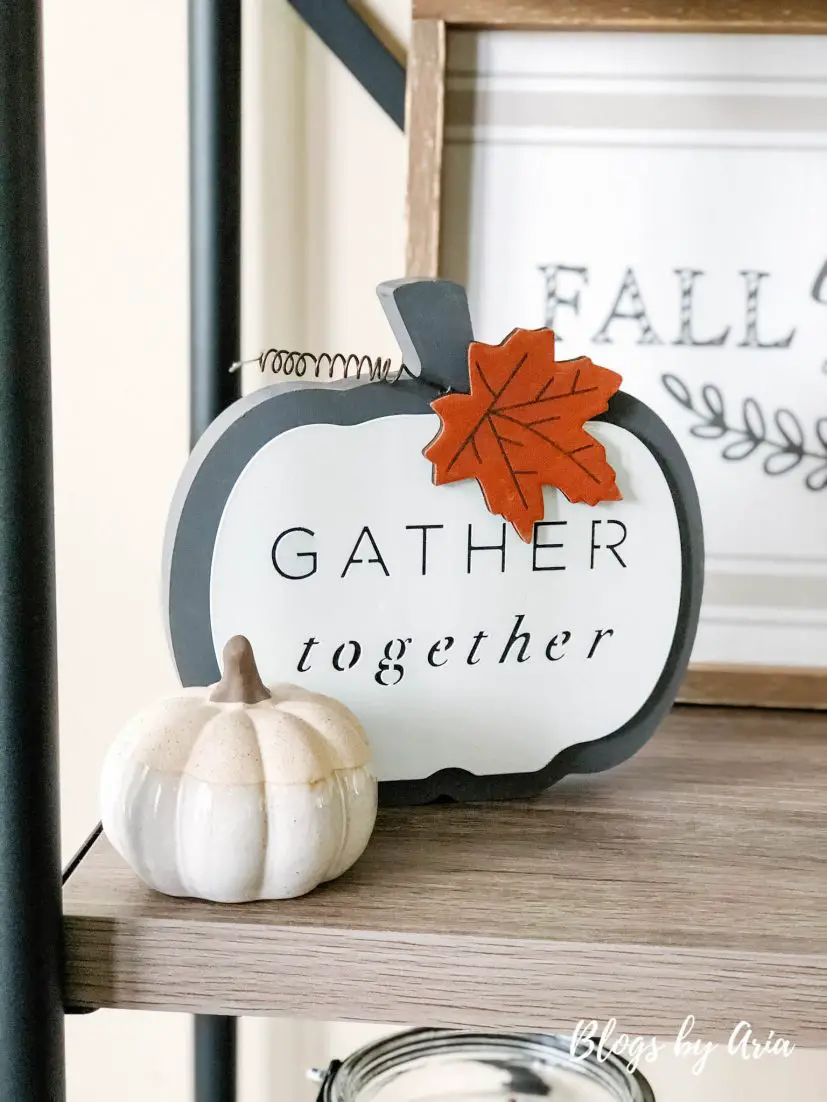 This Gather Together Sign is the perfect accent for this shelf.  The two toned mini pumpkin was a Kirkland's find from last year.
6″ white ceramic pumpkin | 8″ white ceramic pumpkin | small twisted stem pumpkin
Buying pumpkins this year, my main goal was to get different sizes and shapes of traditional color pumpkins.  But when I spotted these white ceramic pumpkins online I knew that I wanted them.  Luckily I found them in store and on sale and I was so happy to bring them home with me.  I grouped them along with this small twisted stem cream pumpkin.  It's the smaller version of the one on the shelf above it.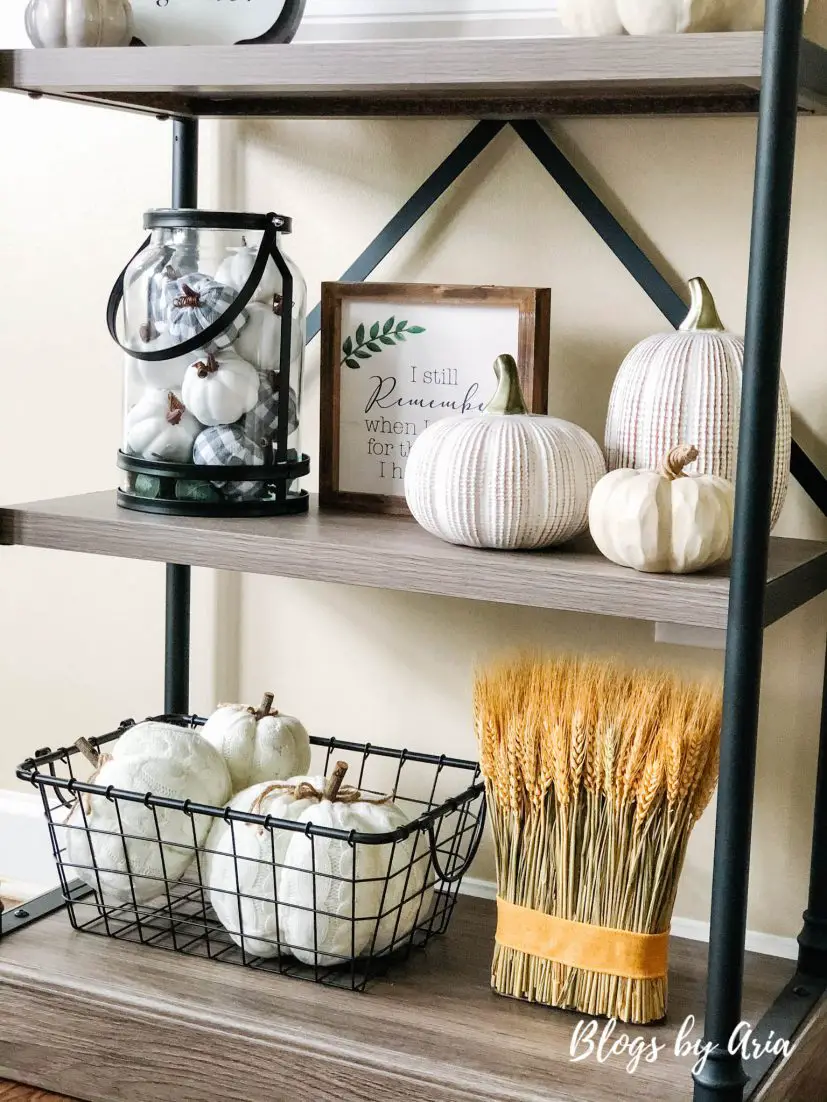 On the bottom shelf I filled this wire basket with sweater knit pumpkins and I brought in some natural texture with this wheat bundle I got from Home Goods.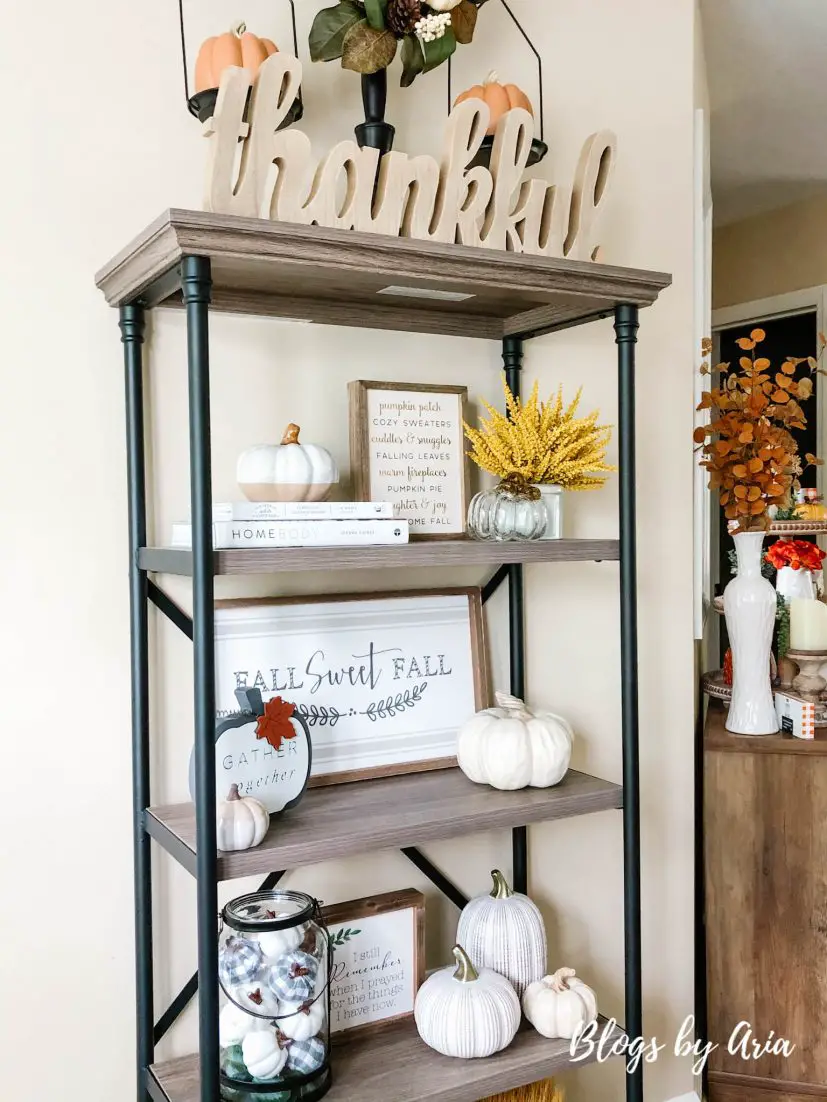 To the right you can see I'm working on my tiered tray.  I'll be sharing that soon.  Also you can see I have my black glass lantern filled with mini white and gingham pumpkins.  I got those last year from Hobby Lobby.
This is my view when I'm working at my dining room table everyday.  Now that this space is complete I am so in love with how my neutral fall styled shelves have turned out.  If you're looking to decorate with a neutral fall color palate hopefully you were able to gain some inspiration from me today.
If a more traditional color scheme is more your speed, then I've got you covered there too!  Lots of harvest hues and autumn tones are throughout the rest of my home and I'll be sharing them very soon.  Until next time my friend ♥