You know I love decorating my tiered tray each season.  It's a simple way to bring a festive touch to your home without having to go all out with decor.  Or it's a way to kick off your decorating.  For the first time I have a three tiered tray that I'm so excited to learn how to decorate.  Let me show you how I decorated my fall three tiered tray.
My new three tier tray is actually my third tiered tray that I own.  And more than likely my last one to complete my collection.
*this post includes affiliate links for your shopping convenience, you can read more about affiliate links by reading my Disclosure*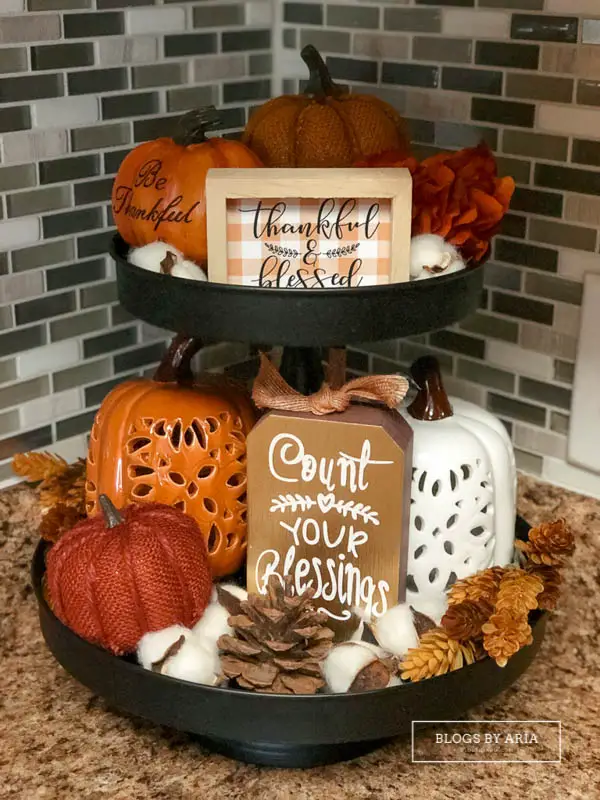 You may recall my first tiered tray that I decorated for fall last year.
I had my eye on this rustic two tiered tray that I got earlier this year and used for one of my Easter tiered trays.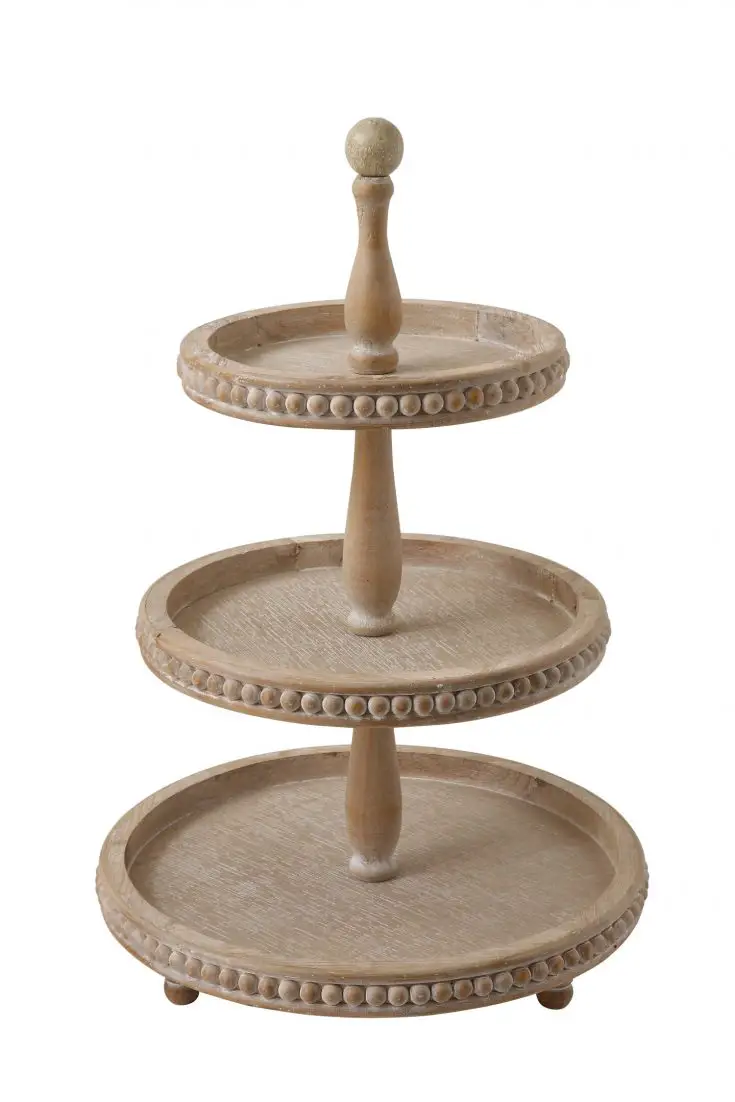 For months I've wanted this three tier beaded tray.  But the price tag was, ouch!  I was debating on biting the bullet and getting it anyway.  But then it sold out everywhere.  It just came back in stock on Amazon too!
Recently I thought about it again, as I prepared for fall decorating, and I found it in stock again.  Yay!  Still priced high.  But the lowest price I found for it was with Walmart.  I cashed in some of my Fetch Rewards ( I shared more of my savings apps in this post) for a $25 Walmart gift card.  That brought the price I'd pay out of pocket closer to the price I paid for my Amazon tiered tray.
Now I have this gorgeous beauty and I'm slightly intimidated!  But I'm always up for a challenge!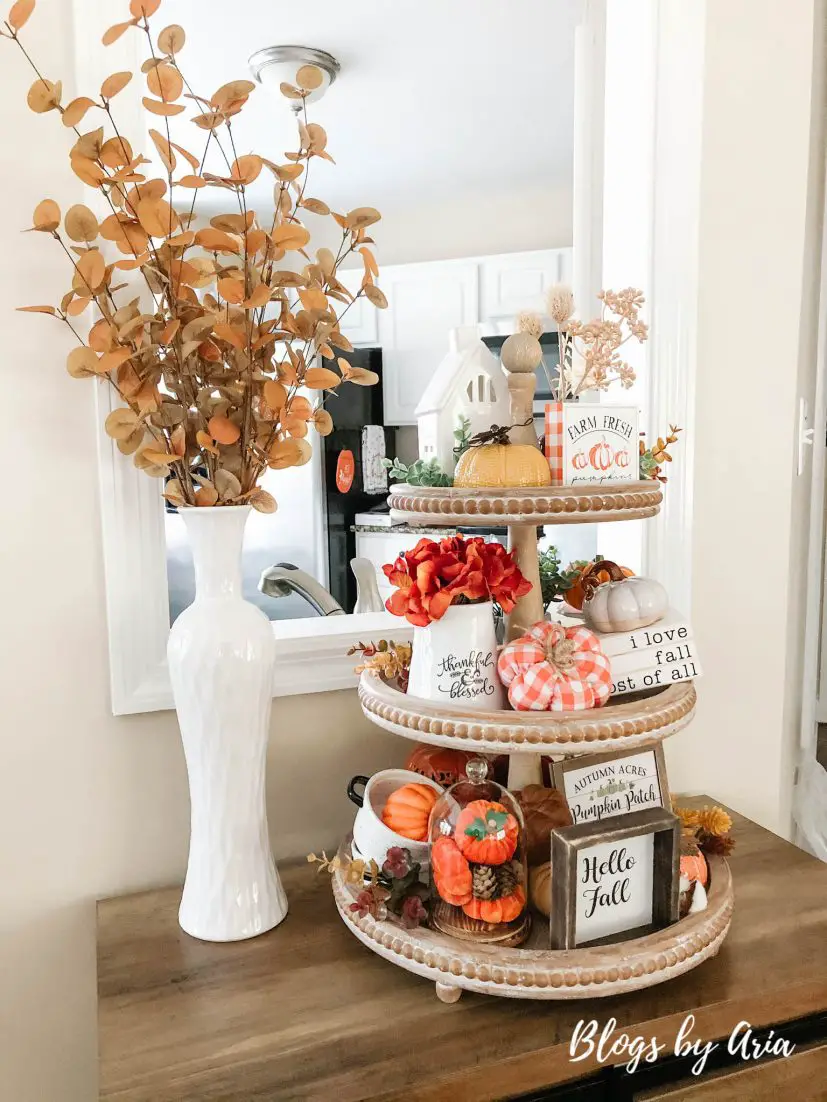 Let me walk you through how I decorated my three tiered tray for fall.  Personally, I think it's easiest to decorate a tiered tray for fall.  Add pumpkins and signs and you're pretty much done!
Usually I like to start any seasonal decorating with decorating my tiered tray.  But that wasn't the case this go around.  Partially because I was a tad nervous about decorating this bad boy.
How cute is the glass cloche filled with pumpkins?  That will be fun to switch up seasonally as well.  It came as a set of three so I'm still trying to find a way to use the other two, but I knew this would be great on a tiered tray.
Also, because I ordered a few signs from Etsy later than I would've liked.  So I had to wait for them to come in.  For that reason, I'm already starting to look at Christmas tiered tray decor pieces so that when I'm ready to decorate, I have what I need.
That reminds me to look at Halloween options too.  The kids have always wanted me to decorate for Halloween.  I don't plan on doing too much this year since I've purchased a lot for fall.  But I think I can do a Halloween tiered tray and maybe a little something for our front porch.  At the end of the season I'll see what I can find on clearance.  Stay tuned!
Many of the items on my three tiered tray are from Hobby Lobby, mostly from last year.  All three of the small signs are still available this year.
The green pumpkin patch sign is a mini version of a larger sign they have.  I think it's so cute to have it on my tray.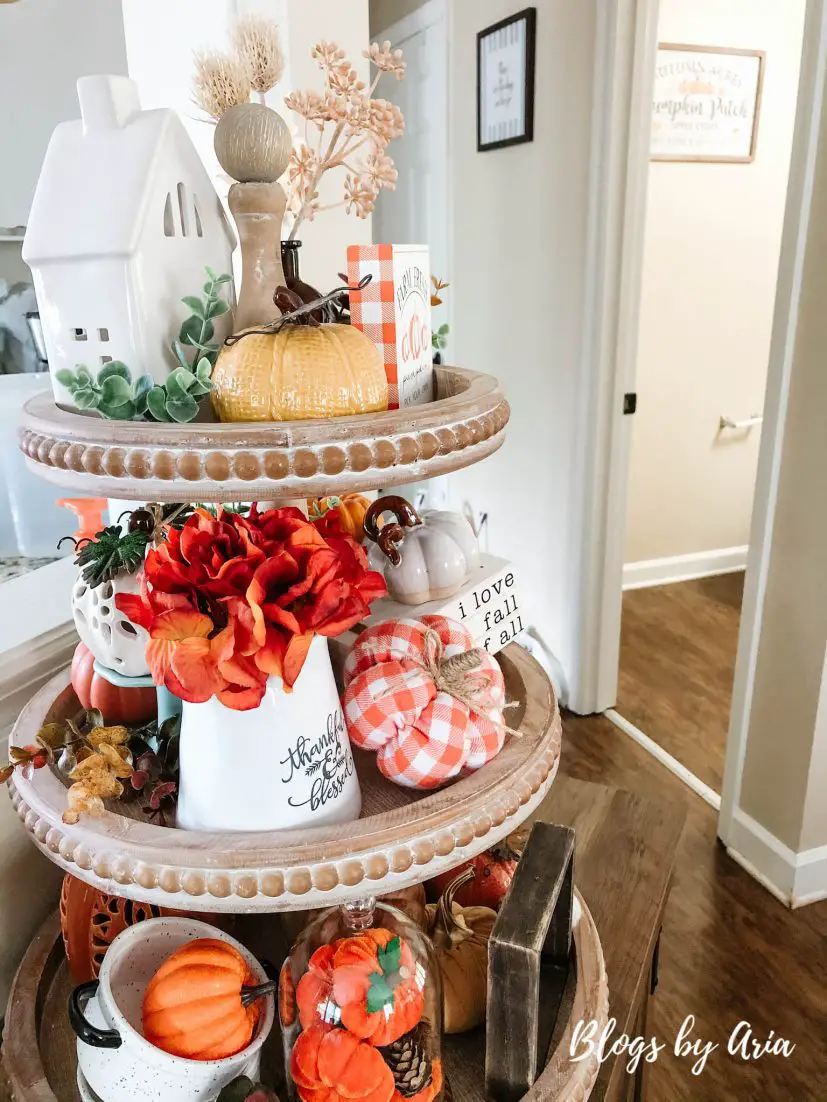 You can catch a glimpse of the larger orange version of the sign in my powder room decorated for fall.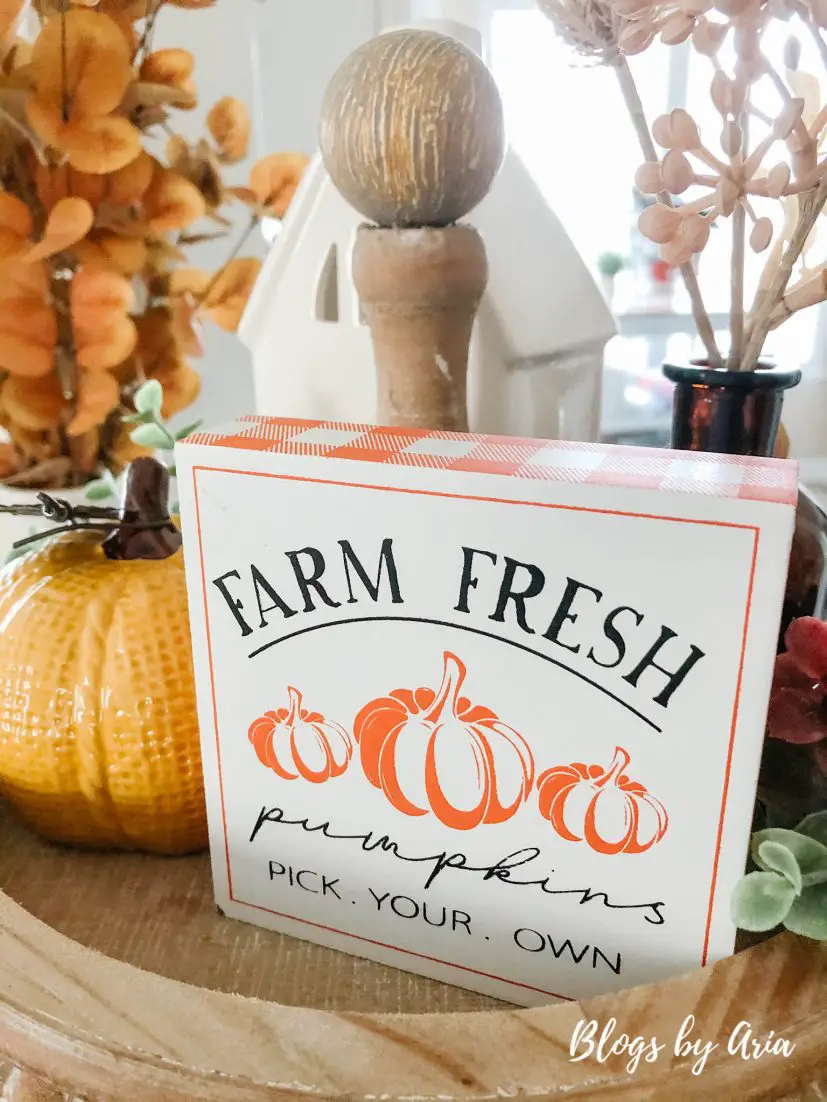 I've never gone pumpkin picking but I have a lot of signs that suggest otherwise 😉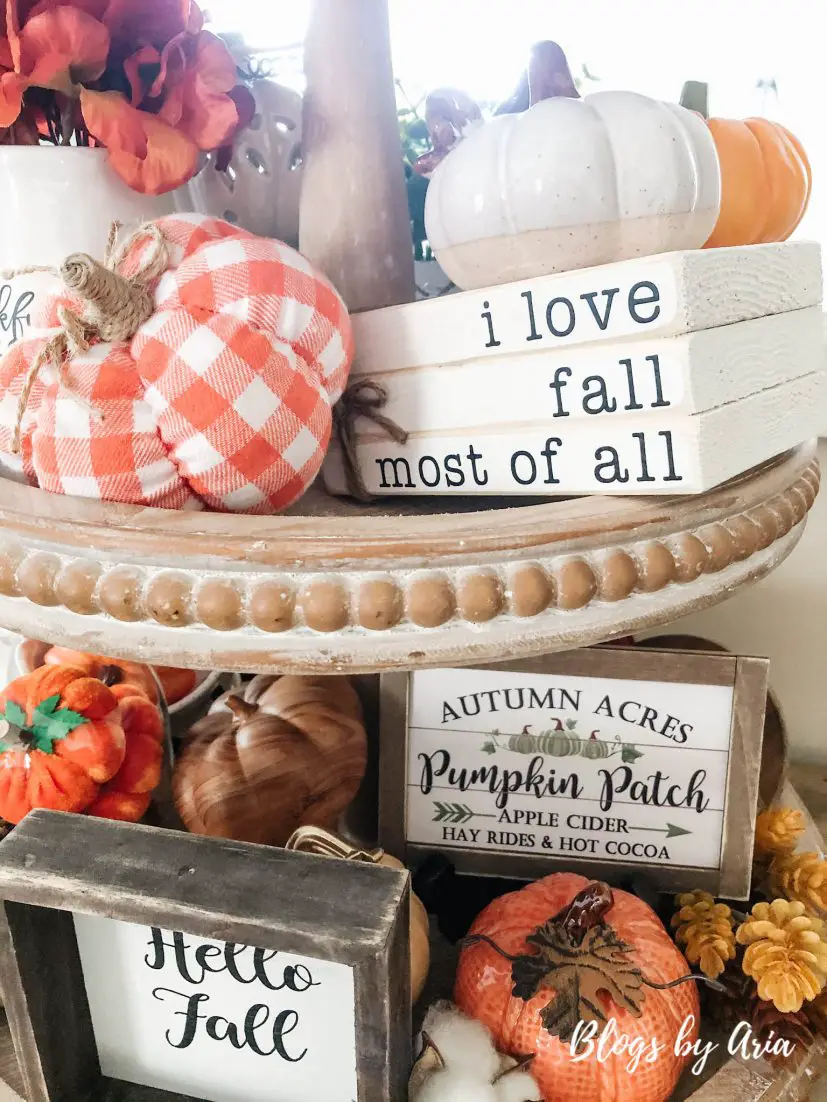 The "I love fall most of all" stacked books I found on Etsy.  Aren't they so cute?  I think I want a set for every season now!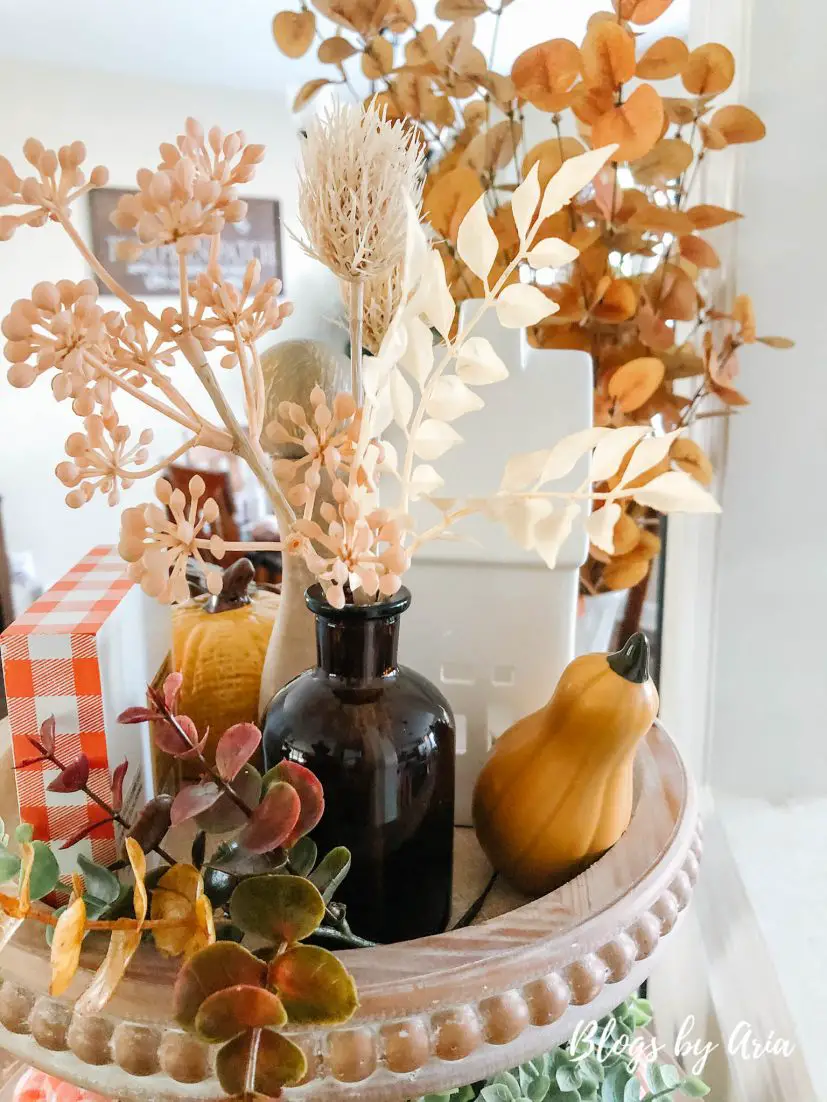 This small amber jar with thistle is from Target.
I tried to fill out the tray on all sides.  I'll probably go back in and add more pieces.  When I'm washing dishes I see the back of this tray so I didn't want to only decorate the front of it.
Now that my fall three tiered tray is decorated, it's not so intimidating after all.  I'm excited to see how I decorate it for Halloween and Christmas too.
If you're on a tight budget or you live in a small apartment or maybe just don't care to go all out with fall decorating, decorating a tiered tray is the easiest way to bring in a touch of seasonal decor.
Hopefully you got some great tier tray decorating ideas today.  This accent table is almost complete but I'm still trying to figure out how to decorate the bottom shelf.  When I figure that out I'll share the whole area.  I did decorate a smaller tiered tray in the kitchen too, but I'll share that soon when I share my kitchen decorated for fall.
Lots of fun fall decor coming your way ♥  If I missed linking anything you'd like to know more about, either comment below or send me and email and I'll get that info for you right away! Until next time, happy decorating 🙂