One of my favorite ways to kick off seasonal decorating is by styling one of my tiered trays.  I love to gather inspiration and then have fun decorating my tiered tray.  If you're like me, you too like to gain some inspiration to get the creative juices flowing before styling your own tier tray.  If that's you then you're in luck!  Because today I'm sharing 50 Fall tiered tray decorating ideas.
*this post includes affiliate links for your shopping convenience, you can read more about affiliate links by reading my Disclosure*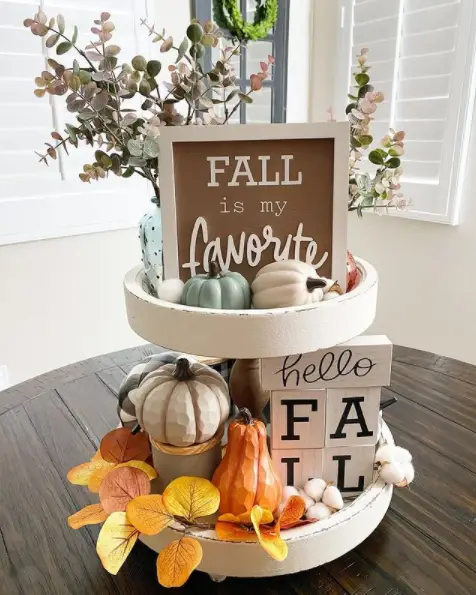 Last year I picked up the same Fall is my Favorite sign from the Bulls Eye section in Target.  I love the way Melanie @ Mama Loves Sales used it in styling her autumn tiered tray.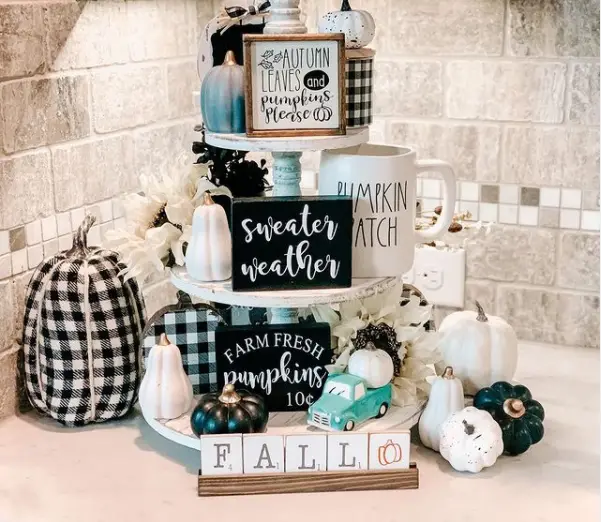 Black and white buffalo check is always a classic look for Fall.  Paired with some mini pumpkins and small signs it's the perfect touch.  Keep an eye out at Target this Fall when they put out their mini pumpkins and gourds.  The Fall scrabble tiles are so cute!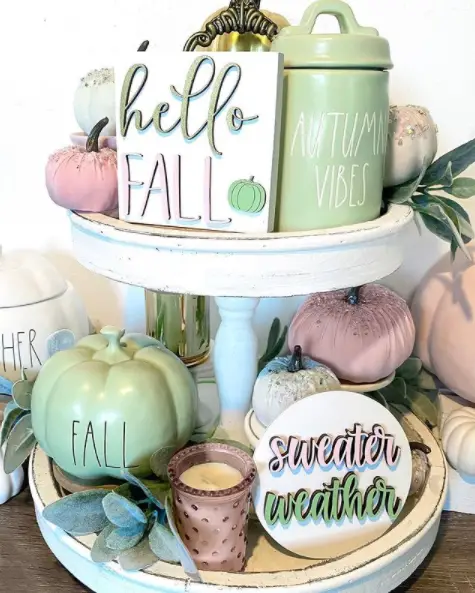 Pink and green gives this Fall tiered tray a softer more feminine look!  Perfect if you're not a fan of the traditional colors of autumn.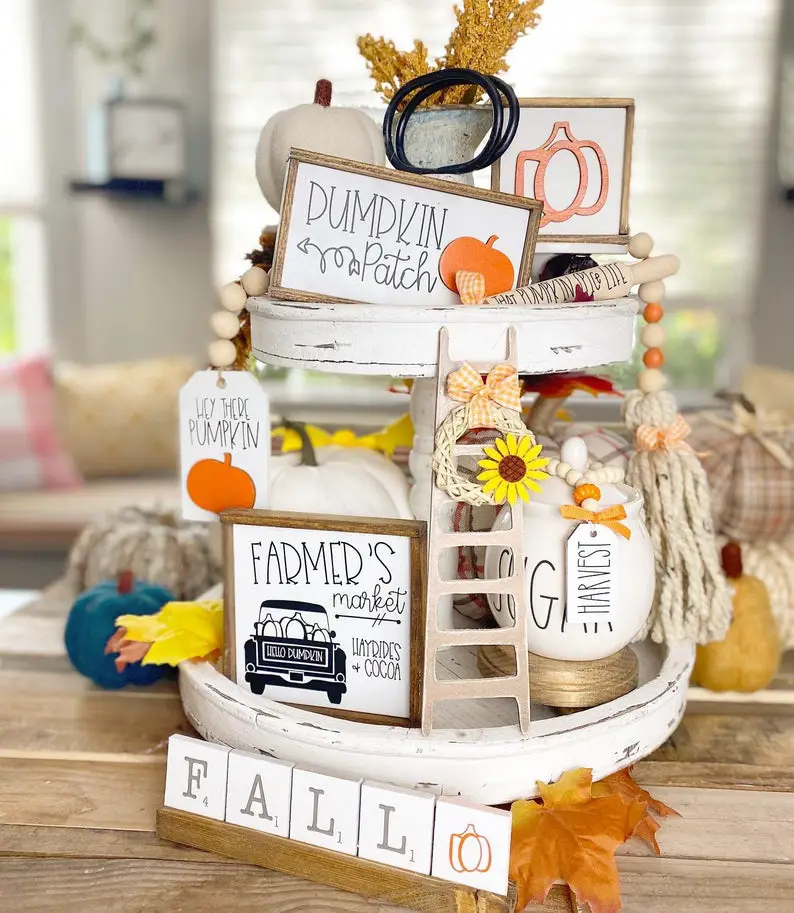 I love how Mel Denver styled this fall tiered tray with just a few small pops of orange.  You don't have to go all out with color if that's not your style.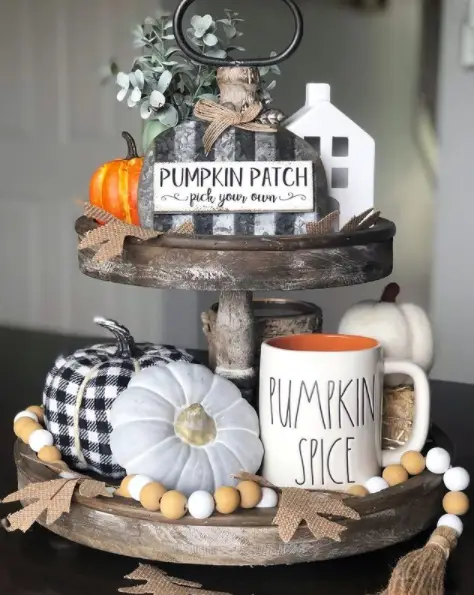 Style your tiered tray for Fall with your favorite Fall mug like Spark Happy Tiers did.  Add a couple of pumpkins and beaded garland and you're set!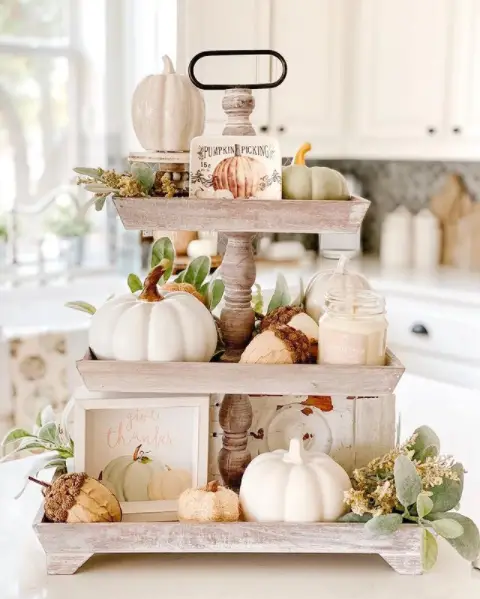 I love the neutral styling Courtney Fitzpatrick used in decorating this unique tiered tray.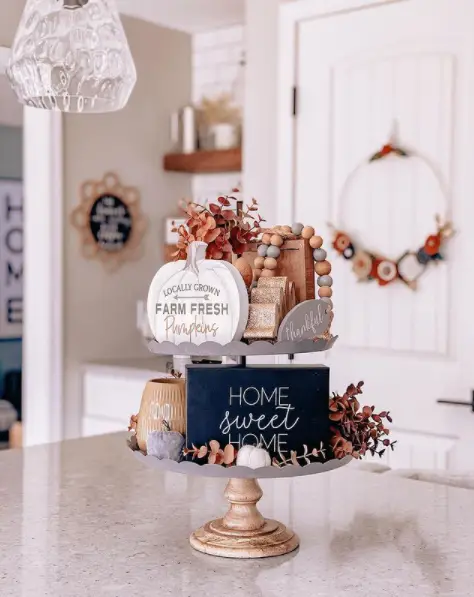 Ten Trails Living used an everyday sign as the focal point to her Fall tiered tray.  I have this same home sweet home sign from Hobby Lobby in my powder room.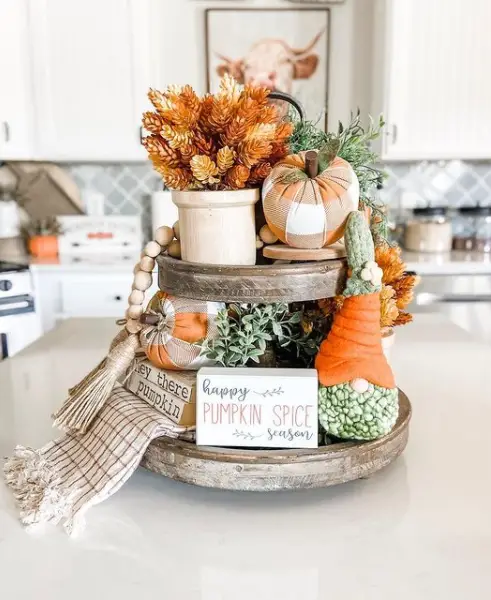 Charity @ House on Louise Meadow used a few larger pieces in her tiered tray styling and that allows for you to use less pieces overall.
Aubrey  from Aubrey Swan Blog styled this white three tiered tray beautifully with a few Fall signs and black and white buffalo check pumpkins for a classic yet neutral look.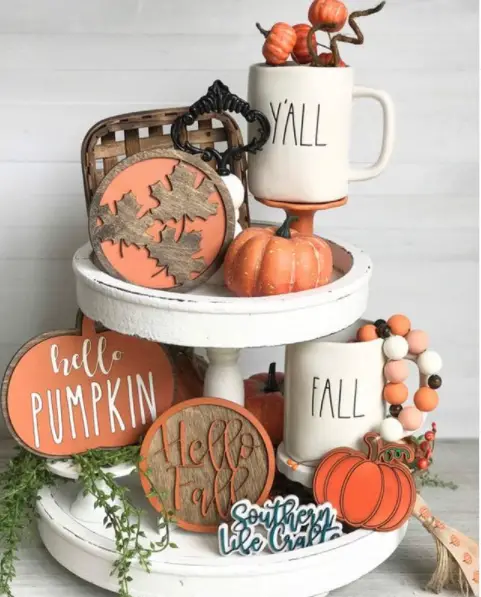 white tiered tray | hello pumpkin decor
I love the hello pumpkin sign from Southern Life Crafts.  Her Etsy shop has so many cute pieces for styling a tiered tray for Fall!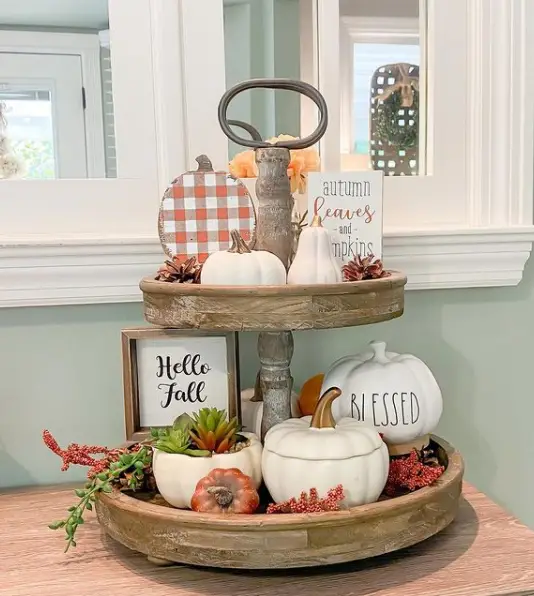 Emily @ Lifeonoakhill styled her tiered tray for Fall using pumpkins and succulents.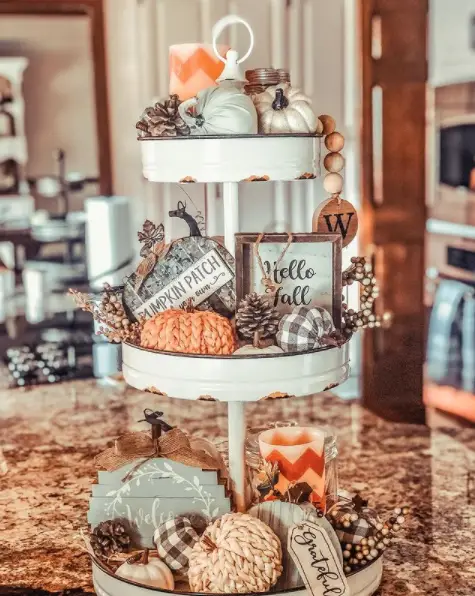 This is a great way to style a tiered tray with the popular woven pumpkins.  I have this set from Hobby Lobby too and the Hello Fall sign is also available at Hobby Lobby.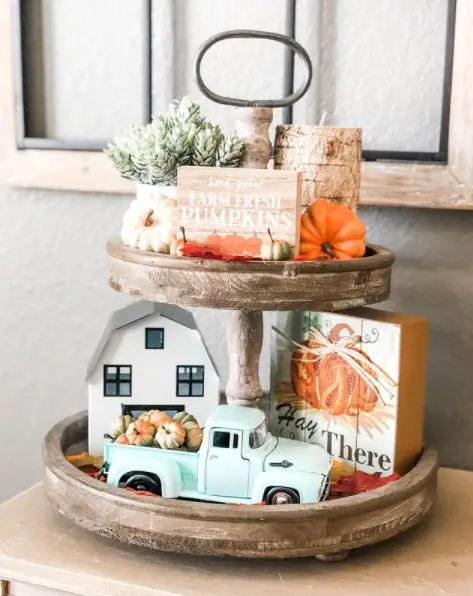 If you love a farmhouse truck and barn this is a great way to style your tiered tray this Fall!  This tiered tray is styled by Selena @ Lilies.n.Lemons and she made it look perfect!  It's another example of decorating your tiered tray with larger pieces.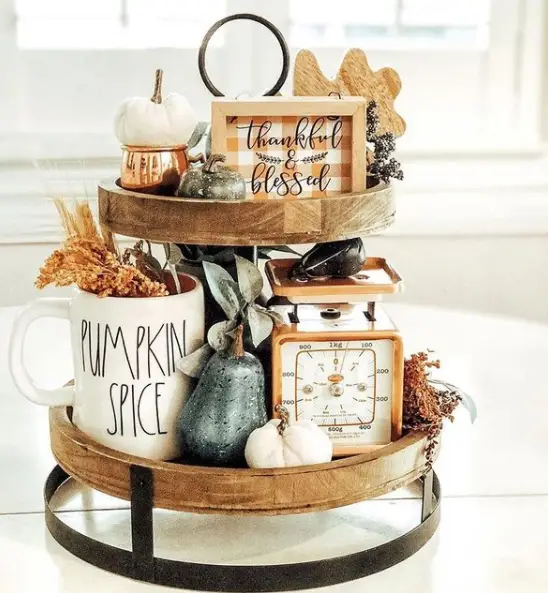 Luci @ White Oak Shop styled her tiered tray for Fall in honor of Pumpkin Spice making it's coveted Starbucks return!  That's definitely a fun way to celebrate if you ask me!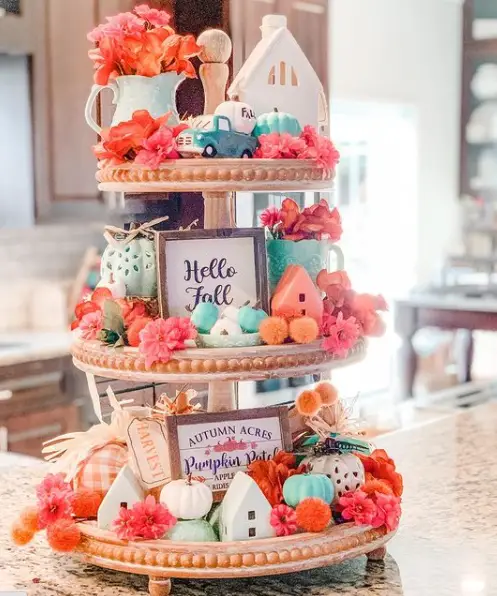 I love all of the beautiful colors @athomewithjazmin used in styling this tiered tray.  Don't be afraid to experiment with non-traditional colors for Fall.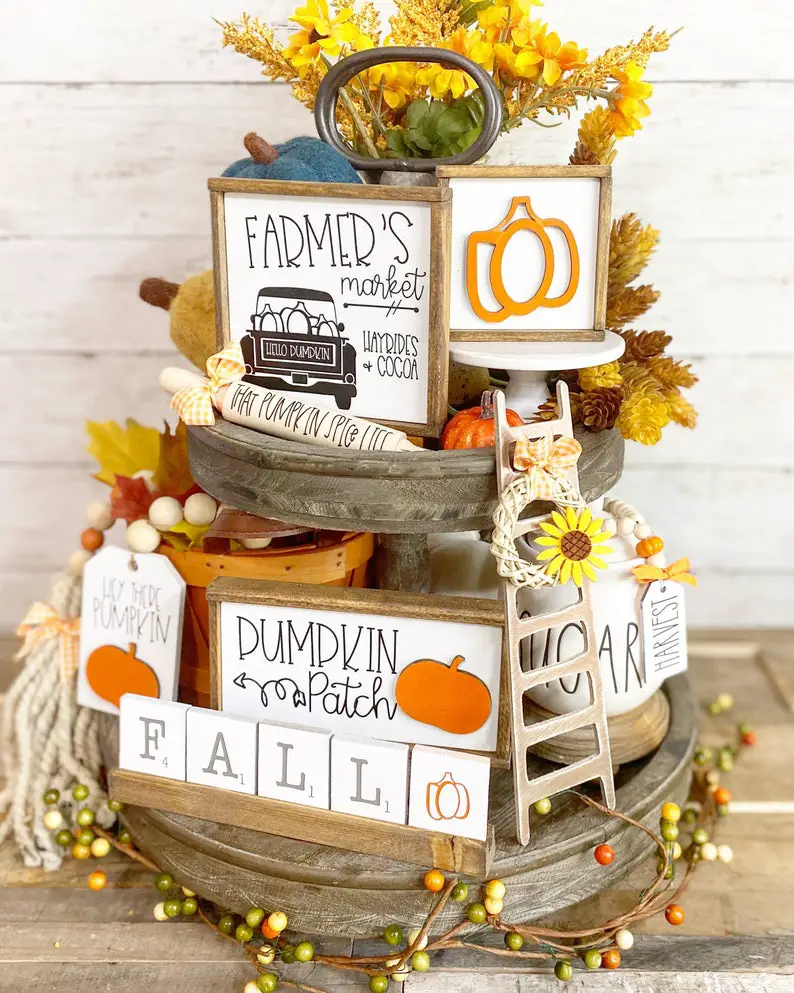 Marigolds and other shades of yellow are beautiful for styling your Fall tiered tray.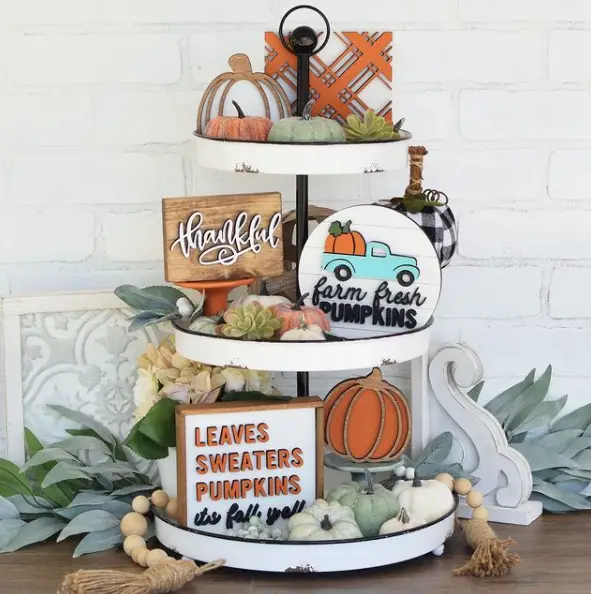 Mini pumpkins mixed with a few Fall signs really pull this tiered tray together.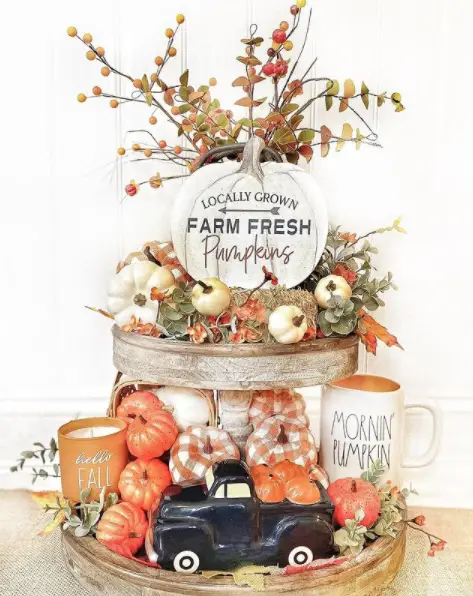 Lisa styled her farmhouse tiered tray to look like a pumpkin patch with pumpkins spilling out of a woven basket.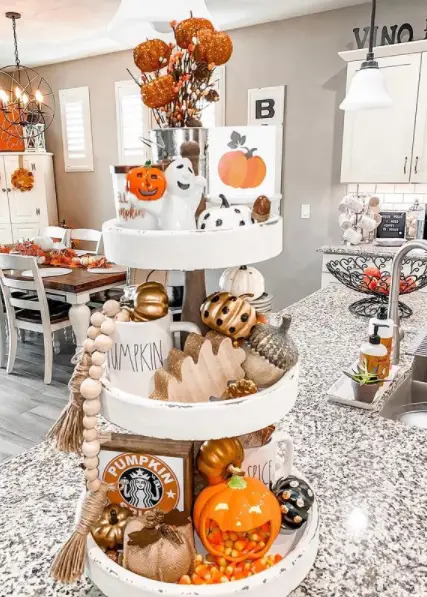 A few ghosts and candy corn and Cyndi @ simplyblondesmom transitioned from Fall to Halloween with her tiered tray.
The way Susan from Table For 5 Please styled this Halloween tiered tray is so fun!  You've got to check out her Fall home tour for so much decorating inspiration!  I especially love her Halloween decor since that's still new to me and I'm looking to branch out more into it this year.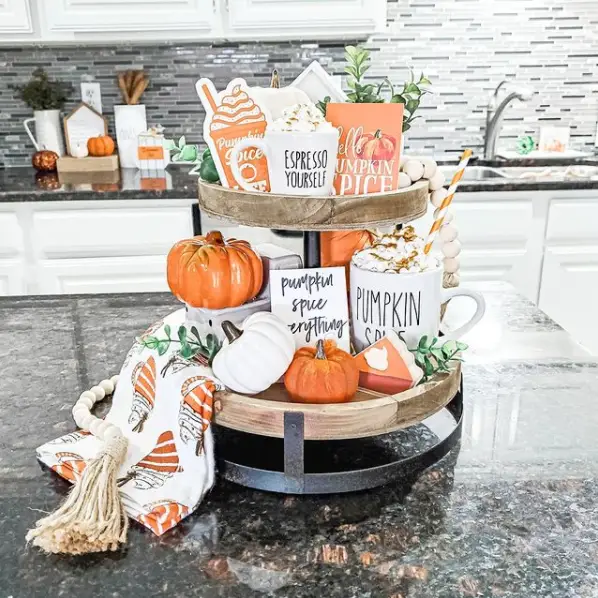 Pumpkin Spice season is here and this tiered tray by Yasminnie is here to celebrate it!  I've been following Yasmine on Instagram for over a year now and I love her eye for design and she does it all on a budget!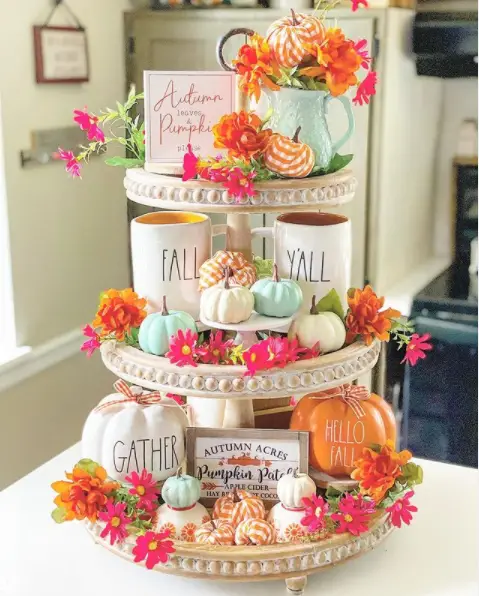 Stefanie @ Homestead Harris also used beautiful vibrant colors to style her tiered tray for Fall!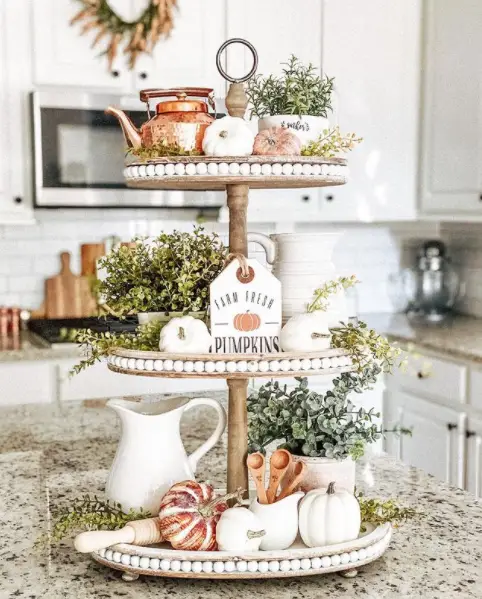 Amy Fritz styled her tiered tray beautifully using lots of greenery as the primary focal point.  You can still have a Fall look without pumpkins being the center of attention.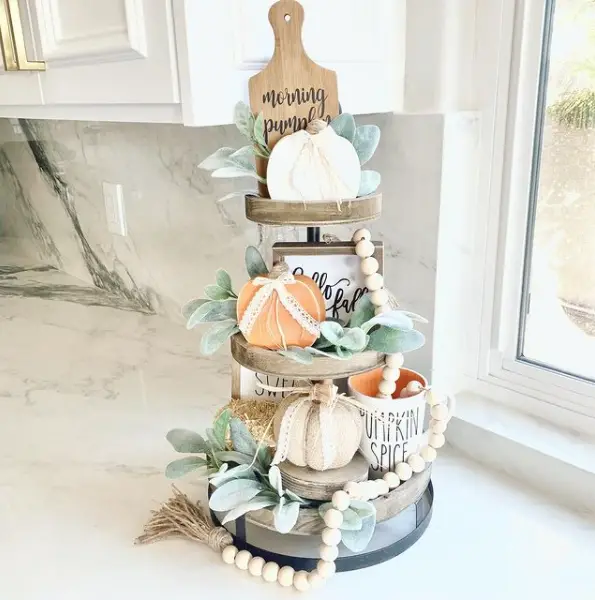 Here's an example of a beautifully styled tiered tray that's on the smaller side.  The good thing about decorating a smaller tier tray is it's easier to style.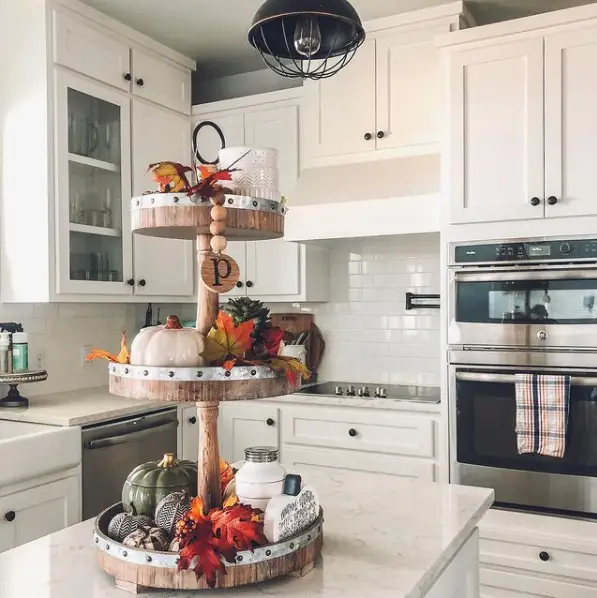 I love the simple styling of this rustic three tiered tray for Fall.  It just goes to show that you don't have to do a lot to create a beautiful Fall vignette.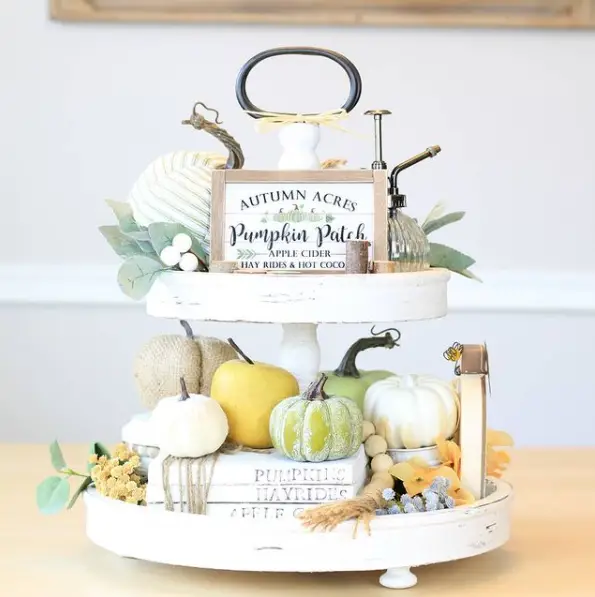 If neutral colors are your style for Fall decor this tiered tray is the perfect inspiration.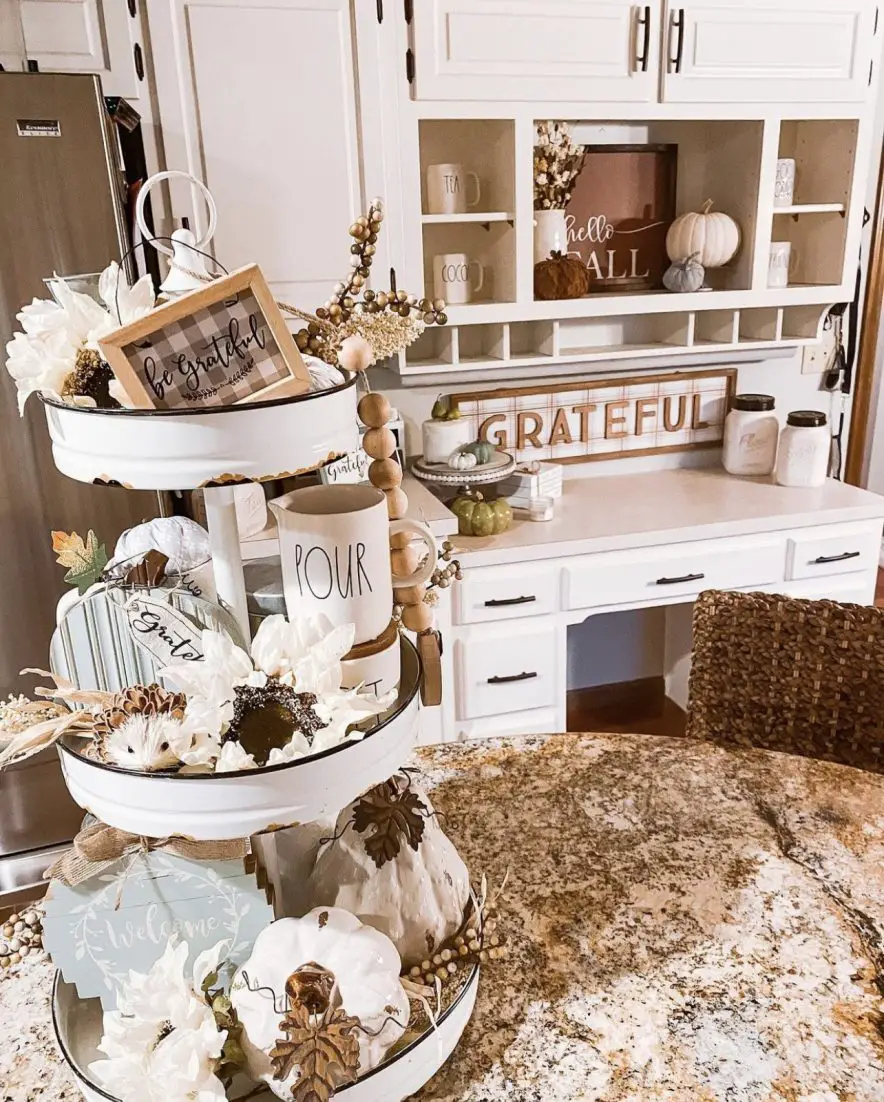 I love the rustic styling of this farmhouse Fall tiered tray and how it ties in with other Fall decorations in the kitchen.
Karissa at Fitful_Motif used woven pumpkins and mini signs from Hobby Lobby to create an autumn and Halloween tiered tray.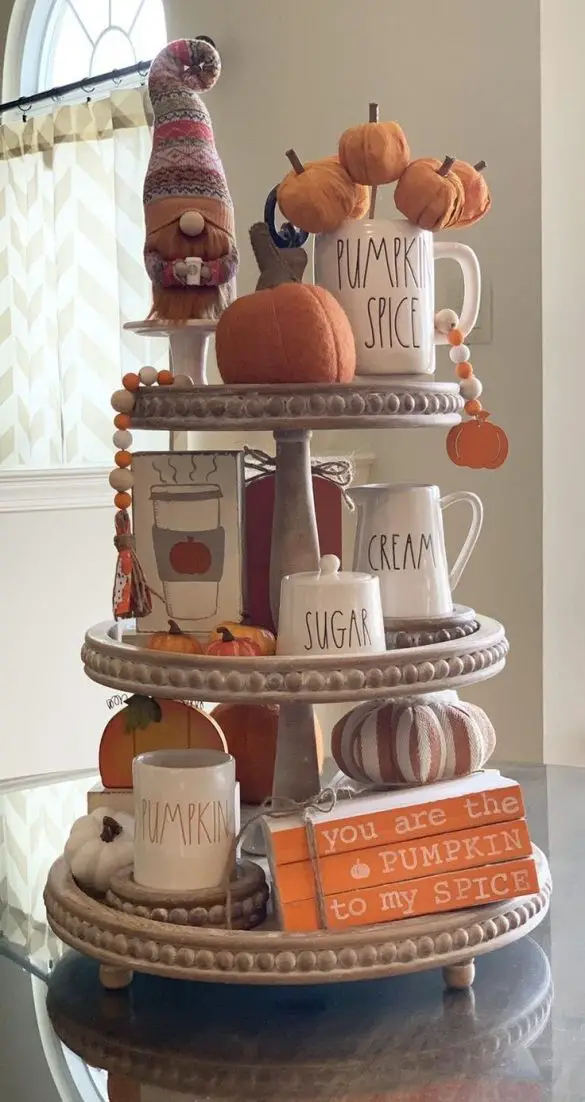 You are the pumpkin to my spice stacked books are perfect for a tiered tray styled for Fall.
Who doesn't love a mini white pumpkin?!  Paired with some pinecones and wheat stems and this tiered tray is perfect for Fall!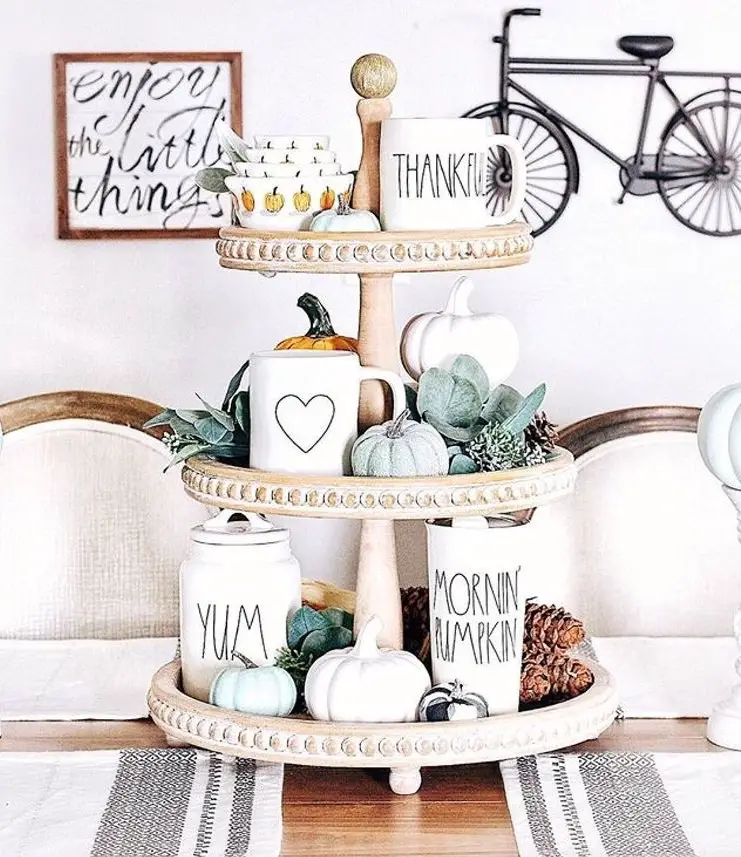 Rae Dunn mugs, mini pumpkins and pinecones are the stars of this beautiful beaded three tiered tray for Fall.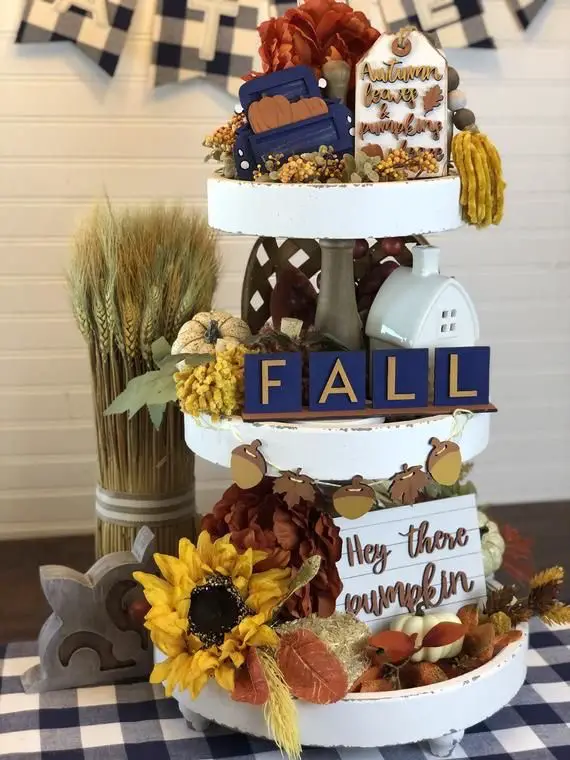 Incorporating blue into Fall decorating is something I'm all about!  It's a beautiful combination with yellows, golds and burgundies.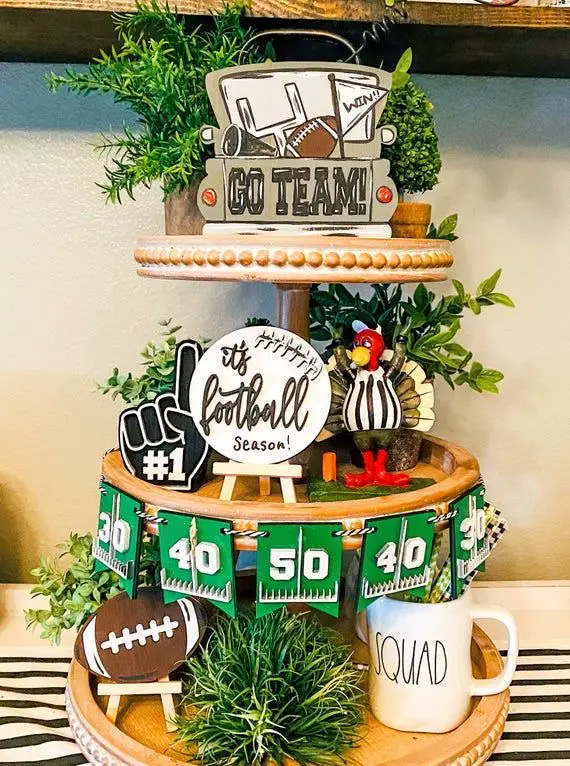 A football themed tiered tray is perfect for Fall!  Maybe for the first game of the season, or playoffs, the Super Bowl or maybe for your All Star in your home!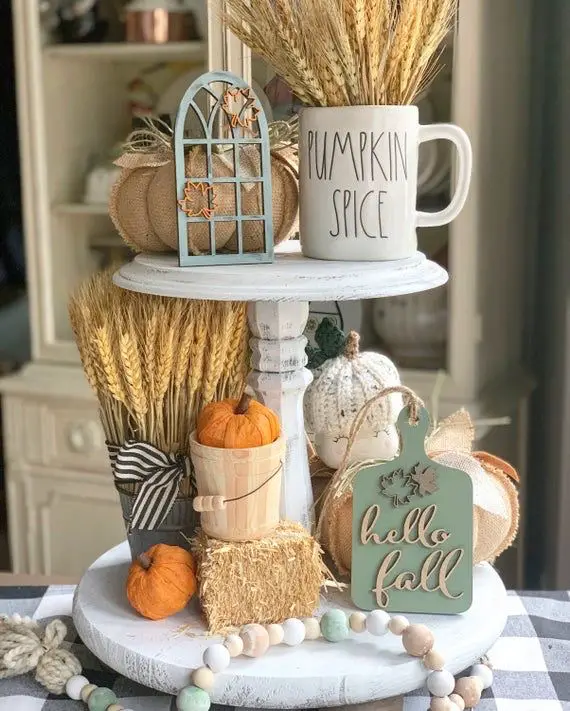 Using wheat stems is a good way to incorporate natural texture into your Fall tiered tray.  I found some very inexpensive options on Amazon.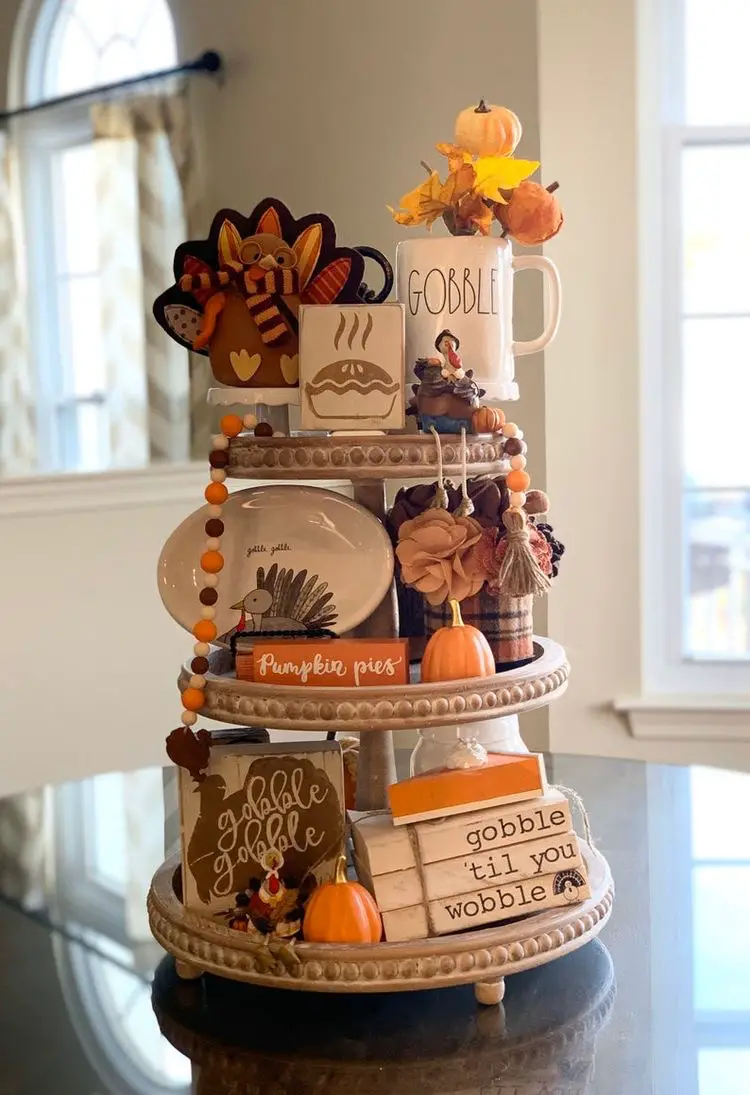 A Thanksgiving themed tiered tray is another great option for Fall.  I think it's a great idea to restyle your tiered tray throughout the whole Fall season.
I love the neutral styling of this Fall tiered tray don't you?  It's a great option if you prefer to stick to neutral Fall decor.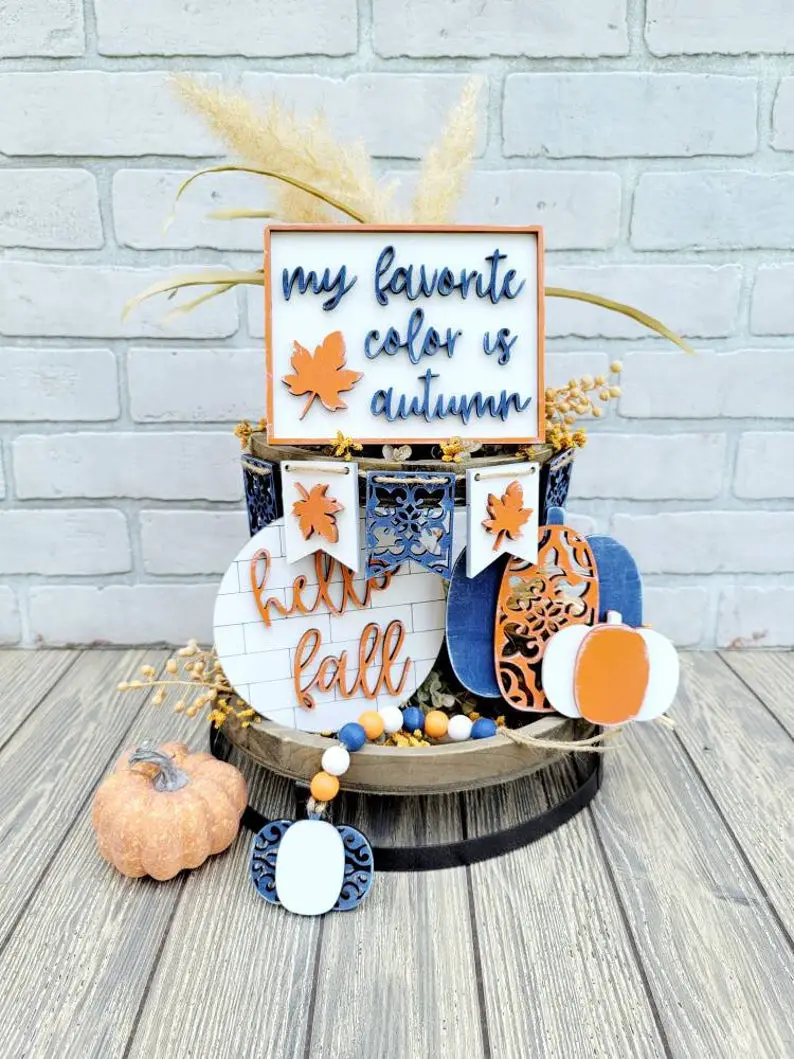 There's just something about blue and orange together that make such a beautiful combination!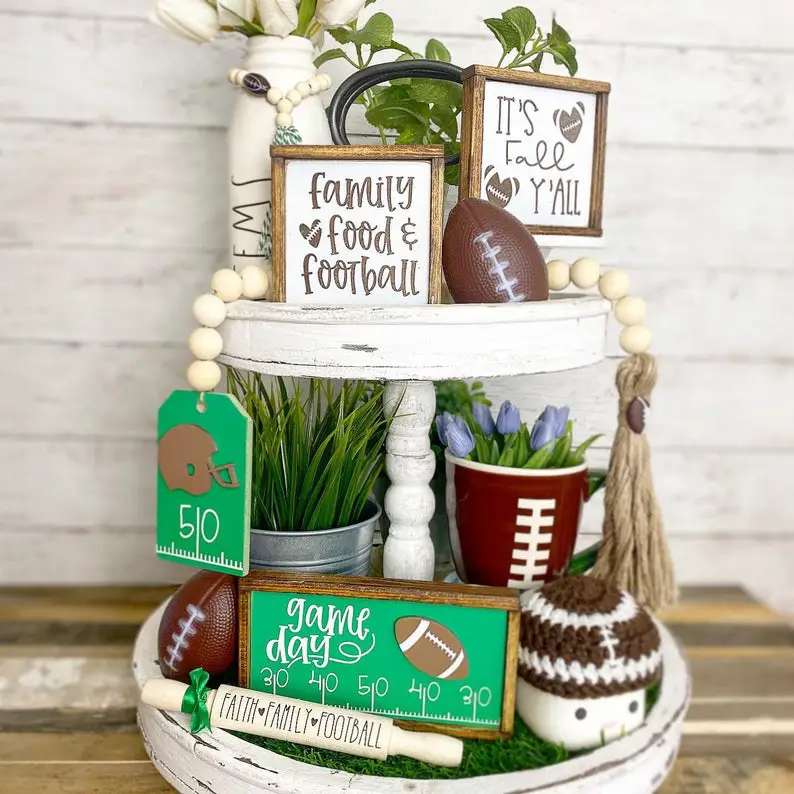 Here's another variation of a football tiered tray.  I think it's something I want to give a try.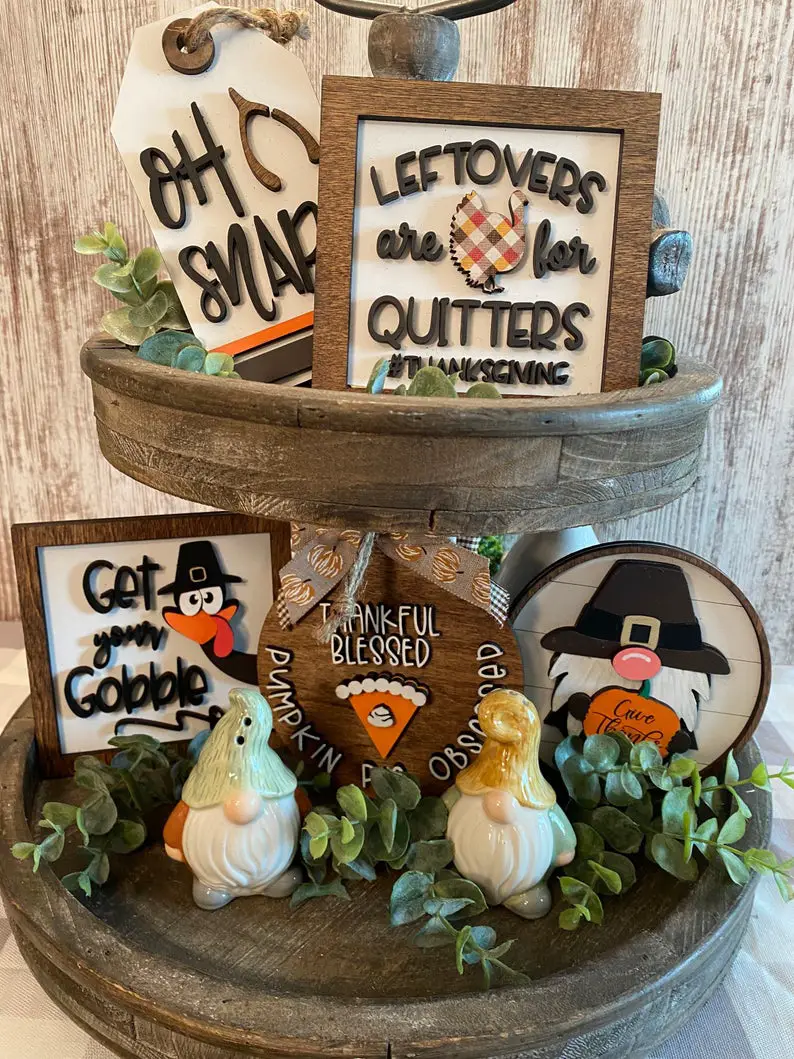 This Thanksgiving tiered tray is so cute!  The leftovers is for quitters sign is so funny!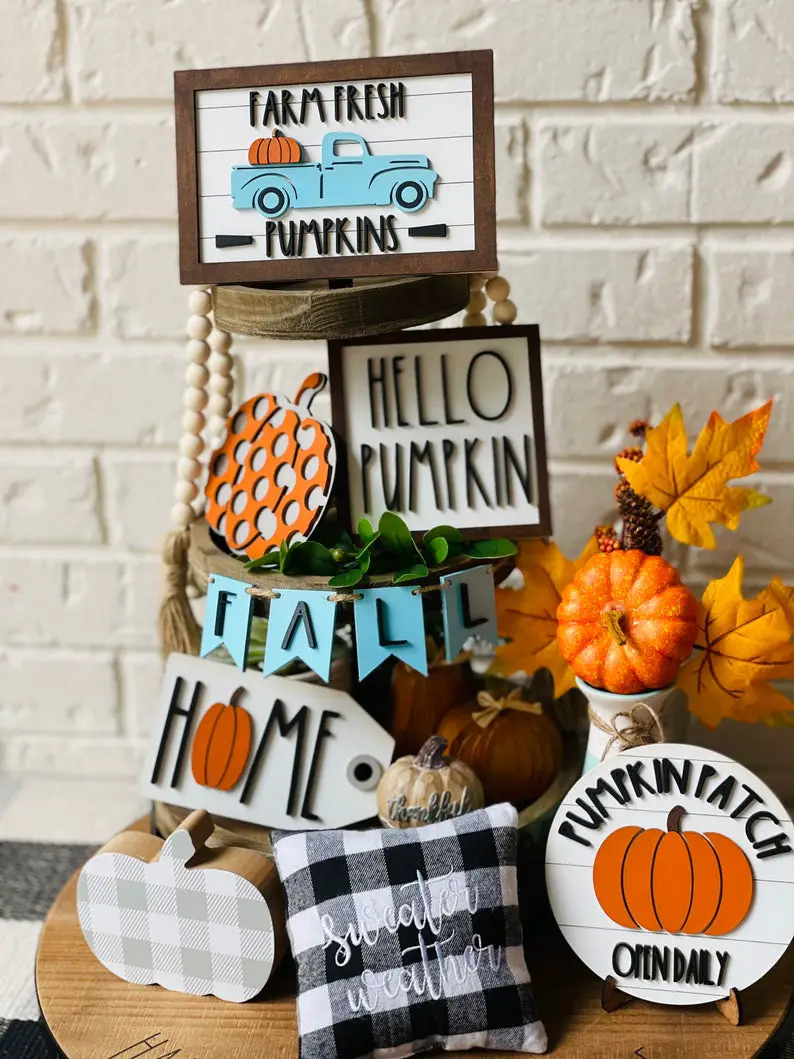 This Hello Pumpkin and pumpkin patch theme tiered tray is really cute.  It reminds you to decorate outside of the tiered tray itself too.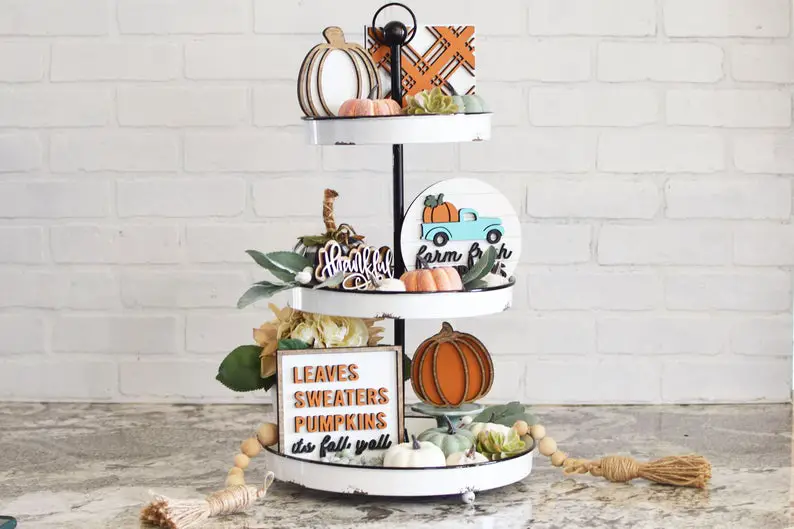 I'm obsessed with this leaves sweaters pumpkins sign!  It's the cutest!!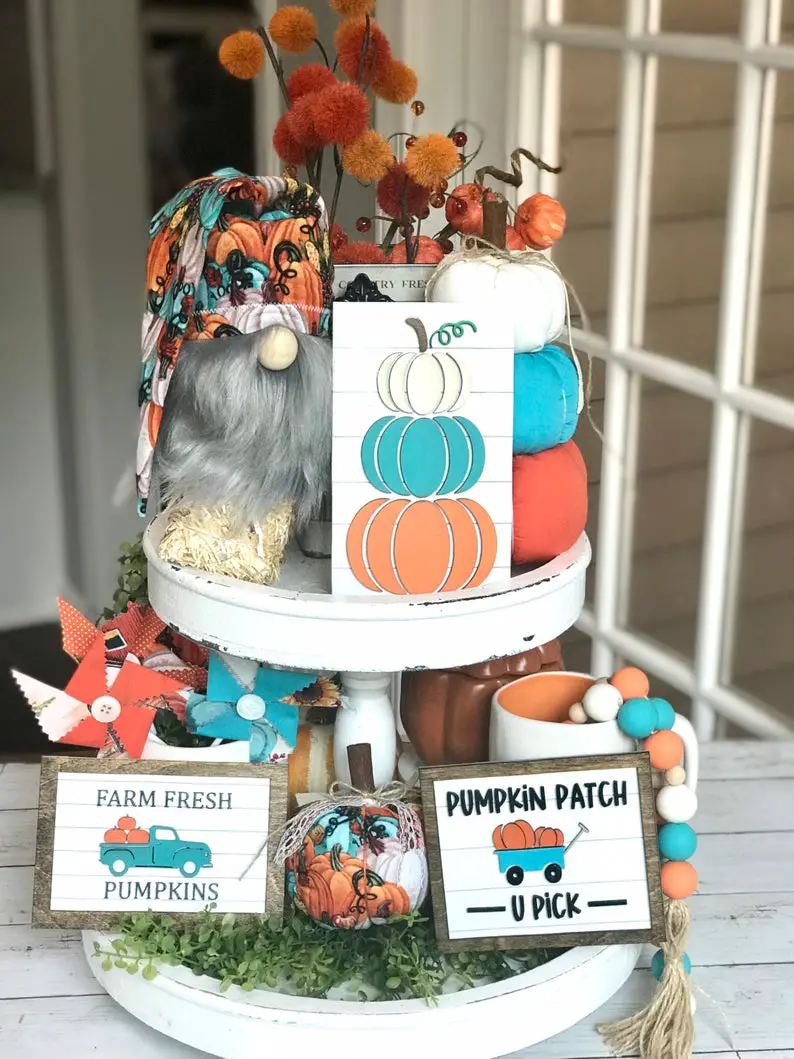 Teal and orange go together so perfectly with this tiered tray.  You can't go wrong with these cute shiplap signs!
Pumpkin Spice season is the best season!  How cute would this tiered tray be styled on a coffee bar?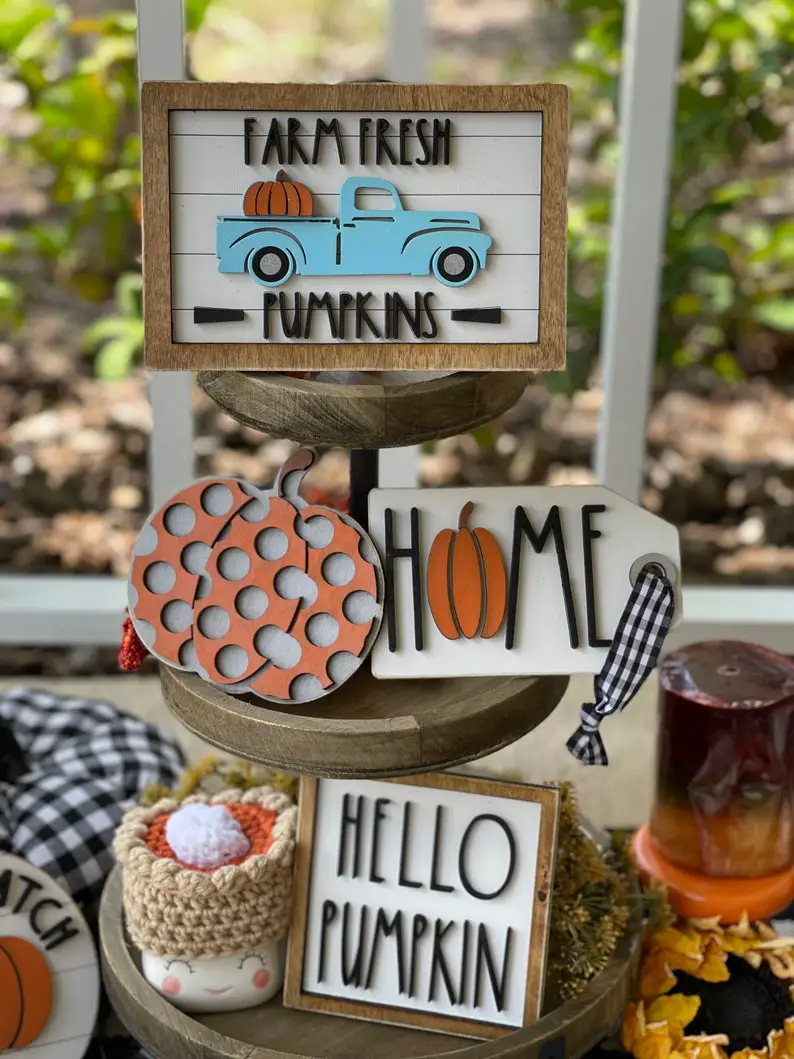 The hello pumpkin sign is in my shopping cart right now!  And although I don't love the farmhouse truck, I love how cute the truck is on the shiplap!
This is such a cute Halloween tiered tray!  The haunted house sign really sets it above the rest!
This black beaded tiered tray is perfect for Halloween!  I've actually never watched Hocus Pocus.  I know, I know.  Maybe I will this year just to say I have seen it and stop getting those blank stares whenever I admit that I haven't!
Another pumpkin spice themed tier tray to give you some decor inspiration.  I especially love the home sweet home sign.  Too cute.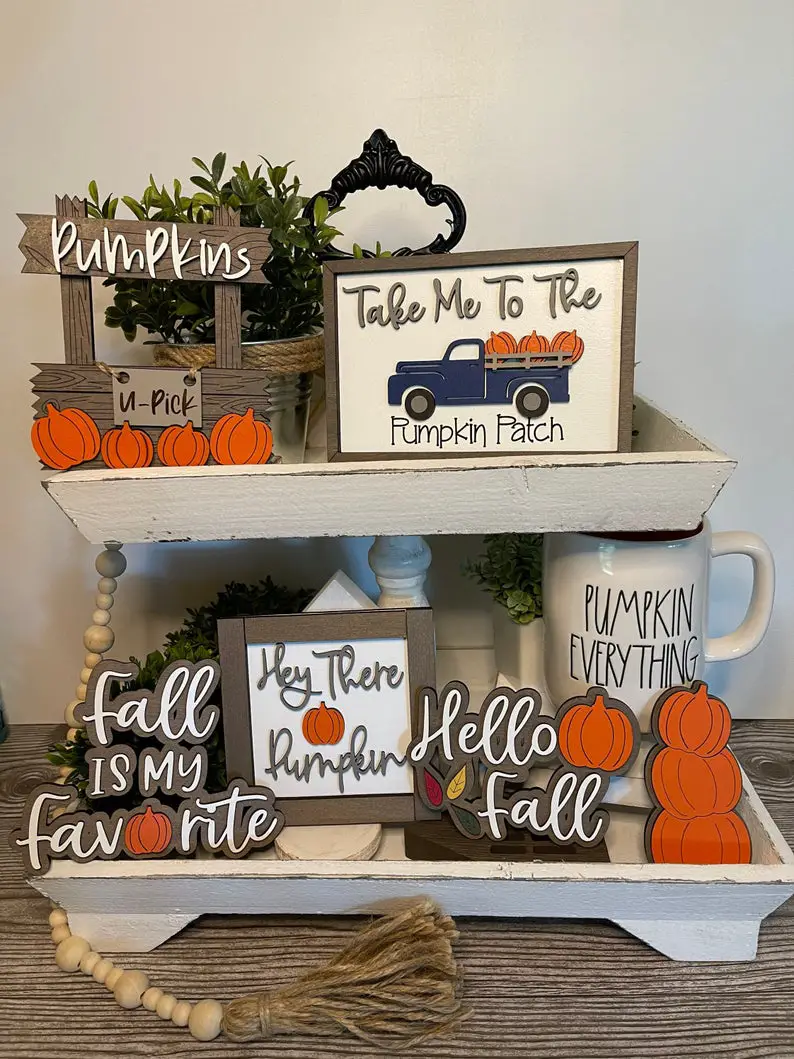 These Fall signs are perfect for styling a tiered tray.  I really like the Pumpkins U Pick sign, it's so unique!
These hayride and pumpkin street signs are such a fun and unique find to make your Fall tiered tray stand out from the rest!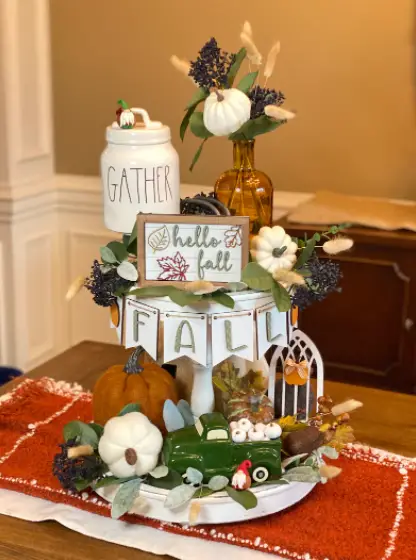 The Sassy Oak styled this tiered tray with a classic green truck, a small amber vase and this really cute hello Fall sign.
I hope you got tons of inspiration and ideas for styling your Fall tiered tray!  I know I did!  If you're looking for even more tiered tray decorating ideas, check out my pumpkin tiered tray and my Fall three tiered tray.  I'll be working on my tiered tray for this year very soon and will share it with you here on the blog.
Are you already looking for Christmas tiered tray inspiration?  I've got you covered there too!  If you couldn't tell by now, I love tiered trays!