It's officially September!!  And it's Labor Day weekend, the unofficial beginning of Fall.  Here in Raleigh, we're experiencing some cooler temperatures and I'm loving every bit of it.  If you follow me on Instagram you've seen that I've been working on our fall front porch.  I'll share that with you soon once it all comes together.  Today I'm showing you my pumpkin powder room!
You may recall that we have floating shelves in our powder room so you know that means I have more spaces to put pumpkins!
*this post includes affiliate links for your shopping convenience, you can read more about affiliate links by reading my Disclosure*
Let me start by showing you how my powder room started before I made a couple of slight tweaks.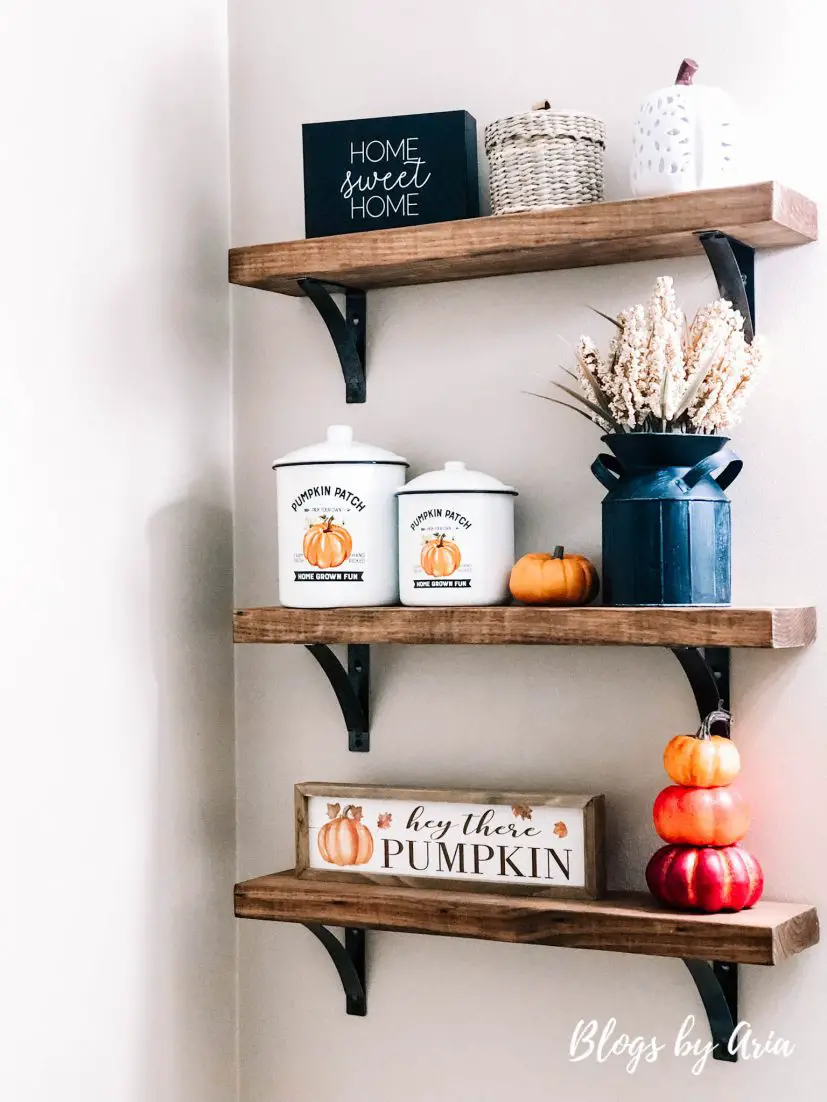 floating shelves | woven basket | wheat tin
Decorating my floating shelves for fall was actually pretty easy.  When I shared my powder bathroom post I shared a few different things I was eyeing at Target.  One of them was this woven basket and I also got this towel holder too that you'll see in a minute.
The idea I had for the pumpkin canisters was to use them in the kitchen somewhere.  But when I had a bunch of fall stuff all over the house during my decorating, I put them here in the bathroom just to get them out of the way and I ended up loving them here.  The wheat tin is from Kirkland's and I got it last year and used it on my bookshelf but they still have it available this year.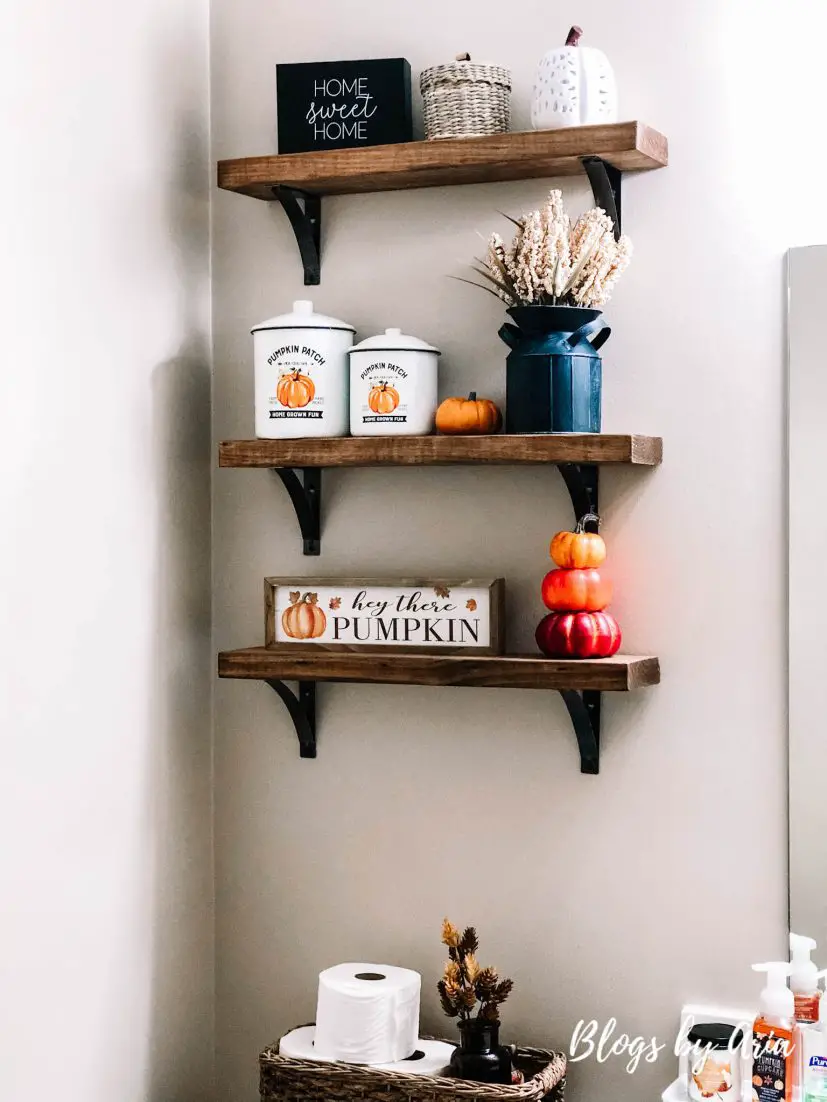 Those stacked pumpkins are from Hobby Lobby and all of the other fall items are from Michael's last year.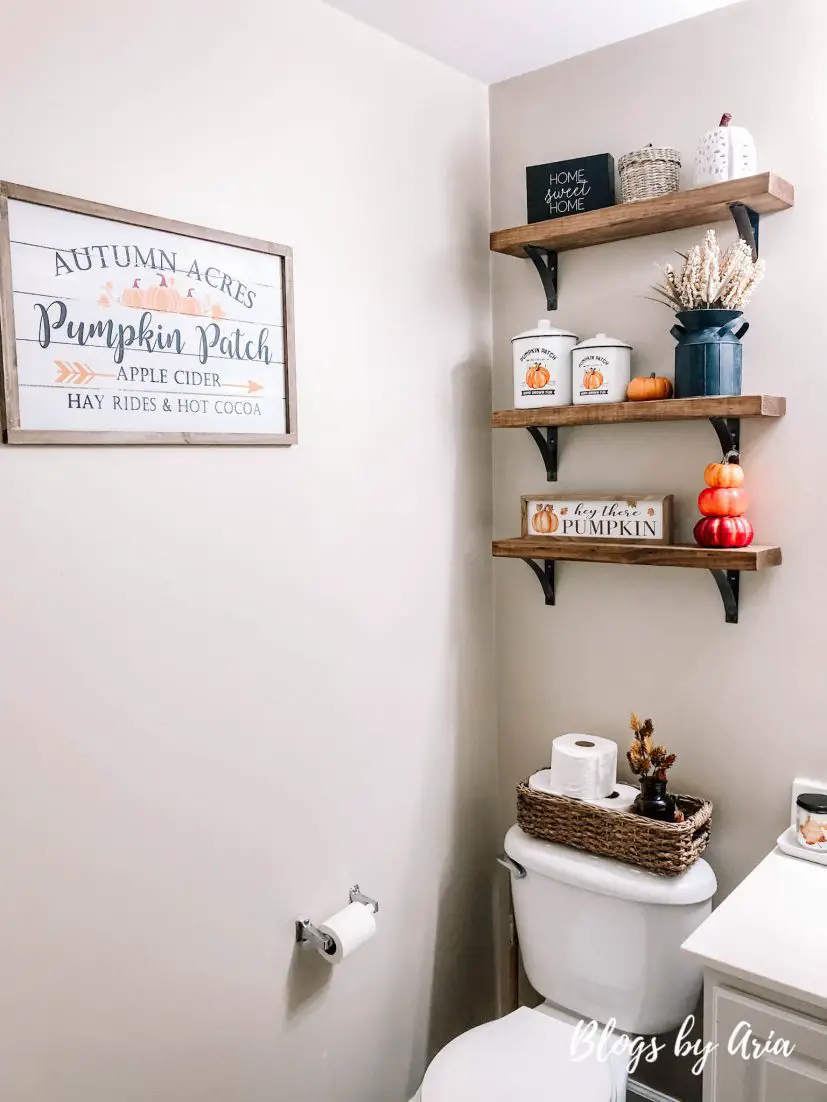 You got a sneak peek at this pumpkin patch sign when I shared my fall three tiered tray.  I just couldn't not get it!  I went back and forth between the orange or the green option and admittedly, I wanted to get both.  But we just don't have that many rooms to decorate so I chose the orange version.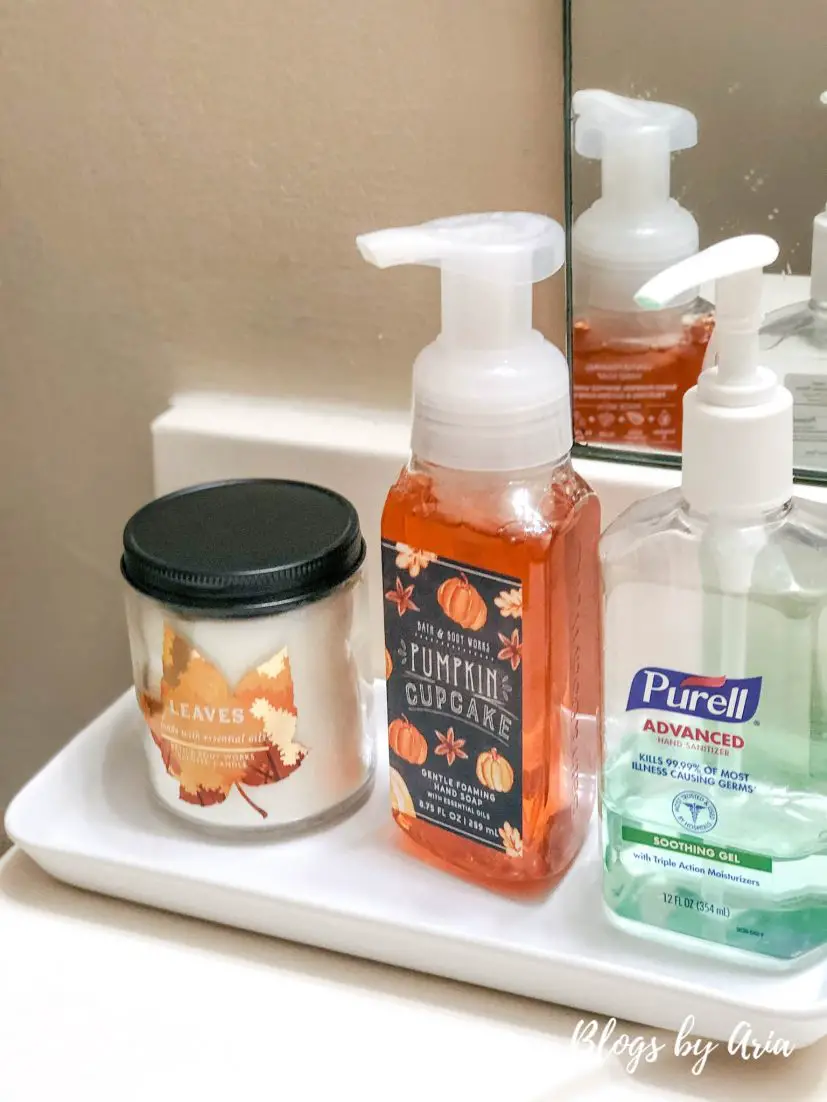 You've gotta have a fall scented soap right?  I'm loving this pumpkin cupcake soap from Bath & Body Works.  It's like a little treat every time I wash my hands.  It's paired with a single wick candle also from Bath & Body Works in the leaves scent – truly one of my favorite fall scents.
Moving to the sink area I decided to add a pumpkin pick to an amber bud vase.  You can see my towel holder in use.  I'm not quite sure why there's a towel bar in this powder room but it's not like I don't have an abundant supply of decorative hand towels!
The ones on the towel bar are from last year, probably TJ Maxx but the hello pumpkin hand towel I found this year at Kohl's.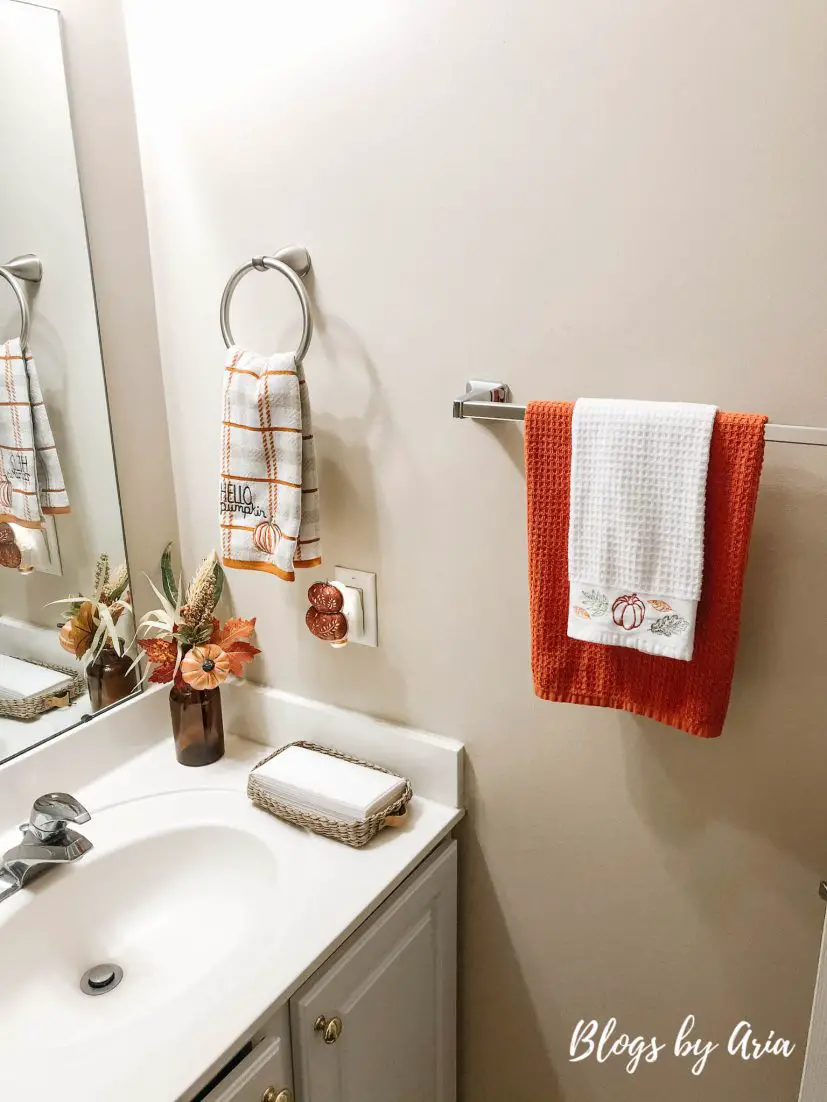 Of course I had to get a pumpkin wall flower holder from Bath & Body Works.  It was a free reward and I love it…of course I do, it's a pumpkin 🙂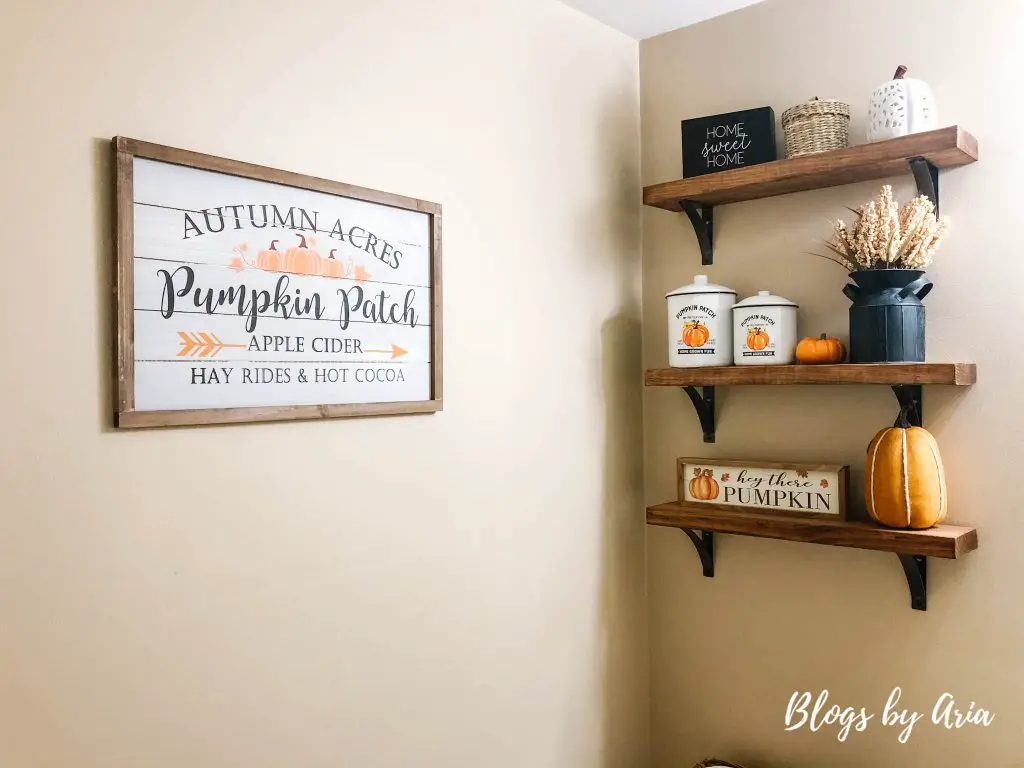 For the most part I kept everything the same, but once I found this gorgeous tall yellow pumpkin from the Target Dollar Spot I knew it would fit perfectly here.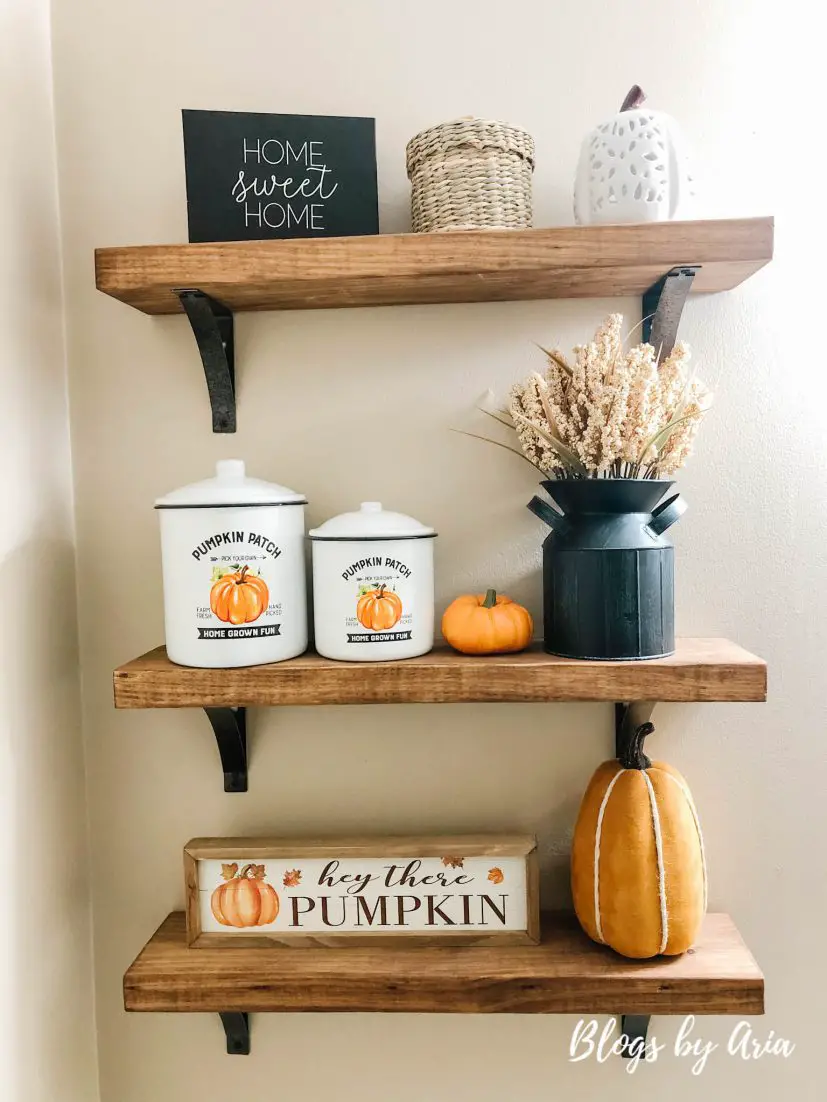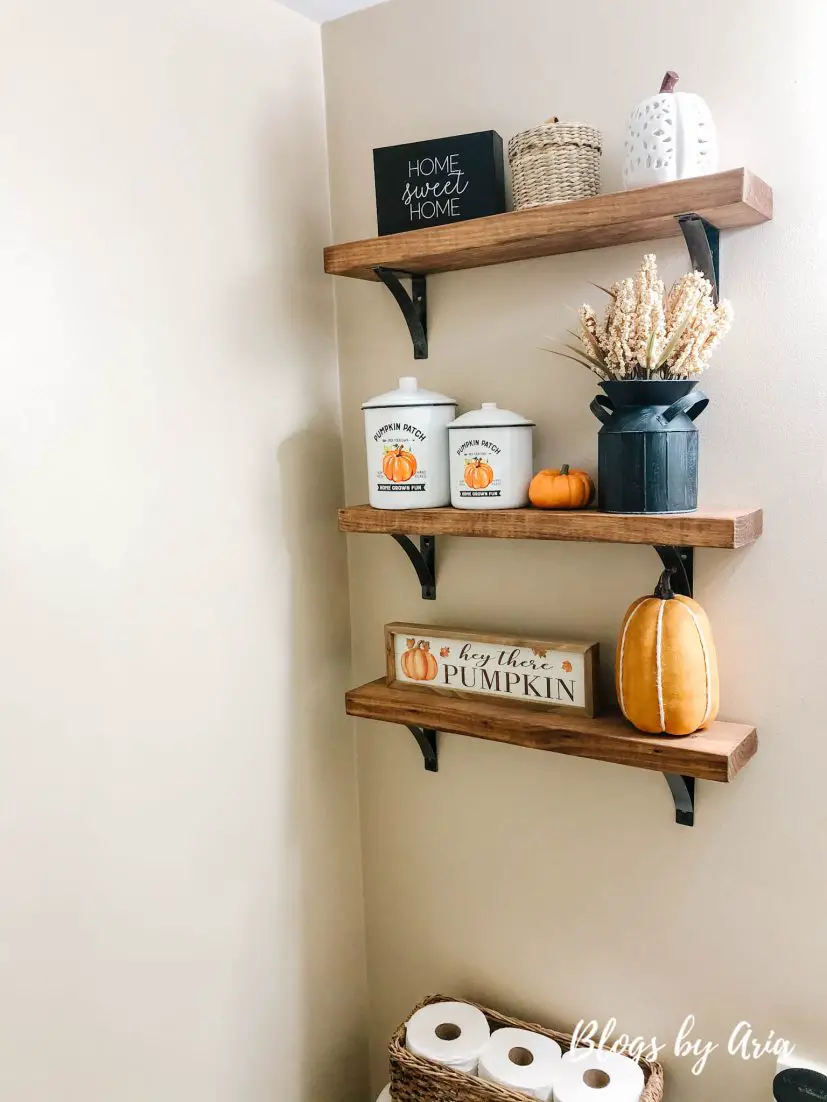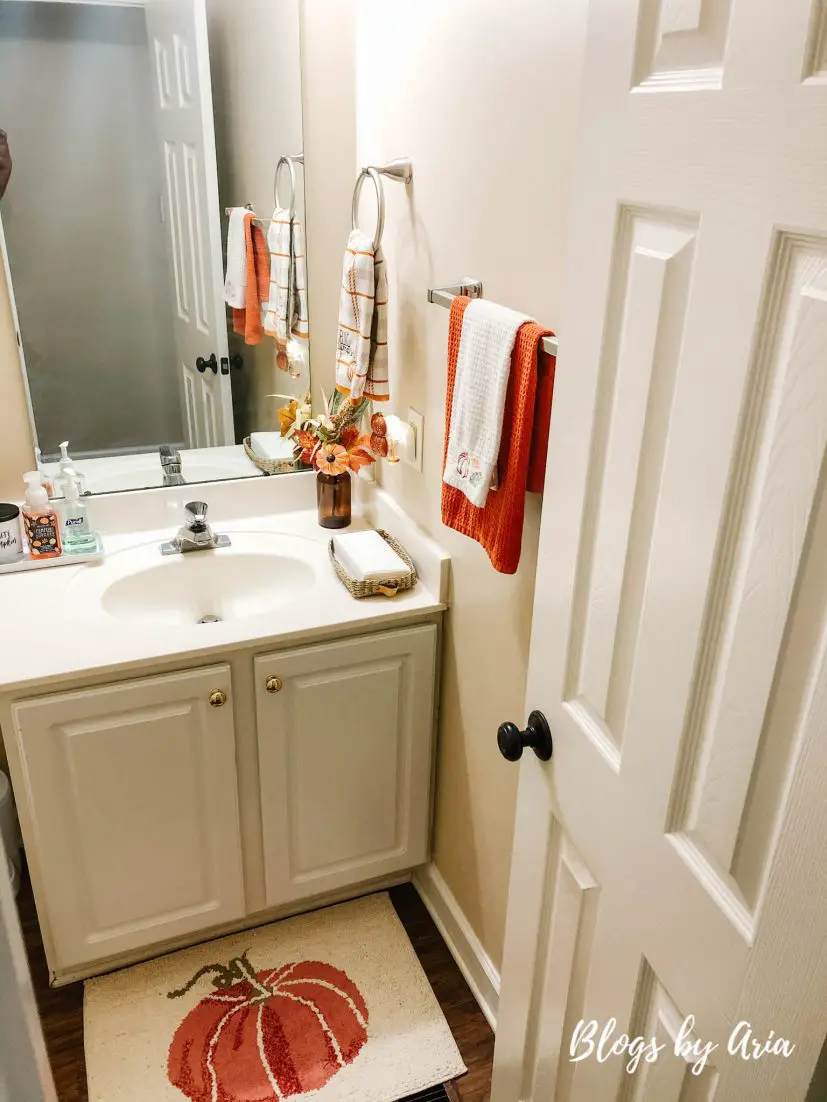 Lastly, I pulled out my pumpkin bathroom rug that I used last year in my powder room but sadly is no longer available.  This cute pumpkin rug is an alternative option.
All in all I know it's a lot of pumpkins but is there such a thing as too many pumpkins?  I don't think so!  I debated on whether I should add my pumpkin sign from last year over the towel bar but decided, that might be a bit too much.  Surprising, I know.
I've always enjoyed decorating our powder room but because I'm working from home I enjoy it even more.  I'm the one who uses this bathroom the most since I work at my dining room table.  So why not make it a festive 🙂
Speaking of my dining room table, I am currently making a sad attempt at re-doing the top of the table.  I'll share my dining room fall decor, my fall kitchen and my fall front porch very soon.  So stay tuned!  Here's to a nice short work week (the best kinds) and fall temperatures!  Happy Labor Day ♥