When it comes to gift ideas I find that I usually can come up with great pieces for everyone on my list.  Regardless of the recipient or the budget, I'd say that shopping for others is a gift of mine!  Not to toot my own horn 😉  Some of my most popular posts year after year are my gift guides for tween girls and teen girls.  I wrote those posts when my daughter was at that particular age where she was way past toys but maybe wasn't ready for all things teen.  Now as a teenager the area where I find a bit of difficulty is with stocking stuffers.
To me, stocking stuffers are meant to be small items that can obviously fit inside of a stocking.  But whereas before I could get away with a lot of candy and a couple of small items, as kids get older, that's just not going to cut it.  Today I'm sharing some practical stocking stuffer ideas for teens and tweens.  As an added bonus I'm going to also share a small gift guide of gifts that are under $25 if you're looking for gift ideas on a budget.
With these gift ideas I want to focus on Amazon.  Especially this year.  For the most part, if you order on Amazon you know your item will come in time with Prime.  If you don't have Amazon Prime, now is the time to try it out!
I don't know about you, but I usually think of stocking stuffers as an afterthought.  They're in my last minute category in those last few days leading up to Christmas.  So if that's you, that's okay, but with this year, I want to think about that now.
*this post includes affiliate links for your shopping convenience, you can read more about affiliate links by reading my Disclosure*
STOCKING STUFFERS FOR TWEENS AND TEEN GIRLS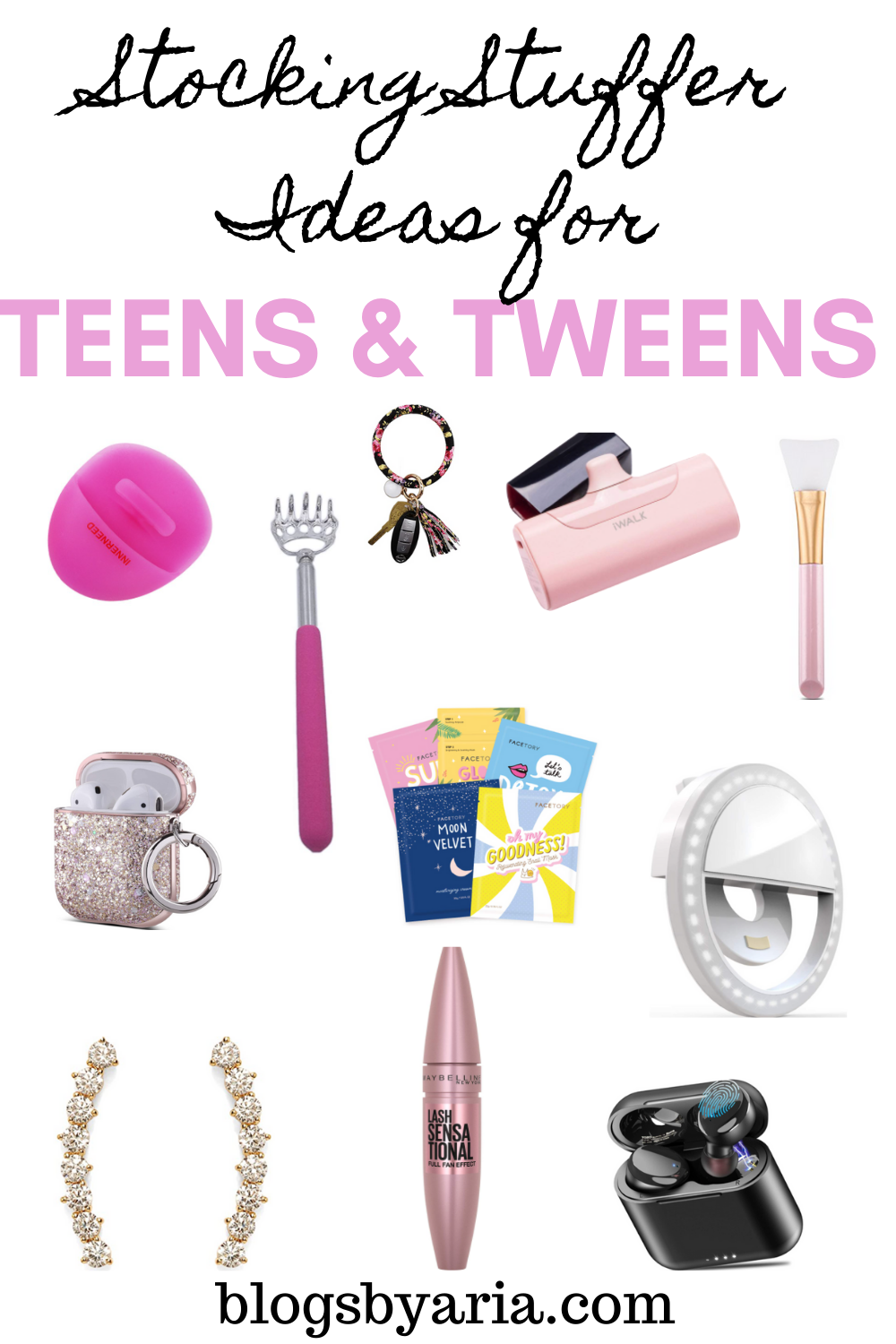 mini face scrubber | back scratcher | key ring | mini charger | face mask brush | air pods case | face masks | mini ring light | earrings | mascara | wireless earbuds
Admittedly, I sometimes have forgotten how small a stocking actually is!  So I like to keep in mind that I don't have a lot of space to work with.  Plus it doesn't take much to fill a stocking.  Stocking stuffers can also be paired with other gifts if they don't fit inside the stocking.  My daughter has wanted a specific skincare item for a few months and it's always been out of stock.  Recently when I saw it was available I ordered.  When it arrived I realized it would take up too much space.  That's okay, it can be included in a gift box that contains something else, like a sweater.
My daughter asked for a backscratcher.  So that's a good idea.  These come in a set of four so you can give the others away or keep them for yourself.
For her last birthday, she got air pods.  A cute charging case is a fun addition to go with those.  If you want to get wireless earbuds that aren't on the price level as air pods, these wireless earbuds have great reviews.
I don't know if your teen daughter is like mine, she wants all kinds of piercings.  For now, earrings like these ear crawlers or these ear cuffs are a good way to get the look without the commitment.
Small makeup pieces or favorite fragrances are also great stocking stuffer options.  Lip gloss, mascara, travel sprays or rollerballs of their favorite perfumes.  My daughter mostly wears Bath & Body Works scents so I don't yet buy her what I call real perfume.
GIFT IDEAS UNDER $25
I rounded up a few gifts in the $25 range.  They're again, all from Amazon which you know means that prices do fluctuate.  But they are in that price range and are items I think your teen or tween will love to find under the tree!
Hint:  Don't forget to clip those coupons!  So many gifts have additional coupons on them to bring the price even lower!
HOW TO COME UP WITH GIFT IDEAS
Shopping for my daughter varies from being easy to being difficult.  Sometimes what I think is cute she doesn't and vice versa.  Tale as old as time right?  One good thing is that with phones she can send me links to things she wants.  That helps take some of the guess work out of the equation.
That doesn't mean that she's going to get it just because she sends it to me but it does help me come up with more specific ideas.  It helps me to get a good idea of what she wants.  Since I'm a bargain shopper I will then try to find something very similar for half the price if I can.
Another tip is to think about what she uses or likes to do.  My daughter has always been into her nails.  What can I get her that she would use that goes with that?  This cute nail polish holder is a fun find.
A WORD ON GIFT CARDS
That's also why I don't like to give gift cards.  Every year after Christmas I say that next year I'm just buying gift cards.  Of course that would be so much easier.  But the truth is, I can get so much more value by shopping sales myself with the same amount of money I would spend on the gift card.  Instead of giving a $100 gift card I could take that $100 and get at least $150 in value from the same store because I shop the deals.
With that being said, I do think gift cards can be a great gift.  I certainly like to receive them!  And a couple of gift cards in a stocking are always a good idea.  This year, in the year of our Lord 2020, I'm less inclined to give a gift card to my kids.  Mainly because we aren't going to be going out to do the after Christmas shopping this year.  Hopefully next year will be back to some sense of normal, but for now I'm holding off on the gift cards.
Gift cards in that instance, are great to find amazing deals after the holidays where your teen or tween can get a few of the items they wished for that Santa didn't bring.  After all, he makes toys not clothes right? 😉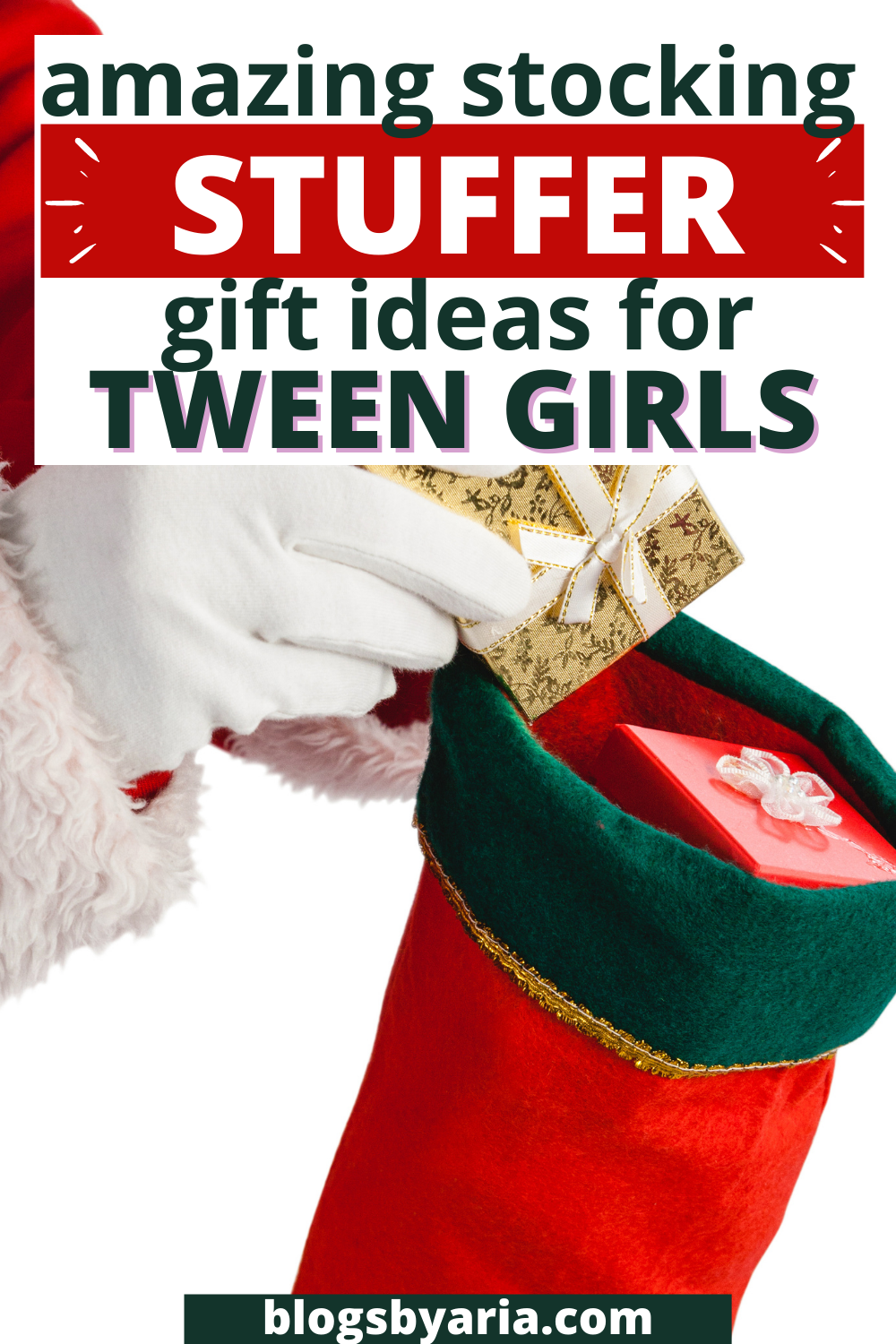 Hopefully you found these stocking stuffer gift ideas helpful.  I found so many great finds in researching this post and thanks to them being on Amazon I already have them ready to go!  Of course this post was meant to go up two weeks ago but life has been pretty hectic lately.  It's always hectic in December.
That's why I love shopping on Amazon.  For the most part, things stay in stock or come back in stock pretty quickly and with Prime shipping, sometimes I can get things the next day!  Can't beat that!  Now it's on to wrapping the gifts, and to let's face it…finish decorating!
IF YOU LOVE IT, PIN IT!!