Happy Hump Day friends!!  Whew!  I don't know about you but it's definitely one of those weeks.  To help get over the hump I am sharing the perfect gift guide for the hostess.  The holiday parties are starting this weekend and you want to be prepared.  The great thing about thinking of what to give your hostess is that a lot of these gift ideas are great anytime of year.  And they're perfect for other people on your list like teachers, neighbors and your boss.  It's nice to have a lot of these gifts already on hand, already wrapped just to be prepared.
*this post may include affiliate links, you can read more about that by reading my Disclosure post*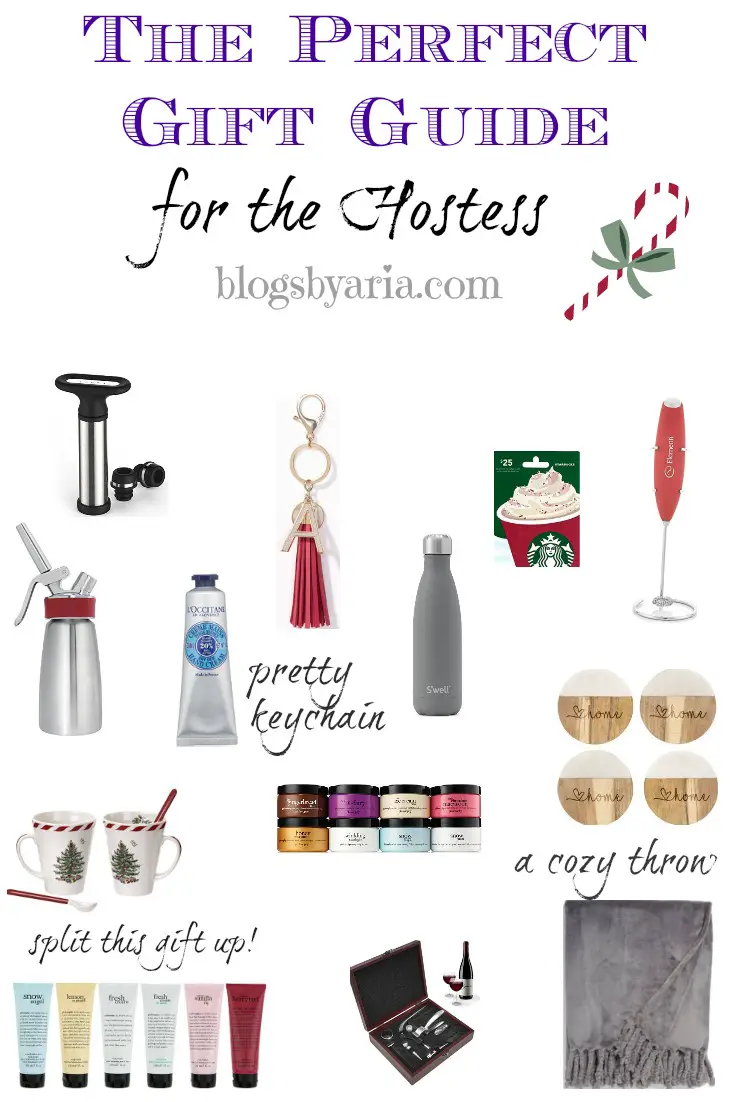 When people think of bringing a gift to a dinner party or a holiday party they immediately think wine.  Now I think a nice bottle of wine is a great gift idea.  But the downside to bringing wine is that it can be used up that same evening.  The other con to bringing a bottle of wine is that the hostess may not even drink wine.  So I wanted to think of a few gift ideas that won't break the bank and that your recipient will appreciate your thoughtfulness.
Rabbit Wine Preserver — A great gift idea for the hostess that you know appreciates a good bottle of wine is a wine preserver.
Gourmet Whip Culinary Cream Whipper — A specialty appliance for the kitchen is a wonderful gift idea for the hostess.  I was thinking how this would be great if you know that the hostess likes to set up a hot chocolate bar in their home.  There's so many great treats that they'll make with this and they'll think of you every time.
L'Occitane Shea Butter Hand Cream — This luxurious hand cream is a great gift for you and your hostess.  This makes a great teachers gift too.  I think this is the perfect size to get as well.  It's not too small of an amount, I've seen some really tiny versions of this cream and they're so disappointing.

Initial Tassel Key Chain — I love this initial tassel key chain.  It's so pretty and personalized.  Each initial comes in a different color.  And pssst!  These are on sale right now for half off!!!

Swell Vacuum Insulated Water Bottle — This is perfect for the hostess and the teacher alike.  Everyone drinks water and the Swell bottle keeps the water nice and ice cold.  There's so many great water bottle options and this one comes is a rainbow of colors.  They'll use this daily and think of you the fabulous gift giver 🙂
Starbucks Gift Card — I didn't picture it here but I think getting a few Starbucks mugs and including a Starbucks gift card inside is a perfect gift idea.  Especially if you know the recipient likes Starbucks coffees or teas.  Also makes a perfect teacher gift.  I say get a few that way you'll already have them ready to go!
Elementi Milk Frother and Stand — Speaking of coffee… this milk frother is a perfect gift idea.  It's great for creating coffee house style coffee's at home.
Philosophy Ultimate Glazed Body Souffle Set — This is one of those buy the set and split them up kind of gifts.  Get those nice little gift bags with some tissue paper and it's an easy gift for the hostess, the teacher, the neighbor, and yourself! 😉
Spode Christmas Tree Peppermint Mugs with Spoons — Who doesn't love a festive mug?  I think the holiday season is the perfect time to give a holiday themed mug.  I think a hostess would like it but I think it's even better for a teacher.  Maybe include some candy inside the mug or hot chocolate packs.  And this could also be split up as a two for one.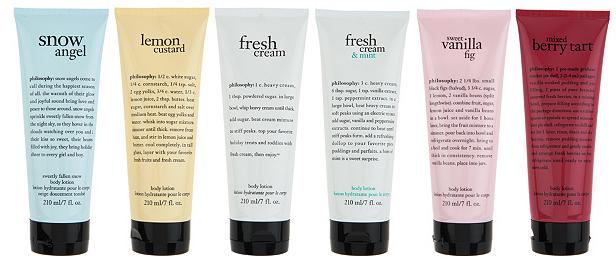 Philosophy Delicious Skin for All Lotion Collection — Another buy one and split them up gift idea.  I mean who doesn't love a nice hand lotion?  And from Philosophy too!  I mean, they have such nice and light scents and are great for sensitive skin so you really can't go wrong with this gift idea.
Sorbus Wine Opener Gift Set — Instead of the bottle give the hostess this wine opener gift set.  They'll definitely appreciate it and it can be used for years to come!
Bliss Plush Throw — A good throw is such a good gift.  I love a nice soft throw.  They're both functional and decorative.  This throw comes in a large color selection.  This feels so plush that you'd expect to spend over $100 on it and your recipient will think you did but nope!!  Go ahead buy a few, one for you some for them and thank me later 😉
There you have it!  I tried to keep it short and sweet!  Lemme know how I did 🙂  I think that if we take the time to be prepared for the holiday gatherings we'll give thoughtful gifts that the hostess or the teacher or the neighbor will appreciate.  Tis the season for giving!  Share this post with your friends using the buttons below.  Send them an email or share on Facebook, Twitter or Pinterest!  Thanks for spending some time with me today 🙂