Welcome to today's Parade of Homes tour!  I'm excited to share Montvale Manor with you.  Honestly, it's among the homes I toured during 2019.  My goal this year is to get every house that I toured so far out on the blog.  They're too many to stay in the confines of my phone!
So find yourself a comfy spot to enjoy this beautiful house tour and feel free to pin your favorite pictures and share this post with those you think would enjoy seeing it!
*this post includes affiliate links for your shopping convenience, you can read more about affiliate links by reading my Disclosure*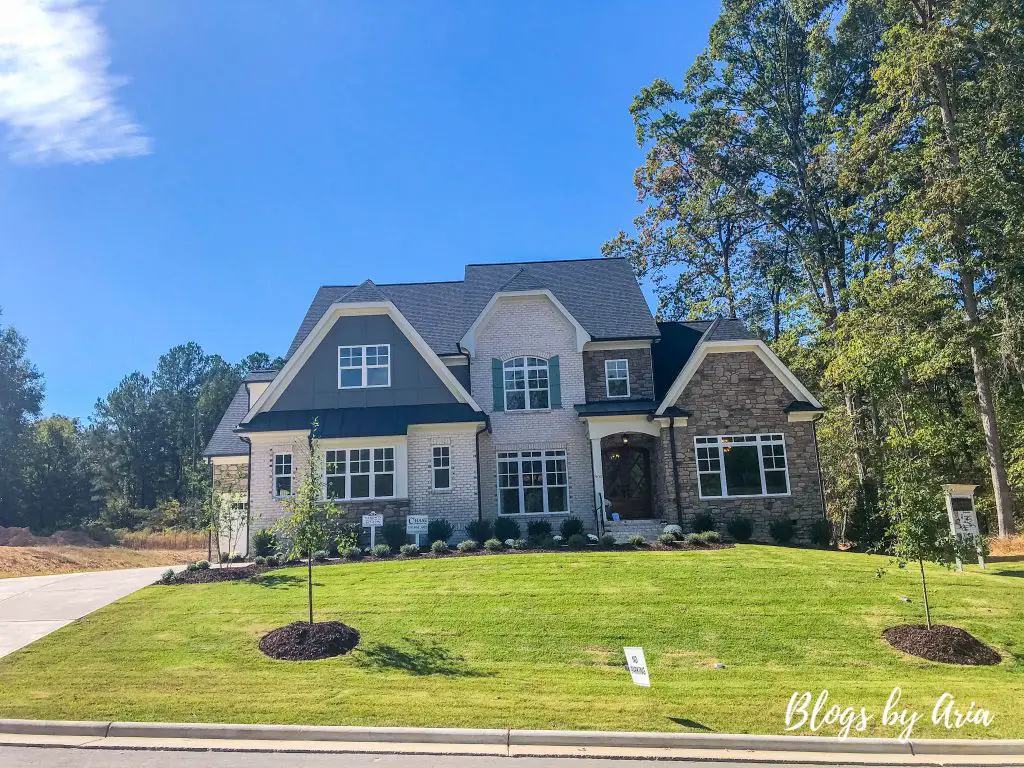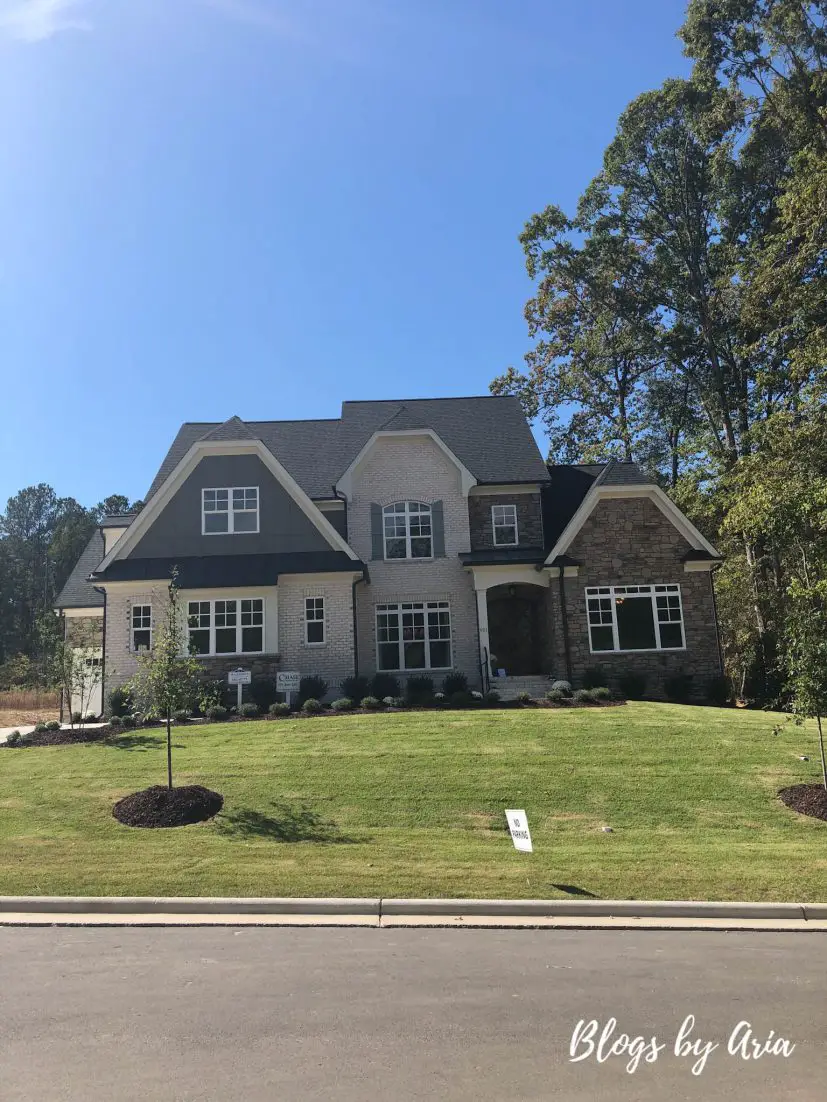 Montvale Manor has 5 bedrooms, 4.5 bathrooms at 4,546 square feet.  For perspective, at the time of viewing, this house was listed at $1,079,000.  Located in Cary, North Carolina this gorgeous home is in the same neighborhood as the Modern Glam Farmhouse.
I'm kicking myself for not having an iPhone 12 Pro Max with an amazing camera that didn't exist in 2019, so that you could truly see how beautiful the exterior is of this home.  Note to self for 2021!
DINING ROOM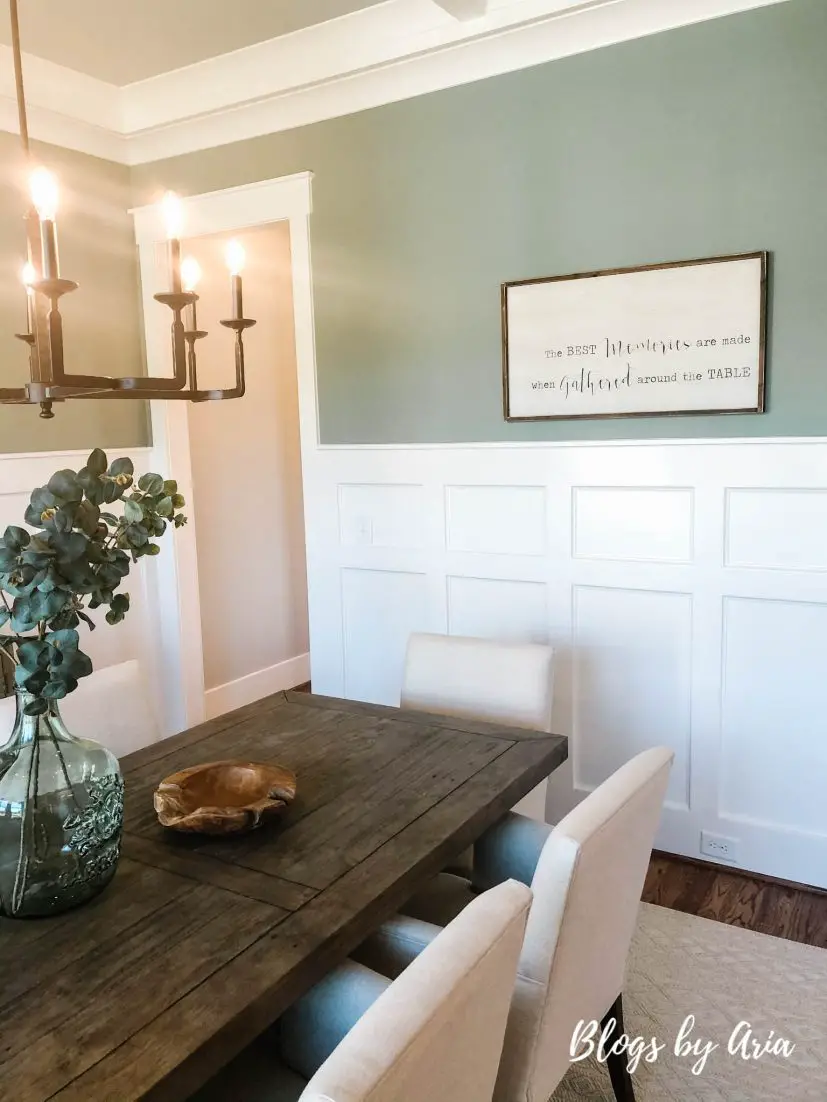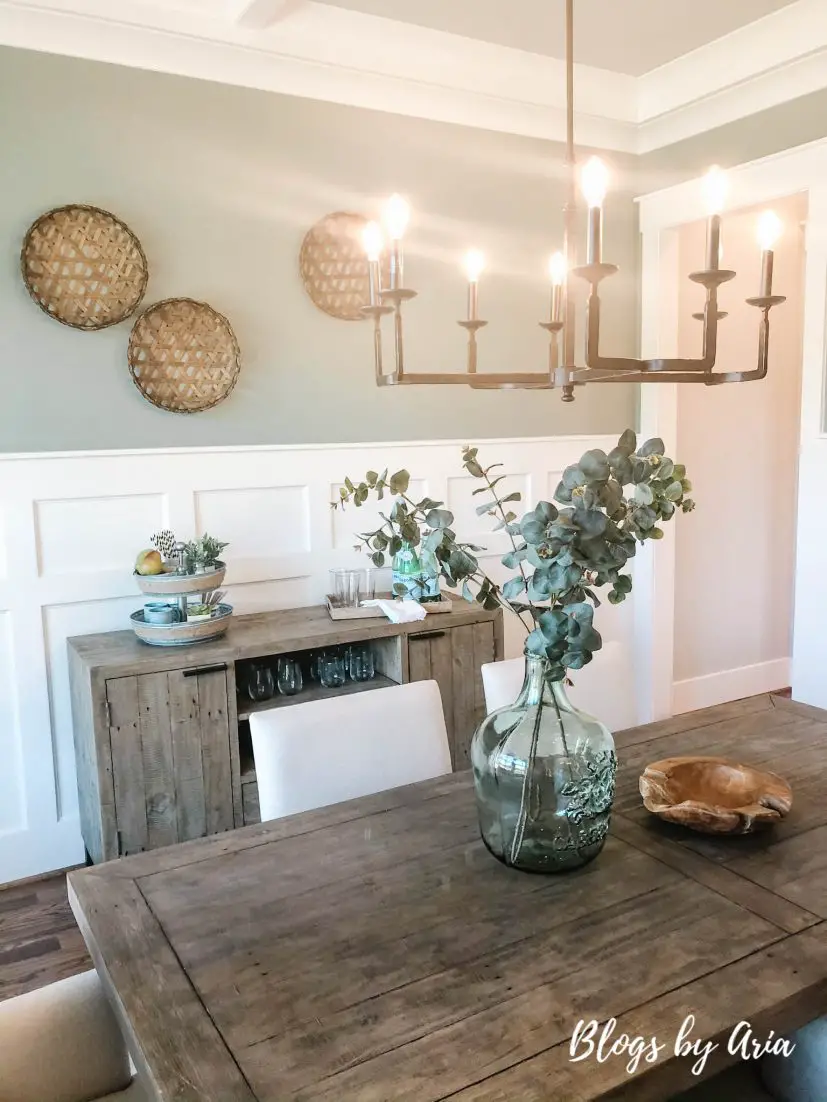 I love the formal dining room space!  It has a modern farmhouse vibe and the wainscoting millwork is beautifully done.
BEAUTIFUL WHITE KITCHEN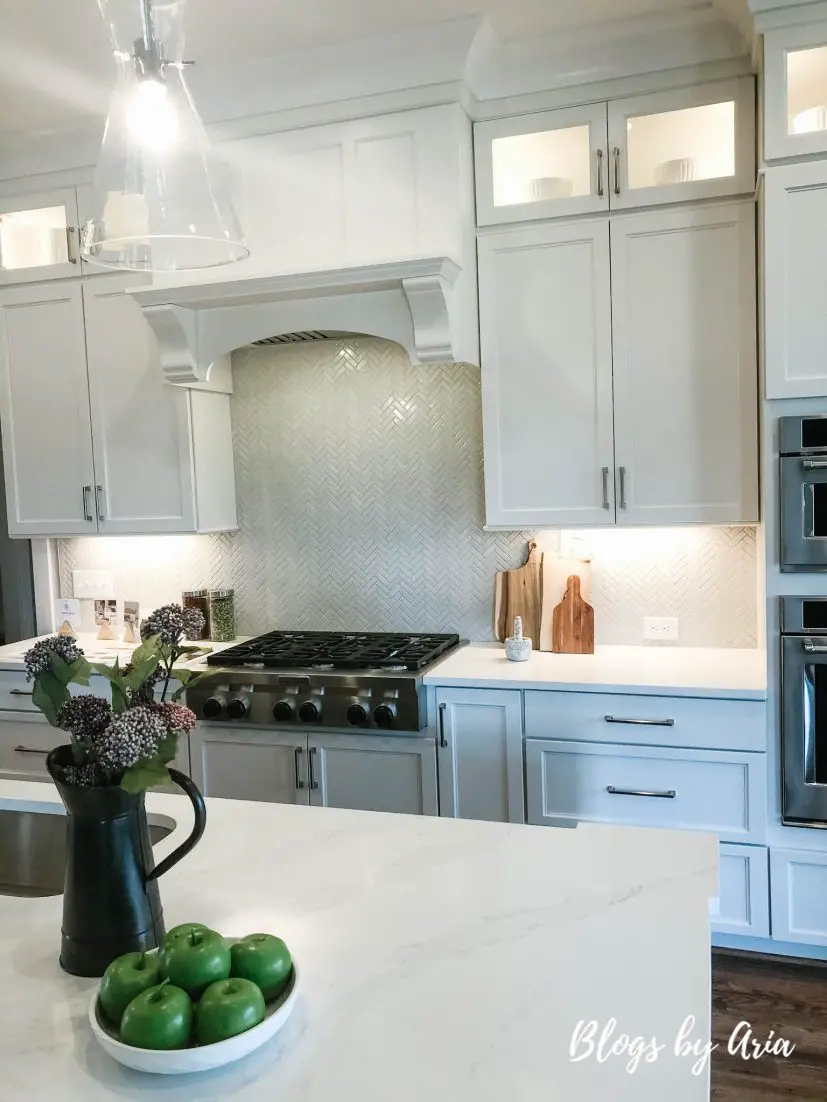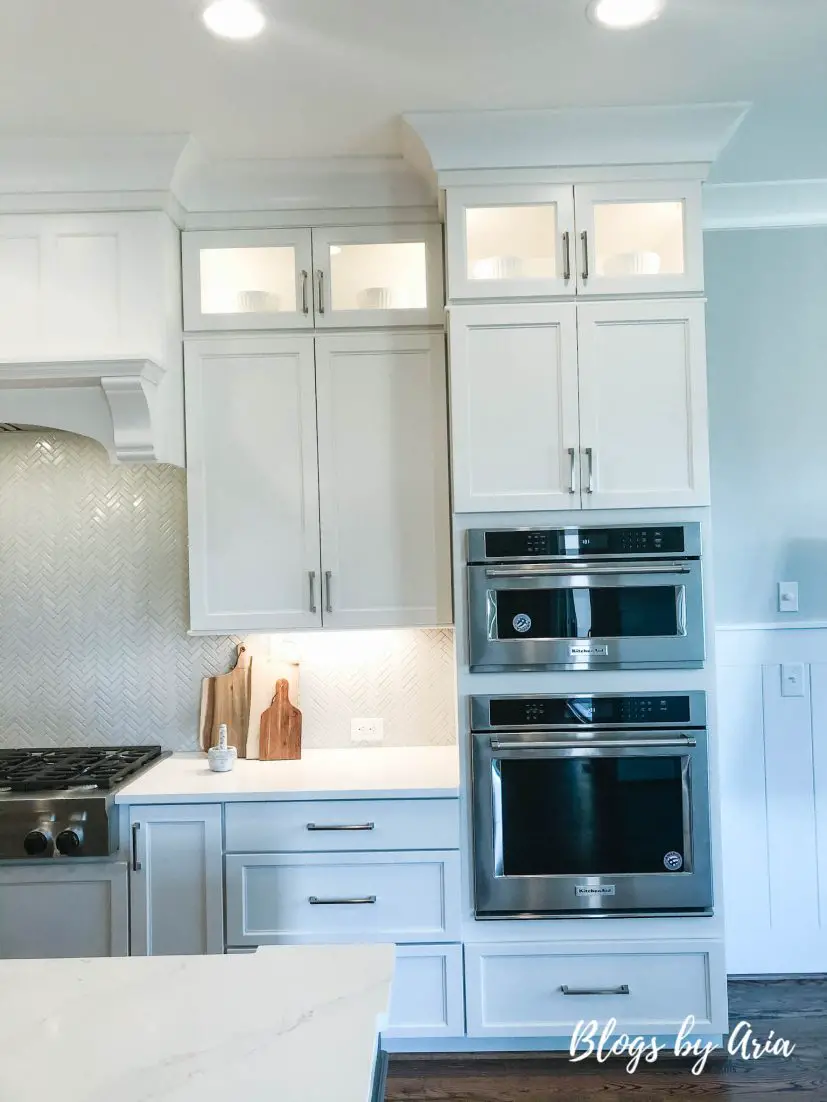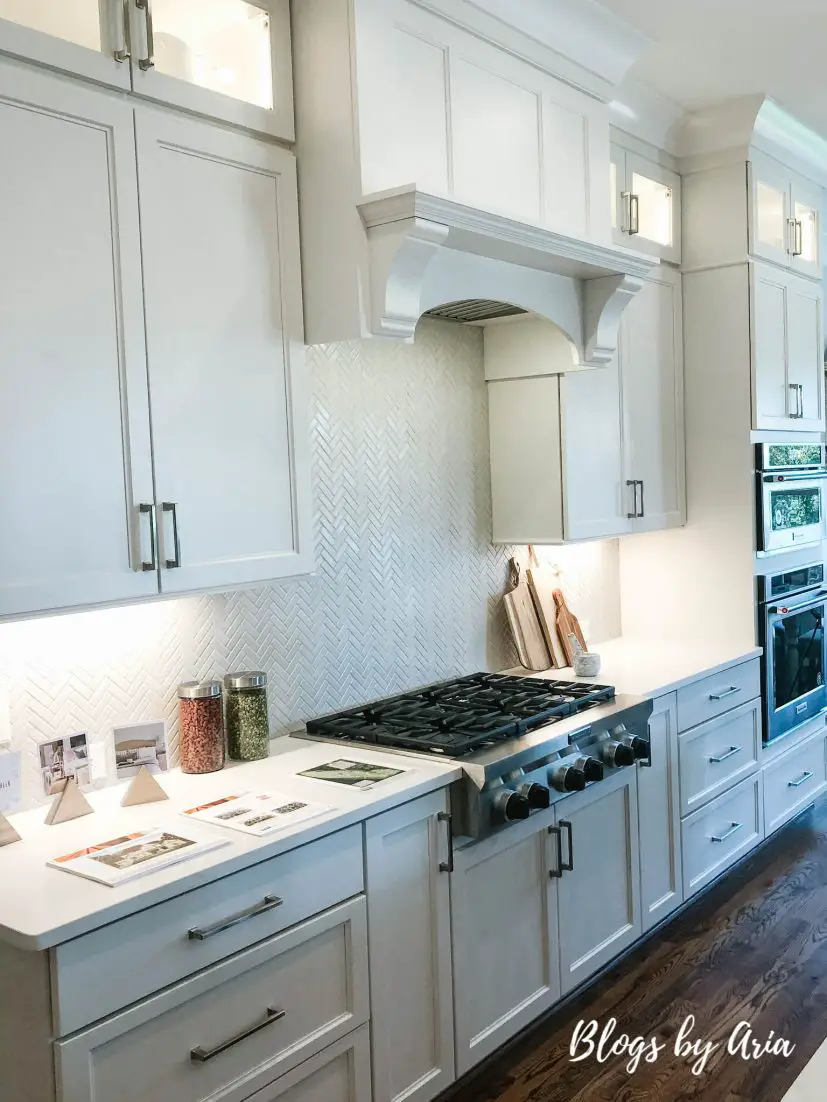 The beautiful white kitchen also does not disappoint!  I love the classic shaker style floor to ceiling cabinets and the beautiful range hood.  If you've been around here for awhile, you know that is my style!
Also I love the herringbone tile backsplash.  Such a classic touch!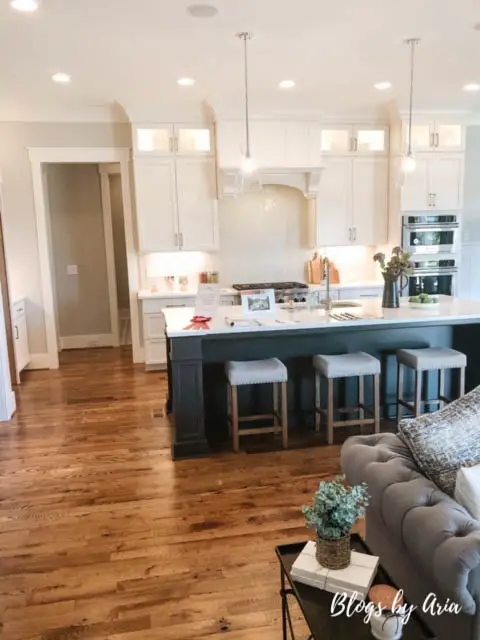 FAMILY ROOM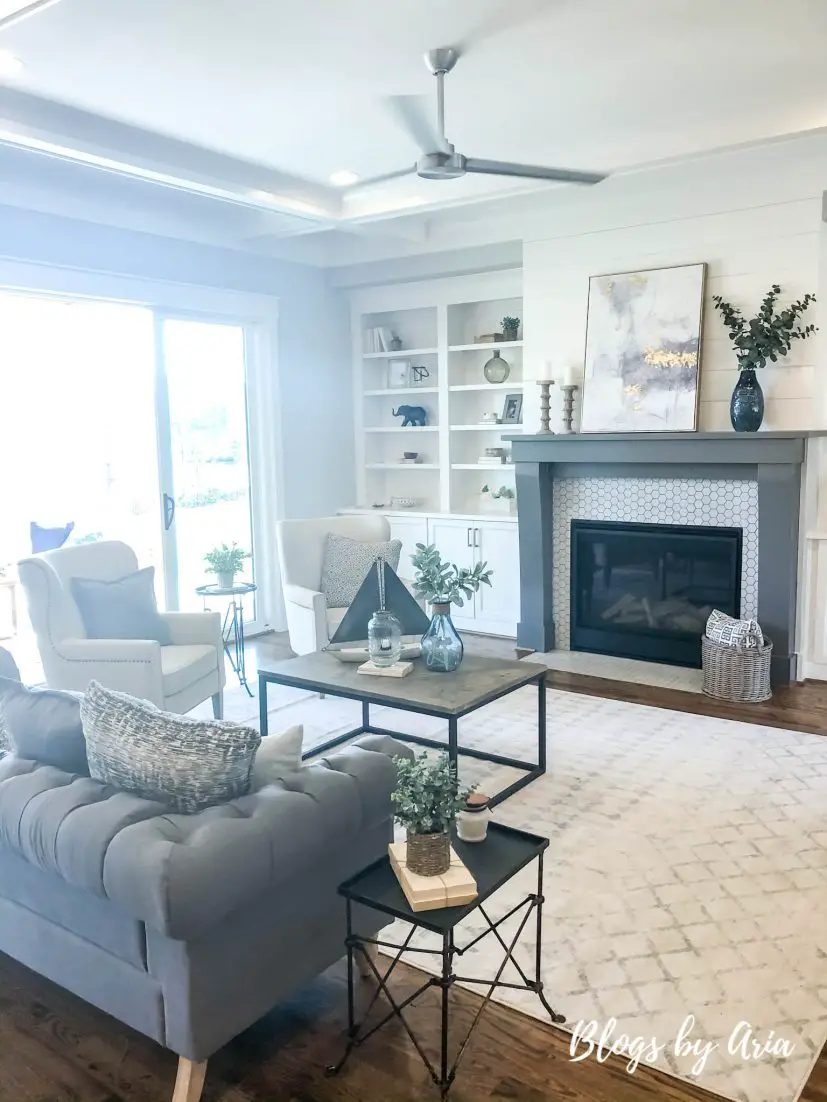 The modern farmhouse vibe continues into the family room with the shiplap wall and built in shelves.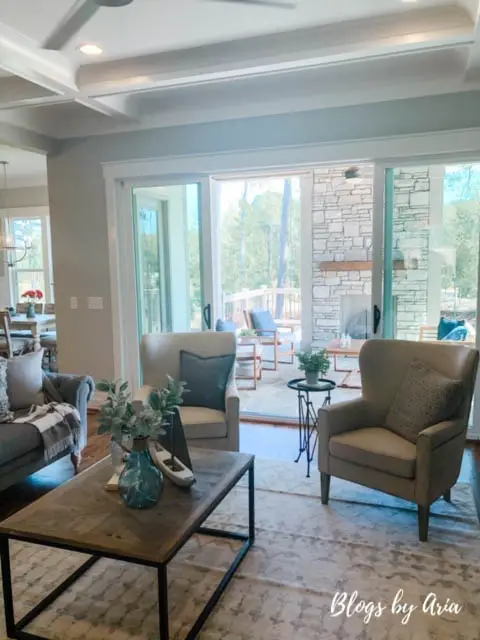 You can see the beauty continues out onto the covered porch.  It was such a beautiful day and the sun was really shining through!
FIRST FLOOR GUEST BEDROOM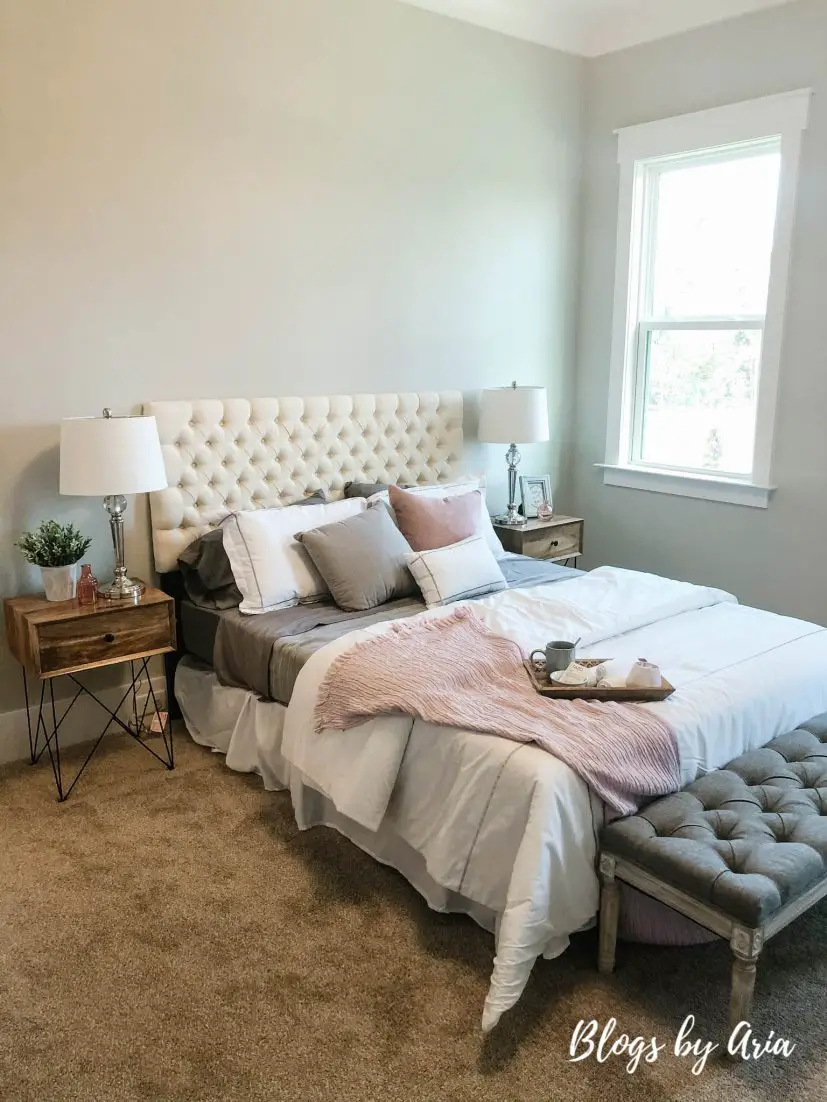 The first floor guest bedroom is a great size.  Having a guest bedroom on the first floor is always a plus in my book.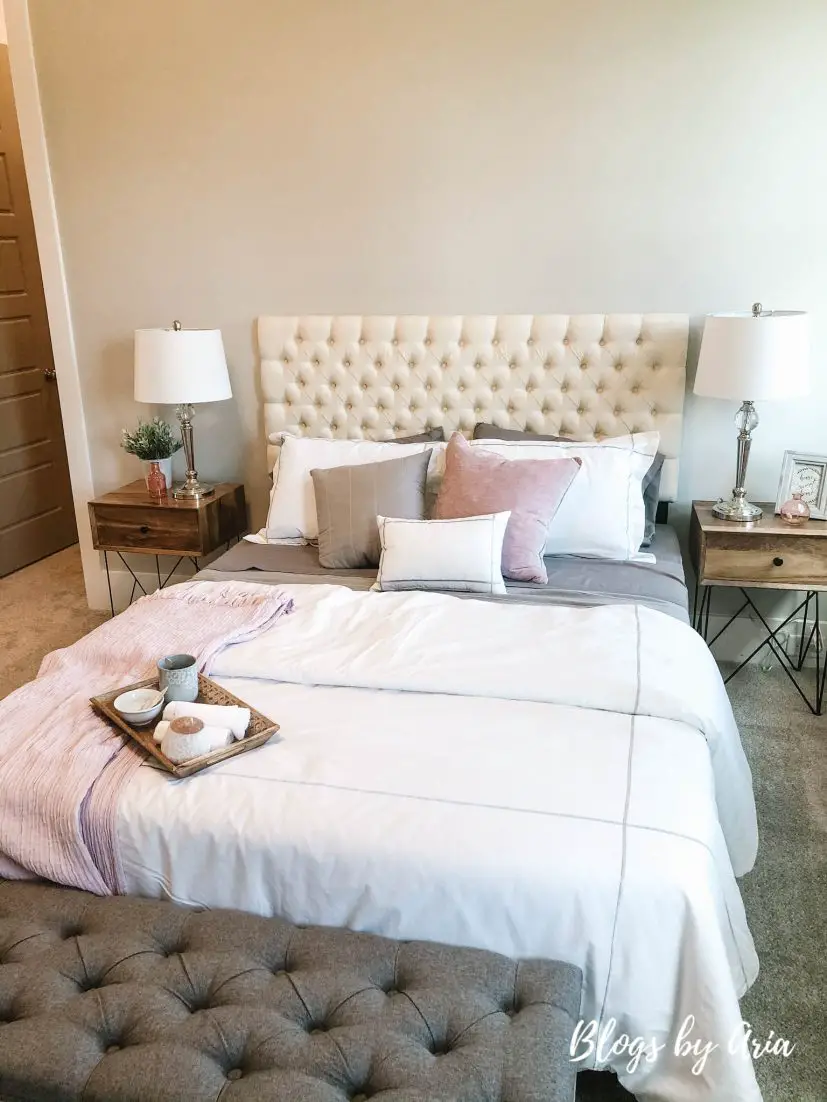 MUD ROOM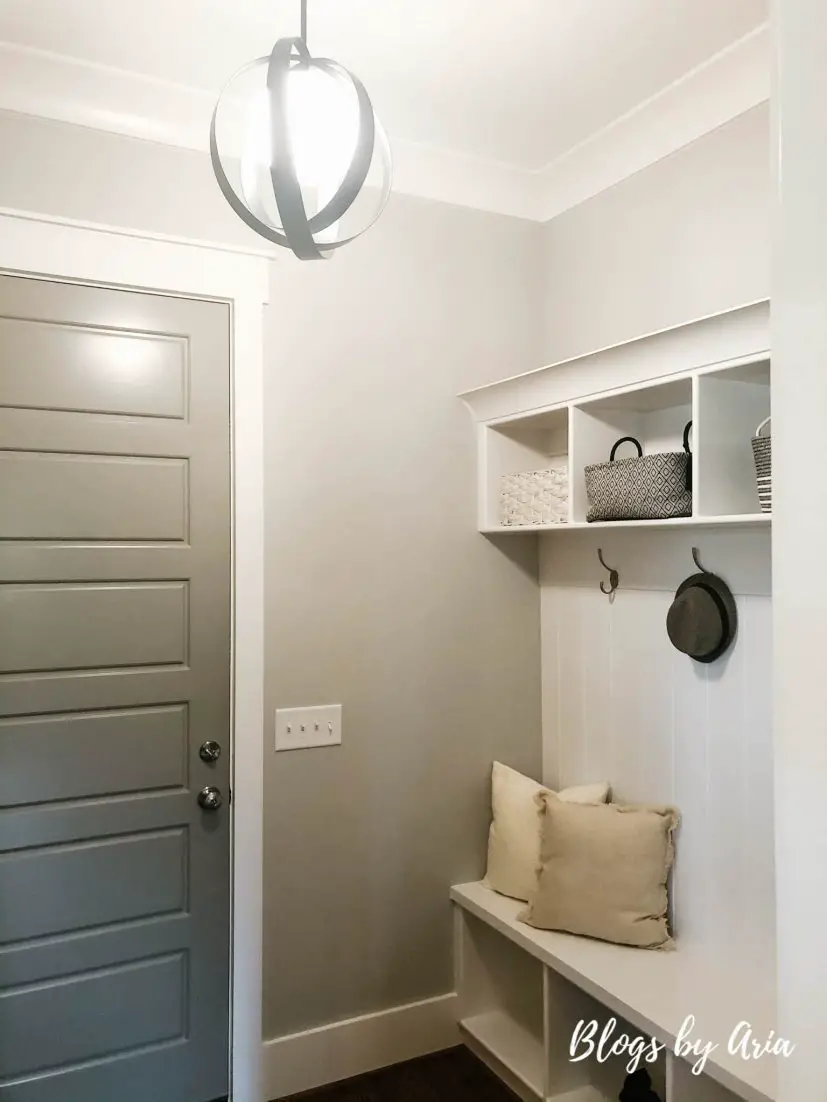 The mud room space is simple and that's fine.  In my opinion, a mud room doesn't have to be grand, it just needs to be functional.
MASTER SUITE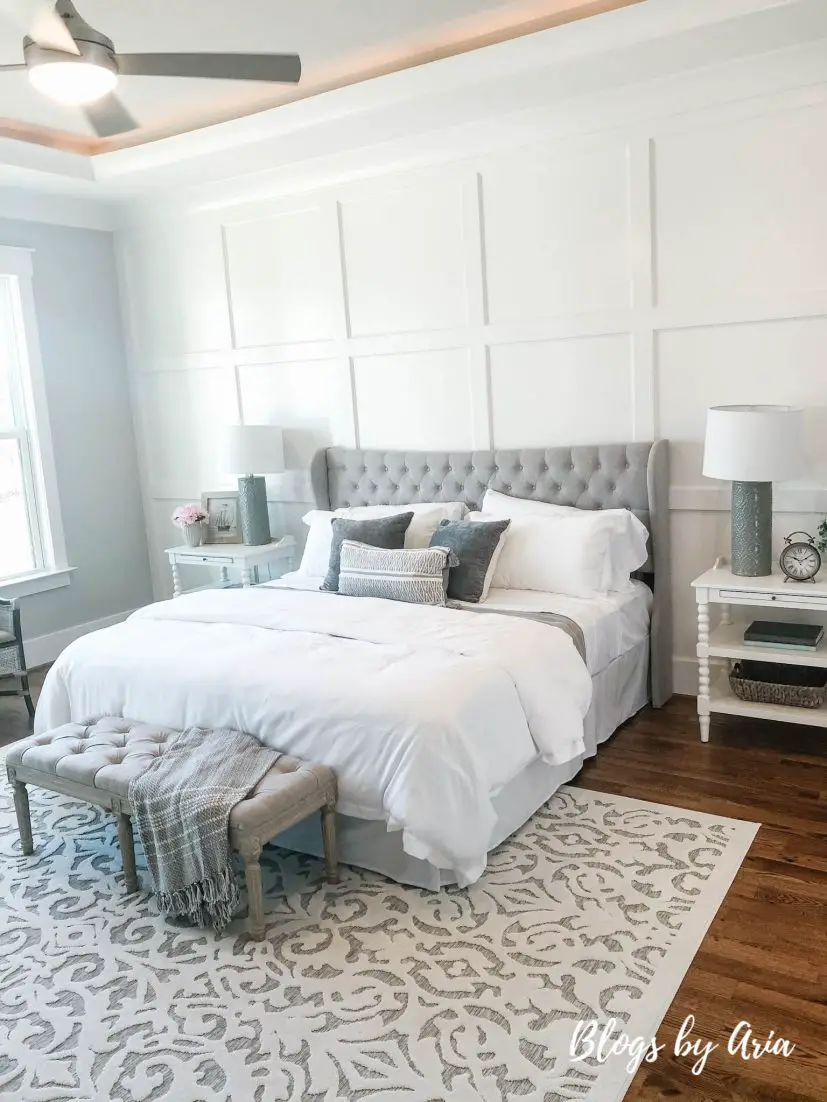 similar bed | bench | nightstands | area rug
Walking into the master bedroom you are greeted with this beautiful custom millwork.  It makes the room feel even brighter!  An interior design feature I've never seen before is tray ceiling lighting.  Have you seen that before?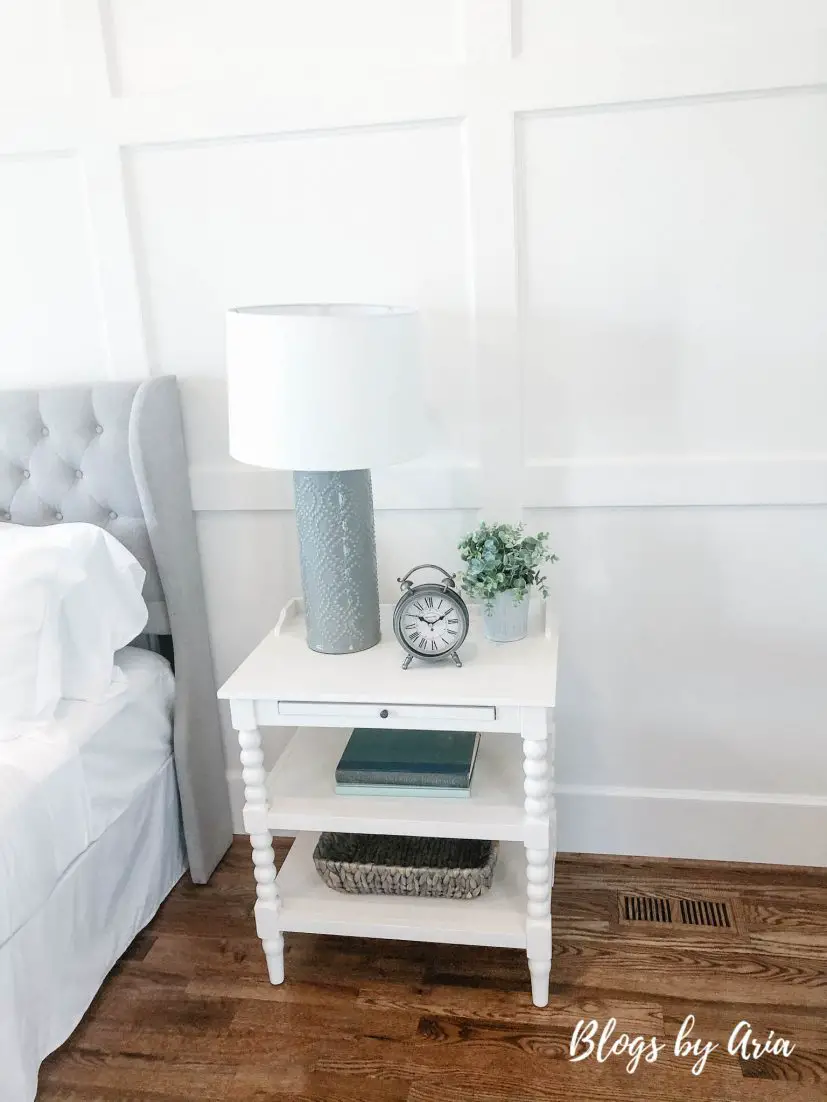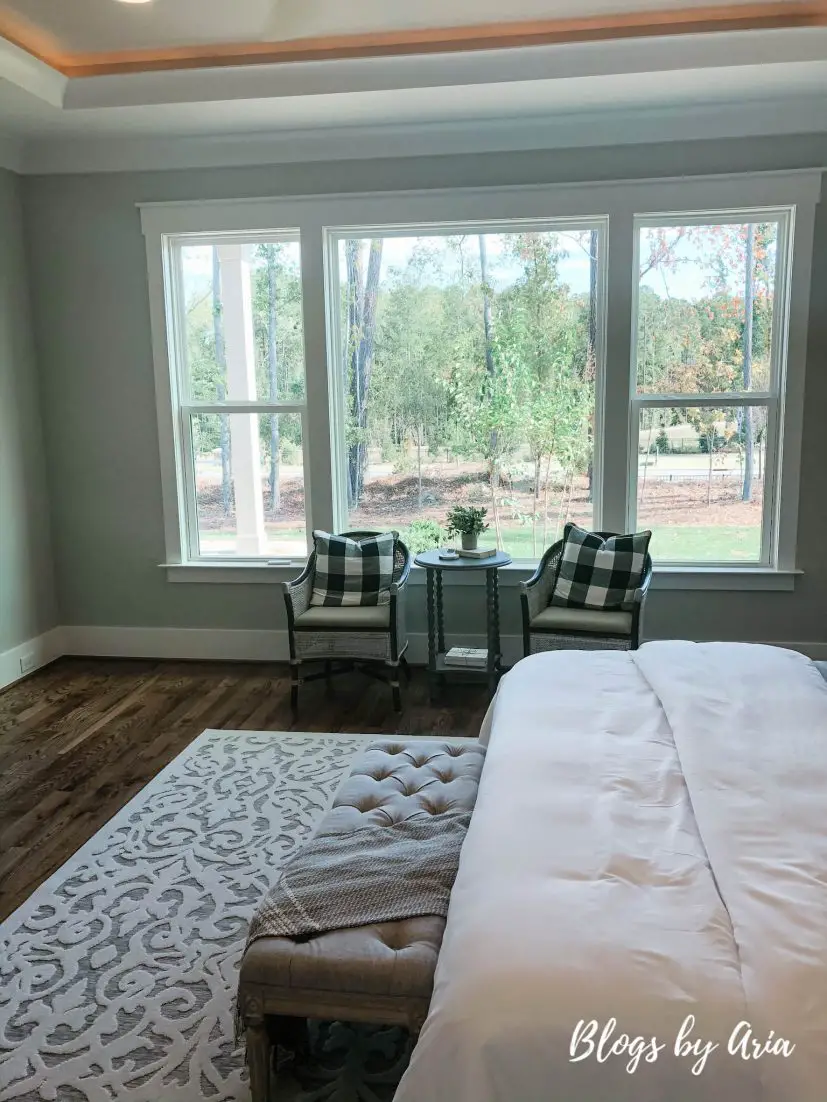 Love these large beautiful windows filling the room with so much natural light.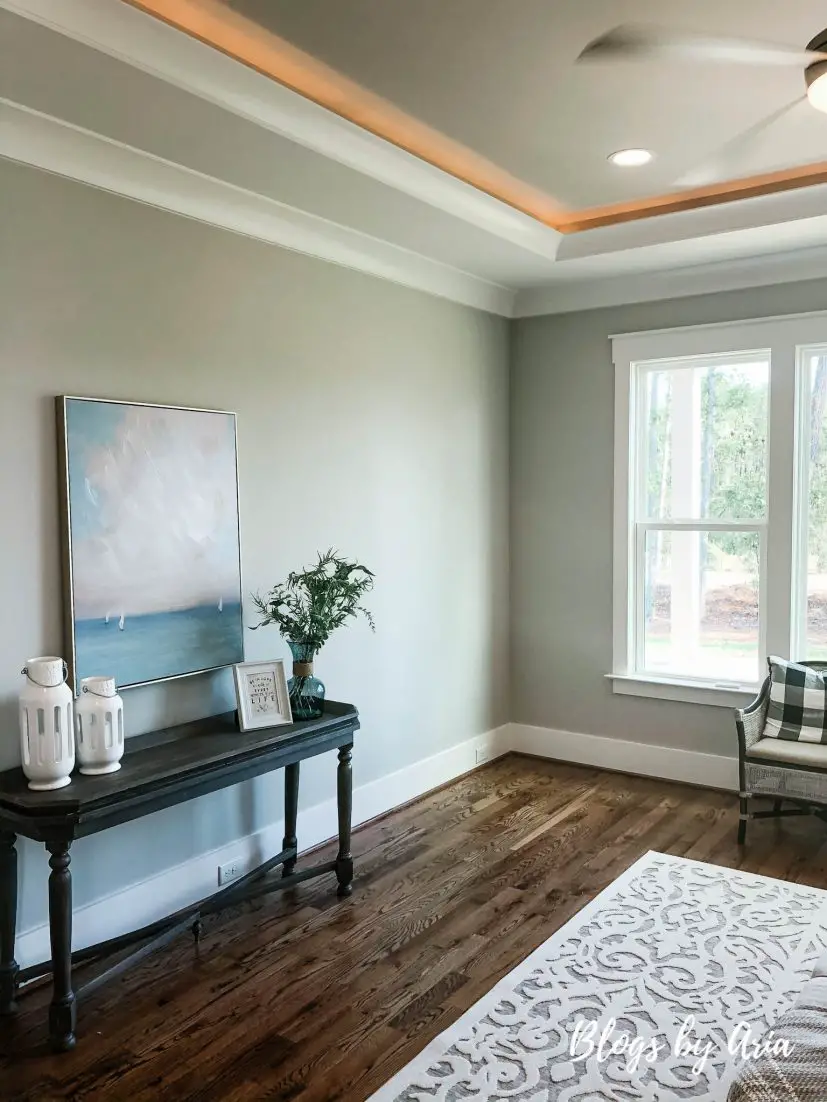 MASTER BATHROOM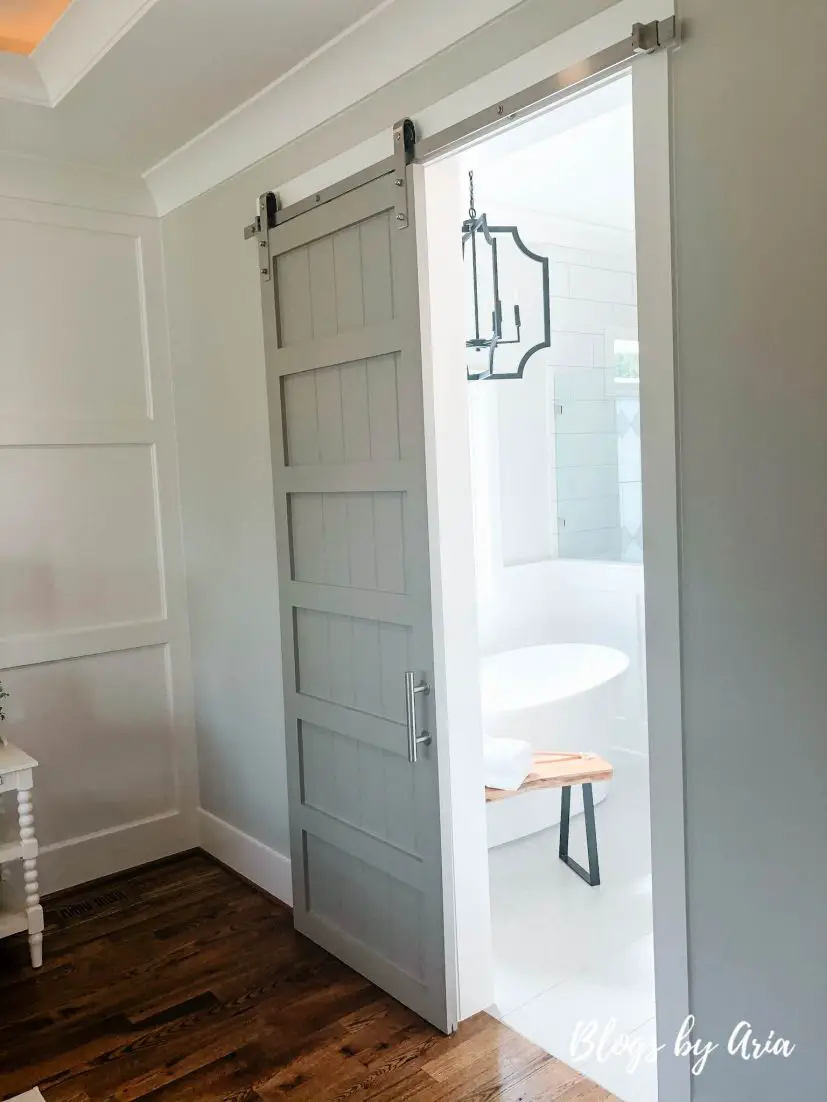 Let's take a look at the master bathroom as we enter through the sliding barn door.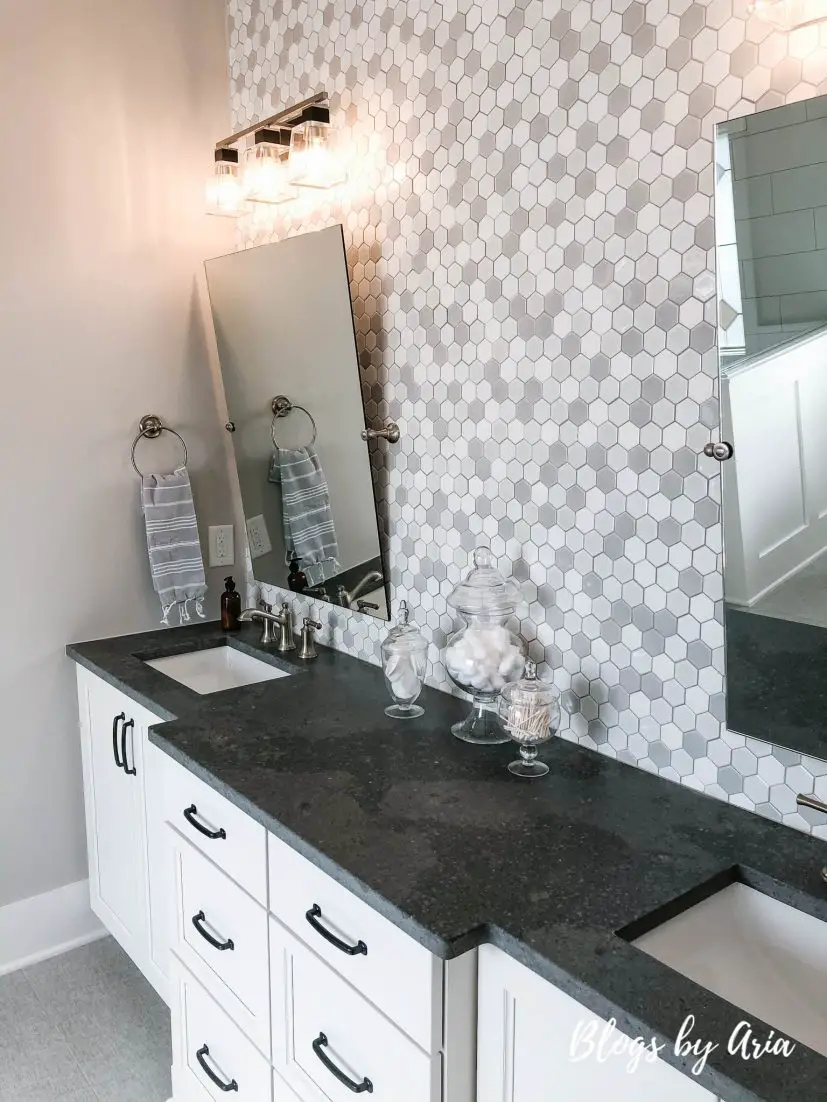 The master bedroom is a space full of character that you won't forget!  I'm particularly drawn to the hexagon tile backsplash.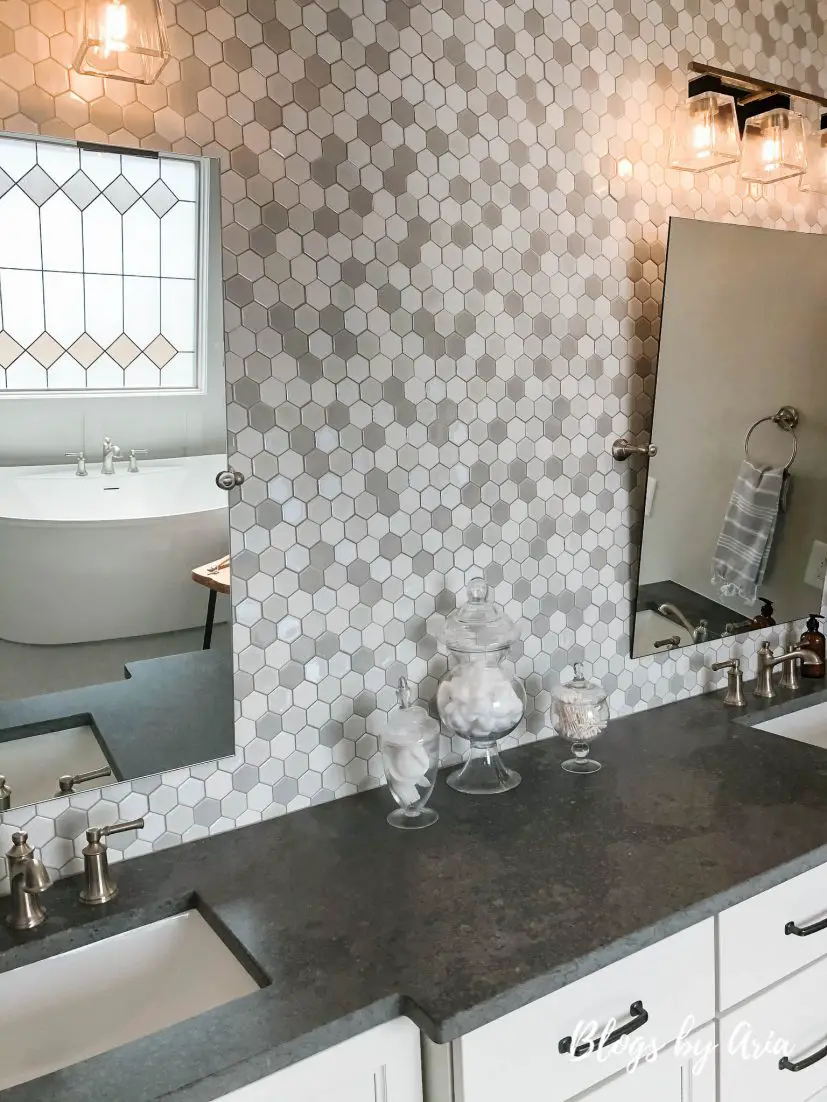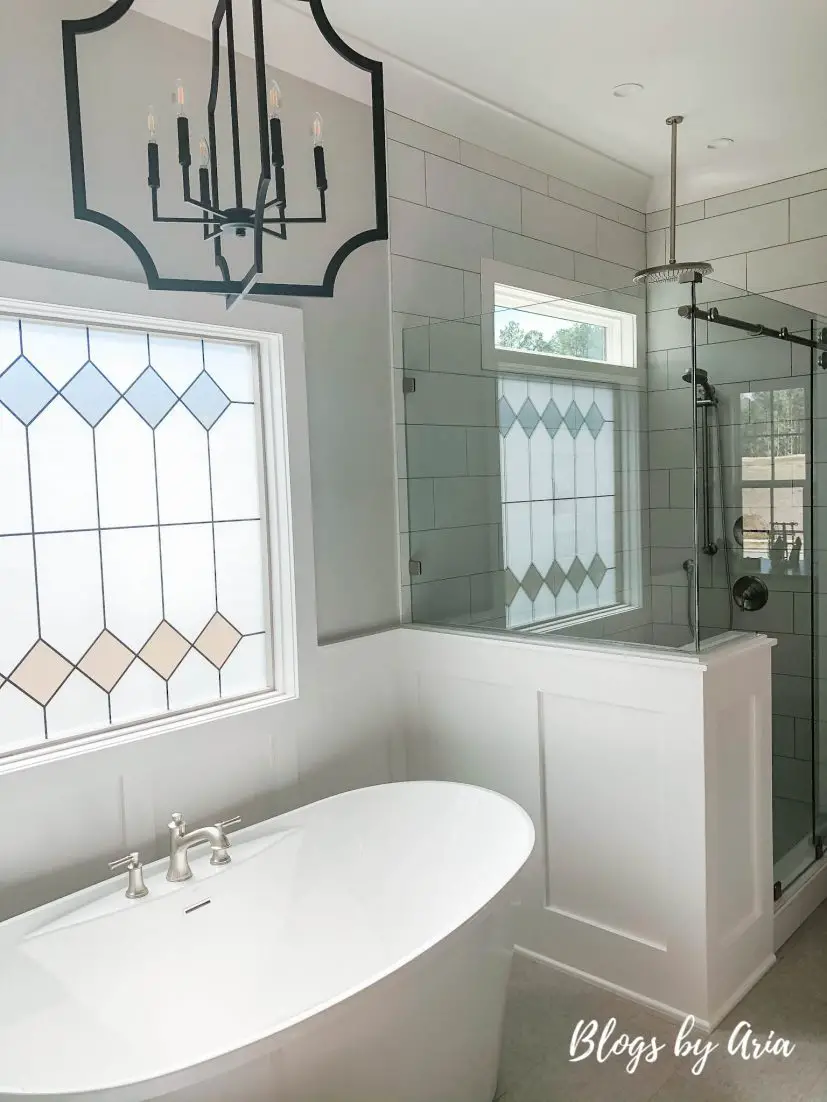 This stained glass window is a great source of light but also offers privacy.  I'd love to take a nice long soak in this bathtub.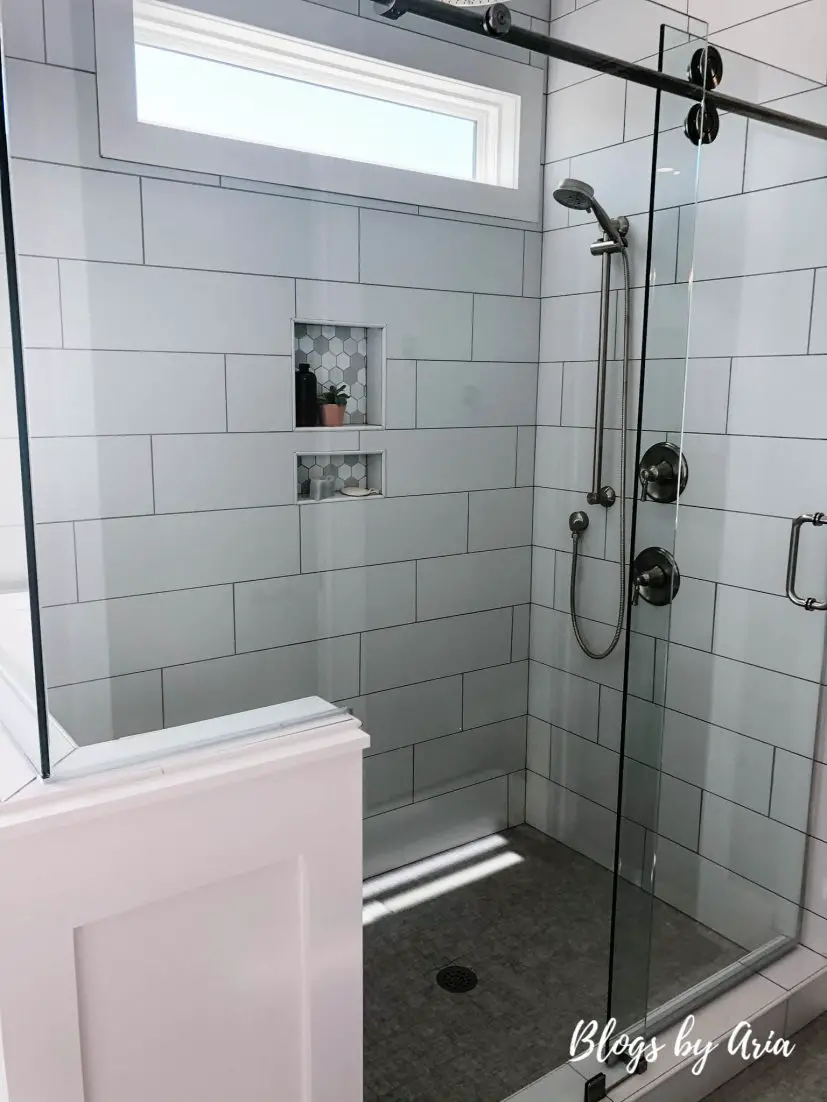 The shower and bathroom floor features a gray linen style tile that's pretty cool.  The same hexagon tile from the vanity wall is also used in the shower niche.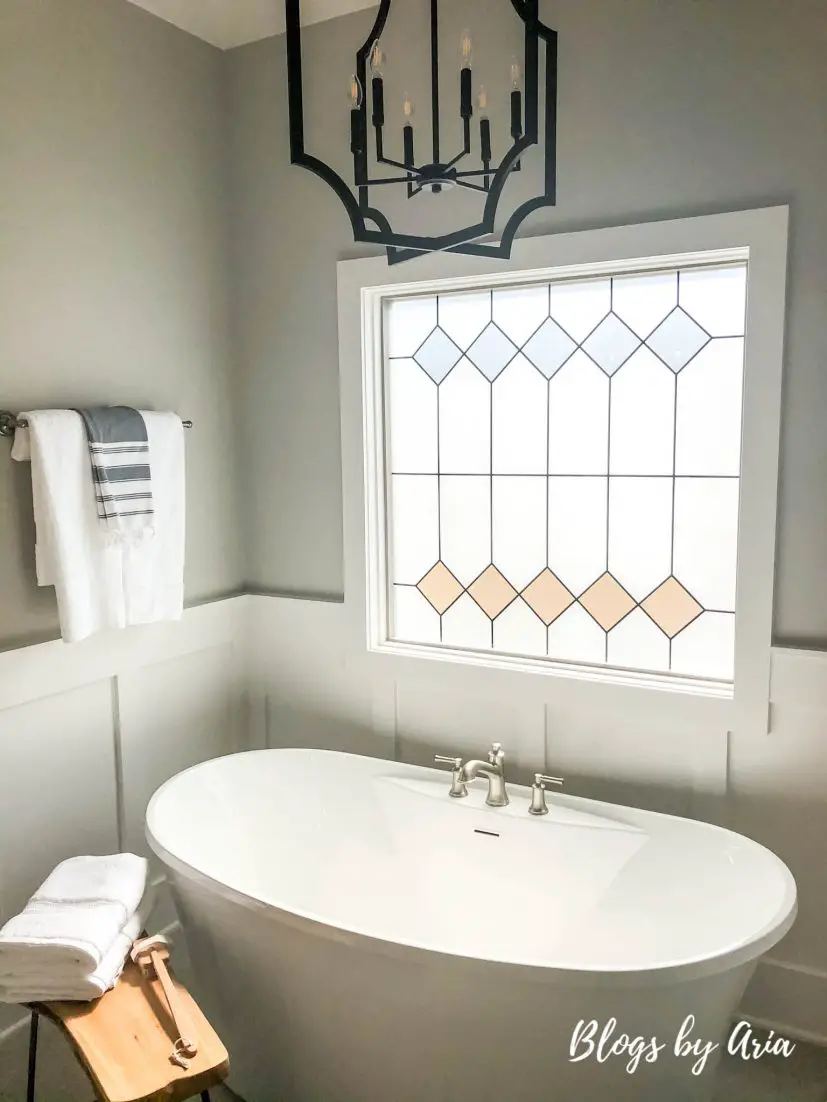 WALK IN CLOSET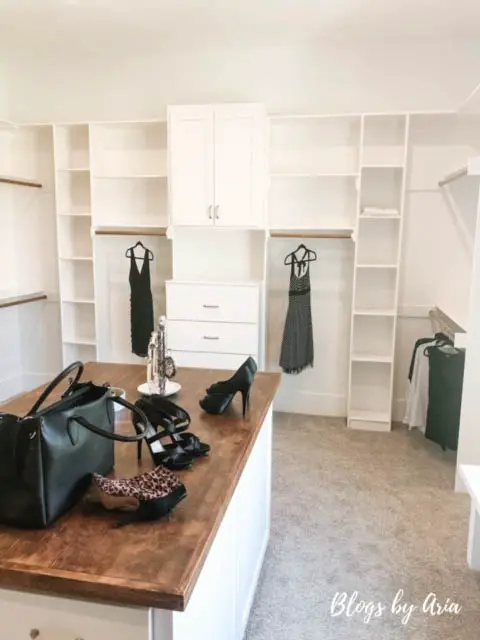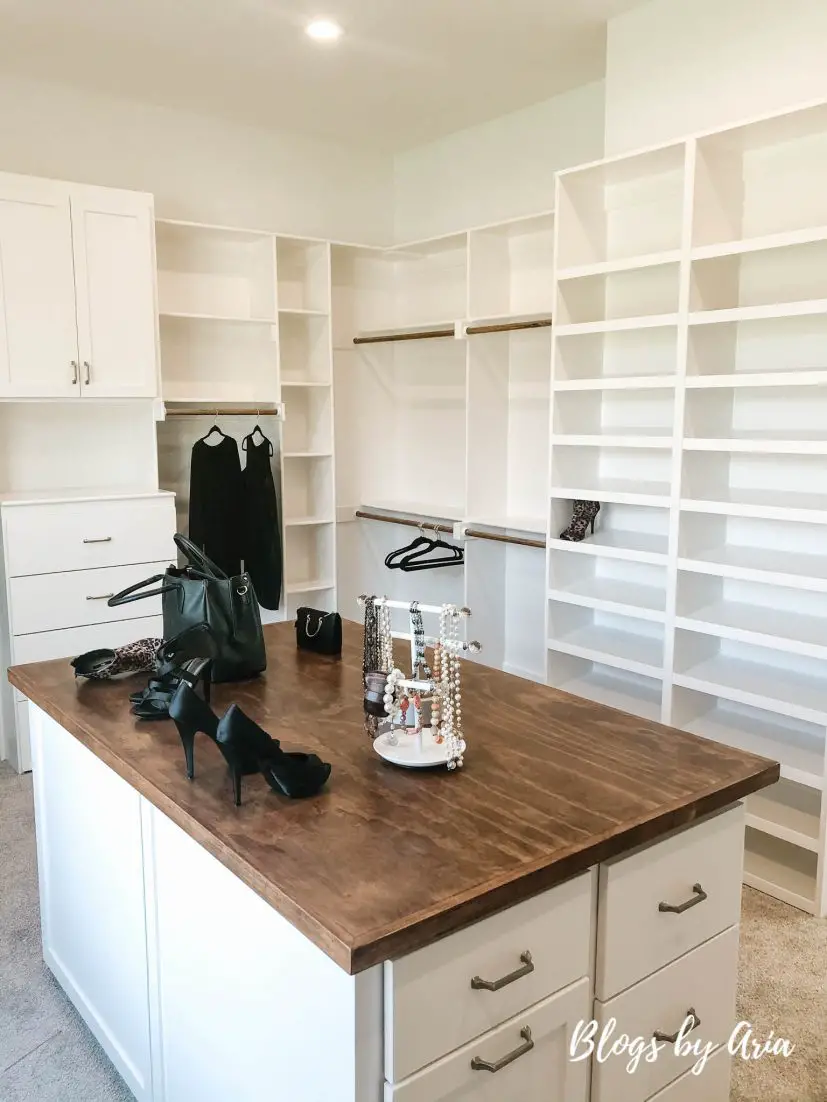 This walk in closet is a fashion lover's dream!  Just look at all of this storage!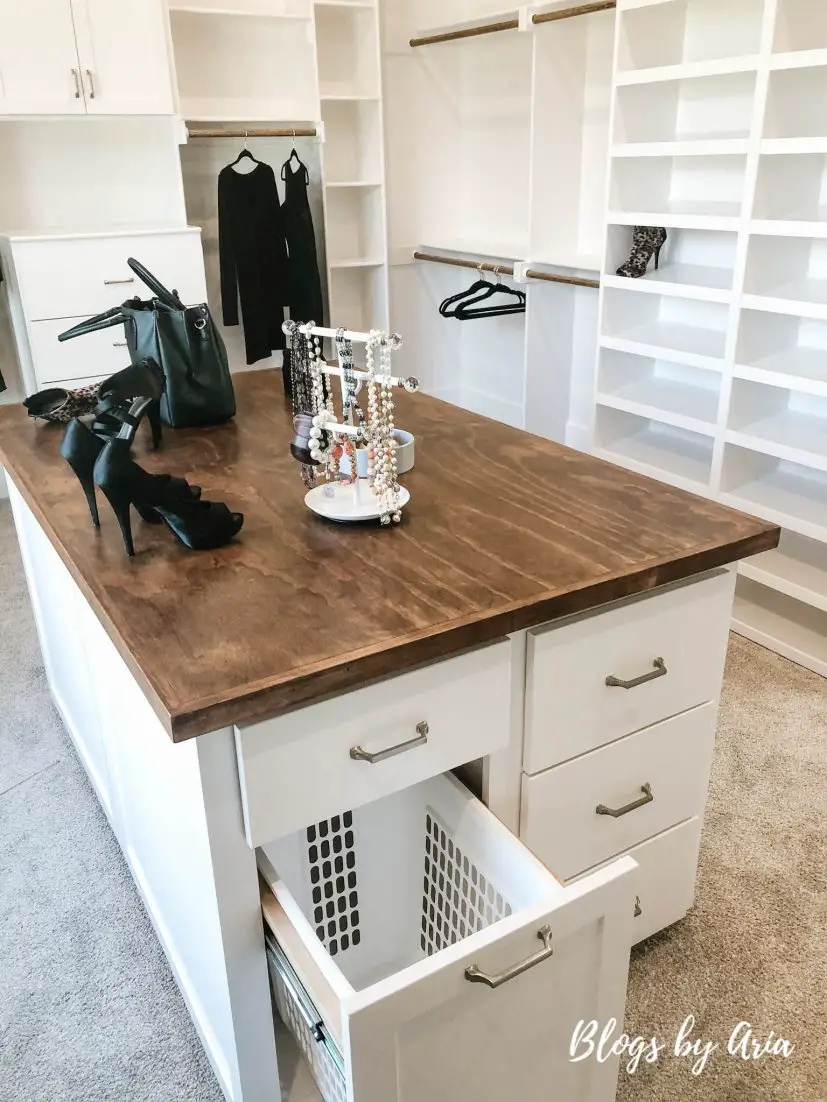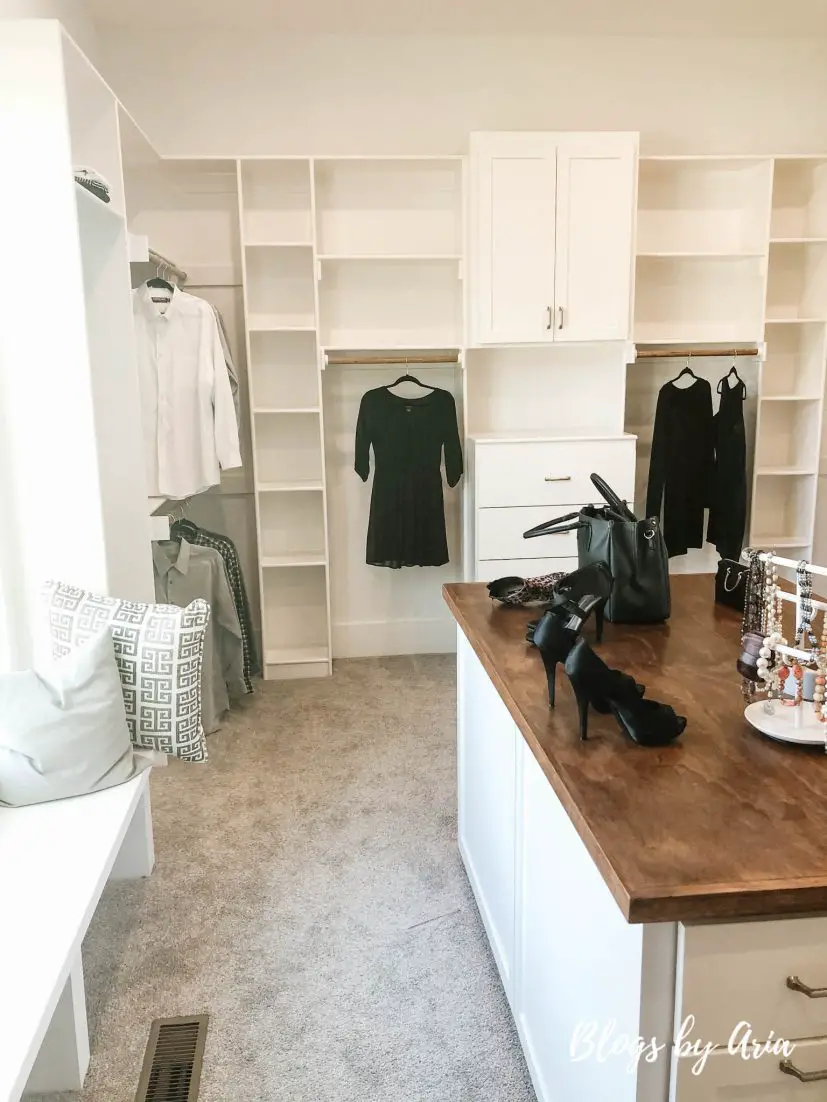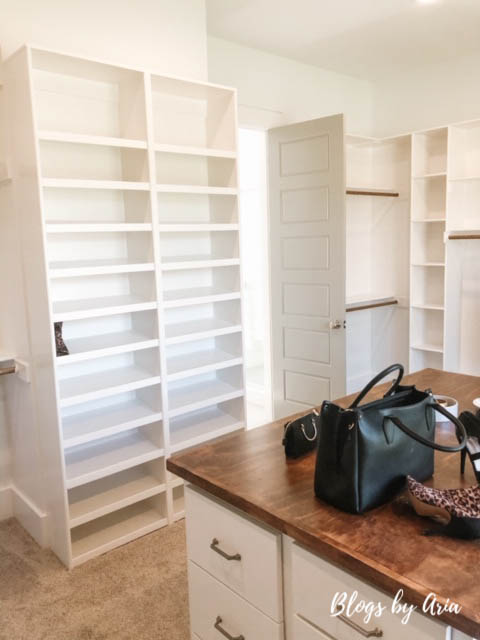 Upstairs there are three large bedrooms each with walk in closets as well as three bathrooms.  There's also a bonus room.  In addition to lots of storage spaces thanks to the pitches in the roofline.
I didn't take a picture, but there's also an additional walk in storage room, with a closet that could be used as a sixth bedroom  It has access to one of the three bathrooms, so there's room to grow in Montvale Manor.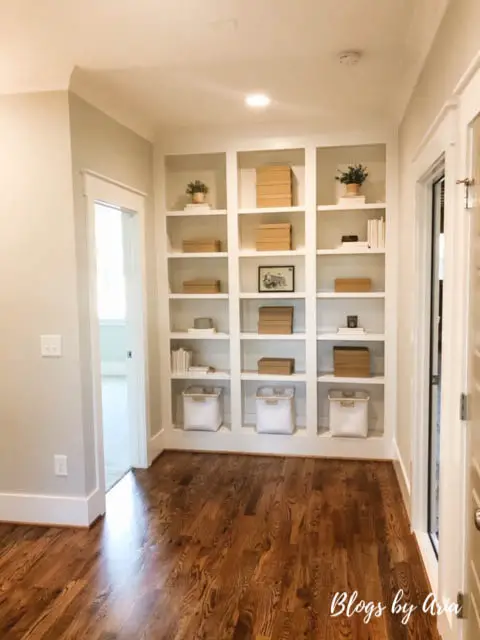 I didn't get many photos of Montvale Manor but I wanted to leave it with this shot of built-in storage shelves on the second floor.  I like these extra storage options that are both functional and decorative.
There are so many aspects of Montvale Manor that I love and would love to incorporate into my dream home.  Especially the master closet!  Hopefully you found something inside this home that inspires you too!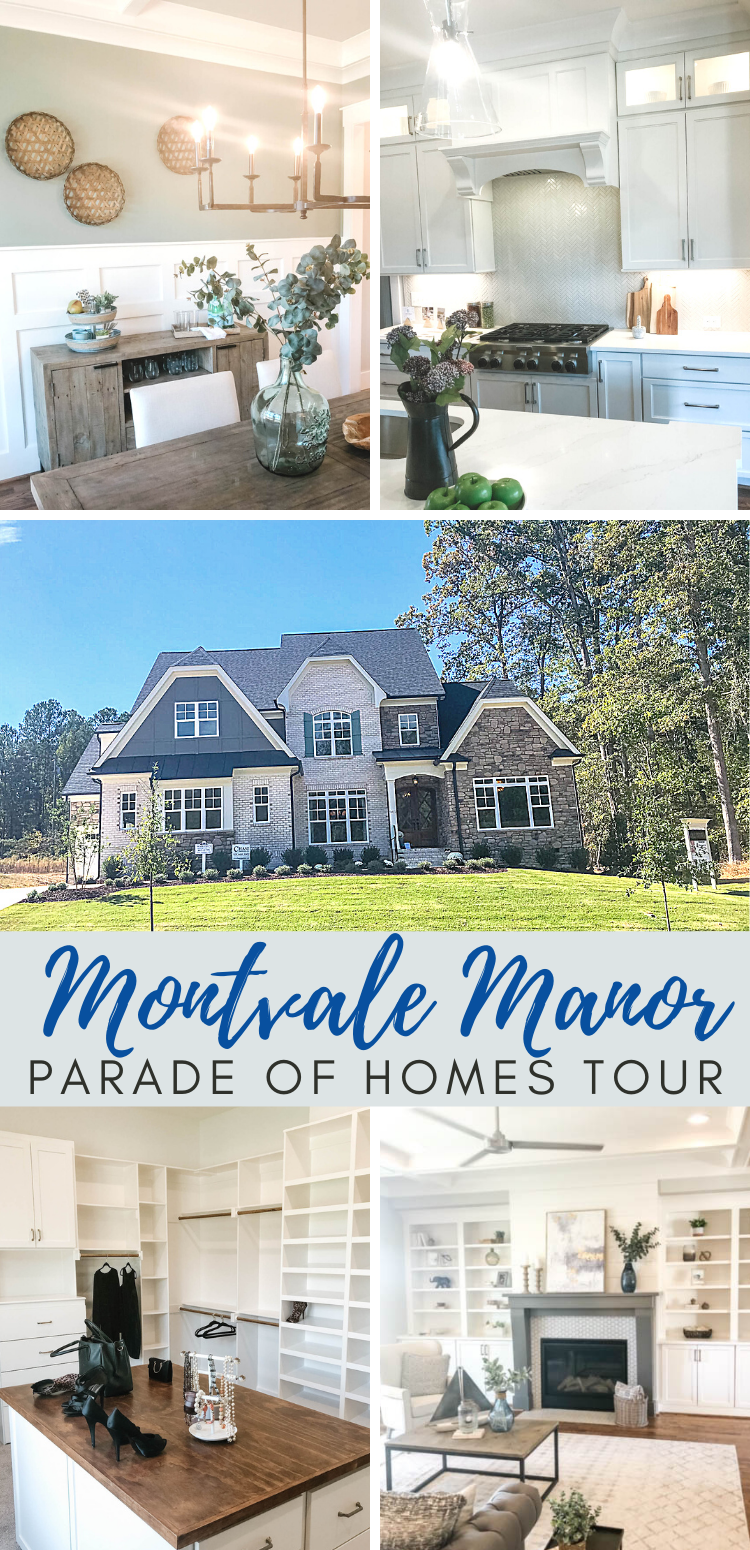 EVEN MORE PARADE OF HOMES TOURS YOU'LL LOVE: