Find a comfy spot and be prepared to see a beautiful house in today's Parade of Homes tour!  There's good news and bad news.  The good news is it's a lovely home.  The bad news is I didn't nearly as many pictures as I typically do so it's not going to be too long of a post.  Allow me to introduce you to The Ballantyne house.  Enjoy!
The Ballantyne house is located in Wake Forest, North Carolina.  It features 4 bedrooms and 4 full bathrooms and 2 half bathrooms and it comes in an open floor plan of 5050 square feet!  At the time of the viewing, it was listed at $1,375,000.
You may recognize the architecture from a few other homes I've shared.
This same builder was featured in my interior design ideas post as well as the Bradford house.  Today's house is also located in the same neighborhood as the Avalon house.
I'll be sharing a lot of gorgeous homes from this community because there were so many available for touring during Parade of Homes.  It's a lovely neighborhood and I love that the homes are all unique with great lot sizes.
Look at this gorgeous front door!  It's breathtaking!
One thing I've learned about this particular architect/builder is that they are very much a lover of wine.  I say that because in almost every home I've seen from them there is either a wine storage or a wet bar.
It's not my taste because I'm not a wine afficianado but if it's up your alley that's something you can expect from this builder.
Aside from the full wine storage feature wall that's off to the right of the dining room, this space is fantastic!  I love the glam chic vibe with the tripple trey ceiling, the light fixture and the built-in display shelves.
The glamour continues into the kitchen!  Off to the left at the top you can see a glimpse of the butler's pantry leading from the dining room.
You can also see the open door that a woman is coming out of above, and the door is closed below…that's the walk-in pantry.
There is so much lovely storage in this kitchen!  You have the perfect balance of function and style without a detail being missed!
Off to the right, you can see me in the mirror of one of the powder bathrooms.  There are two half bathrooms on the first floor.  The second is towards the entrance off of the den that I sadly do not have a picture of.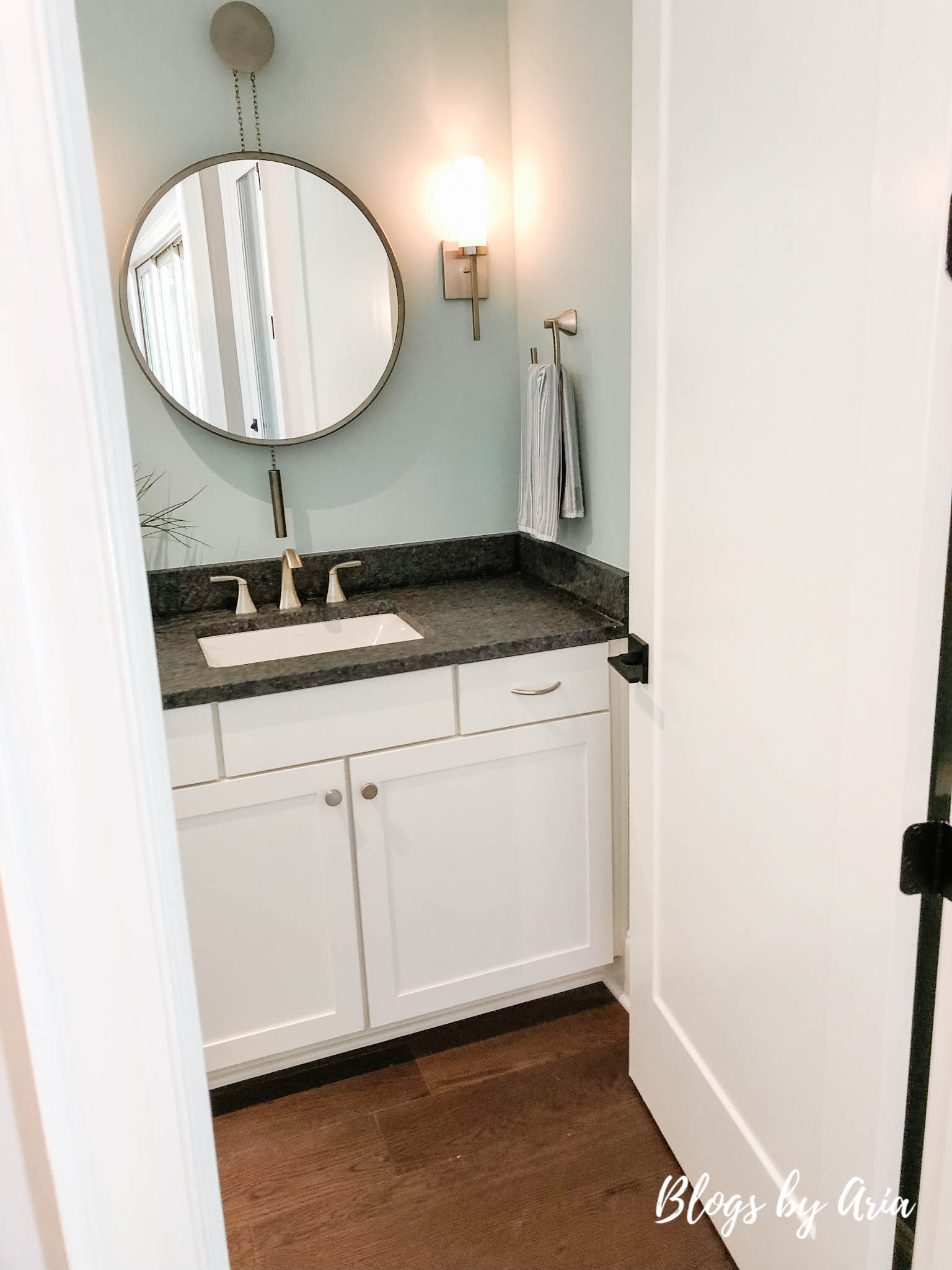 Back to this stunning gourmet kitchen…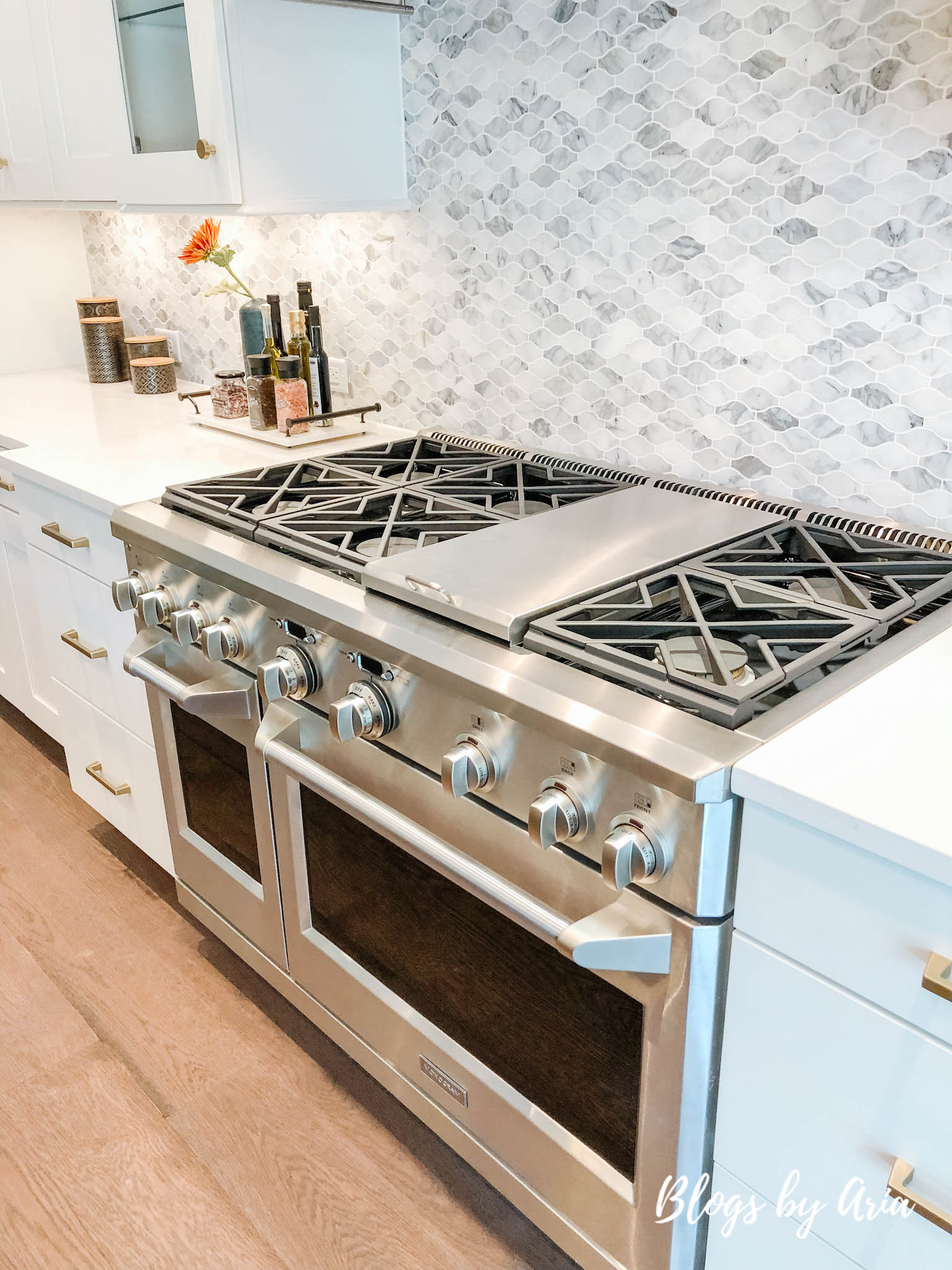 Just look at this backsplash and range!  I love the look of carrera marble as a backsplash and in my opinion, it's a more practical way to use marble in a kitchen.
Here's the door into the walk in pantry.  You can't beat a classic shaker style cabinet.
I don't know what it is about a walk-in pantry that just makes me happy.  It makes me want to skip through the aisles of Costco and then come home to a pantry like this and organize it all.  Weird I know 😉
If you know me you know that modern glam is not my design style of choice but this is such a classy space!  I love love love the marble fireplace surround!  What a focal point!
Off to the left you can access the master suite.
I love how wide the staircase is and it has one of my favorite features:  path lighting!  It's always a pleasure to see that especially when the master is downstairs and the secondary bedrooms are upstairs.  I just imagine little ones coming downstairs in the middle of the night, or checking on the littles upstairs and wanting to do so without turning on the lights.  Surely a mom thought of that 😉
And here's that signature wet bar.
This very large 47 foot porch features an outdoor kitchen and fireplace.  The screen is retractable so that you can easily access…
the saltwater swiming pool and hot tub!  This lot borders an open space so it's very private.
Unfortunately I didn't get any pictures of the master bedroom, but I did get these couple of shots from the master en suite.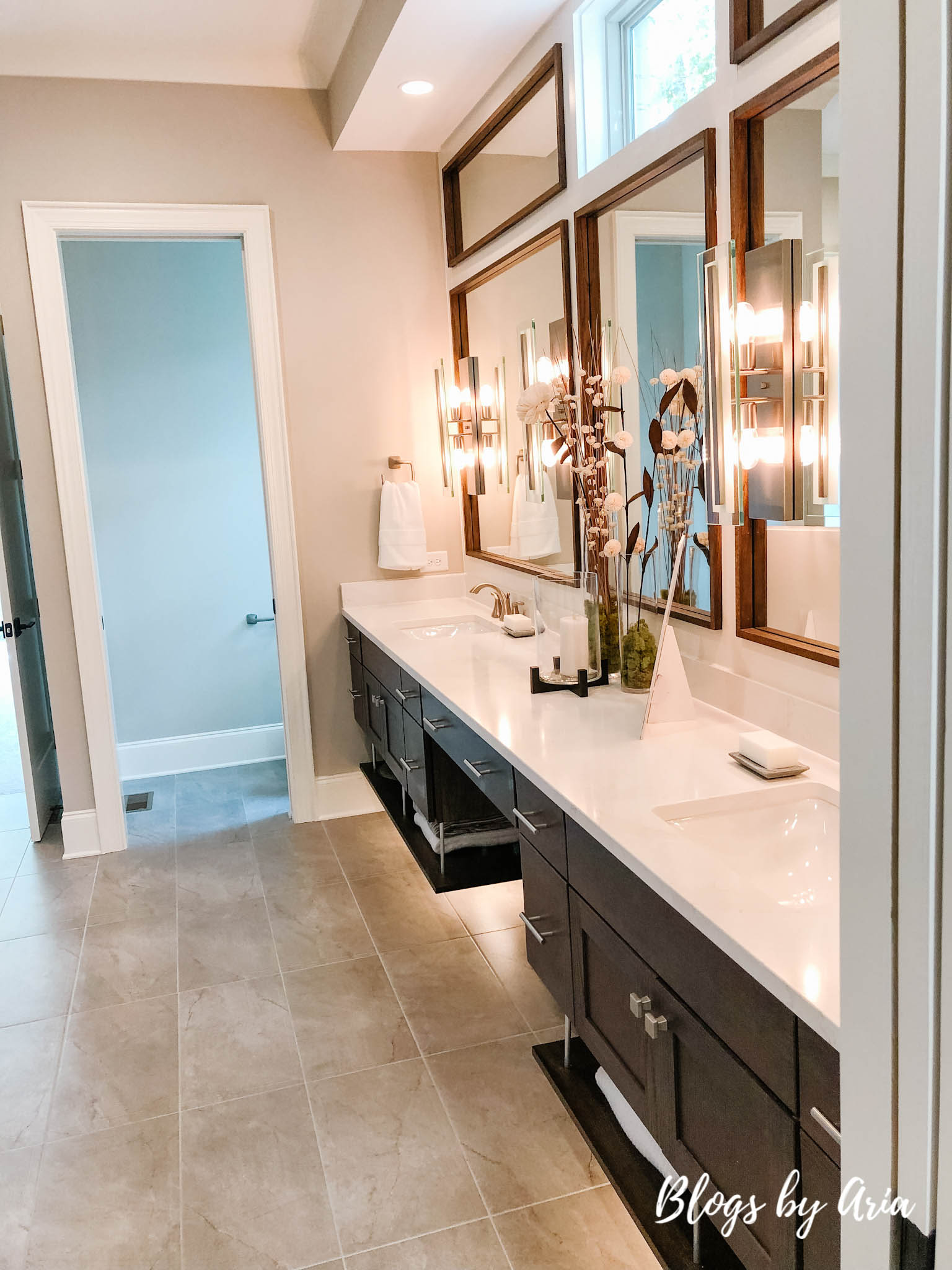 The master bathroom features his and hers floating vanities with underlighting.
What do you think of this bathtub and walk in shower?
Upstairs there are three bedrooms, each with their own bathroom and walk-in closets.  There's also a bonus room and a flex/kid zone room with a built in study zone.
This would be a perfect space for working from home right about now am I right?  Or am I just over working at my dining room table?  I'm sure it's the latter.
Not only does this designer like wine, they also like this style of shower design.  It's a unique way to add a little something extra to an otherwise ordinary shower.
So there you have it.  The Ballantyne house short and sweet.  What did you think?  Is it your style?  It's not mine but that doesn't stop me from enjoying it.
Was this Parade of Homes tour too short?  Don't worry, I have already prepared two more house tours from this same neighborhood.  There'll be coming to the blog soon.  If you want to make sure you get notified, be sure to subscribe to my emails and never miss a post!
Until next time my friend. ♥