With the time change this weekend, Spring is officially on the way!  I've rounded up lots of Spring outfit inspiration from my LIKEtoKNOW.it feed to give you some ideas of what to wear this season.  Right now Spring and Summer fashion is what's trending because people are ready to shake off their cabin fever and get outside to enjoy the warmer weather.
If you're in that boat I have some cute looks for Spring for you!  I'm still at home but I know many people are starting to plan Spring Break trips or thinking of traveling for Summer.  Now is the time to get inspired for the warmer weather so many of us crave
*this post includes affiliate links for your shopping convenience, you can read more about affiliate links by reading my Disclosure*
floral maxi dress | strappy sandals | earrings
Maxi dresses are making a comeback this Spring.  A good maxi dress is great because it's so versatile.  You can wear it to work, to church (depending on the style) it travels well and can easily be dressed up or down.
off the shoulder top | cognac backpack | wedges
One trend I'm seeing a lot of this season is off the shoulder everything.  I like the look of the off the shoulder combined with the fuller sleeves.
You're going to see a lot of flowy dresses in this post because they are super popular this season.  Of course they are!  What's better than a soft dress that's both pretty and comfortable.  I love the smocked waist detail on this dress.
floral blouse | high waist skinny jeans | platform wedges
You can dress for Spring and still wear longer sleeves.  Its' not automatically hot just because the calendar says it's Springtime.  Soft florals paired with white denim is perfect for Spring.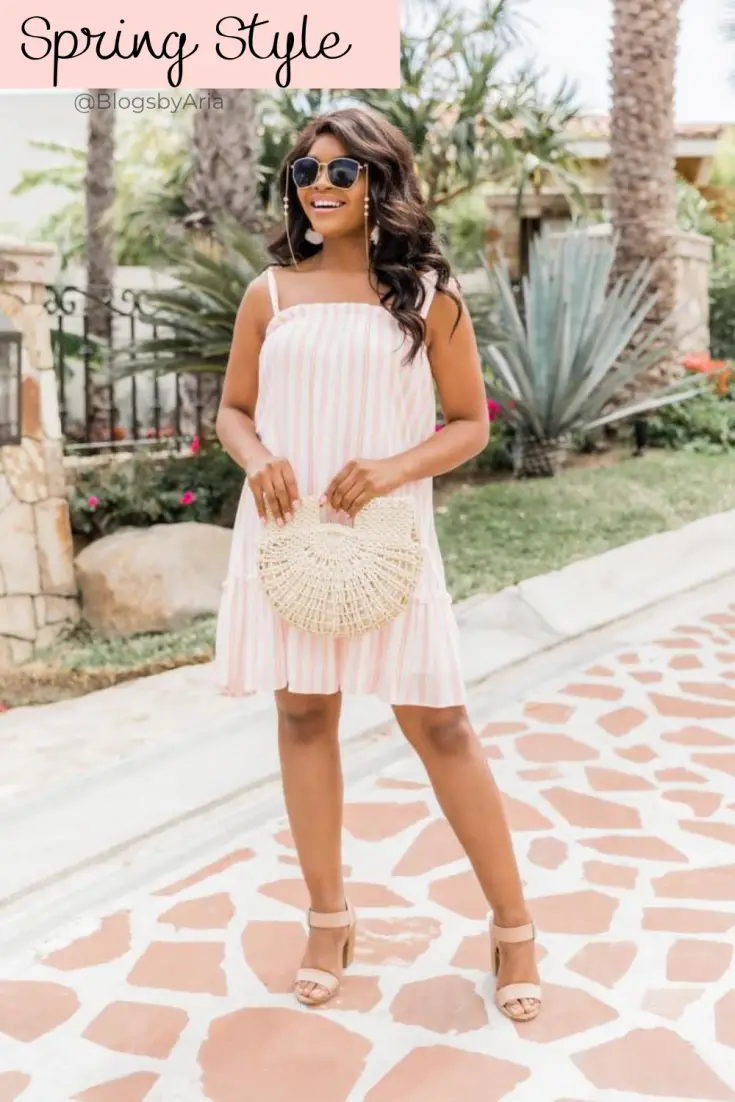 striped dress | half circle bag | block heels
I love the shape of this striped dress that is perfect for a Spring or Summer trip.  If you live in a warmer climate this could be your go to look right now.
A big trend this season is the straw bag.  Here are some cute options I've found:
CUTE STRAW BAGS

Smocking is another fun trend I'm seeing lately.  Combining smocking with flowy peplum detail and pretty prints is what makes it fun for this season.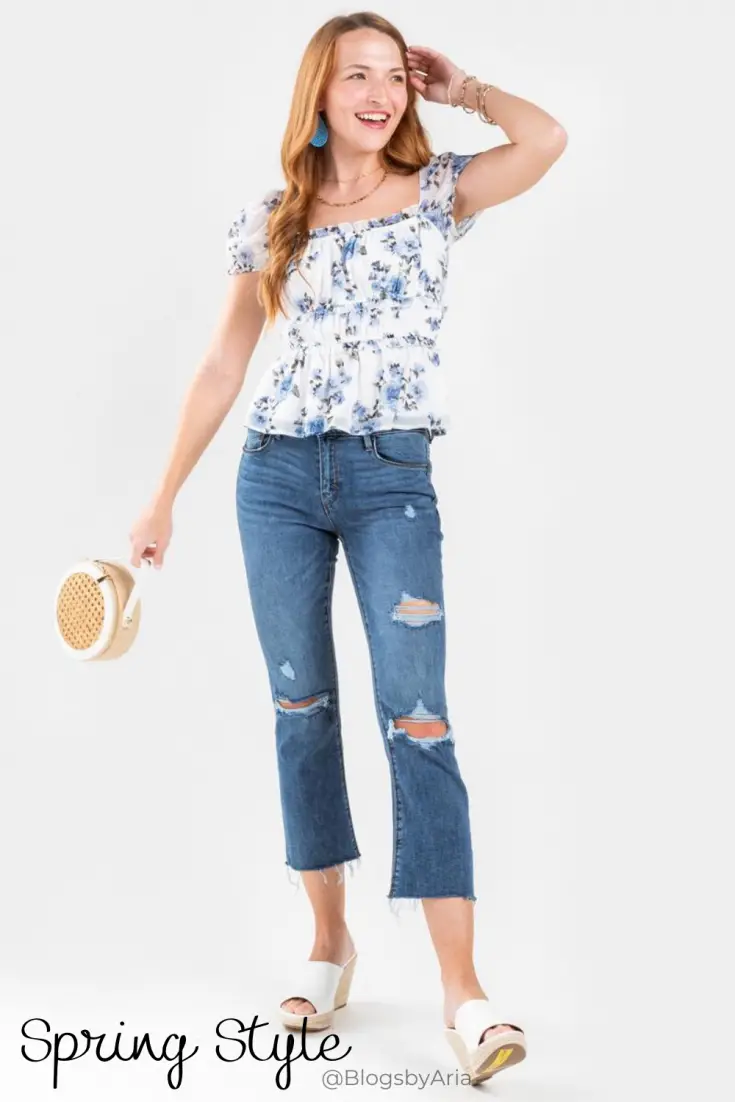 boho floral top |  parker jeans | mule espadrilles | filigree earrings | rattan crossbody
I love this watercolor top because it has soft tiers and a square neck.  It reminds me of something I would wear in high school and I'm here for it.  Denim trends are taking a turn to wider legs and straighter legs.  I don't know how I feel about that.  I'm still pretty partial to a high waist skinny jean.
But that's what is so great about fashion…it's all about what YOU want to do!
floral midi dress | fringe earrings
The midi dress is another great look for Spring.  This one is cute with the tie straps and tiered skirt.
floral smocked top | distressed white jeans | wood platforms | floppy hat
Another smocked top option with a square neckline and puff sleeves is so pretty for Spring.  It looks great paired with white denim jeans or a denim skirt.  I'm so glad denim skirts are making a comeback!  I'll have to share some I've been finding in a future post.
striped romper | headband | strappy wedges
This cute pink and white striped romper is perfect for Spring and Summer!  Great for a day or night out and perfect to pack for vacation.
This dress is full of pretty details for Spring.  I love the smocking on the shoulders, the ruffle details and the pretty floral print.
Another perfect dress for Spring, this white floral wrap dress is so feminine and pretty.  It's the ruffles for me.
This romper is so feminine and fun with the ruffled shorts.  It can be dressed up or down and is perfect for warm and sunny days.
lace maxi dress | denim jacket | taupe hat
Another maxi dress I love for Spring features a lace bodice.  This would be perfect for a Spring or Summer wedding and it comes in a ton of colors.  If you're petite or prefer a shorter dress, it also comes in an above the knee option.
The cut of this babydoll top is so trendy and flowy.  It has such cute ruffled cap sleeves and a tiered babydoll fit.  Because it's a larger top you definitely want to pair it with more fitted bottoms to create your Spring outfit.
boho chic blouse | dark wash jeans | suede flats | ivory hat
Now this is my kind of shirt! I love the texture and the ruffle peplum style and the sleeves too.  It comes in a lot of colors.
Another version of the smocked top is with the smocking detail on the bottom.  Now I'm not a fan of crop tops but if you still want to rock a top like this you can by pairing it with high waist jeans or shorts.  I'm kinda loving the high rise mom shorts.  I've rounded up a few below:
HIGH RISE MOM SHORTS

Another cute dress for Spring, featuring a beautiful floral print, smocked detail, and balloon sleeves.  I just love how soft and feminine so many of these dresses are.
Much of what I shared so far are light and airy prints.  But I love this navy floral wrap dress too.  It's still a perfect option for Spring and still has a light and airy feel with the flowy fit.  So pretty!
I could go on and on sharing all of the fun looks I'm finding for Spring but I will stop for now.  One thing that's new for me is looking at boutiques.  I used to think boutiques were only for designer brands and they had really limited sizing.  Now more and more boutiques have online storefronts and offer more sizes.  Some of them still have a ways to go with being more inclusive but I'm liking what I'm seeing so far.
Shopping at boutiques gives you the option to find clothing that you're not going to find in department stores.  For the most part what I've shared with you today comes from boutiques.  So if you're like me and never thought to shop with them, give them a look.
I hope you enjoyed the Spring outfit inspiration ideas I've shared with you today.  It's so much fun online shopping even if it's window shopping for now 🙂  In the future, as I become more comfortable, I'd like to put some looks together to share how I style them and wear them.  After a year of being stuck in the house, I say bring on the fashion!