Fall fashion or Fall decor, which comes first?  Both!  I've already started building up my Fall wardrobe with hopes of getting out and about this season.  I find it hard to resist a Fall sweater or a plaid shirt.  I'm sharing a few pieces I've already picked up.  Many of us have already or will soon be returning to the office and I have some workwear outfit ideas too.  Let's dive in to these fun Fall fashion finds!
*this post includes affiliate links for your shopping convenience, you can read more about affiliate links by reading my Disclosure*
For size reference right now I'm a size 18 and an XL or XXL/2X depending on the brand.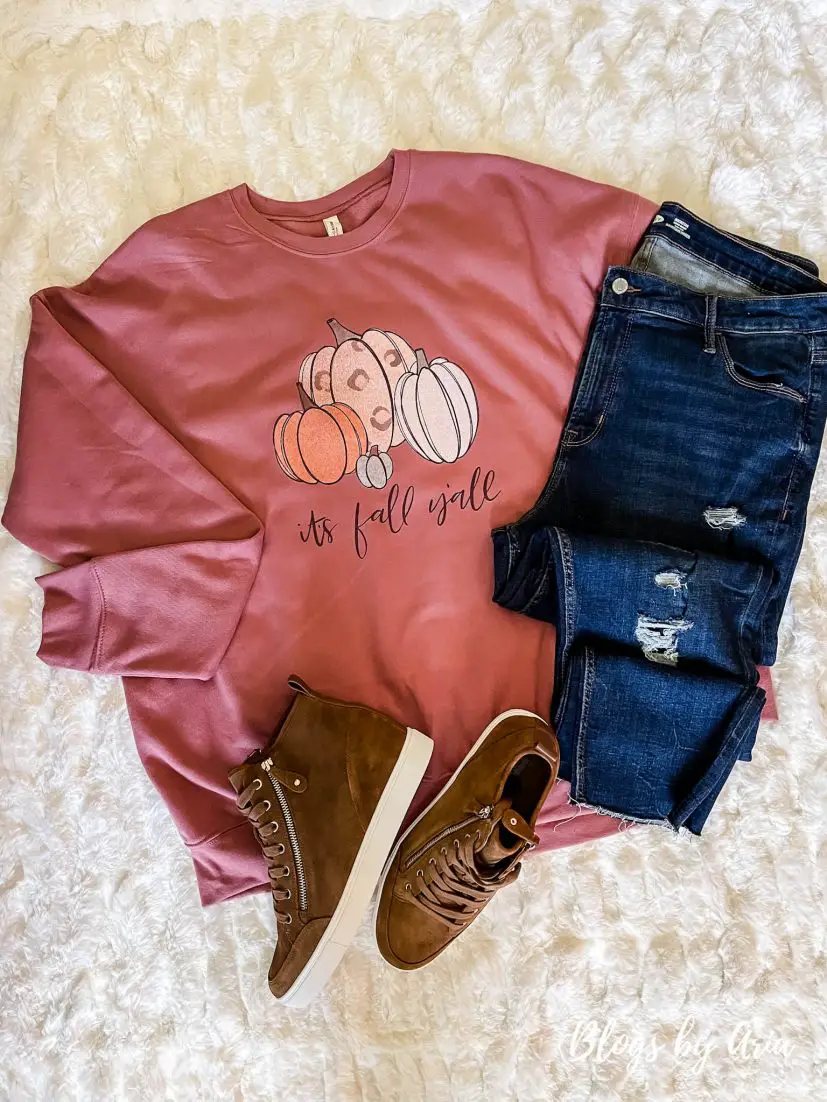 It's Fall Ya'll sweatshirt | denim jeans | wedge sneakers
In case you didn't know, I am very basic when it comes to all things Fall.  I'm here for pumpkin spice lattes and all of that.  So when I saw this It's Fall Ya'll sweatshirt I knew I had to have it.  It's really soft inside but it's not heavyweight.  I find that it fits TTS (true to size).
You'll see that I've paired a lot of these outfits with my Steve Madden wedge sneakers.  I'll be wearing them on repeat all season long.  They're comfortable like sneakers but give a little height and extra style.
MORE WEDGE SNEAKERS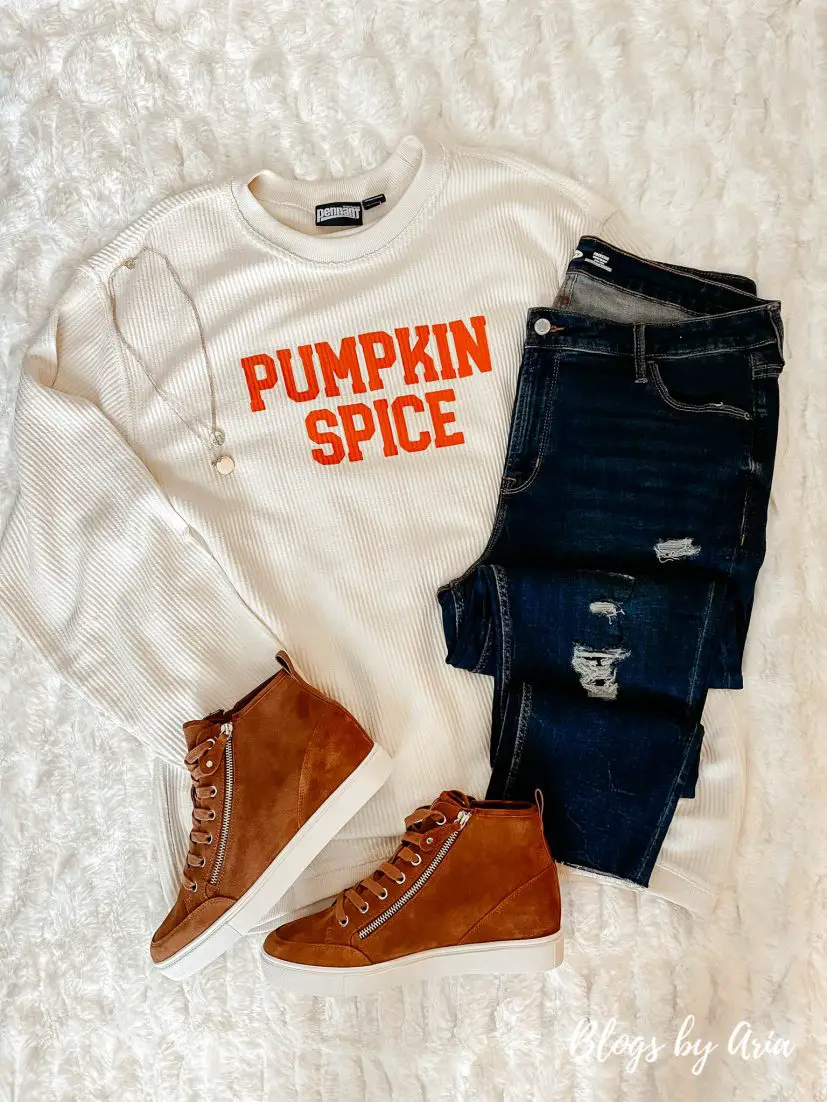 Pumpkin Spice Corded Sweatshirt | necklace | denim jeans | wedge sneakers
From the first time I saw this pumpkin spice corded sweatshirt I knew I wanted to own it.  I pulled the plug and got it and I'm so glad I did.  It fits TTS but is a little oversized.  I wouldn't say it's so much that you would need to size down.
The corded material makes it a heavier weight which is nice for when it gets a little cooler.
These denim jeans I got from Old Navy over a year ago.  They're the most expensive jeans I've ever purchased from Old Navy.  They were $55.  I got them on a sweet discount when I worked there for a few months.  They're on sale right now but with a limited size range.
Let me tell you, they're the best jeans I've ever gotten from Old Navy.  The higher price denim is usually on the tables, not on the walls.  But they're the highest quality too.  Trust me on this.  When jeans go on sale for half off, that's when I buy them.  You can thank me later 🙂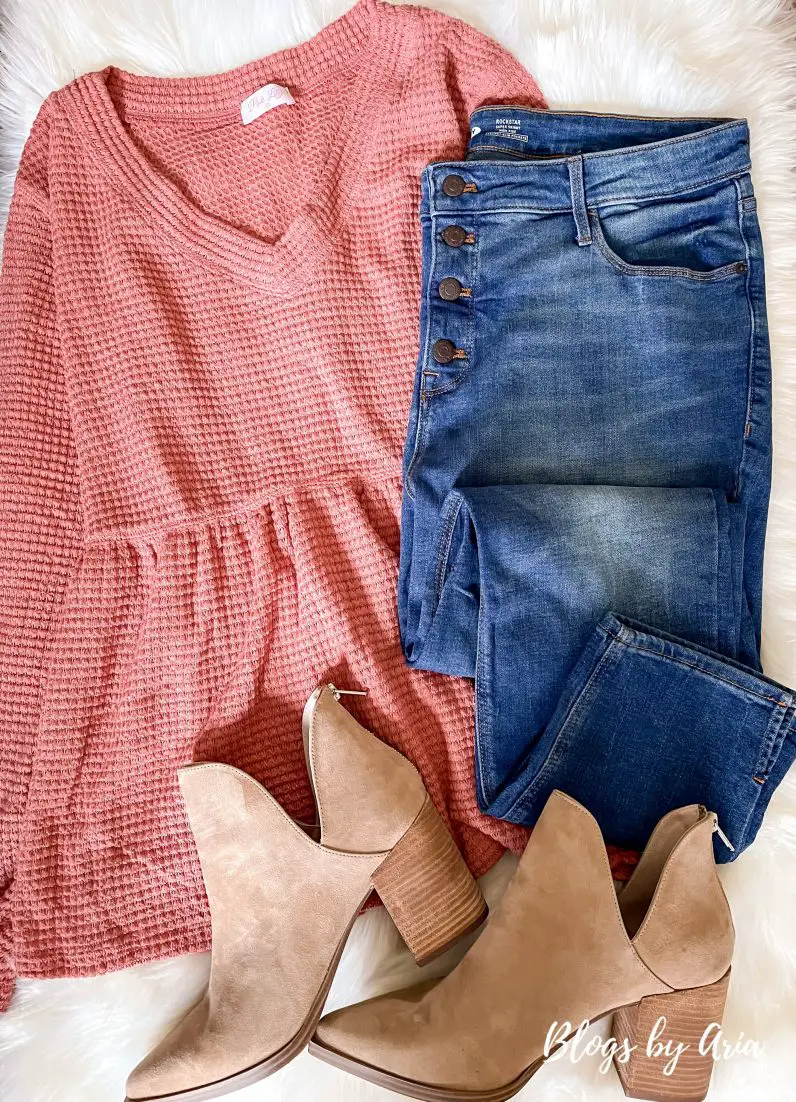 peplum waffle knit blouse | button fly jeans | Cedar booties
Another thing I'm loving for Fall this year is waffle knit.  This peplum waffle knit blouse feels so soft and it's lightweight.  I got it in an XL but if you're busty like me, I'd suggest sizing up.  It comes in two other colors too.
These button fly jeans are also from Old Navy and they fit really well.  My exact pair are out of stock in most sizes, so I've linked some similar styles below.
I'm still in love with these booties I got during the Nordstrom Anniversary Sale.  They're surprisingly comfortable and easy to walk in.
BUTTON FLY JEANS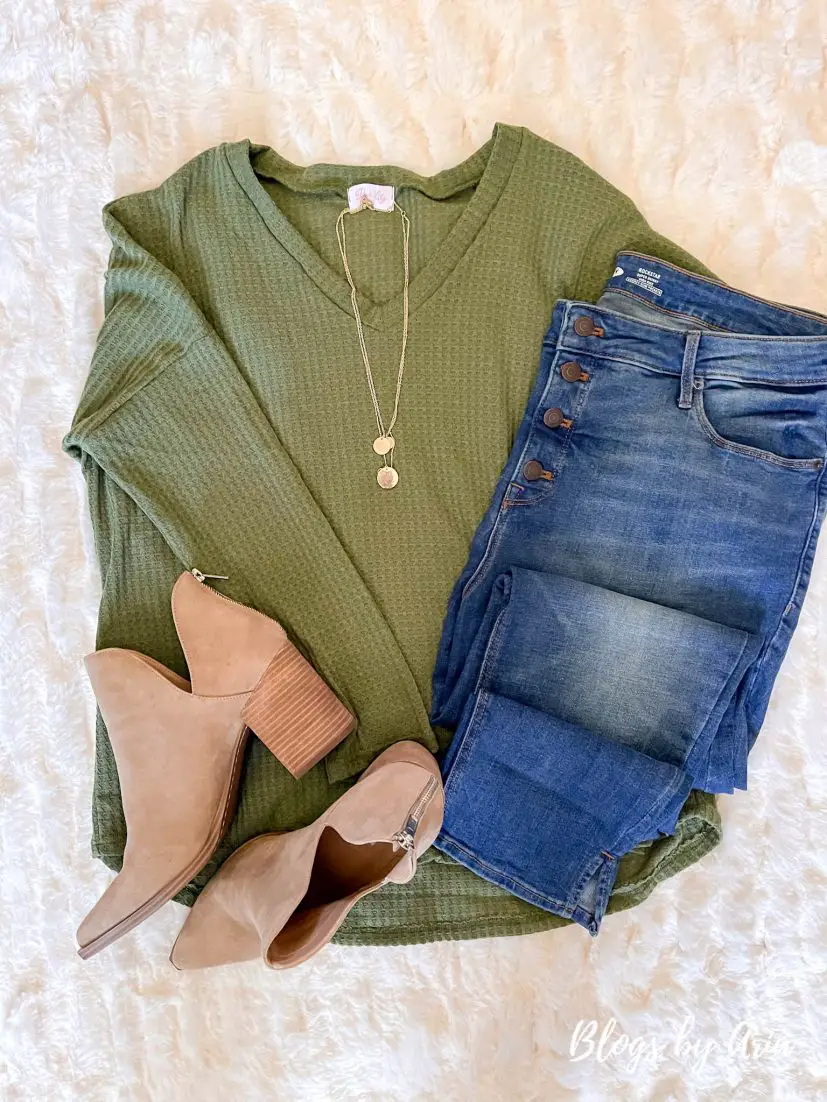 waffle knit top | denim jeans | ankle booties | necklace
Another waffle knit top!  I love the color and again how soft it is.  Based on the reviews, I sized down to a size large and it fits perfectly.
One of the things I like about Pink Lily is their size range.  So many online boutiques have limited sizes and it's beyond annoying.  Pink Lily shares their models sizes and measurements so for many of their pieces you can get a good idea of how something will look on you.
My only complaint is that they don't have the larger models for every item.  I definitely have to guess with some things and go off of the reviews.
If you're looking for similar booties, I'll link some below.  I got mine for way less than they cost now since I got them  during the Nordstrom Sale like I mentioned before.
MORE ANKLE BOOTS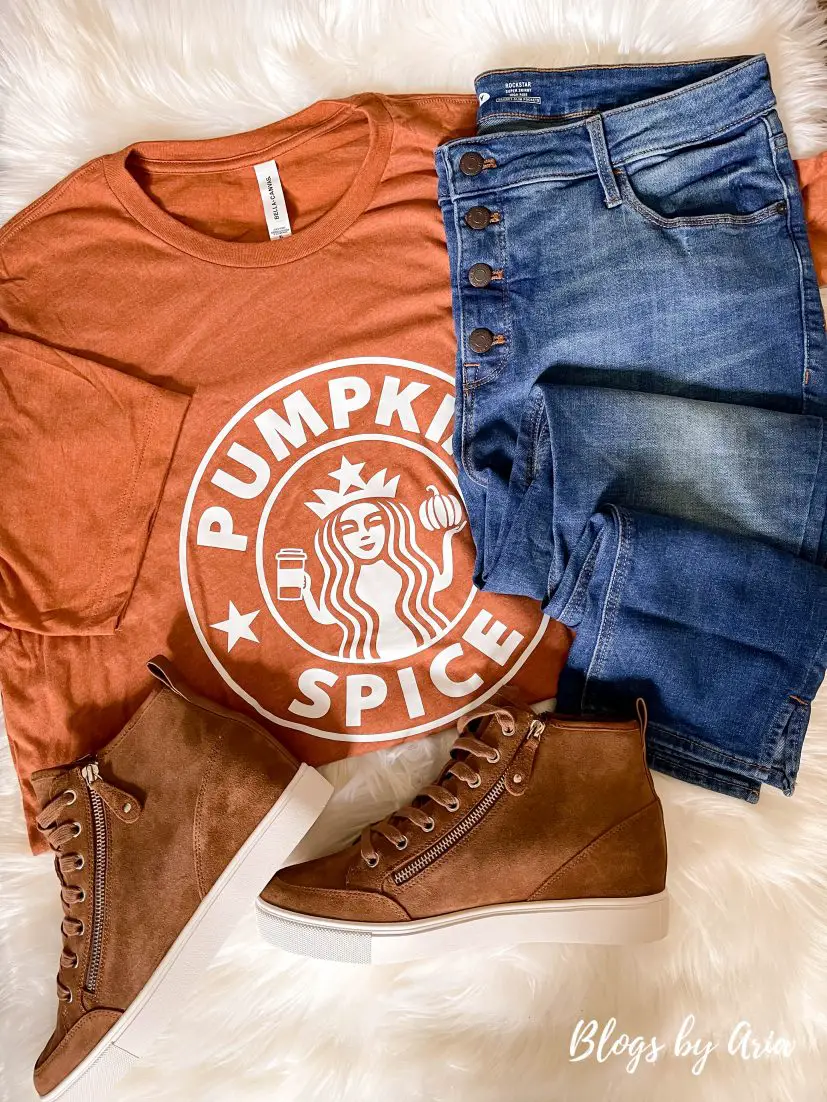 pumpkin spice tee | denim jeans | wedge sneakers
I was scrolling through Like to Know It a couple of weeks ago and saw someone had shared this pumpkin spice graphic tee.  Of course I fell in love with it!  I got it in size XL and it fits TTS.  It's perfect to wear while sipping on your first PSL of the season 🙂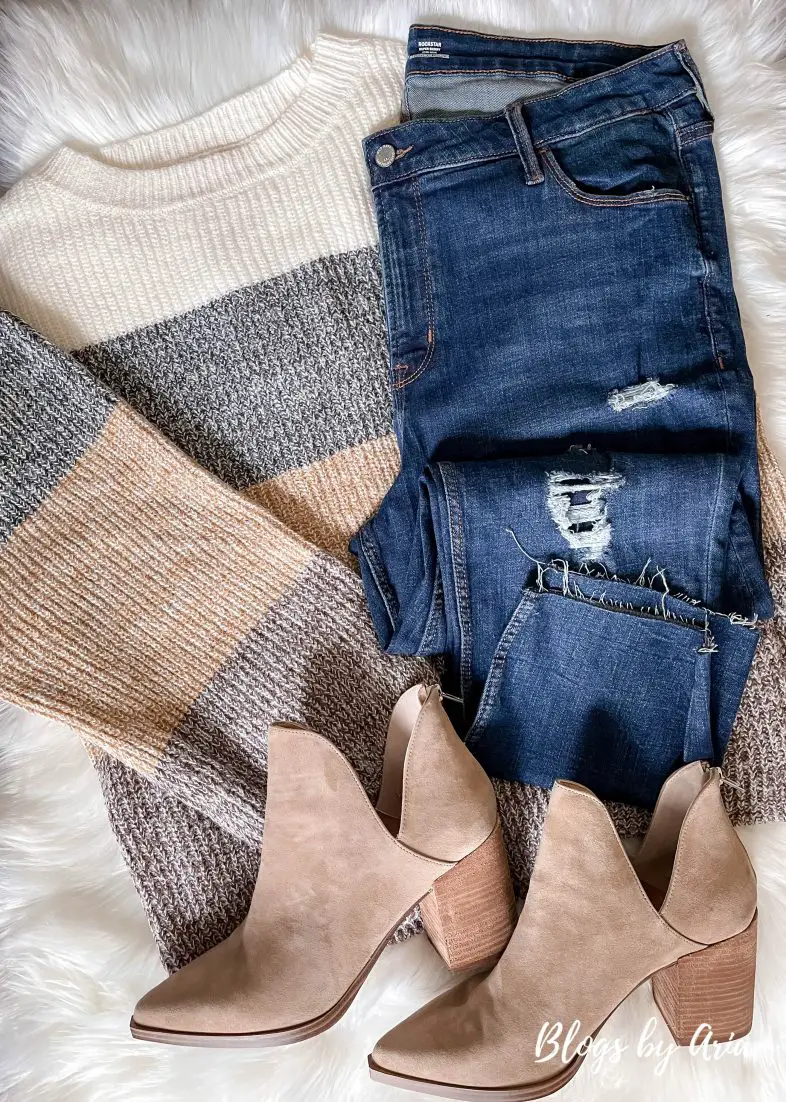 colorblock sweater | distressed jeans | booties
This colorblock sweater is sooo comfy!  It runs big so I sized down to a Large.  It has a balloon sleeve and it comes in two more colors.  Ya'll need to get this sweater!  I'm tempted to grab it in an additional color!
I have a few more shirts but not good pictures of them.  I'll link some more Fall themed shirts I've got my eye on below.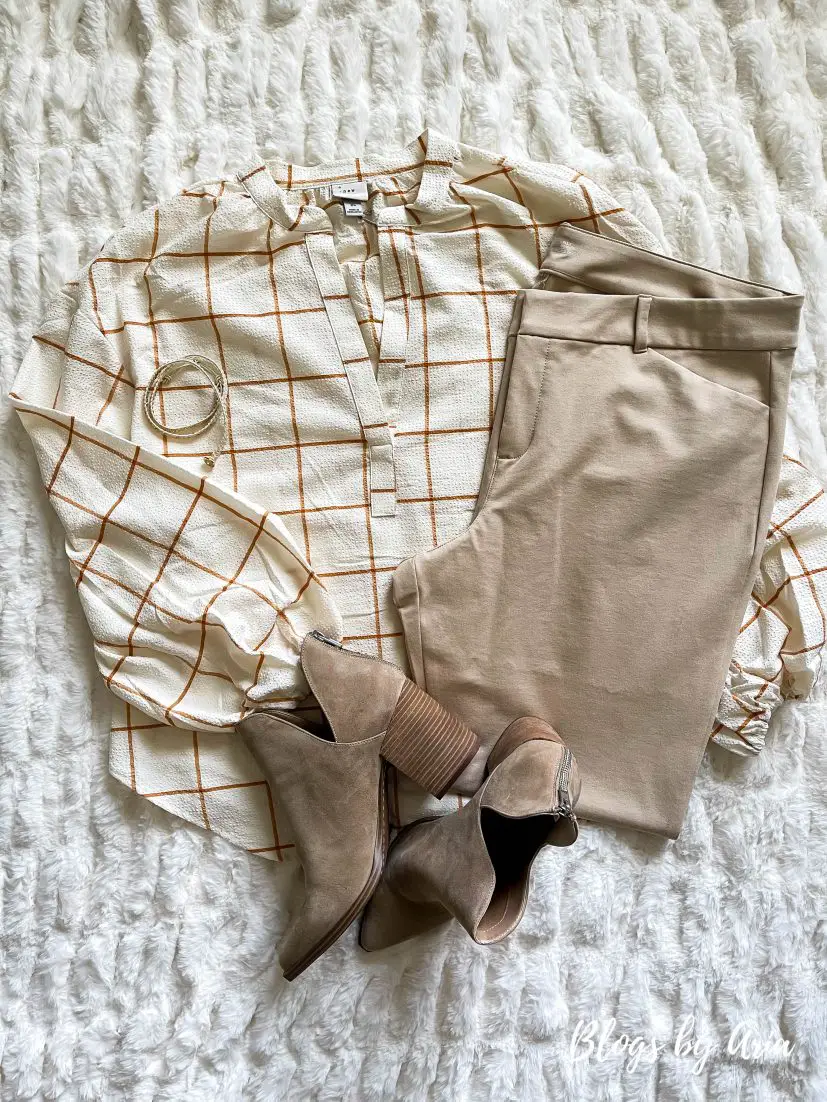 balloon sleeve popover blouse | Pixie pants | wrap bracelet | ankle boots
Before I wrap up this post I wanted to share a cute workwear outfit.  I was in Target recently, buying my Fall pillows, and this balloon sleeve blouse caught my eye.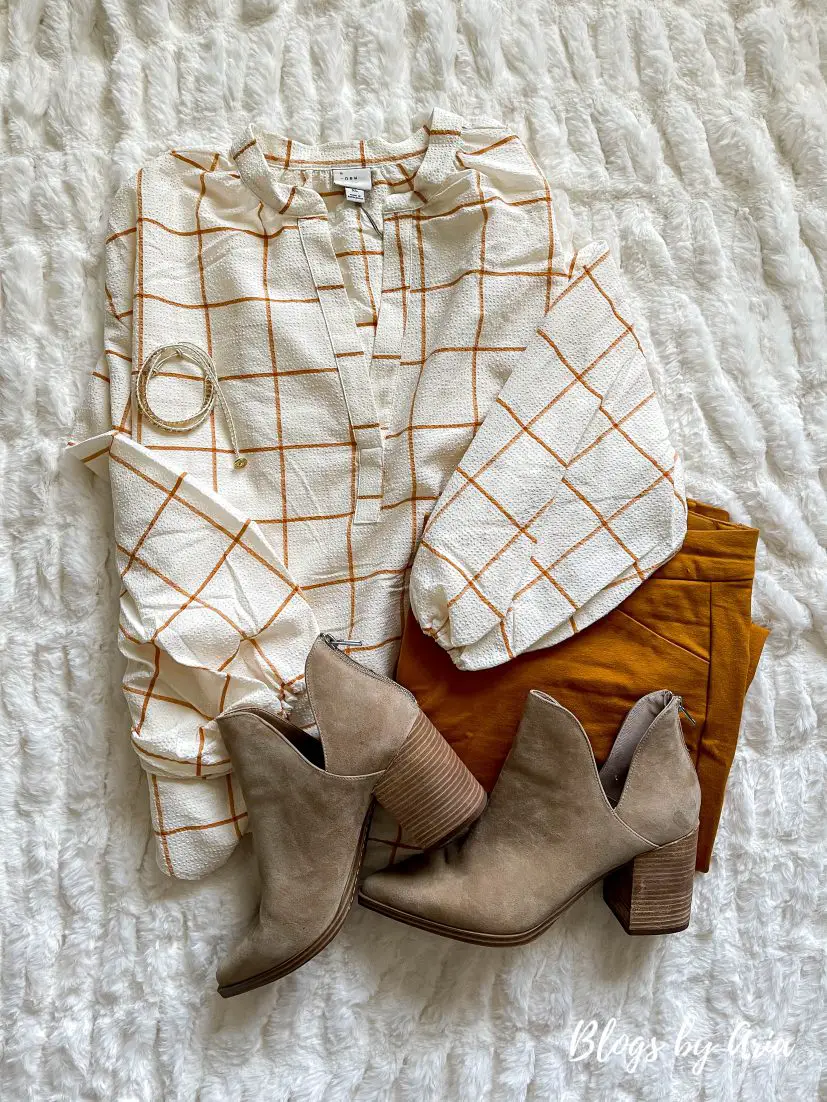 Here you see I styled it with another pair of Old Navy Pixie pants (I prefer the full length over the ankle cut) in a pretty autumn hue.  I got the top in a size XL and I've been debating do I want to exchange it for an XXL.  It fits okay but because I'm busty it's a little snug on the chest.  Also it is a little sheer so I would suggest wearing a cami or a nude bra underneath.
If you're back in the office or will be returning soon, I'll be sharing some more workwear finds on the blog soon.  You can also follow me on LIKEtoKNOW.it where I will be sharing some of those finds and you can get price drop alerts when you favorite items I share.
I've been on the hunt for an affordable full length mirror so that I can take outfit pictures.  Until then I will either share flat lays or try to get pictures of myself wearing the styles.
ALL THE PUMPKIN SHIRTS

Until next time my friend, let me know what you're loving for Fall.  Have a great weekend!