Our small, unorganized pantry was driving me crazy!  Recently I finally got it under control and am happy to share with you how I did with a few small pantry organization hacks.  It's easy to organize a large walk-in pantry like I share in many of my Parade of Homes tours.  But when you're dealing with a small cramped space, and trying to make things accessible for everyone…that's a whole different story.
*this post includes affiliate links for your shopping convenience, you can read more about affiliate links by reading my Disclosure*
When we moved into this house last Summer, I tried to start off somewhat organized…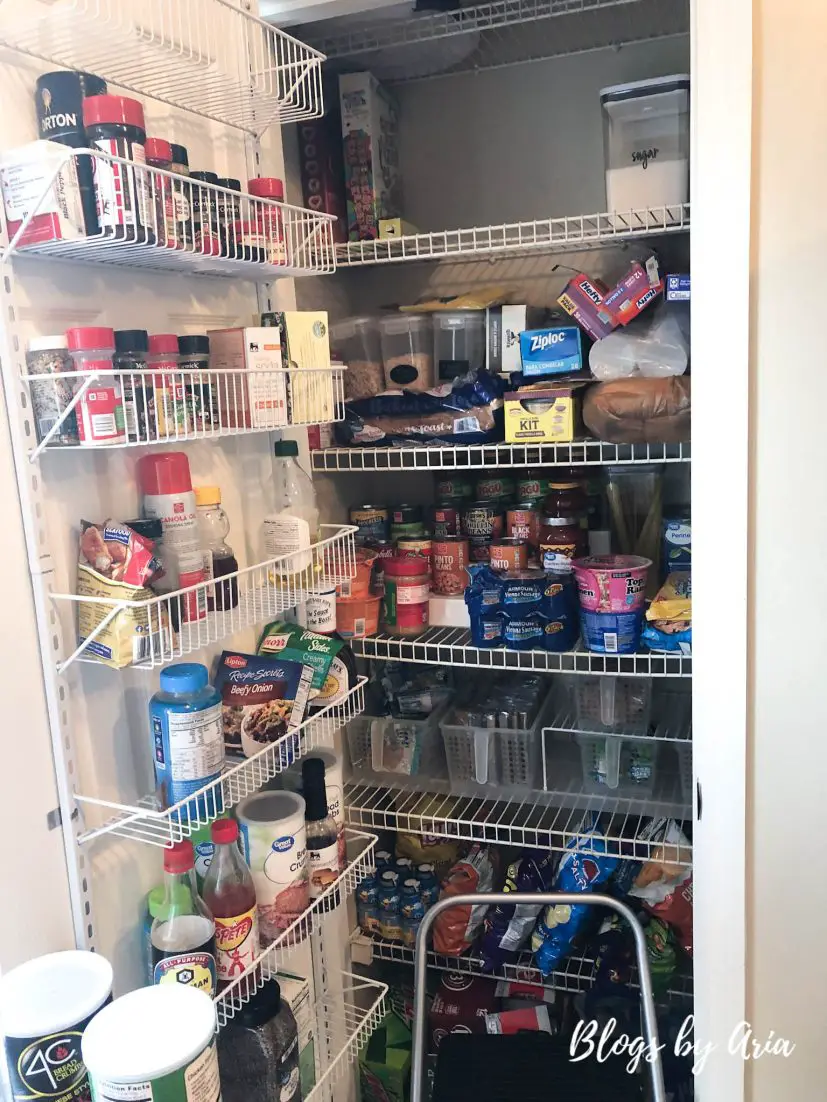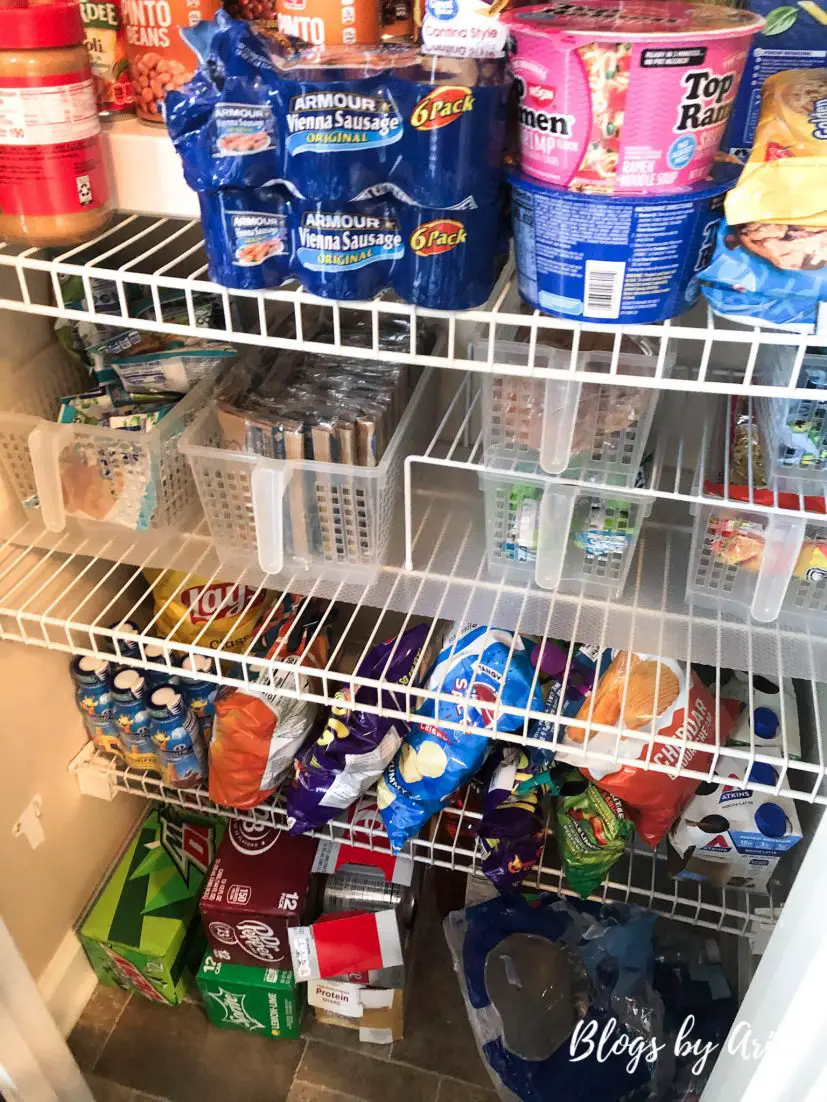 These are the only pictures I have to use as a "before" of our small pantry shortly after moving in.  This also caused so much stress for me every time I opened the pantry door.  Not to mention all of the times the kids leave the pantry door open…sheesh.  It was so overwhelming.
Now I feel like I'm at a place where my pantry can stay somewhat organized and less chaotic.  It's not perfect, but let me show you what it looks like today.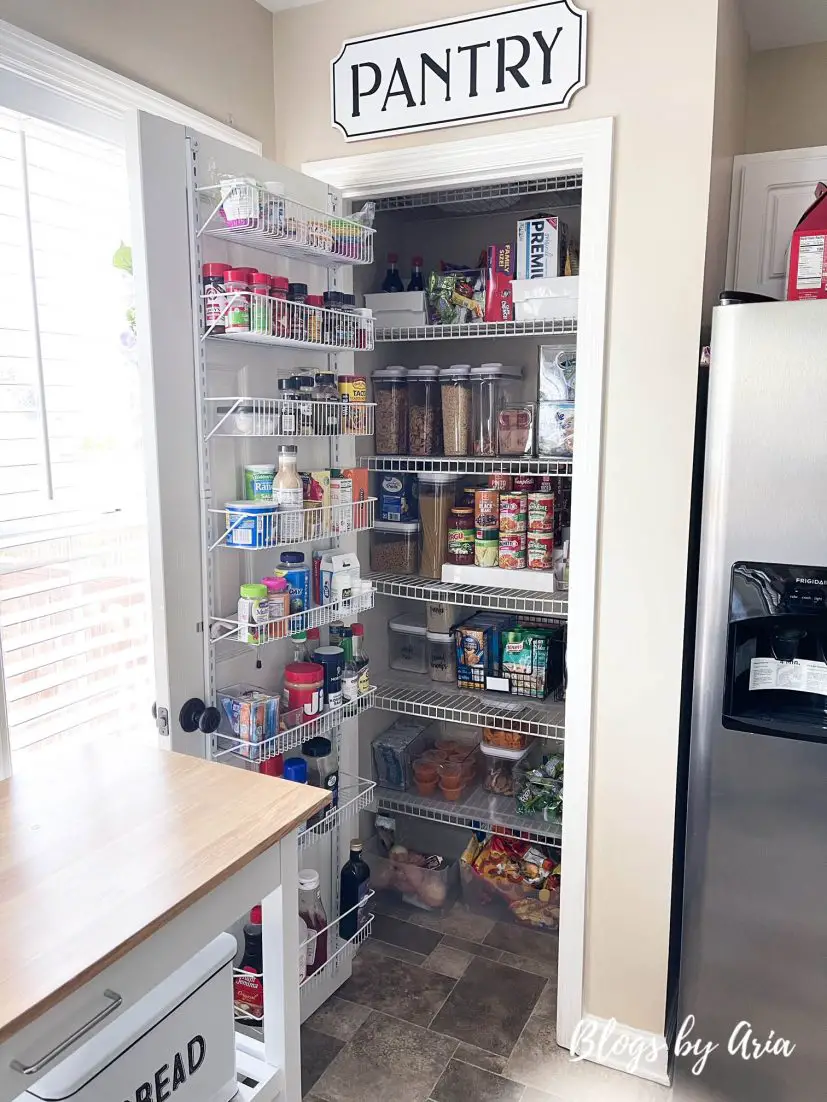 All of the sources that I've used in my pantry will be linked at the very bottom of the post.  Here's a good overview of where things stand in my pantry right now.  When we lived in our previous home, I purchased this over the door rack in hopes to better store items in my pantry.
That didn't work because that pantry door was super narrow.  Like, who makes a door this narrow?  We ended up using the rack elsewhere but when we moved in here I knew we needed it in our pantry.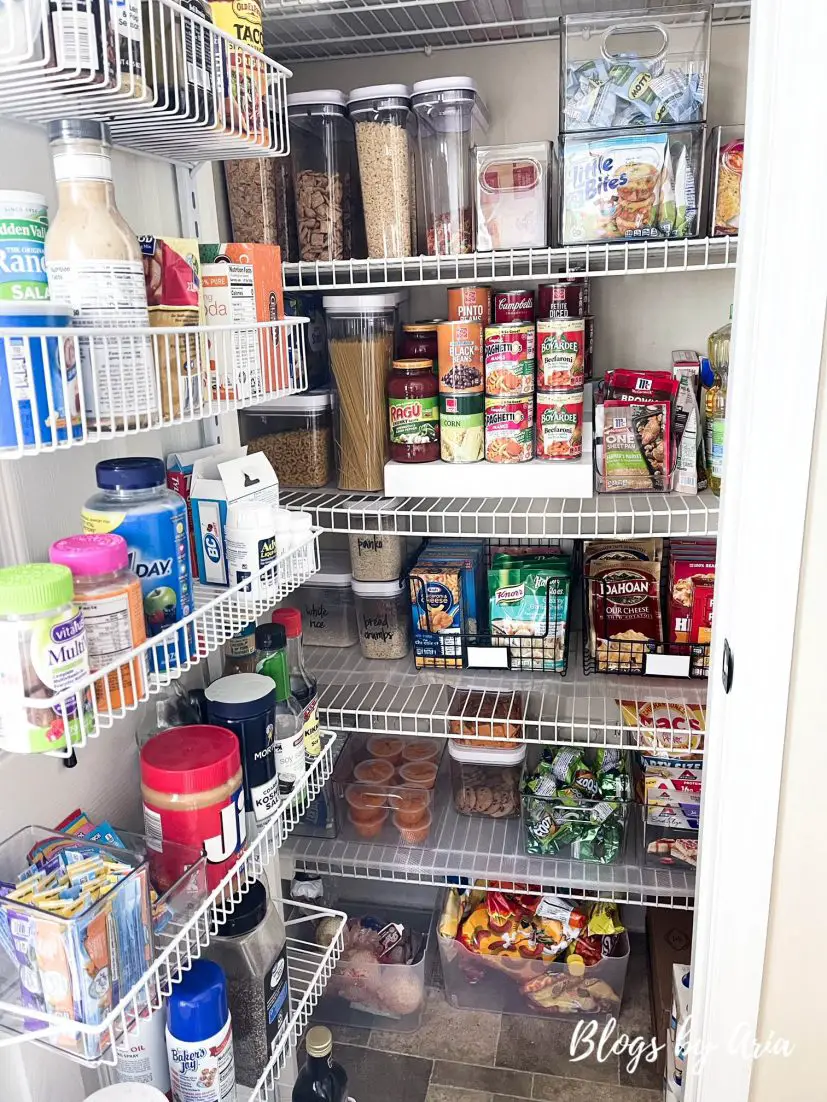 The thing is, our pantry leaves a lot to be desired.  It's not laid out the best and the shelves aren't set in the right height, not to mention the unusable space at the top…I digress.  I'm glad to have a pantry, and even though it is small, it's larger than the last one.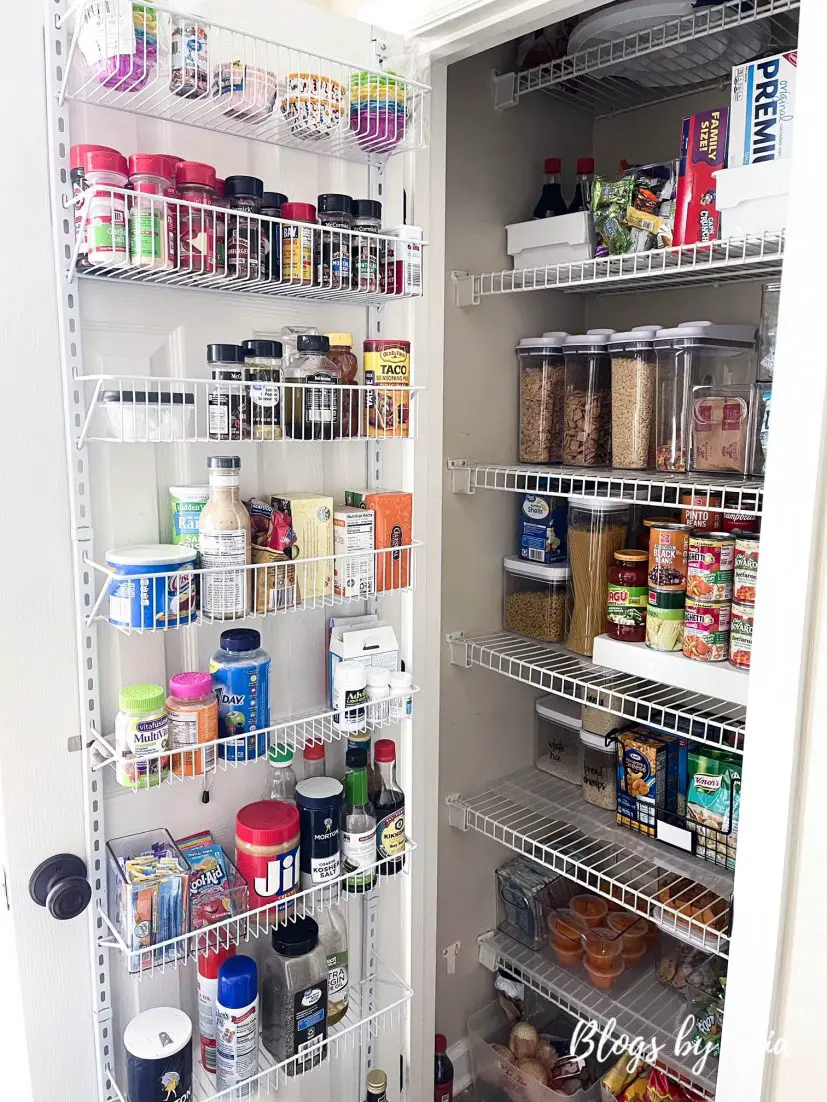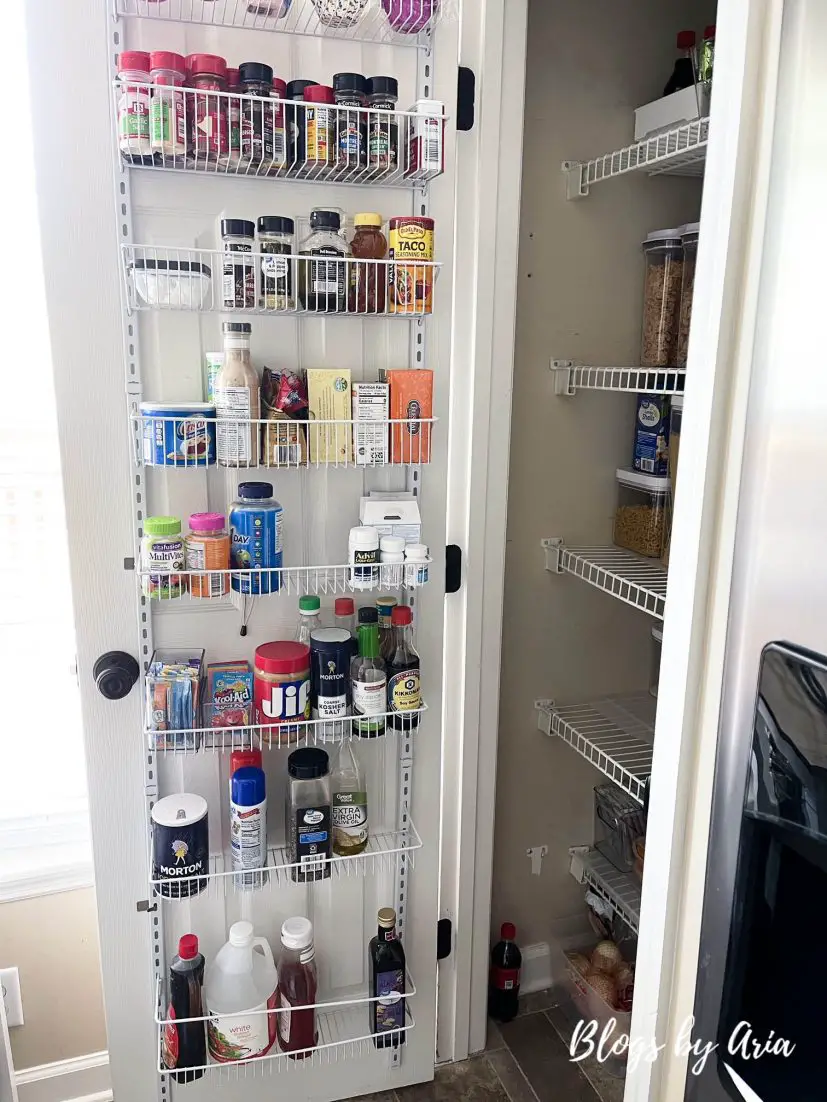 For the most part I keep spices and seasonings on the door shelf.  Along with smaller bottles, oils, cooking spray and things of that nature.  On the bottom I keep a few taller items like syrup, ketchup and vinegar.  You can also see that for now we keep our vitamins and a few medicines on this rack too.
We used to keep our medicine in our kitchen cabinet in our previous house, and in this house we did the same for a while.  But I really need every square inch of our cabinet space and have found better ways to use that space.  I'll share the whole kitchen organized one of these days.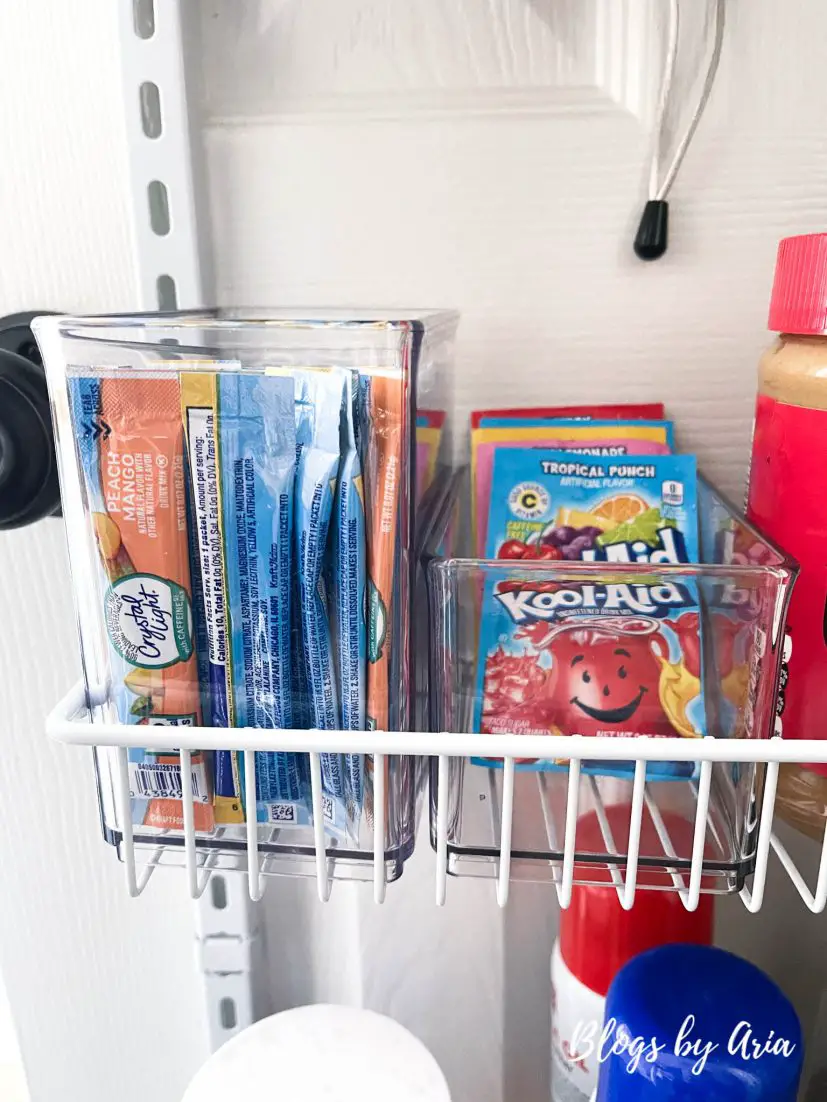 I saw these organizer bins on a recent trip to The Container Store and knew they would fit inside the door shelf perfectly.  The taller organizer bin I use for my Crystal Light drink mixes and the smaller one is for Kool-Aid packets.  When I took this picture I didn't have any, but I also put drink mix packets for the kids to use.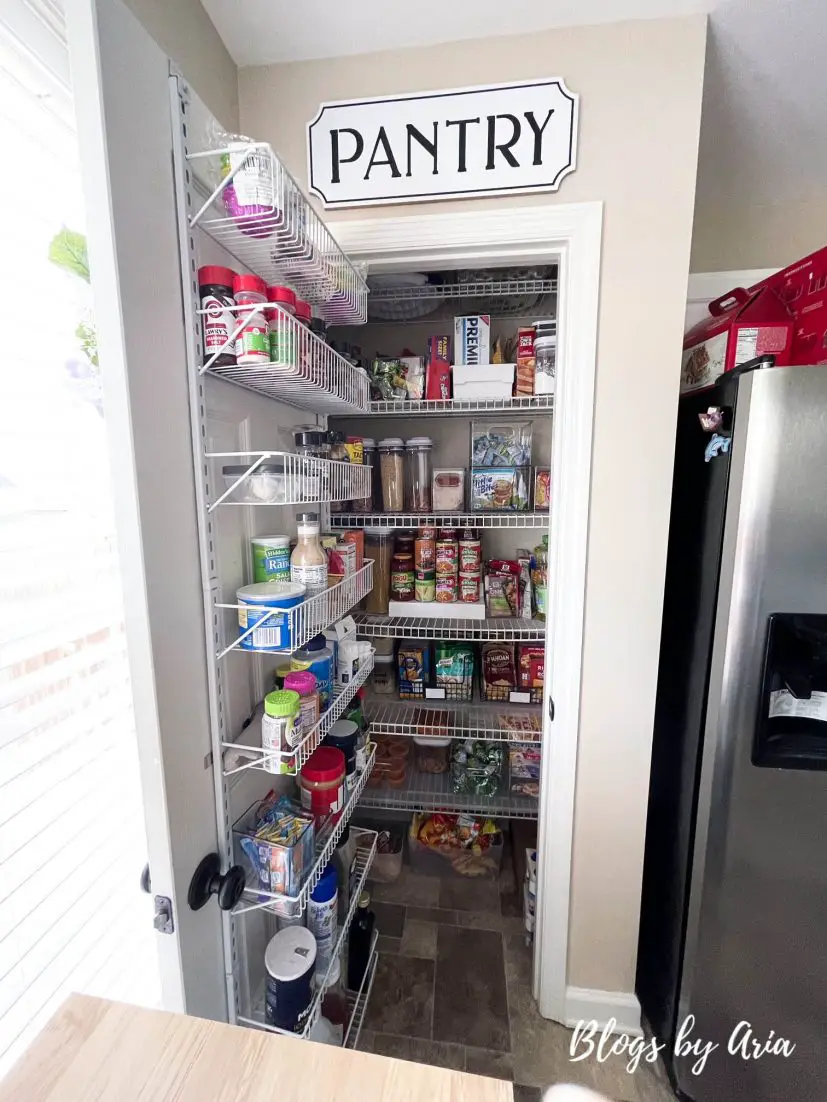 Now let's talk about the rest of the pantry.  Because frankly, the door is the easy part.  It's the rest of the pantry that was a hot mess.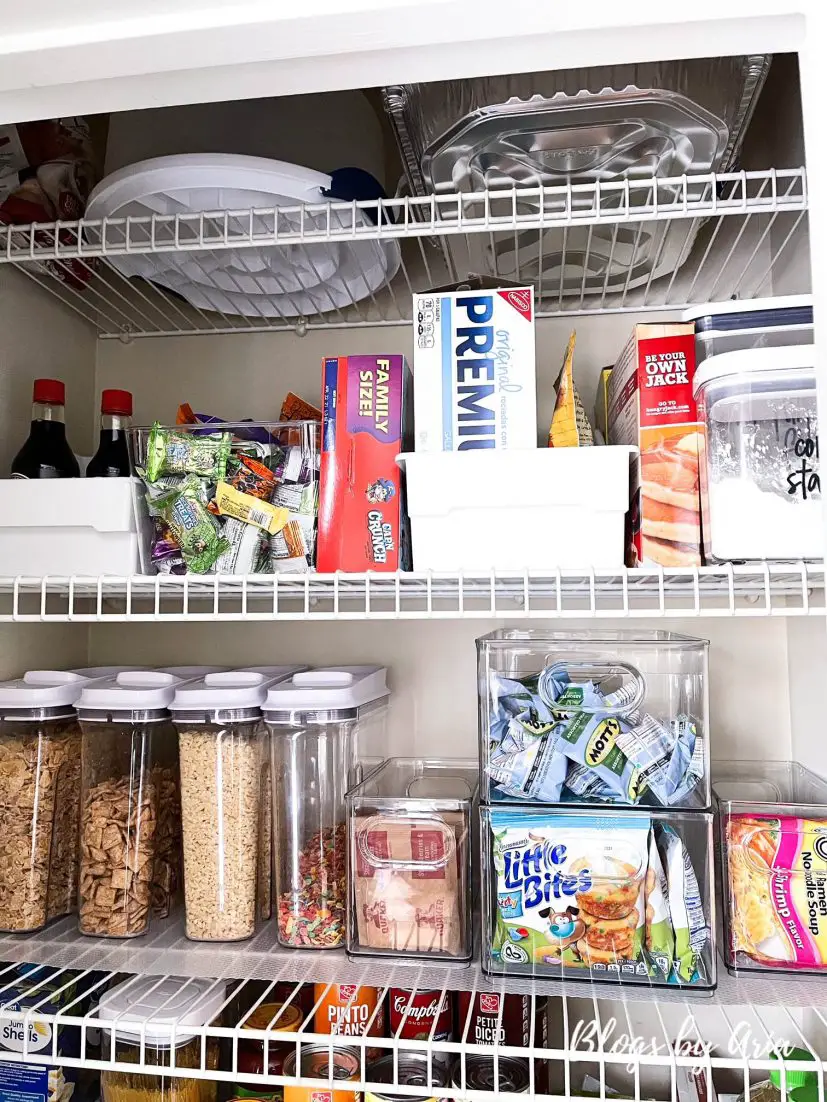 Starting with the top shelf, I have a cake server.  It may not stay there, but I'm not sure.  We rarely use it, so it's nice to keep it out of the way.  Next to that is a foil pan that I get from the dollar store.
The next shelf is kind of miscellaneous and still has some room for improvement.  The main items I keep on this shelf are flour, sugar and corn starch.  If our pantry was larger, I wouldn't have them up so high.  But I'm the main one who would use them when cooking, so it's okay if it's a little higher up.
I have a couple of white pantry bins that I got from Walmart, but still am trying to figure out the best way to use them.  I got a set of clear pantry bins from Amazon that I thought would work well in this space.  They work okay, but I'm going to replace them with the ones I got from The Container Store.  You'll see what I mean in a moment.
Also don't mind the box of Cap'n Crunch.  It's my favorite cereal and a few weeks before I started back on the Atkins diet, I purchased it.  Now I'm just holding on to it until what, it goes stale? (I just threw it out)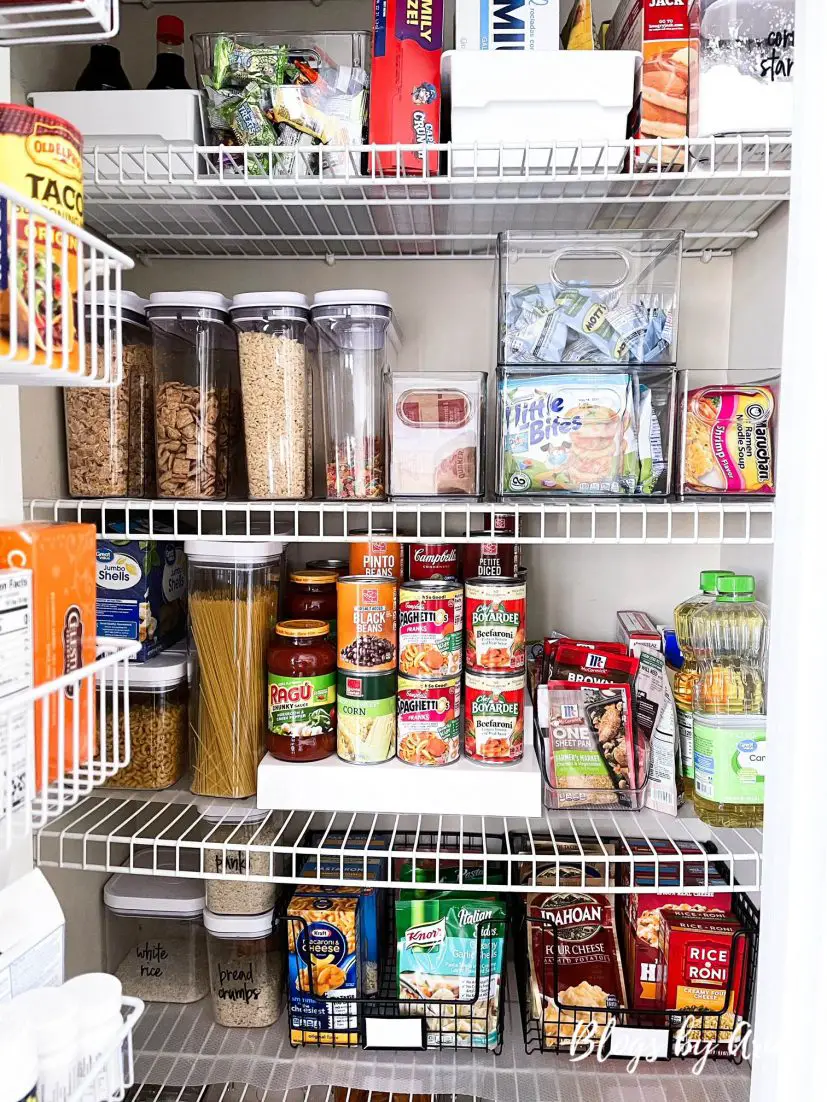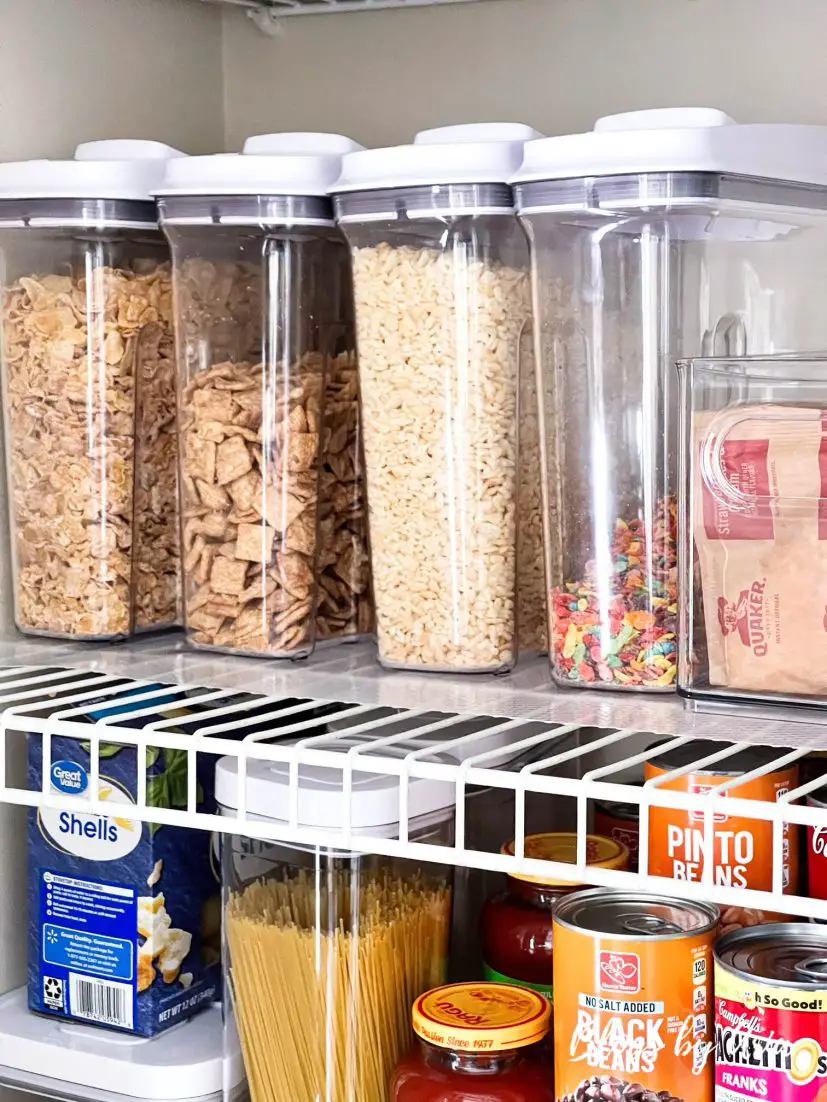 I can't tell you how much I love these cereal containers.  I had tried a less expensive brand and they just weren't as good.  We have the standard size, but I also have a larger one that they often sell at Costco at a great deal.  Sadly our pantry shelves aren't tall enough for a seamless fit so I'm holding on to it for our next pantry.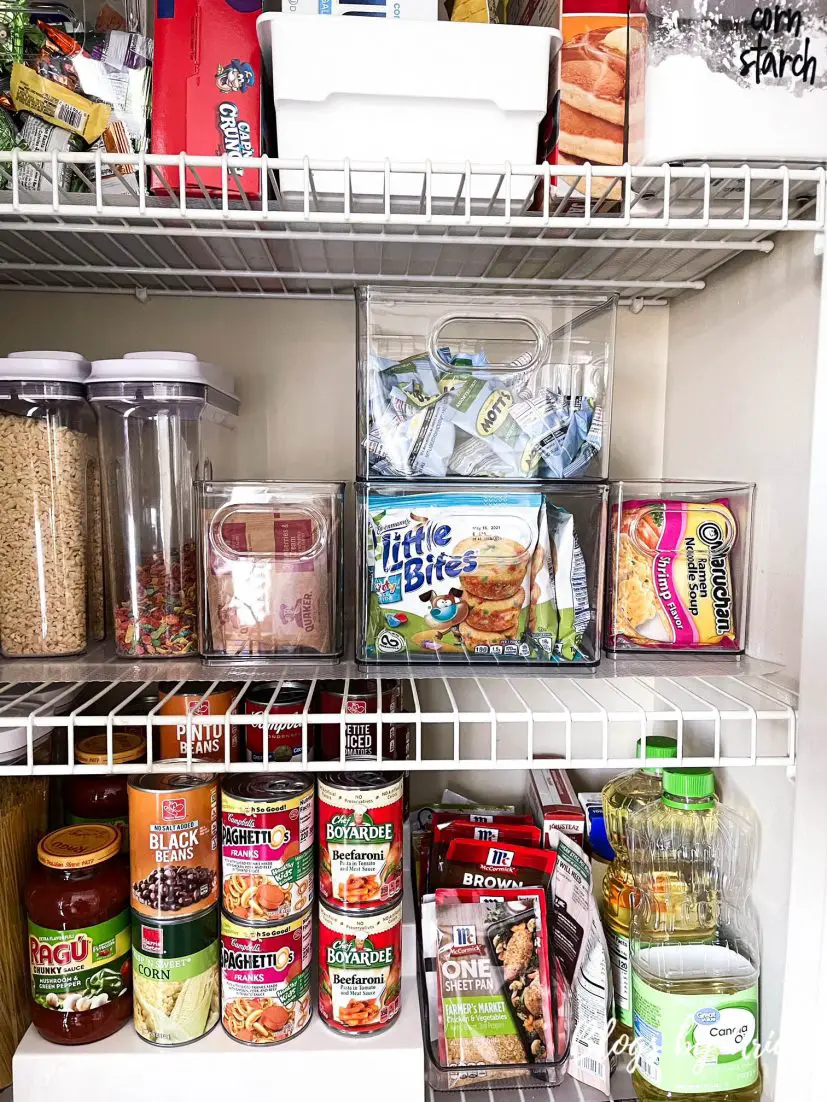 When I started organizing our pantry I wanted to put like items together.  So all breakfast items together, kids snacks together, etc.  That doesn't really work in our pantry due to size limitations.  Instead I chose to put all most used items in eye level and at arms reach.
You can see next to the cereal, I have a narrow container with oatmeal packets and divided bins that stack.  Thankfully there is enough room to stack these bins and those are the ones I'm going to replace the ones I got from Amazon with.  The Amazon bins will be put to use in our linen closet.
Technically they're divided freezer bins, but they're perfect for the pantry.  The narrow pantry bins are also stackable, so I want to get a few more of those too.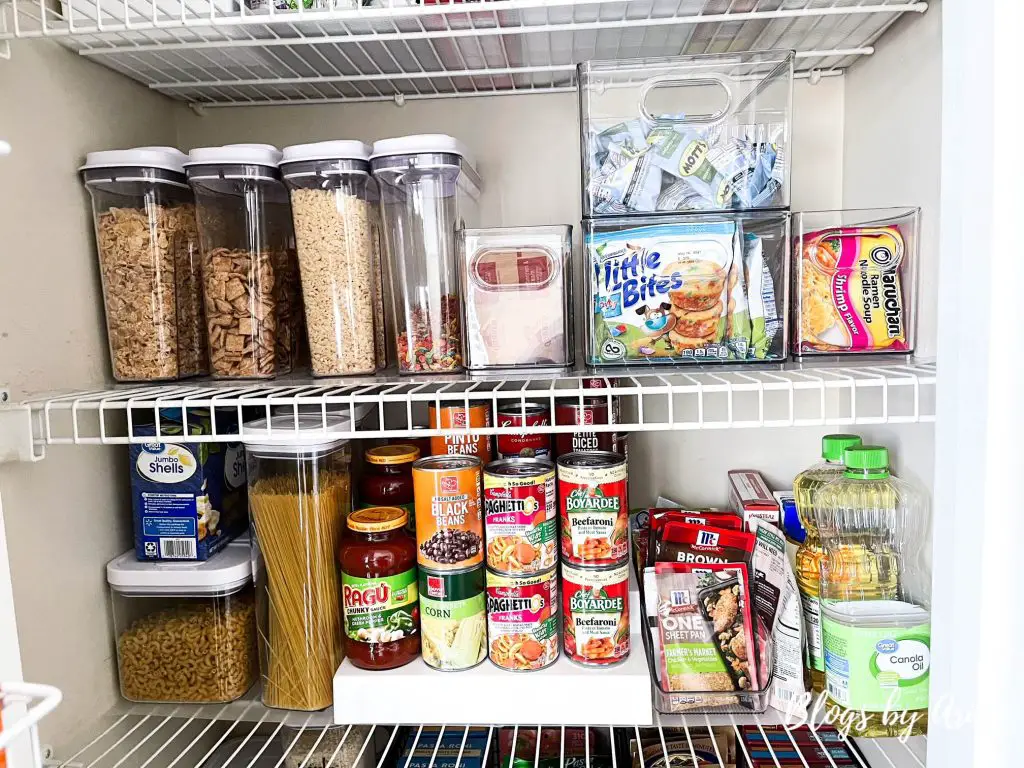 On the next shelf I have plenty of easy to access items I use when making dinner.  We have pastas, canned goods, gravy and seasoning packets, chicken stock and vegetable oil.
I've had this can organizer for so long and earlier in this pantry journey I had it expanded to hold more cans.  Something about the way these shelves are, they didn't allow the organizer to stay level when it was expanded.  Instead I just keep less canned goods on hand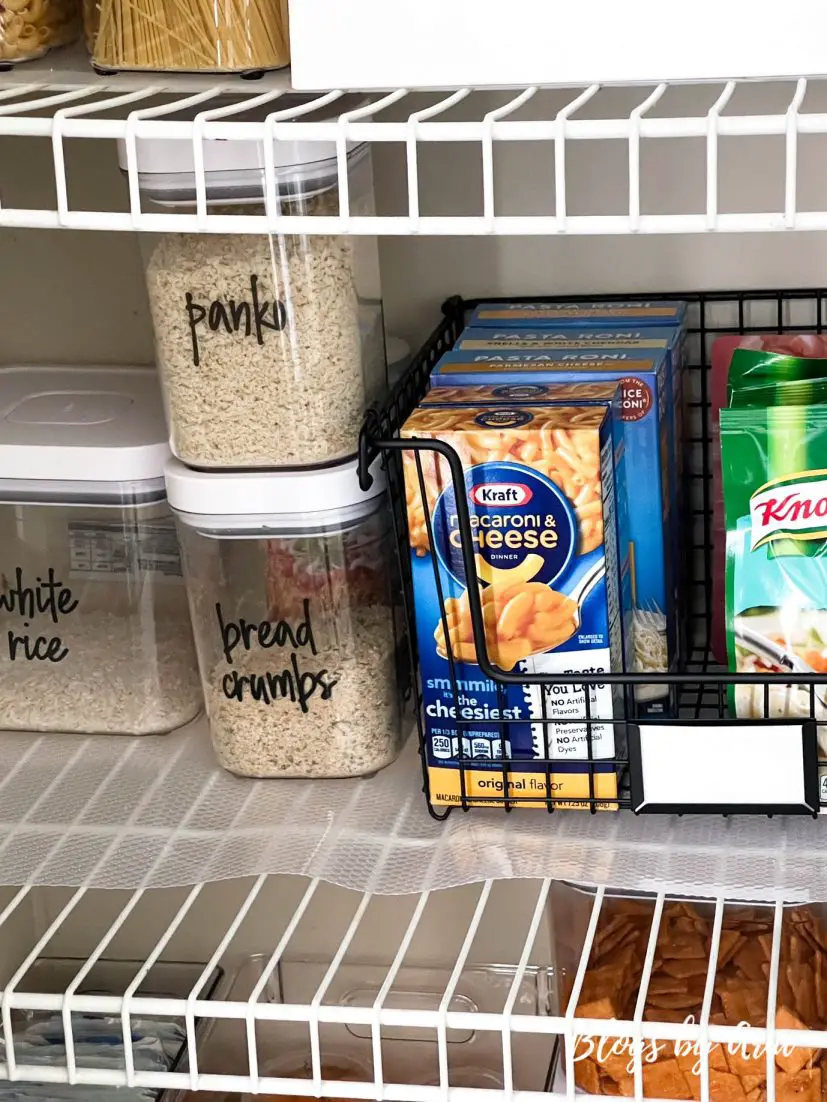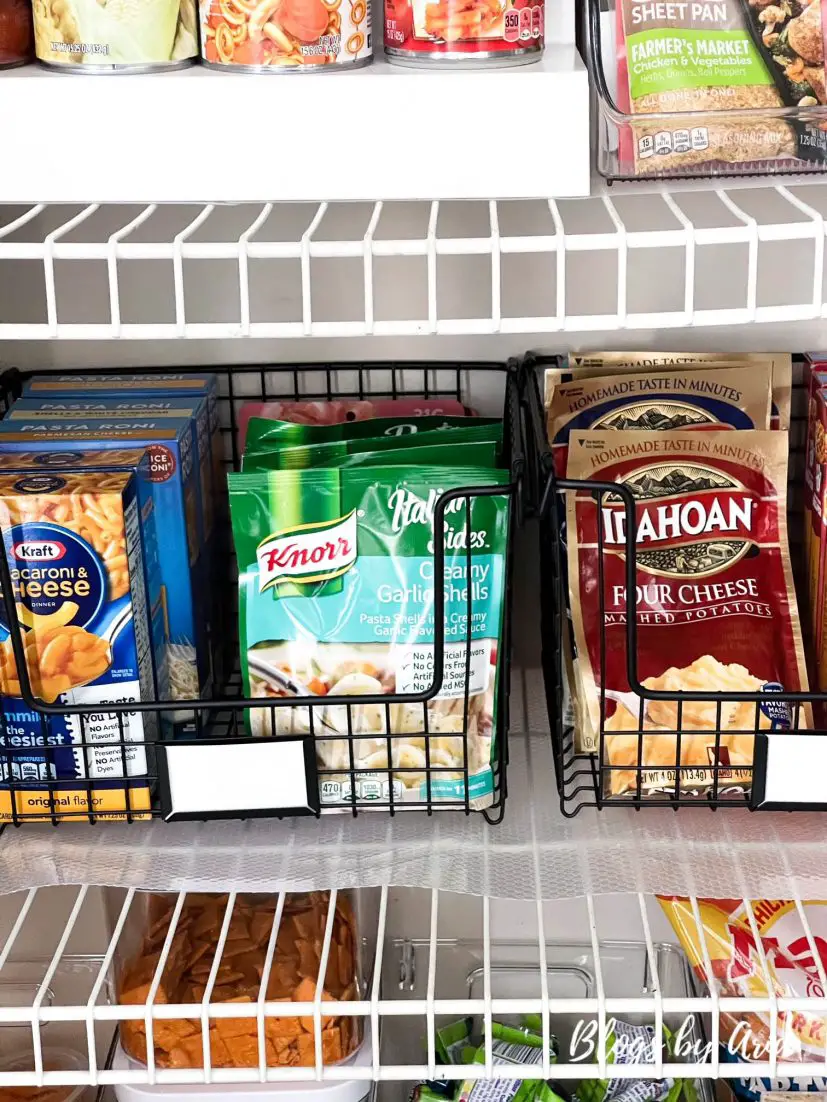 More easy to access items for cooking are on the next shelf.  These black baskets are also great for stacking…just not in this pantry.  When you have wire shelves, I suggest using a shelf liner to help keep things level and easy to slide.  I have some from The Container Store and a roll from Walmart.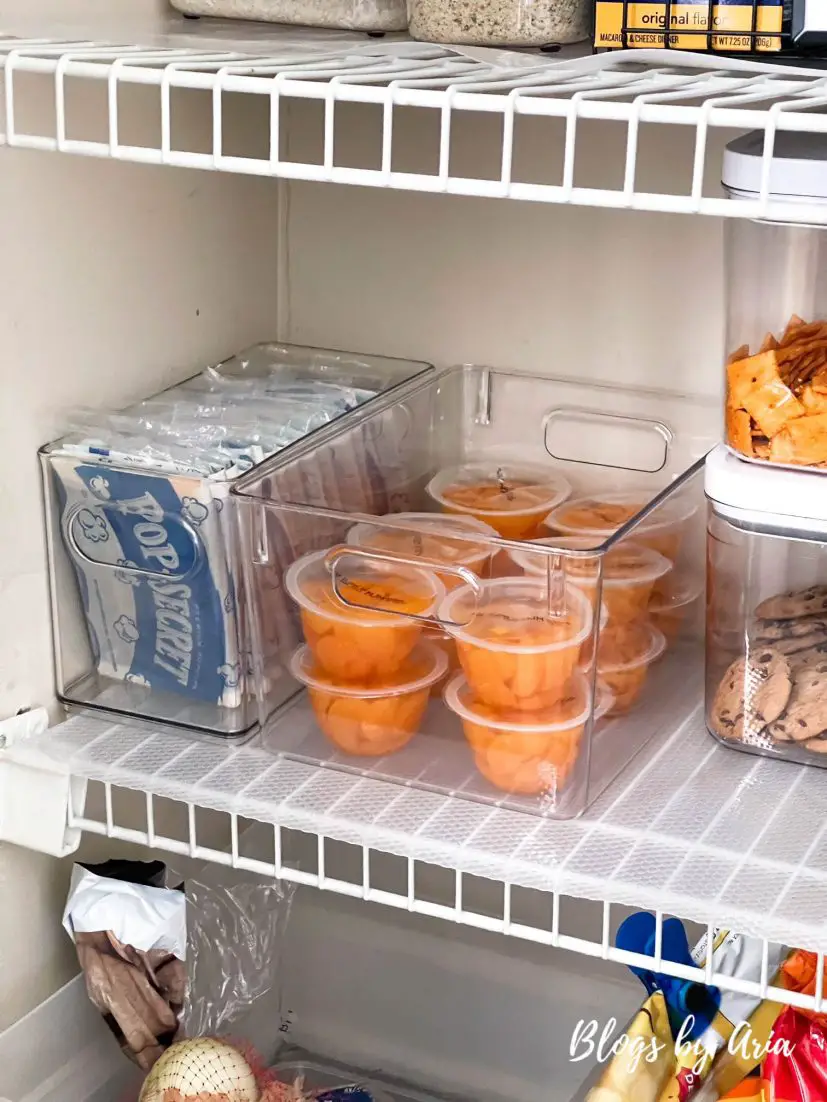 Another narrow bin to hold popcorn and a larger bin to hold snacks.  I'll be switching this bin out for the divided option.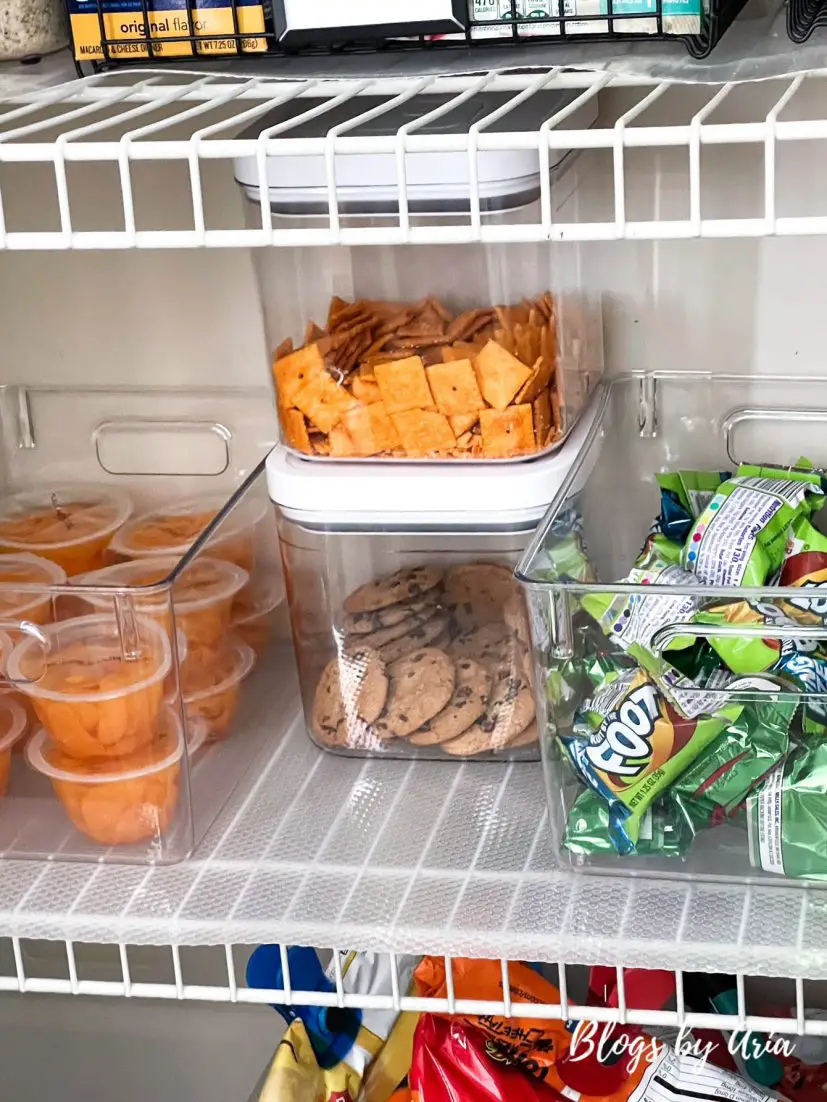 Technically we could double up these POP containers and store more here.  I got my POP container storage sets from Costco last Summer when they were on sale.  If you can't get them from Costco on sale, then I suggest The Container Store, preferably on sale, or from Bed Bath & Beyond because you can use their coupons.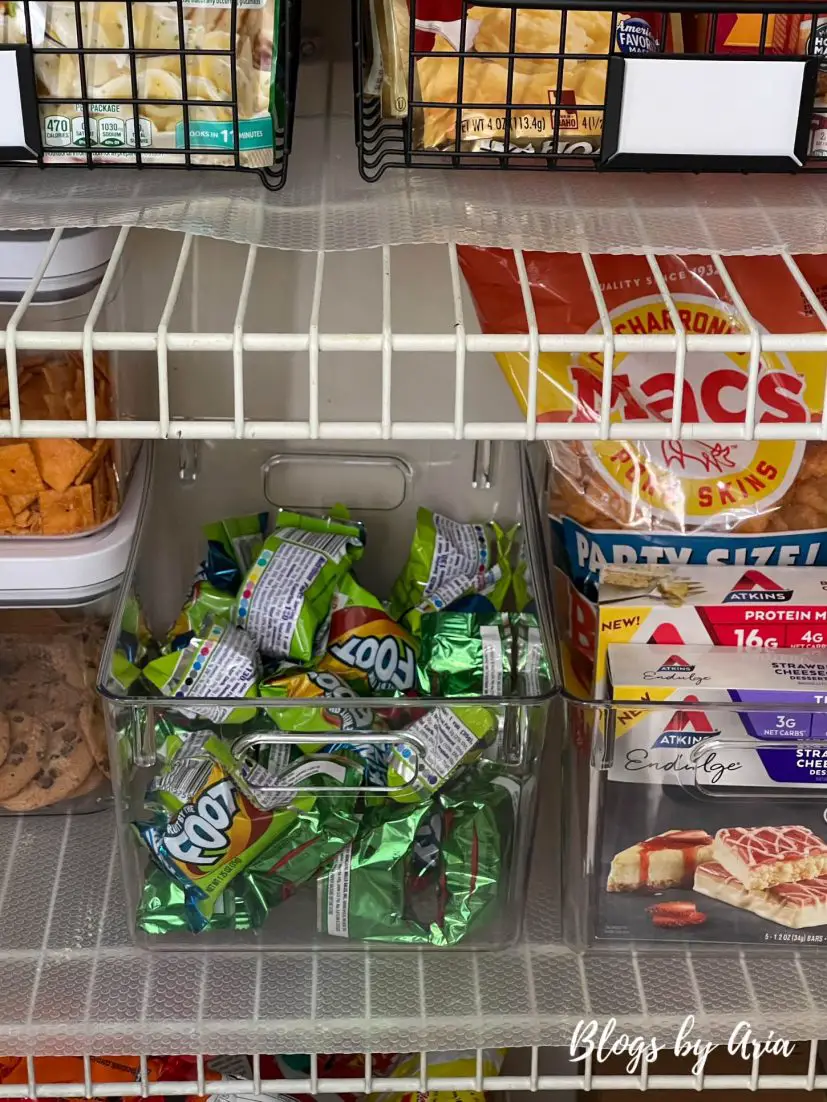 More snacks for the kids and then a little low-carb section for me.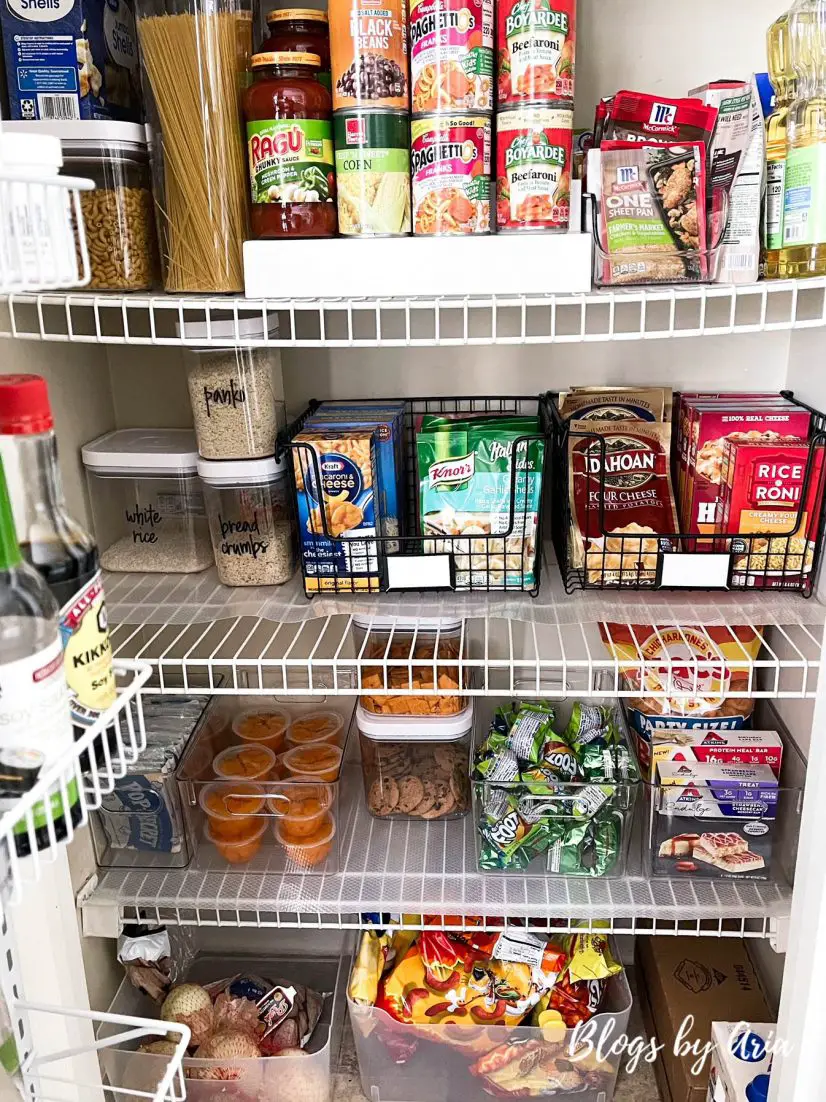 On the bottom of the pantry is still a work in progress.  For now it holds potatoes and onions as well as chips and protein shakes.  We used to keep sodas and bottled water here (as you'll see at the top of the post) but I moved them to our closet right off of the kitchen.
To be honest, I am so over dealing with bags of chips.  No matter how nice I have it set up, the kids either don't use the chip clips or don't put the bags back in all the way.  It's so annoying.  I'm thinking of just buying the mini bags of chips and maybe storing them in our kitchen cart.
I've been working on organizing our kitchen cart so I'll be sharing that soon.  I just want everything to function very well for us in this kitchen and at the same time be visually appealing.
Aside from a few tweaks I've mentioned, the pantry has been working well for us since I organized it a few weeks ago.  I'll be going back to The Container Store this weekend to get the last few items while they're on sale.
This pantry started off being the hardest area to organize of all of the spaces in this house I'm working on.  Although it started off a bit rough, it's the one space that's completed enough to be able to share!  The rest of the kitchen is a work in progress and this past weekend I've made some major headway in my master closet.  I don't know when I'll ever be able to share the master closet since it's a shared space but we'll see.
Are you doing any organizing this Spring?
{SHOP THE POST}