I'm kicking off my Fall decor this year with my easy Fall entryway.  I like to start my seasonal decorating with my entryway because it's a small space and it sets the tone for the remainder of the living space.  If you've been around here for awhile, you'll know that this is subject to change, but for now I am loving how my entryway decorated for Fall has turned out.
If you live in an apartment or condo or have a smaller entryway space I hope you get some ideas for styling it for Fall this season.
*this post includes affiliate links for your shopping convenience, you can read more about affiliate links by reading my Disclosure*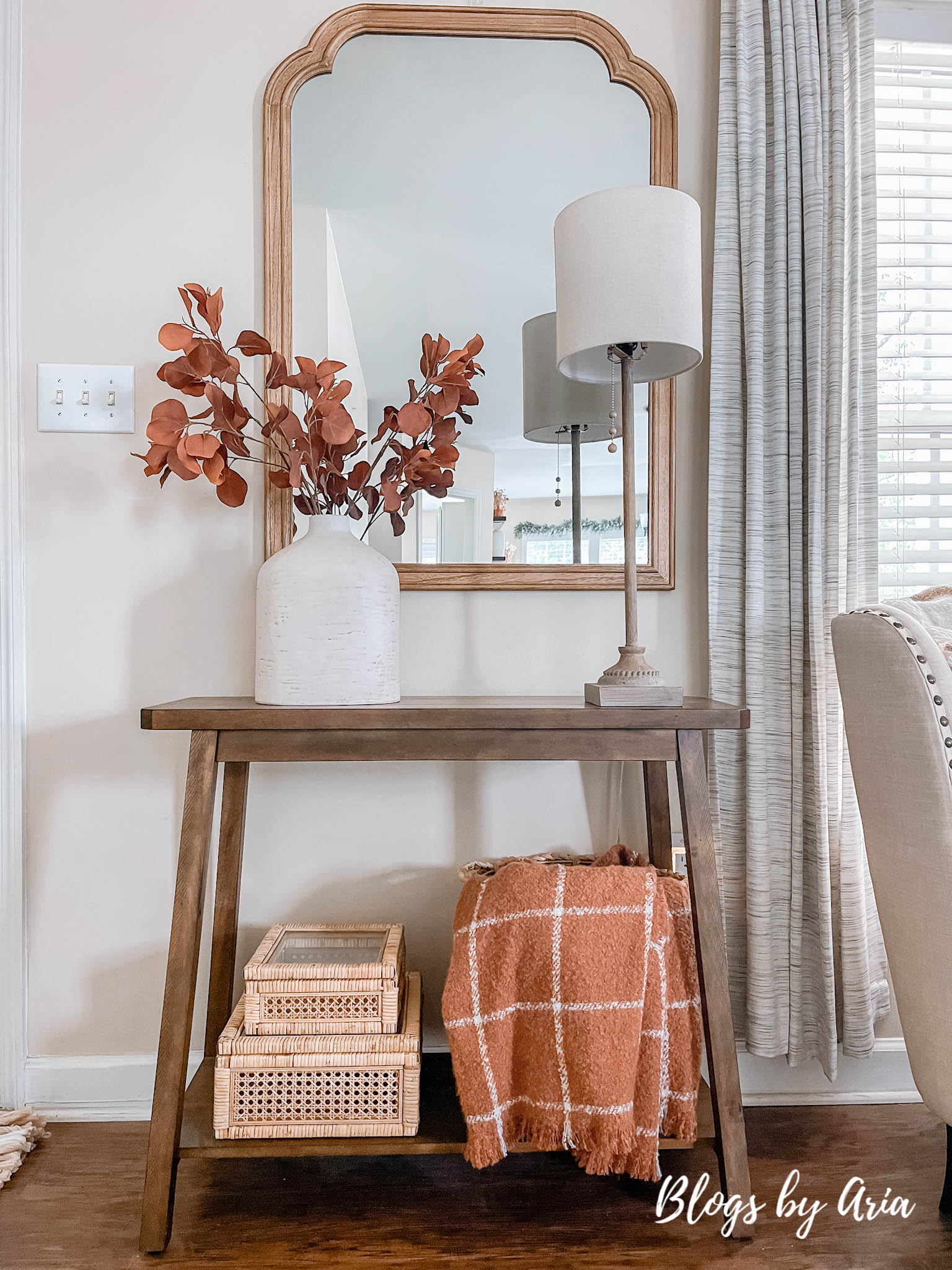 entryway mirror • entryway table • cream vase • buffet lamp • cane stacked boxes • similar throw blanket
I long for the days when I have a larger entryway or foyer and therefore can have a larger entryway table.  Until that time comes, I enjoy decorating my smaller console table.  If there are any two pieces of furniture I get asked about the most in my home, it's my entryway tables.
This one is from Pottery Barn and I shared a full review here.  The second one is the my entryway table with drawers that you'll see later in this post from Walmart.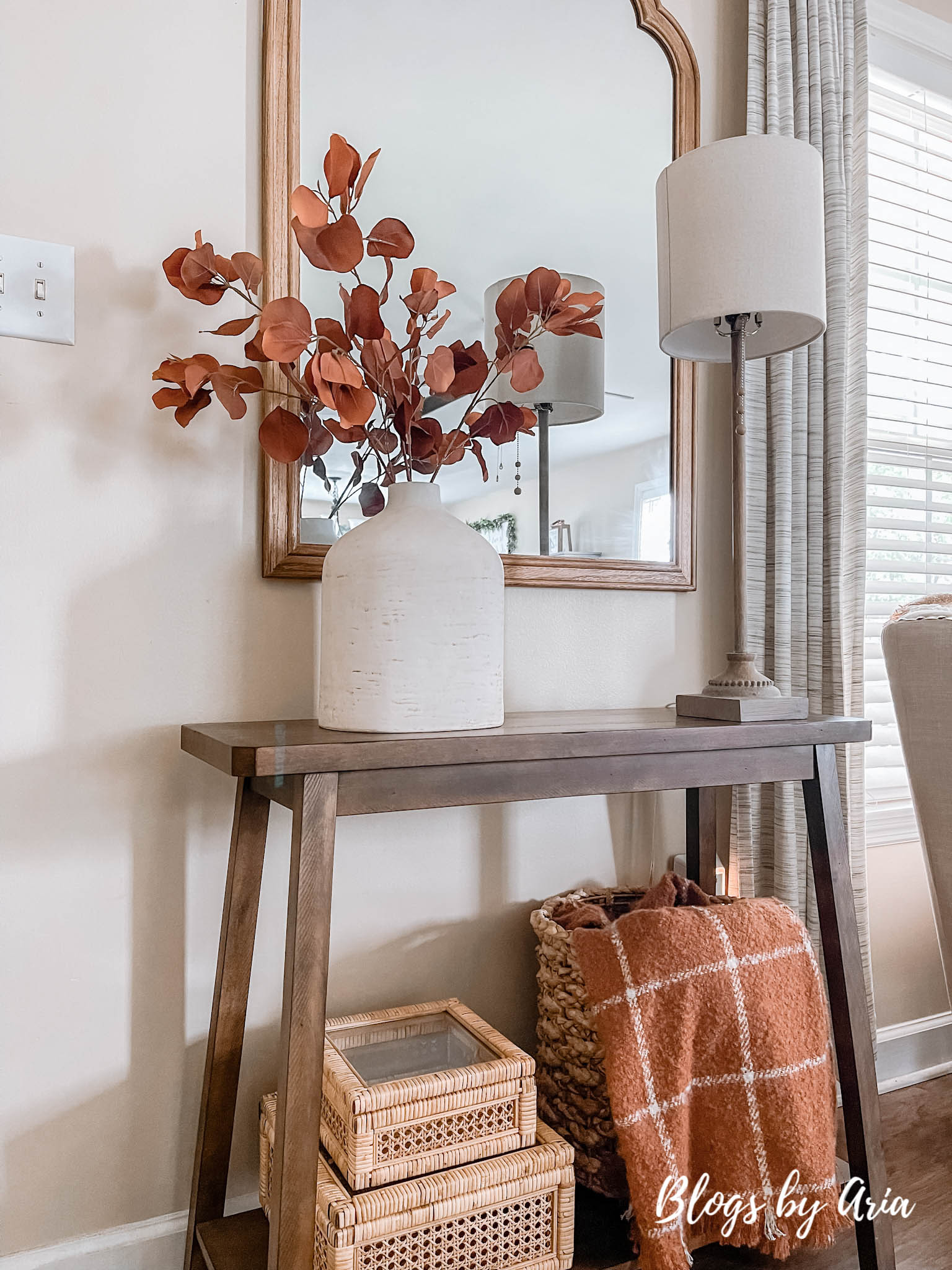 Have you ever walked through a store (ahem, Target) and see something that catches your eye but you're not in love with it so you don't buy it?  Then several months later you see it again and again and finally you're like okay, I'll buy it.  Then you're so happy that you did?  Oh is that just me?
Because that's my relationship with this vase!  In case you missed it, on my YouTube channel I shared a Target Fall decor haul and I picked up this vase and the taller version.  I purchased the taller version first because I knew where I wanted to use it.  Then I went back and got this shorter version and didn't know where I was going to use it.  It's perfect styled on my entryway table!
My golden hops wreath has been a favorite for years.  There is a similar wreath available but I just love the golden color of my wreath.  The entryway rug is from Target last year (the Studio McGee line).  There's hope if you like it, it shows it's available for in stock alerts so maybe it will come back soon.
Moving over to my second entryway table.  This table is from Walmart and used to be my main entryway table.  Eventually I moved it over to this landing at the foot of my stairs in hopes to keep the keys, the mail, all of the things.  And retain the decorative beauty of my main entryway table.
entryway table • similar eucalyptus stems • similar amber glass vase • similar woven pumpkin
I know I only just started decorating but so far this is the only pumpkin I've pulled out so far!  We'll see how it goes.  In this space my goal is to keep it cleared from clutter.  That's the goal and I don't always achieve the goal but I strive to.
As you can see the bottom of the console table is for my husband's work boots.  It gets messy and I don't bother to clean it.  I guess I could get a boot rack to help protect it.
I like to keep the top mostly clear so that mail can go here, keys and things like that.  We keep masks and lots of random things, like keys when I'm taking photos, in the drawers.
It's a hard space to photograph with the window but I hope you can see how pretty this pumpkin is.
accent chair • woven plaid square throw pillow • woven striped lumbar pillow • color block throw blanket • side table • linen tray • faux rusted eucalyptus arrangement • lidded woven basket
I quickly snapped a couple of pictures of my accent chairs styled with the entryway in the background.  This is subject to change of course so might as well share it!
Now that I've dipped my toes in a little with decorating my entryway for Fall I'm excited to decorate the rest of my home!
No Description
I shared a YouTube video while I had a few moments of alone time this weekend to share my Fall entryway decor.  It's short and sweet because my entryway is small.
If you're not already, consider following me on YouTube.  I'm excited to share even more decorating videos soon!
And if you'd like to get even more home decorating inspiration for Fall, be sure to follow me here:
Facebook | Instagram | LTK | Tik Tok | YouTube 
FALL ENTRYWAY DECOR