Are you as obsessed with Pottery Barn as I am?  It's no secret that Pottery Barn pieces can be quite pricey but they are also known for their quality.  If you've had your eye on a larger furniture piece from Pottery Barn and are scrolling on their website you might realize something is missing…the reviews!  There are no reviews on their site.  Which isn't great if you're trying to decide to invest in furniture.
What they provide are customer submitted photos, which is nice but I need more than a picture, I need words.  A few months ago I purchased the Mateo console table from Pottery Barn.  I'm going to give you a review and my overall thoughts on it and if I would recommend it.  As I am able to invest more into Pottery Barn pieces, I will review those as well.
*this post includes affiliate links for your shopping convenience, you can read more about affiliate links by reading my Disclosure*
POTTERY BARN MATEO CONSOLE TABLE
I purchased the Mateo console table to have a small table in our stairway landing.  That space used to collect shoes and sports equipment, it was always a mess.  It was my intention to find a console table that could fit the small space.  You can read all about my search for small console tables here.  There's lots of other sources in that post in case you're trying to find something for a small entryway.
For the purposes of this post, I pulled the console table into my entryway to get better pictures.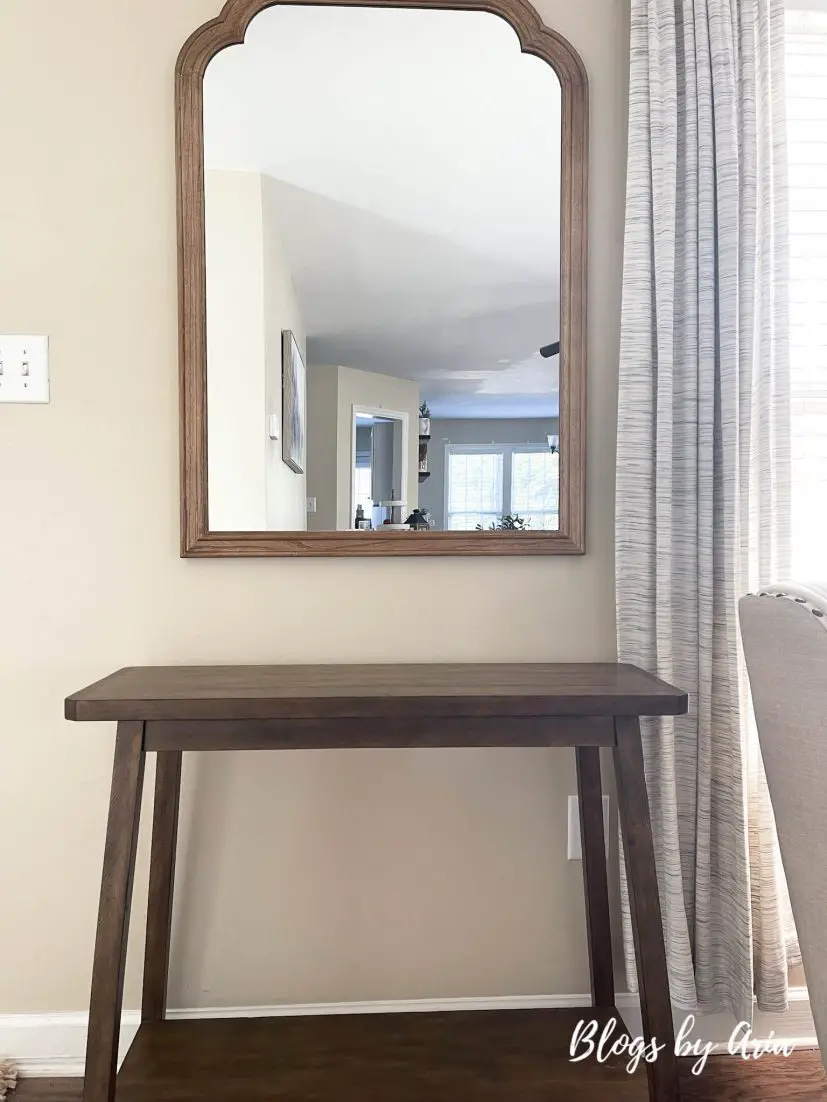 Before jumping into showing the table decorated let me show you the basics of the Mateo console table.  As you can see it's perfect for a small space.
The table did require assembly but it was very simple.  Took me less than thirty minutes to complete.  It's also very stable and doesn't wobble.
One of the aspects I love the most is the finish and texture.  I have the console table in salvaged black.  To the eye it's simply a dark wood finish.  It also comes in salvaged gray and salvaged natural.  The gray is a gray wash and I'd say the natural is similar to Pottery Barn's seadrift colors, closer to the trim around my mirror.
In terms of texture the table is smooth and I think I can appreciate that more because my other entryway table is very rustic.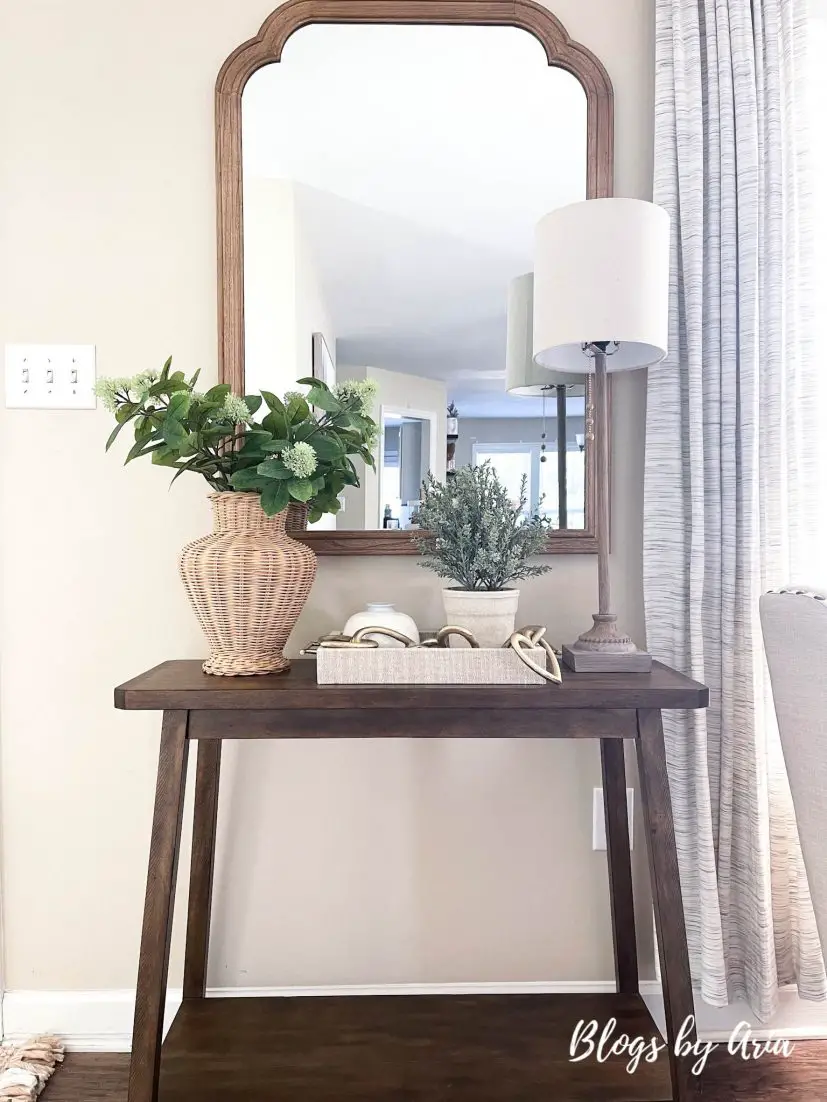 Recently I styled my entryway table with a few of the pieces I've picked up from the Studio McGee release.  I styled my other entryway table and took what I had on there and added it to this one and it was all able to fit.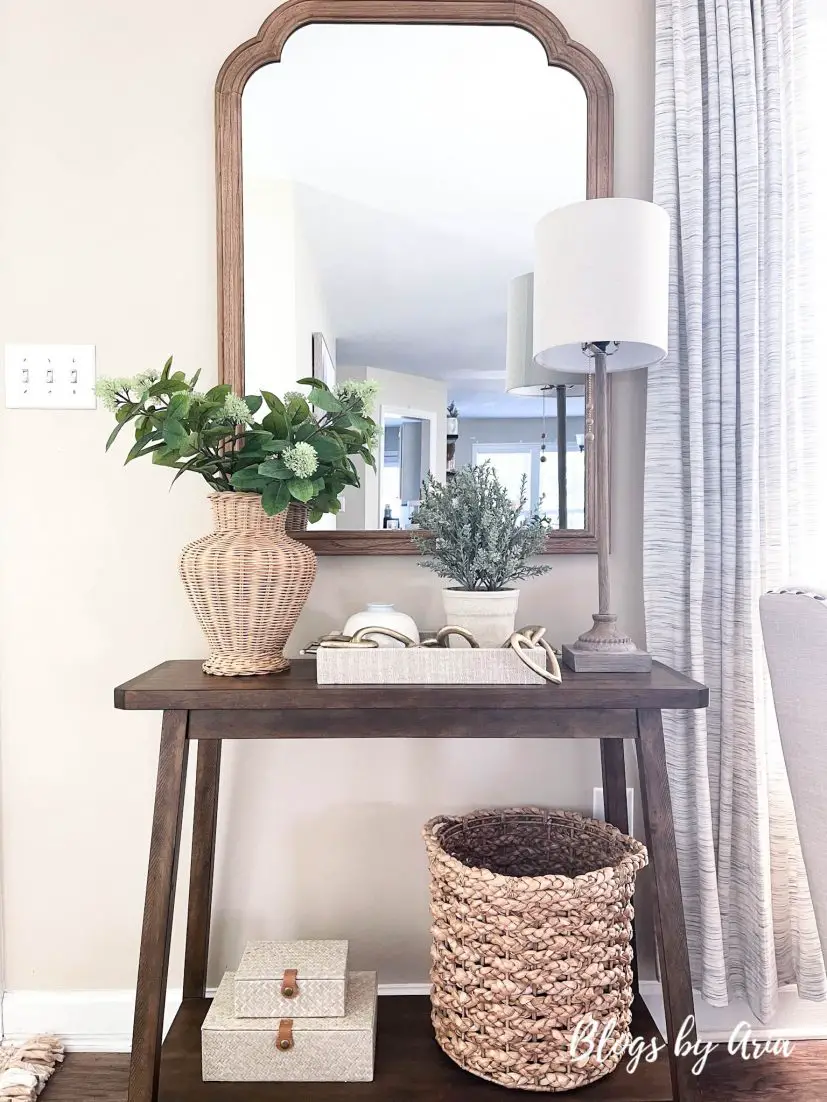 console table · wall mirror · woven vase · seeded green stems · linen tray · glazed jar · faux flowering thyme plant · similar lamp · small woven box · large woven box · decorative basket
Most of what I have here is from Target.  That's not intentional but what can I say?  They've been hitting it out of the park lately.  I still need to find one of my throw blankets for the basket…you know I have more than a few!
After taking these pictures I decided to remove the lamp.  I'm always moving my lamps around so for now I think I'll just leave it without the lamp.
DO I RECOMMEND IT?
If you're looking for a small space entryway table I think the Pottery Barn Mateo console table is a good buy. In addition to working in an entryway it also would be nice in a hallway or stairway when you need a little something for function or decor. I've also seen it used in a bedroom.  Endless options with this table!  It's at a good price point and sometimes goes on sale.
Like I mentioned before, there is assembly required but it's really simple and quick.  No arguments will be caused trying to put it together!
Now that I've styled my Pottery Barn Mateo console table in the entryway I really like it here.  The stacked boxes will probably go back to my bookcase and I'll find something else I already have to put here instead.
I've decided to do a little switcheroo and put the old entryway table in the stair landing and it fits well there.  Using the Mateo table here lightens up the space a bit and is very aesthetically pleasing.
POTTERY BARN REVIEW SERIES
I haven't had a ton of Pottery Barn purchases aside from the Mateo console table and pillow covers.  In the future anytime I get a furniture piece from Pottery barn I will do a full review after I've had some time to live with it.  I think it's very important when you're spending a lot of money to get some insight.
If that's something you'll like then know that will be coming in the future.  And if you'd like me to give reviews on some of the items I already have I can do that too.  Most of the furniture in my home is from Wayfair and Target so I can definitely go into detail about quality and durability.  I answer a lot of those kind of questions in my DM's on Instagram but I'd be more than happy to do full blog posts on them.
{SHOP THE POST}