I'm making progress in my Fall decorating and I'm sharing my Fall styled floating shelves with you today.  Decorating floating shelves can be a challenge.  Hopefully you'll get some Fall decor inspo if you are decorating your space.
My floating shelves are in my dining room but aren't kitchen based or coffee bar themed.  That can pose a bit of a challenge with styling them in a way that looks cohesive and not cluttered.
We added these floating shelves last Fall and you can see how I decorated them last year.  This year I wanted to see if I could come up with something new and fresh.
*this post includes affiliate links for your shopping convenience, you can read more about affiliate links by reading my Disclosure*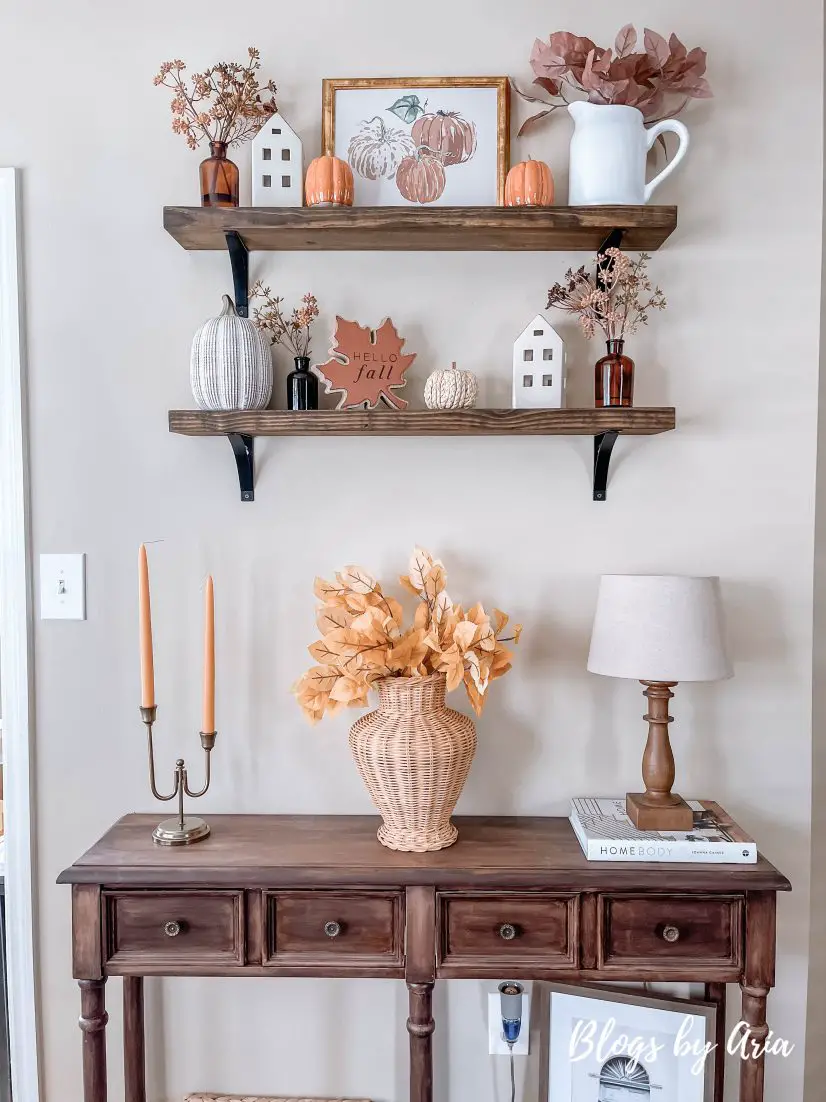 wall shelves • amber jar arrangement • pumpkin art • dark amber jar arrangement • double candelabra • woven vase • taper candles • console table
Right now the shelves are still a work in progress.  But this is what they look like today.  I'm happy with the top shelf but the bottom one I'm still tweaking.
When I decorate I will style it and leave it for a few days.  Then I'll come back and move some things around and leave it.  And repeat the process until I'm satisfied.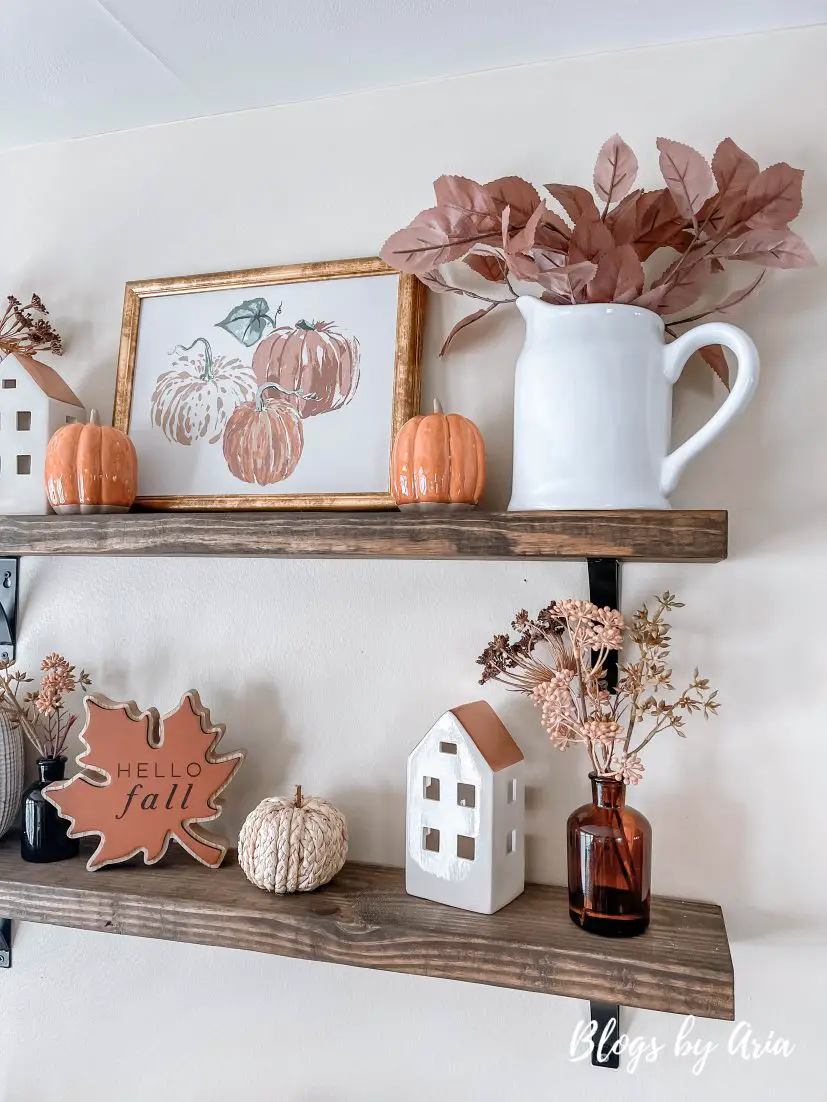 When I first saw this pumpkin framed art I knew it would be perfect for these shelves.  It's not too large and the colors compliment the other decor pieces I've used.  If you like the print but don't want wall art, there's a similar pumpkin pillow too.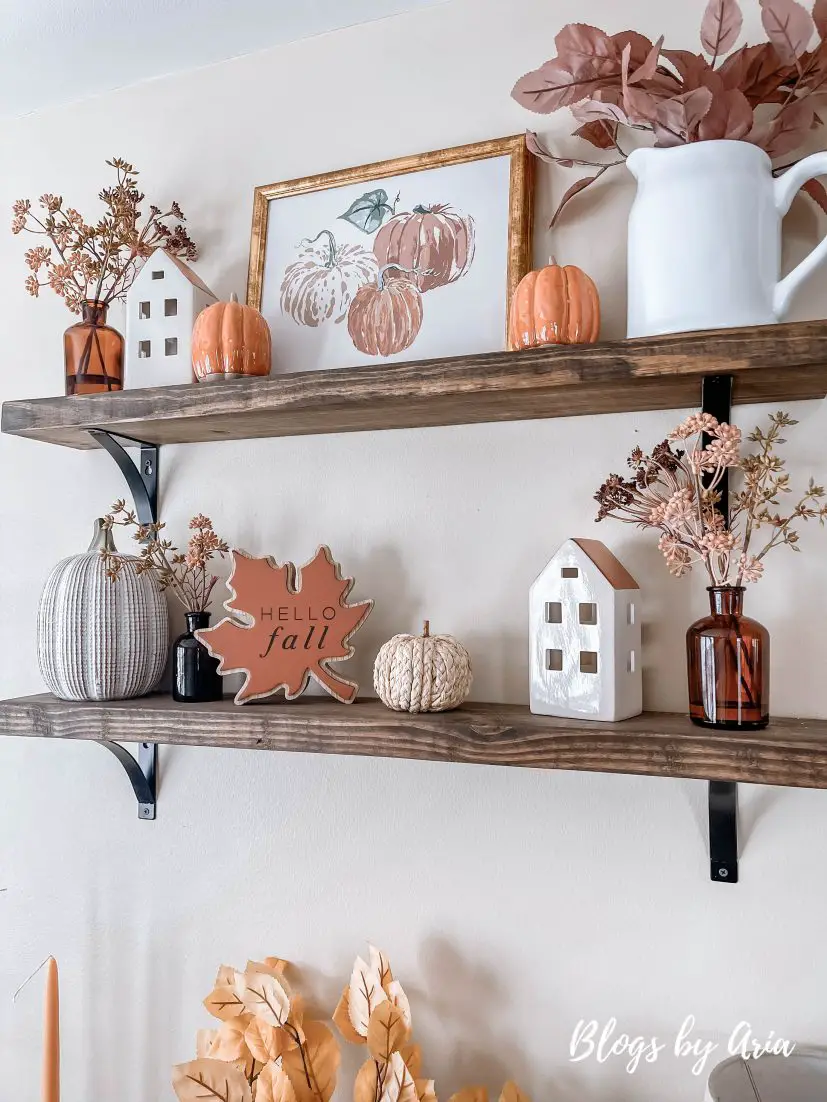 The middle of the bottom shelf is what I want to tweak.  I think I need something a little larger than the woven pumpkin.
Everything else on the floating shelves I've already had except for the two houses and the amber glass jar arrangements.  The houses are from Hobby Lobby and are the only new pieces I got from Hobby Lobby this year.  I love their copper roofs!
The amber glass arrangments are from Target, the Hearth & Hand line.  You can see my Fall decor haul here.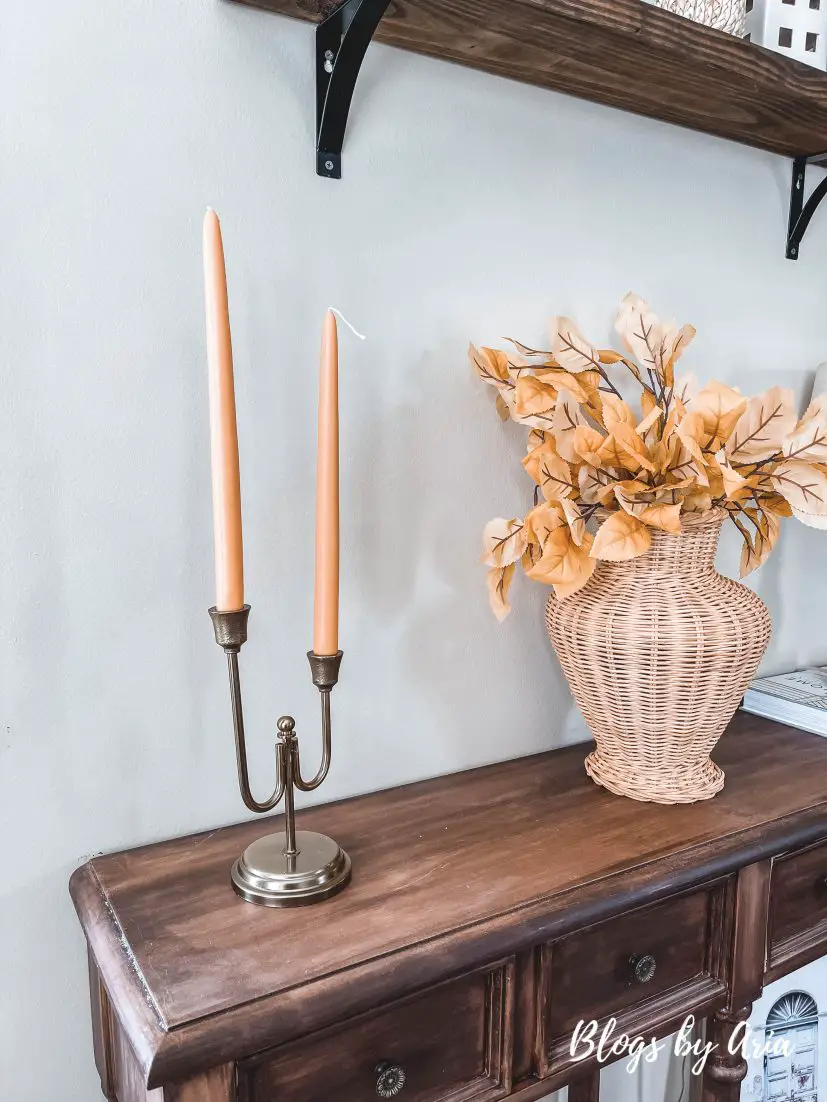 I recently decorated this space on my latest YouTube video and used candles from my mantel here on my console table.  I liked the candles but not the candlesticks.  So on yet another Target run, I picked up this staggered brass candelabra and it's the perfect fit!
I filled my woven vase with golden stems that I got a couple of years ago from Target.  If you've been here for awhile you definitely recognize them!
To break up the yellow hues I may add a small pumpkin or something, I'm still deciding.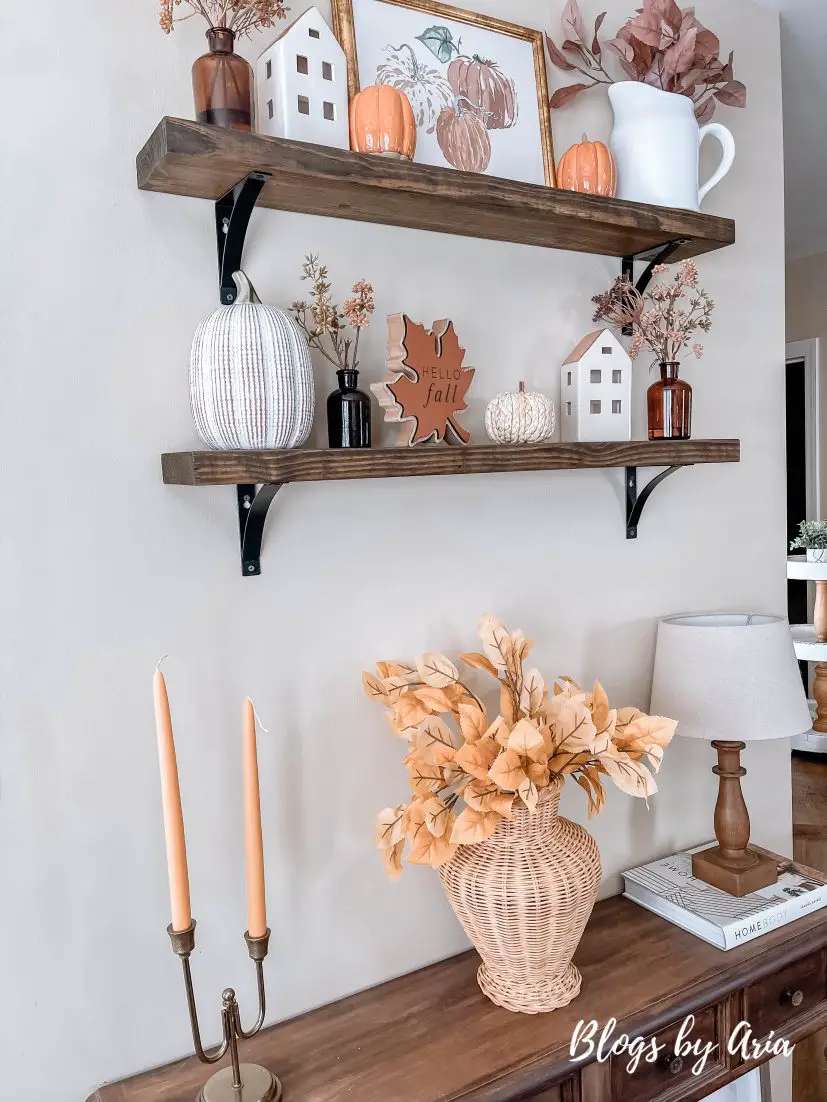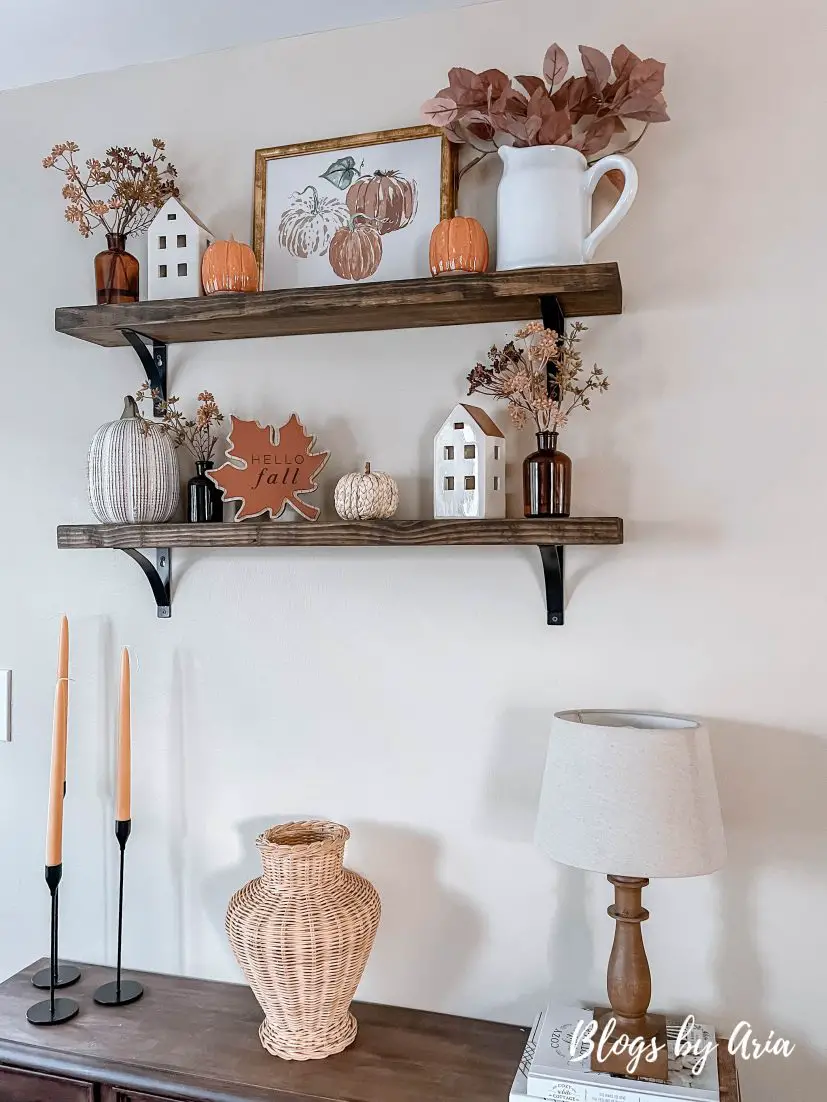 Here's a look at what this space looked like before I switched to the candelabra and found the right stems for my vase.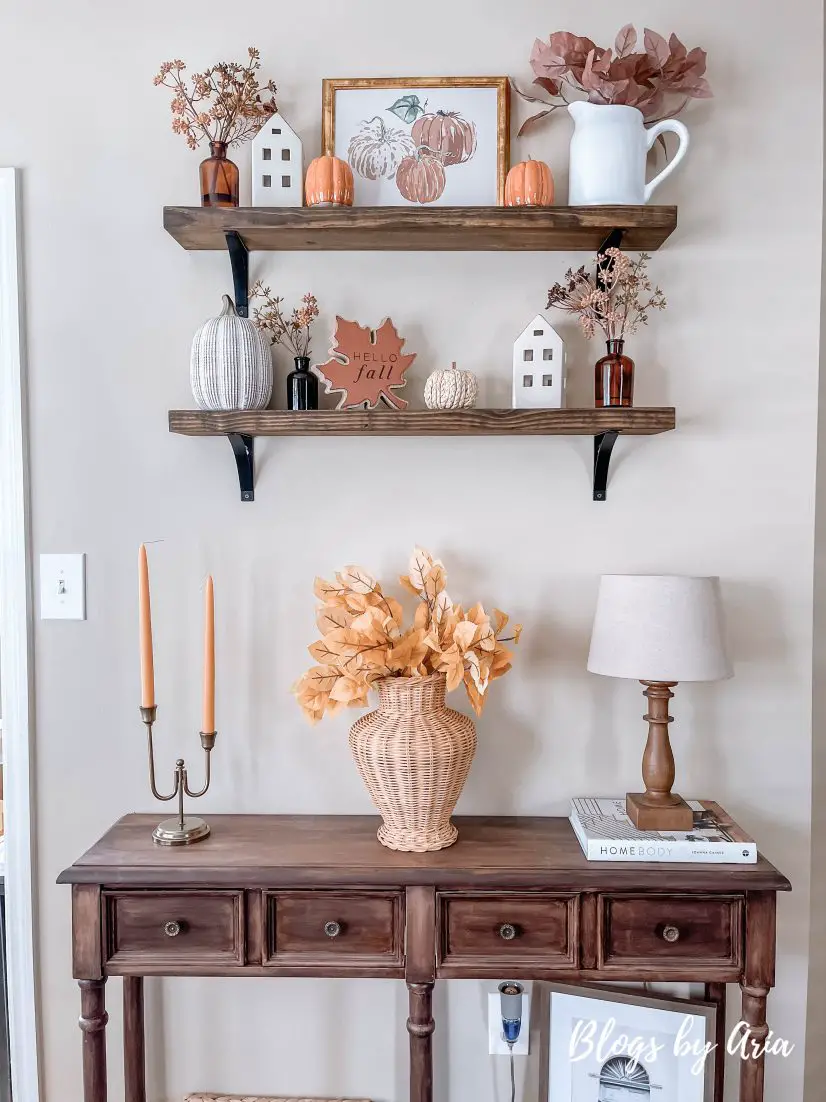 Overall I'm pleased with how my Fall styled floating shelves have turned out.  I'll be sure to share the completed space when I share my Fall home tour soon.
Next I'm making adjustments and tweaks to my living room.  And I'll be decorating my kitchen and powder room soon.  That means lots of Fall decorating inspiration is coming your way!
If you'd like to get even more Fall home decor, Fall fashion inspiration and finds and all things random, be sure to follow me here: