We're at the weird stage where we're thinking Christmas because if we blink twice it will be here, many people have already decorated for Halloween, and I'm still sharing my Fall decor.  It's a little crazy but we're gonna roll with it!  If you're still here for the Fall decor that's great because today I'm sharing my Fall dining room.
Still to come is my Fall home tour and everything that I want to share that I haven't shared yet will be included in that post.  Somehow time and opportunity got away from me this year.
When it comes to decorating my dining room for Fall, it's about keeping it simple.  If you're new here, we don't have a separate dining room and breakfast space.  We have our dining room table that also doubles as my home office.  It's where we eat every day.  So there's no fancy tablescape going on over here.
*this post includes affiliate links for your shopping convenience, you can read more about affiliate links by reading my Disclosure*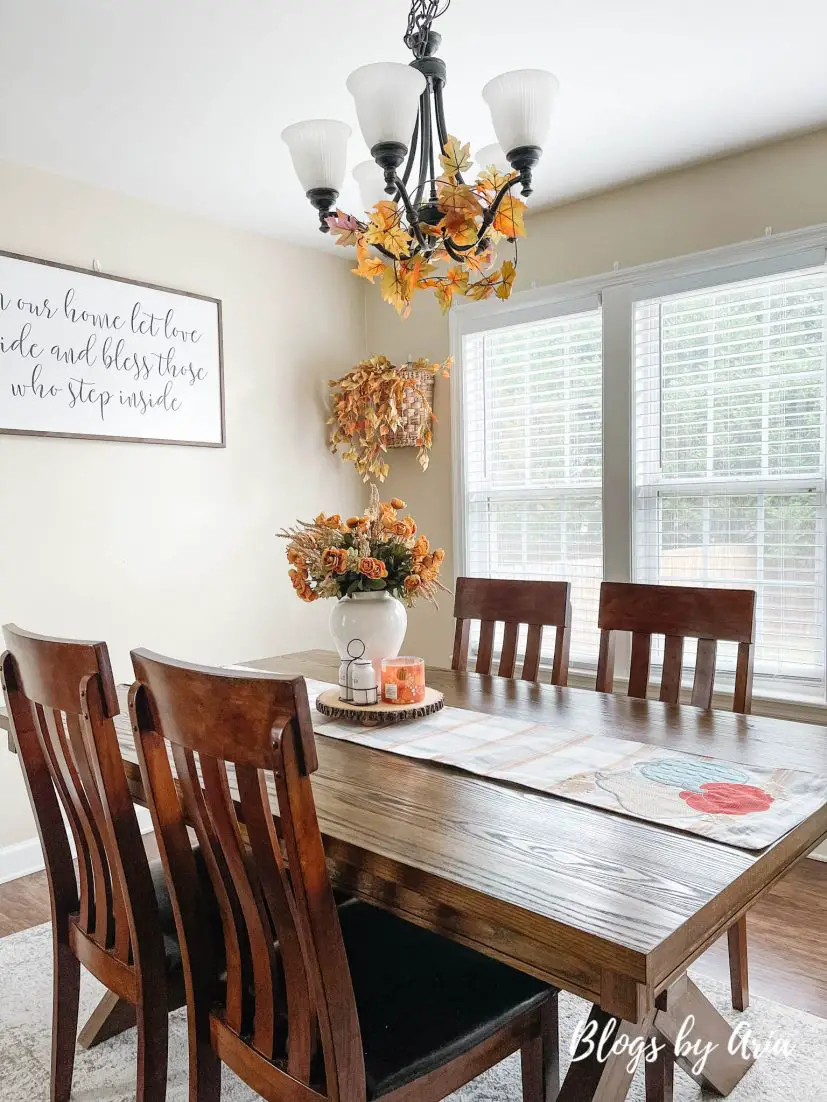 dining table · dining chairs · area rug · ginger jar
Even though I don't have the more elaborate spaces I'd like to have, I still wanted to do a little something in my dining room.  By keeping my centerpiece small, it's easy to move out of the way when needed.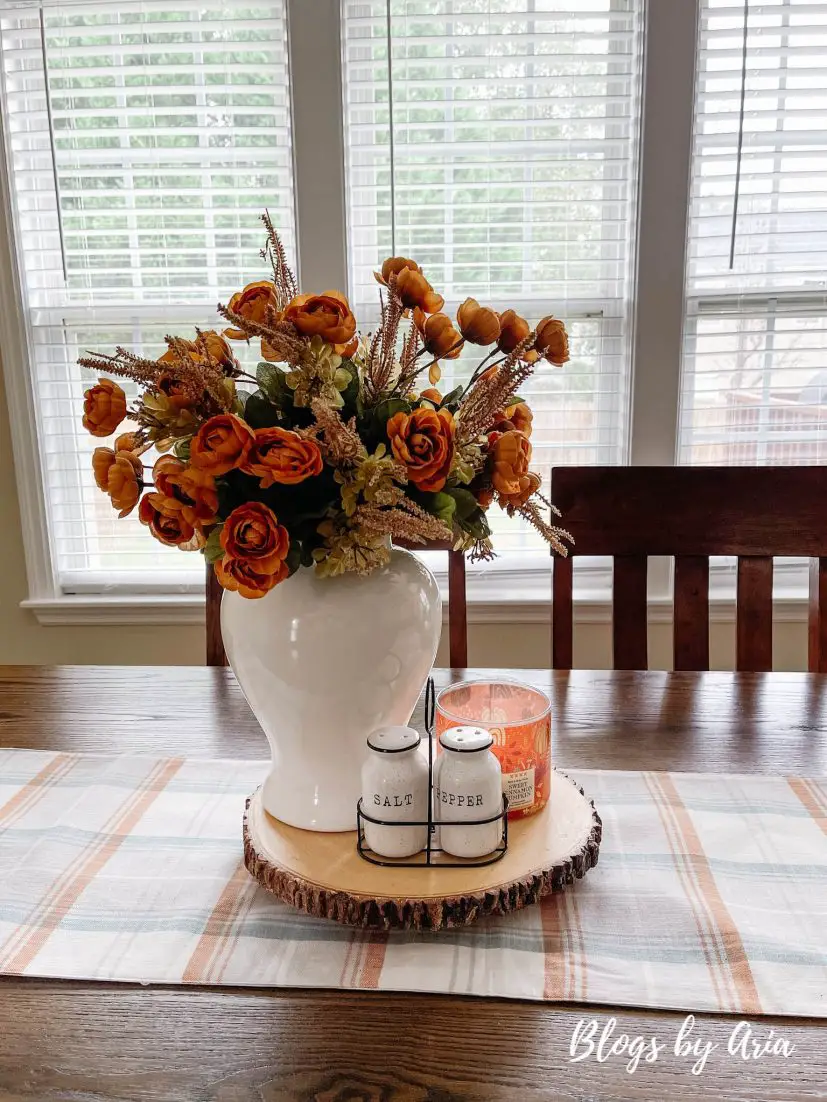 ginger jar · wood slice centerpiece
You may remember these marigold flowers that I had in my wall pockets.  You'll see in just a moment that I changed up that wall space.  I still wanted to use these pretty flowers I got from Joann Fabrics last year.  I think they really pop against the white ginger jar.
I paired it with my favorite Bath & Body Works candle, salt and pepper shakers and my wood slice centerpiece.  I got the centerpiece and the table runner last year.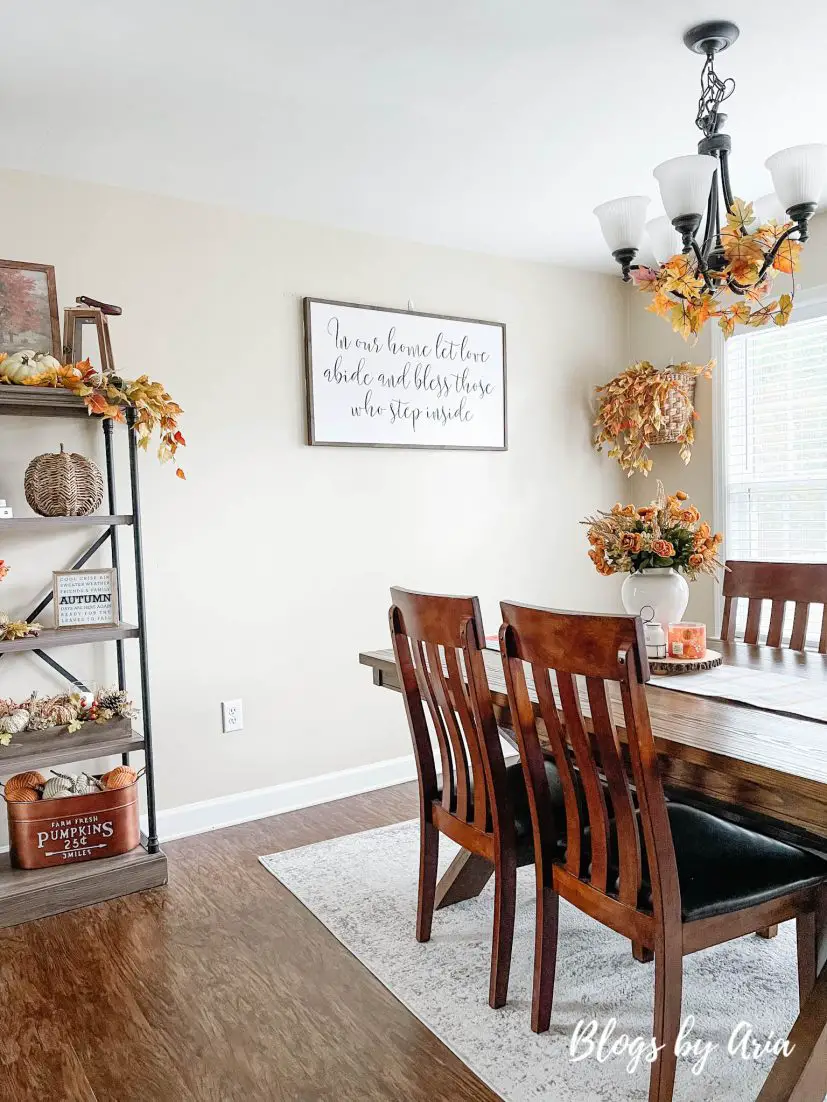 I kept things pretty simple with my overall decor for the dining room.  I used the same stems from the top of my bookcase in the wall basket.  I'm all about bringing in the fall foliage!  It's one of the top things I love about the season!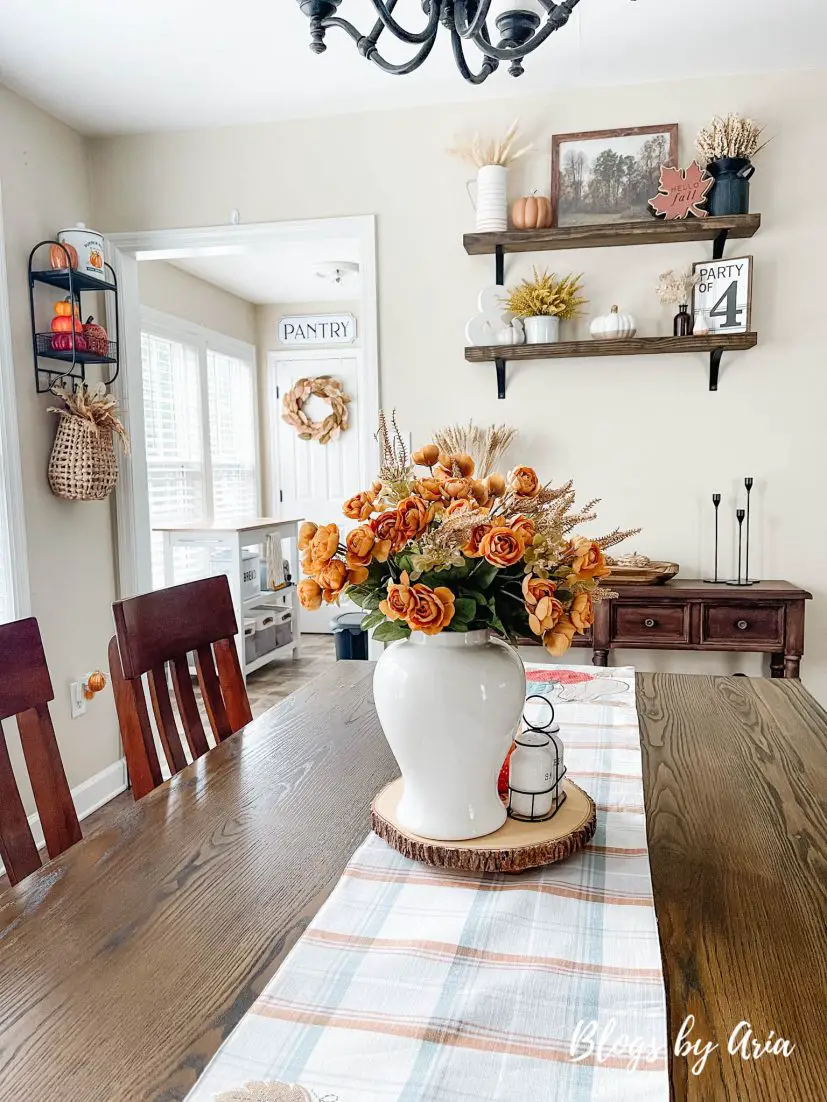 The big update in my dining room is the addition of these floating shelves!  I've always wanted floating shelves but just figured it would have to wait for our next home.  One day I was scrolling through Instagram and came across a picture with floating shelves and I thought, why not?
After a lot of research we ended up getting the same floating shelves as our powder room, just in a larger size.
floating shelves · art print · candlesticks · goldenrod plant
I had so much fun styling these shelves for Fall!  Everything I used I already had with the exception of the little mini pumpkin I got from the Target Dollar Spot.
Adding this art print that I originally had on my bookcase to my shelves was the perfect move!  I'll show you what I changed around on my bookcase in my Fall home tour.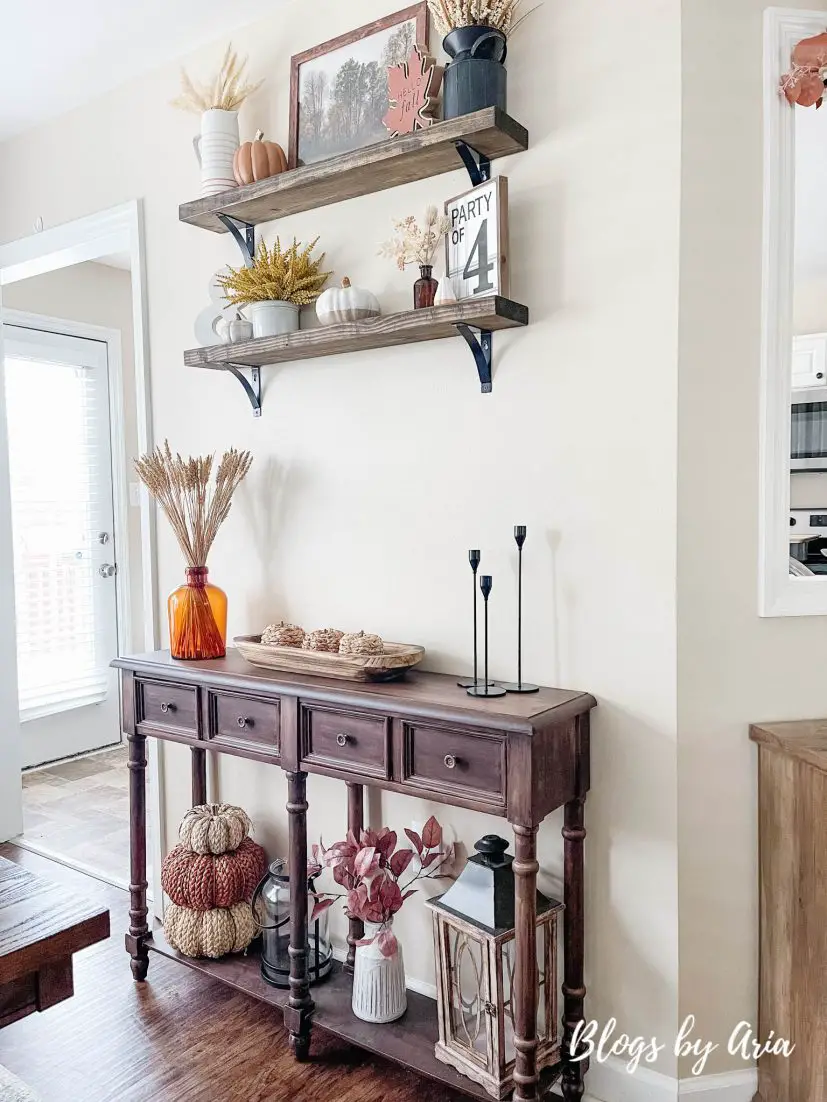 I just added a few things to the bottom of my console table for now.  I plan to get some baskets eventually because no one can really see the decor down here.  Again everything used, I already had on hand.
After I took a few pictures I ended up scrapping the garland I have on our light fixture.  It was annoying me!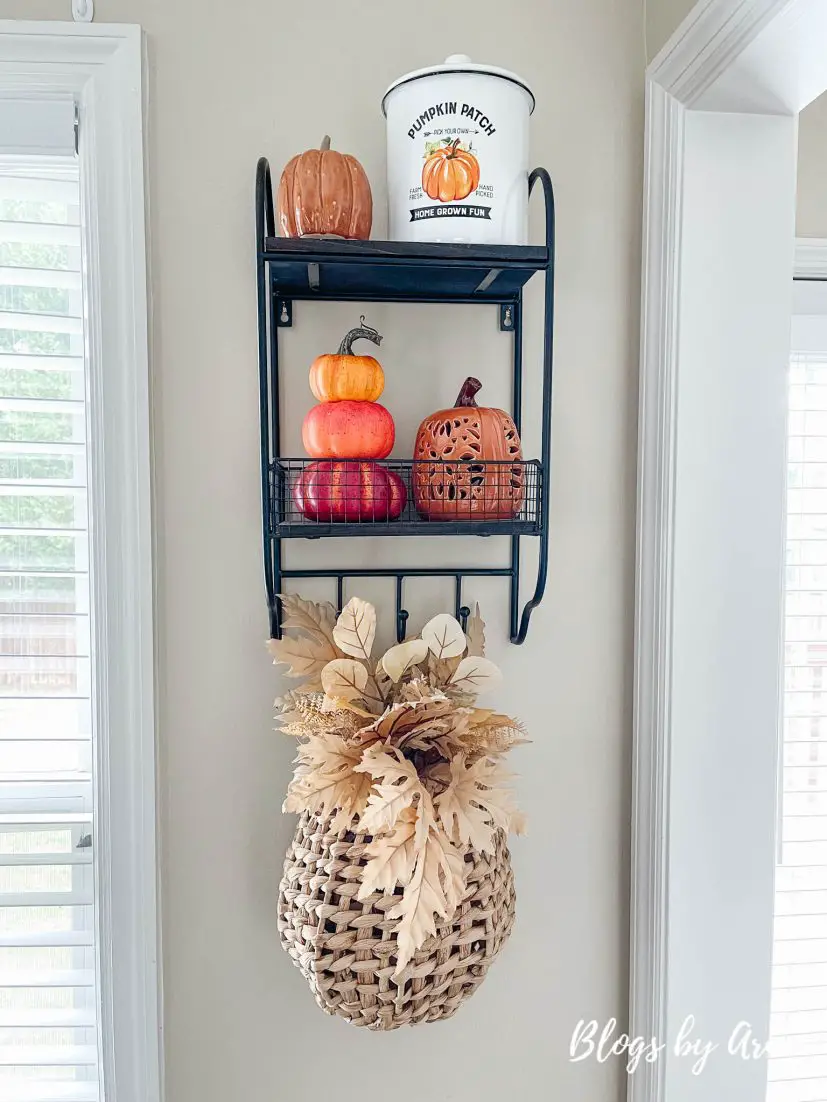 This wall shelf is a space I like to add some more seasonal touches.  It ended up being more of an afterthought.  I got these light color Fall picks from Hobby Lobby early in the season and for several weeks that's what was over here!  I don't know why but it feels like I've been dragging my feet with decorating for Fall this year.
It's my favorite time of year and after finishing my cozy Fall family room, I just haven't had it in me to do everything else.
Here's a look at the before…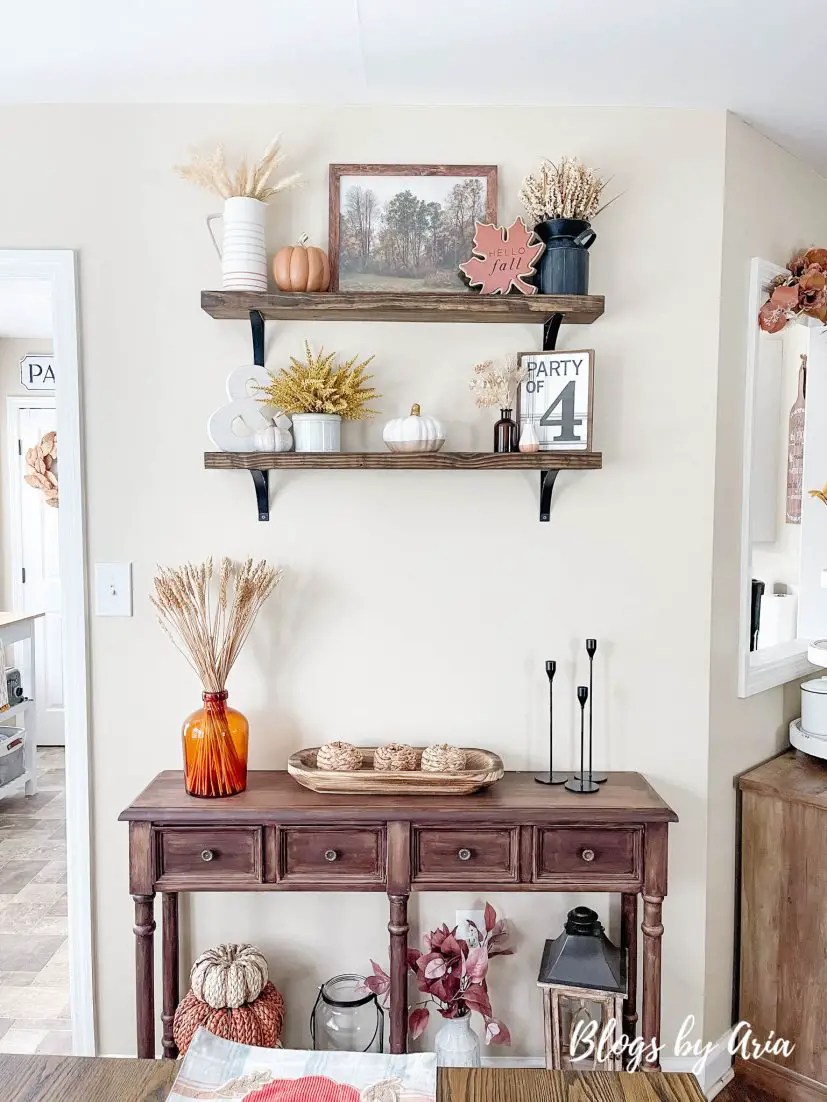 And the after!
I really love how it turned out and I'm excited to decorate this space for Christmas!  But first, I'll be switching it up for Halloween.  That will be later this week since I have another day off.  I sure do love a short work week 🙂