Today I am sharing a few items that are must haves to my MAC Short List. I don't need my MAC list to be too long, I don't want to go overboard!  This time 😉
*this post includes affiliate links for your shopping convenience, you can read more about affiliate links by reading my Disclosure*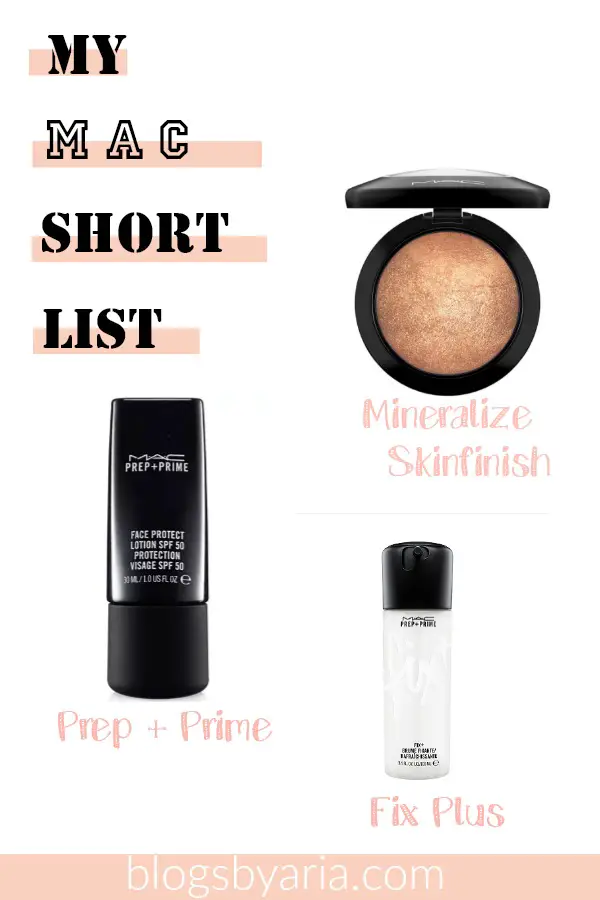 While I'm on this beauty kick for the moment…I figured I'd make my MAC wish list. The list is quite short because I don't feel the need to be a MAC whore. And that's not necessarily a negative thing, if you are in love with MAC and you want all things MAC, then by all means do you.
That's not me…as I've
stated in previous posts
…I'm not a fan of spending a lot of money on makeup. And by no means am I saying that MAC is the most expensive…trust me, it's not…it can go so much higher price than that but it's expensive enough to where I don't feel the need to spend $14 for each lipstick ya know?
So there are however a few items that I want from MAC. I do feel like you should put a little bit 'o money into your basics, like your foundation, skincare, etc. Unless you have found that awesome drugstore product for your bases…that's not the case for me.
I'm pretty much come si come sa when it comes to my MAC foundation. I mean, it works but I feel like it doesn't last as long as I expect it to. There are two remedies for that: MAC Fix+ and Prep + Prime Face Protect SPF 50  and then I also want the Mineralize Skinfinish in Gold Deposit.
A luxurious velvet-soft powder with high-frost metallic finish. It smoothes on: adds buffed-up highlights to cheeks, or an overall ultra-deluxe polish to the face. $28.00
This is great to use as a highlight and that's what I want to use it for. Based on the site, the color I want is Gold Deposit, but this is something I would purchase from the MAC counter to try the different colors and see which one I like most. This is definitely not a "high priority item" but I do want it eventually so that's why it made the MAC short list.

A skin-protecting cream with SPF 50. Applies under makeup to prime the skin for the sun. Featherweight, fast-absorbing, oil-free, invisible. Will not affect the look, texture or long-wear integrity of your makeup. Specially formulated with oil-absorbing powder, helps prevent oil breakthrough. Provides high-level broad spectrum sun protection. Worn daily helps guard the skin against discoloration, premature aging, dryness and other effects of sun exposure. Suitable for all skins. $30.00
Now I believe that a primer for some may be just an option, but I think for me it is definitely a necessity. I have combination skin that is also sensitive and prone to breakouts. I wanted to try out the
Smashbox Photofinish primer
but heard so many mixed reviews about the regular and light version when it comes to oiliness and breakouts.
So just today I found this particular Prep + Prime primer from MAC.. I had seen a few others, but after watching several reviews…I think this one is for me. It's a great formulation and the extra SPF can't be beat.
Attention WOC: Don't be fooled into believing that just because you're black you don't need SPF!!! That's entirely Untrue!!! We all need to protect our skin from the sun…and if you think you don't, just wait till you see little light spots on your face…that's from sun exposure and you need SPF!!! I will definitely be getting this sooner rather than later and will be posting a review hopefully sometime in June.
An aqua-spritz of vitamin and minerals, infused with a calm-the-skin blend of green tea, chamomile, cucumber, topped off with the fresh, natural, energizing scent of Sugi. Adds radiance, finishes makeup. Spray it on. Skin drinks it up! $18.00
Last but certainly not least, is Fix + There isn't just one use for Fix + it has a multitude of uses!
Whether you use it to mix with your liquid foundation, to using it with your pigments or to foil your eye shadow, to using it in the way that I intend to…a spray after your makeup is complete to "set it" in place. It's something I've been wanting for sometime, and would've gotten when I got my foundation but the MAC counter was out of stock in it.
So these are just a few of the items that made my MAC short list…there are a few lipsticks I've wanted, and maybe a few brushes that I'll add in the future. When it comes to brushes, I already have my main MAC-quality brush set, so for now any brushes I get now are gonna be low-end. I'm all about finding different brushes to add to my collection. But this is just my list of MAC must haves. My MAC short list!!