Now that I've been getting more into my makeup and experimenting with the brushes that I have, I decided that I am officially on the hunt for the perfect foundation brush.  Currently I use my Sigma SS187 Stippling brush primarily as my foundation brush.  Sometimes I use the SS190 Foundation brush.  I got the Sigma brush set after seeing so many reviews for the brushes being similar to MAC but without the hefty pricetag.  I'm not satisfied fully, so I'm looking for something better, but not pricier.  That is where the challenge comes in.  I don't want to spend a lot of money on this quest…so let's see what I can find without having to purchase MAC.  First let's take a look at the MAC brushes that I want but am not willing to buy: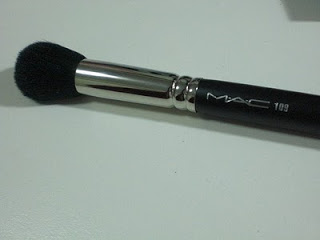 Here we have the MAC 109 Small Contour Brush.  It's not meant for foundation, but some people swear by it.  I already know this brush would shed pretty bad if used for liquid foundation, but if it provided great results, I'd be willing to deal with it.  This goes for $32.00.
This is the coveted Mac 187 Duo Fibre Brush.  It's a brush that can be used for blush or foundation.  Many people use it for foundation for giving an airbrushed finish.  My only problem is the cost at $42.00.  I'm not at that place where I can justify spending that kind of money on a cosmetic brush, no matter how wonderful it may be. 
So now let's take a look at some of the brushes I've been looking at.  It's just a couple from Coastal Scents.  I'm also interested in picking up a few brushes from Target.  I thought I would want some Nyx brushes, but I didn't see any that I liked really, at least not now.
This is the Coastal Scents Silver Duo Fiber Stippling Brush.  It has pretty good reviews on the site, and for only $7.95, if it comes even remotely close to the MAC 187, then I say I'm pretty good to go.  And I can have a couple for both foundation and blush!  So I will post a review once I've purchased and used it for a while
.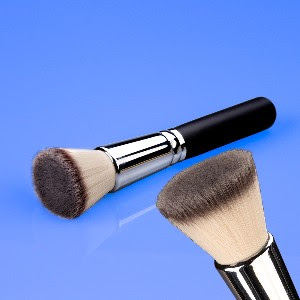 This is the Coastal Scents Synthetic Buffer Brush Large and it can be used for foundation, bronzer and mineral products.  I think that because the bristles are so dense that it will give a good payoff.  This one has been out of stock since I've been eyeing it, so I probably won't be able to get it anytime soon.  I will be ordering some things this upcoming weekend, and if this is in stock I'm scooping it up! It's $13.95.  And yes, I know you've seen this pictured on a previous blog post, and guess what, you'll see it again when I post a review or a haul! That's just how I roll!