I hope you had a great July Fourth weekend!  It's crazy to believe we're already in July right.  There's so many things I want to share and time hasn't really allowed me to.  So today I'm sharing a few random things with you.  We're talking a few items I tried from Tarte, my Sephora wish list, new shapewear and the Nordstrom Anniversary Sale giveaway.
*this post includes affiliate links for your shopping convenience, you can read more about affiliate links by reading my Disclosure*
TARTE CUSTOM KIT
Recently I picked up a Tarte bundle.  Every now and then Tarte will have a bundle where you can get several full size items at a set price.  It's a great way to try a few products or stock up on favorites at a reduced price.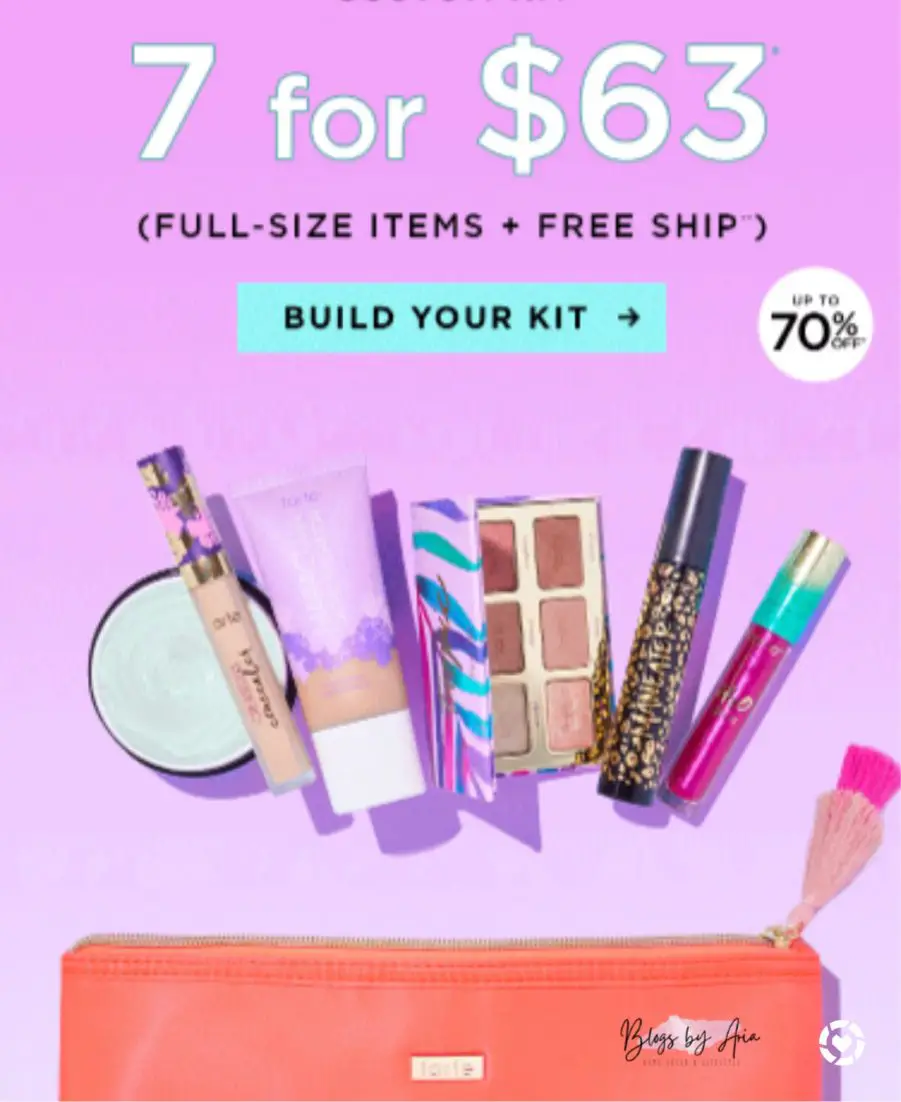 I originally shared this on my LIKEtoKNOW.it, which is where I share all of the deals and limited time sales.
The custom kit that I created included the :
And it came with your choice of makeup bags.  I was most excited to try the foundation, mascara and blush.  All of which I've really liked.
I must say I have really been liking this foundation.  It's not easy to pick a foundation shade online but the Tarte website had a full shade range that was spot on for me.  I found a model who had my exact skintone and after wearing it for a week I'm quite pleased.  The shade I got is 51S Deep Sand if you are similar in tone to me.
Thankfully the foundation doesn't oxidize on me and it doesn't make my skin oily.  I've found the best results with applying it with a brush like the bamboo brush that I got with the kit or a flat top kabuki brush.
The next time I see a kit like this available I will share it on my LIKEtoKNOW.it and my private Facebook group.
SEPHORA WISHLIST
Speaking of makeup…lately I've been watching a lot of beauty and skincare videos on YouTube.  Like I used to long ago.  Which of course makes me want to try new products.  When I see items I'm interested in I'll add them to my Sephora wish list.
I shop at both Ulta and Sephora but I like that Sephora carries a few more higher end brands.  Although I now have access to a Sephora store locally, I tend to order online from them more than I go in store.
dermaplaning tool | Patrick Ta blush | Bon Bon perfume | Anastasia eye shadow palette | Fenty Beauty skin tint | Sunday Riley Good Genes | Kate Somerville Age Arrest | Makeup by Mario cream blush
I've heard a lot of great things about the benefits of dermaplaning.  You can get very cheap blades from anywhere but after watching a YouTube video from Sephora, I decided I wanted to give the Stacked Dermaplaning Tool a try.  It's way more than I would want to spend on it but it has great reviews.  Plus I had enough points to take some of the cost down and it doesn't hurt that it's finally on sale!  (that's why I like to add items to my cart and just let them sit there, then when I check back and I see that sale price it's the best!)
Another option that's less expensive is the Sephora brand metal facial razor.  You want a quality blade that is large enough, not the little ones made for eyebrows.
Recently I got my hands on one of those magazine samples of the Viktor & Rolf Bon Bon perfume.  I put it on my neck and wrist and told my husband to smell me.  His reaction was that he definitely liked the scent.  So now it's on my wish list!
I already have a pretty long fragrance wish list, but I have to add this one too!  A good fragrance is worth the investment.  When I get a good coupon or I've saved up my points, that's when I'll go ahead and grab it.
Sephora and Ulta are my go-to places to buy perfumes but sometimes department stores like Macy's and Kohl's will have great sales on fragrance, so check them out too.
Lately cream blushes have been on my radar and I want to try the Patrick Ta cream and powder blush duo as well as the Makeup by Maria blush stick.  And not that I need another eyeshadow palette, but I've heard great things about this Anastasia Soft Glam eyeshadow palette.
I'm waiting for my shade to come back in stock so I can give the Fenty skin tint a try.  Have you tried it yet?  I've watched a lot of videos so I definitely am excited to try it.
Of course I have a couple of skincare items on my Sephora wishlist.  I've tried a couple of items from Sunday Riley before and Kate Somerville.  Because I've been trying so many things I don't want to add anything new to the mix just yet.  But the Sunday Riley Good Genes is something I've tried in a smaller size and I wouldn't mind adding the full size into my skincare routine.
The Kate Somerville Age Arrest is on my list of skincare products to try too.  I'm really trying to avoid becoming a skincare junkie!  But you don't know if something will work unless you give it a try.
SHAPERMINT
ruffled polka dot shirt | distressed jean shorts
Over on Instagram I worked with Shapermint on a collab.  Have you heard of them?  I've seen their ads on social media for awhile so I was excited to try them when they reached out.  Let me tell you, I love them!
I got their boy short and shaper short and love them both.  I wanted to try their cami but at the time they were out of stock.  The shorts are so comfortable and non binding.  You don't have to size up either.  I definitely will be buying more from them.  Too bad I didn't have them when I went to my cousins wedding because the shapewear I was wearing was anything but comfortable.
NORDSTROM ANNIVERSARY SALE GIVEAWAY
Don't forget that the Nordstrom Anniversary sale is coming up and there is an active giveaway for you!  I'm so excited for the #Nsale are you?  I'll be sharing some of my favorites from the sale here on the blog and on my LTK.
I have teamed up with an amazing group of bloggers to give YOU a chance to win:
one of two $500 Nordstrom Gift Cards to shop the Anniversary sale!
Simply enter below by completing the rafflecopter. You'll receive one entry per completion. This giveaway is open to the U.S. and Canada only and runs until EOD 7/12. Winner will be announced here. Good Luck!
Void where prohibited. By entering the giveaway you acknowledge that you are agreeing to complete each task, which involves following, liking and subscribing to newsletter's.
a Rafflecopter giveaway

I'm off to enjoy this beautiful weather at the pool!  I hope you enjoy the rest of your week my friend ♥