Last night I was playing with my makeup and created a look (blog to follow) and although the look  isn't super vampy or anything, it further scratched the itch of me wanting to go out and get my party on!  So this morning, as I'm sipping my morning coffee and posting on Luuux, I came across a few items on Charlotte Russe.  Man oh man do I need to start playing the lottery!  Over the past few weeks I think I have tapped into my inner fashionista!  So let's start with the shoes, because they're what really got me!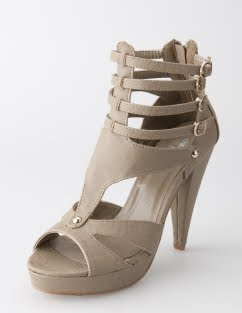 Ribcage Ankle Strap Heels $32.50
Edgy peeptoe faux leather heels made for city life; featuring four adjustable stacked ankle straps, a zipper closure in back, and a wrapped 4.5″ heel.  These come in this color and black and I would surprisingly get them in this taupe color.  Very cute and outside the box for me.
Glitzy Bandage Heel $32.50
These are fierce! I would rock these for sure! They look like they will be comfortable, the straps anyway, the heel is 5″.  It doesn't say how high the platform is, but it looks like it's at least an inch which makes it like you were wearing 4″ heels.  I really like these.
When I originally went to the site the homepage was all about Party dresses.  Unfortunately I only found two that really caught my eye.
Banded Satin Dress $36.50
I think this dress is very sexy chic.  Similar to a dress I posted on another fashion post, I believe the other dress was from JCP or Kohl's.
Tank Dress with Mesh Skirt $29.50
I like this style of dress.  I feel like it's dressy but not too much so, that makes it more versatile.  It definitely feels like it needs to be a little dressed up with a cute shrug or cardigan and maybe a pin to put on the tank part, or really focus on accessories like bracelets, necklaces and earrings.
Sequin Sparkle Headwrap $6.50
This is such a cute headband don't you think?  It was on the same page as the dresses so I posted it as well.  An easy way to dress it up!