I decided to take advantage of JCPenney's free haircuts for kids in August this weekend and took Brianna to get a much needed trim.  She's never been to a salon before and free always sounds good to me!  So I procrastinated until the weekend before school starts to take her in.  Up until now, I had trimmed her ends from time to time but it was never consistently.  But I knew I couldn't keep putting it off because her ends were looking pretty bad.  Healthy hair is what's important so I was prepared if the stylist was going to give me bad news.

I told the stylist that I was ok with starting with a couple of inches.  Before long she was finished and I kinda expected more to be cut.  I think she was being overly cautious, but in hindsight I appreciate that.  She's probably been chewed out before by a mom or two, smh.
Wouldn't it be perfect if I had her stand exactly the same as she did the first time?  Her hair is obviously more poufy in the after pic, but that's due to the humidity  outside.  But this is where you can tell the true difference in the length.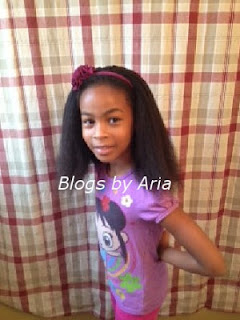 Another before…from the side.  The only preparation I did for her cut was to take out her existing style and blow dry in sections with the comb attachment and then to go over her hair with a flat iron.  My goal wasn't to get her hair bone-straight, it was just to be able to have it straight enough to cut.
Here's the back and it's not really easy to tell much of a difference from the back.  She didn't lose a lot of length, but when looking up close you can see the layers in the back from her trim.


Overall it was a good experience.  I will start to keep my eyes out for specials for kids cuts because she needs to go to a professional to keep her ends trimmed.  And for now we'll continue this journey naturally.  It is definitely my goal, although there are plenty of times when I want to throw in the towel! But I continue to press on in the name of keeping her hair healthy.  I see so many horror stories of young girls with relaxer damage…I just can't.