In case you didn't know, one of my favorite places to shop for home decor is Kirkland's.  I'm fortunate to have two locations within ten miles of me and I'm there on a very regular basis.  I'm not ashamed to say that I'm there almost every weekend.  I just love the decor they have.  It's good quality and not too farmhouse.  Although they have a lot of farmhouse items, I like that they have a lot of options regardless of your decorating style.
Last weekend I really wanted to go to Kirkland's and look around but I decided it would be best to just stay at home.  That was when we were just learning about social distancing.  For the interim, Kirkland's stores are closed, but that didn't stop me from doing a little browsing online.
*this post includes affiliate links for your shopping convenience, you can read more about affiliate links by reading my Disclosure*
Today I placed a small order.  I got these beaded coasters and this floral arrangement.  Of course I wanted to get more and as I was browsing around, I decided to share a lot of the home decor finds with you.  In a future post I'll share a lot of the Kirkland's home decor that I have throughout my home.  For now, let's take a look at some of the cute finds from my favorite store!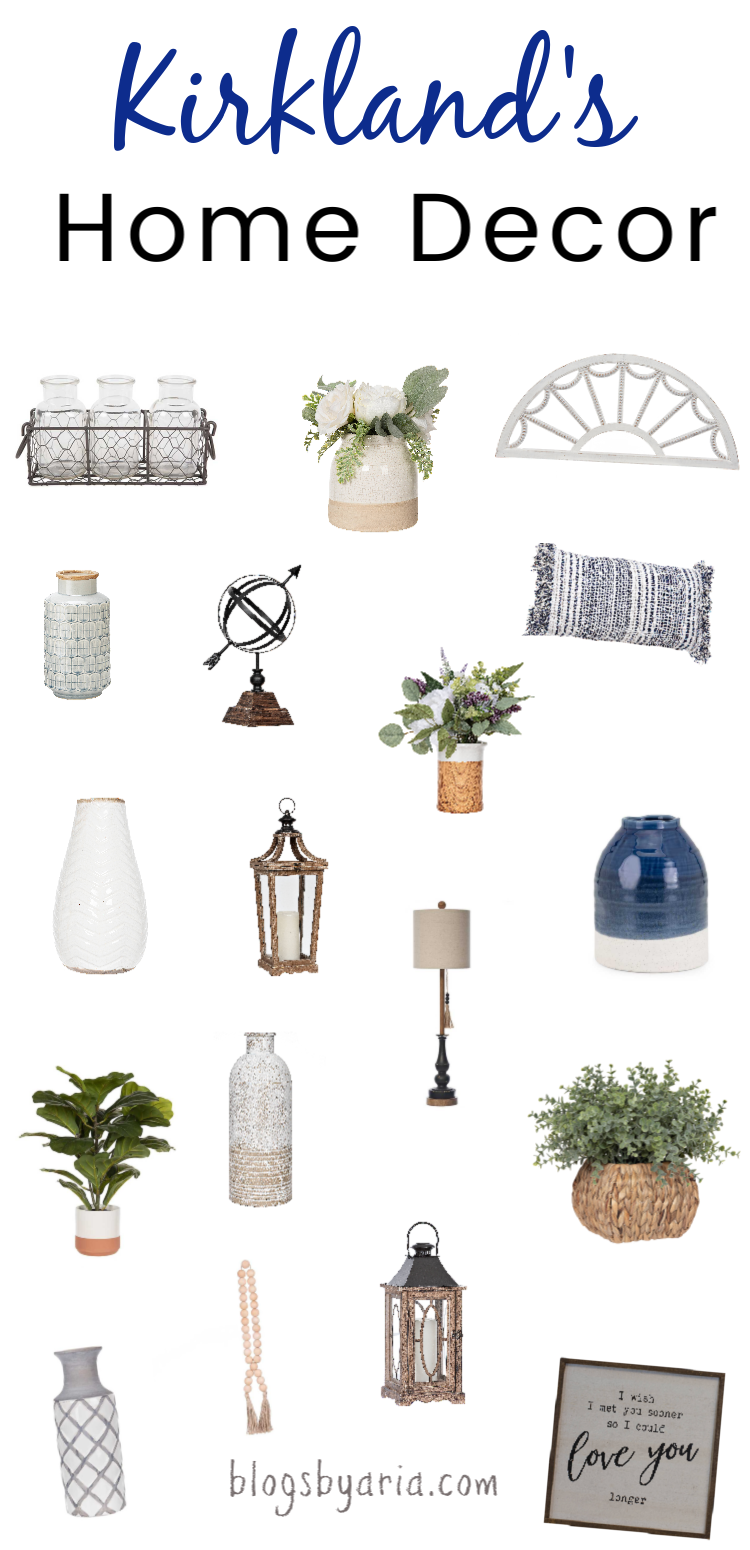 Gray Chicken Wire Caddy with Three Vases – This would look great in a kitchen or on floating wall shelves with some greenery or floral stems.  I thought of something like this for my entertainment center, especially if I left them empty like this.
This Peony and Rose arrangement is on my list.  I really like adding floral and greenery to add life to our home and most of it comes from Kirkland's.  They have a lot of nice plants and floral arrangements that look and feel very realistic.
White Beaded Arch Plaque – this is an inexpensive way to add wall decor to your home.  I'd say this is about as farmhouse as I get and I would love to have this but I don't really have a space for it my current home.
Averly Gray Vase – I like a lot of the vases that Kirkland's has and many of them are very budget friendly.  You can use a vase to decorate with and you don't have to put anything in it.
Metal Armillary on Wooden Base – I have something very similar to this that I got from Hobby Lobby.  This one from Kirkland's is a little bit larger in scale.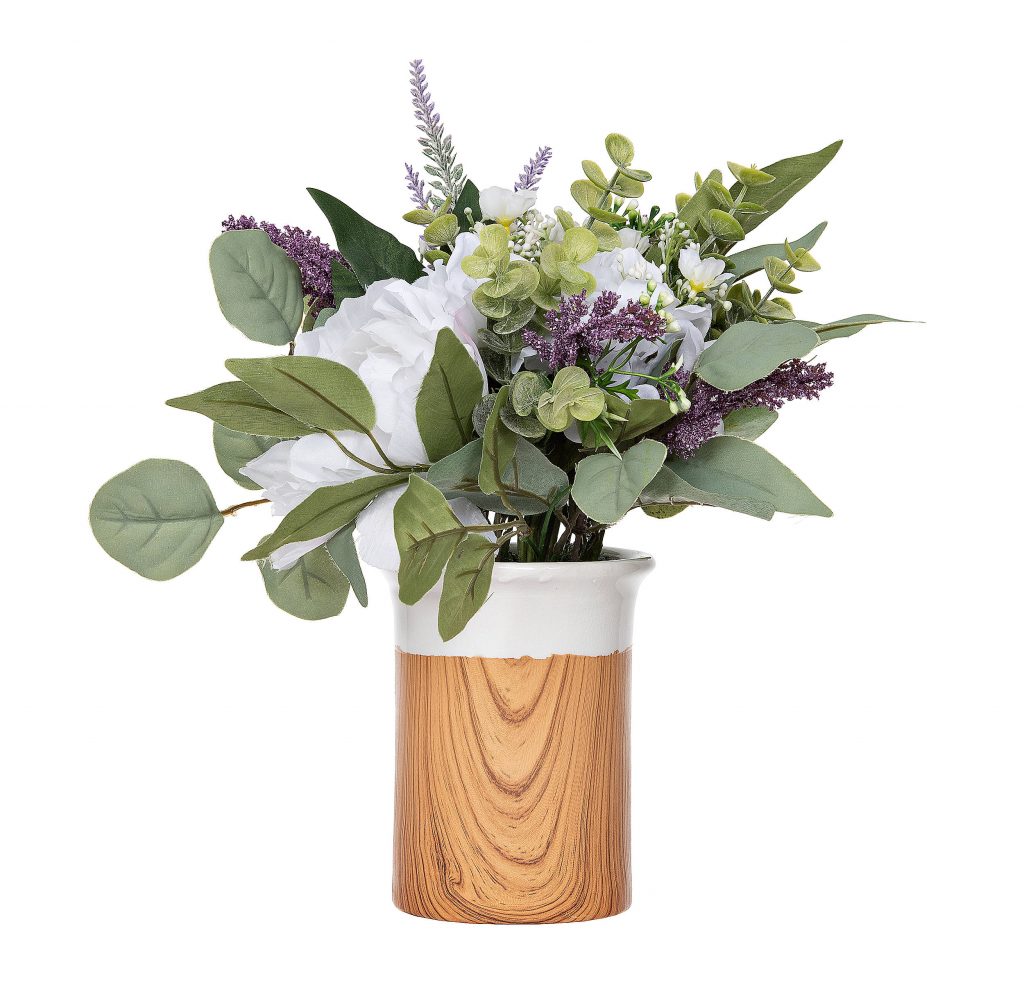 White Floral Arrangement in Wooden Ceramic Vase – This is the white floral version of the yellow floral arrangement I just ordered.  I love this white arrangement but wanted to go with a larger pop of color with the one that I got.  It's so versatile, I can't say I won't get this one too.
Blue Stripe Fringe Lumbar Pillow – They say the color blue is the it color for Spring.  Which is great for me because I love the color blue in my decorating and in general.  This pillow would look great on a couch or on a bed.
White Chevron Ceramic Vase – Every time I'm in Kirkland's I see this vase and pick it up and have to remind myself that I have a vase almost identical to it.  The one that I have is a little smaller and is holding a few bunches of these tulips that I did get from Kirkland's.
Natural Wood Cathedral Lantern – I have a few lanterns from Kirkland's and I've been eyeing this one for a long time.  I don't know why but I really love a good lantern and Kirkland's has such a great selection.
Antique Black Allison Buffet Lamp – This lamp caught my eye and I'm sad that I don't have a space for it.  I imagine it would look great on an entryway table or on a buffet table in a dining room or on a console table in a living room.  As you can see, it can fit in so many spaces, none of which would work in our current home.
Blue Glaze Half-Dipped Vase – Another vase that I would love to have space for.  A few months ago Kirkland's had a similar vase on clearance and I didn't get it.  When I went back to get it the next weekend it was gone and I've kicked myself for not picking it up when I had the chance.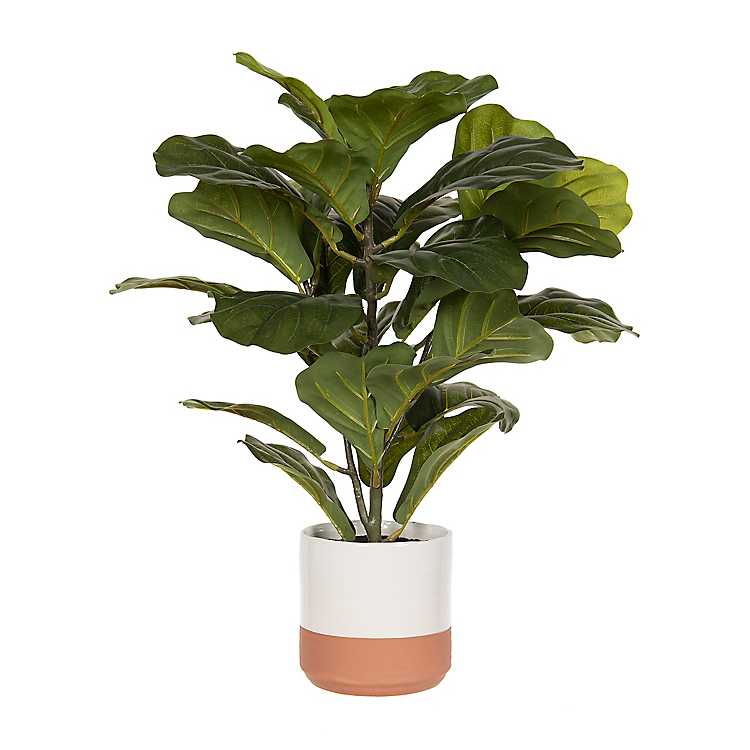 Fiddle Leaf Fig Tree in Colorblock Planter – I love a fiddle leaf fig tree and one day I hope to buy my dream fiddle leaf fig tree.  Until I can buy that one, I'll be buying smaller options and this is one that I have my eye on.  I also like this fiddle leaf fig plant from Kirkland's and I'm torn on which one I should get.
Whitewashed Two Tone Metal Vase – I like the rustic feel of this vase.  Again, Kirkland's home decor is my favorite and I just don't have the space for this in my home.  Which is why I like to share with you, maybe you'll be able to get the things that I wish I could 🙂
Frosted Eucalyptus in Woven Basket – Kirkland's has a few options of plants in these woven baskets.  I can't lie, I want them all!  I can't get all of them but I will get one of them.  Of course I love the fiddle leaf fig option but in addition to this frosted eucalyptus one I also like this green eucalyptus plant.  They're similar but they have a different look so it's a tough decision.
Gray Embossed Lattice Ceramic Vase – I actually have this vase in my home and I love it.  You can't go wrong with gray in my book and if you're looking for a vase that adds texture, a little color and is under $20 this vase is for you!  Currently I have a couple of fiddle leaf fig branches that I got from the Target dollar spot in it.  I'd like to get some tall sprigs of some kind to go inside instead.
Natural Beaded Loop with Tassel – Here is where I am a little farmhouse, I do like the wood beads.  They look great on tiered trays, on shelves or on a coffee table tray.
Braylyn Brown Wood and Metal Lantern – I have this lantern in my home and I love it.  I got it for half off along with the other lanterns I have from Kirkland's.  For now my lanterns are empty, but I do want to put some flameless candles inside of them.
Love You Longer Wood Sign – When it comes to wall decor and art I really like the selection that Kirkland's offers.  I love this sign and want to put it in our bedroom.  Of all the rooms in our current home the master bedroom is the one I like the least.  Our furniture is too big for the space, but our furniture isn't oversized.  Which means the room is small.  I haven't decorated our room because I figured what's the point but I've decided that if I want to add some wall art, that I will because it's not like it can't move with us to our next home.  Sorry for the tangent, I said all of that to say that I like this wall decor along with a lot of the wall decor Kirkland's has.
BUDGET FRIENDLY HOME DECOR
Can you see why I love shopping at Kirkland's for home decor?  And that's not even the half of it!  I'll try to share what we have in our home very soon because I think it helps to see home decor in use.  If you're doing some shopping for home decor right now, you can use the code EVERYDAY and save 25% off your purchase now through April 11, 2020.
And to think I was just telling myself that I'd be saving some money while we're all staying home and stores are closed!  I did limit myself today but once I started looking around and finding things to share with you, I kept adding to my own wish list.  I'm pacing myself!
Hopefully you got some inspiration for some home decor to add to your space.  I'm a firm believer in not paying retail for almost anything, but especially not my home decor.  Because I love to decorate my home and I can decorate more when I get items I love at a good price.  And Kirkland's helps me to do just that.
{MORE KIRKLAND'S HOME DECOR FINDS}