It's very rare that I win something.  Very rare.  So believe me I was very surprised to get an email the other week telling me that I won tickets to the NC State Fair!!!  Let's back up… I get the News & Observer delivered (for my coupons) and because of that, I get emails about once a month for events going on in the Raleigh, NC area.  Usually it's offering a discounted price on a show or some type of entertainment.  There are usually one or two items that they're holding a giveaway for and I always enter.  It's one entry per prize per household.  So a month or so ago when it came out for the State Fair raffle I was really hoping I would win!  I have never been to the State Fair before and it would have been great.  I was jumping for joy when I got the official email telling me I had won a family pack of tickets to enter the fair and two sheets of ride tickets.  And because it was coming from Raleigh, I had them in my mailbox the very next day!
When I say jumping for joy, I'm being literal…I read the email on my phone in the car on my lunch break.  I have never come back into work with such a big smile on my face!  You would have thought I won the lottery and I was coming to pack up my things! Lol (praying that happens one day tho!)
Even though I won tickets, I knew this was still going to be an expense.  So I did my research.  We decided to go this past Sunday.  DH had to work the ECU game Saturday, and although it meant he had to miss out on watching his Dolphins play, he was willing to do that.  Next weekend I have plans so this was the only time it would work for us.    His mother helped by giving the kids some extra spending money = more ride tickets.  Next time we go it can't be on a Sunday because after he drained his phone battery trying to keep up with the games, he then did the same to mine.  So when I wanted to take a pic, I couldn't! lol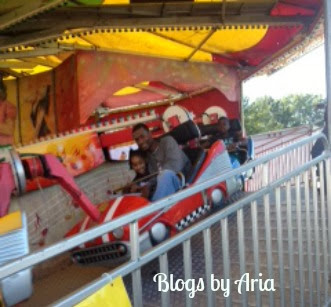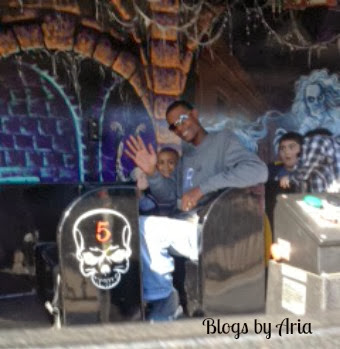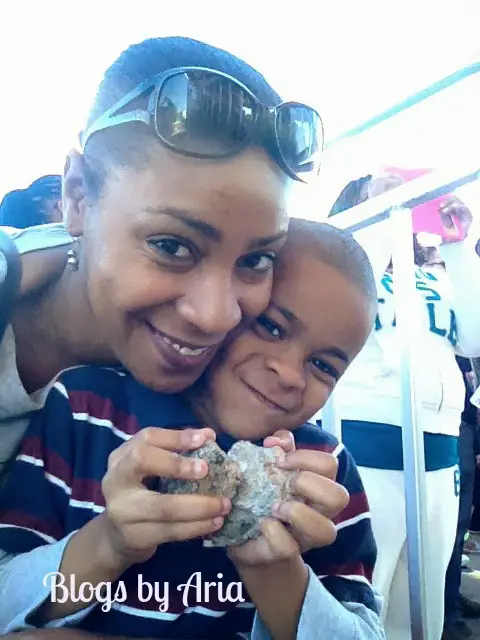 The kids had a blast.  It was a first for all of us to go to the State Fair.  One thing 
I've
 complained about in the past was by being a mom it's as if it's mandatory or understood that you're just there to take the kids.  You're not gonna ride on anything or play in any reindeer games.  So I knew I was going to ride on a ride or two…well huney let me tell you that I'm no spring chicken!  Not only do I still feel some soreness from the PirateShip ride, and it's Tuesday as I'm typing this…but I realized I'm a big punk! Lol For lack of a better word.  I had no shame in screaming into Brianna's ear as I was crying out for MY mommy!!! Lol Her and the girl next to her were laughing at me!  Laugh away because your Mom is a scaredy cat!  I used to ride that ride all the time as a teenager!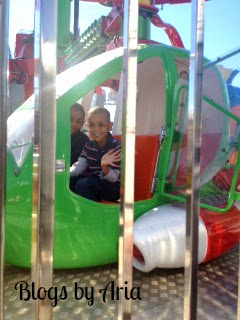 It was fun to experience something new with my family.  There was a lot of walking.  Wayyyy too many people.  But it was an experience and I'm so thankful we won and I could share it with them and make memories.  The only thing that I didn't get to do was try the crazy foods at the fair.  They hit you with tons of food vendors immediately as you enter the fair.  We wanted to get to some rides first.  When we did eat, we went the cheap route:  hotdogs and fries.  The kids wanted ice cream on the way out so we got them some and DH and I shared a milkshake.  By that point I saw all the fried goodies:  fried butter, fried oreos, fried snickers, even a chocolate dipped banana covered in bacon.  Yeah it all sounds like it's one big tummy ache…but I wanted to try it.  But I wasn't hungry for it at all at the point.  So it didn't get got!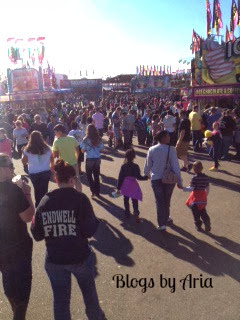 I think we will start to make the State Fair a part of our annual traditions.  I would much rather go there than go to our local county fair.  The only downside about our State fair is that it only offers wristbands on opening day.  I already told Brianna we may have to come during the week next year to make it more cost effective.  She got upset that it would ruin her perfect attendance.  I'll admit I'm the Mom who doesn't believe in keeping your child out of school for no reason…but saving a lot of money by changing the date we attend the State Fair…an exception could be made!  : )