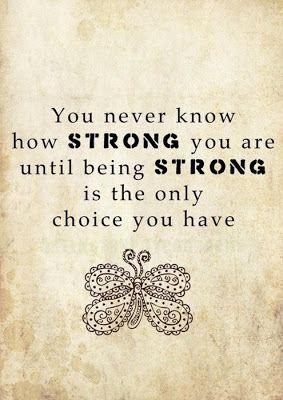 As a mom, it's my job to be strong.  Even when I'm faking it till I'm making it.  Which is like 8 times out of 10.  Oftentimes, I'm tired of being strong.  I really am.  But I have no choice in the matter.  If I'm not being strong then who will?

I think I've done this blog post before, I don't know for sure.  But I'm just over it all like a bridge.  Ya know?  Like enough already.  If I was to do all that I'm expected to do, I think it would require many more hours in the day.  It definitely would require more money, a great prescription for an energy source and a strong dose of Xanax.  Hell, let's be honest…it  would require a better programmed clone of myself!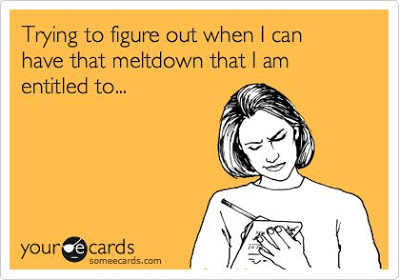 I mean, is it too much to ask to have children who do as they're told?  Who don't ask for something new every minute yet they have to be yelled at to clean their room?  Is it too much to ask to watch some of the things on the dvr without feeling like I need special permission from the kids or DH?  Like damn, can't you find something else to do other than place this stupid video game?  Or why not treat it like an incentive that you earn, not what takes all your time away?  Yeah that's asking way too much.  Instead, half of my shows get cut off in the middle because the dvr is full.  When do I get to watch?  The weekends right?  Wrong.  After work?  hardly.  Yeah I don't get the time.  Which is why the first thing I do usually when I get a moment…is Pinterest.  What else is there to look forward to?  Certainley it's not all the dishes piled up waiting for someone me to do them.  Or the pile of laundry waiting to be folded…oh yeah, me again.

With my new position and shift change…we're going back to the days of DH doing more.  When I will be getting off from work, the kids will be getting in the bed.  Which means I expect more to get done from them than me…let's see how that goes.  I'll do my part by having dinners planned and making them ahead.  In the mornings it'll be easier for me to get in my workouts and some housework, just like I have done years ago.  Maybe it will help take the load off of me.  Maybe Mommy will catch a freakin break.  I know I know… it's a big effin MAYBE.