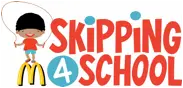 I'm really excited to share this program by McDonald's owners and operators in the Triangle and Eastern North Carolina regions.  They are partnering with local elementary schools to encourage active lifestyles during the month of October, thru the 25th.  The participating schools will encourage their students to get fit and jump rope during gym class and recess.  Helping our children be active starts good habits early in life that they can maintain into adulthood to lead happy and healthy lives.  It helps them burn off extra energy, reduce stress and can even help them perform better at school.
What is Skipping 4 School?
Skipping 4 School will provide more than 180 elementary schools in the Triangle and Eastern NC with a jump rope pack to encourage children to follow healthy, active lifestyles. Schools will take part in a fun competition by recording jump rope times in October, with the three highest times 
earning a reward of gym equipment for their respective schools.   At the beginning of the month, schools were provided with Skipping 4 School fitness packs with 26 jump ropes and a poster and marker to be their jump rope time tracking system. P

hysical Education instructors and teachers will be asked to keep track of the time that students jump rope during P.E. class and recess in October. The top jump-roping school in each of the following enrollment categories will each receive a $1,000 donation from McDonald's to use toward the purchase of new gym equipment for their school:
·       350 – 750 students
"We are really looking forward to doing this Skipping 4 School program," said Brian Dilday, physical education teacher with Wahl Coates Elementary. "As a physical education teacher, I'm always looking for different ways to get active. The more active you are the better off you'll be!"
"We are thrilled to give back to our local schools through this fun Skipping 4 School program," said Eastern NC McDonald's Owner/Operator Wade Dixon. "It not only encourages students and teachers to get involved, but it also promotes healthy and active lifestyles."
How Does the Program Work?
P.E. Teachers at the particpating schools will work with school staff and students to record jump rope time using a fun poster and sticker system from October 1-25.  At the end of the program, McDonald's representatives
McDonald's supports a healthy, active lifestyle and has made recent changes to its menu to include the addition of more nutritionally-balanced choices that meet McDonald's reputation for great taste and affordability, along with an increased focus on providing nutrition information that enable customers to make informed menu decisions.  The McDonald's Happy Meal now automatically includes both produce and new smaller size french fries along with the choice of a hamburger, cheeseburger or Chicken McNuggets and a choice of drink, including fat free chocolate milk and 1% low fat white milk.   
I personally loved when McDonald's reduced the serving size of their fries and added the sliced apples for their Happy Meals.  And my son loves the apples too, he sees them as a treat along with his toy.  I like it because it's a healthy addition and he gets the food he likes and I know I won't have a problem getting him to eat 🙂
I think this is a great program and it's needed since there's not enough focus on the need for keeping kids active.  I'm glad I was made aware and that I can share the info.  For more information on Skipping 4 School, visit www.skipping4school.webhutdesign.com
Disclaimer:  I was contacted by a representative to look over this information and share if I chose.  I was not paid for this post.