Each year I get a few new ornaments to add to our tree, but this year I got more than a few.  A few ornaments didn't make it last year unfortunately so the tree seemed exceptionally bare.  I wanted to wait until I had gotten all of the ornaments I was going to get before doing this post.


It seems each year I say the same thing, that I want more Christmas decor.  And although I do add to my collection each year, I wish it was more.  Too bad I didn't win the mega millions…
*this post may include affiliate links, you can read more about that by reading my Disclosure post*

Every ornament I got was on sale or I had a coupon for with the exception of the ECU ornament.  I got that from one of the local bookstores for Small Business Saturday, no sale , no coupon…just Pirates supporting Pirates.


The goal was to get ornaments that were fun, festive and not as breakable.  I told the cashier at Pier 1 Imports the other day…yeah looks like I'll have to wait about 10 more years and then I can truly have my adult tree.  It's just sad knowing some of my beloved ornaments from over the years are no longer here with me.



At this point I have an almost 9 year old and a 5 year old…I don't have the energy and creativity to devote to being active with the Elf on the Shelf.  I have a Pinterest board dedicated to it and everything, yet, it's not for me.  I love the idea if it was something out before Brianna was born.  And the elf does look a little creepy.  So I figured the ornament was great for us.  She's a girl and we got her from Hallmark.  I had a coupon.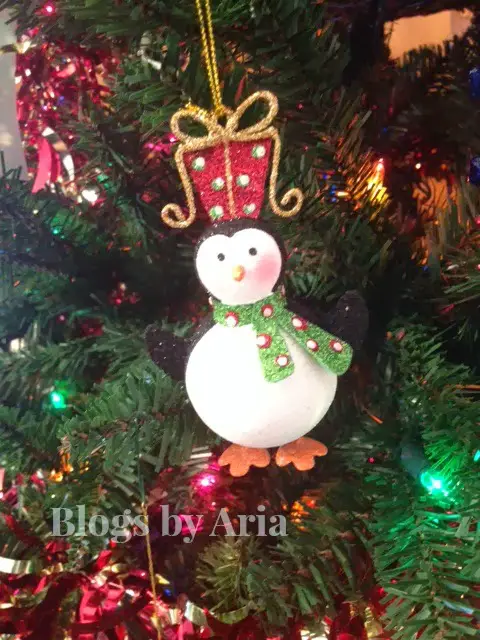 I got this cutie at Pier 1 Imports.  Pier 1 is one of my favorite stores that I no longer frequent.  They're not even as expensive as they used to be.  But everything in there is so fragile.  So of course I don't go in with the kids and it's been well over a year since I've been outside of this weekend.  My Secret Santa at work gave me a gift  card to Pier 1 and I was so happy they disregarded the gift cards I listed to choose from! lol With my coupon and my gift card I was able to get a few ornaments that would work on our tree now and grow with us into the future.  Each of my Pier 1 ornaments all retailed under $5 before the coupon.
I love my ECU Pirates.  (We have a Bowl Game tomorrow!) AARRRGGGHHHH!!!
This is my 2nd ECU ornament on our tree, but I want to say this is the 3rd one I've purchased.  I can't recall if one of the ornaments that didn't survive last year was an ECU one.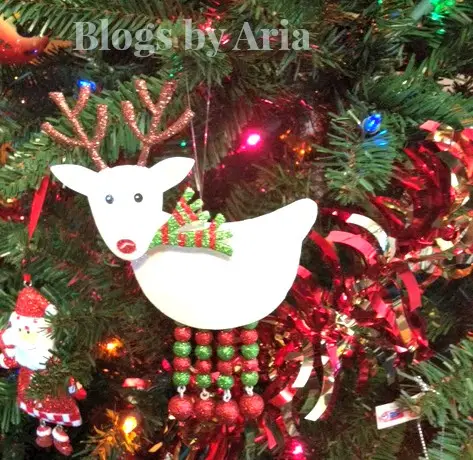 Another Pier 1 gem I found.  Isn't he the cutest??? 
Oh what a joy it would be to have a DSLR camera.  I just feel like the quality of the pic is doing my beautiful ornament such an injustice.  This little guy came from Hallmark.
Not your ordinary round ornament.  This one is a lovely Santa!  You may think I've gone overboard with the Santas… you may be right.  When my Mom got saved when I was a child, she put away all of the Santa Christmas decor and separated them into two boxes…one for me and one for my brother.  That was the end of Santa in our house.  So being as how I do have young kids, I do promote Santa Claus and I do promote a lot of Jesus but I think it's me trying to overcompensate for the lack of them in my later childhood years.  Does that make sense?  
Anyway, this one is also from Pier 1.  I don't think I'll get any Santa ornaments next year.  Let me remind myself to come back to this post before Christmas shopping next year! lol 
Isn't he just precious?!?  He would be even more so if he had a bell in him.  He doesn't, just a ball inside that I don't understand the purpose of.  I got him from Kohl's.  He has a little nick in his beard on the side and that's why I got him.  It gave him more character!  Again, my iphone lets me down with it's lack of clarity.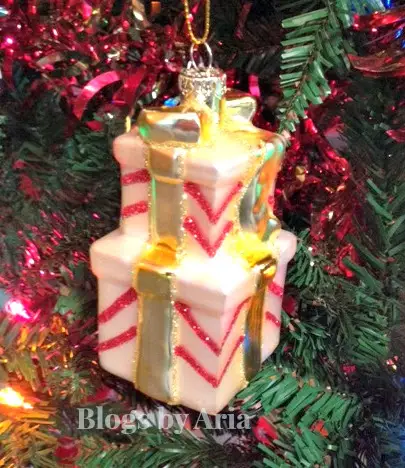 I got this ornament from JCP.  It's from their Martha Stewart Collection.  It's the only one that I liked of the selection and I only got it because I needed my subtotal to come up so that I could use my $10 off $25 coupon.
Last but not least is my Rudolph that I feature in this post.
I think next year I will go back to the plan of no more than three new ornaments.  I want to get more home and outdoor decor next year.  And it's my goal to catch Christmas in July on QVC and get one of their beautiful, super expensive, but well worth the money, Bethlehem Lights Christmas trees.  Which if I do, I guess I will be buying more ornaments lol.  Those trees are so big I will have more to have to fill up.  I'm delighted by all these beautiful new ornaments and I can't wait to show the kids the newest ones I just got from Pier 1 when they come home from Gamma's house 🙂