I have been trying to shake things up a bit when it comes to easy dinner ideas for the family.  I'm tired of making the same old things and they're tired of eating the same old things.
As I shared in my favorites post, I want to get more cookbooks, but in the meantime I've been scouring one of my favorite websites, Pioneer Woman Cooks, for the past couple of weeks; looking for recipes that I think the family will eat and that I am capable of making : )
Ree Drummond is one of my favorite people  : )  A dear friend in my head.  I love her food and confessional blogs and I love her show.  When I watch her show I feel comforted even when she's making things I would never eat.
I can't wait to get her cookbooks.  In the meantime, her food blog is the best I've seen.  I appreciate that she breaks it down with pictures for people like me, who need to see everything step by step.  I wanted to share a few of the recipes that I've tried in the past week or so that my family and I have really enjoyed.
BOWTIE LASAGNA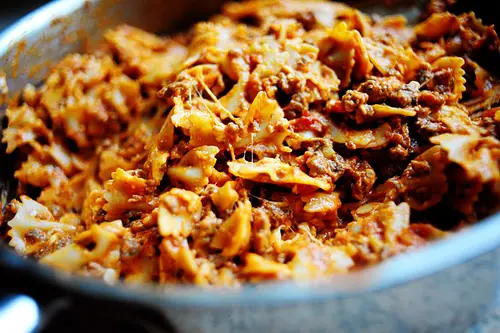 This bowtie lasagna was super easy to make and the family enjoyed it.  I didn't eat it, but tasted it, and it was good. Since I'm keeping it low on the carb intake I ate something else.  The only complaint was more meat, less pasta from man of the house, so I'll keep that in mind next time.
CHICKEN QUESADILLAS
Yeah, I'm sure many people have made chicken quesadillas and do so all the time and this is like making eggs to them…but to me, honey I've just hit a gold mine!!!  We all absolutely loved it!!!
This is officially in my repertoire for sure and it's super easy so much so that I don't have to look at the recipe again.  We don't do onions and peppers in this family and it seems as if every recipe Ree has includes onions.  I know they can add flavor, so I did slice very finely a very small piece of an onion and I don't think anybody noticed 😉 I did, but it wasn't horrible : )
RANCH STYLE CHICKEN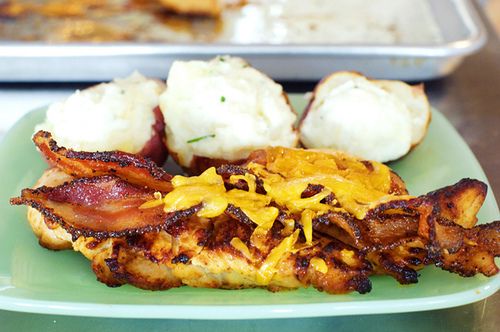 To be honest, the crowd was mixed on ranch style chicken.  My son and I liked it, my daughter didn't care for it and my husband didn't understand the presentation.  I thought the chicken marinade was delicious, I didn't even marinate mine for the whole hour as instructed and it was still tasty.
I liked the bacon and the cheese on top, like what I've seen in chain restaurants.  So I will make this again because I like it and when two out of four like a dish, it stays on the drawing board.
CHICKEN MOZZARELLA PASTA
I tried this recipe a while back, like several months back and it was a huge hit!!!  We loved how cheesy and delicious it was and the kids even asked for seconds, which is a huge deal.  With this meal, you want to buy fresh mozzarella and fresh parmesan cheese, not the pre-shredded stuff, it melts differently, trust me (after Ree told me to trust her lol) it's worth it.
If you are cooking for a family such as mine, where it's exceedingly difficult to please everyone, I suggest giving these easy dinner ideas a try.  I mean, my husband won't eat casseroles of any kind, my son eats better than my daughter but they're both picky in different ways and if I'm strict in my own eating, I'm not eating anything that they eat!
Pasta works for them and not for me, but I'm all about pleasing them when it comes to food.  My job is to feed my family and it's always nice to hear "mmm this is good Mommy" instead of, "do I have to eat it all?"
Suffice it to say, you might find that one of these options may be a hit out of the park with your brood.  I'm on the hunt for even more to try!