I don't know about you but grocery shopping is like laundry.  It always needs to be done, it takes up so much time, and it seems never ending.  Needless to say I'm not a fan of my weekly grocery trips or laundry.  But I found a grocery hack that I use to save time, money and my sanity (most importantly) !
*this post includes affiliate links, which means if you click on a link and make a purchase that I get a small commission that helps support this blog and my family. You can read more about affiliate links by reading my Disclosure post*
Let me give you a little backstory on my typical grocery shopping situation… I usually go Saturday mornings as early as my body will let me, because I am always trying to catch up on more sleep.  On a good day I have my list ready, a few coupons, and a dose of energy.  I usually go to Harris Teeter first, mostly for coupons and meats.  Maybe I'll go to Aldi for produce.  And then I round it out with Walmart for everything else.  These three stores are all in the same vicinity so I'm not running all over town.
The problem would come in when I would go to Walmart.  Let's face it, Walmart has low prices that I just can't pass up with our weekly basic needs.  But the problem when I go to Walmart is:
The shoppers (people shop with their carts the way they drive their cars – horribly)
The stockers (they're always in my way)
The cashiers (there's never enough lanes open no matter what time of day you go)
The grocery pick-up fillers (the employees who are fulfilling Walmart grocery pick up orders)
Needless to say, every week when I would go to Walmart I would get so frustrated.  It was beyond stressful and finally I said enough was enough.
So I decided to do something about it.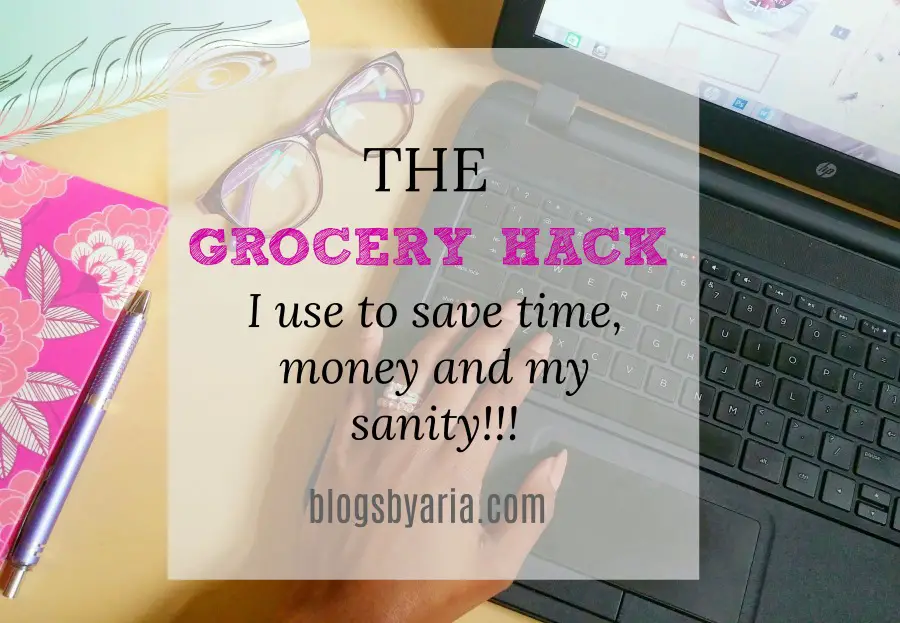 THE GROCERY HACK I USE TO SAVE TIME, MONEY AND MY SANITY!!!
Walmart Grocery Pick-Up
Yep it's as simple as using the Walmart Grocery Pick-Up.  It has been a life saver!
Here's why I love it:
SAVES TIME
I make my grocery list as usual, but instead of just writing my list, I'm adding the items to my online grocery cart or you can do it via the Walmart Grocery App.
I select the store and the time of pick-up that's convenient for me.
I pay online.
When it's time to pick up my order, I check into the Walmart Grocery App to let them know I'm on my way.  When I arrive, I check in to let them know what stall I am in for the Walmart Pick Up area and the color of my car.
In a few moments, I pop my trunk, the Walmart employee puts my items in my trunk, I sign that I have them and I drive off.
That whole turnaround time from the moment I pull into the stall to the time I leave is literally five minutes.  The shortest Walmart trip ever!!
SAVES MONEY
By making my list and shopping online I cut out some of the mindless shopping that occurs when you're in the store.  Buying that extra bag of chips doesn't happen because you're ordering online.
Because you're buying online, you're seeing the prices as you add each item.  So sticking to your grocery budget is even easier.  There's no register sticker shock!
bonus tip:  use the favorites in the app and you can easily "add all" to cart for all of the items you buy each time you shop!  They even remind you before you check out of items you've purchased regularly to make sure you're not forgetting anything!
SAVES MY SANITY
This is the biggest bonus for me!  I am so much calmer now that I shop this way.  I'm not getting irritated and annoyed by shopping at Walmart or dealing with parking.
I don't think I can fully express this in words! Haha!  I'm a patient person overall but not when it comes to grocery shopping so this makes my shopping experience without anxiety, almost Zen-like!  I really could have used this when my kids were little!
I definitely recommend giving the Walmart Grocery Pick-Up a try.  I'm not being paid or sponsored for this post, I wish I was, but after using this service several times I feel like I need to shout it from the rooftops!
DH even commented he's glad I started using it and now he doesn't have to hear me vent when I come home from grocery shopping. 😉
So here's the deal, I want you to try the Walmart Grocery Pick-Up for yourself, if you've never purchased on Walmart Grocery before, use this code for $10 off your first purchase!  You'll be a believer trust me!
Also worth noting, isn't it the worst when you're going to the store to get Crystal Light lemonade drink mix and they're completely out of stock? I'm speaking from experience here.  It really grinds my gears to look for something and it not be there.  Well most of the time the website/app will let you know if something is out of stock at the time of placing your order.  If something goes out of stock before your order pickup window, you get an email letting you know if they've needed to make substitutions.  You can either accept the substitutions or say remove from your order.  And don't worry if you didn't check your email first (also speaking from experience) when the associate comes to your car they make sure you're aware of the substitutions and if they're not to your liking they remove it from your order.
That makes the service worth it to me.  In a perfect world everything would always be in stock.  Since our world is far from perfect, I appreciate how this all works in my favor.  I hope you give the Walmart grocery pickup a try.  They even have delivery in some areas!  Don't forget! If it's your first time trying use this code for $10 off!  Can't beat that!!  Until next time friends!  Happy saving and a little less stress 😉