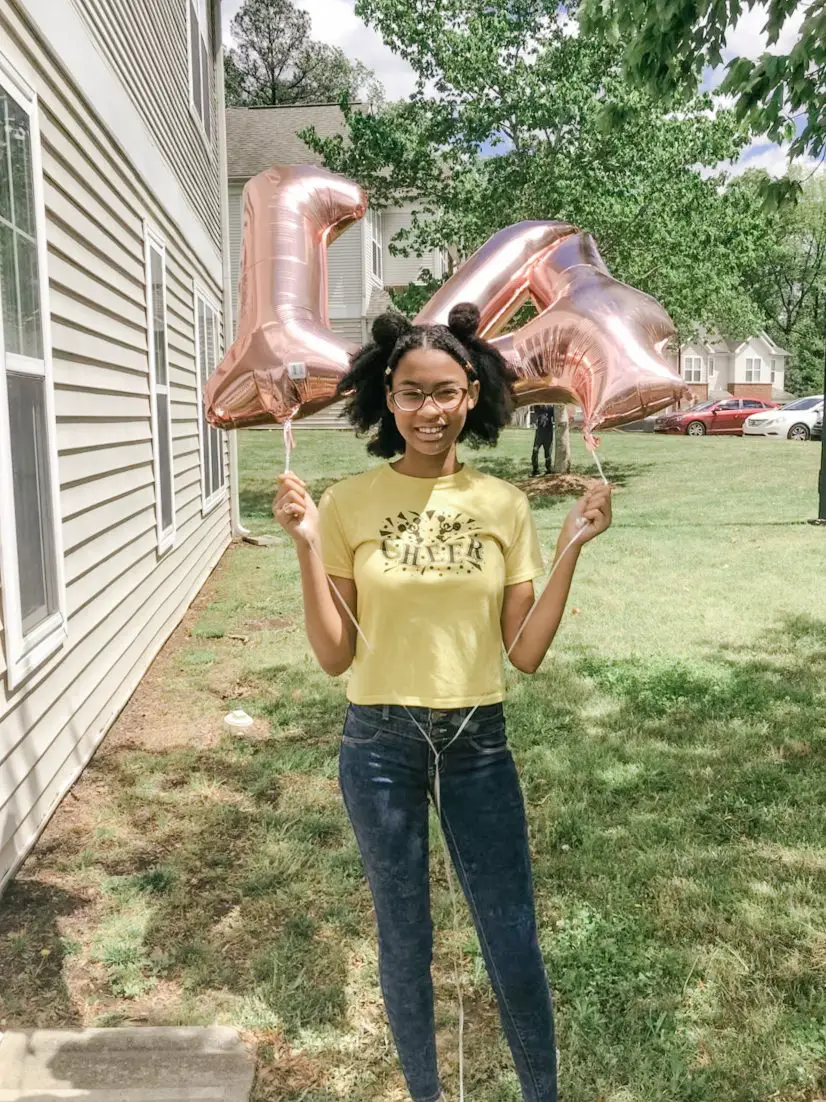 I hope you enjoyed the Easter holiday!  We did!  I love to celebrate Easter, it's one of my favorite holidays!  I got a kick out of watching so many Easter egg hunt videos on social media! So much fun for ya'll with littles.  A lot of times Easter will coincide with my daughter's birthday.  She turned 14 on Saturday!  I have a full-fledged teenager ya'll.  I still can't wrap my head around it.
*this post includes affiliate links for your shopping convenience, you can read more about affiliate links by reading my Disclosure*
I got these gorgeous rose gold number balloons from Party City.  In my mind we'd get some gorgeous shots like you see on Instagram. #fail I tried to convince her to change her shirt but she's 14.  #eyeroll  We ran out of time to go somewhere to take the pictures and the wind wasn't doing us any favors either : ) Oh well!
We along with both sets of grandparents went to eat at Kanki for lunch and then did what most 14 year old girls love to do…shop!  We shopped at a few stores at Crabtree Valley Mall and got a few outfits for the birthday girl.  I had planned to take her to the movies later that evening but we were all beat!  Another time : )
Today I wanted to share a few good things with you.  A few new good things I've found lately that I love.  Let's talk hydrangeas, a new lunch/dinner option I've found and my new handbag!
Okay so, I went to Trader Joe's for the first time the other week.  I went to get hydrangeas and to see what all of the fuss was about.  Literally I would pass by the store on the interstate every day on the way home from work and I had never stopped in.  Finally I decided to pop in and give it a look.
Speaking of hydrangeas I have to share how great my hydrangeas are looking these days!  These are my second set of hydrangeas from Trader Joe's.  I took a picture of the original bunch the day I got them.  Within 48 hours they were toast.  Thankfully I didn't spend more than $6 on them.
So I did some research and got some tips on how to keep them not only alive but thriving.  I snapped this quick pick today almost a week before I went back and bought another bunch.  I actually bought two bunches this time and got some blue hydrangeas too.
HOW TO KEEP HYDRANGEAS FROM DYING IN UNDER 48 HOURS
 Cut the stems on a diagonal.
 Give them new water every day.  I change the water out in the morning before I leave for work.
 Spray the petals every day with a spray bottle.
If they do start to wilt, put some ice cubes in the water.
An expert does not a week make, but they're holding on pretty well.  The only thing is I'm starting to see brown spots here and there.  I'll have to do some more research on that.  I just wanted to treat myself to some flowers from time to time but I'm beginning to think faux is better.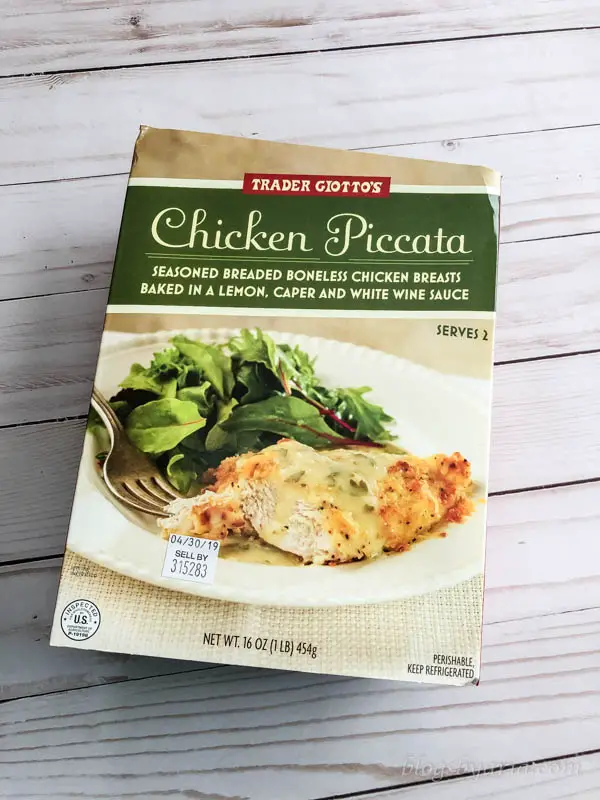 I'm currently eating low carb and the majority of what I saw in the store was not suited for what I can eat.  I was about to leave the store with just a bouquet of hydrangeas but I decided to keep looking.  I'm so glad I did.  I stumbled upon this chicken piccatta.  I decided to try it out and it's quite tasty! I've been sharing a lot of my low carb eats on my Instagram highlights and I shared my thoughts on this too.  I like it so much that I am actually eating it for dinner tonight!  I highly suggest you give it a try.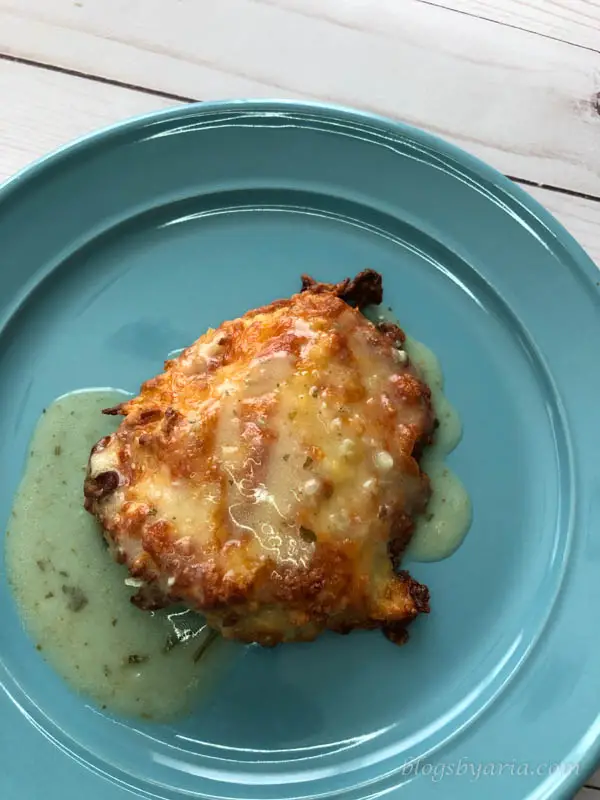 P.S.  I like my chicken crispy so I bake it at a higher temperature and for about 10-15 minutes longer than the package says.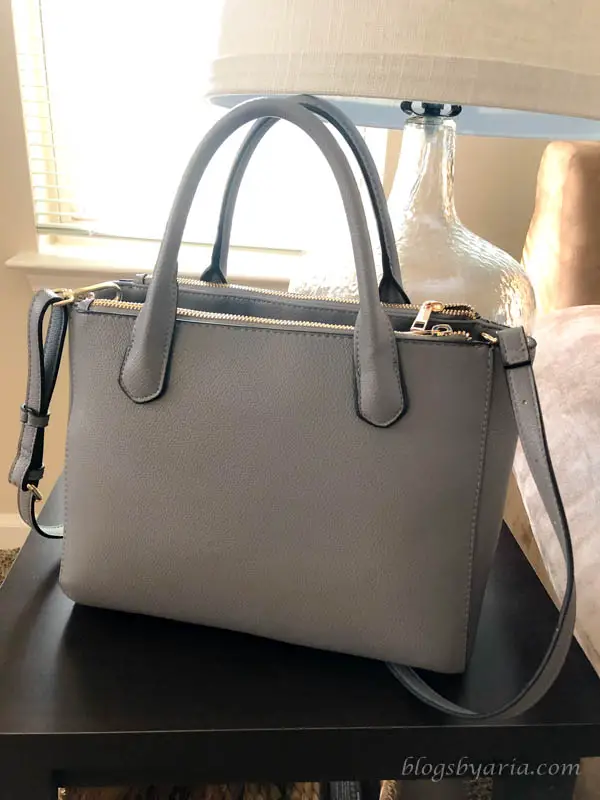 Ya'll my old handbag was so busted and disgusted.  It had rips and holes in it and I don't know why I'm like this but I just don't want to spend money on a handbag.  I know, I know, me the girl who is obsessed with Louis Vuitton.  No I don't own any Louis Vuitton pieces…yet.  But I just don't like to spend even $40 on a bag.
Recently I mentioned that I really needed a new handbag and DH asked how much would one that I like cost.  I said probably around $40 because I planned to get it from Target.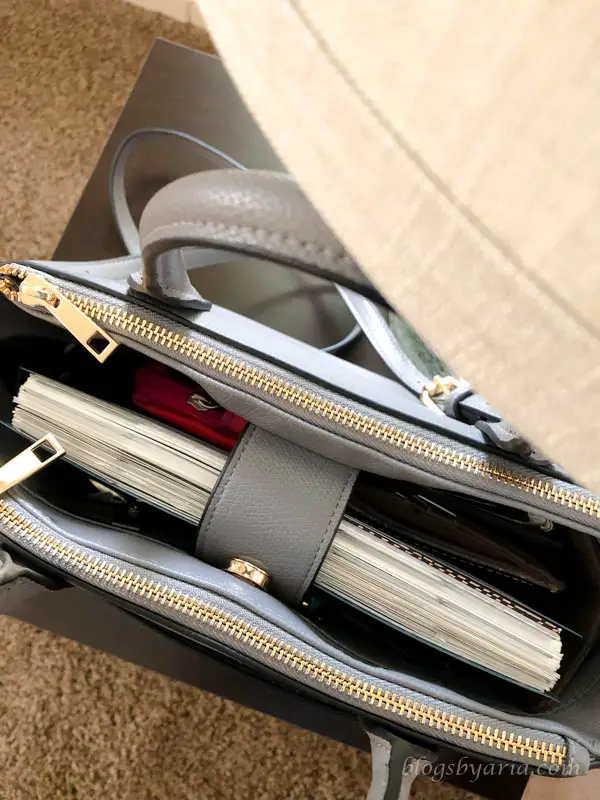 I was in Target way longer than necessary and decided to get this gray handbag. It's the triple compartment satchel handbag by A New Day. It fits my essentials, has lots of zippered compartments, and most importantly fits my planner.  Win Win!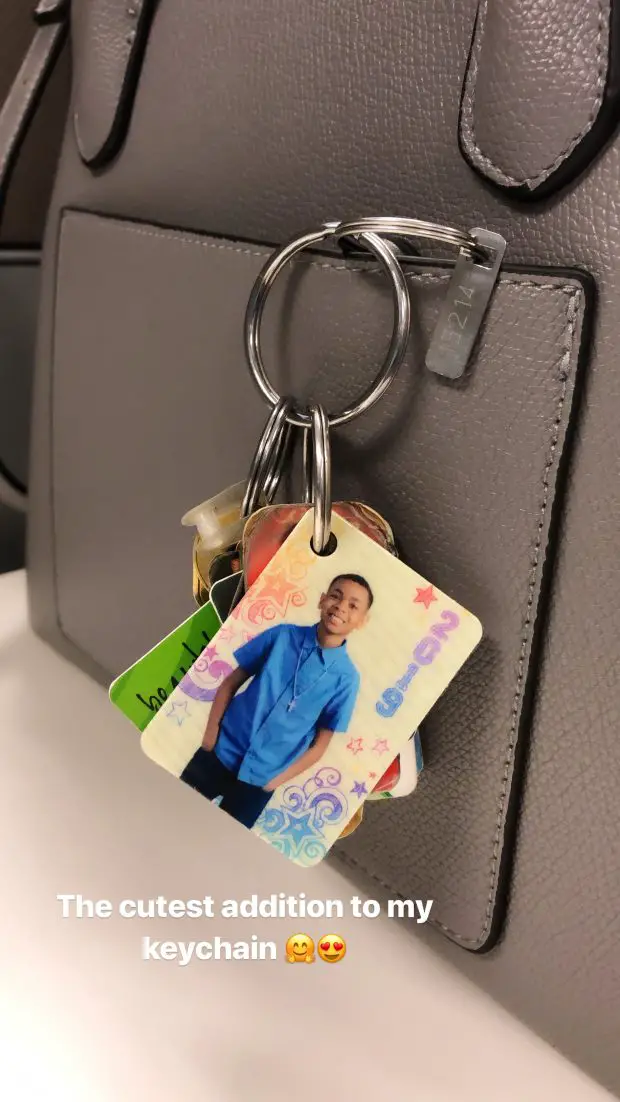 I wanted to get this post up tonight but there's not enough time in the day.  I just finished helping my daughter pack for her field trip to Washington DC tomorrow.  I'm up much later than I should be seeing that I have to wake up at the crack of dawn to take her to school.
I remember going to DC when I was in middle school too and I loved it.  Random fun fact…Brianna wears one of my old tees as a sleepshirt.  It's the same shirt that I had to wear to America Sings (a big school show choir event with thousands of students coming together to sing) when I went to Washington DC and now she's going too!  What a full circle moment!  I wish I was going too but I'd rather us go as a family not on a school trip.  I'm low key jealous that she gets to go to the National Museum of African American History.
Anyway I'm rambling and I need to head to bed.  I just wanted to pop in and share a few good things with ya'll. I know the posts have been few and far between lately but I'm working on some new posts to share.  I'll be back soon!!  Until next time friends 🙂