I'm back sharing an amazing Parade of Homes tour today!  It's way out of my standard style of house I share and if what you like is industrial interior design, you're going to love this industrial modern house tour!  Be prepared to be inspired and pin your heart out!
This stunning home is located in a luxury home community located in North Raleigh.  All of the homes, or estates rather are large and unique.  There's nothing cookie cutter about this neighborhood that's for sure!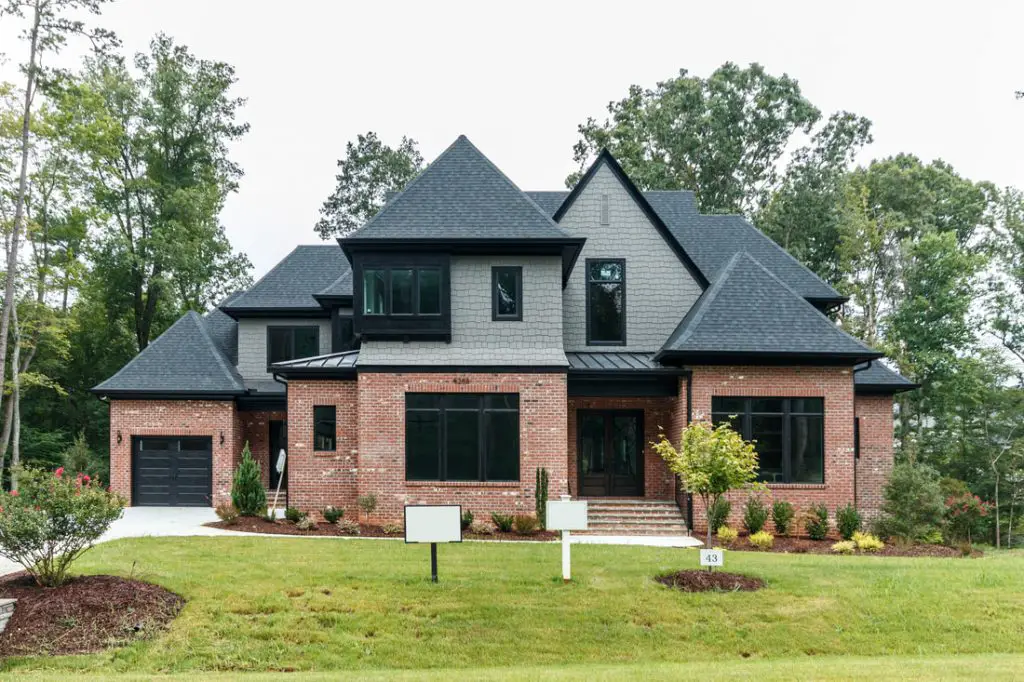 Situated on about 3/4 of an acre lot, this home features 4 bedrooms, 4.5 bathrooms and boasts 5808 square feet!  At the time of viewing, it is listed at $1,398,000.
Even though the modern industrial style is not to my liking, there are so many cool features and design elements in this home that I admire.
The exterior of this industrial modern homer features brick and shake siding.
As you walk into the palatial two story foyer you are greeted with this beautiful staircase.  You immediately get a feel of the modern industrial design that is throughout this home.
Before you come fully into the home there is a study to the right of the front door.  Floating shelves are perfect for adding modern industrial decor.
INDUSTRIAL MODERN KITCHEN
This gourmet kitchen features a chef's island along with an abundance of storage space and counter space.
Here you have an open concept kitchen, dining and living room.  It makes this a great home for entertaining.
The living room opens up into the sun room.  I love all of the light that floods into this space.
Off of the sun room is the expansive master suite.
As you can see this massive owner's retreat features it's own fireplace which is a nice touch.  I'd change the colors of the ceiling but I really like this master bedroom.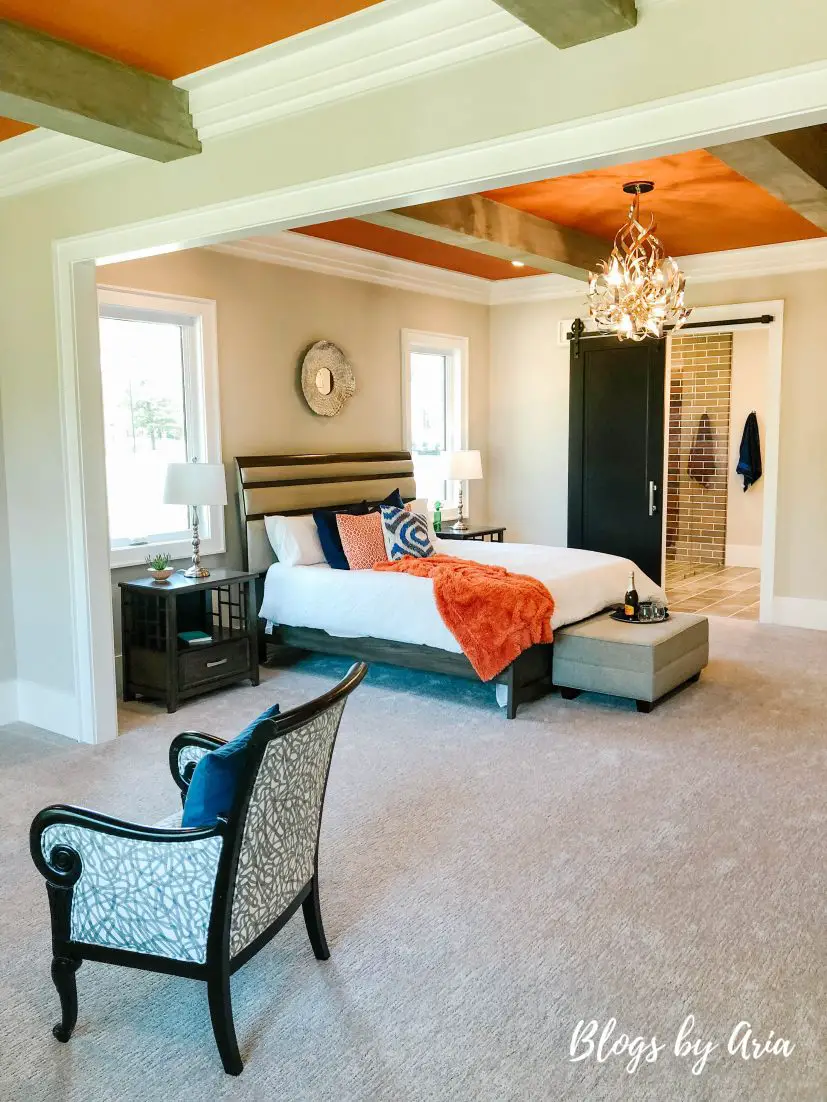 I love how sleek this barn door is leading into the bathroom.  Now, do I see barn doors in the majority of these Parade of Homes?  Yes.  But they're usually farmhouse style.  I appreciate that this sliding barn door stays within the modern industrial design aesthetic.
Aren't these industrial light fixtures the coolest?
I didn't get a good head on shot of the shower, but you can see it in the mirror reflection above.  Now that's a feature that I thought was pretty cool…the brick-tile shower!  If you want to see more of it, you can check out my Instagram Story Highlights "house tours" for a video of this bathroom.
The biggest standouts of this home to me are the kitchen and owner's retreat.  But I was able to get a few more shots of this intriguing home.
I had to get a close up of this light!
I love how unique this powder room is.  The vanity carries some of the design from the kitchen to tie the spaces together.
When I'm touring homes I always get inspiration from bathrooms.  I love this herringbone shower tile and how the tiles are longer subway tiles, not the standard size.
The bonus room is enormous as are the master suite and other bedrooms.  They included a built-in craft space as they call it.  This can be used in so many ways and I love how it faces the windows.
Speaking of windows, that's one of the features of this home that I do like.  The clean, modern windows.
I always appreciate a mudroom space and this one doesn't disappoint.  It has clean lines and a shaker style detail to continue the clean lines you'd expect in a modern home.
I'm so glad I was able to take you on a tour of this industrial modern home!  This is a prime example of why I enjoy Parade of Homes especially now that we live here in Raleigh.  It's so fun seeing so many different design styles and I'm always in awe of beautiful architecture.  So I hope you enjoyed it as well and found some aspect of this modern industrial design that you like too.
If you enjoyed this industrial modern home tour, you can see more of this home here.