Welcome to the Cedar Haven house tour!  I'm excited to share this unique home with you today!  Have you ever been out and you see something that catches your eye?  Next thing you know you're drawn towards it like a moth to a flame?  Well that's how I was with this home.
I love to tour multiple homes in the same neighborhood.  On this day I was leaving another house and spied this eye catching home.  Let me show you what I mean.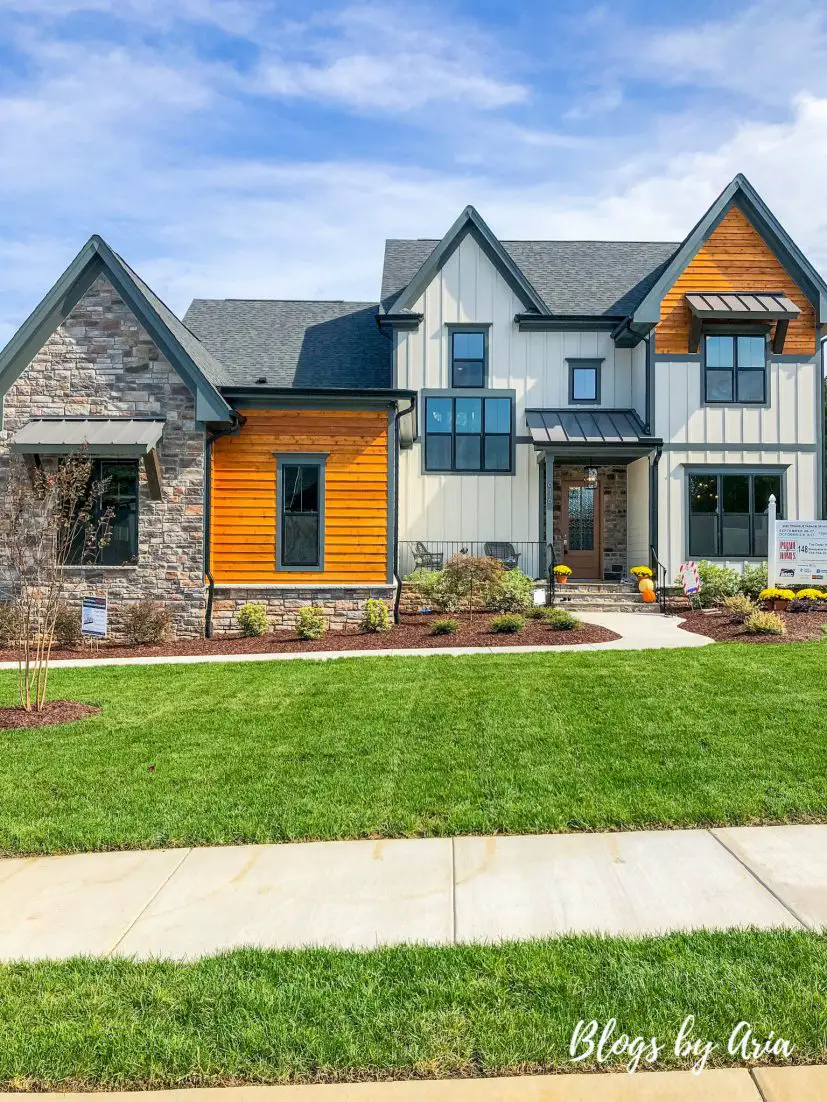 I mean, will you just look at this exterior!  You can see why I was drawn to it.  The exterior is made up of stone, cedar (or cedar-look) siding and board and batten.  It may not be what I would like for my home, but I like it.
Just look at the beautiful three car garage!  So often people overlook a garage door, but it's part of the overall aesthetic.
The Cedar Haven house has 5 bedrooms, 4 bathrooms and is just under 4000 square feet at 3974 square feet of living space.  Located in Wake Forest, North Carolina at the time of viewing this home was listed at $769,900.
This year is the first time I've been in this neighborhood.  I had never heard of it before and when I was driving in, I fell in love with it.  It's full of charming homes, each with their own character.  No cookie cutter houses over here.  The lots are a good size and there's sidewalks.  It feels like your perfect suburban neighborhood.
I loved it so much I came home and told my husband how much I loved it.  And now I'm telling you!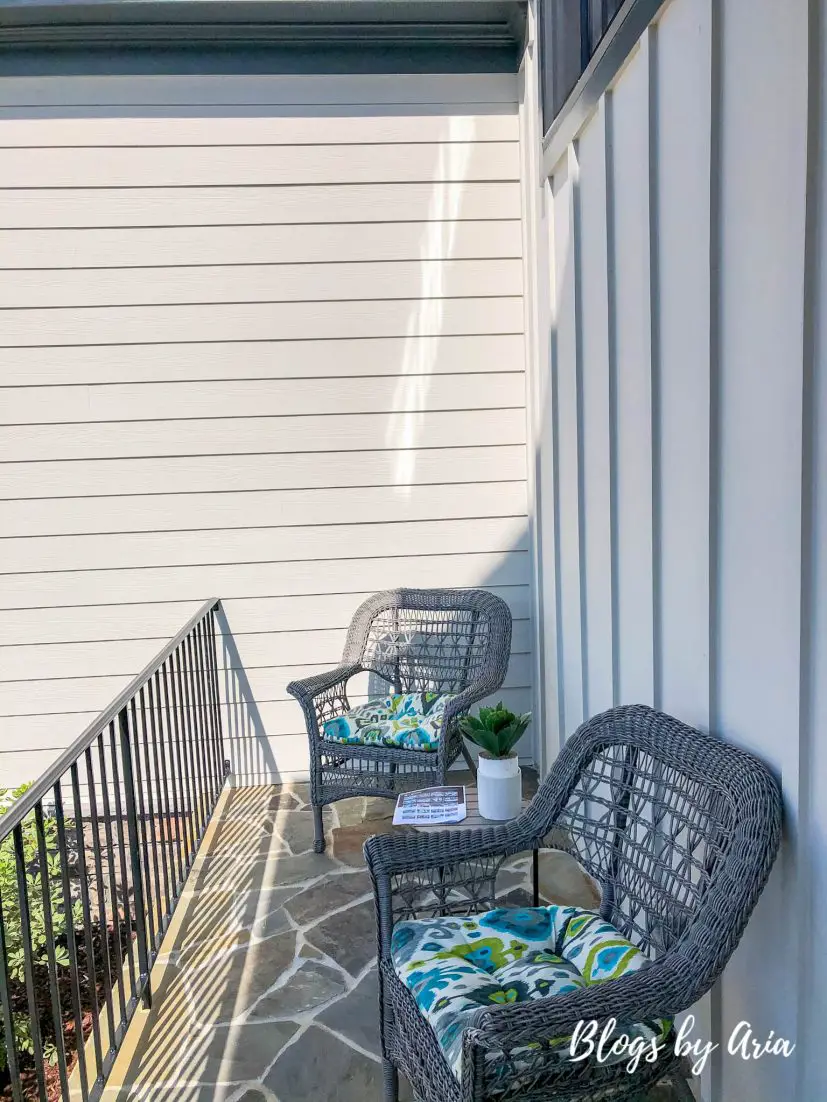 Although there isn't much of a front porch area, there is a landing off to the side.  I wouldn't sit out here because there's no covering.  But it would be nice to decorate seasonally.
FOYER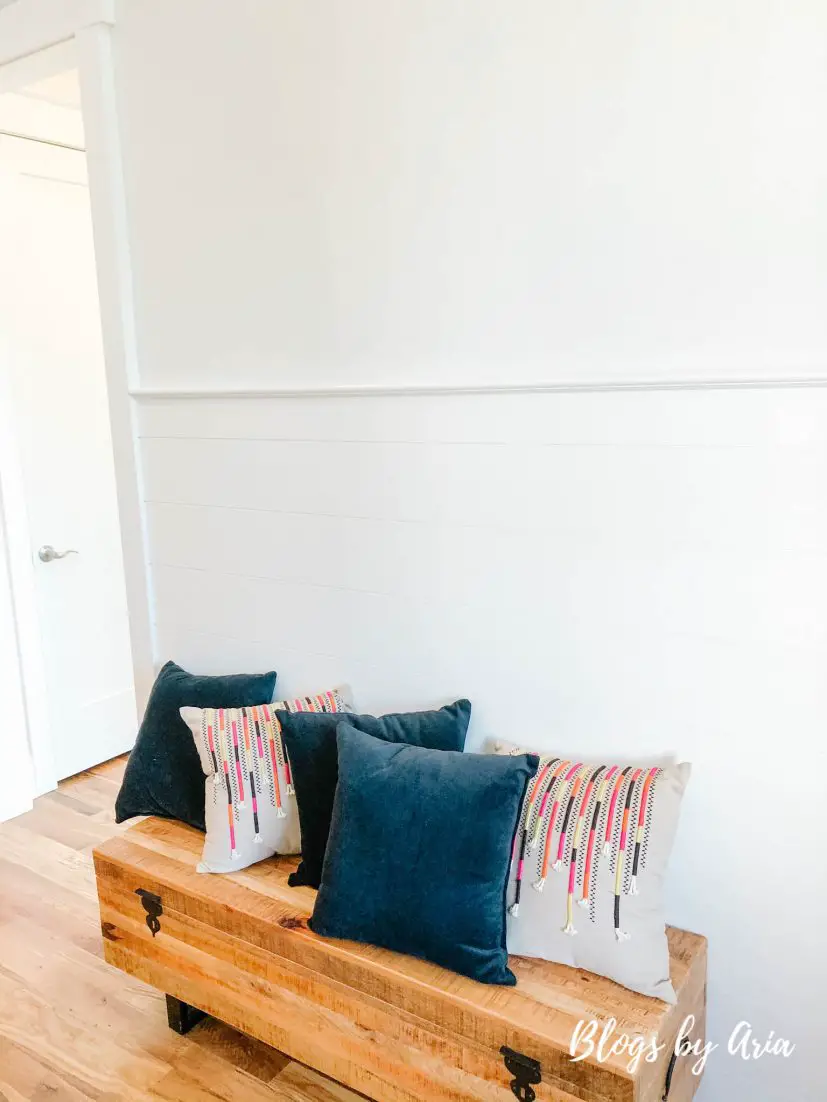 The entryway is trimmed in shiplap about halfway up the foyer wall.  You can already see how light and airy this space is from all of the natural light.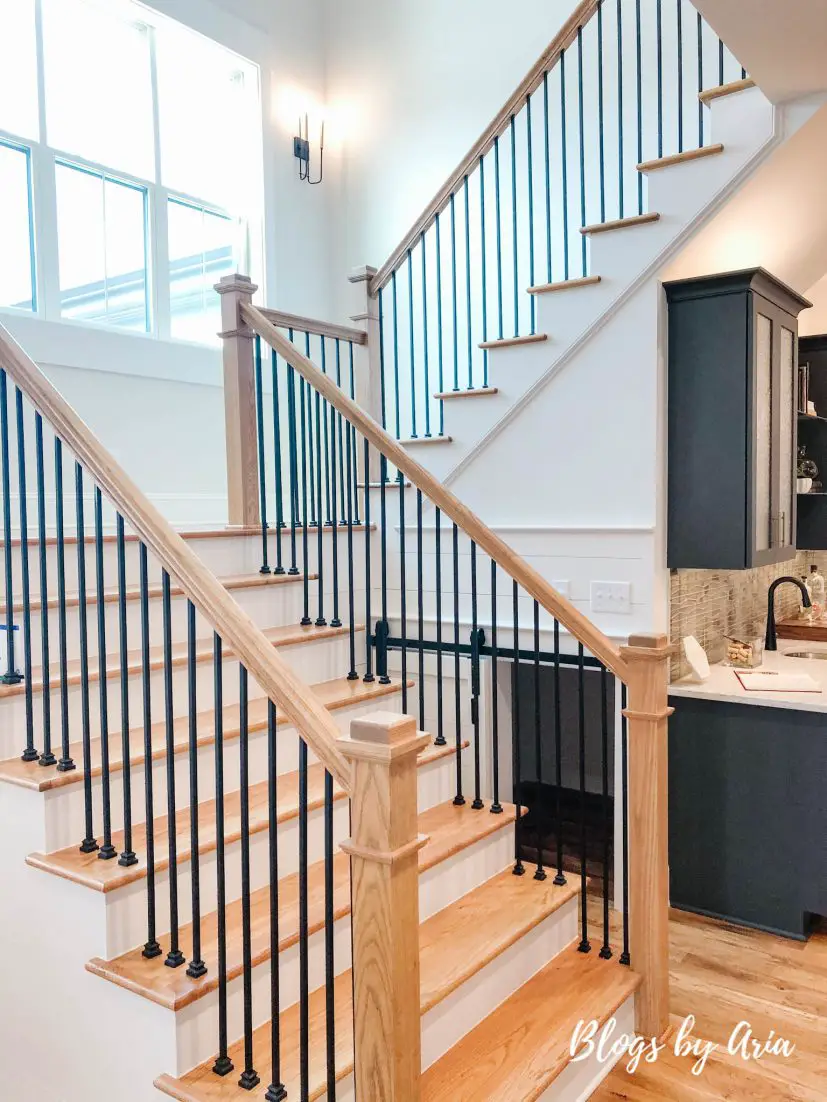 WET BAR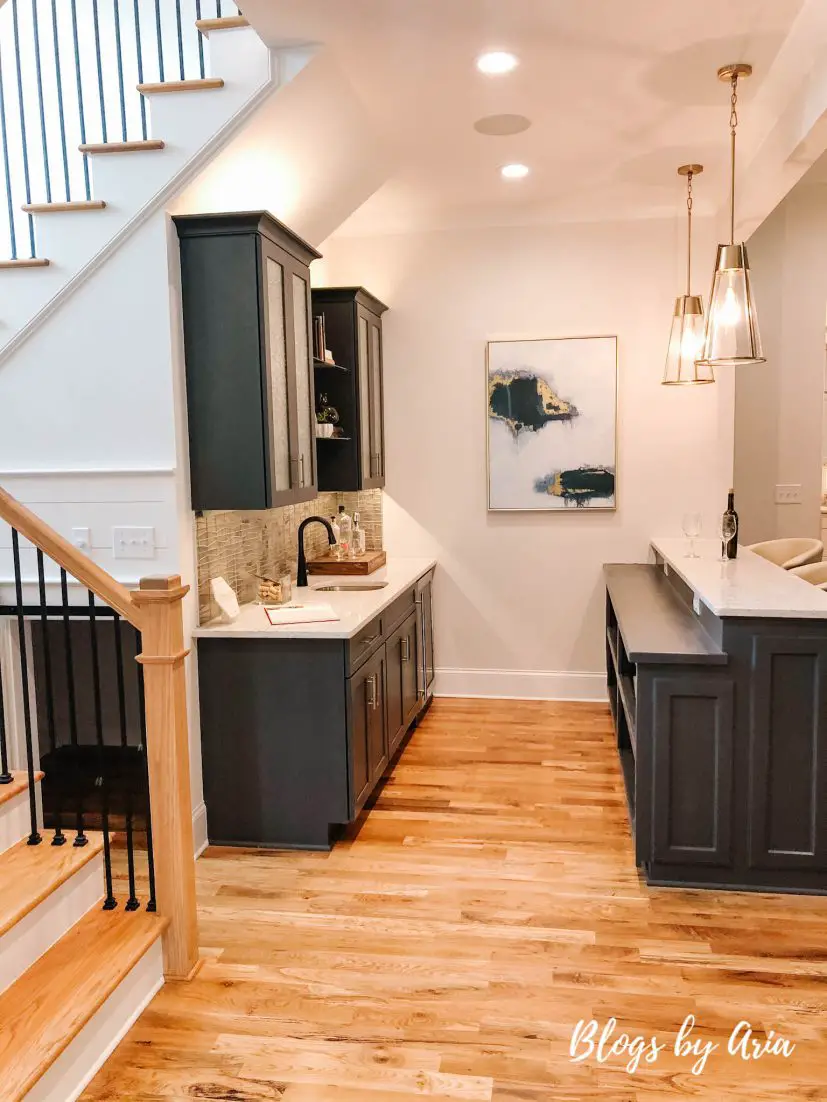 Off of the stairs is a wet bar.  Before we discuss the wet bar do you see the little cutout under the stairs?  Perfect for a puppy!
Now I really don't get the whole wet bar thing, but that's just me.  Clearly people like them because they're in a lot of the houses I tour.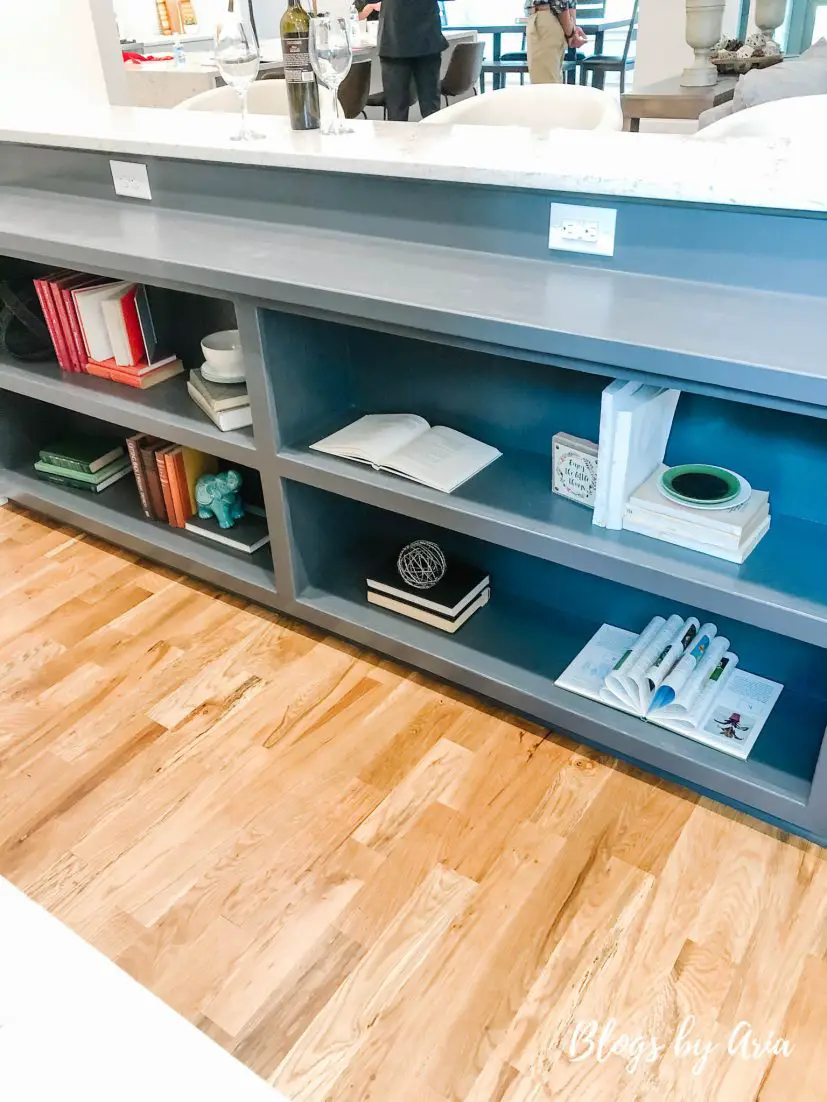 What I like about this particular wet bar is that it has good storage and can be an extension of the kitchen.  If this was a house for my family I can see this being put to good use around the holidays for serving.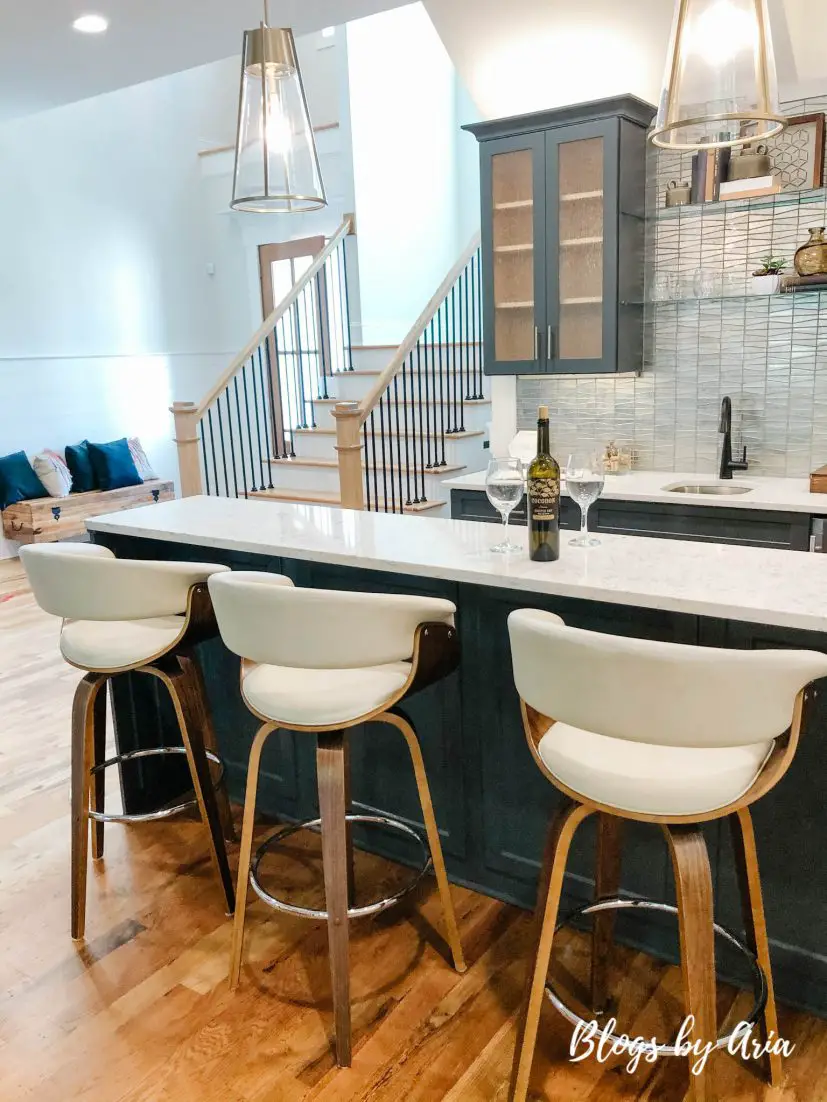 Here's a better look at the layout of the front entry, the stairs and the wet bar.
FAMILY ROOM
The family room is a great size and I love the stained wood beams.  You may be wondering what's up with the red arrows on the floor?  Well, I did tour these homes during Covid.  The first weekend was very limited but by the next weekend our Governor removed some of the restrictions.
Still, they wanted you to walk through the homes a certain way, so you'll see those arrows throughout this house.  I'm not too skilled with Photoshop so there's that.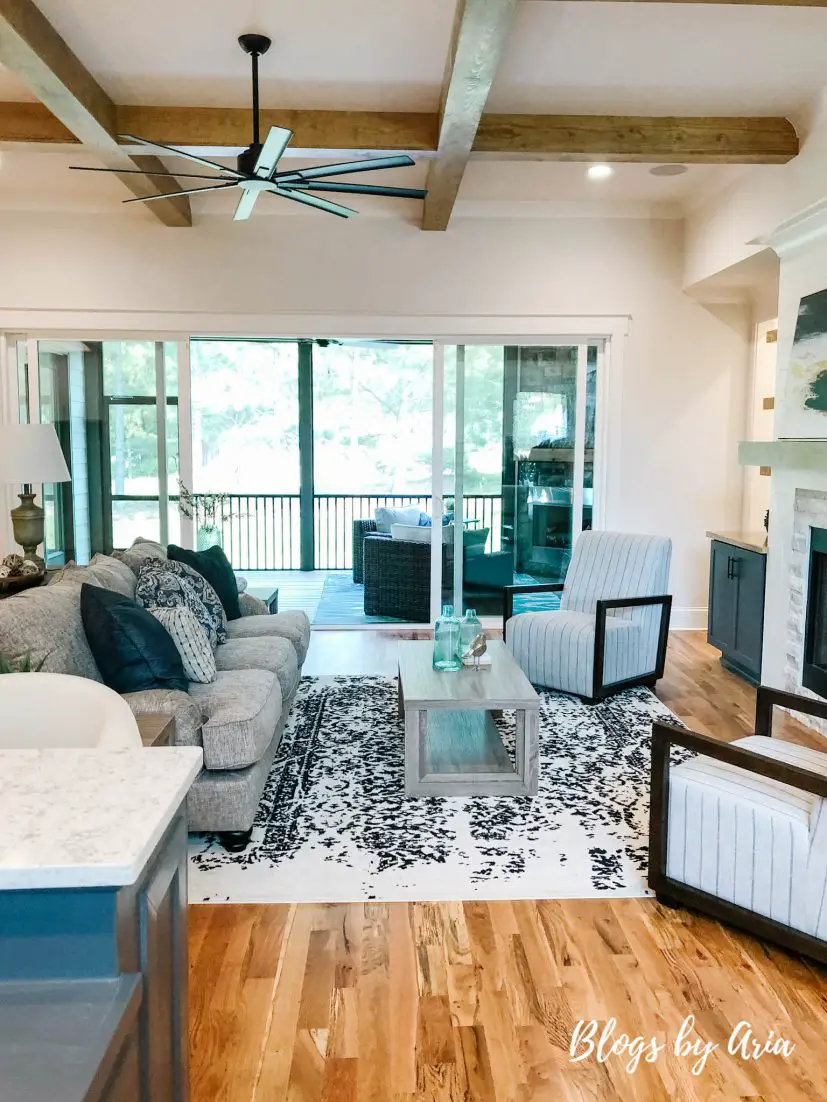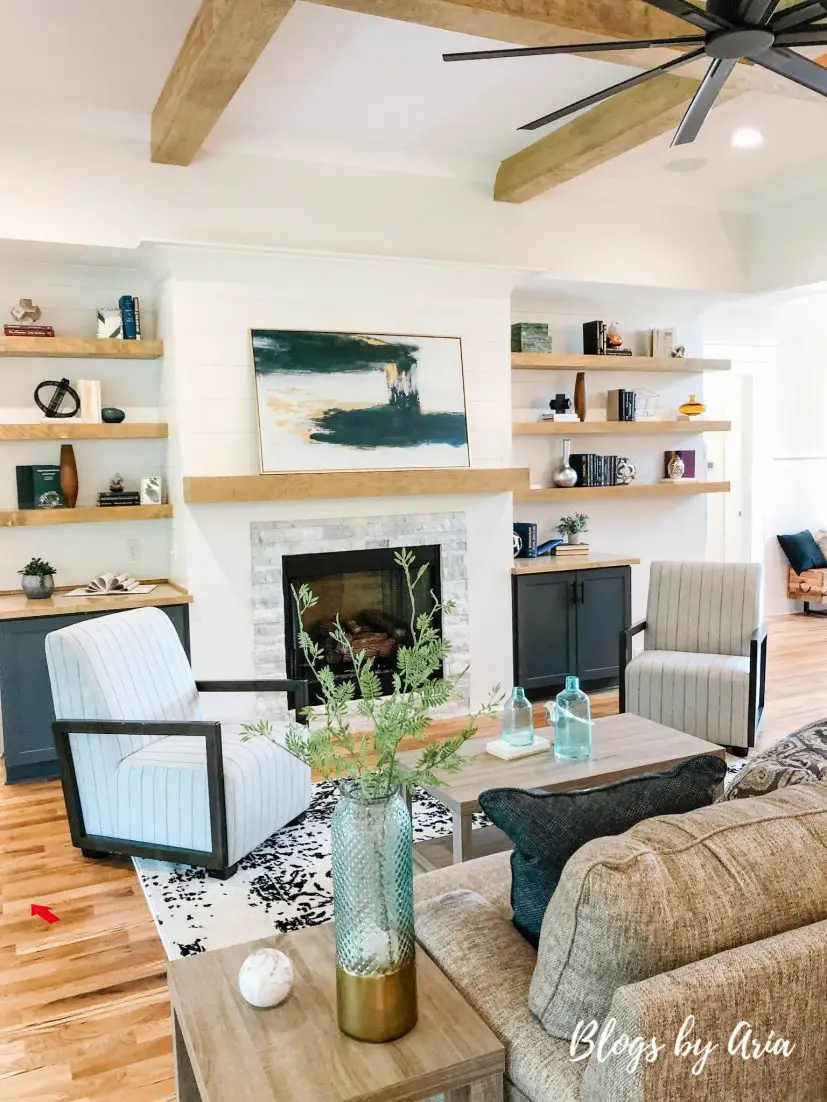 Moving on I love the floating shelves flanking the fireplace.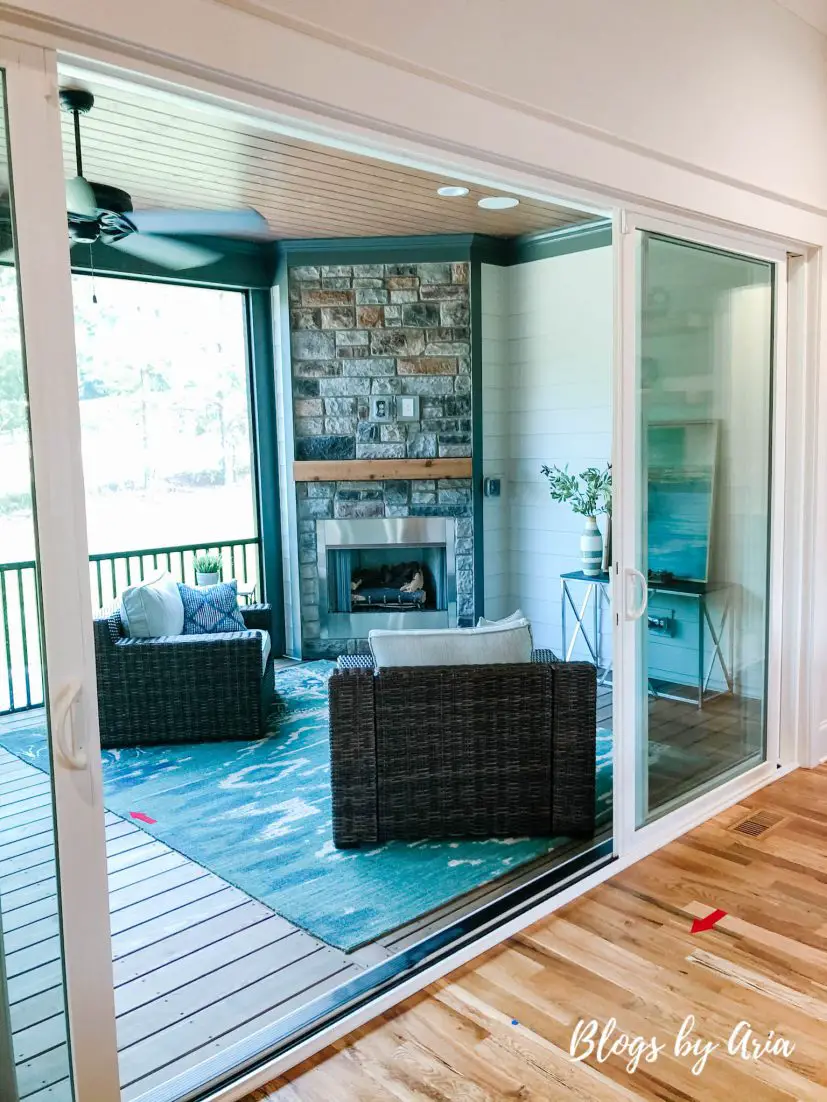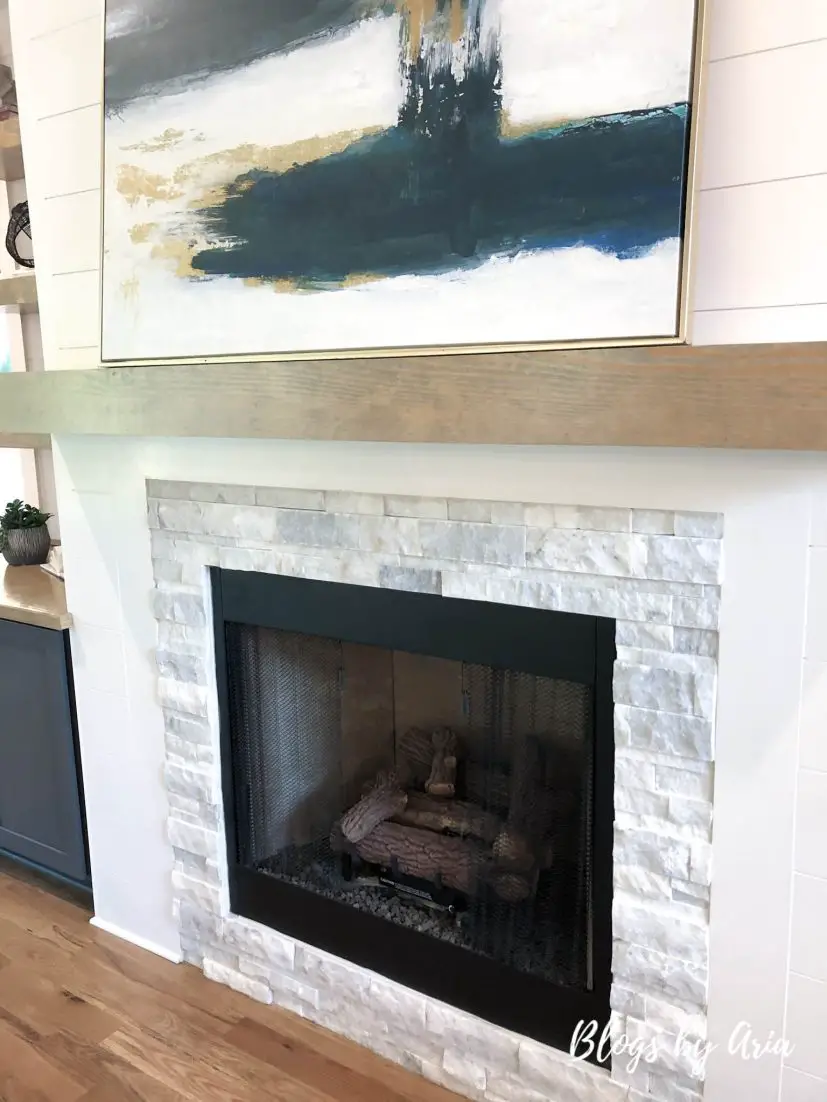 The stone fireplace surround is just beautiful isn't it?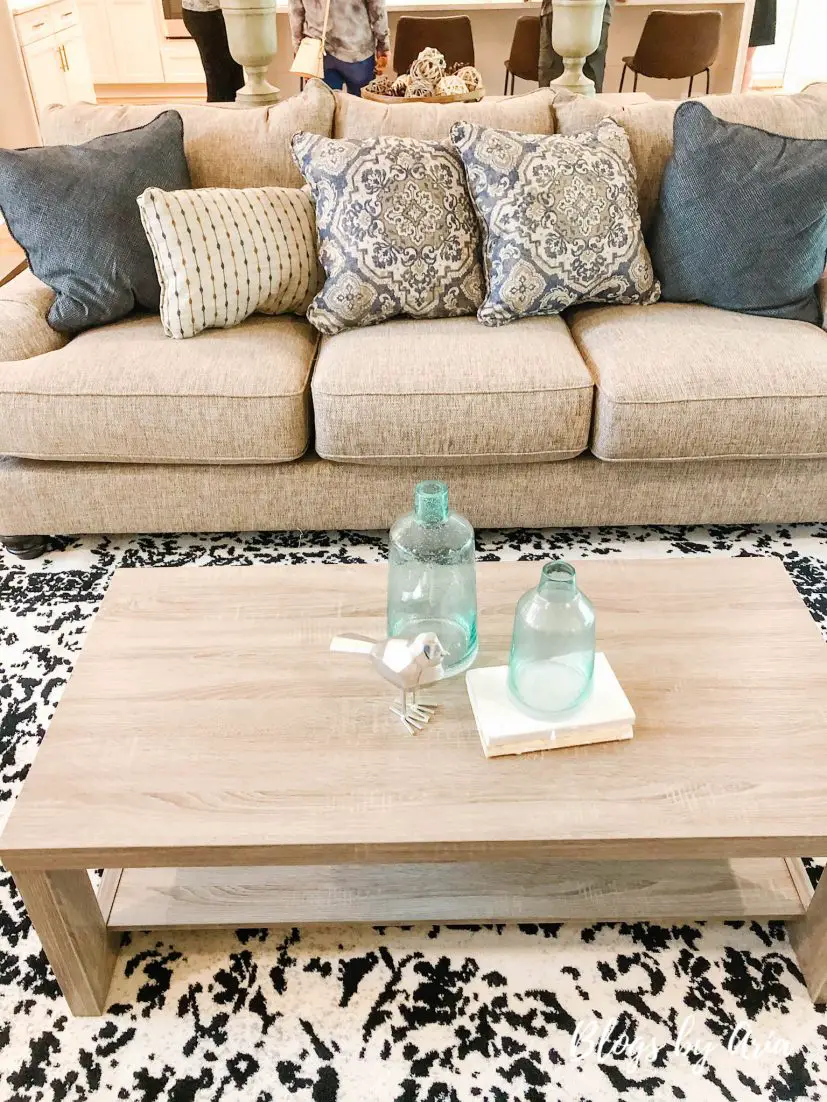 KITCHEN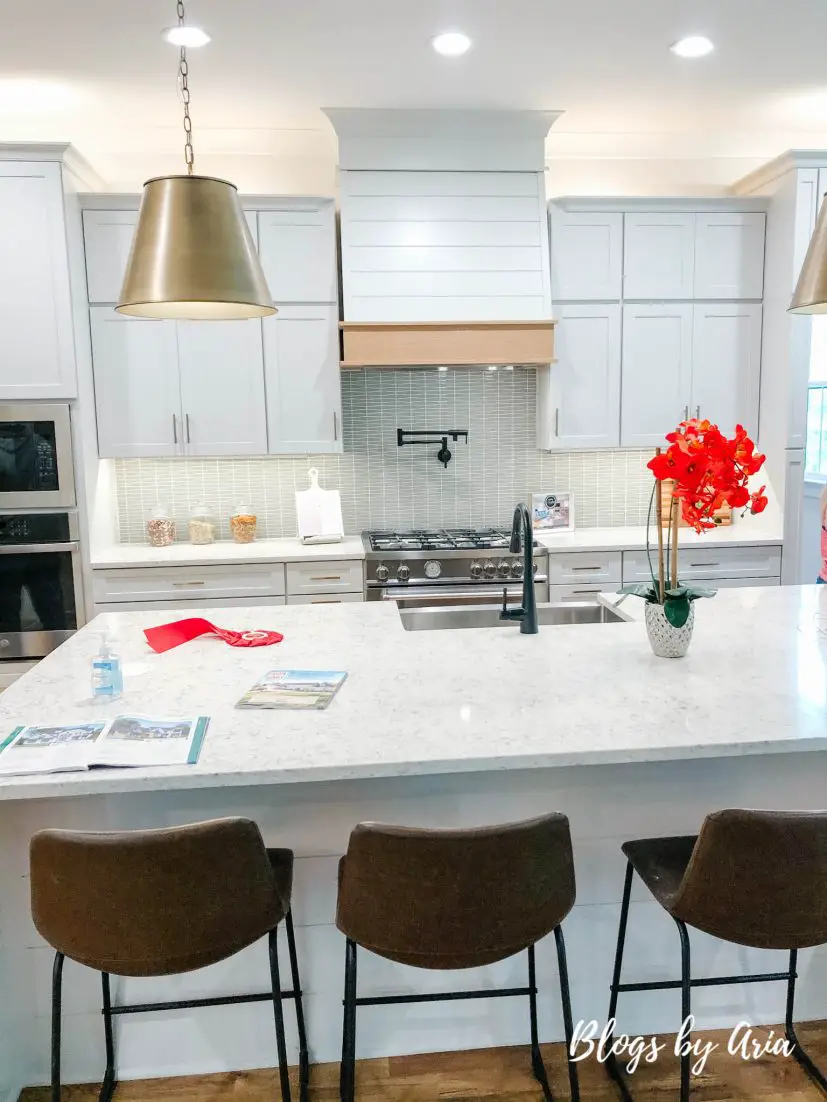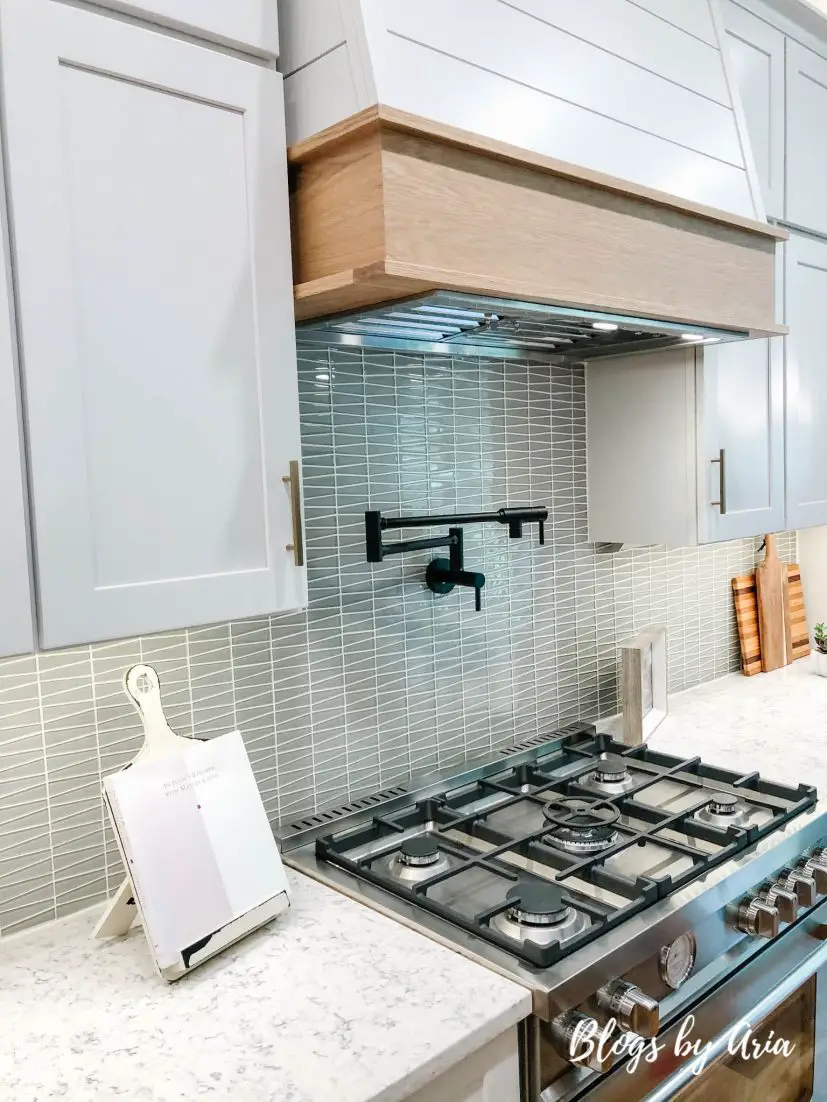 Love the glass tile backsplash.  It's such a serene and calming color and reflects the light well.  Not to mention these countertops!  Beautiful!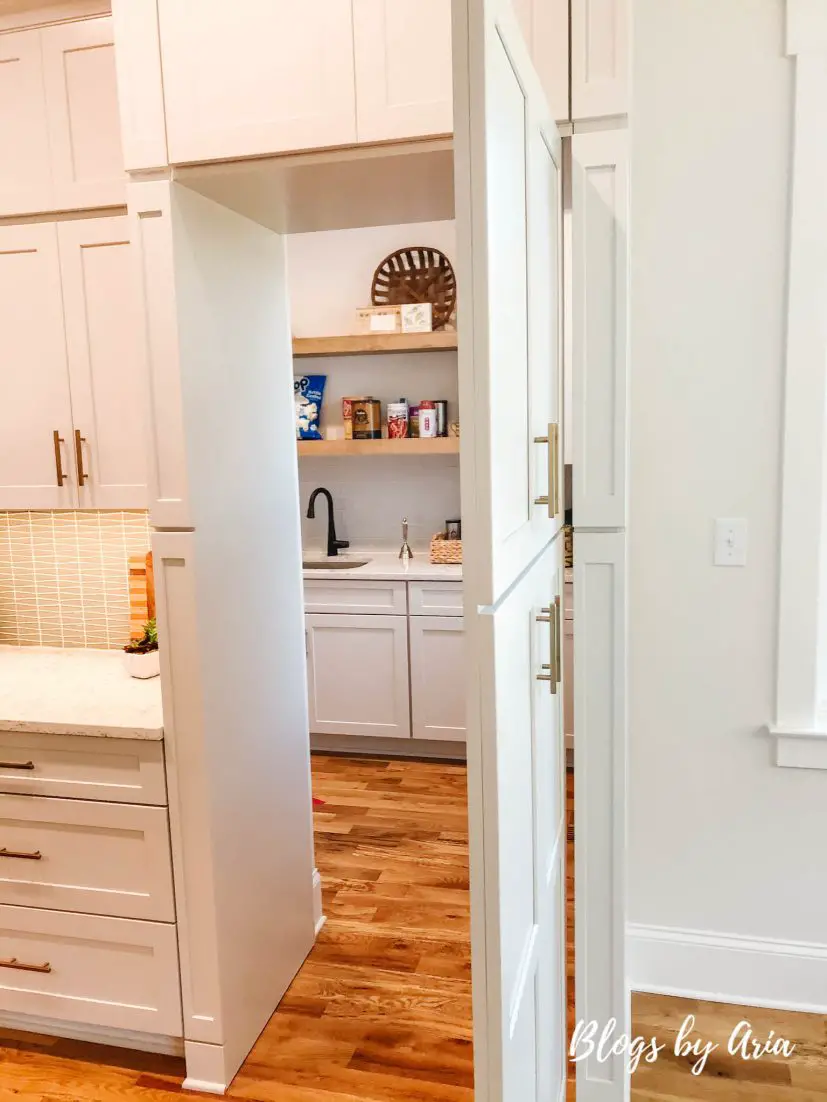 One of my favorite design features in a kitchen is a hidden scullery and pantry.  This one surely doesn't disappoint.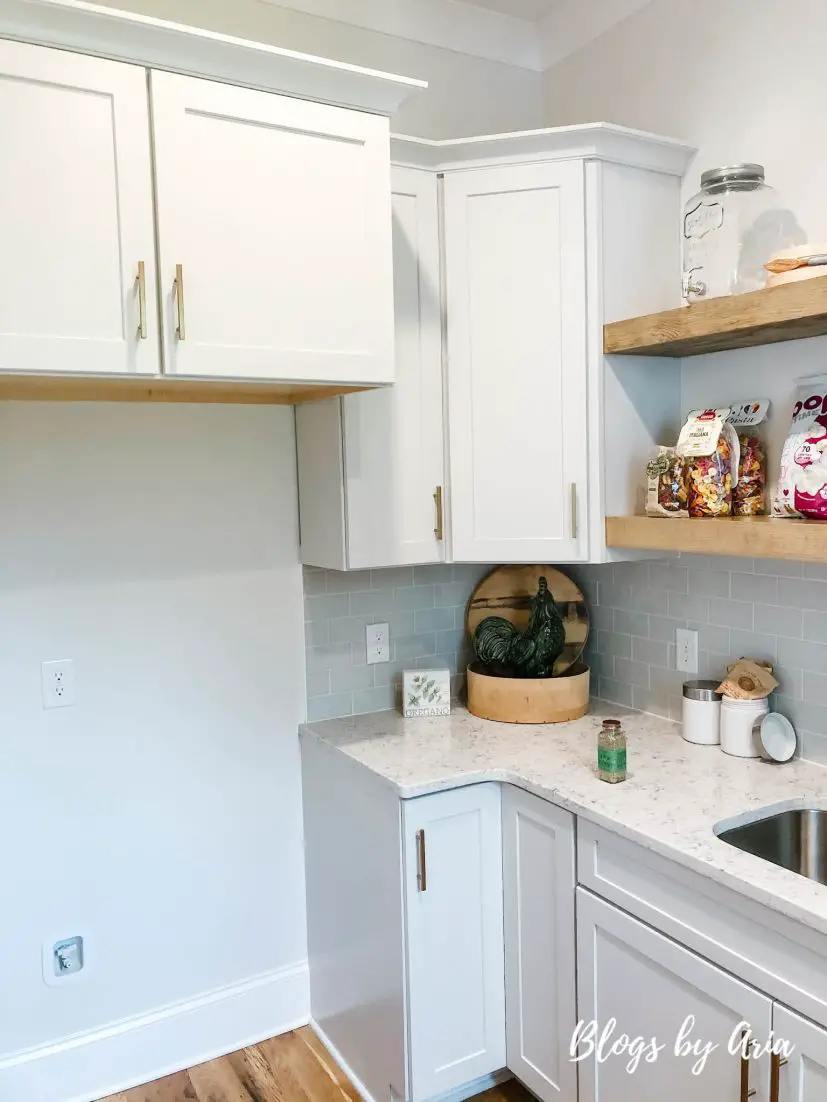 In addition to more cabinet space and floating shelves, there's also room for an additional refrigerator or deep freezer.  I like when that is an option because we can't always have an industrial size fridge in our kitchen.  But we need to be able to store more food, especially if you have a larger family.  Or teenagers.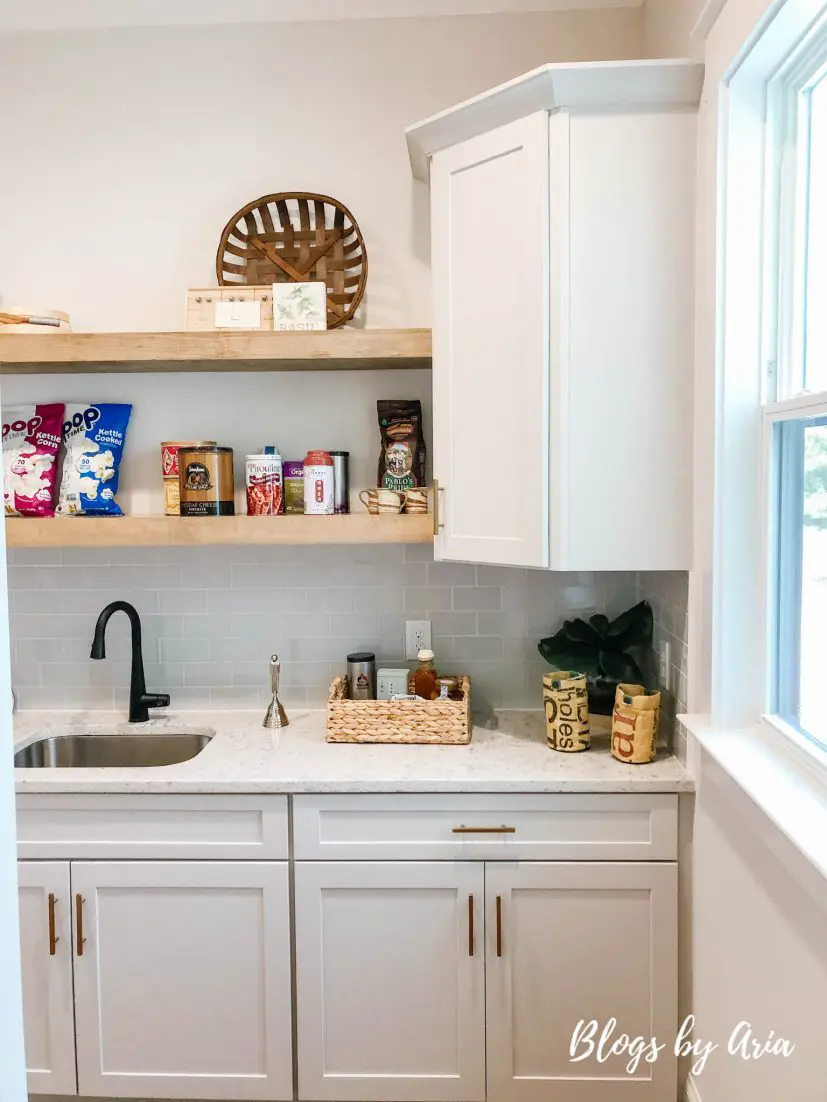 All of this storage just makes me giddy! 🙂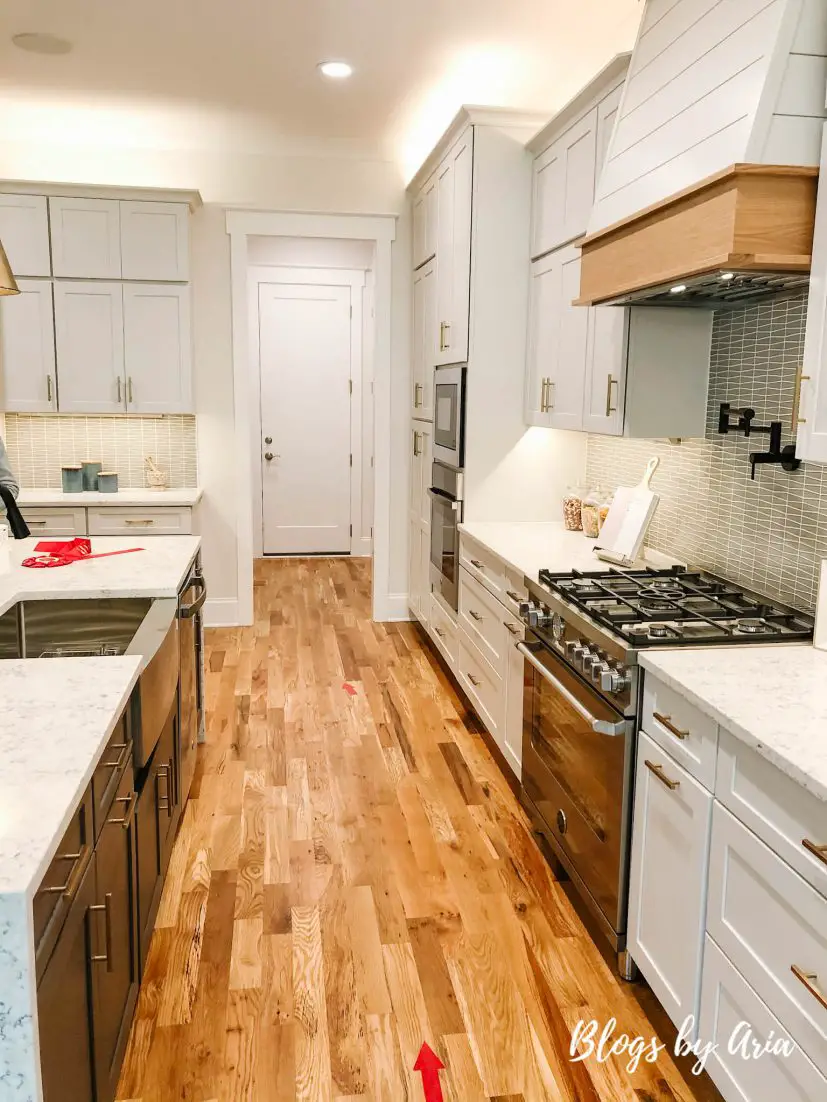 Before we leave the kitchen, let me show you this hidden electrical socket.  I think this is a wonderful idea!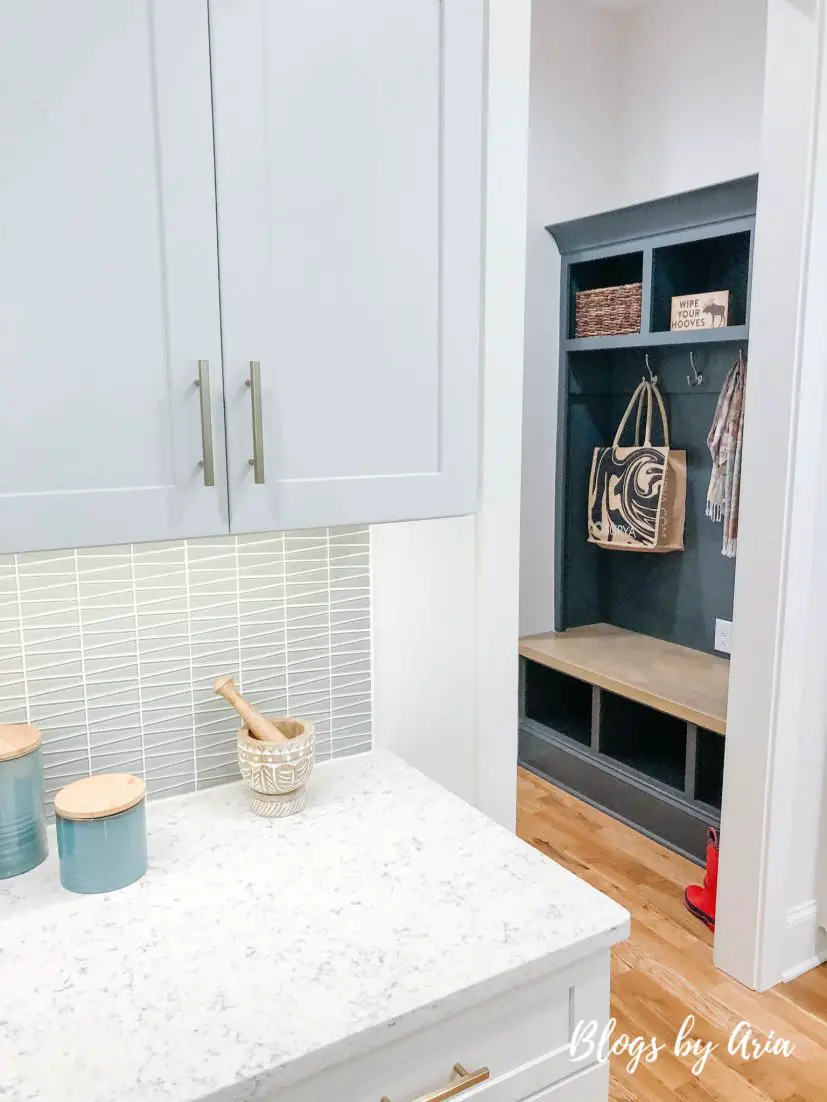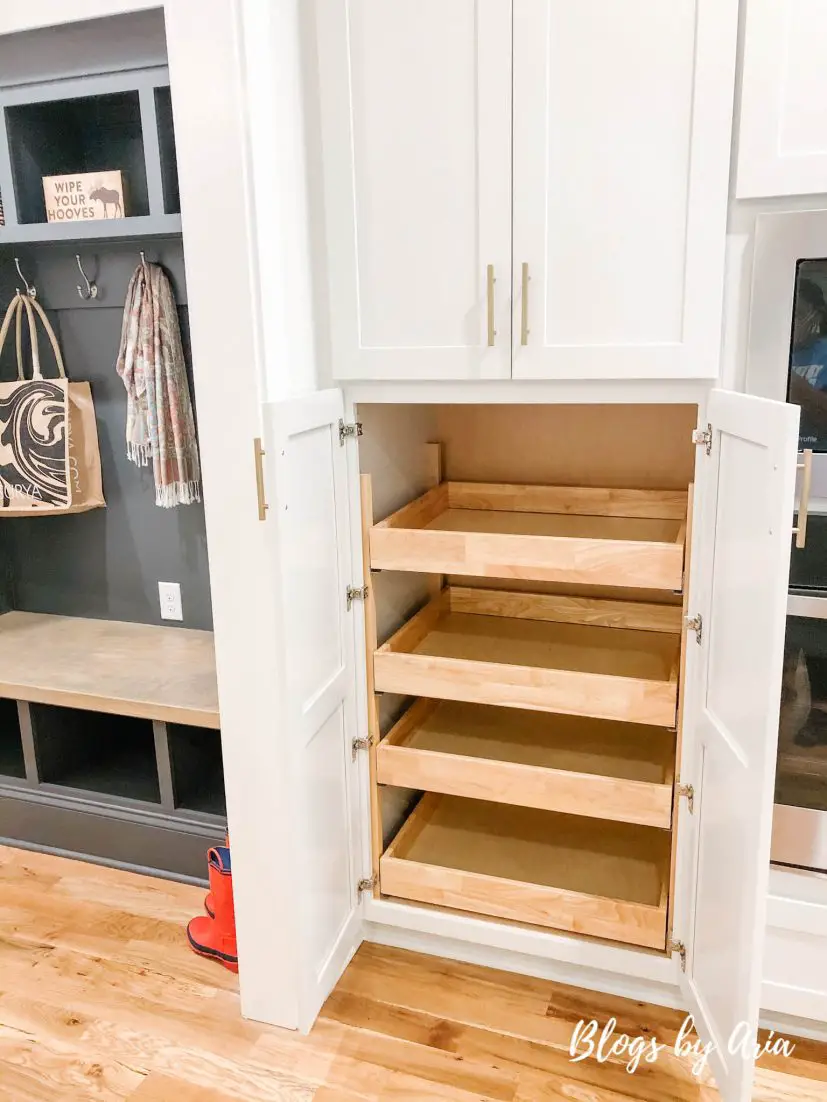 As if there wasn't enough storage in the walk in pantry there's pullout storage too!  I'm telling you I would love this kitchen!  How about you?
MUD ROOM AND LAUNDRY ROOM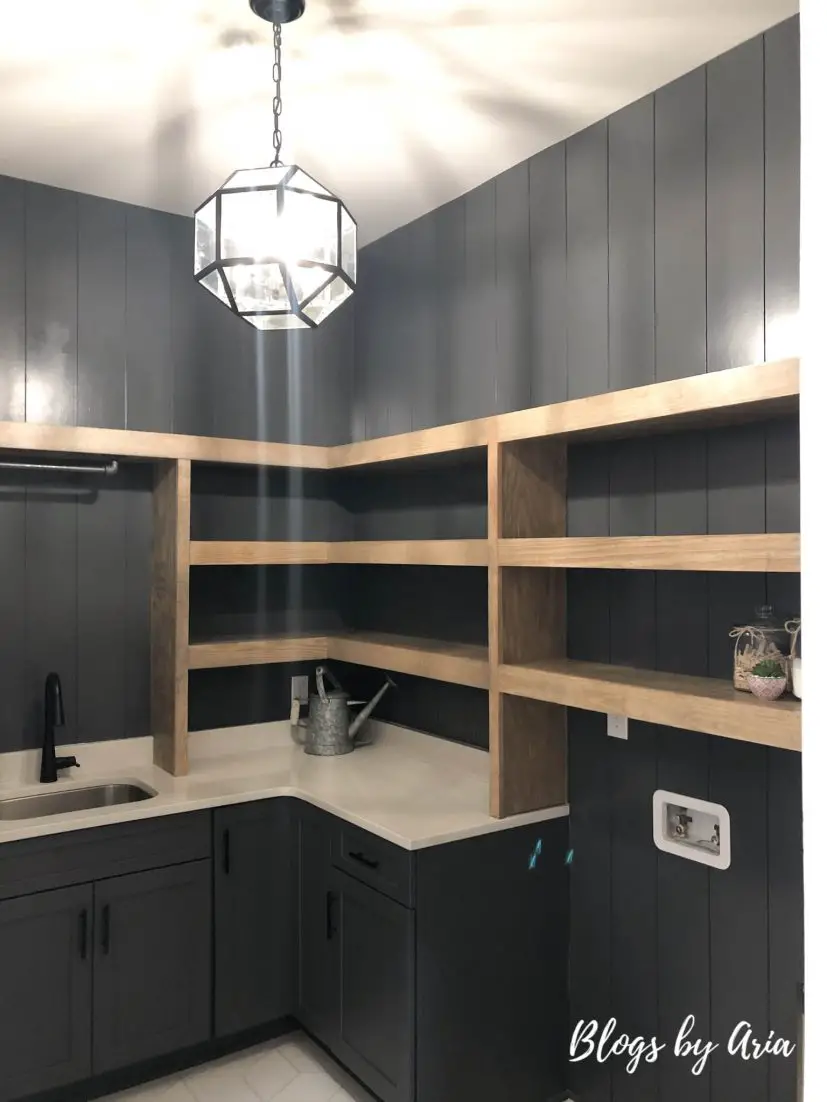 The mudroom and laundry room are right off the kitchen and face each other.  I'm liking the darker paint color and how it pairs with the stained wood.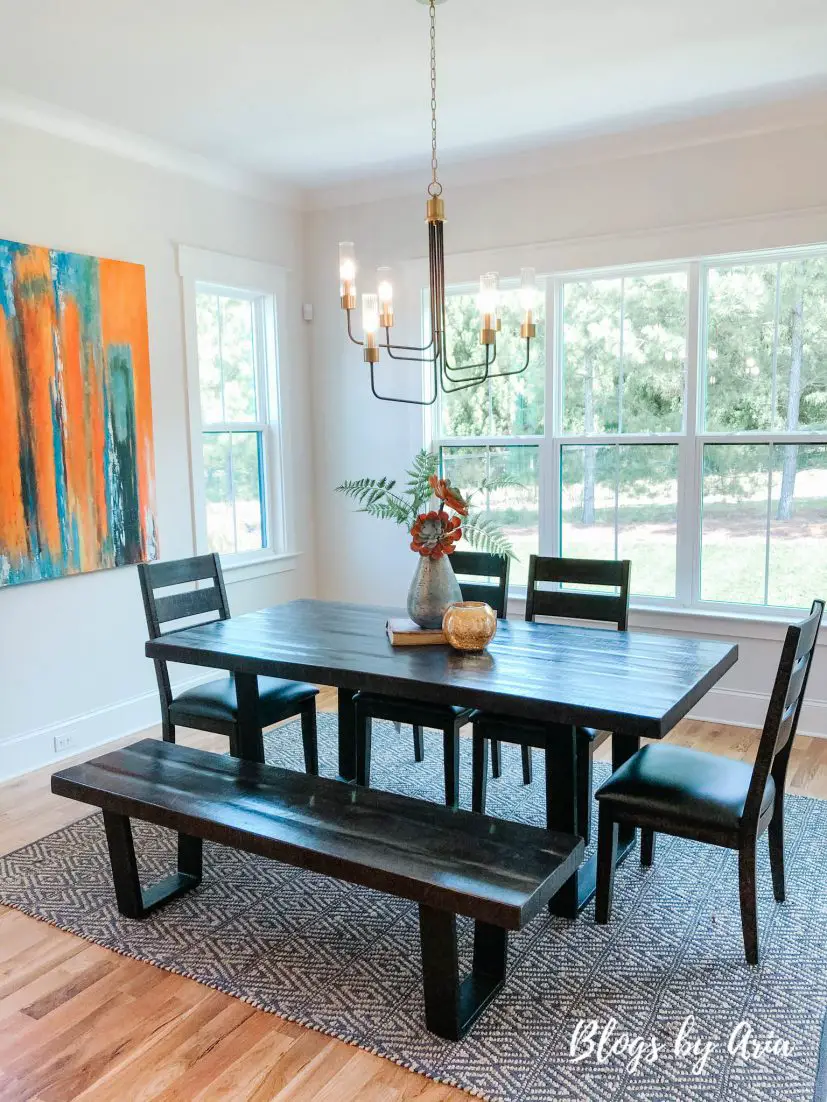 The dining room is off of the kitchen on the opposite side.  It's an informal space but with the wet bar, there's plenty of seating space for entertaining.
GUEST BEDROOM
Back in the front of the house there is a guest bedroom.  It doesn't have an attached bath, but right outside the door is a full bathroom.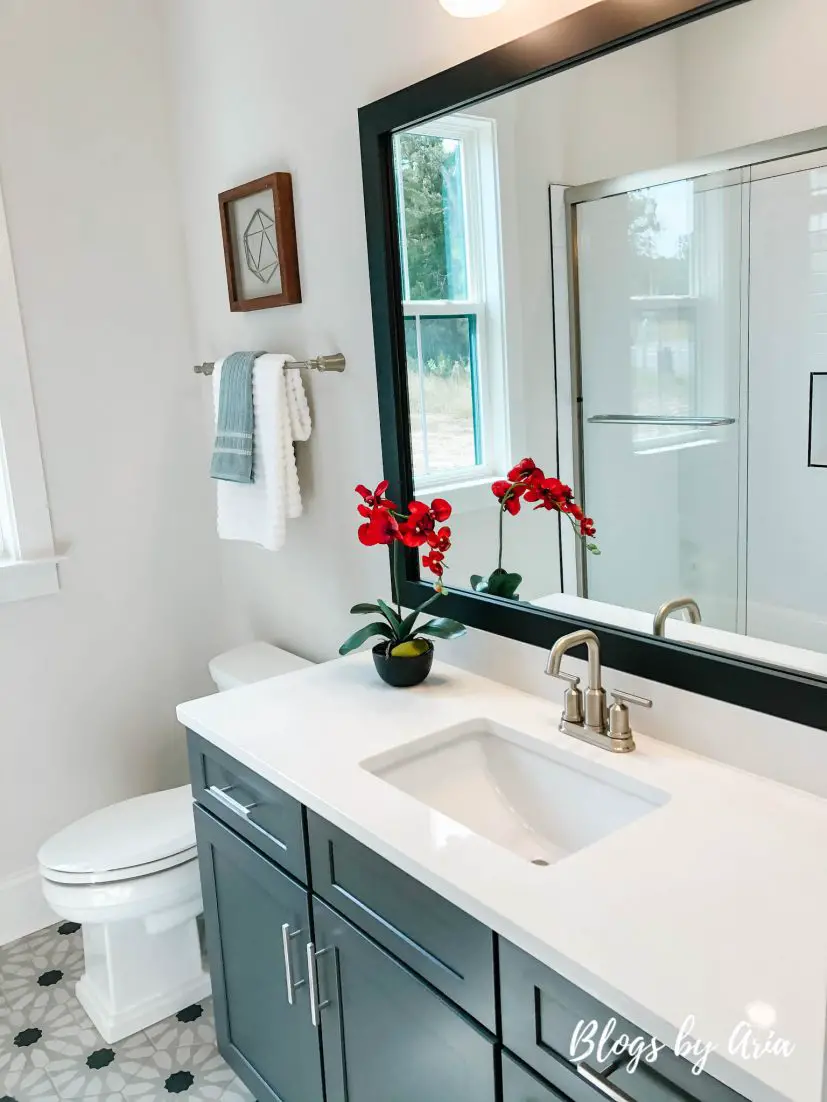 MASTER BEDROOM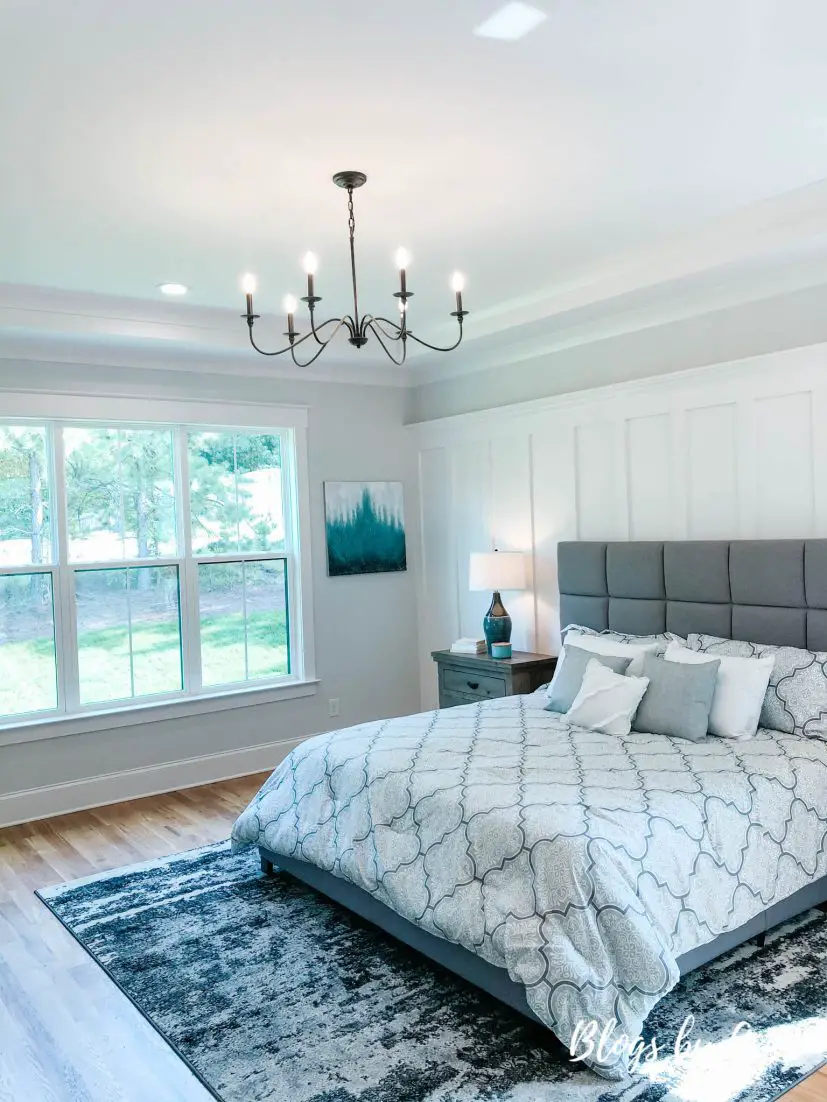 The master suite is located on the first floor off of the family room.  I love how light and bright this room is as well as the extensive custom trim detail.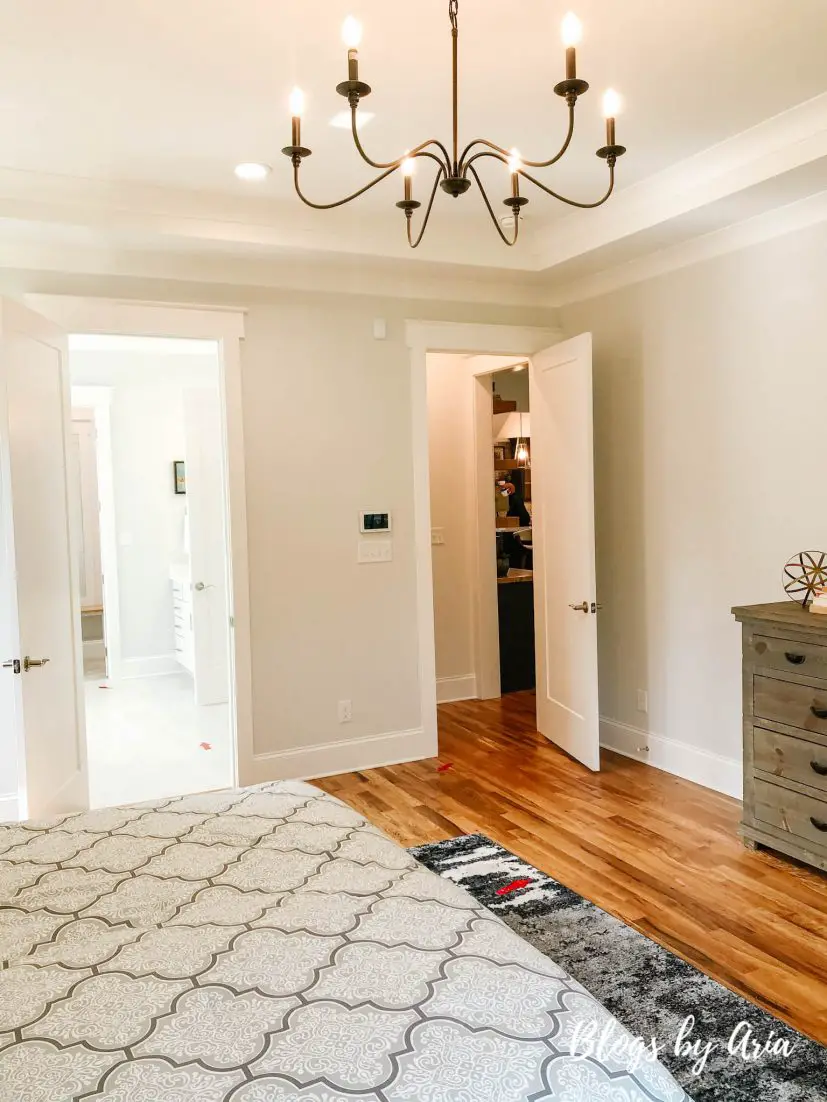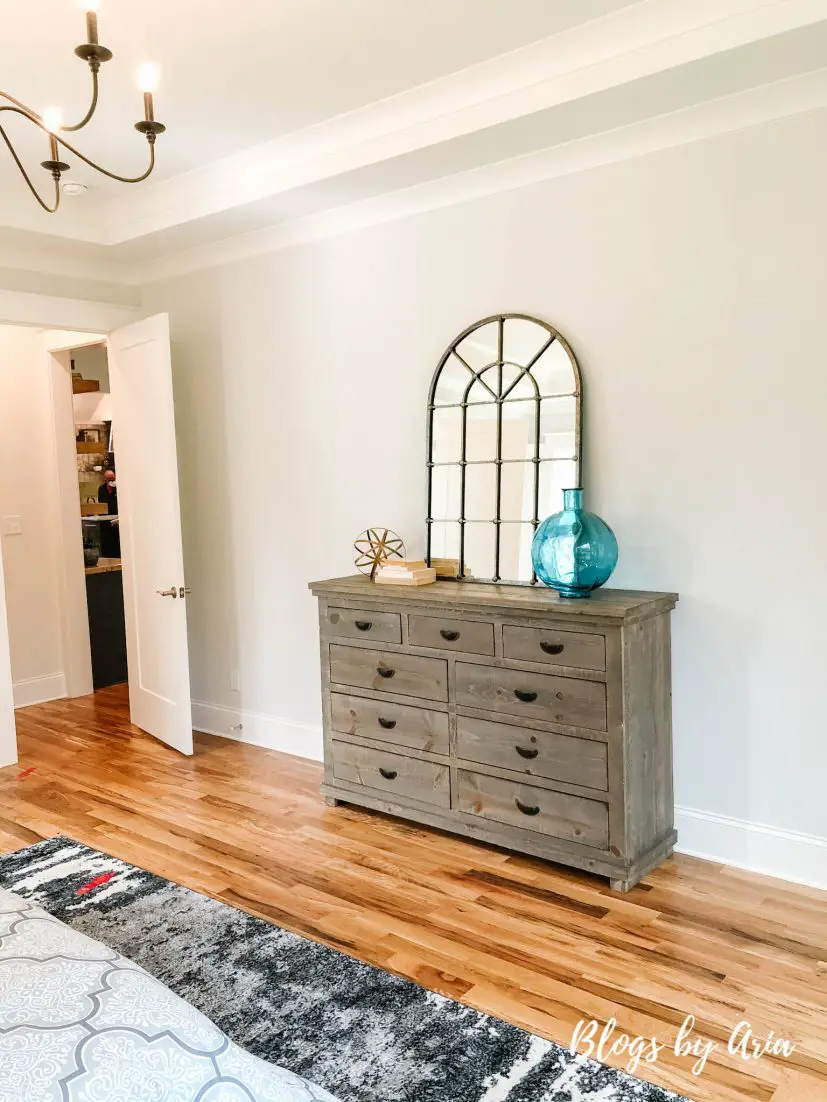 MASTER BATHROOM AND WET ROOM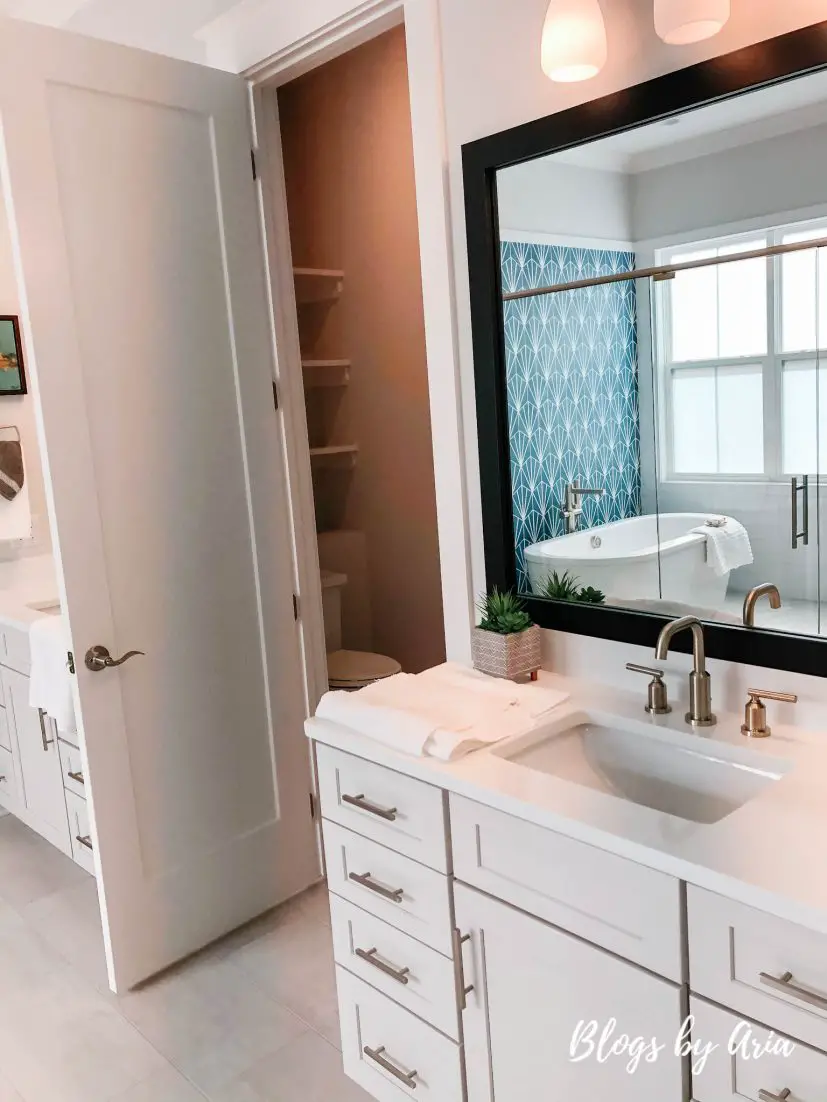 The master bathroom is a real treat and features separate floating vanities with plenty of storage.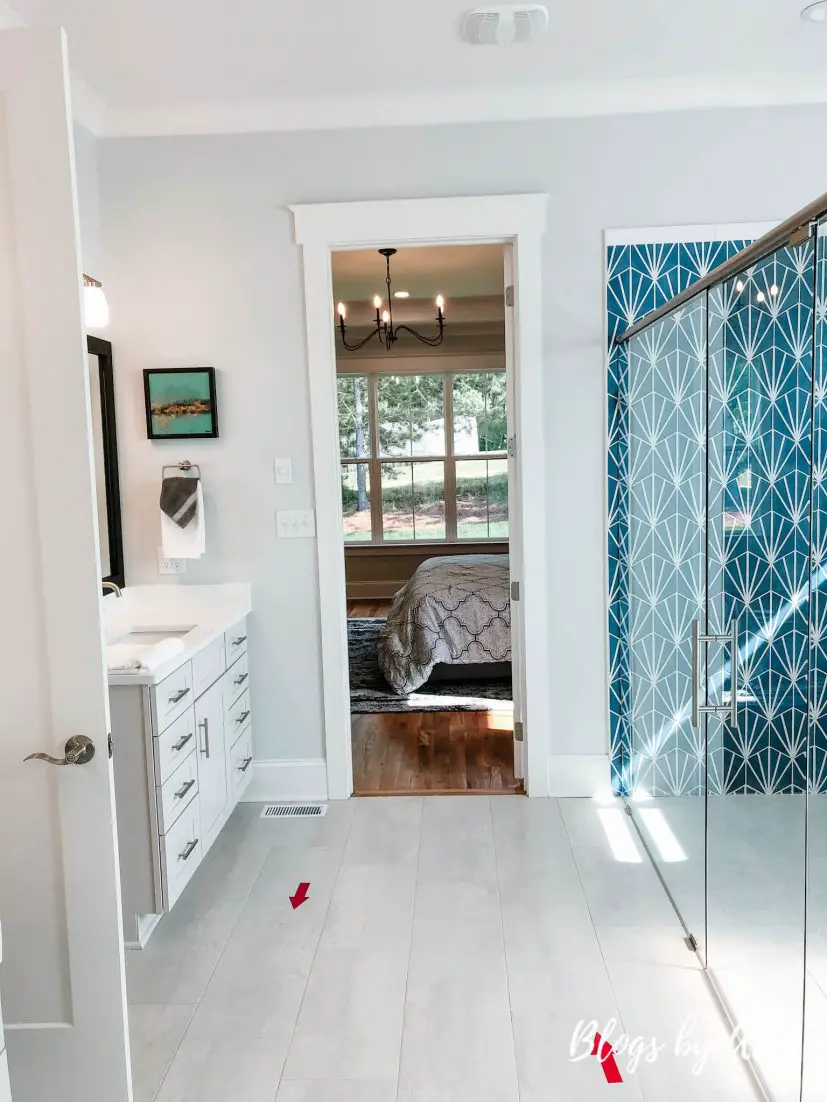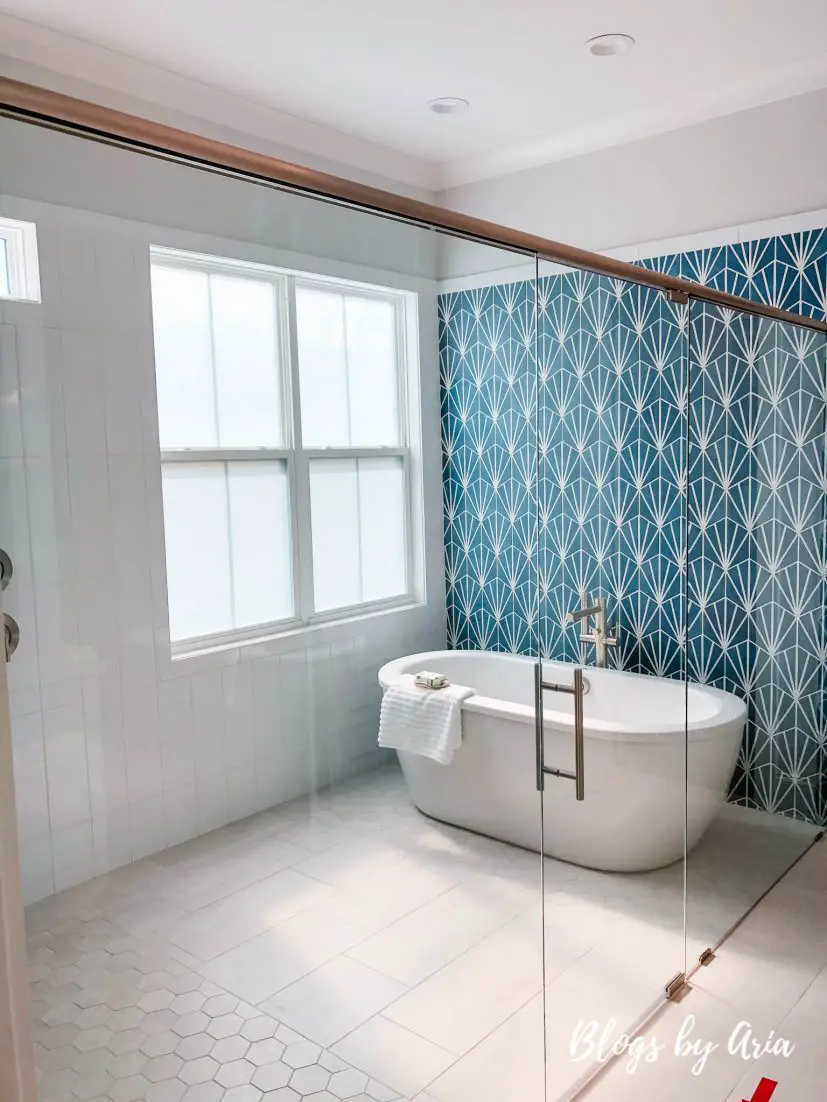 Look at this wet room!  It really takes this bathroom up a level and makes it feel so luxurious and spa-like!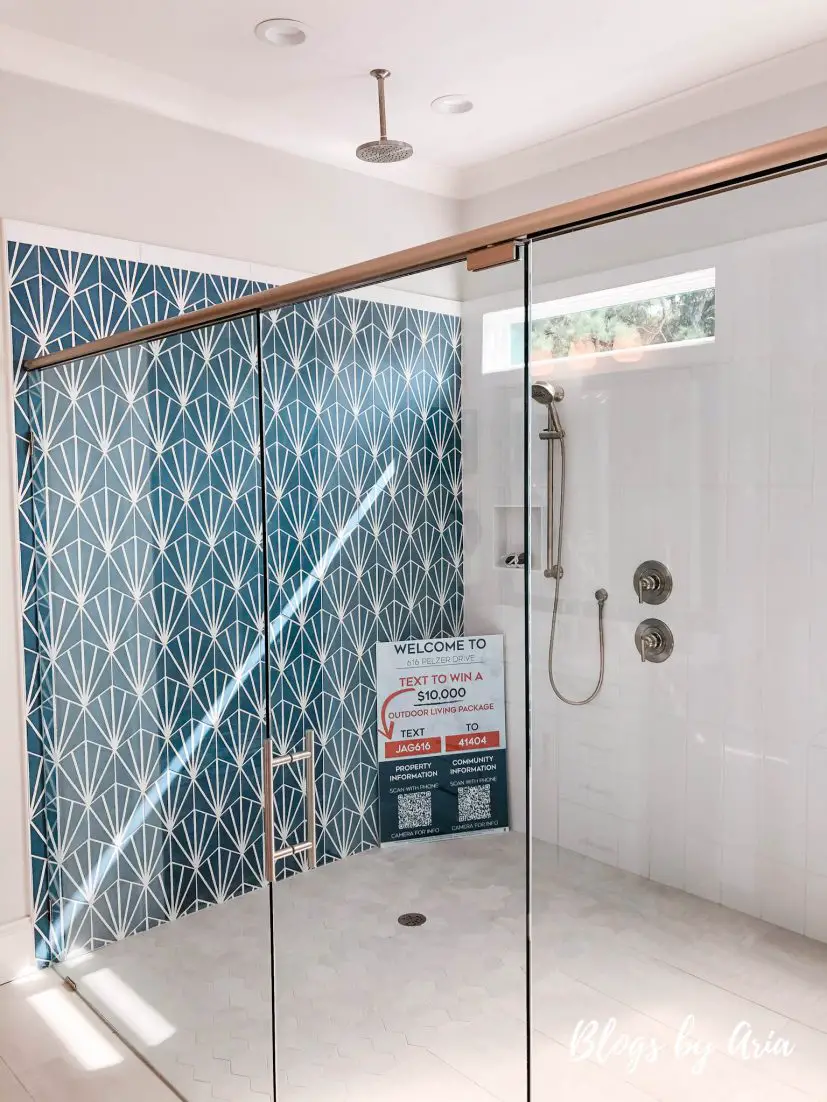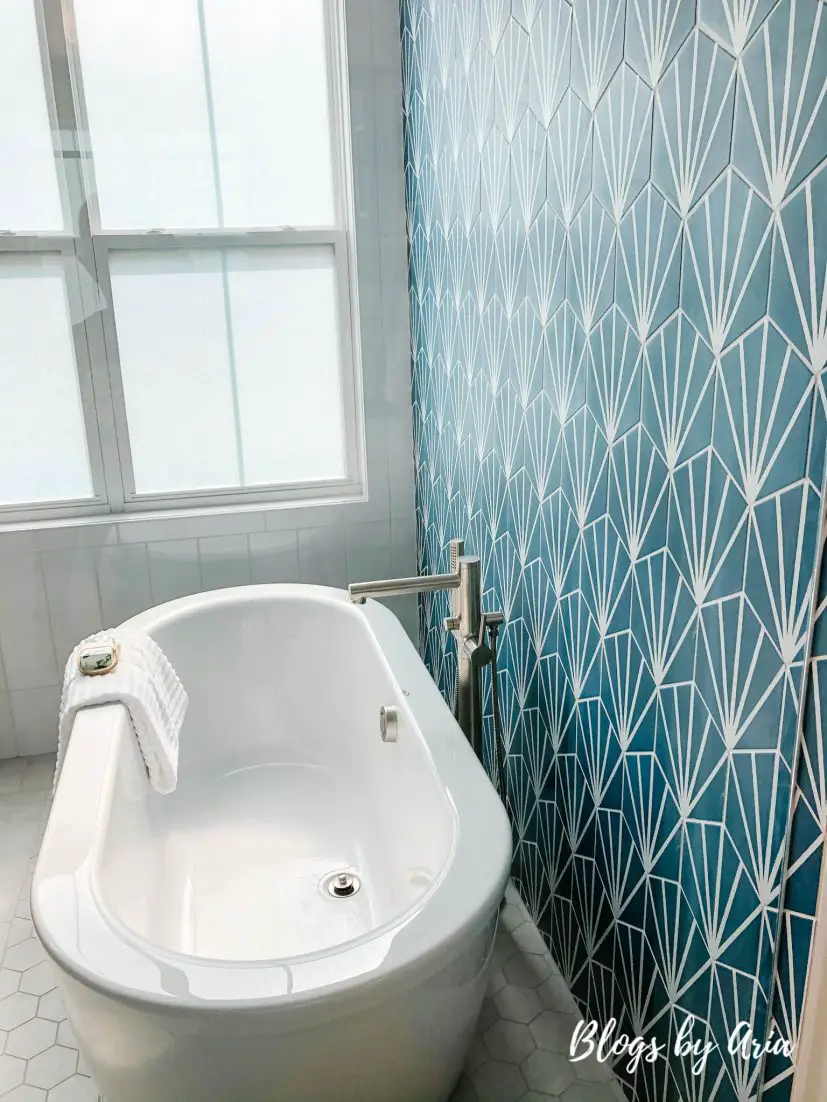 MASTER CLOSET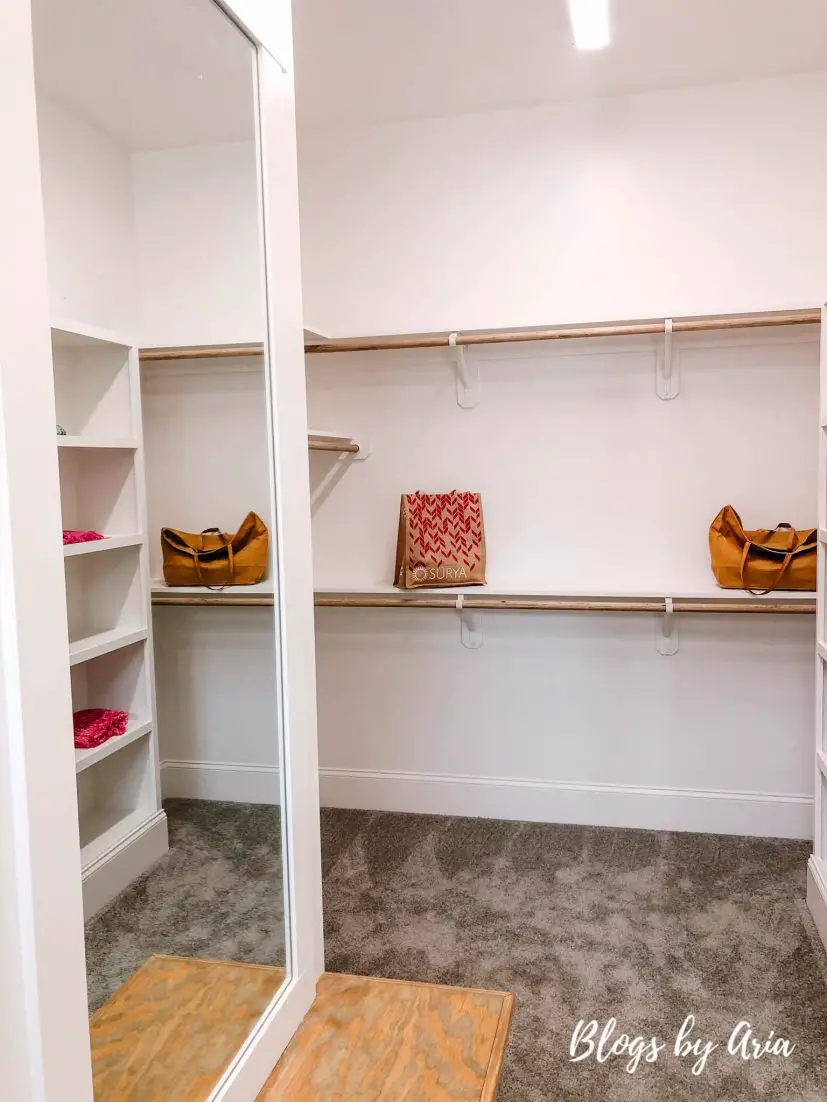 The master closet is a good size and I like that the builder installed it with carpeting.  Even though the master bedroom is hardwoods I like the carpeting in the closet.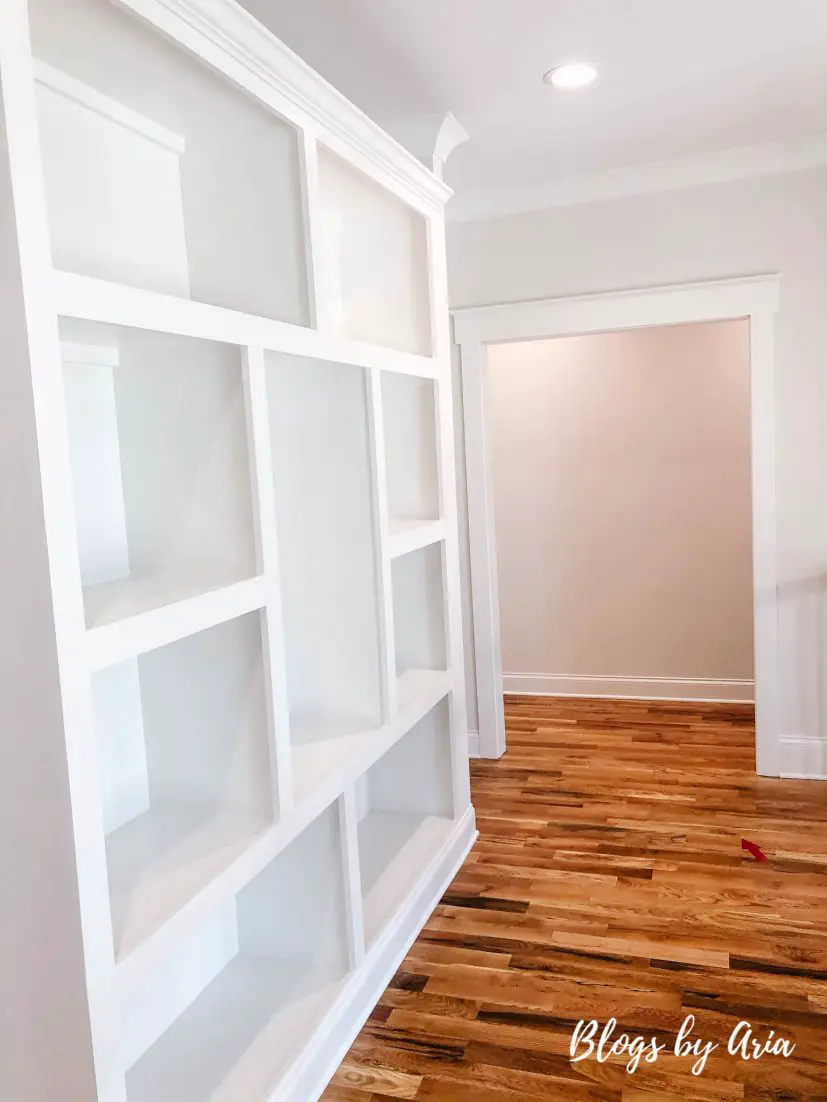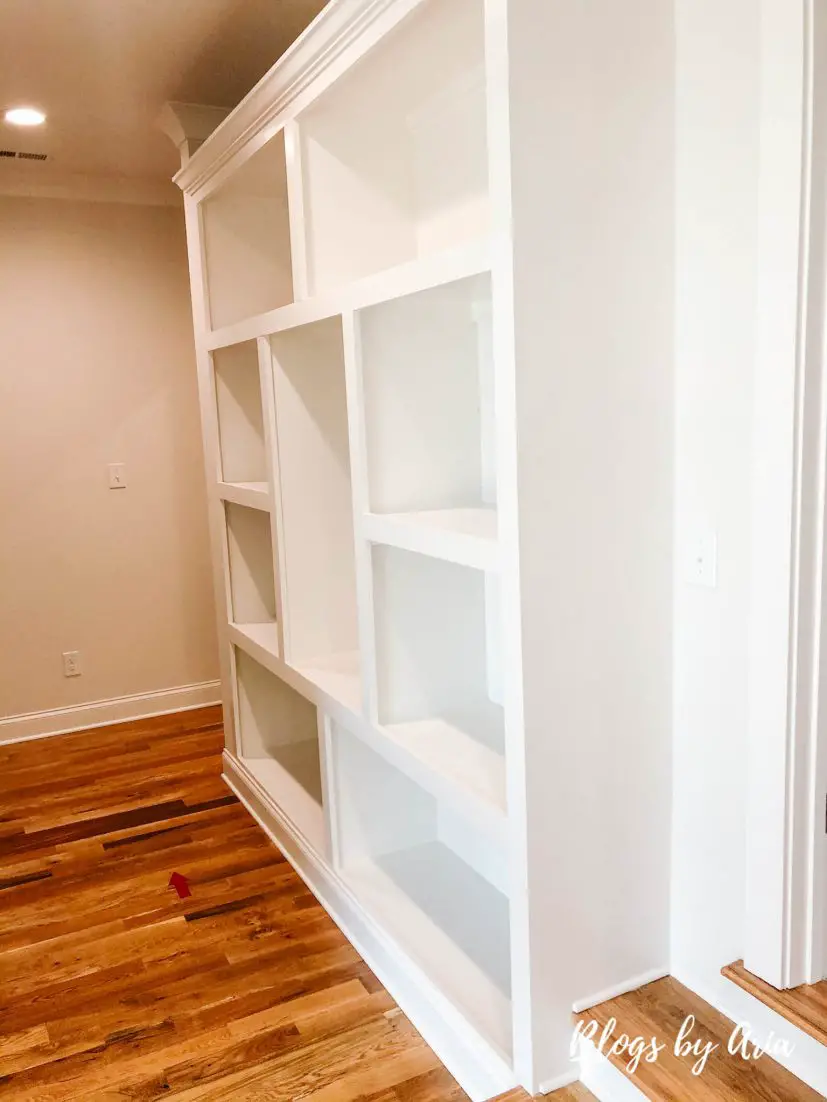 Upstairs there are built in bookshelves flanking the entrance to the media room.  I've noticed this trend lately and I really like the idea of being able to display family photos and books in a space that typically only the members of the household would see.
MEDIA ROOM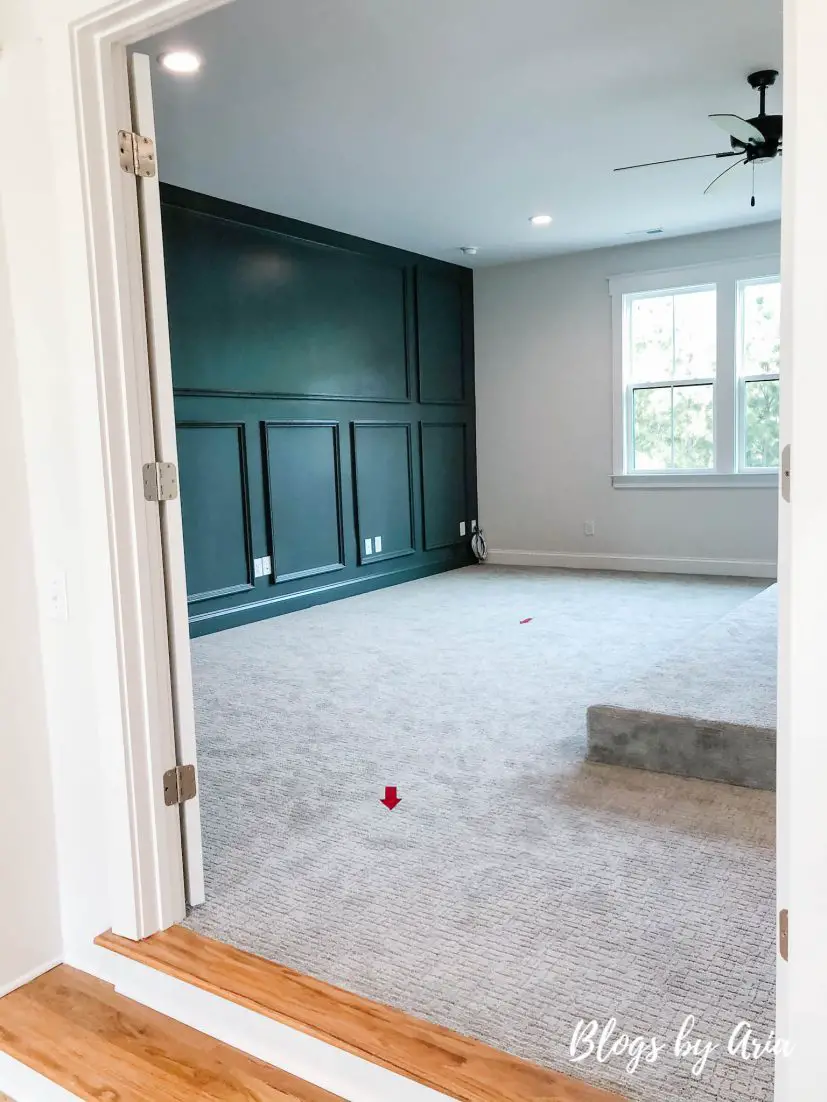 The media room has a beautiful custom trimmed feature wall ready for a large screen TV or projector screen.  One thing you will either love or hate is the raised platform in the middle of the floor.  That's great if you're going to use this as a media room and set your seating up higher.
But if you wanted to use this as a bonus room that just makes this an awkward space.  This home was custom built, but from what I could gather it wasn't custom built for a specific buyer, so that's interesting.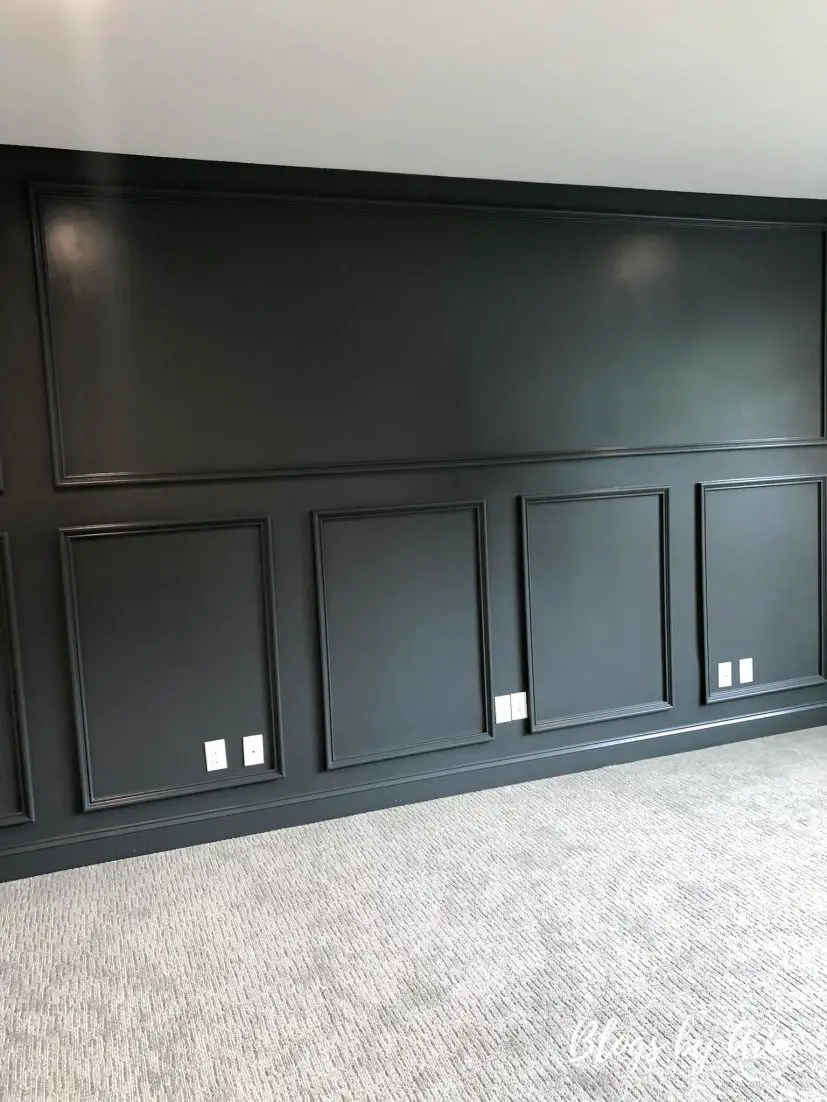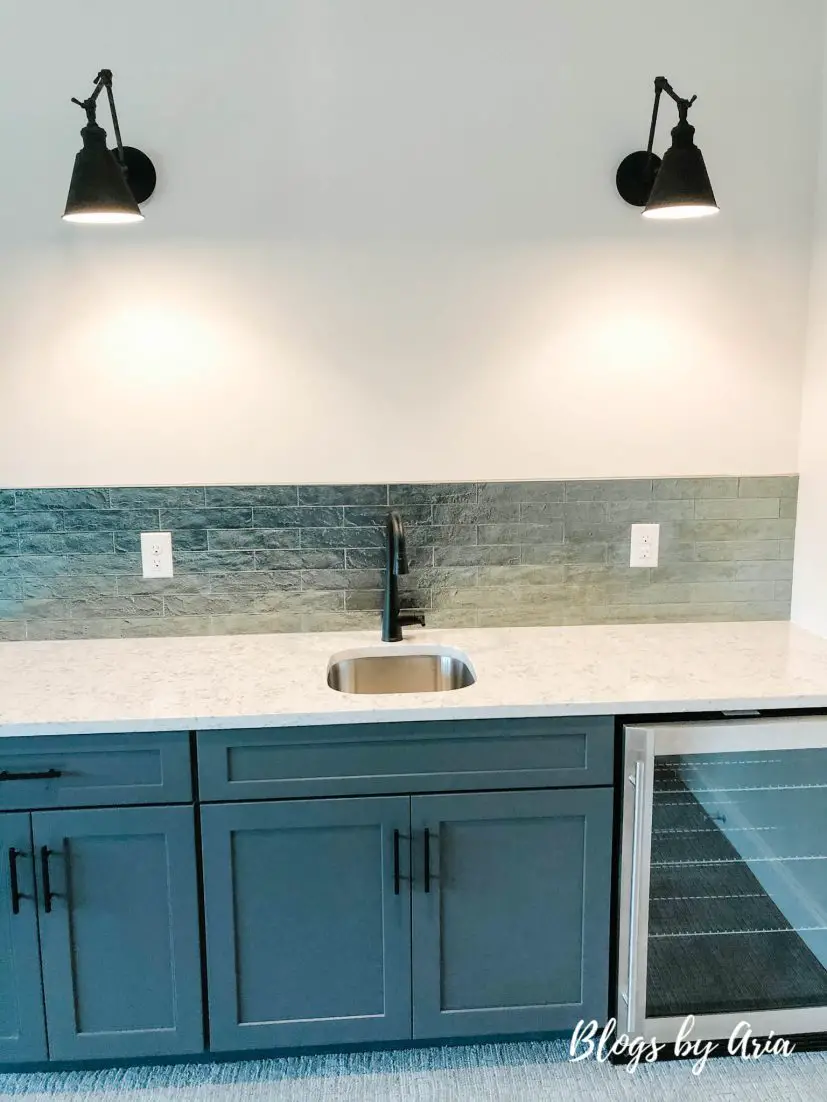 Also in the media room is another wet bar.  This one makes sense to me to keep cold drinks for movie night.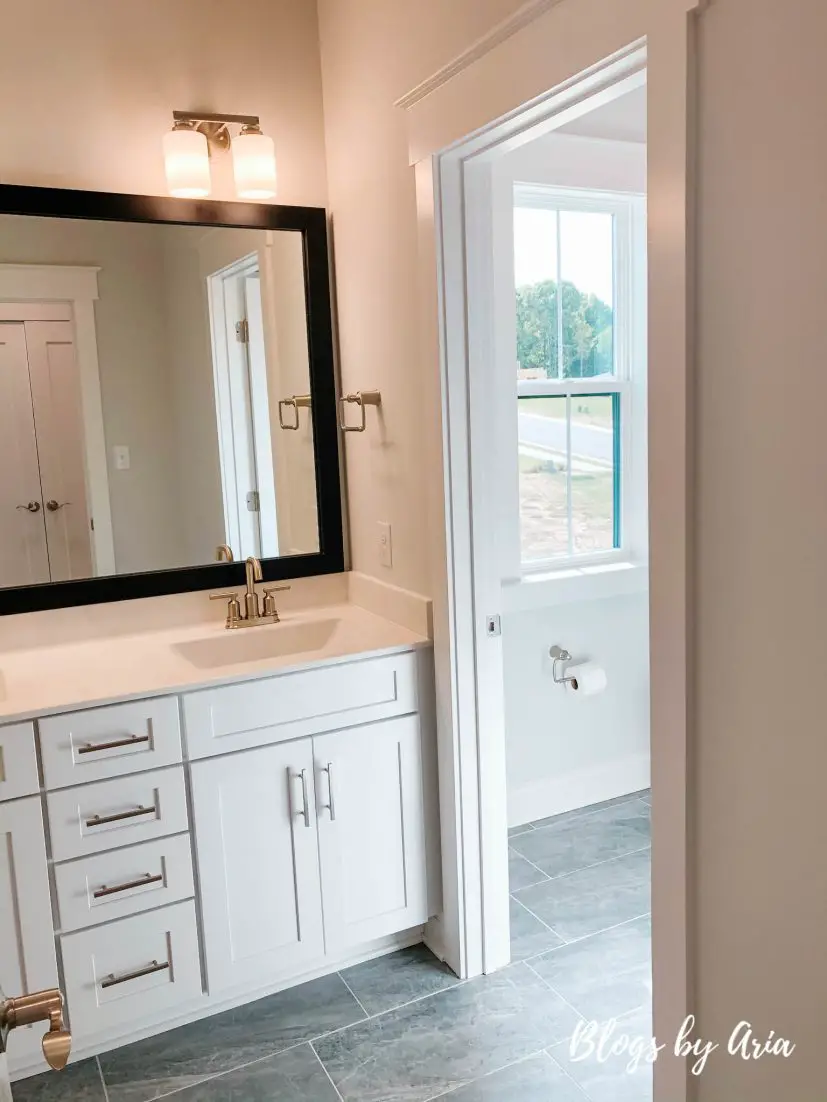 I'm sharing one of the upstairs bathrooms because I want you to see how spacious it is.  I for one, love the shaker style cabinetry.  This bathroom is shared by two bedrooms.  It's not a Jack and Jill style, but it does have a double vanity and a separate space for the shower and toilet.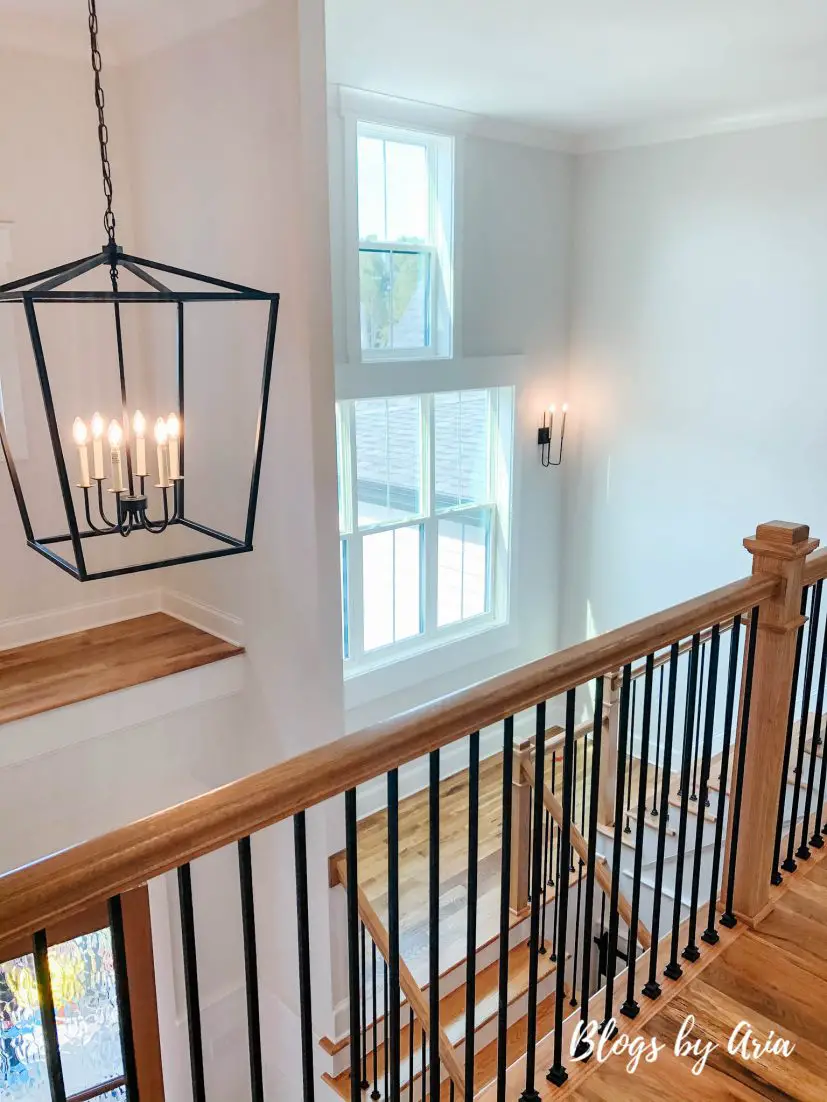 We're ending the Cedar Haven house tour with this view of the stairs and foyer.  In addition to the media room on the second floor there are three bedrooms and two bathrooms.
I really liked touring this home and there are some features I really like.  My favorite aspect of this house is the kitchen and scullery.  The rest of the Cedar Haven house is nice, but wouldn't be the house for my family.
Tell me what you think of this house in the comments below.
YOU MAY ALSO LIKE THESE PARADE OF HOMES TOURS: