You know how when you're looking for your wedding dress they say don't try on the best dress first?  Well the same can be said for touring homes.  Don't look at the best house first, because every house after will pale in comparison!  That was the case when I toured this slice of Nantucket home recently during Parade of Homes.  I wanted to see it first in case I couldn't get to all the houses on my list, but man, it's such an absolutely gorgeous home!  You're going to be inspired regardless of your preferred design style.
Of course I took a lot of pictures, you may want to grab a snack!  I've had the pleasure to tour some of the Triangles most top of the line houses, in all different styles of architecture and design.  Every single year there is a home that outshines them all.  And let me tell you, I think this is that home.  I'll let you be the judge!
This house plan was designed by David Kenoyer of KDK Design.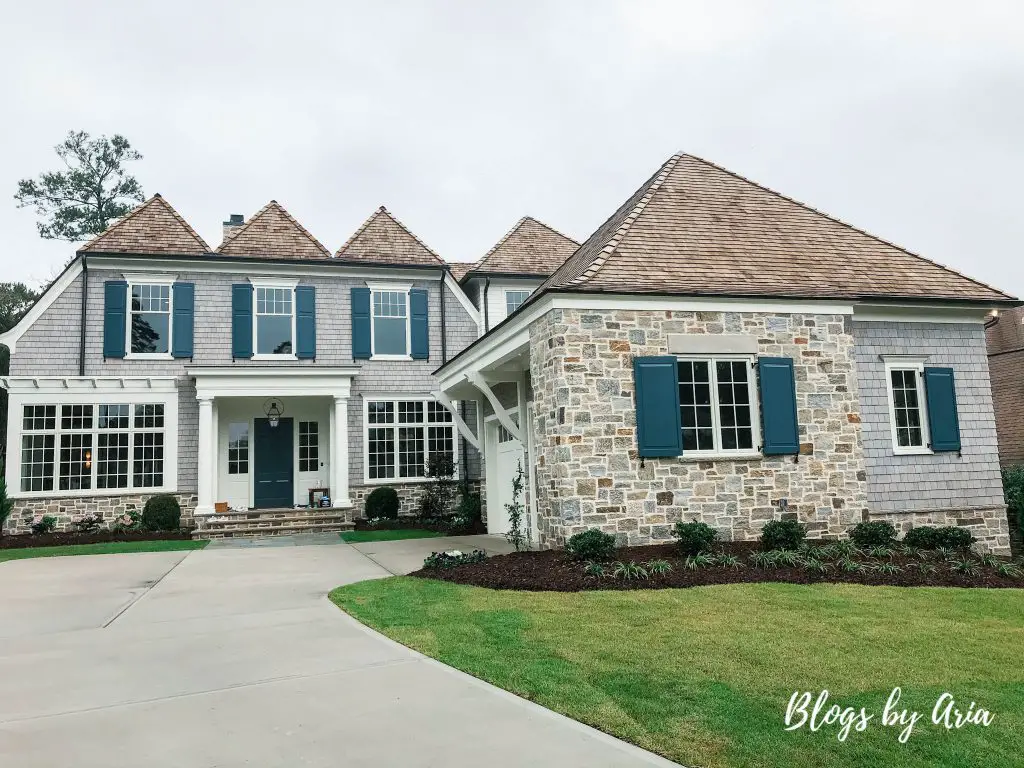 Even without a sunny sky as its backdrop, this spectacular home shines like a diamond.  When I drove up to this home it took my breath away.  With its Nantucket inspired exterior, it is a slice of a classic Hamptons beach house in the heart of Raleigh.
NANTUCKET INSPIRED EXTERIOR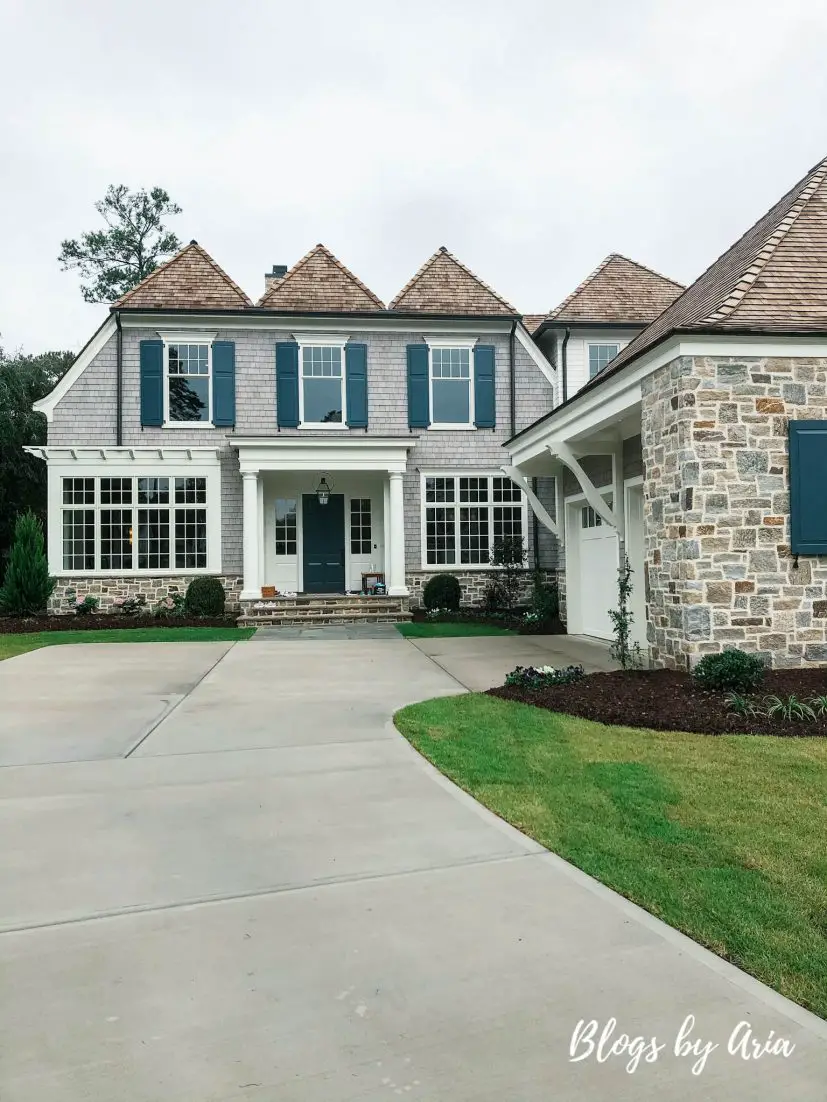 Before we fully get into this gorgeous home tour, let's talk numbers.  This Slice of Nantucket home has 5 bedrooms with 6 bathrooms at 4,503 square feet of living space.  Based on it's location, that does come at a pretty penny.  At the time of viewing this home was listed at $1.9 million.
Because of Covid-19 there were a lot of homes that were featured on the Parade of Homes tour that were only available to tour virtually.  That was a bummer.  Especially because I had some on my list that I really wanted to see that were even larger and boasted a higher price tag.
Of the homes available to tour in person, this Nantucket inspired home was one of the most expensive in Raleigh.  For reference, it's in a highly sought after area.  You may recall the beautiful English Tudor home I shared last year.
Here in Raleigh there are so many beautiful neighborhoods.  One of the ones with the largest price tag isn't just a neighborhood, it's a large area known as "inside the beltline."  In a nutshell, it's close to downtown with a little more walkability than everywhere else and therefore demands a higher price tag.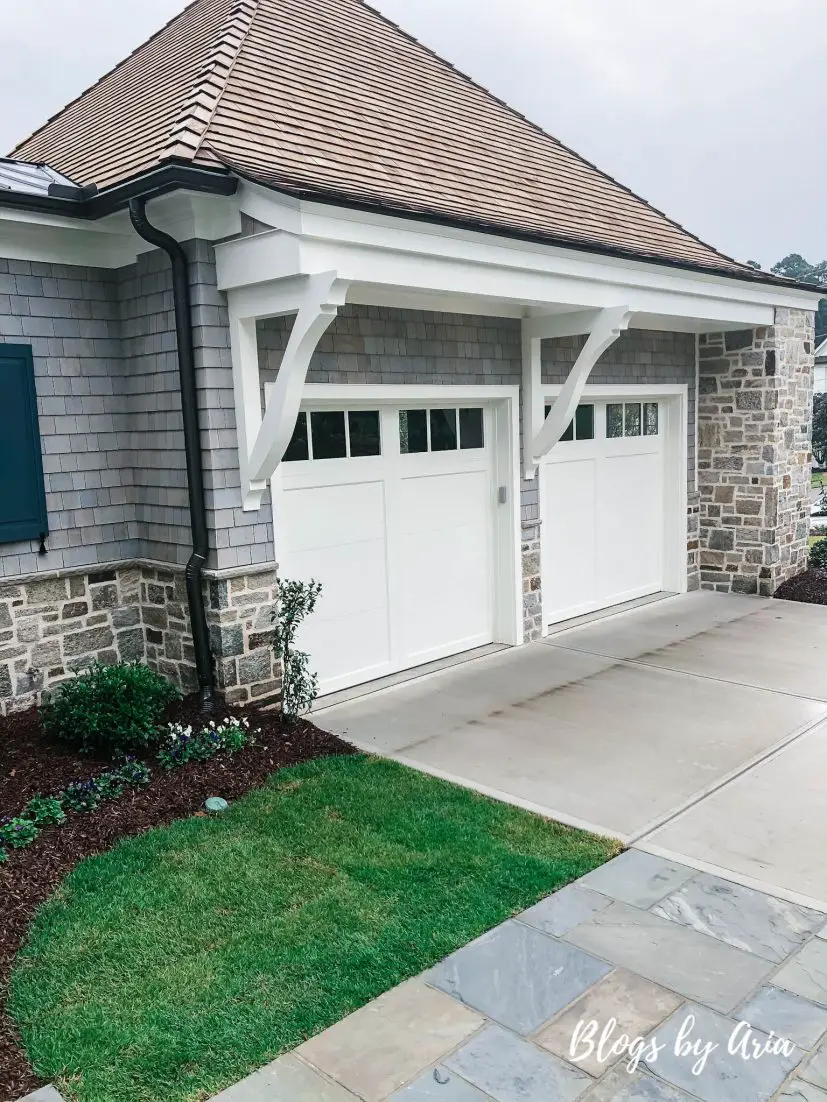 Enough talking about the numbers, we're here for the interior design inspiration right!  This home is breathtaking! Isn't this Slice of Nantucket house incredible?! I hope you love this home as much as I do.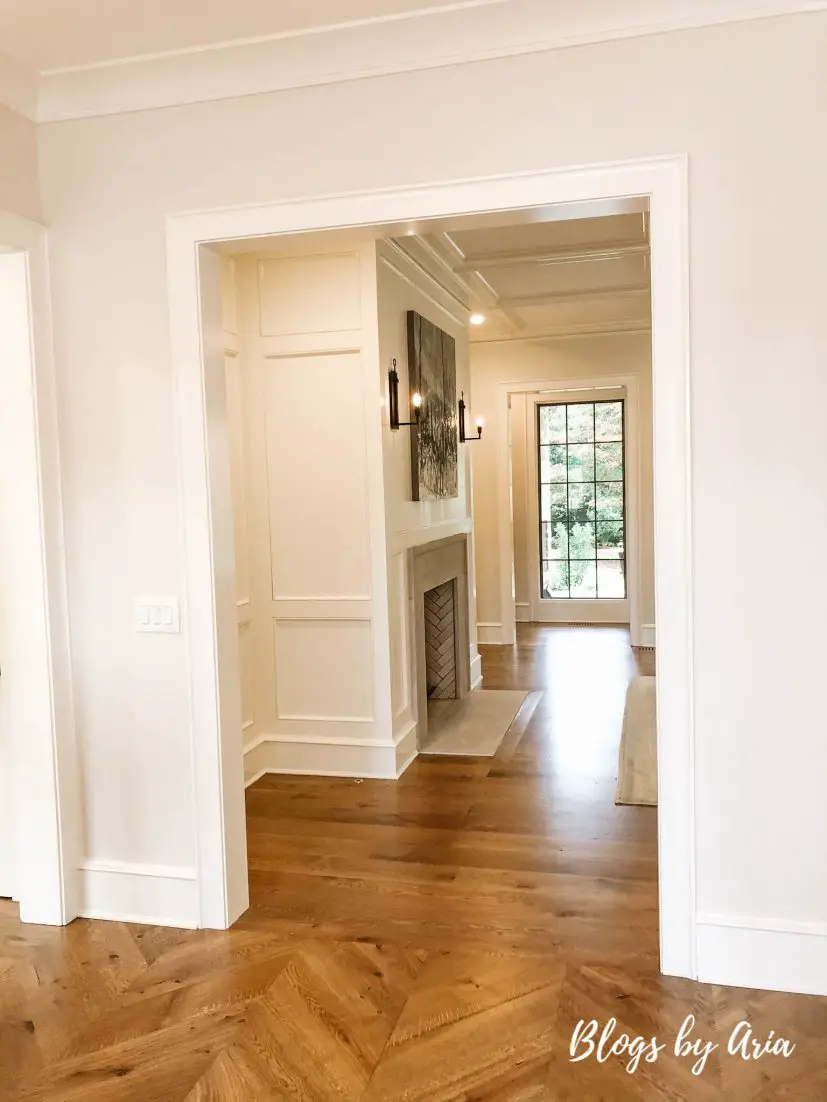 Upon entering the foyer you already know that you're in a home that's special.  There is extensive custom millwork and trim throughout the house.
FORMAL DINING ROOM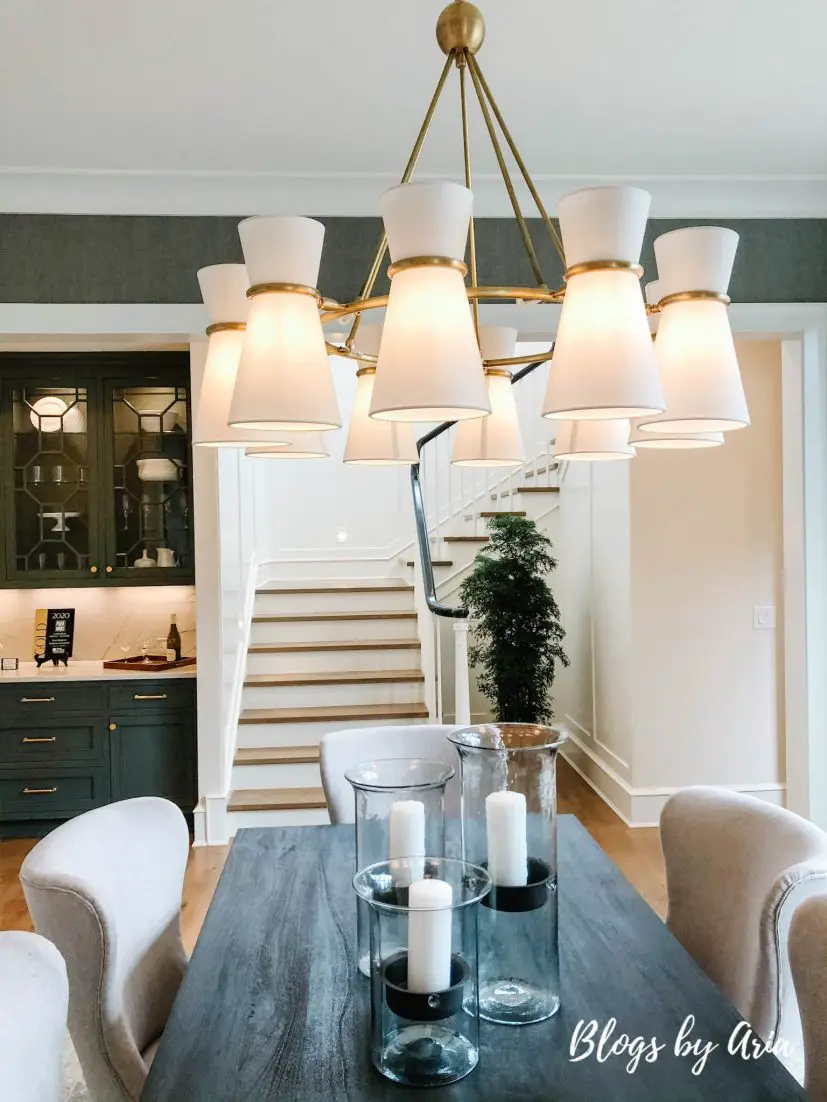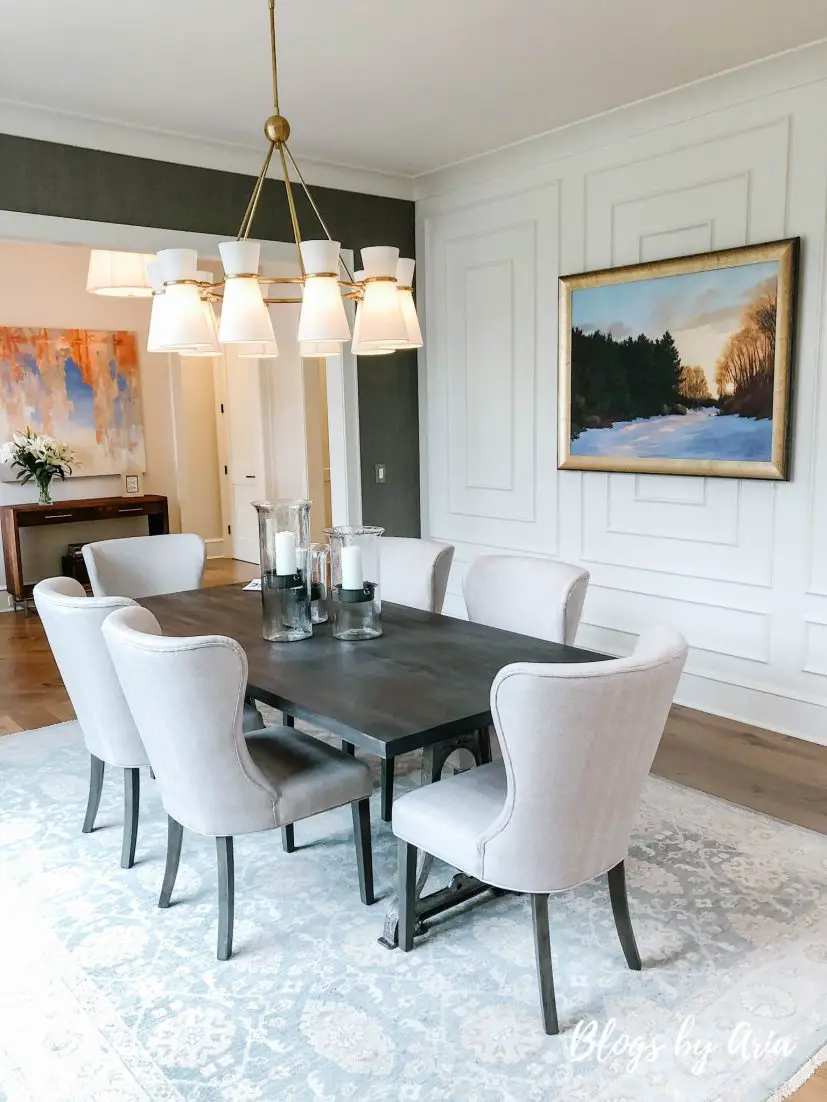 When you enter the home you walk into a very wide foyer and you can see into the family room.  Off to the right is the formal dining room.  I love how open and airy this home is.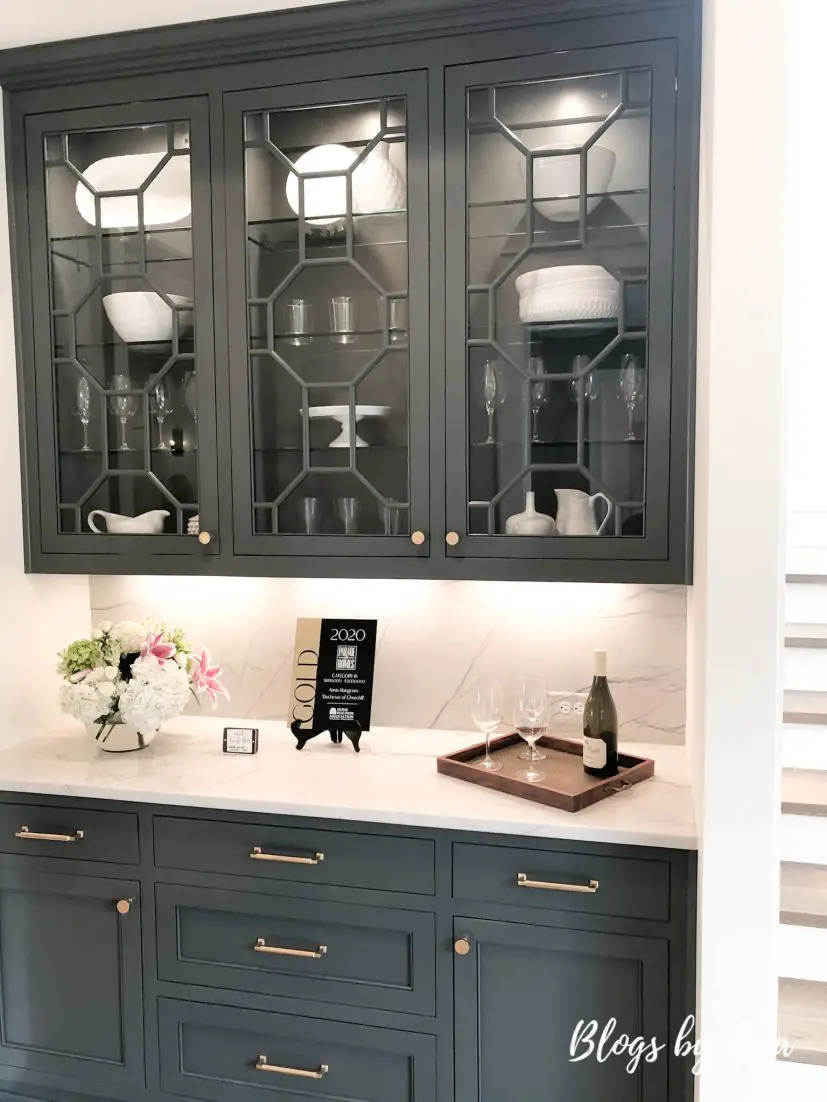 The dining room opens up to the butler's pantry and stairway.  I don't think I've ever seen a dining room open up like this and I really like it.  It's a formal dining room but it's not closed off.
The stairway is so light and bright and the millwork is simply beautiful.
GUEST BEDROOM/HOME OFFICE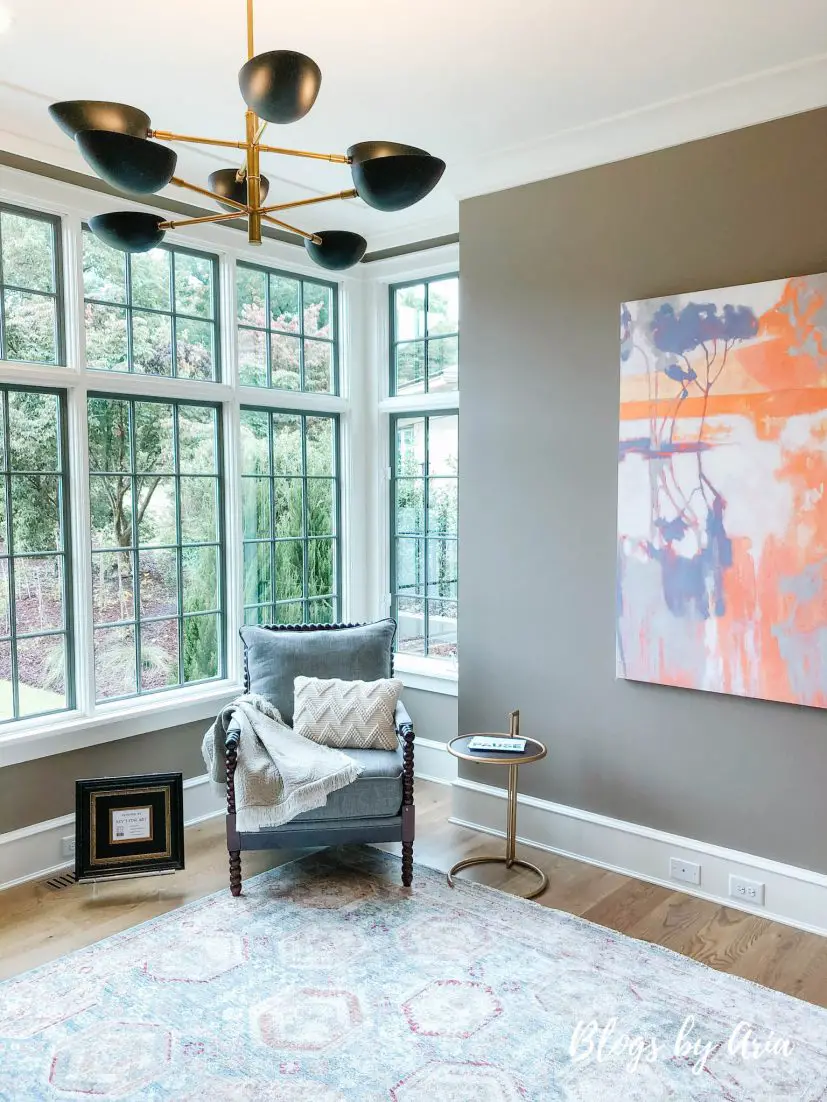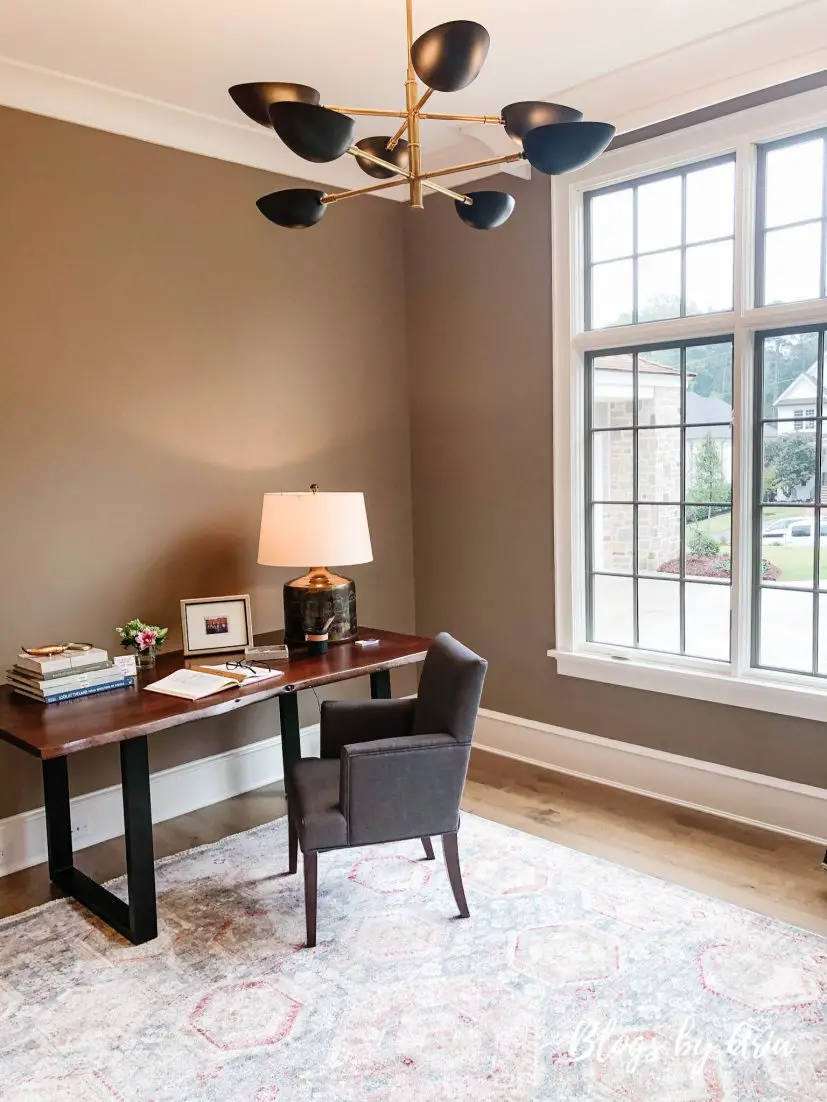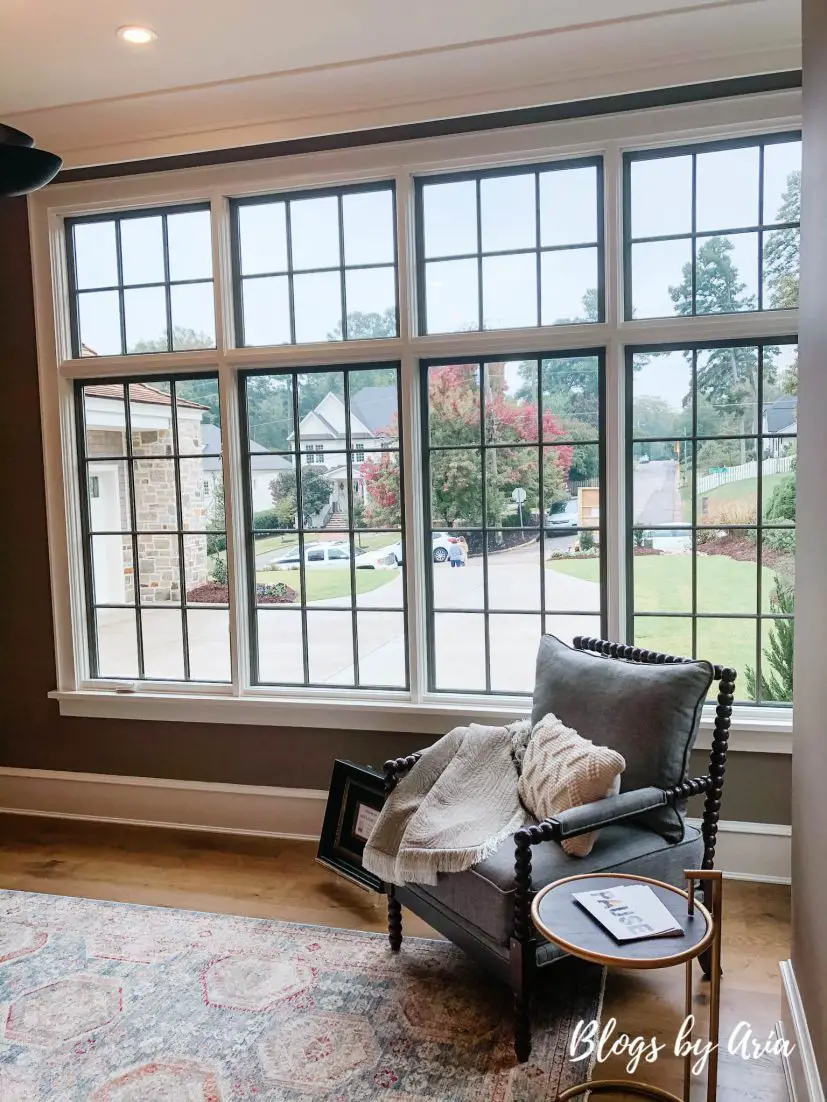 On the opposite side of the home there is a guest bedroom with a full guest bathroom.  It's located on the other side of the foyer and they have it staged as a home office.  Just look at those windows!!
GOURMET CUSTOM KITCHEN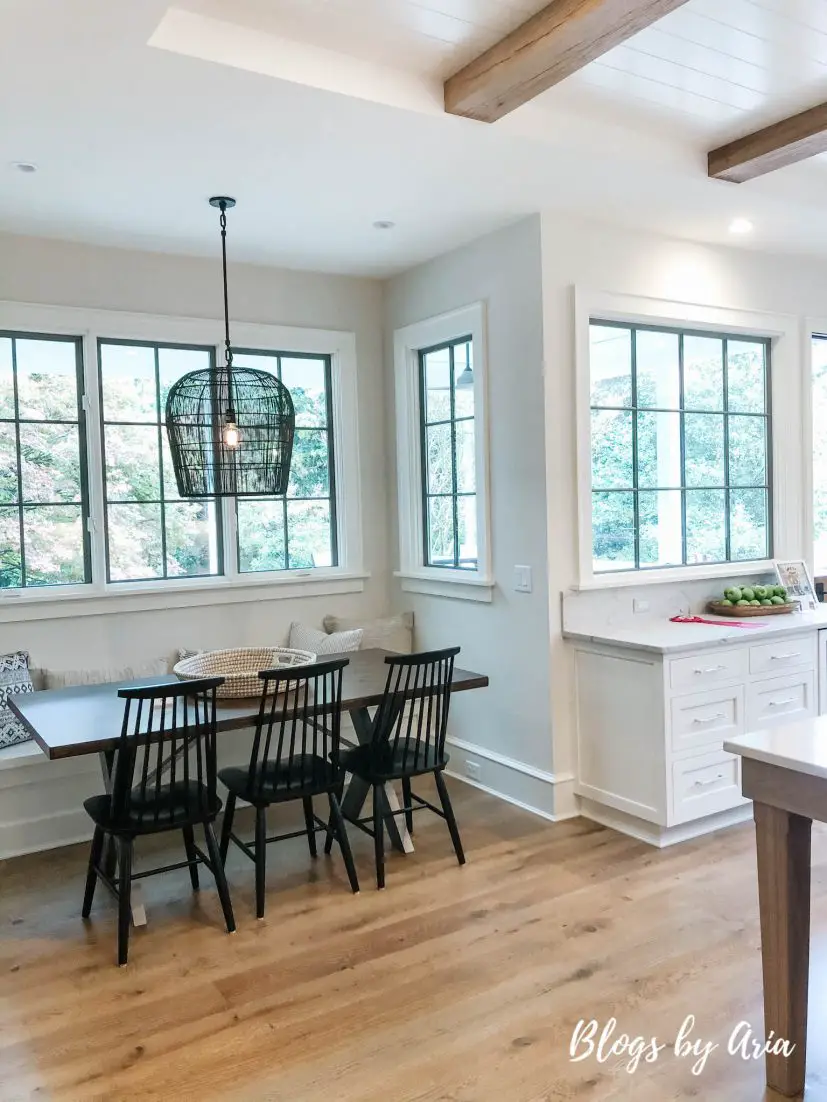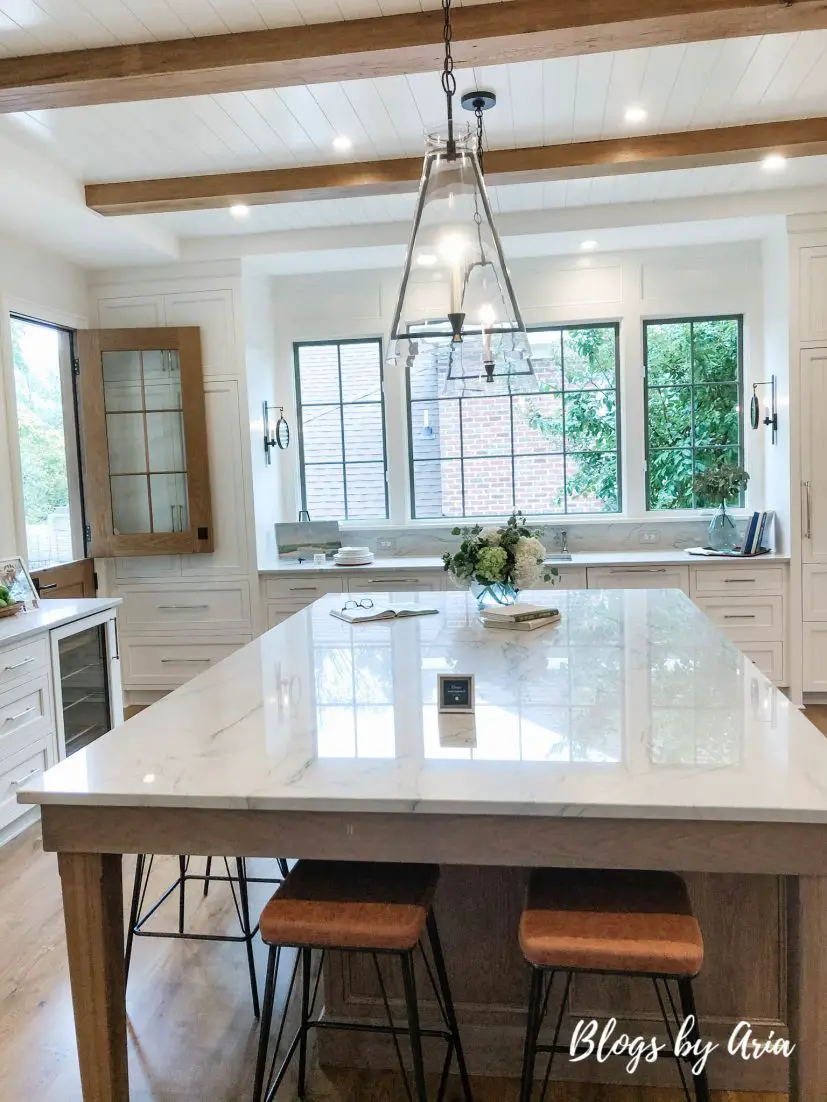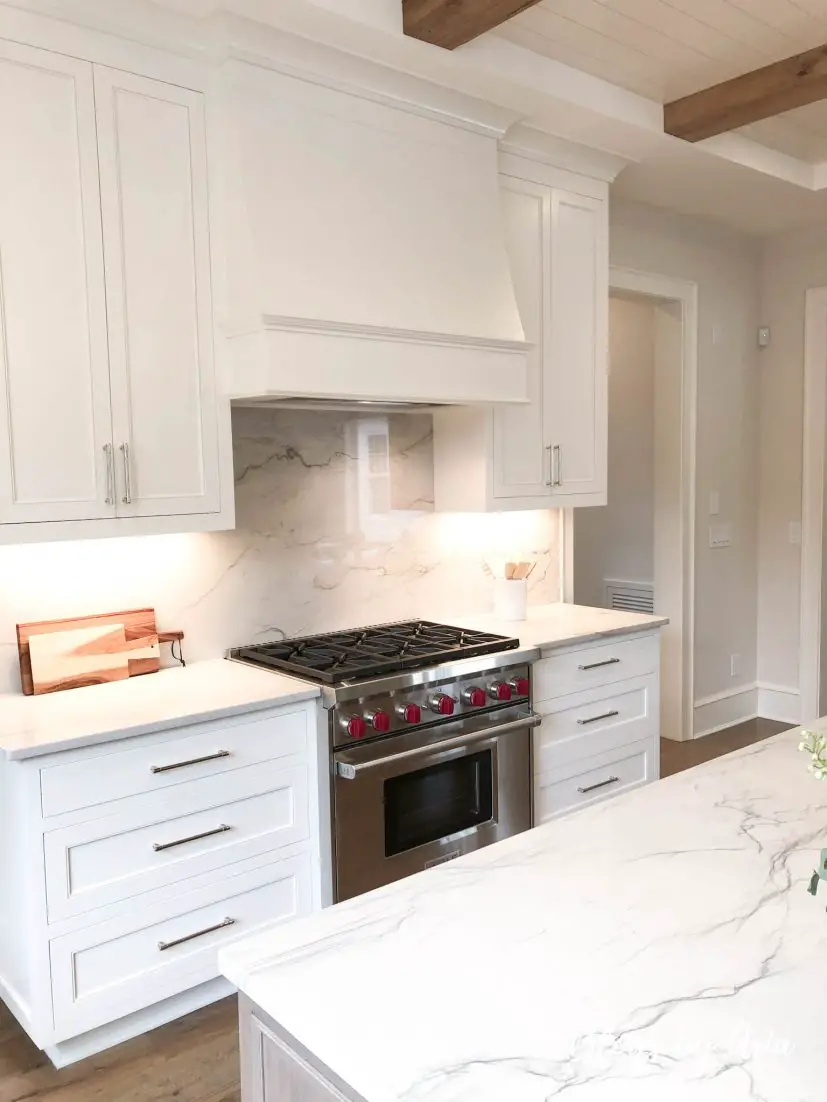 Can we talk about this kitchen?!  It's absolutely gorgeous!!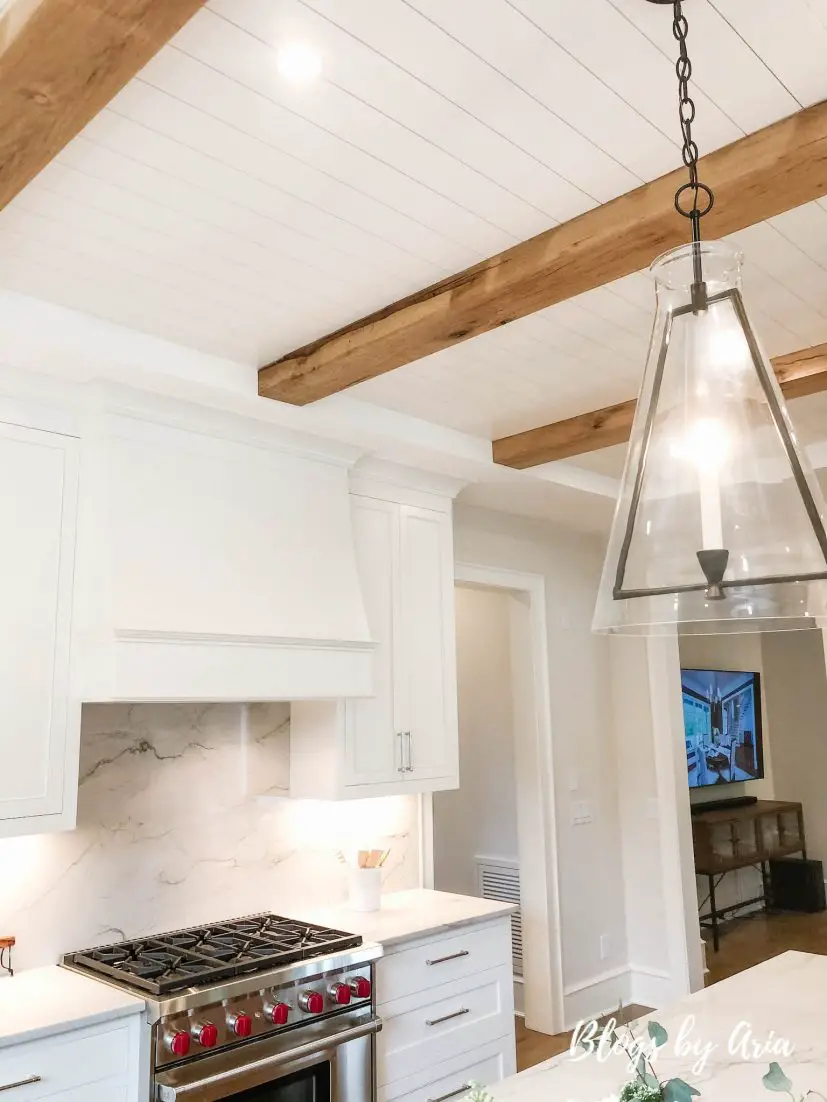 Custom cabinetry, quartzite countertops and ceiling trim work makes this gourmet kitchen stand out from the rest.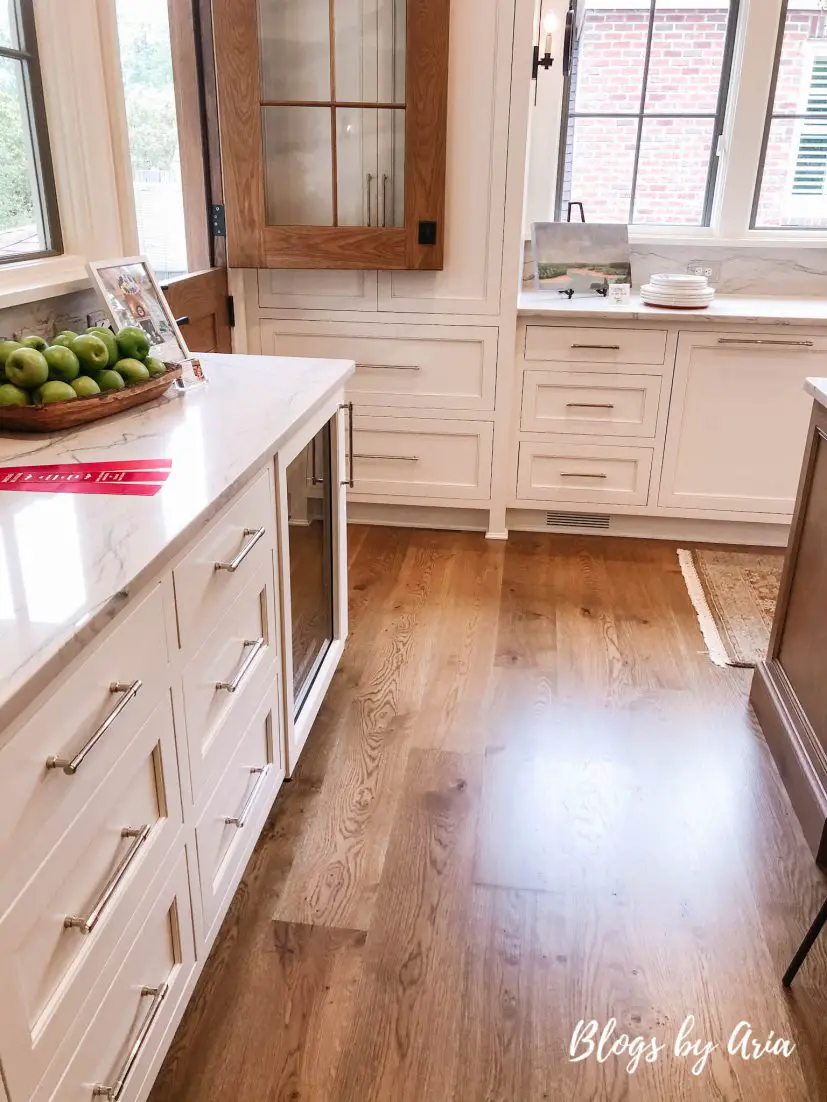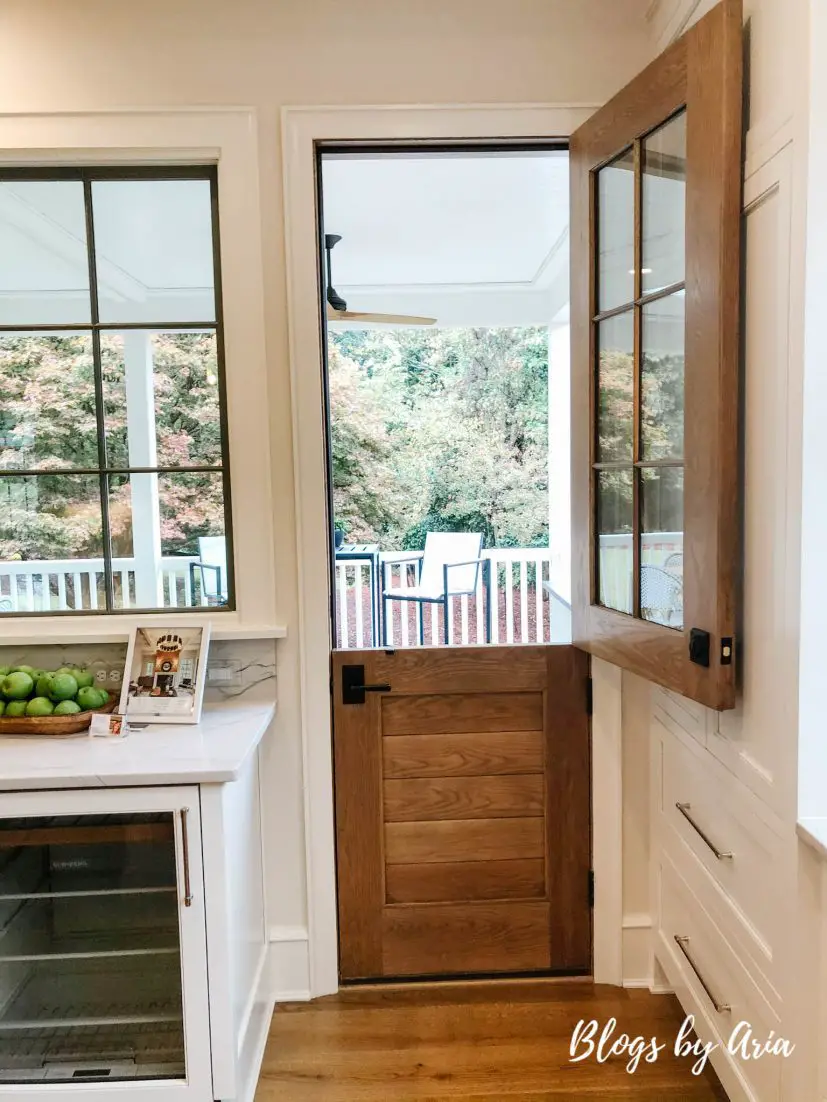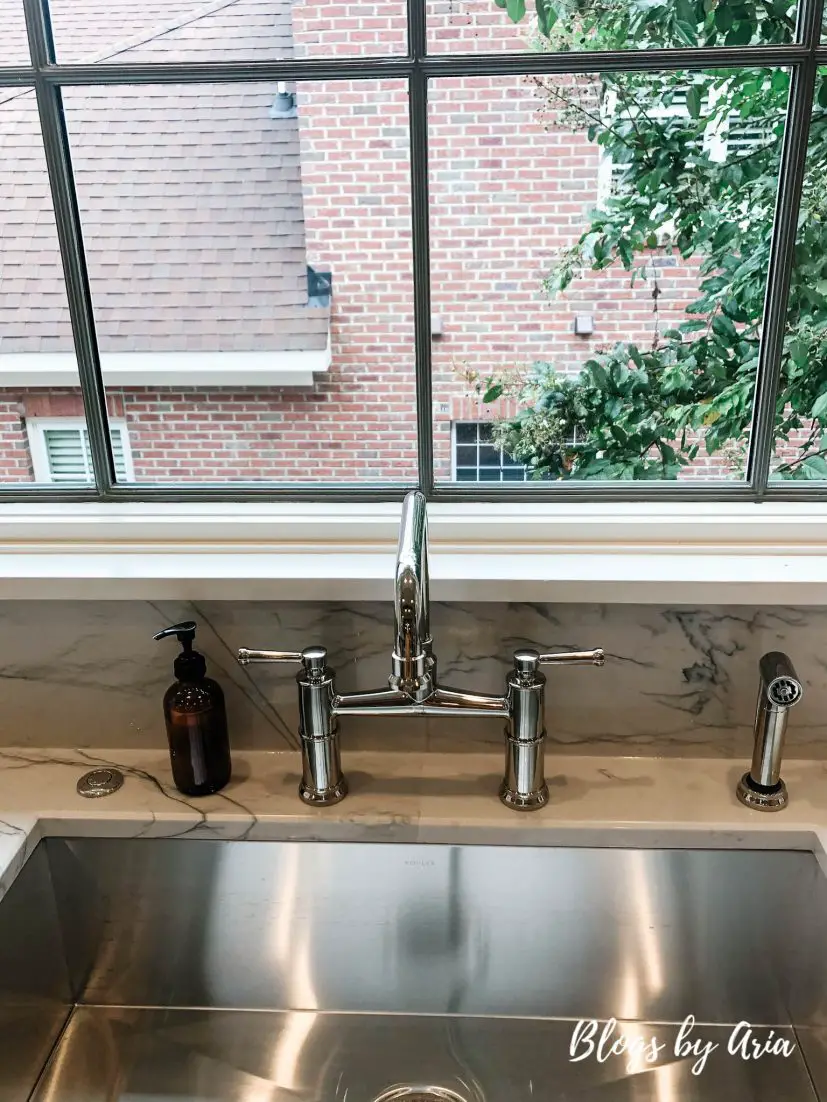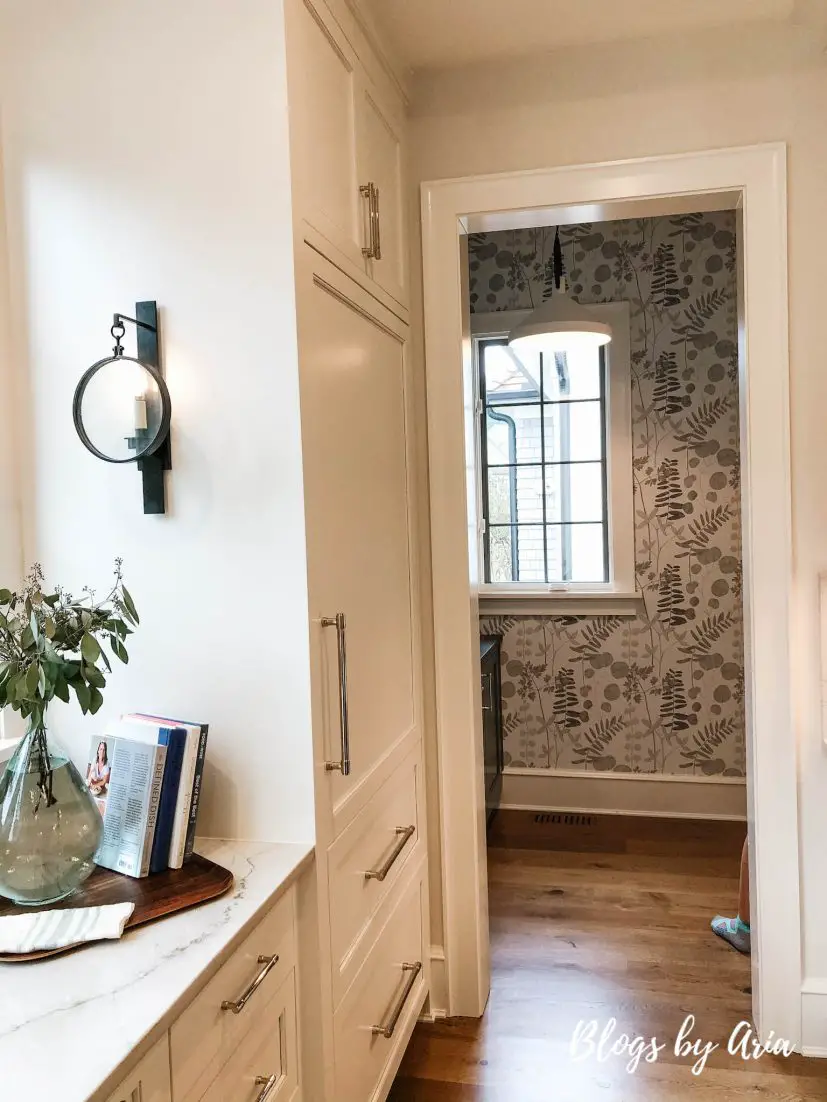 KITCHEN SCULLERY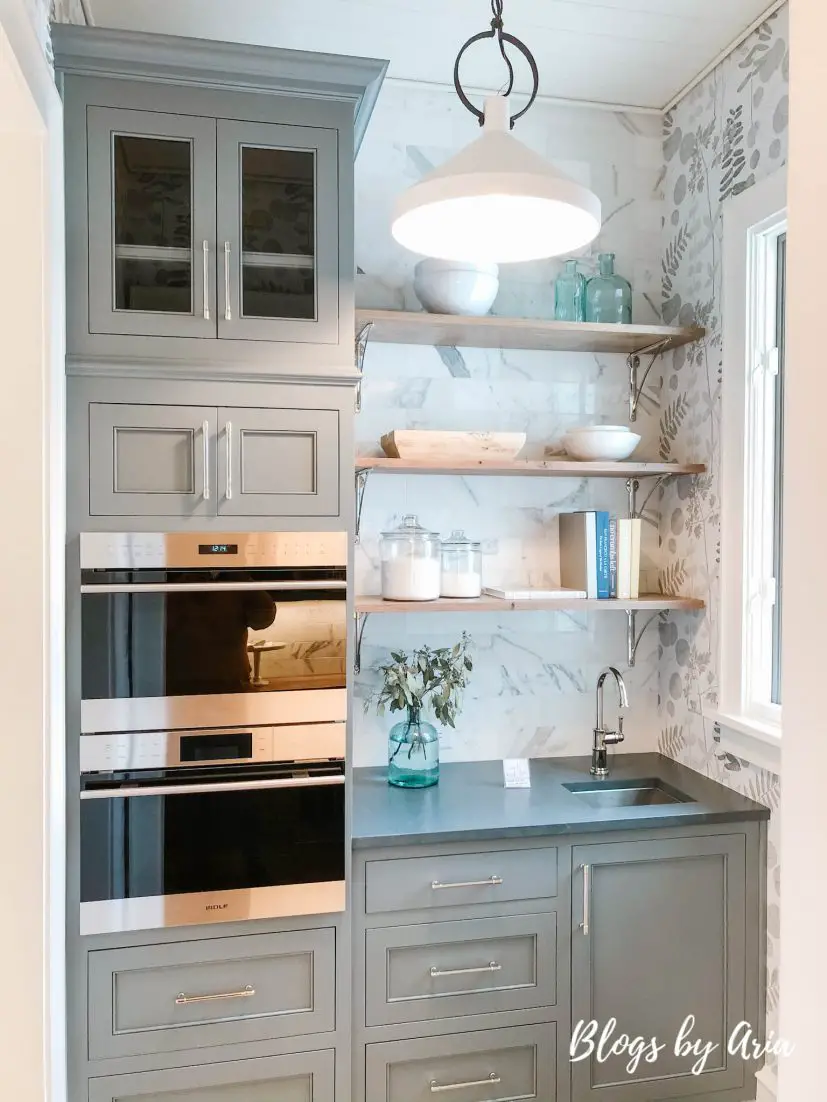 The walk in pantry/scullery features built-in storage solutions as well as top of the line Wolf appliances.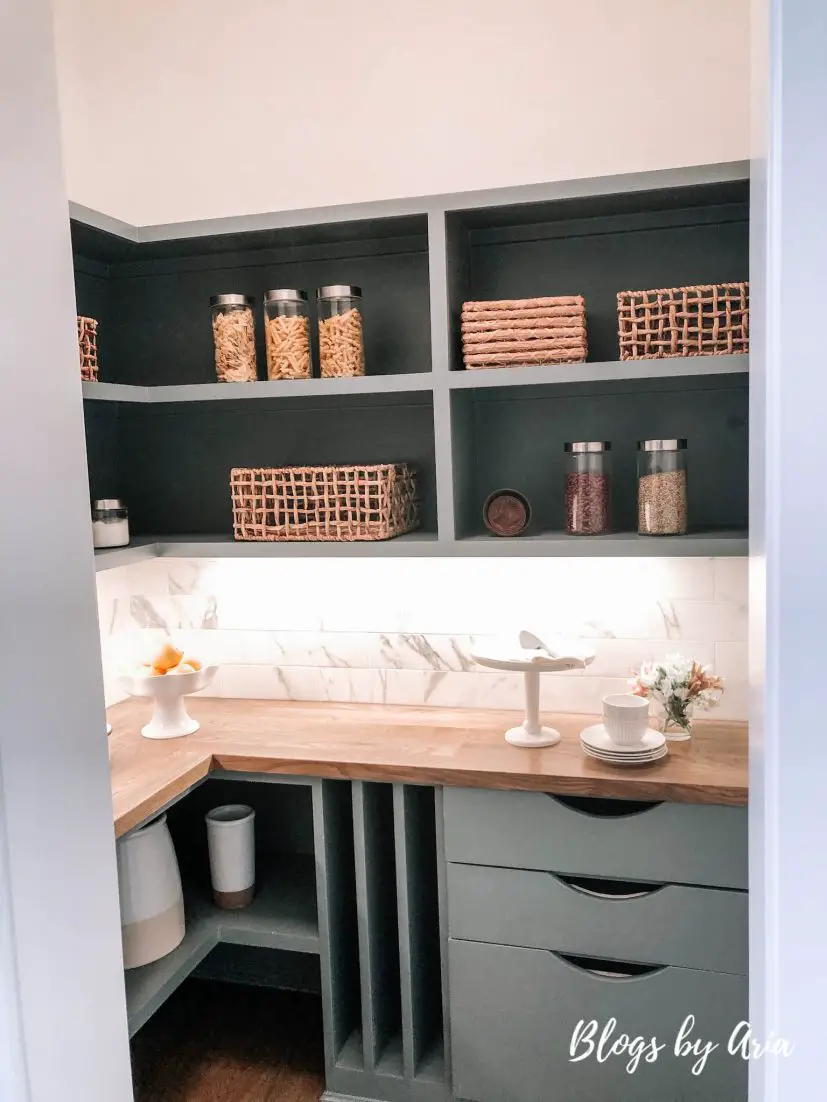 POWDER BATHROOM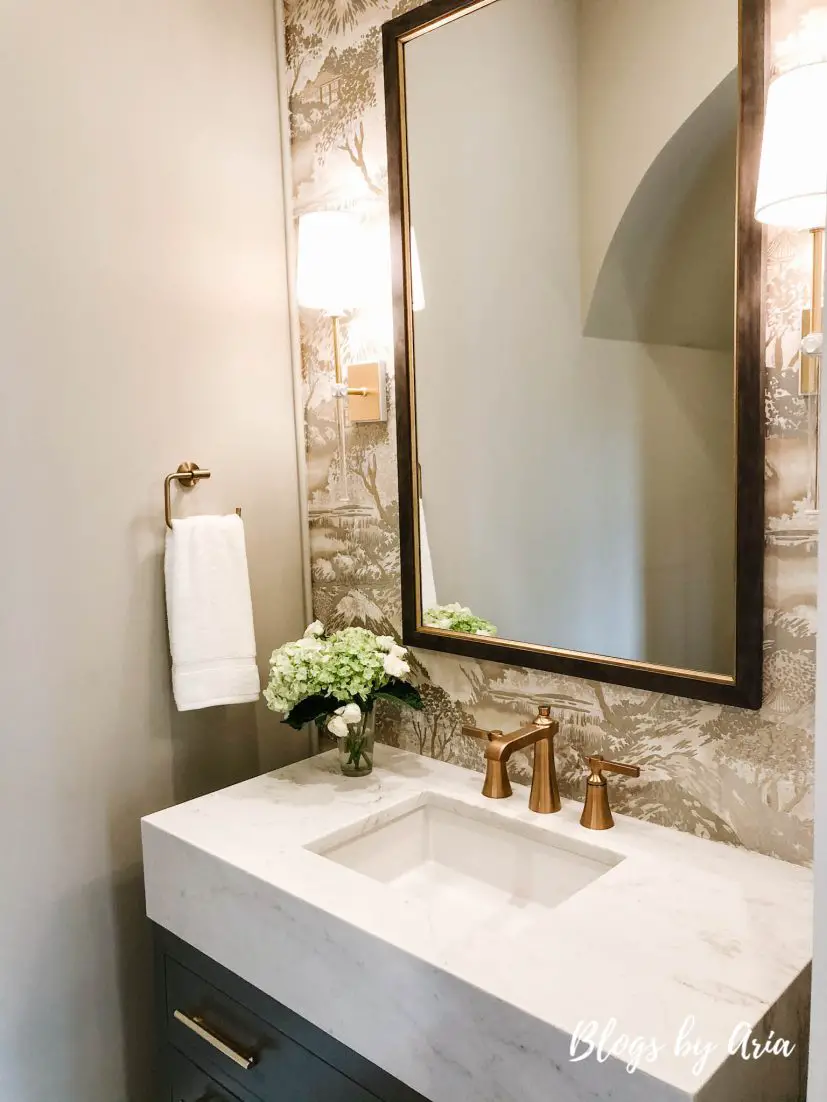 Hopefully you can get a good idea of the layout so far.  Now we're on the other side of the stairs.  With the butler's pantry on the left of the stairway we're now on the right in the powder room.  I had to snap a picture of this beefy marble-look countertop.
I also like the personality infused into the home with the wallpaper in both the powder room and scullery.
MUD ROOM AND LAUNDRY ROOM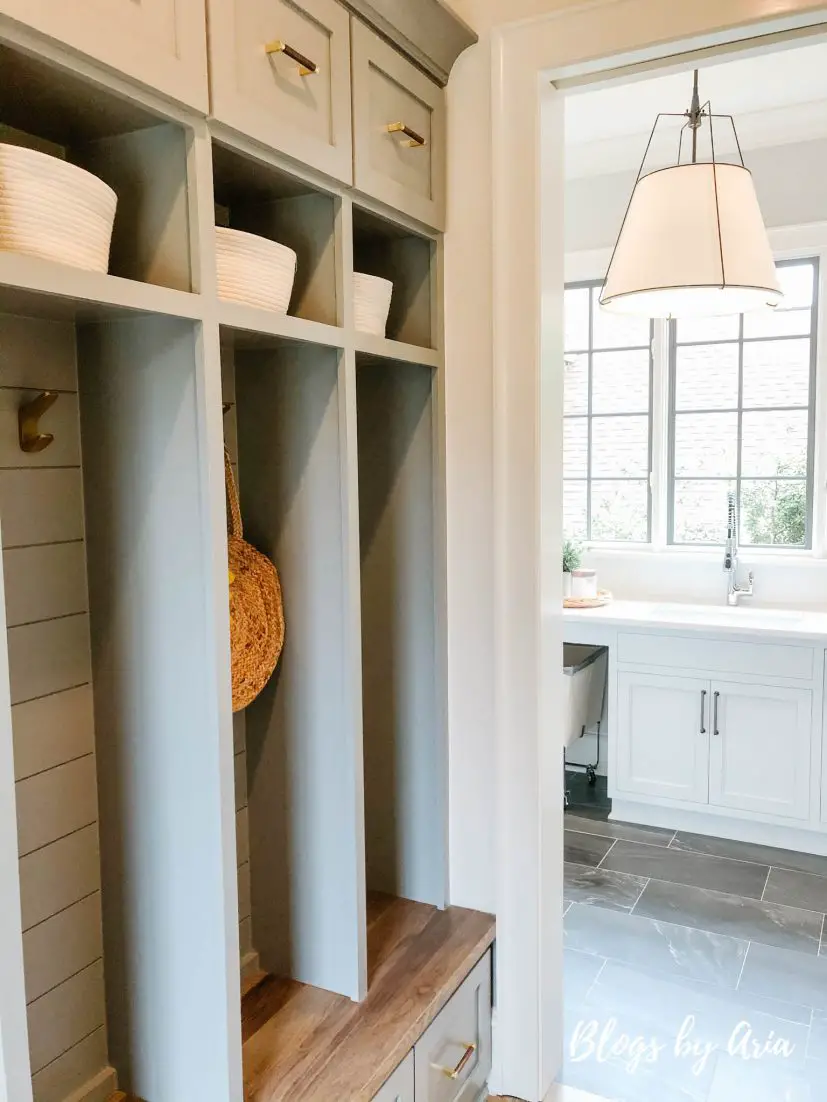 Just beyond the powder room is the mudroom and laundry room.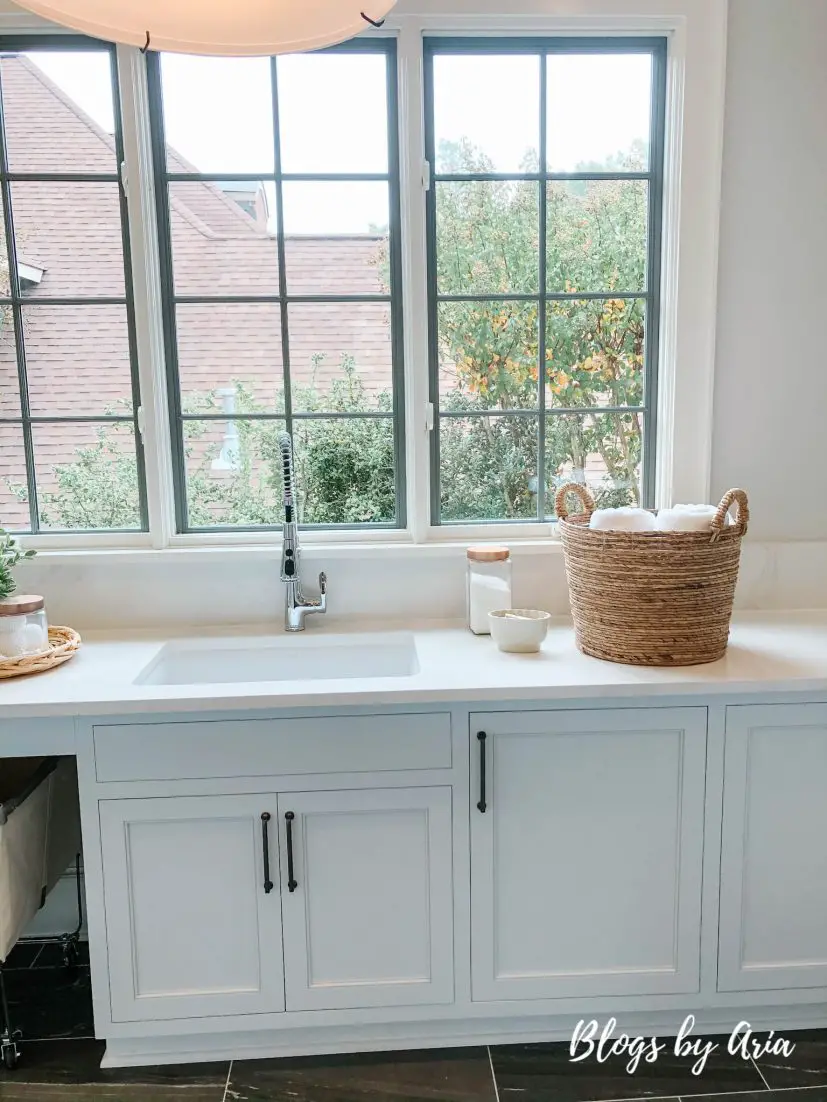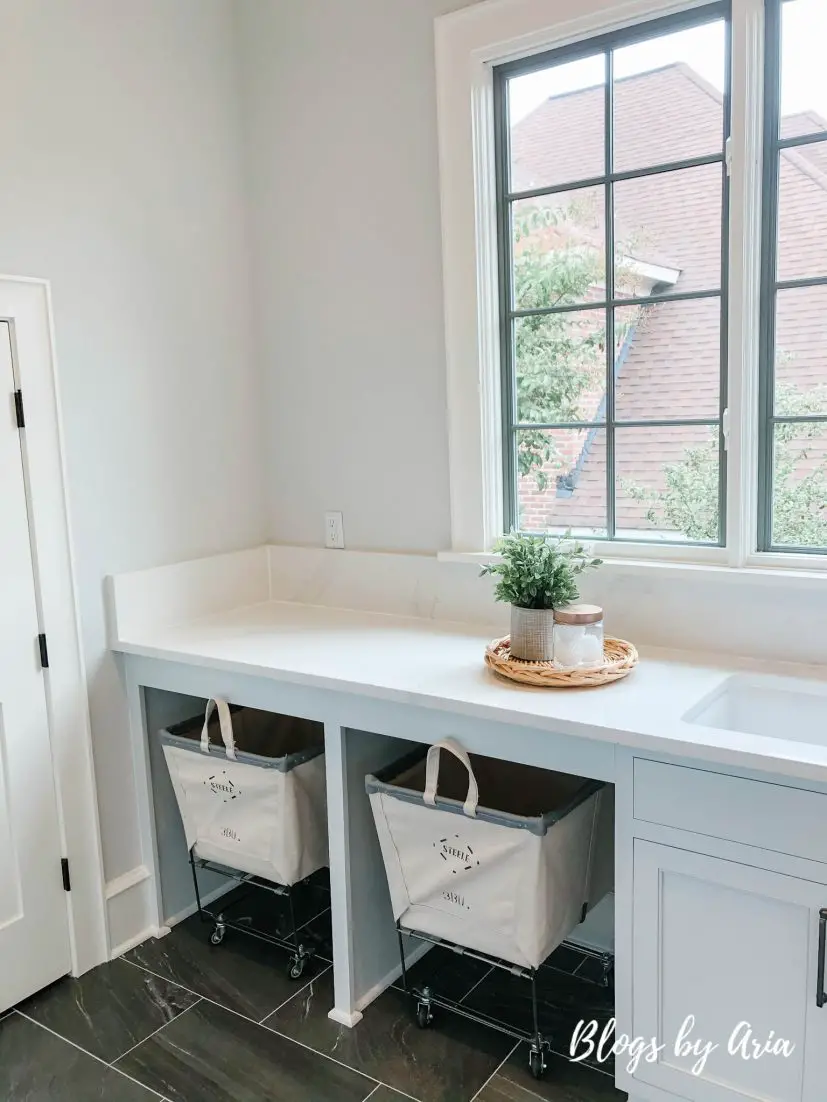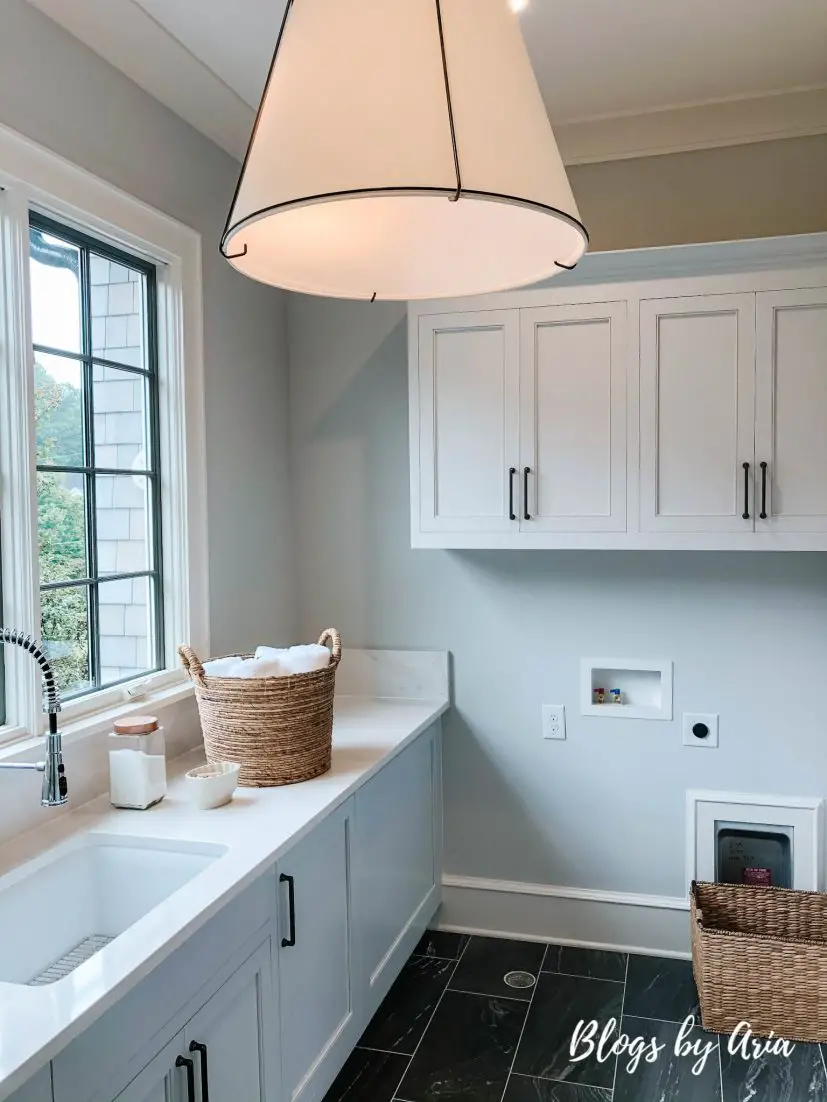 A laundry room this beautiful almost makes doing laundry enjoyable…almost 😉  Seriously this is such a beautiful laundry room!
FAMILY ROOM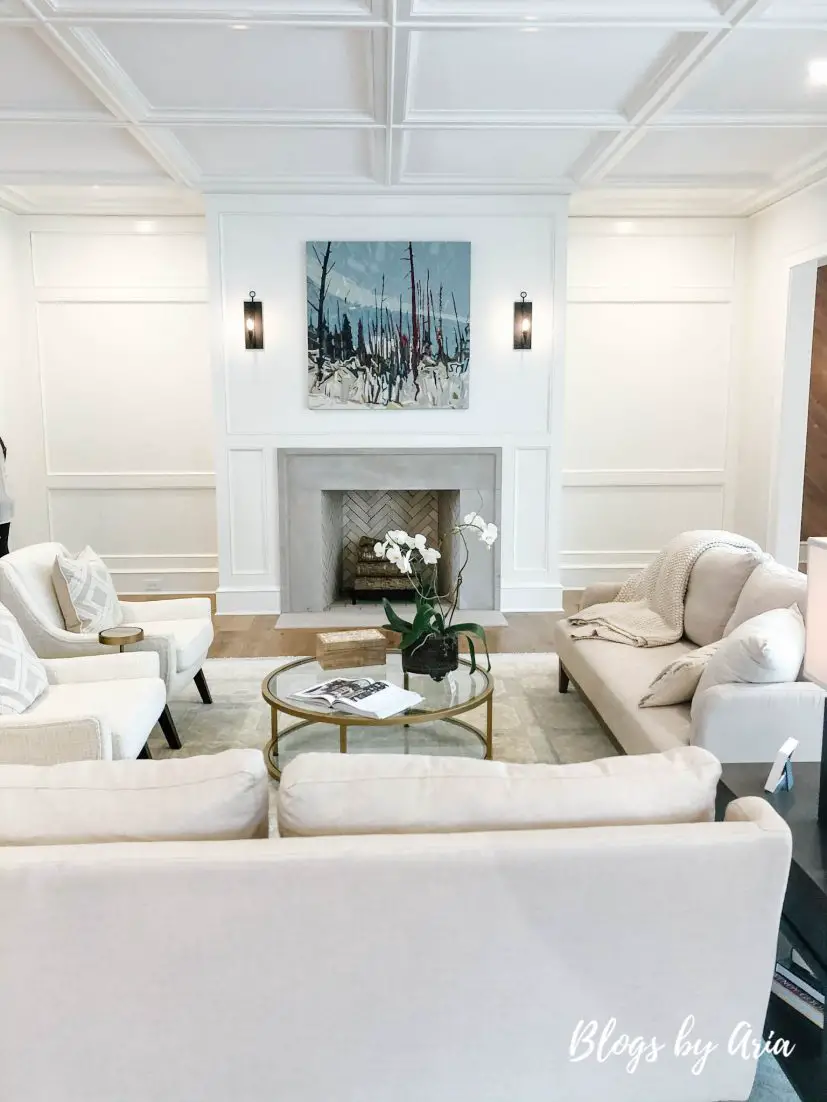 The family room is open to the kitchen and the custom trim and millwork shines!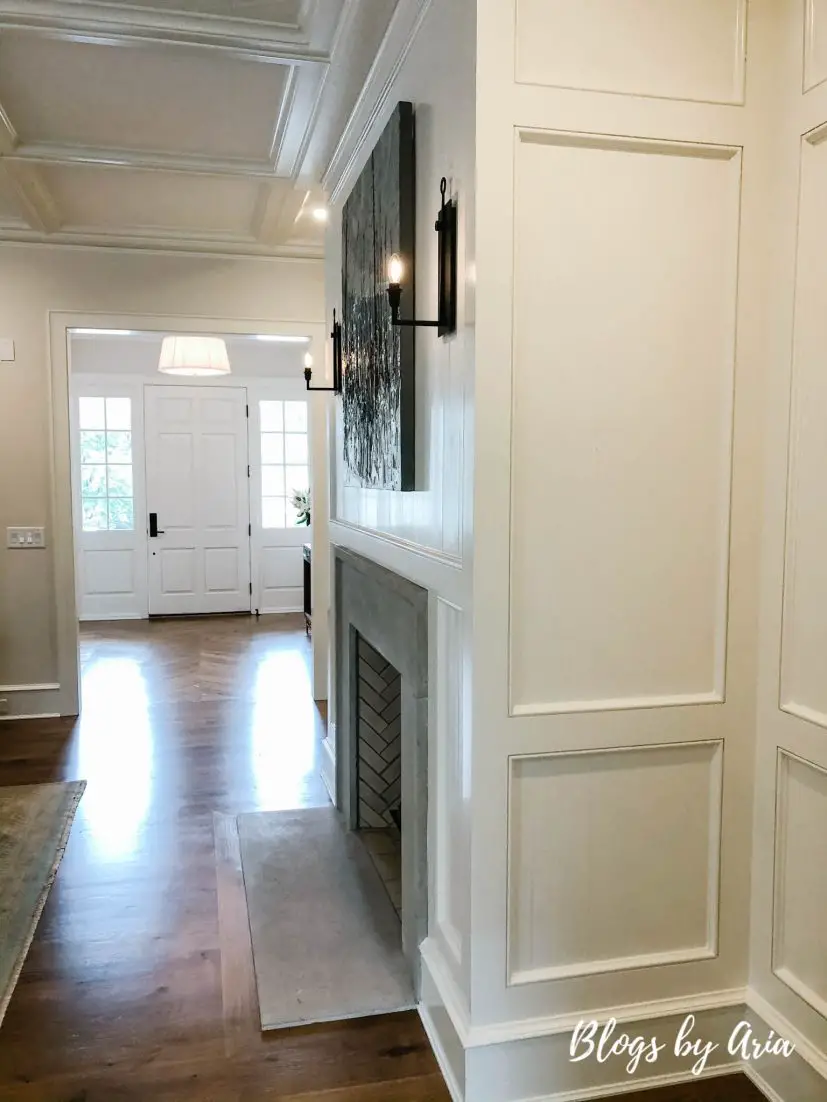 Here you can get a better view of the entryway and how it opens into the family room.  Even on this cloudy day you can see how much light all of the beautiful windows let in.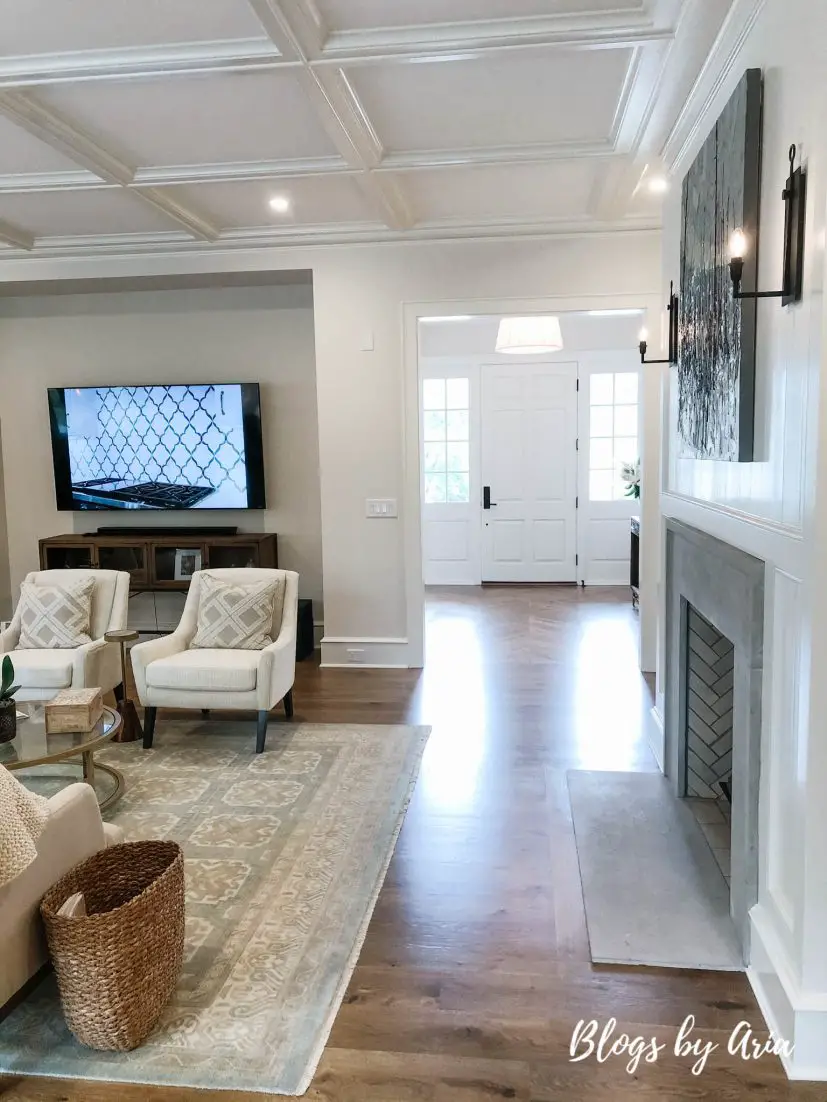 Wondering where the TV is?  I know I was!  I like that the TV is not the focal point in this space.  I'm surprised they didn't do a custom built-in entertainment center in this niche.  That's something I would have liked to see.
MASTER BEDROOM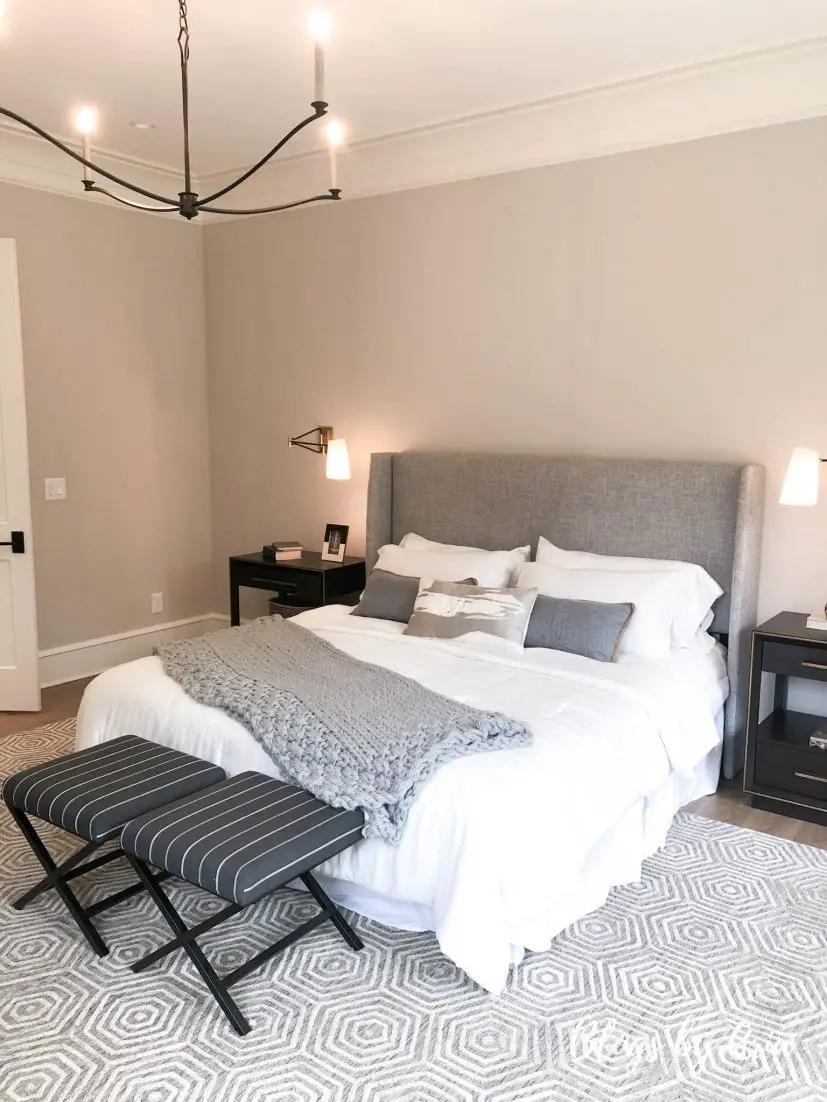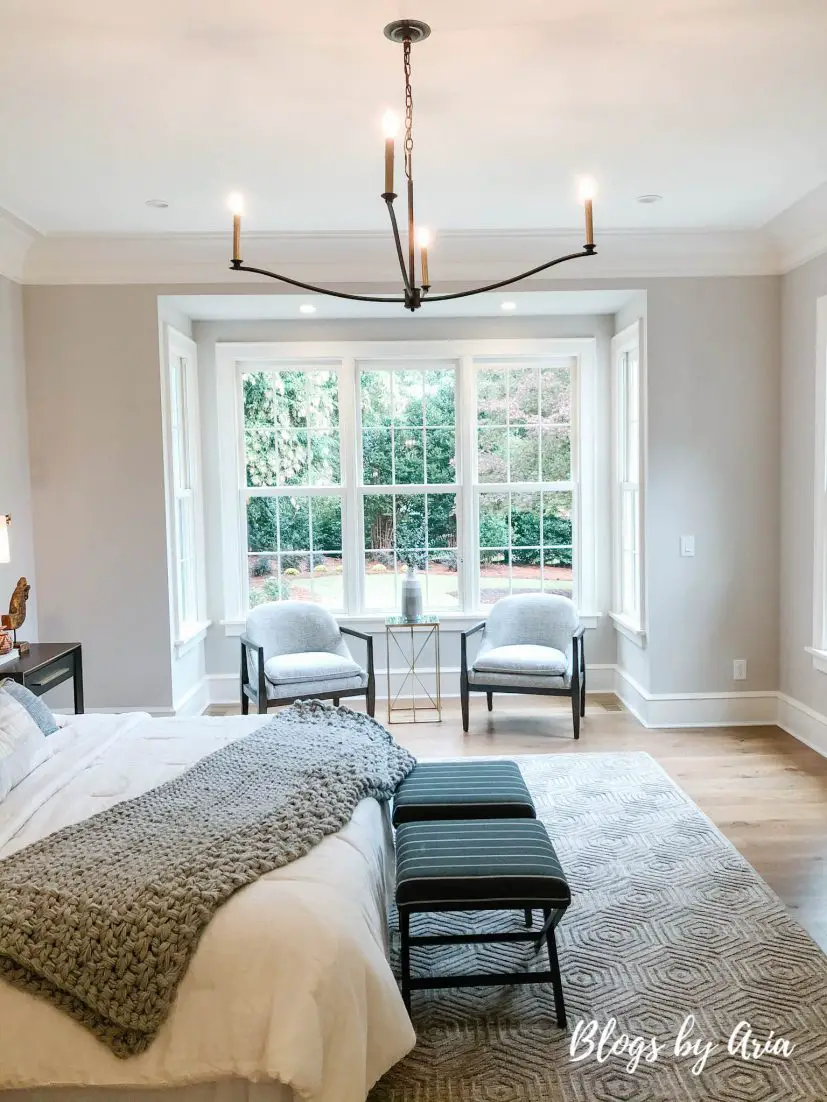 Whereas the guest bedroom faces the front of the house, the master bedroom faces the rear.  This is a very spacious and comfortable master suite.
MASTER BATHROOM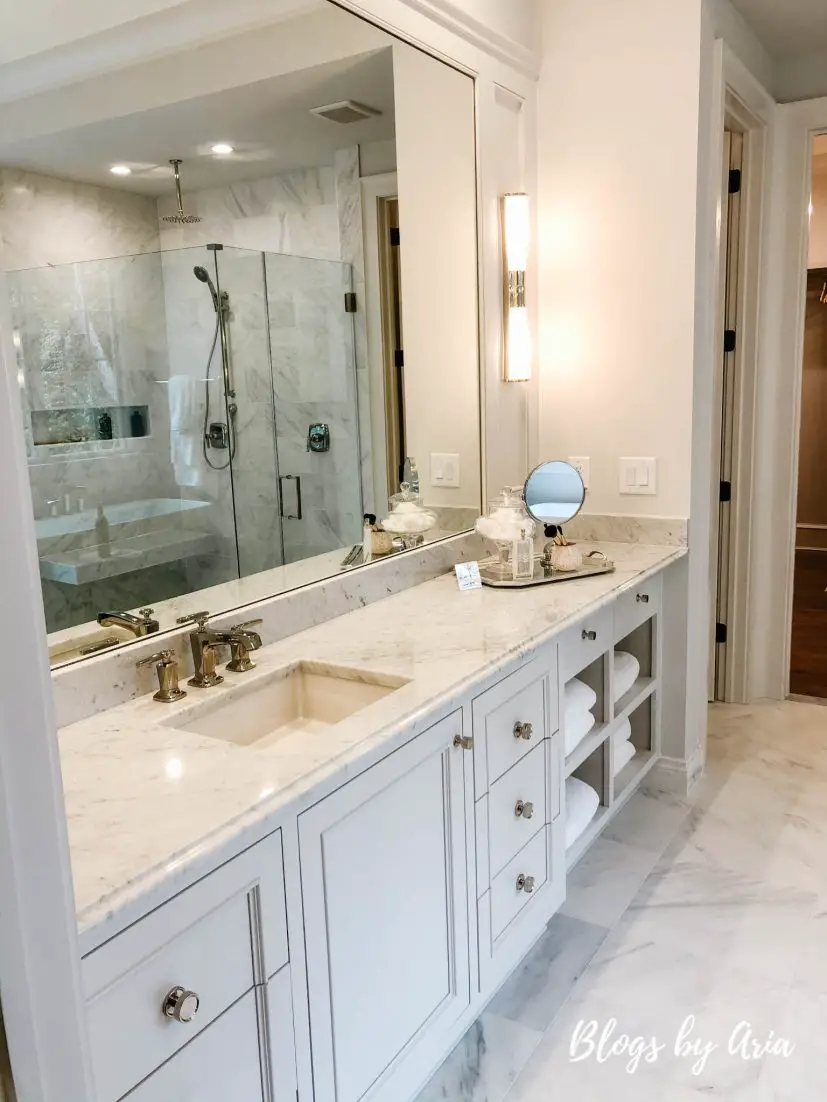 The master bathroom is decked out in marble from the floors to the countertops to the shower.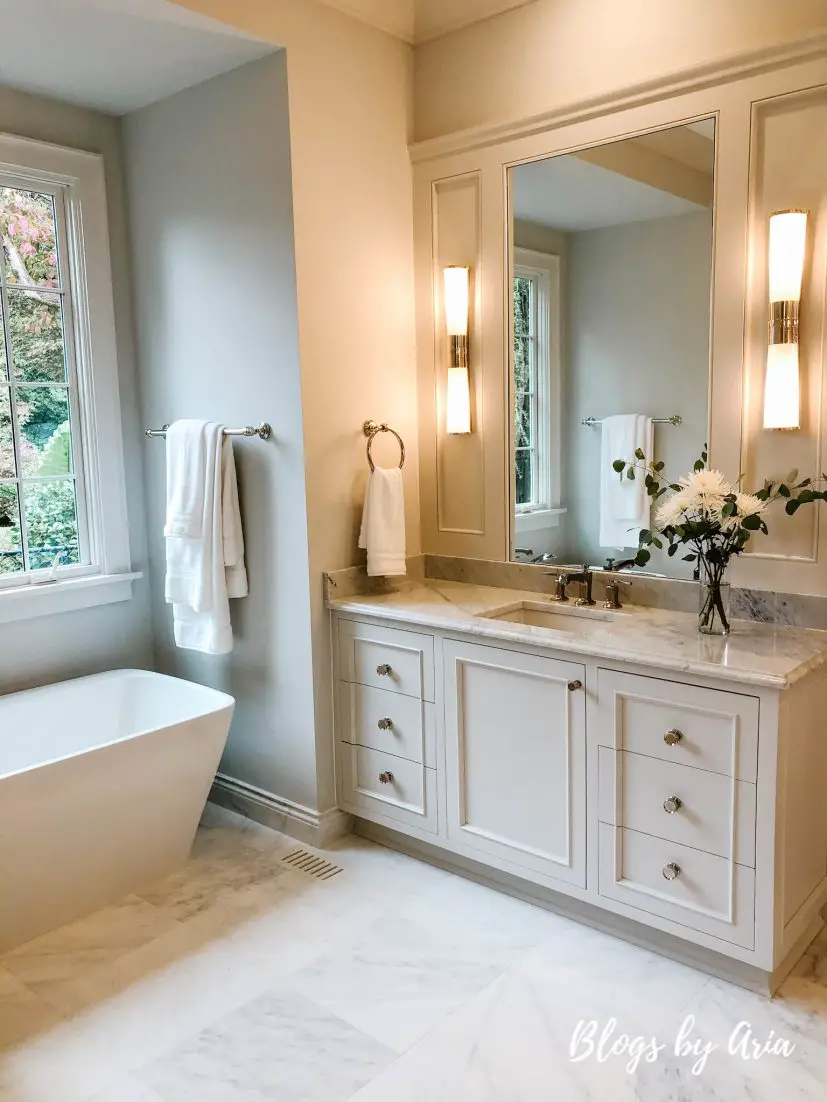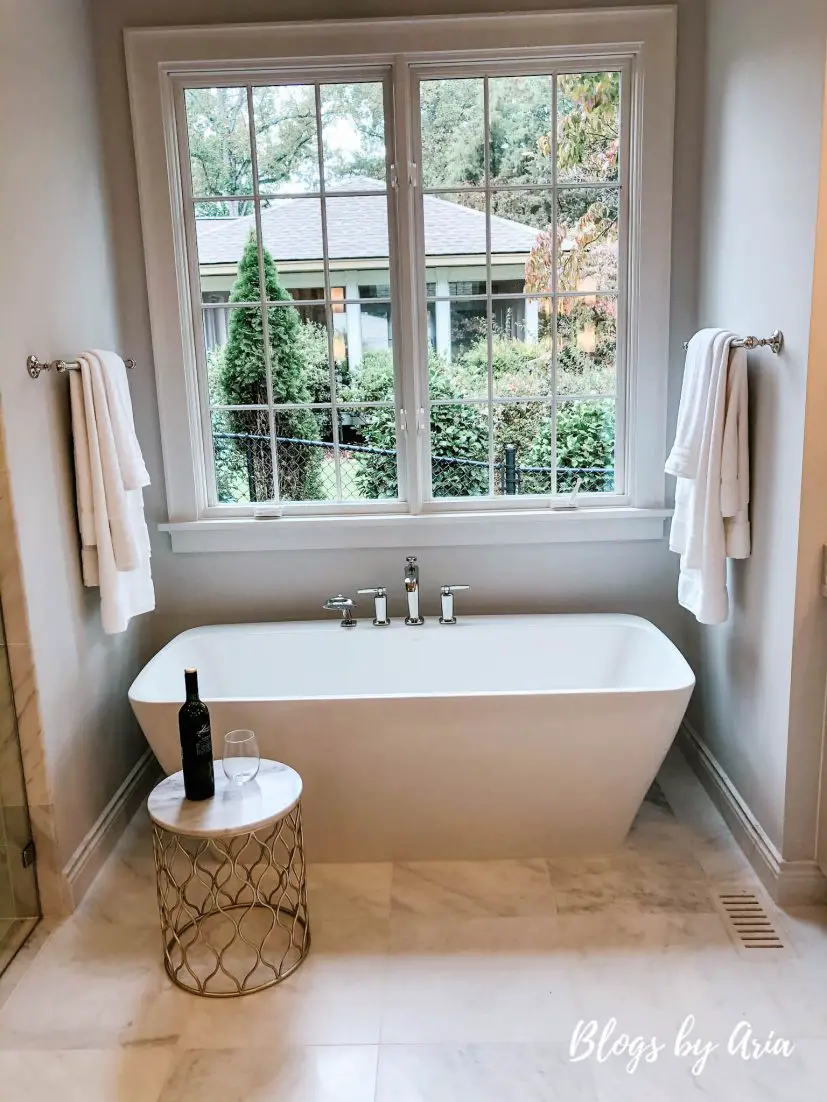 I for one would love to luxuriate in this freestanding soaking tub!  And just look at the size of the shower!!
MASTER WALK-IN CLOSET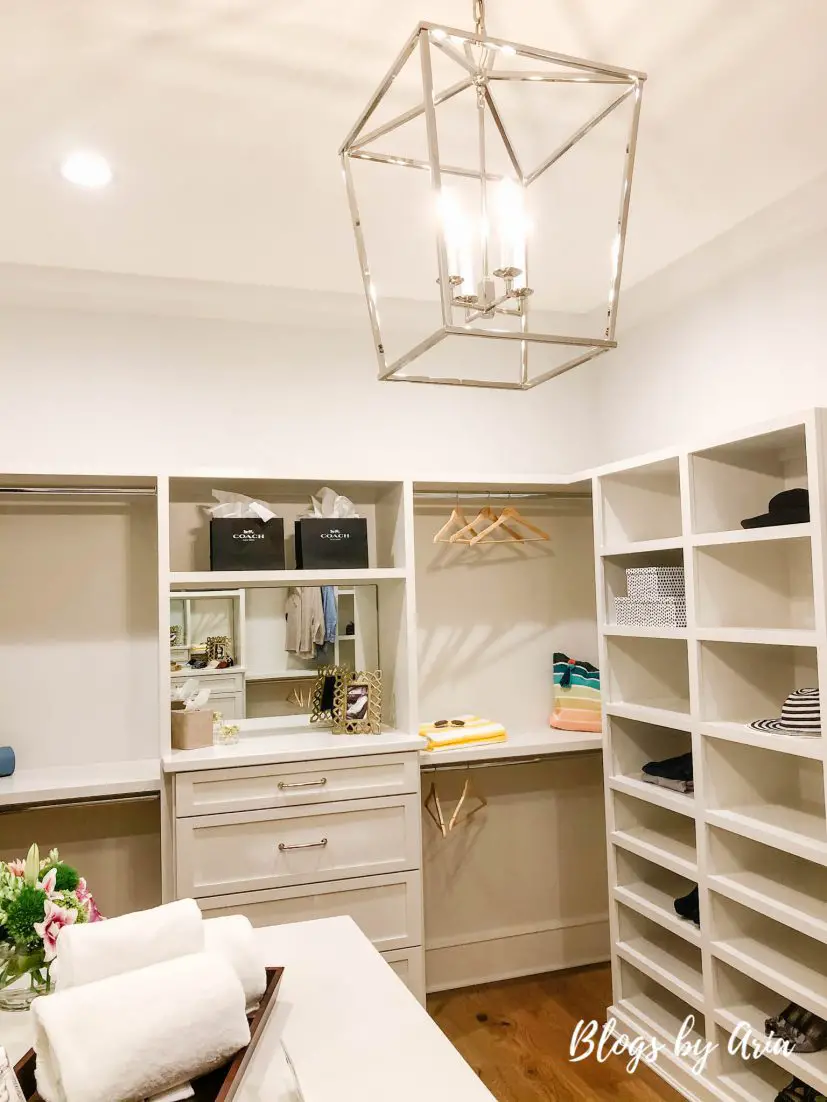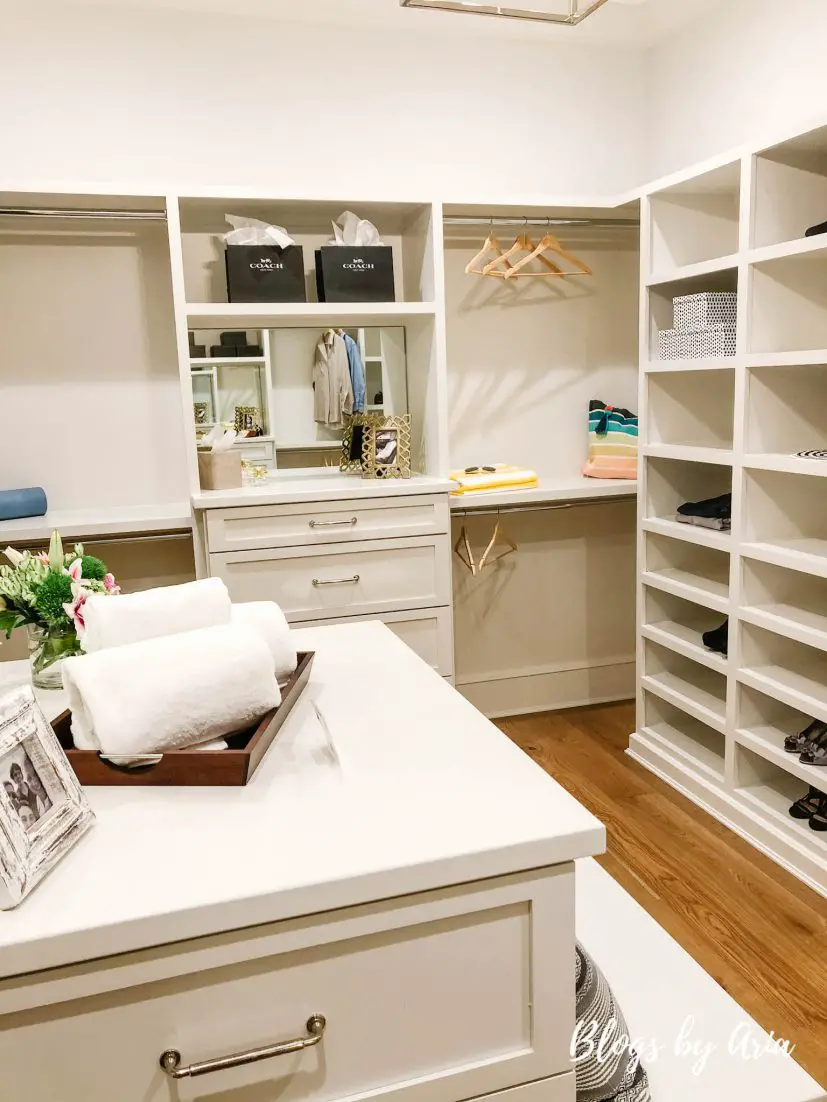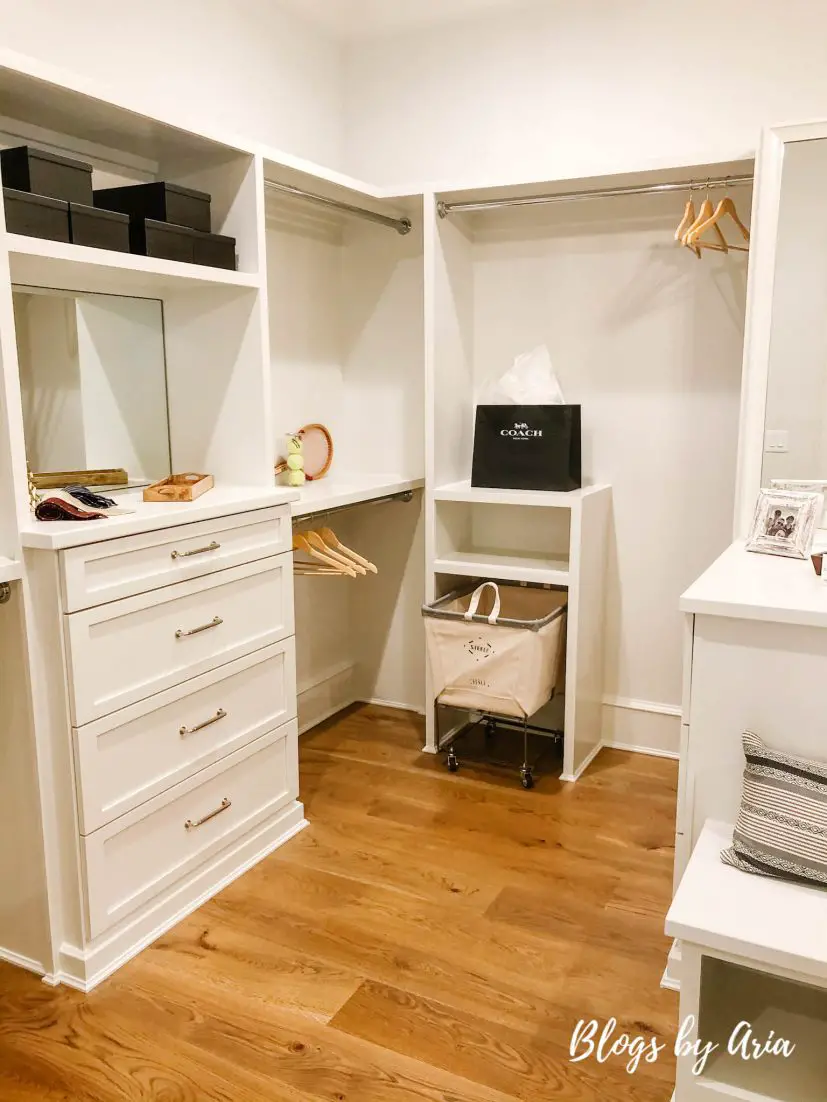 The master suite isn't complete without this oversized master closet!  This custom closet is a dream and I love all of the extra storage opportunities.  Lots of built-in drawers on both sides of the closet to give both owners ample storage.  Plus there are even more drawers inside the closet island.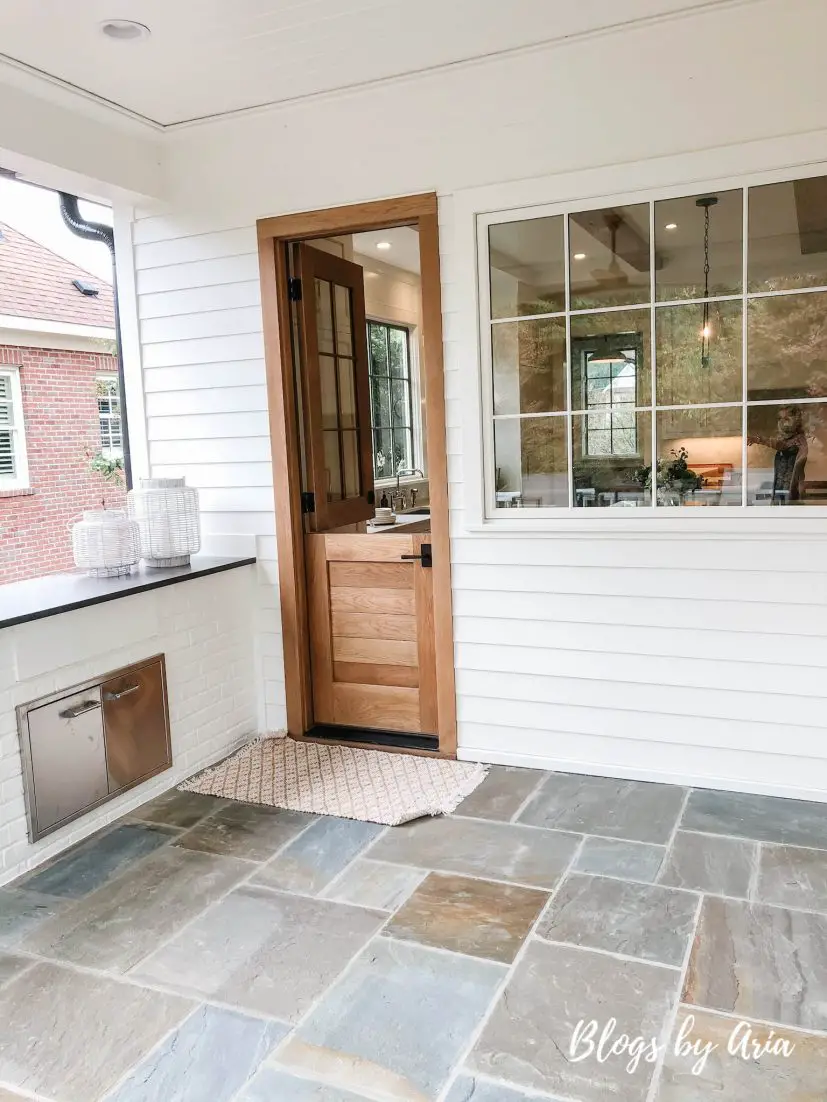 Before we head upstairs let's take a look at the back porch.  You can access the outdoor living space via the Dutch door off of the kitchen or the folding Phantom doors off of the living room.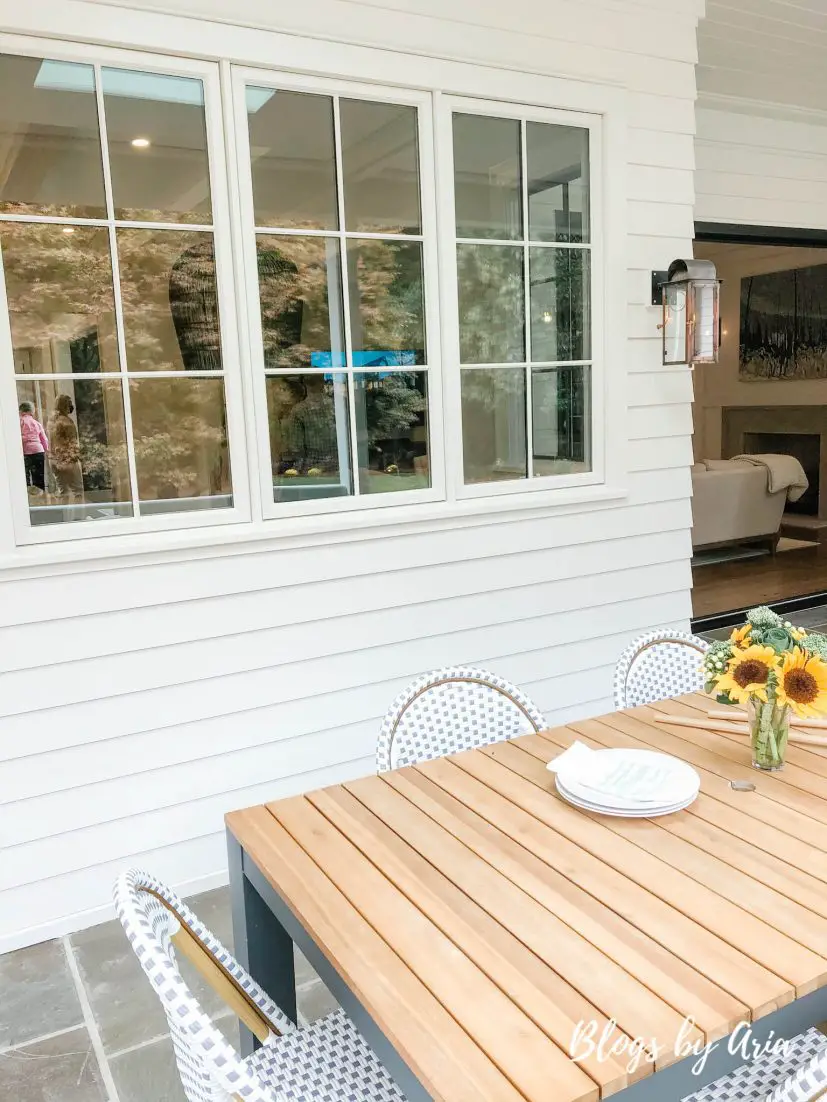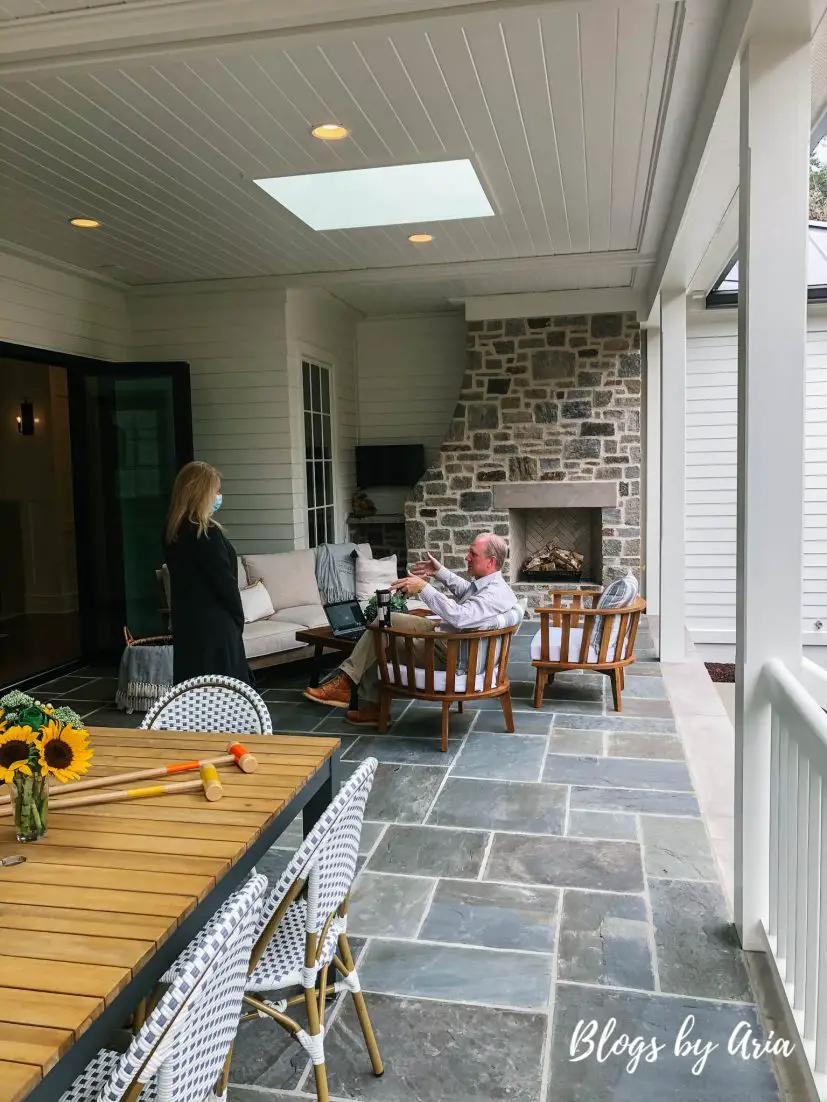 Not only do you have an outdoor kitchen and eating space but there's also a gorgeous stone fireplace that ties in the same stone from the front exterior.  By the way, I waited for so long to get a clean shot but this realtor simply would not move!  Oh well, it happens sometimes.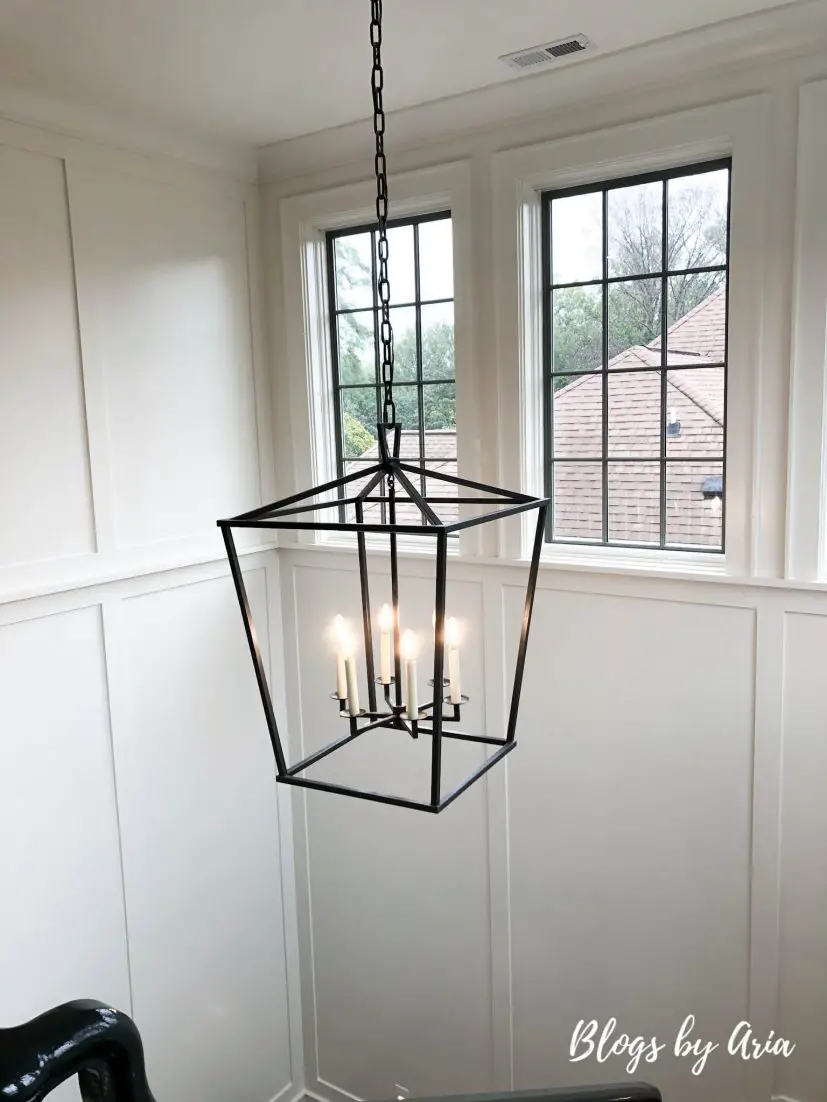 All of the lighting throughout this home is designer.  I particularly love this light fixture in the stairwell.  Upstairs there are three bedrooms each with walk in closets and their own bathrooms.
BONUS REC ROOM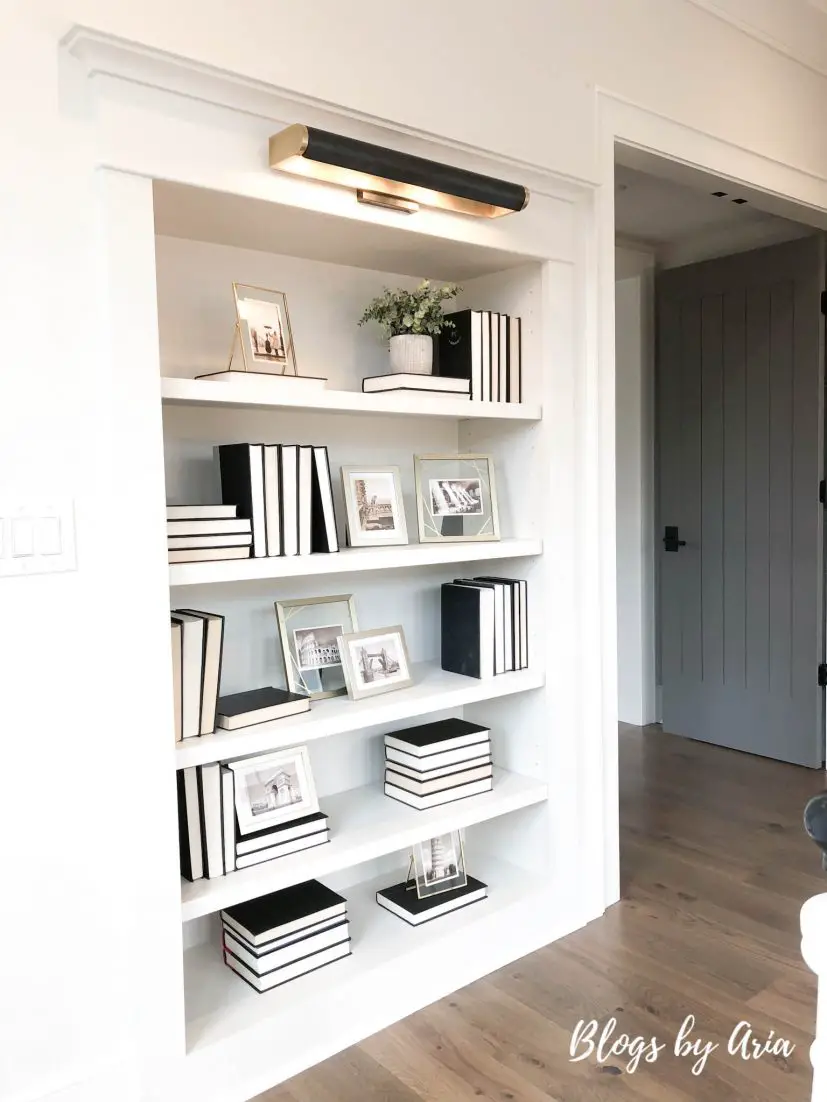 Coming off of the stairs is this beautiful built-in bookshelf.  I'm seeing these more and more in second floor hallways and I am here for it.  Notice to the right, the doorway leading into the bonus room.  It's the little details that make this home stand out from the rest.
Also upstairs is this very large rec room.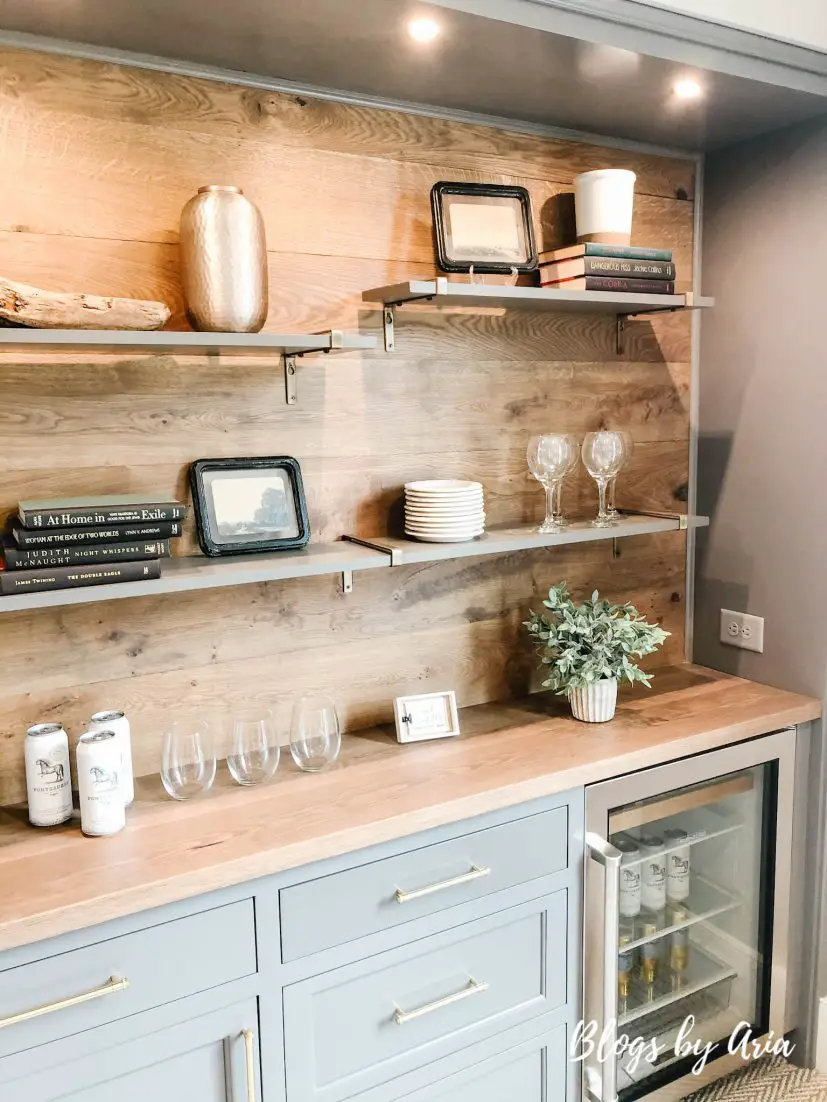 Equipped with a wet bar that is beautifully done, this rec room can be used in a number of ways.  They have it staged with a gaming area as well as a seating area.
I love the painted blue cabinets and the wood shiplap don't you?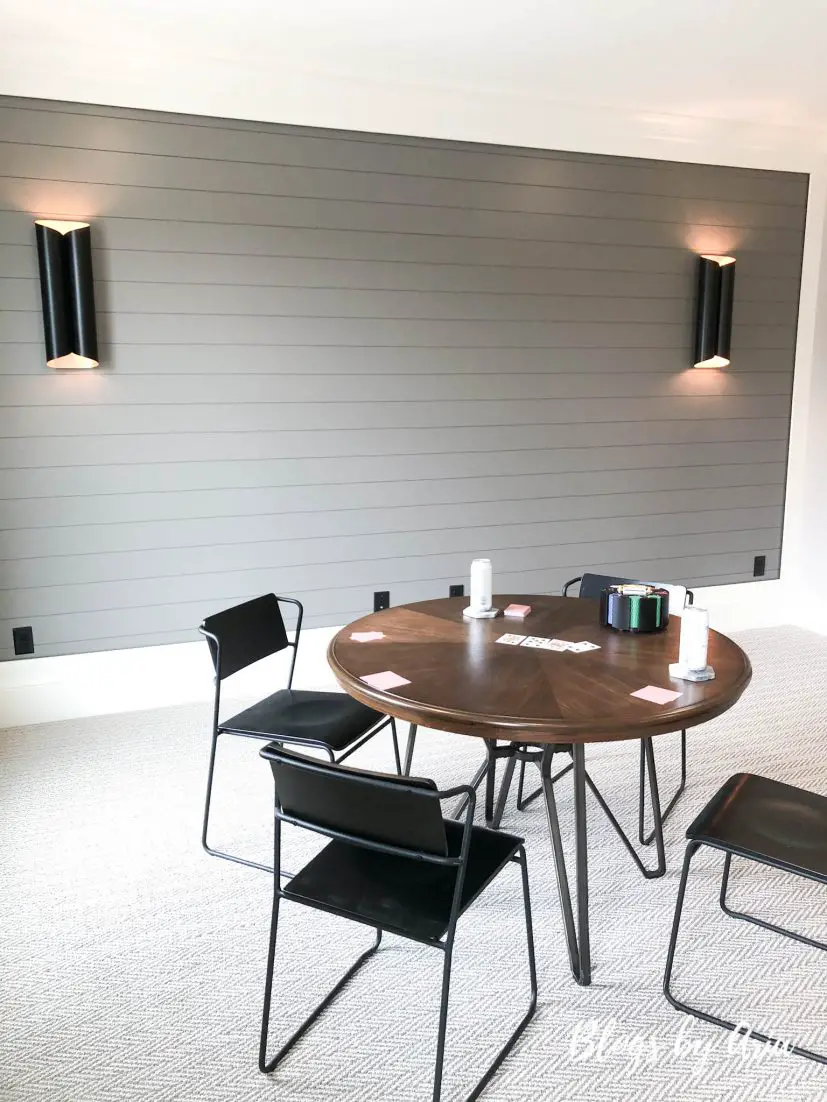 With the lighting you may not be able to tell but the shiplap accent wall is a deep navy blue color.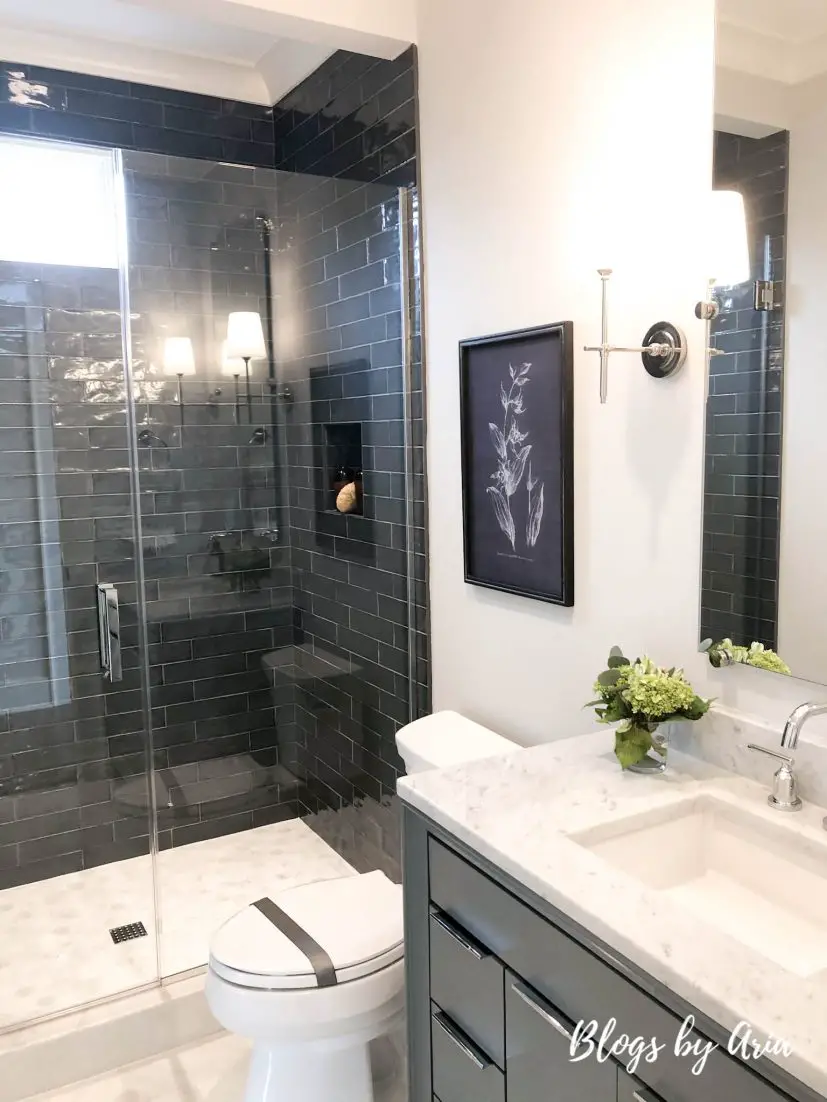 I didn't take any pictures of the remaining bathrooms but this bathroom belongs to one of the three upstairs bedrooms.  It also has an entryway to allow for guest use without having to access it via a bedroom.
All in all I'd say this is a gorgeous home.  It's beautiful!  Almost like a piece of art, I can appreciate it's beauty but that doesn't mean I want to own the piece myself.  This slice of Nantucket home is way more formal and fancy than I am!  But I'm so glad I got to see such a beautiful home and share it with you.
I love to be inspired by interior design and I hope you too were inspired as well ♥