Although I started adding touches of patriotic decor on Flag Day, I'm just now able to share my Fourth of July home tour with you today.  A week before the big day isn't cutting it too close is it?  I don't go overboard with my red, white and blue decorating but I do have a few new things to share with you.
Last year was my first year decorating for the Fourth of July.  We had just moved in and I didn't have much to work with.
*this post includes affiliate links for your shopping convenience, you can read more about affiliate links by reading my Disclosure*
I kept the fireplace mantle pretty simple and added a flag wreath and patriotic paper fan banner.  Another thing I added was two more candle holders.  This set I found is very similar to the ones I have but it comes with three sizes in the set.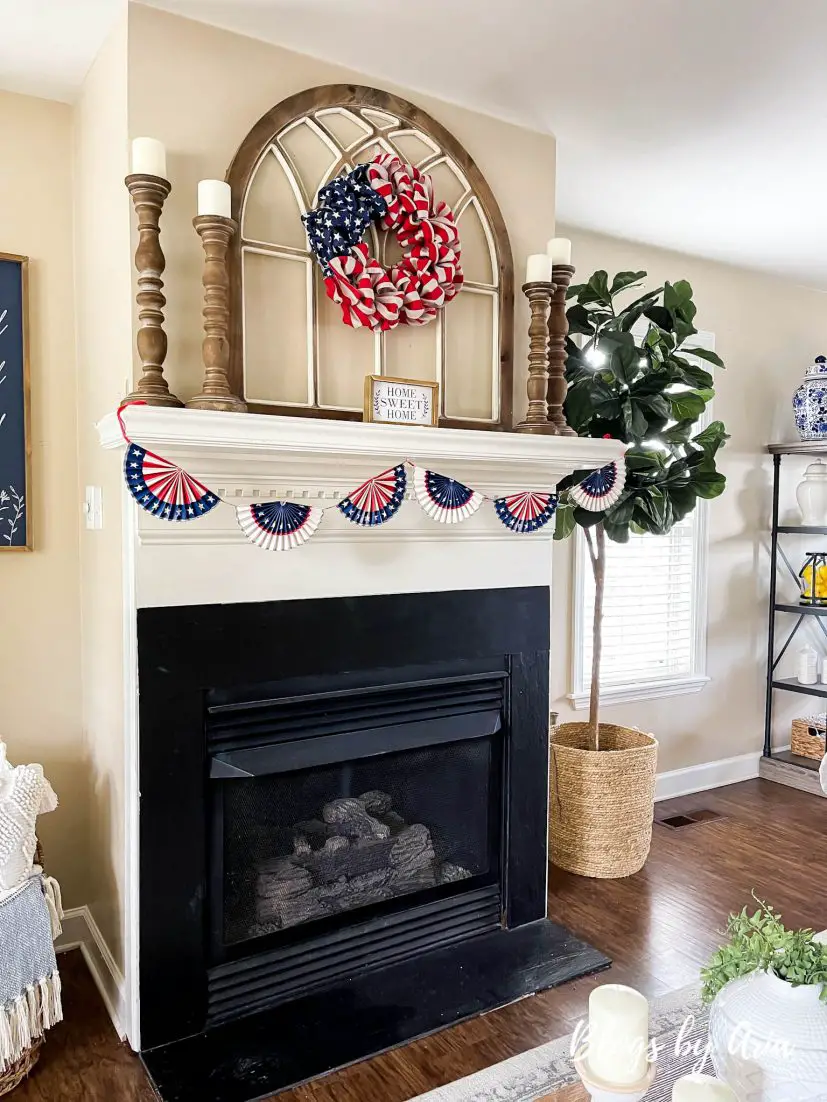 accent chairs (similar here) | end table | area rug
I found these red, white and blue plaid pillows from TJ Maxx.  Thankfully they have zipper covers, because I wasn't loving their shape.  I took out the pillow forms that came with them and replaced them with these down filled inserts so I could karate chop them.
To switch things up on my side table, I added my black scale with these fun red, white and blue candles I found.  They're real and smell like cinnamon, but I don't want to ever light them.
My flag pillow have been moved around so many times!  Last year I had it on my love seat but I like it on my sofa this year.  It's the perfect touch to my patriotic home tour.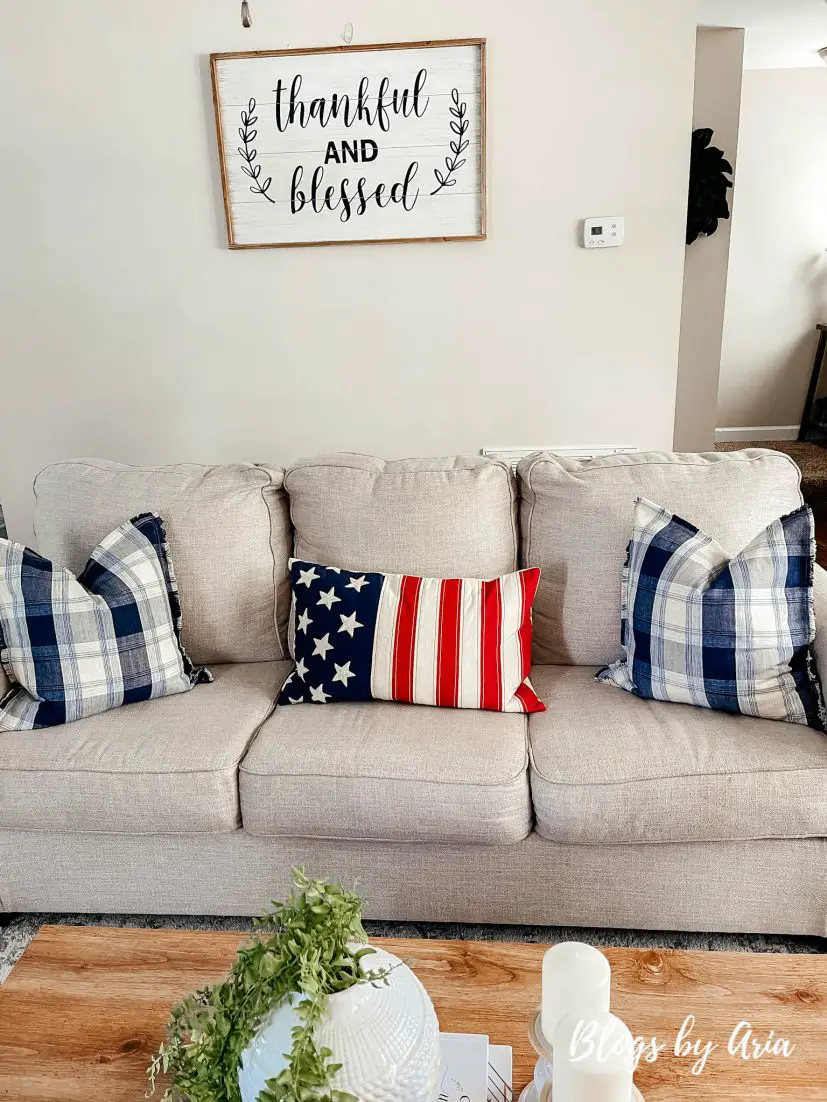 A couple of weeks ago I shared this picture of my updated coffee table styling on my LIKEtoKNOW.it feed.  I really wanted to lighten the space up.  It turned out so well with a couple of candles, coffee table books and greenery did the trick!
Originally I had these reversible pillows on my sofa with the dark blue side facing out.  But today I switched them with my blue plaid fringe pillows.  I like that they're reversible, but I really prefer the white side over the dark blue.
I'm really excited about my new patriotic tiered tray!  Yes, another tiered tray!  I got this one from Decor Steals but it's the same as this one from Wayfair.  When I saw the email with the flash sale it was too good of a price to pass up!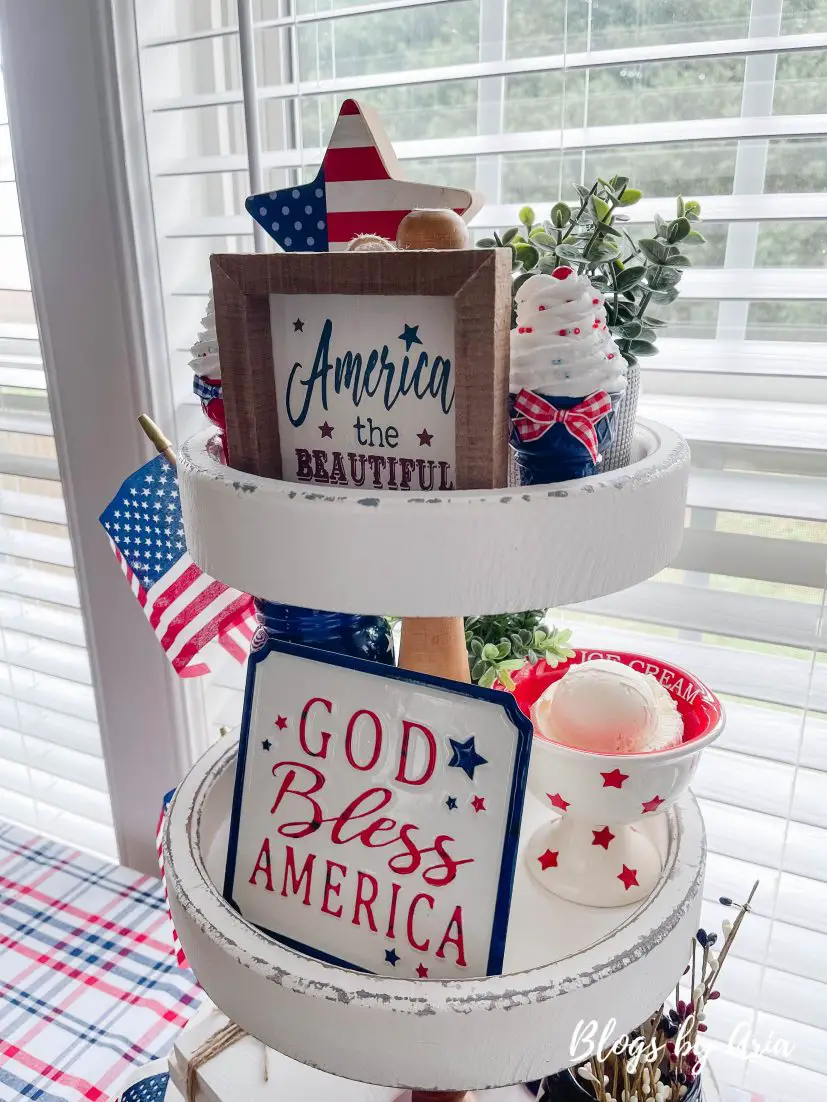 I knew that I wanted to style my other three tier tray for Independence Day, but honestly, it's such a large tray with so much surface area, I wasn't sure how it would work out.  What I love about this three tier tray is the diameter isn't too large so it's a bit easier to style.
Most of the items on my tiered tray are from Hobby Lobby and most of them are from last year.
place mats | napkins | similar wood tray
I've been struggling with styling my dining room table.  I'm not putting too much pressure on myself for now, but hopefully in the Fall I'll come up with a tablescape to share.
I added a couple of pieces to add a patriotic touch to my bookcase.
console table | mirror | woven baskets | buffet lamp | doormat
Both of the table runners on this entryway table and on my bookcase are from Hobby Lobby.  I didn't plan to get them both (although I wanted to) but my loving husband sat something on this table and it left a stain.  So I had no choice but to get this table runner.
This picture I took about a week ago before I swapped the pillows around.  Which look do you like the most?
Next week I'll be taking down the red decorations and keeping the blue.  That will be my decor until it's time to bring out the colors of Autumn.  Believe it or not, I'm in no rush for fall decor.  I know it's hard to believe.  Last year this time I was already shopping for all things Fall.
With all of the decorations I got last year, my budget will be very happy to not have to do much shopping.  That doesn't mean I won't add a new piece or two, but I certainly won't be buying much 🙂
For now, I'll be enjoying this season of minimalisim…at least by my standards!  Happy Independence Day!!