Recently I shared my fall decor haul and showed a sneak peek at my fall garland on my mantle.  It was pretty simple and relatively inexpensive to create.  Basically it was one inexpensive fall leaves garland from Hobby Lobby and a lot of picks of different leaves to create fullness and dimension.  I did find a couple of other garland options and I knew that I wanted create a new garland and start over from scratch.  Instead of me just showing you the finished look, I'd like to show you how to create a fall garland step by step.
This is my first time having a fireplace mantle to decorate and I knew right away that I wanted the look of lots of fall leaves and pumpkins. I'll probably say this a few times in the coming weeks, but I just cannot believe I wanted to go so neutral last year for fall!
My favorite thing about autumn is the gorgeous colors the trees show off!  I mean it's the most breathtaking thing and here I was wanting to go all neutral.  I still like neutral and muted tones for fall but I really wanted to bring in all the shades of the season this year.
*this post includes affiliate links for your shopping convenience, you can read more about affiliate links by reading my Disclosure*
Now back to the fall garland.  First let's look at the base garlands I'm working with.
Starting with the fall leaf garland I originally had and loved from Hobby Lobby.  Then I was shopping online at Joann's and found this pumpkin garland and in store picked up this tri-color berry garland.  We'll see how these can work out together.
I was perfectly happy with the leaf garland but thought that some texture and dimension could be added if I added more.  Plus I thought the pumpkin garland had a thicker stem, that way I could give the picks I used a little something more to hold on to.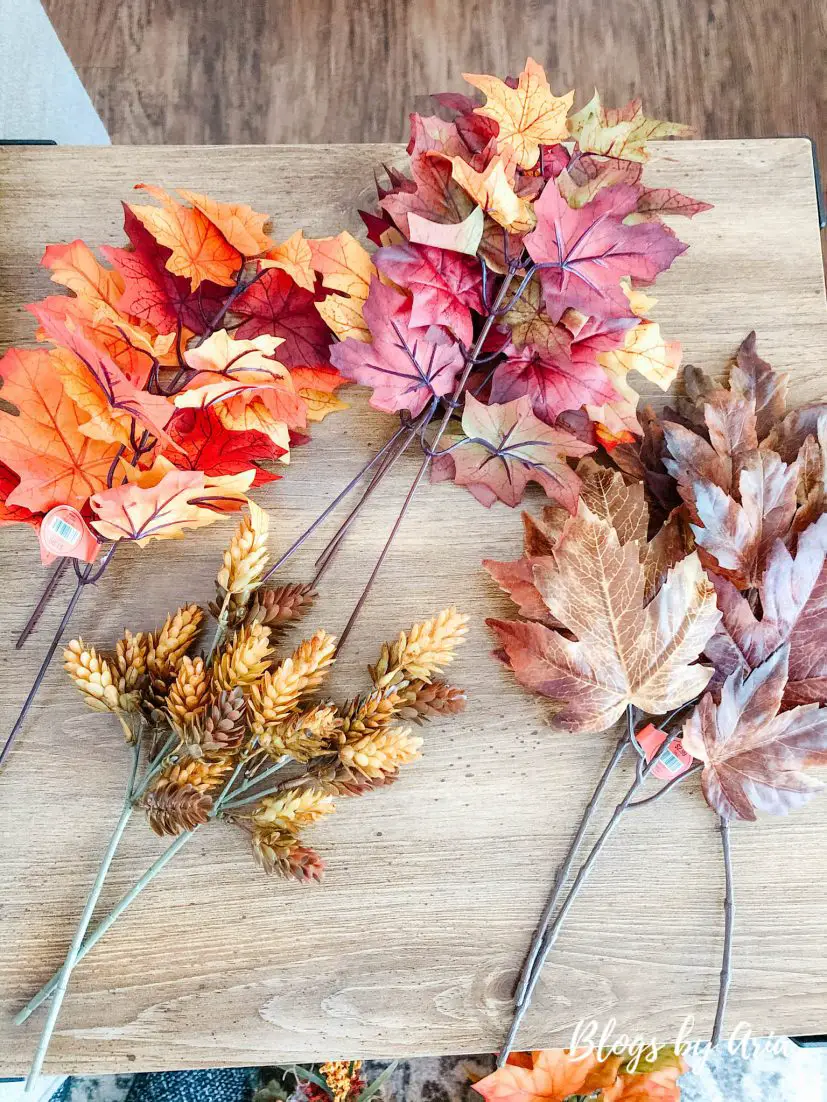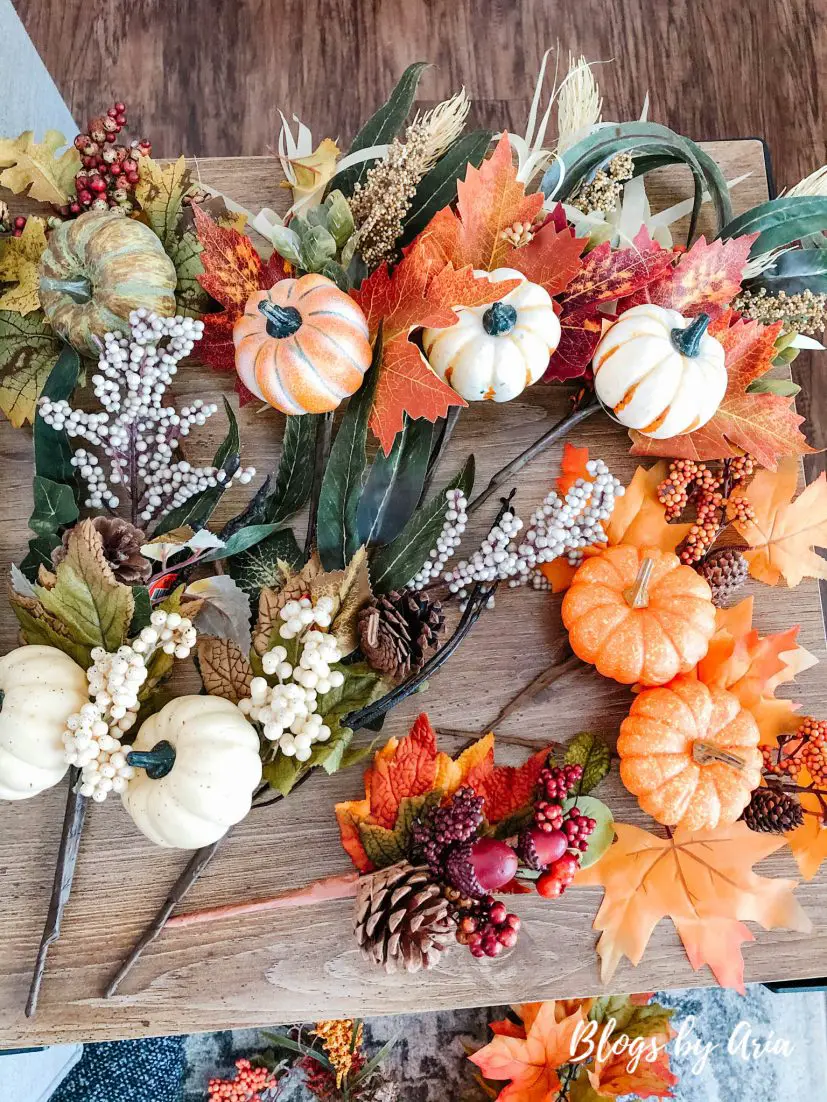 Next, adding picks create dimension, fullness and texture.  I like to get a variety.  What I love about using picks is that even if you don't use them for what you intended, you can add them to a tiered tray or a bud vase or along with some pumpkins.  There's an endless amount of ways to use picks.
Lastly, you'll want to decide if you want to add any additional elements to complete your mantle.  I knew that I wanted some larger pumpkins and my flameless candles.  The ones I'm using I got from At Home, but I also have this set from Amazon and this set is on my list too.
Also, you'll want something to secure the garland.  Most garlands come with loops on the end to hang them.  I used these Command hooks for the ends and these mini Command hooks spaced out.  I'll keep them up through the holidays and probably will take them down afterwards.
CREATING THE FALL GARLAND
First rule with using any garland is to fluff it out.  You can't just lay the garland and call it a day.  Either fluff it before you set it on your surface or once you have it in place.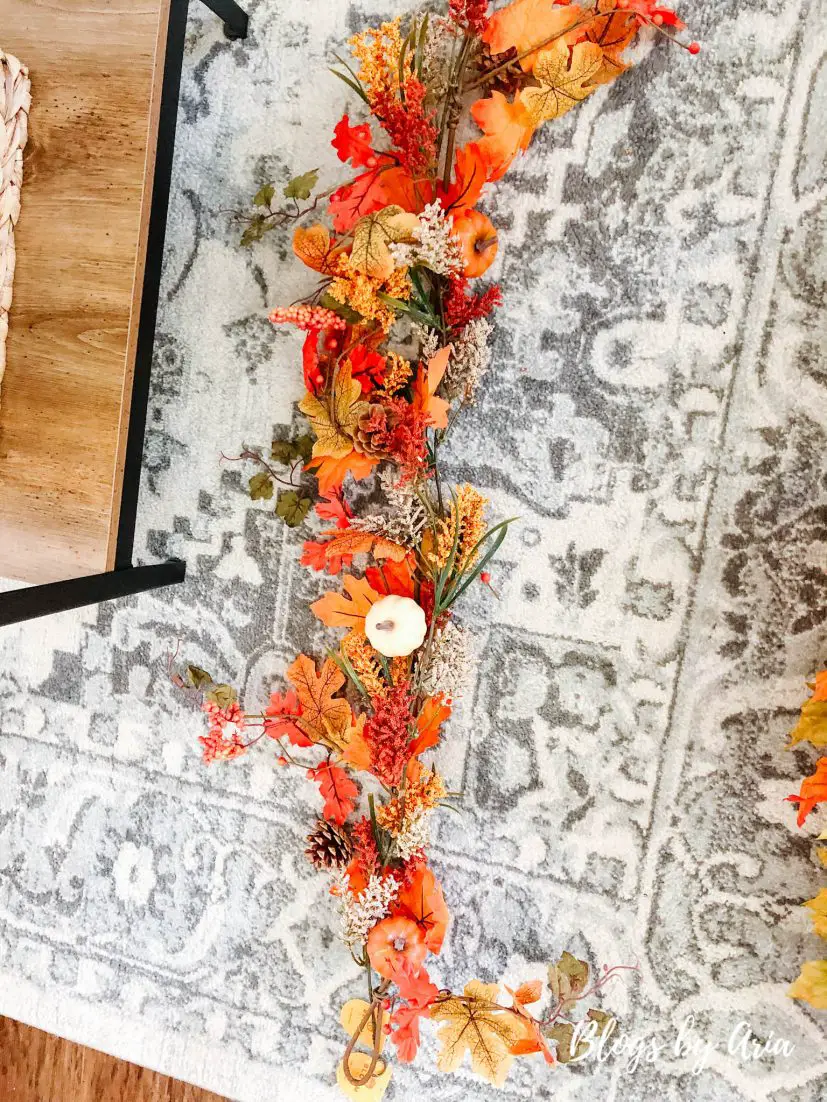 If you're using multiple garlands be sure to intertwine them so they look like one unit.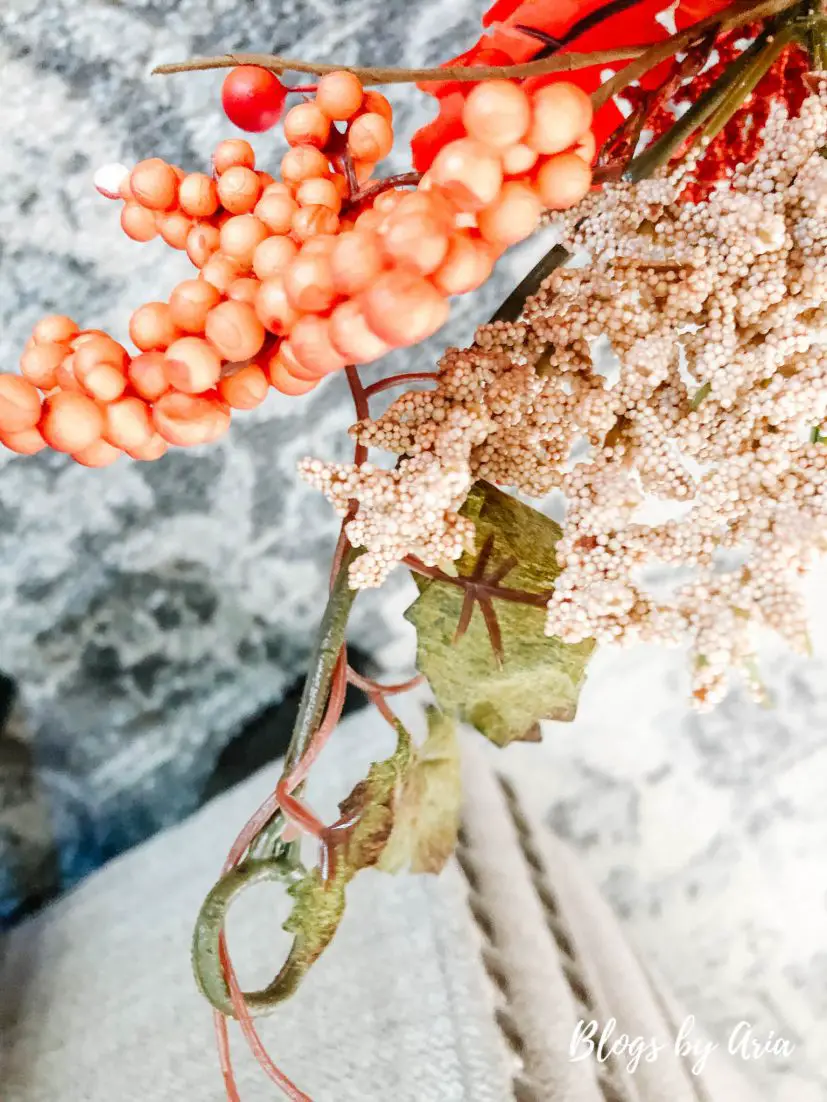 One of the garland pieces I had didn't have a loop on one end so I looped them together.
Here's a quick look at how the pumpkin garland and berry garland worked together.
And this was after I tried to incorporate all three.  Nope!  Didn't work.  And that's okay.  That's why I don't immediately take the tags off.
ADD YOUR FALL PICKS
Now that you have your base garland, it's time to add your picks.  A good rule of thumb is whatever you do to one side, do to the other.
This is just the leaf garland along with the berry garland before adding picks.  Now let's add some personality with some picks!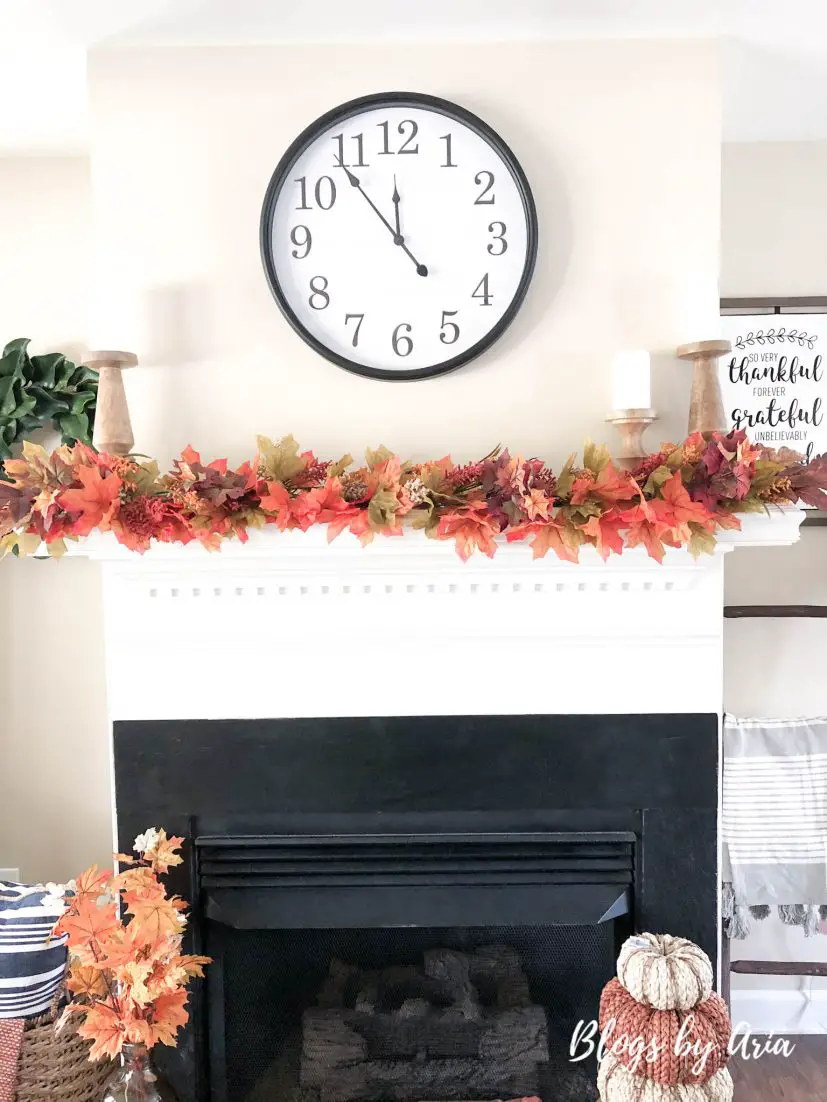 You'll need the symmetry to help create a cohesive look.  Once you've started off with symmetry you can then add picks throughout the garland to cover any bare spots.
Each time you add something, step back and take a look.  Perhaps take a picture.  I did this throughout the course of a workday.  I'd add something, take a picture, leave it be for awhile and then when I got a moment I'd come back and add a little more.
I love using the different color leaves because it makes the garland look more realistic.  Especially bringing in more browns, reds and greens.
Just like you should fluff your garland, don't forget to fluff your picks too.  You'll be able to use less and still get a full effect.
ADD YOUR FINAL ELEMENTS
Now that your garland itself is complete, it's time to add the finishing touches.  Pumpkins, candles, plants…whatever you desire.
I'm still deciding how exactly I want to style my pumpkins.  I haven't found the perfect shaped pumpkin for the center.  It could very well stay like this but you never know with me. 😉  We'll see if it's changed when I share my fall home tour.
When pumpkins come in season I may find some real ones at Trader Joes and add them.  I love the unique shapes you can find with real pumpkins and with the weight they'll add they can help keep all of my picks in place.  Right now I have a some of my summer Bath & Body Works candles holding things together behind the scenes.  Of course I've been burning my fall candles for weeks now!
THE FINAL LOOK
Here's some up close and personal shots so you can see the detail a little better.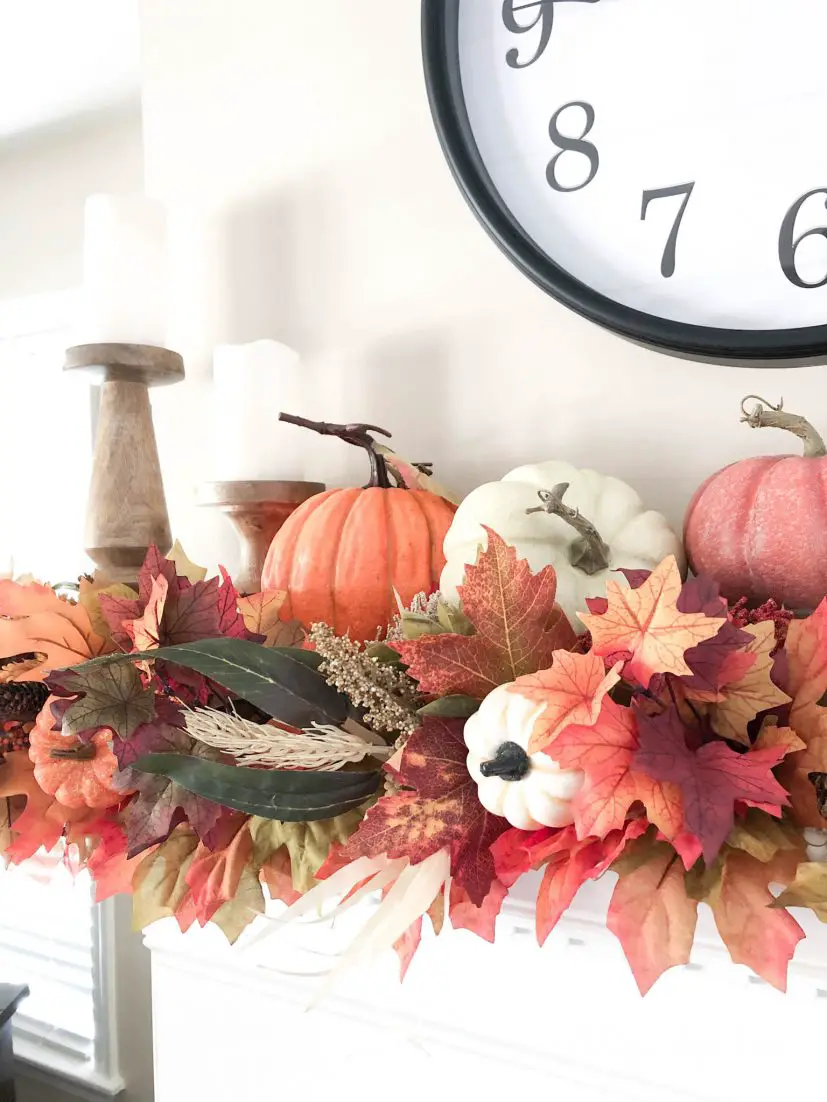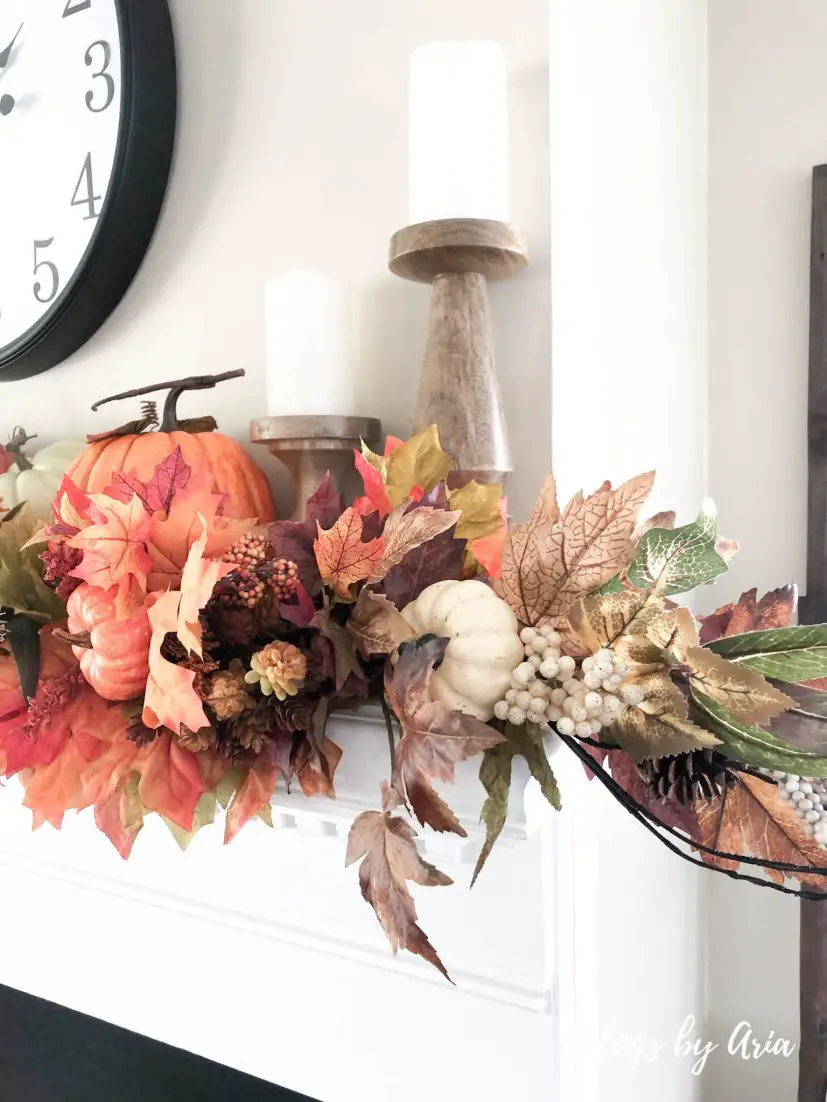 Part of me would like to put a wreath or a beautiful sign up here in lieu of the clock, but I rely on this clock everyday.  I know I have access to the time on my wrist and phone but I like to just glance up and see the time.
LAST GARLAND CREATING TIPS
When decorating (anything really) always take a step back and look at how it's coming along.  You want to do this often so that you catch anything that doesn't look right before you're finished.  I mentioned this before, but it can't be said enough.
If you don't like it, start over!  That's why I don't cut the tags off until the look is complete and I'm happy with it.  Also that's why I don't recommend using glue to secure anything because tomorrow you may not like the look at all.
Have fun!  Decorating shouldn't be too stressful, it should be fun and a creative outlet.  I can't necessarily say "tomorrow I'm decorating for Fall" because I have to decorate when I feel the creative urge.  Even more reason to start early if you ask me 🙂
Hopefully you enjoyed walking through the process of creating my fall garland.  It's always fun getting inspired and that's why I like to share my home decor with you.
Until next time!  The fall content is going to be a bit heavy over the next several posts, but I will try to share some non-fall related posts soon.  Thanks so much for spending time with me today! ♥