Welcome to my cozy Fall family room!  If you're new here, welcome!  I love decorating for Fall and it's only my third year really getting to decorate my home and share it with you.  For so many years I used to read my favorite bloggers Fall posts and dream of being able to one day decorate my own home for Fall.  Now I am so grateful that I can not only decorate my home but I can share it with you.
Last year was our first year in this home and I kinda went all out!  I mean it was a pumpkin explosion!  This year I have toned it down a bit (just a bit) and wanted to create a very cozy space.  Let me show you my cozy Fall family room decor and maybe you can get a few ideas for your home.
*this post includes affiliate links for your shopping convenience, you can read more about affiliate links by reading my Disclosure*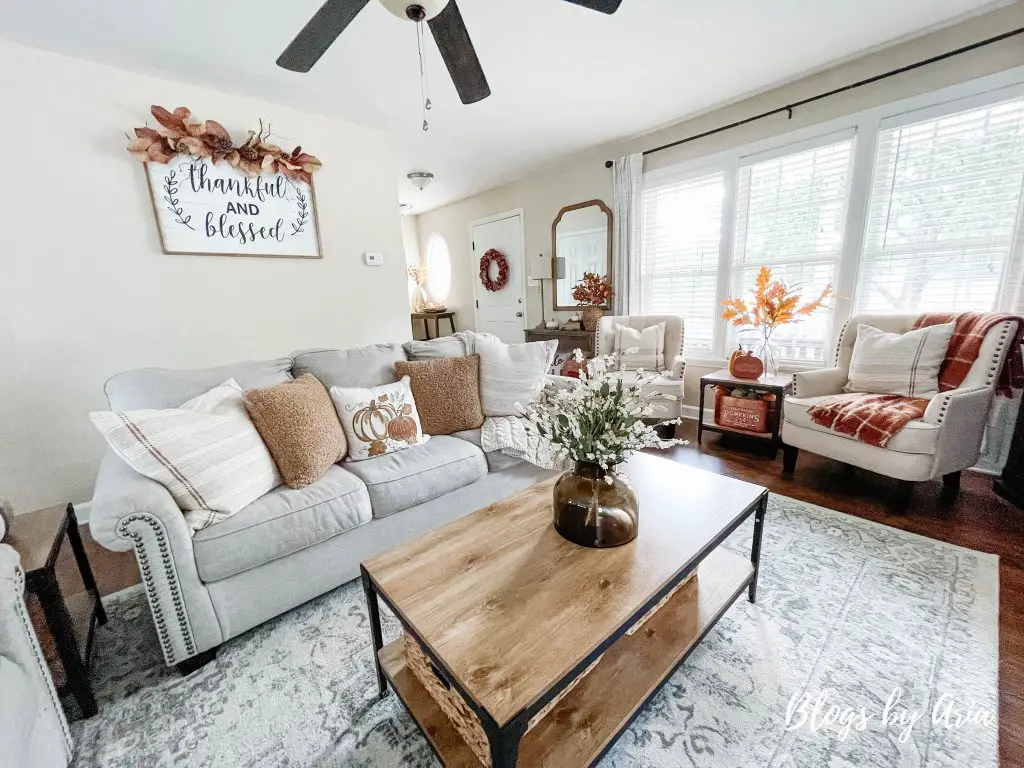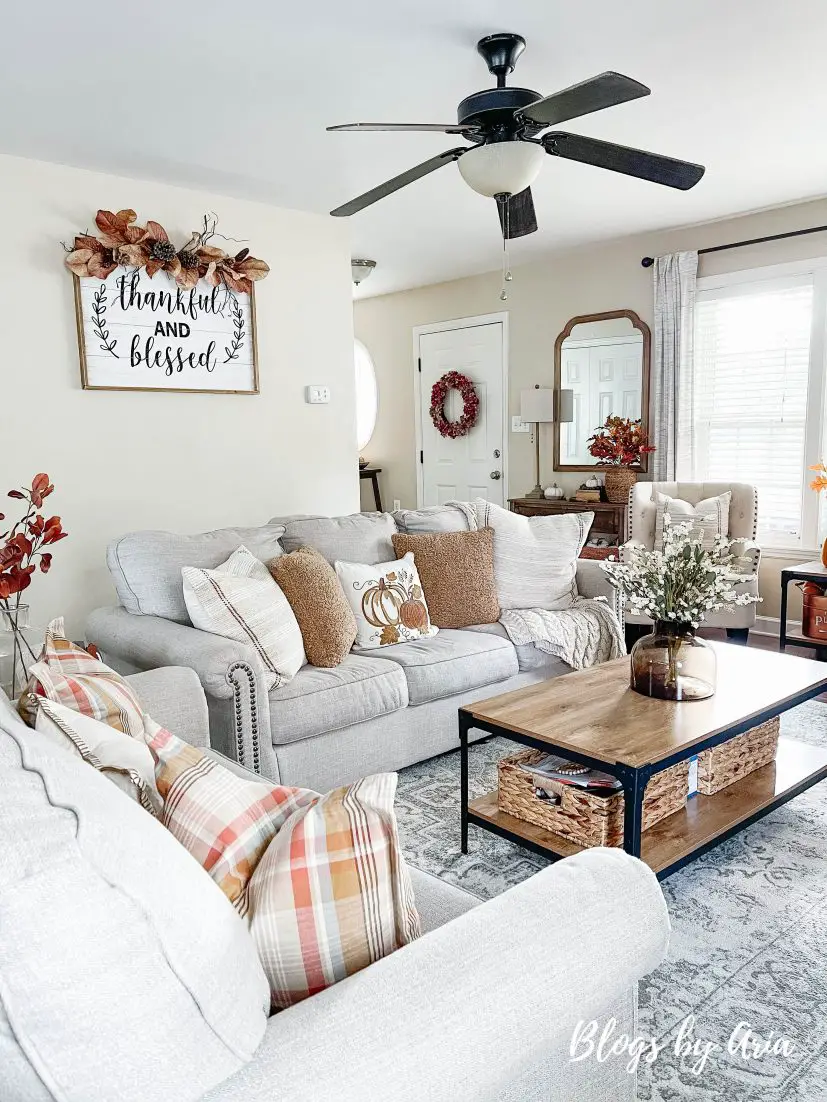 nailhead trim sofa · coffee table · area rug · similar woven baskets · smoked glass vase
It all started with the pillows.  A couple of weeks ago I was in Target looking for a mirror and came across these pillows from the Studio Mcgee line.  Immediately I was drawn to the texture and the muted colors.  And I knew that I wanted to go for more of a cozy aesthetic this Fall.
woven striped pillow · boucle pillow · embroidered pumpkin pillow · cable knit throw
Over the couch I have my thankful and blessed sign that I got from Hobby Lobby last Fall.  It's been living here ever since.  Even though they sell it with their Fall seasonal decor, it can be used year round in my opinion.  Above the sign are two Fall stems also from Hobby Lobby that I zip tied together.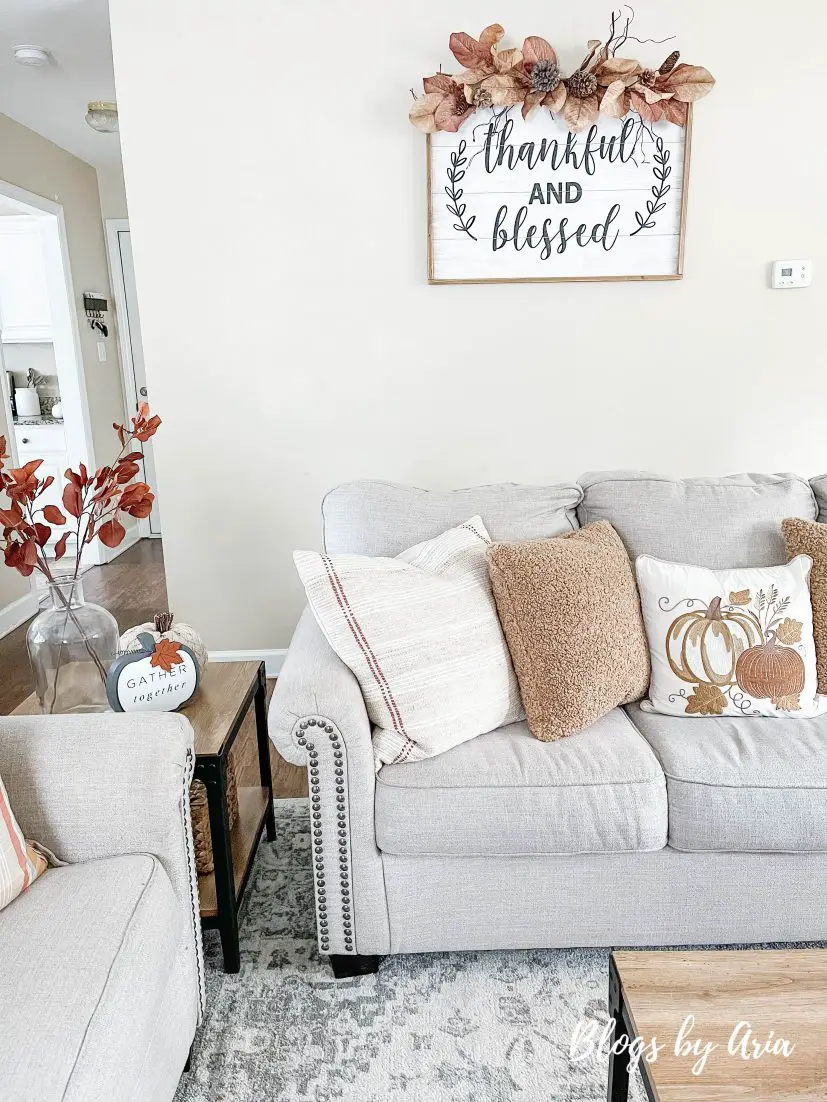 coffee table · smoked glass vase ·
One of the pieces I'm most excited about is this smoked glass vase.  It's very popular and I originally shared it when I wrote about the Studio McGee and Target Fall 2021 collection.  It wasn't until I saw it again in store that I felt it would be perfect on my coffee table.
I got a few stems from Hobby Lobby for now and after the holidays I think it will work great on my bookshelf.
accent chair · woven pillow · fall stems · glass vase · side table · fall tin · thankful pumpkin
In my pumpkin tin I added a few knit pumpkins I got from Kirkland's last year.  Sadly they didn't bring them back this season which is a bummer.
Isn't the artwork on the TV so pretty?  Last year I found a YouTube channel that would play the sounds of Fall and have artwork with it.  It was okay but this year I really wanted nicer art.  I wanted my TV to look like a Samsung Frame TV.
To my delight I found a channel called Vintage Art TV.  They have so many beautiful options to check out!  It really helps to drive home the cozy Fall family room aesthetic I'm going for.
In our blanket basket I added a bunch of soft pumpkins.  Because I mostly have this blanket basket here to cover the cords from the TV, I think I may add a tall vase with stems behind it for some added height.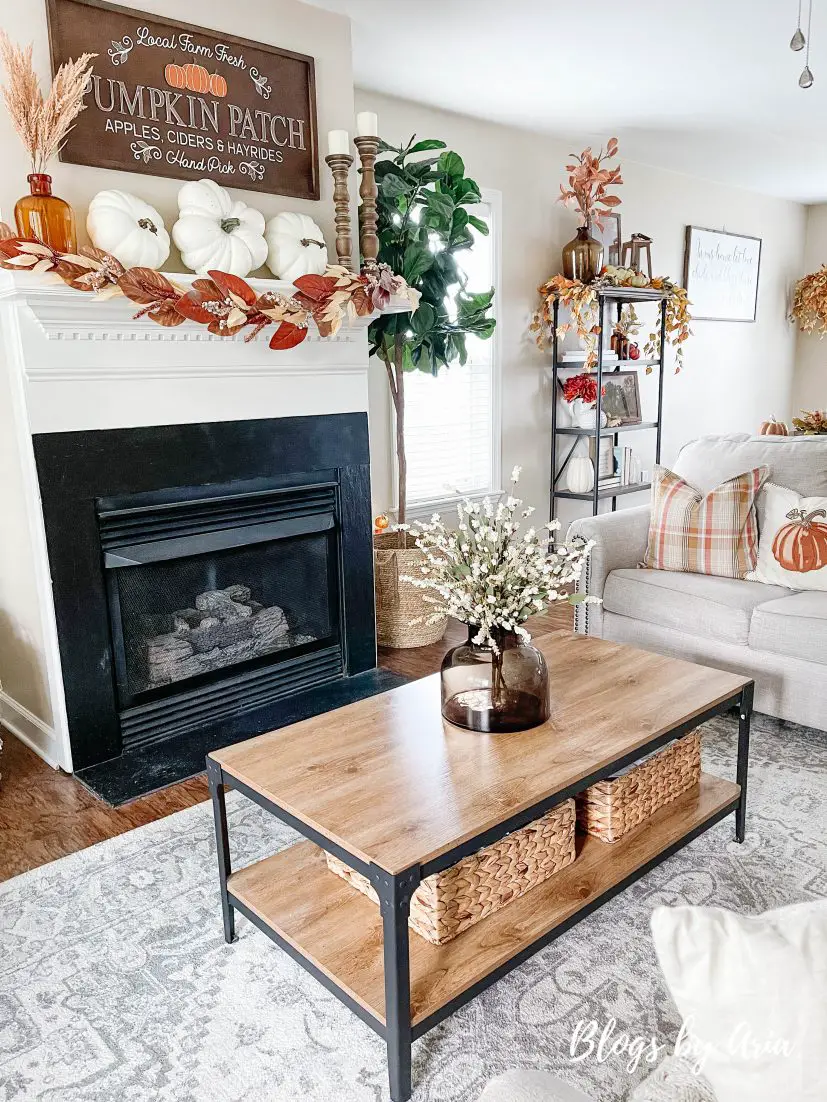 My mantle has already changed since I shared it in my early Fall decorating post.  When I saw this magnolia leaf garland from Joanna Fabrics I knew I wanted to give it a try.  Turns out I like it!
Many of the items on my mantel are from Hobby Lobby.  You can find similar candlesticks here.  Last year I used the pumpkin patch sign in my dining room but this year I knew it would be the perfect fit over my fireplace.  I'm still obsessed with this sign!
In my amber vase I have a few stems of fake pampas grass from Afloral.  The stems I got are more blush than tan but they were on clearance so I got them.  I'd prefer the tan style and next year I may go for the fuller pampas grass look.
plaid pillows · pumpkin pillow 
I'm still working on the spaces beyond the family room, so that will be coming soon.  For now I'm so glad I switched my cable knit pillows for these pumpkin plaid pillows.  They fit the space so much better and as an added benefit, they're pillow covers.  That makes them easier to store away.
Have you noticed one thing that's missing?  Maybe not missing, but that's not in abundance?
I kept the pumpkins at bay in my family room.  Which if you know me, you know I love all the pumpkins!  Only two pumpkin pillows? That's crazy!
As I started decorating I realized I wanted to go less pumpkins and more cozy Fall.  By bringing in the look and feel of autumn with colors and textures I didn't need as many pumpkins.  Which is something to think about when you're decorating.  Fall doesn't have to mean pumpkins.  It doesn't have to mean bright orange.
A few pillows, a cozy throw blanket and some florals is really all you need to transition your home into Fall.
Now if you're like me and love all the pumpkins, don't worry!  This is just my family room!  They definitely will make more of an appearance as I share the rest of my home decorated for Fall.  So stay tuned!
For now I'm enjoying how cozy my family room is along with a pumpkin pecan waffles candle from Bath & Body Works.  It definitely feels like Fall over here!  Until next time my friend ♥
{POST SOURCES}