Popping in quickly to share my fall entryway table!  I have all the harvest colors and tones in this space to greet you as soon as you enter our home.  This is my first year being able to decorate an entryway table for fall and I had so much fun!
Having a console table in my entryway is an easy way to add seasonal decor and still be functional for our family to use.  I hope to give you some decor inspiration and ideas on how you can add a fun fall touch to welcome in the season.
*this post includes affiliate links for your shopping convenience, you can read more about affiliate links by reading my Disclosure*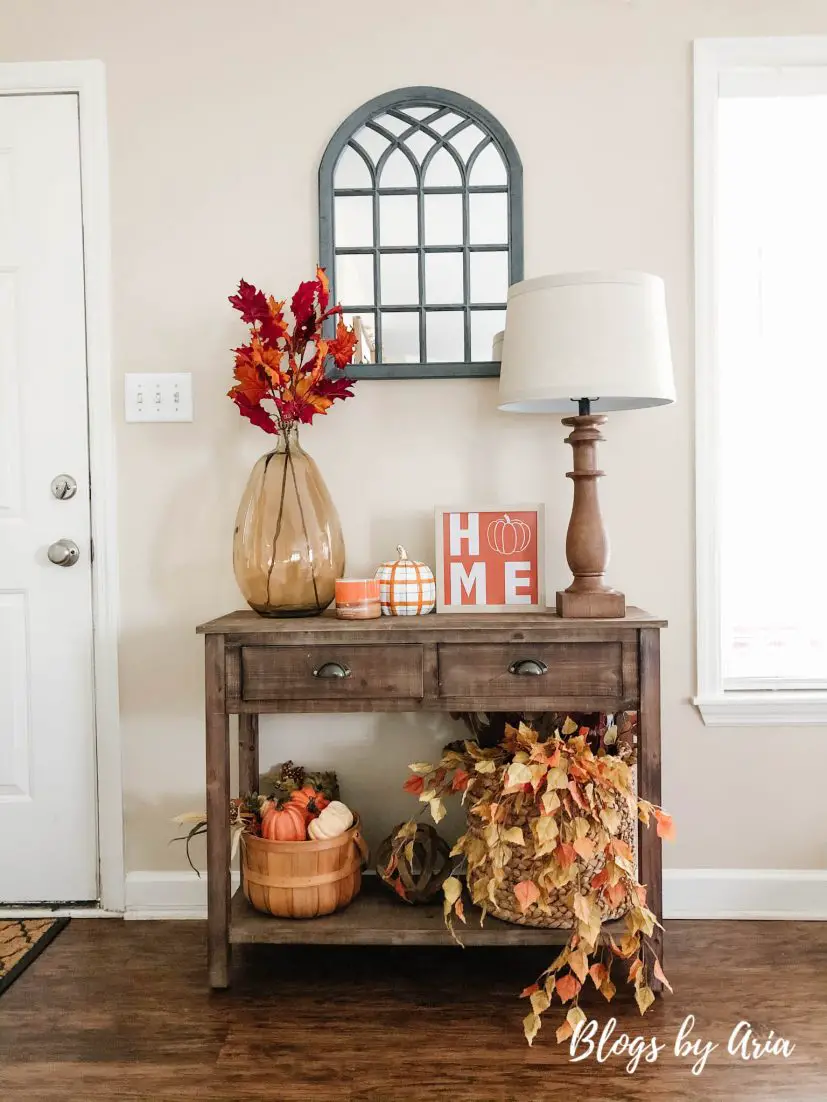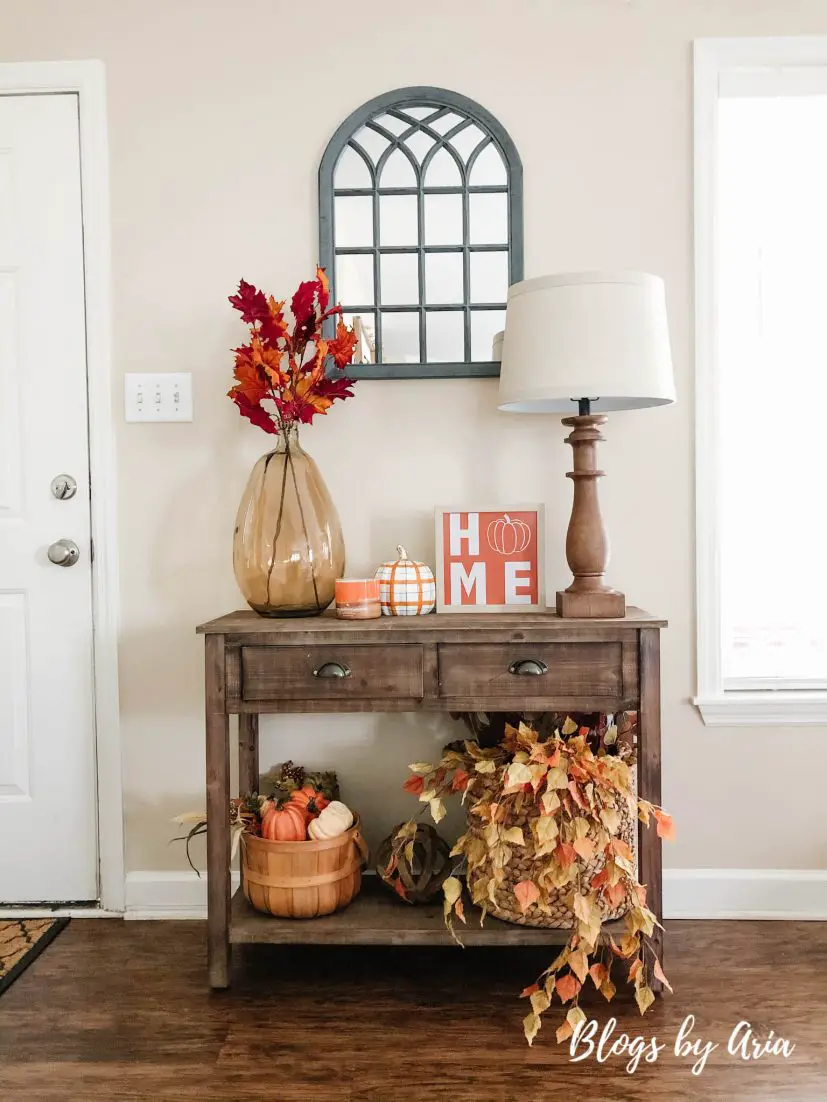 console table | similar vase | lamp | woven basket
Our entryway isn't very large nor is it defined.  We honestly don't use the front door typically aside from getting the mail or getting deliveries.  That works fine for me because it means I can decorate the entryway table as much as I want!
Recently I found a couple of hand blown glass vases at Home Goods (this is a similar option).  One is a little larger that I have on my fireplace hearth and then this one my entry table is just about a couple of inches shorter.  I love that they all look different and have their own personality.  The amber tone makes it perfect for fall.
Inside the vase I have a couple of auburn fall stems.  They are so gorgeous to me!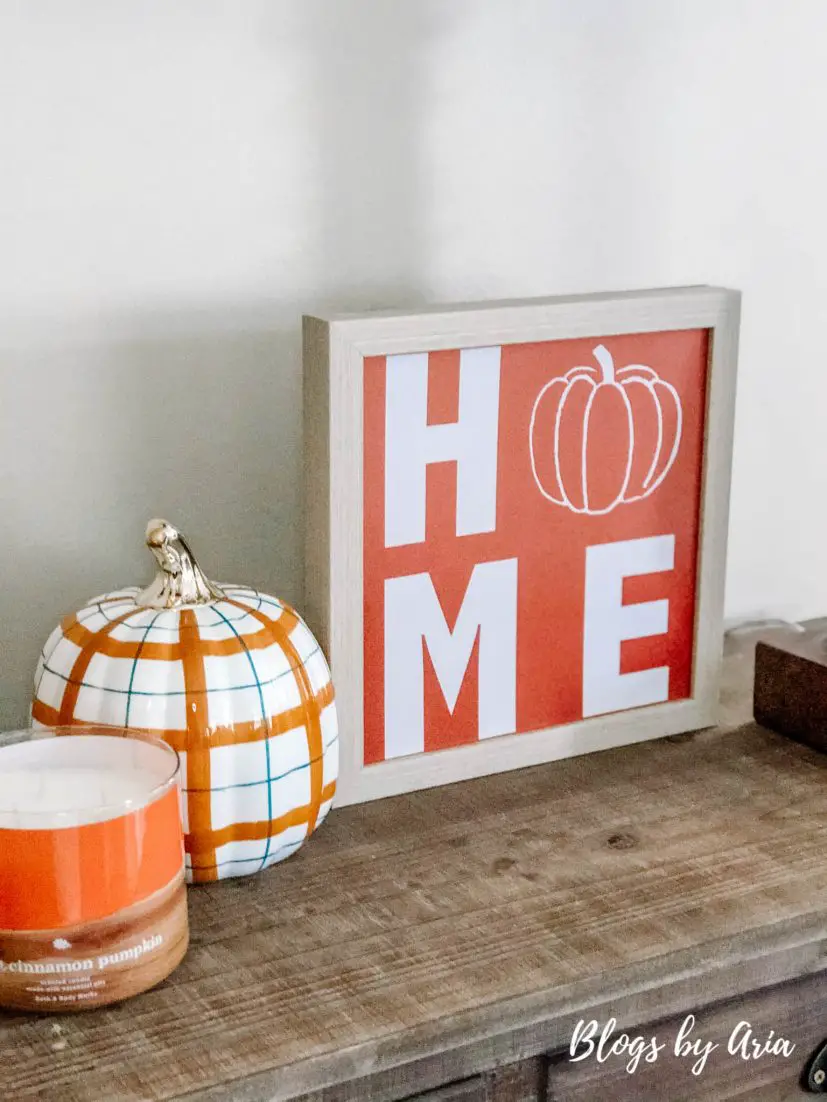 Next to my vase I have my very favorite fall scent…sweet cinnamon pumpkin.  It's so fun that each year Bath & Body Works offers their three wick candles with different packaging.  I love the wood grain label.
Last weekend I stopped in the At Home store just to see if I saw anything that caught my eye.  I fell in love with this plaid ceramic pumpkin!  So I picked up two of them.  I think it looks great in this space and the teal and cream breaks up all of the orange in this area.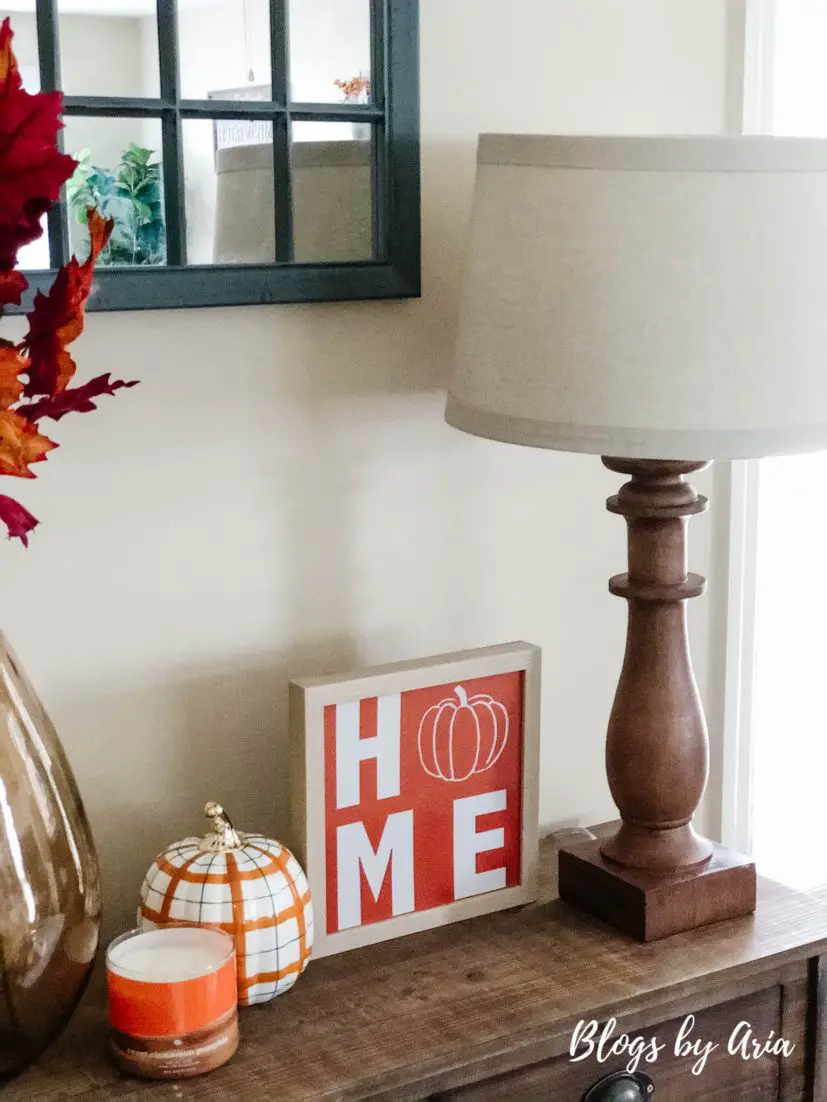 You may notice a major difference with my fall version of my entryway table than when I shared my entryway table decor a couple of months ago.  If you guessed it's my new lamp you'd be right!  Since we moved and my previous lamps no longer were on our side tables, I felt they didn't quite fit the space.  As much as I've loved them.
A few months ago I purchased the smaller version of this lamp to go on our nightstands in our bedroom.  I loved the look of the lamps so much and every time I looked at my glass lamps I just felt like they didn't fit the space.  But I didn't want to buy stuff just to buy stuff you know?
When I couldn't stop thinking about them I decided to bite the bullet and get these brown base lamps.  I purchased two and you'll see where I've styled the second lamp in a future post.  I love the slimmer profile and the height these lamps have.  I'm using the same lamp shade that I had on my glass jug lamps and I think they look perfect together!
I have a similar neutral square home sign but when I saw this pumpkin home sign I knew it would fit in perfectly on my entryway table.  It's a lot of orange, I'll admit, but that's why I like the colors in the teal plaid pumpkin.
I'm really bad about forgetting to take tags off of things.  So I'm cutting off the tags left on the fall stems and the bottom of the vase as we speak!
All of the times I've been in Hobby Lobby I was always drawn to these orange, yellow and green birch sprays.  I loved them as soon as I saw them but I had no idea what I could possibly do with them.  You'll see when I share my living room decorated for fall how I used them in a different way.  When I was playing around with that idea, I thought they would look nice hanging out of my woven basket.
I have two of the cascading stems in the basket and in the back I just added some of the fall stems I used last year that I didn't really love this year but didn't want to part with them just yet.
I took this apple basket and added a few pumpkins and picks that I didn't use in my fall garland.  I stuck one of my wooden orbs in the middle but I'll probably remove that.  It feels like it's too cluttered on the bottom with it there.  What do you think?
This space is cozy and inviting and sets the tone for the rest of the fall decor throughout my home.  I love how it turned out and it was so fun decorating it with my new pieces.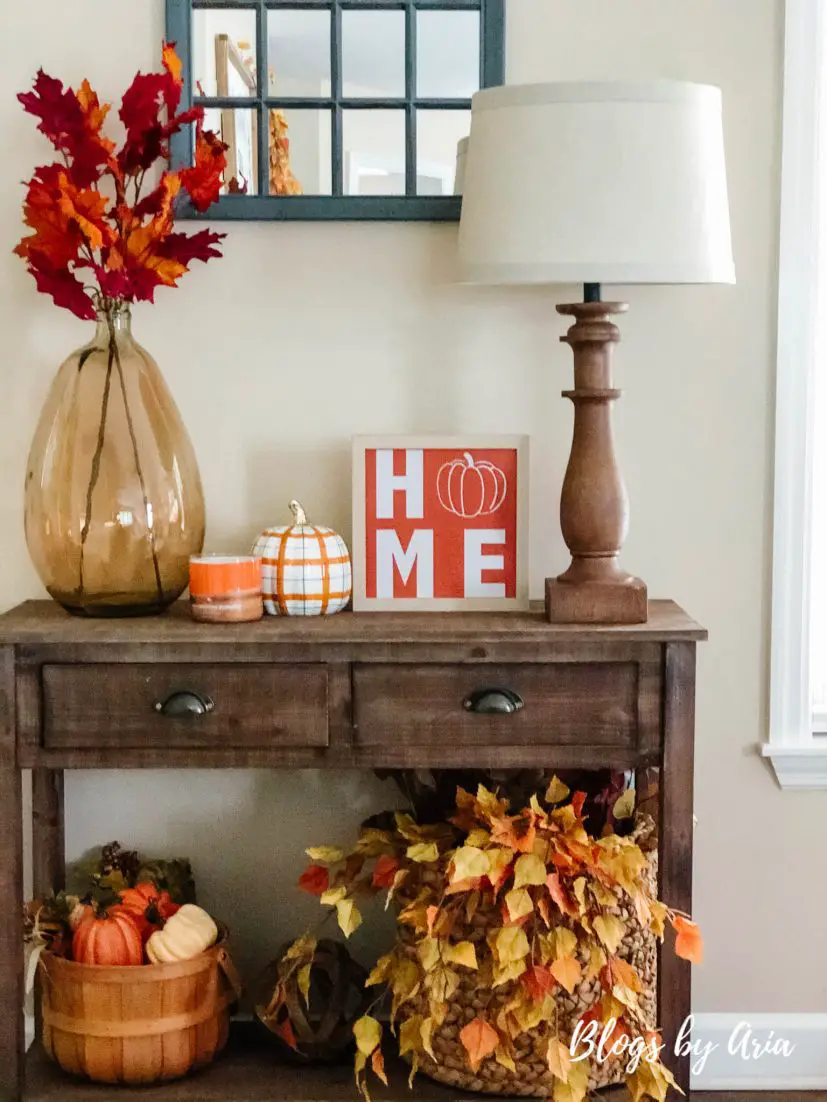 Adding a touch of autumn doesn't have to be complicated or expensive.  A few pumpkins, maybe a cute sign and a candle is more than enough.  A cute fall pillow would be great in a basket too along with a cozy throw blanket.  I was planning to go that route but when I saw those cascading fall leaves I knew they would be perfect in my entryway.
I hope you found an idea or two that will work for you in your home!  If you're looking for more fall decorating inspiration check out how I created my fall garland for my fireplace.  And if you're in search of neutral fall decor ideas, I recently shared my neutral fall styled bookshelf.
Lots of fall content is coming soon and if you're not crazy about fall decor please bare with me.  I'll be adding non-seasonal content soon too because I know that just because I love fall most of all doesn't mean everyone does 🙂  I appreciate you spending time with me today ♥