Happy weekend!!  This is a very exciting weekend for me because it's the beginning of the 2020 Triangle Parade of Homes!!  I'm so glad this wasn't canceled with everything going on.  There will be lots of precautions taken, masks worn and social distancing of course.  Also this weekend I'm visiting some pumpkin patches so that I can put the finishing touches on my fall front porch.  Even though I still am in the swing of things with fall and have yet to decorate for Halloween, I am compelled to share a few Christmas steals.  I know, I know.  Hear me out…
*this post includes affiliate links for your shopping convenience, you can read more about affiliate links by reading my Disclosure*
CHRISTMAS STEALS
Believe it or not, Christmas deals are already happening!  And you have to move fast.  Last weekend I was shopping in Walmart (I mostly do grocery pickup) and as I was heading to the garden center to look at their mum selection, I saw Christmas trees already on display.
Thankfully this year I don't need to buy a Christmas tree, but I saw lots of options for other holiday decor and wanted to share them with you.
Now everything I show above is on a special buy and the prices are low.  Lower than they were last season.
Colorado Pine Flocked Wreath – At less than $15 this is a steal!
Snow Capped Green Fir Tree – I have my eye on this for a corner in our stairway.  This would also look great in a bedroom.  A slightly taller version is currently on sale for the same price, at only $20!! Run, don't walk if you want it!
Bronze Conical Christmas Trees – a set of two potted trees perfect for your front porch and priced under $20.  Now, I'm happy to share this deal with you, but I actually paid $25 for this in store last weekend.  I'm going to see if they'll price match, but even at $25 it's an amazing deal.
Winter Frost Garland – This is the same garland I used last year on our staircase.  Now our staircase is hidden so I'm hoping I can make this work on our mantel.  Last year they were hard to find in stock, so at even a lower price than usual, I think this is a great holiday decor find.  Two strands of garland were used, so I'm hoping that will be enough for the fireplace.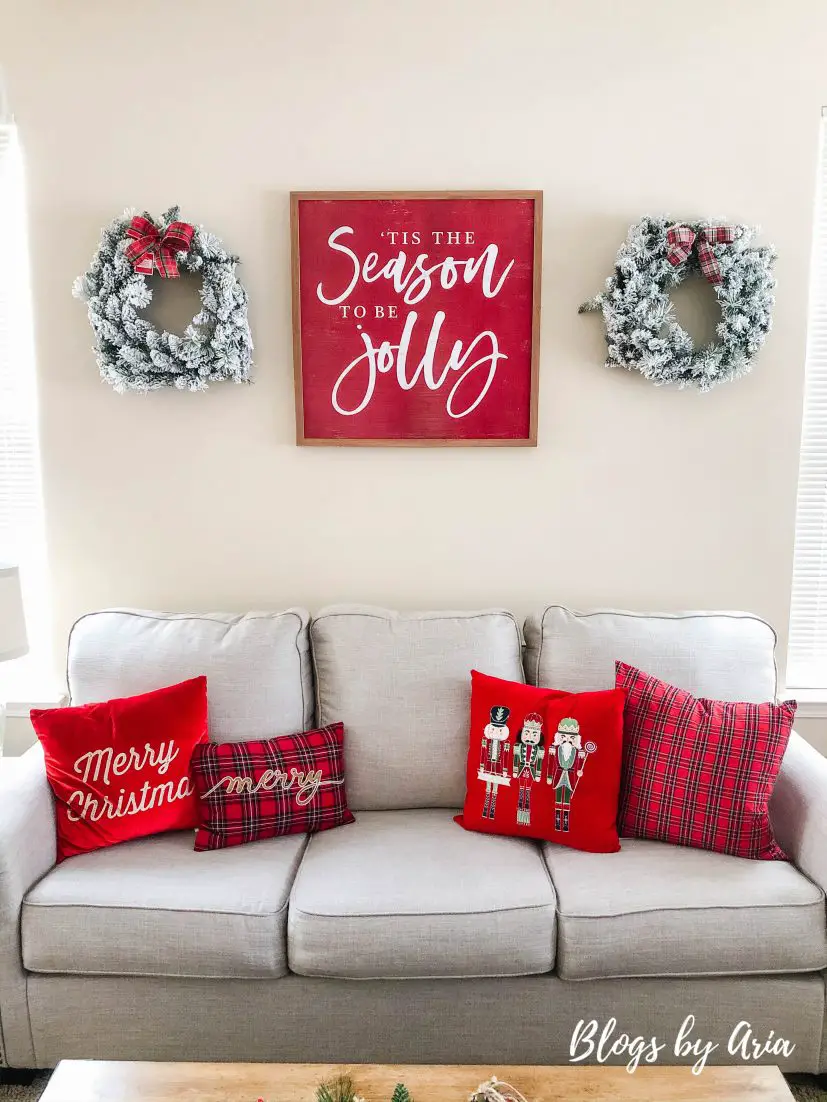 Flocked 24″ Wreath – Another item that I used last year at a great price.  These flocked wreaths keep going in and out of stock so I'd suggest setting a saving alert below to get in stock alerts.
I've also been looking around when I do pop into stores like Costco and Sam's Club.  You may recall last year I had my eye on a few holiday decor finds that I wasn't able to get.
Last year I really wanted a couple of tall nutcrackers and I never ended up getting them.  Well I'm happy to report that I recently purchased these nutcrackers from Sam's Club.  Once I saw the beautiful plaid accents, I knew he was the one for me!
They're going to look perfect standing guard at our fireplace 🙂
As of now I still want to get a Christmas village and an updated nativity set.  Over the past few weeks I've seen a few items at Hobby Lobby, Kirkland's and At Home for Christmas.  But thankfully I don't have to buy much in the way of decor because I got so much last year.
FALL FASHION FINDS
Back to fall…recently, well at the end of the Nordstrom Anniversary Sale, I decided to get this super cute cardigan for fall.  I saw this open stitch cardigan and loved the look.  It says it fits true to size but the reviews all said it ran big and to size down.  I'd have to agree, go down a size.  If only it had pockets it would be perfect, but I love the feel and look of it.
Speaking of fashion, I recently purchased a couple more of my favorite cozy Lou & Grey sweatpants.  Early on in quarantine, Loft was having a crazy sale and I purchased a pair.  I'd seen so many people I follow on Insta talk about them before.  Let me tell you, these are the coziest most comfortable pants.  And they're lightweight but keep you warm.
About a week or so ago I got an email that they were on sale again so I decided to get a couple more.  I'm wearing them right now and they really are the best thing!
I actually shop at Loft a lot, they're one of my favorite stores.  I got a lot of cute tops to wear to work… back when we all thought we'd be going back to work.  But that's okay, because they were all on major sale and I'll have a practically new wardrobe in the Spring! 🙂
Recently I picked up this cute ribbed henley sweater.  You can't go wrong with a classic henley, and I like the added detail of the balloon sleeves.  It was hard to choose a color but I went with the gray.
I stepped out of my comfort zone and purchased this leopard print sweater from Target.  For me I always have to size up with Target, but this sweater is super soft and comfortable.  I've already worn it once during our cold snap we had last week.  Such a good find, and to think I was going to choose a solid color!  I'm glad I got the animal print.
In addition to the sweater, I did buy a pair of boots last week at Target.  There was a big Cartwheel sale on fashion and shoes.  Still need to try them on, but I ended up getting a pair of tall riding boots.  And I have my eye on these over the knee boots too.  Even though…I'm not going anywhere to wear them, but that's not the point!
Last fall I purchased two pairs of booties and ankle boots but didn't get any new tall boots.  Now I'm glad that I have a pair.
So I think we covered a little of everything today right?  Random Christmas decor steals and some fall fashion on the side.  It's like that sometimes right 😉
I think I'm going to work on my Halloween tiered tray now…just to throw it into the mix of fall fashion and Christmas decor!  We'll see how it goes!  Enjoy the rest of your weekend friend ♥