Happy Monday! I'm sharing more Fall Fashion picks from the Nordstrom Anniversary Sale today.  This weekend I went to the Nordstrom store to pick up my order.  I also wanted to try on a pair of shoes and maybe do some browsing around.  Sadly I had a migraine all day.  So I didn't do so much browsing and they didn't have my size in the shoes in stock.  That's okay, fingers crossed they fit when they arrive.
Today I'm sharing my last #NSale fashion post.  I wanted to get these posts up now so you can add what you want to your wishlist.  When the sale goes public you can jump on it because things go quickly!
I don't plan to write a blog post about what I've purchased, or at least not a dedicated post.  I have started sharing on my Instagram and on my LIKEtoKNOW.it.  Make sure you're following me there!
*this post includes affiliate links for your shopping convenience, you can read more about affiliate links by reading my Disclosure*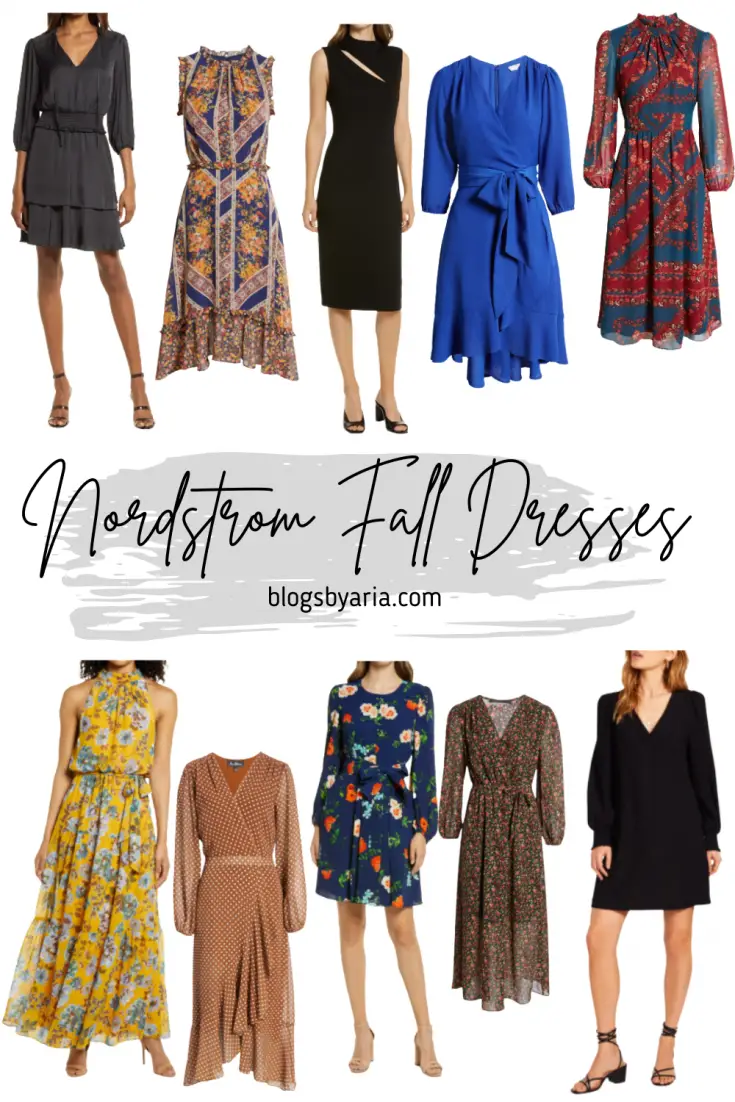 I'm loving all of these beautiful dresses for Fall!  I so wish that I could get everything!  After a year of staying in, it's fun to start dressing up.  There are so many beautiful and feminine silhouettes to choose from.  And I am loving a lot of the prints for Fall.
SHOP NORDSTROM FALL DRESSES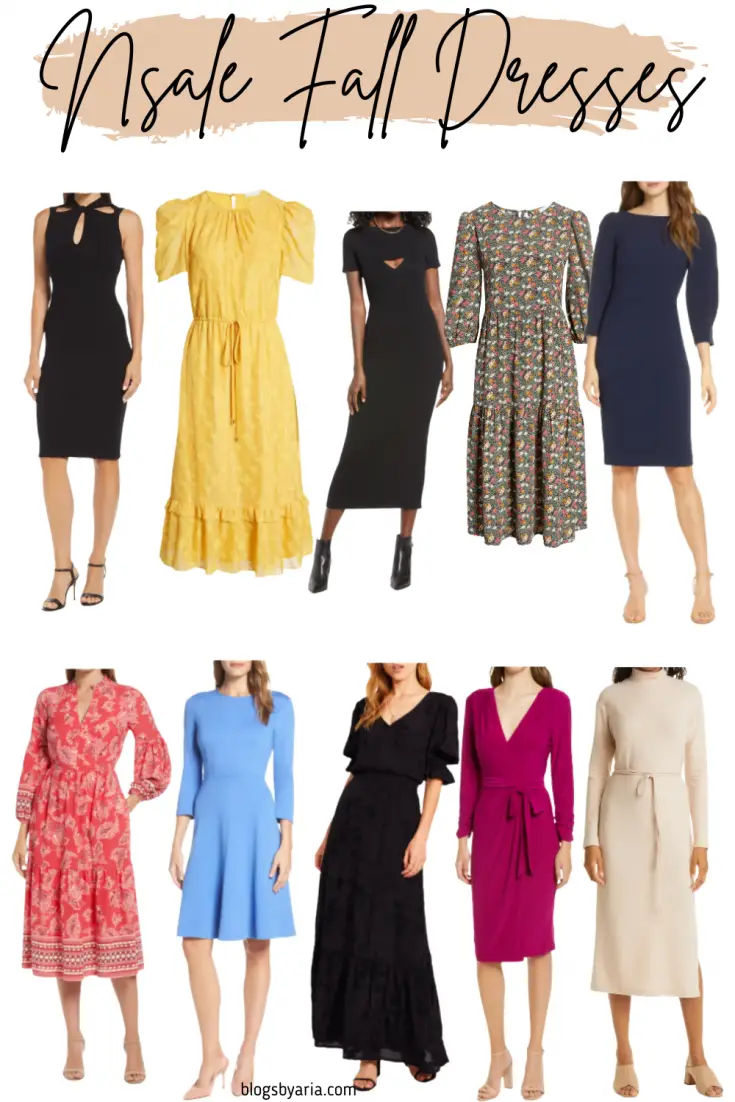 Are you back in the office?  I'm not back in the office yet.  Many of these dresses are perfect for the office!  And of course great for date night as well as some that a good for church too.
I'm not looking forward to going back to the office, I can admit that.  But I am ready to start getting dressed more ya know?  My workplace isn't overly formal but it does have a business dress code.  When I do return (again, I'm in no rush) I want to start sharing more workwear posts.
Can I just say, this ruffle neck midi dress is calling my name!  But I refuse to buy such a pretty dress right now when my weightloss is stalled.  It's so frustrating.  So you get it instead 🙂
I'm also obsessed with this long sleeve knit dress.  Oh my word!  Such a classic look!  Where I would or could wear it, that's a completely different question!
SHOP NORDSTROM FALL DRESSES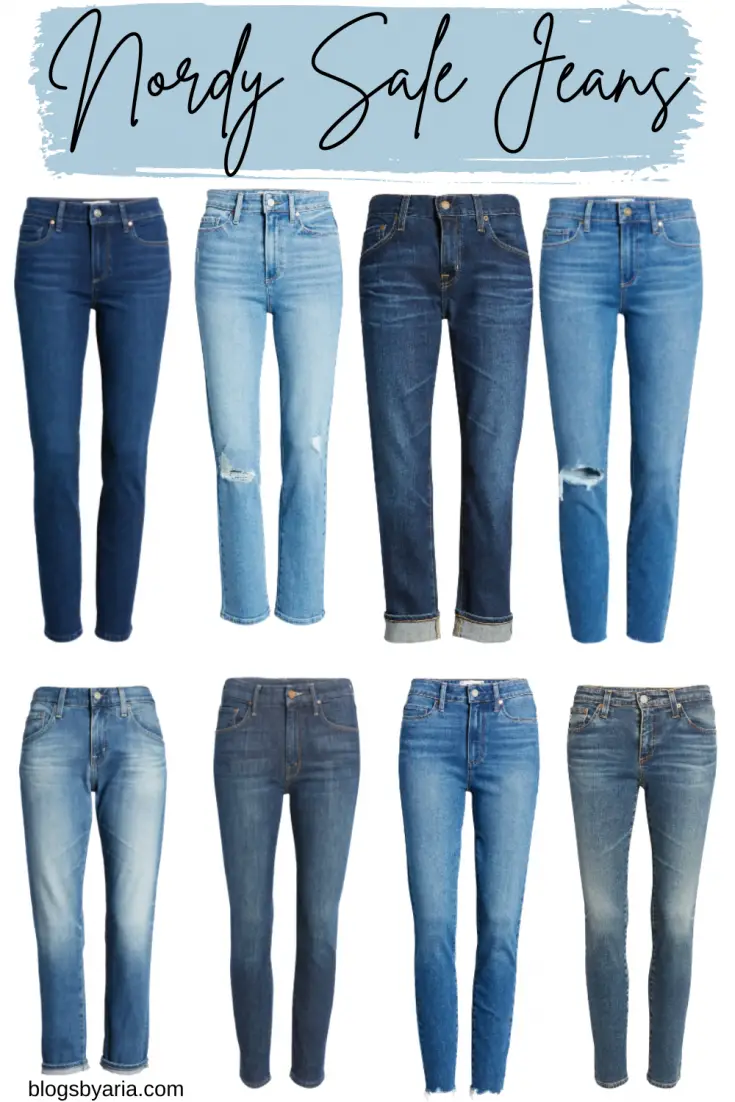 Of course I had to share more jeans!  Who doesn't love good jeans on a great sale!  Especially designer jeans.  If you've had your eye on Paige, AG, Good American or any designer jeans, why pay full price when you can get them on sale now ahead of the season!
SHOP NORDY SALE DENIM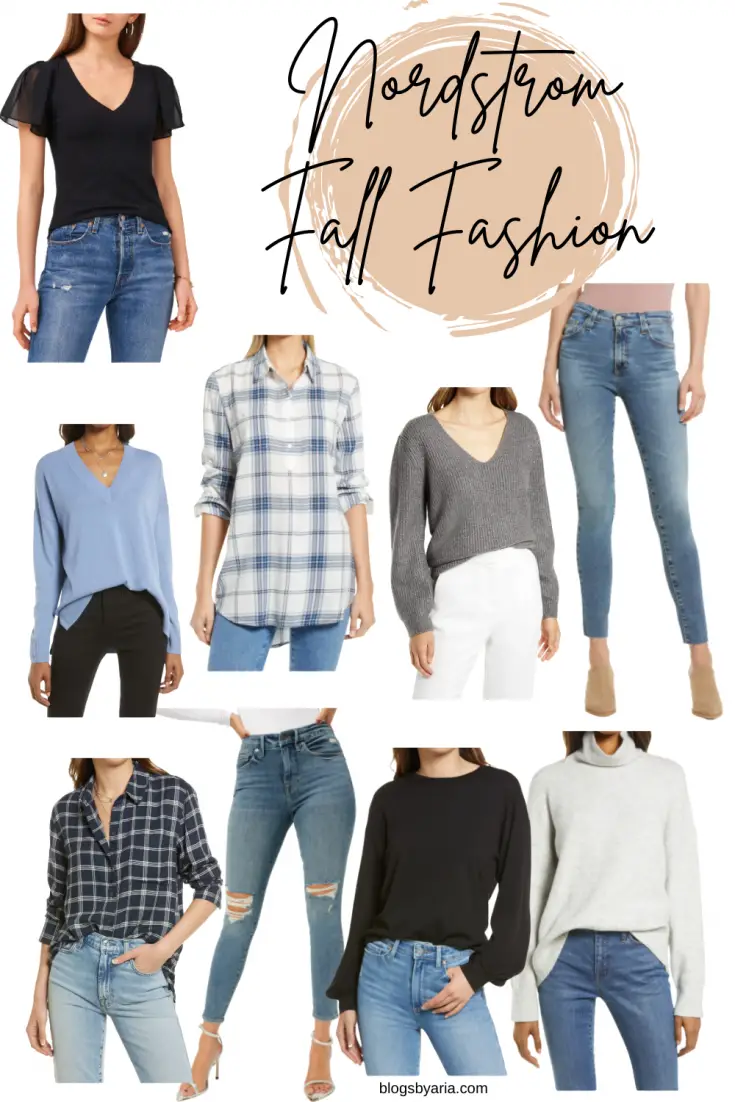 One of the things I love about Fall fashion is of course sweaters and plaid shirts.  I especially love lightweight sweaters for Fall.  There's no need, in my neck of the woods, to bust out the full blown winter sweaters until at least December.  So now is a good time to get some classic Fall sweaters!
SHOP NORDSTROM FALL FASHION

I had to round out this post with some leather.  From leather leggings to this cute leather skirt…I'm here for it all.  What I really love the most are these Good American cognac colored skinny jeans.  Aren't they the best?  Sooo good!!
Everyone who I know that has the Spanx faux leather leggings scream their praises to how great they are!  Maybe I'll get them next year because if it's anything like the hype over Barefoot Dreams, then I suggest listening!
SHOP FALL FASHION IDEAS

If you see something you like and it's sold out, keep checking.  Things get restocked and items get returned.  From what I've learned…people buy a ton at the beginning of the sale (those who could shop first) and then they return what didn't fit or didn't work for them.  So don't fret!
Last year I decided last minute to order a cardigan that I saw a blogger I follow share.  It was days before the sale ended and I was able to snag it in my size!  It was a happy day!  I say all of this to say, grab what you can as soon as y0u can and cross your fingers if what you want is sold out, that it comes back in stock before the sale ends.
Those are my words of wisdom! Ha!
Now that I've shared my Fall fashion picks from the Anniversary Sale I'm planning to share a few goodies for the home.  Stay tuned for that!  Enjoy your week ♥
NORDSTROM ANNIVERSARY SALE 2021 POSTS: