Finally I'm sharing our main living space in our home decorated for fall!  This is my second year decorating for fall and it's something I've always dreamed of.  Now my dreams have come true and I can share my interior decorating style with you!  So grab a comfy spot, light a fall scented candle and take a tour of my fall family room.  I tried to edit the pictures down as much as I could.
*this post includes affiliate links for your shopping convenience, you can read more about affiliate links by reading my Disclosure*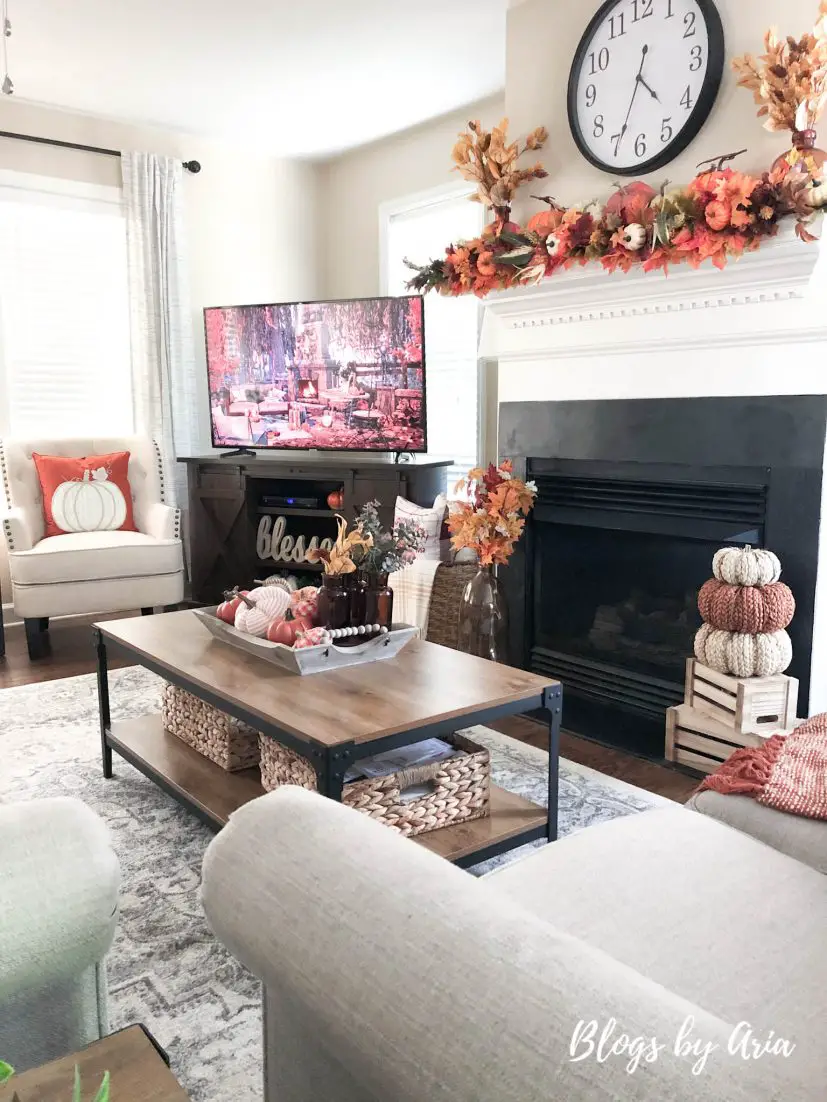 I'm going to take you around each section of my family room.  It's not a large space but it is kind of broken down into zones.
NEW DECOR UPDATES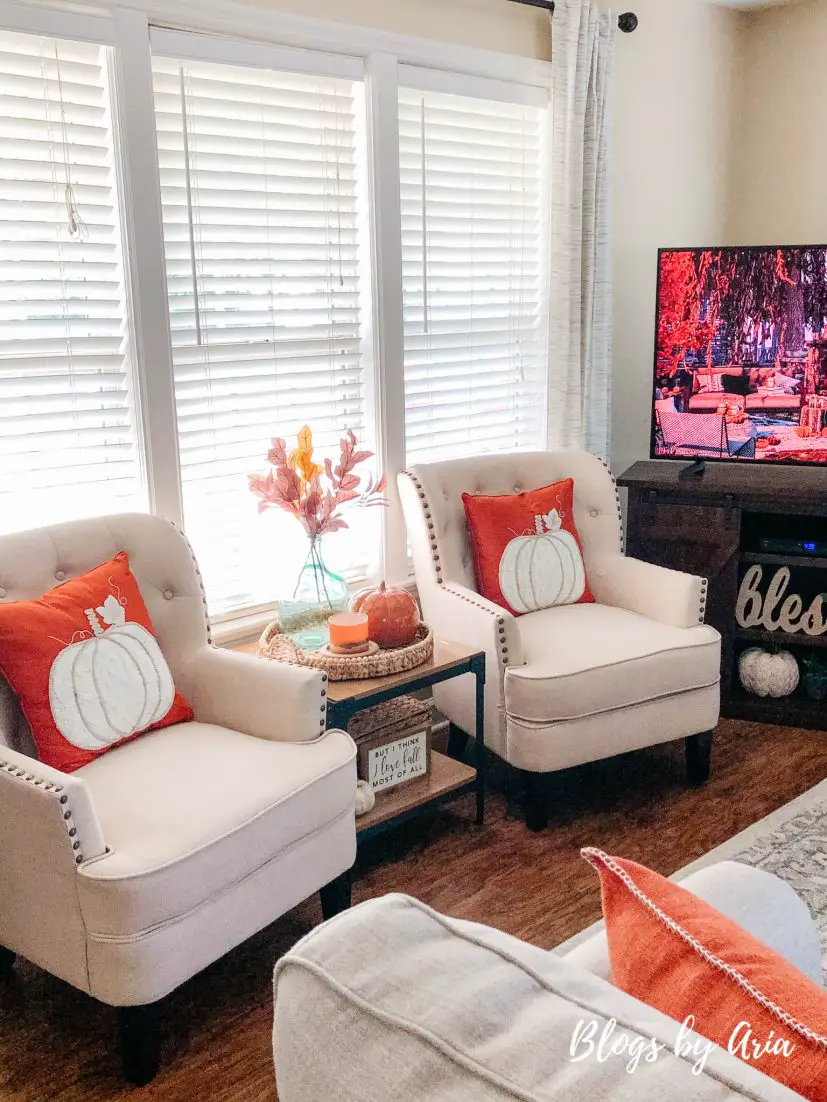 Recently I shared some of the new decor items I wanted to get for this space.  Well we recently received our new tufted accent chairs and I'm in love with them!  If you recall, I really wanted spindle chairs but these fit the space better and the nail head trim ties in with out sofa and love seat.
Not only are they pretty, but they are so comfortable too.  I love a single chair.  Sitting on a couch is fine but maybe it's the Scorpio in me, but I prefer a single chair.
I also mentioned that I was thinking of getting curtains.  It worked out great because I had a coupon for Target and was able to get my curtain panels and curtain rod.  Now, the size I would've preferred to get wasn't in stock online or in store.  The next size up from that would have been way too long.
Technically the size I ended up picking up would have worked if the curtain rod was lower.  However the previous owners of this home already had the anchors and holes in the wall so I just went with what was already there.  Either way, I love the curtains themselves.  And DH approves, which is always a nice bonus.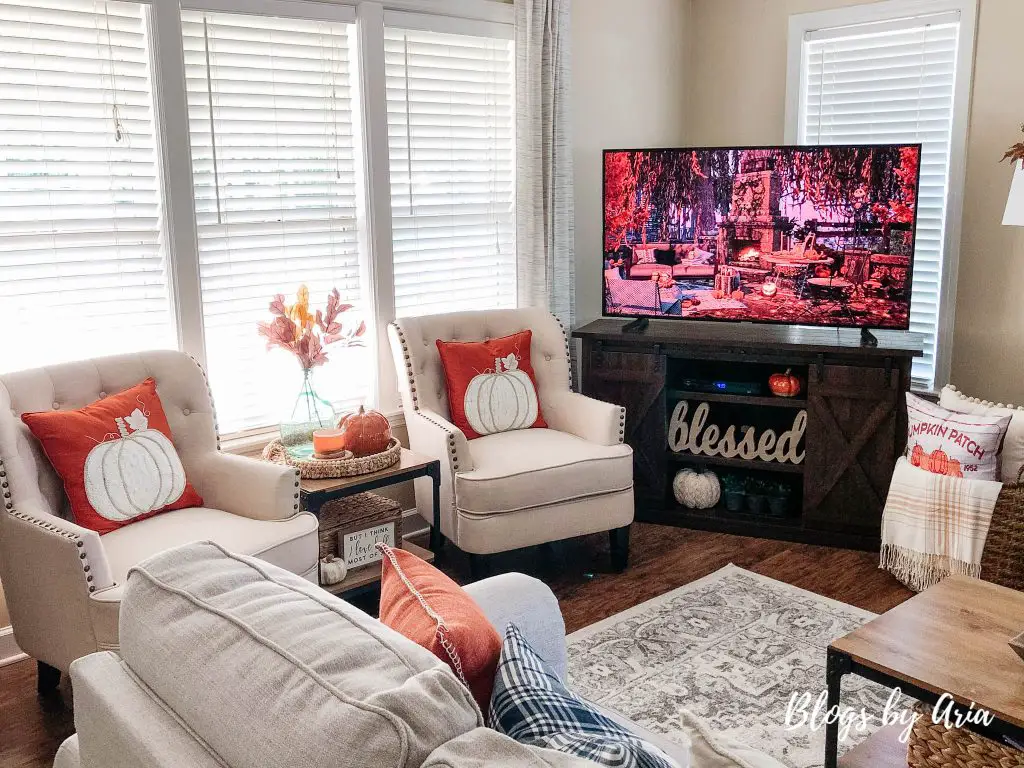 nail head chairs | tv stand | rug | end table set
When I first purchased the white knit pumpkin pillow I had intended for it to go in a basket.  Then once we ordered the chairs I felt that they would be a great addition.  So I purchased another one.  They'd also look great on the sofa.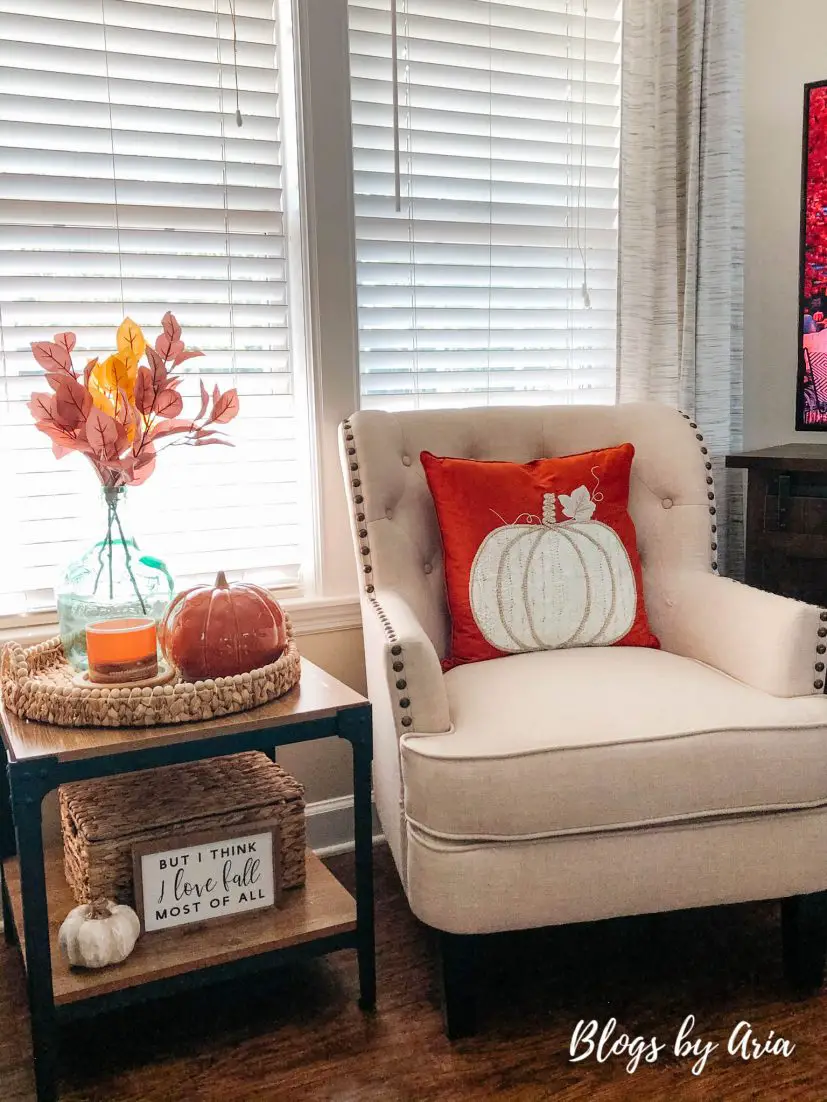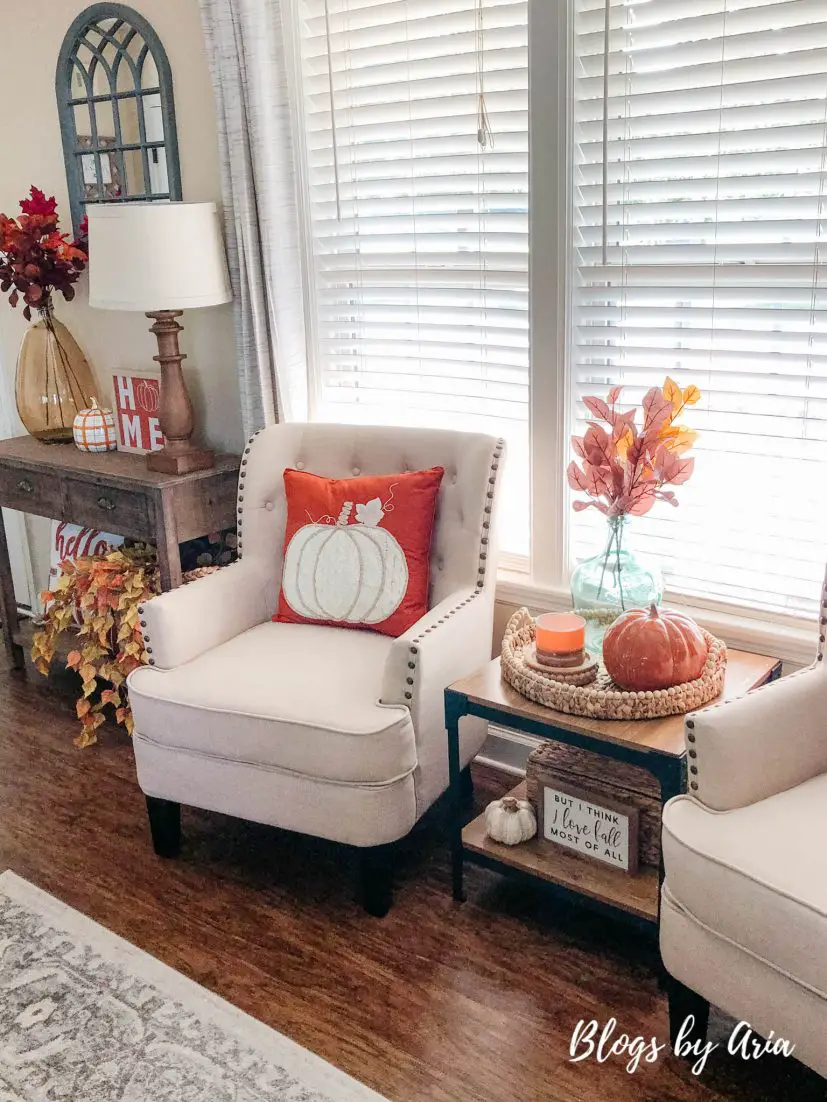 You can see a glimpse of the entryway table here.  I made a few small changes that I'll share in my fall home tour.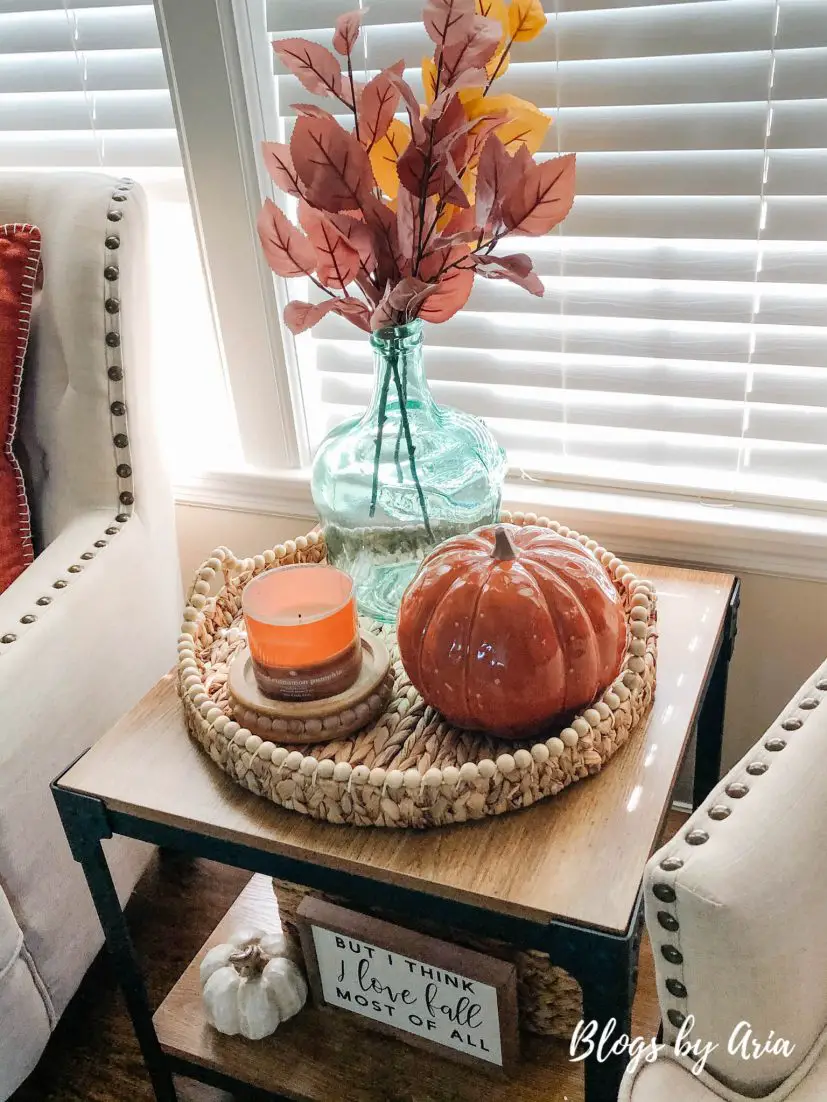 side table | beaded tray | pumpkin | white pumpkin
On my side table I used my beaded tray to hold a glass vase filled with fall stems along with a ceramic pumpkin and my favorite fall candle.  The orange pumpkin is the larger version of these smaller pumpkins I used on my fall sofa table.
ENTERTAINMENT CENTER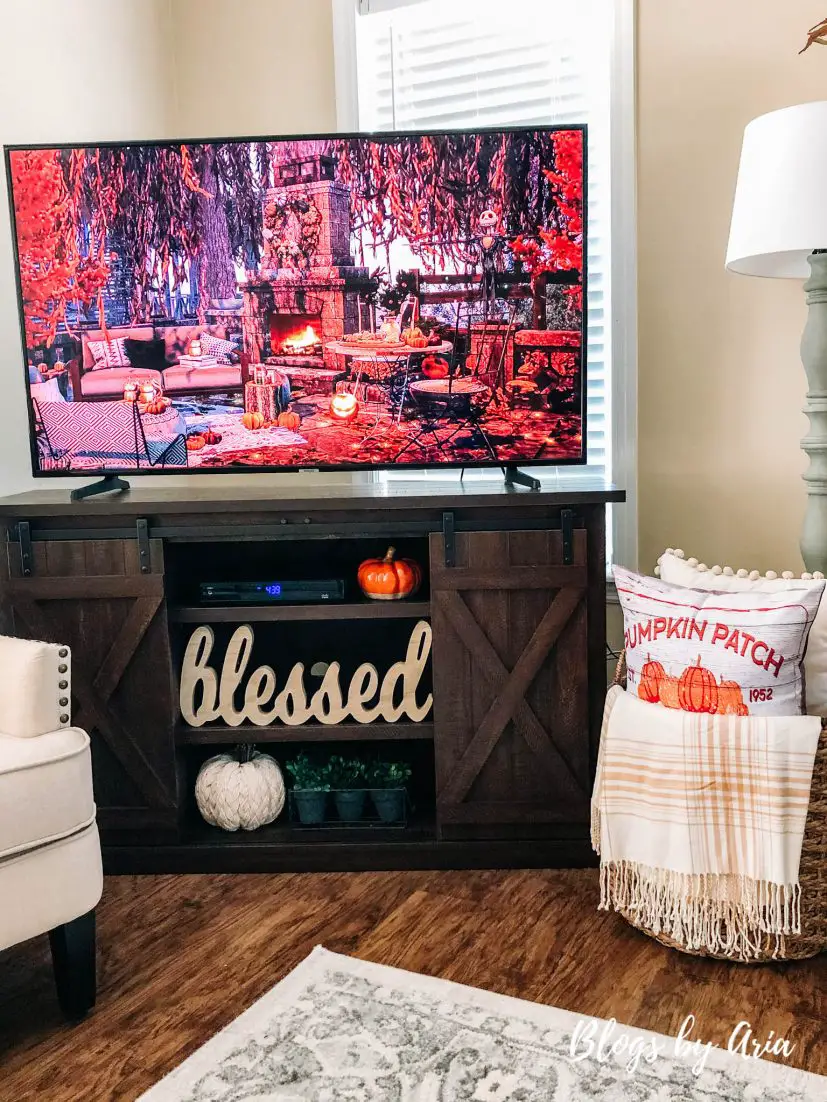 tv stand | pumpkin | knit pumpkin | boxwood plants | pumpkin pillow | similar basket| blessed sign | rug
There wasn't much I wanted to change about how my entertainment center is decorated.  Adding a couple of pumpkins was all it really needed.
My basket holds all of the throws we use regularly.  For fall I used this light yellow plaid throw I got from Joann Fabrics last year.  It's really just for decoration, it's very light weight.  Inside are all of the plush throws.  I originally had my two cream pillows in here.  Then I decided to buy this hello fall pillow and put it there.  I liked that look but found a better spot for that pillow.
On one of my recent trips to Hobby Lobby I saw this pumpkin patch pillow cover and decided to use that instead.  It's two sided, the other side is orange buffalo check.
FALL FIREPLACE MANTLE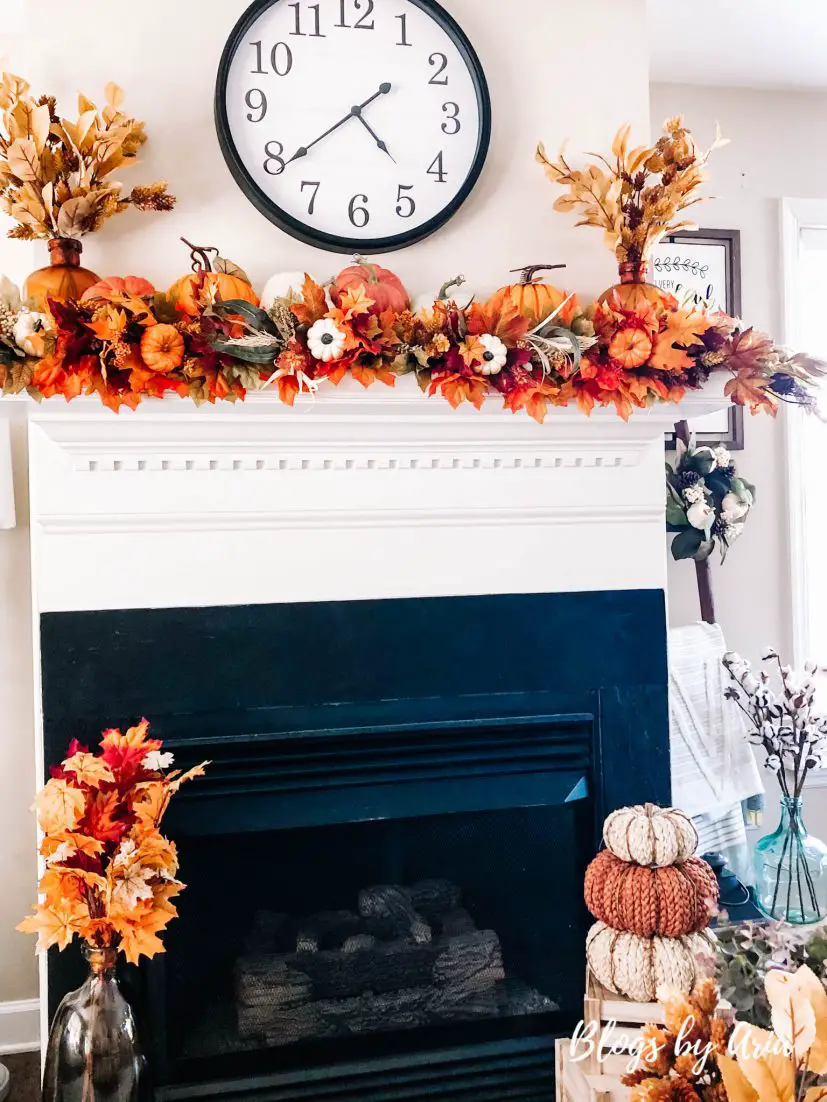 You can see how I created my fall garland and you'll notice I've tweaked it a bit.  Instead of using candles up here I decided to use my amber vases and filled them with hops stems and yellow fall stems both from Target.
I stacked these woven pumpkins on top of a couple of wooden crates.  They're not in the way.  They are on the hearth so it works out fine.
I decided to move my blanket ladder to this side of the fireplace.  This has turned out to be a little neutral fall corner in the midst of all of the harvest colors.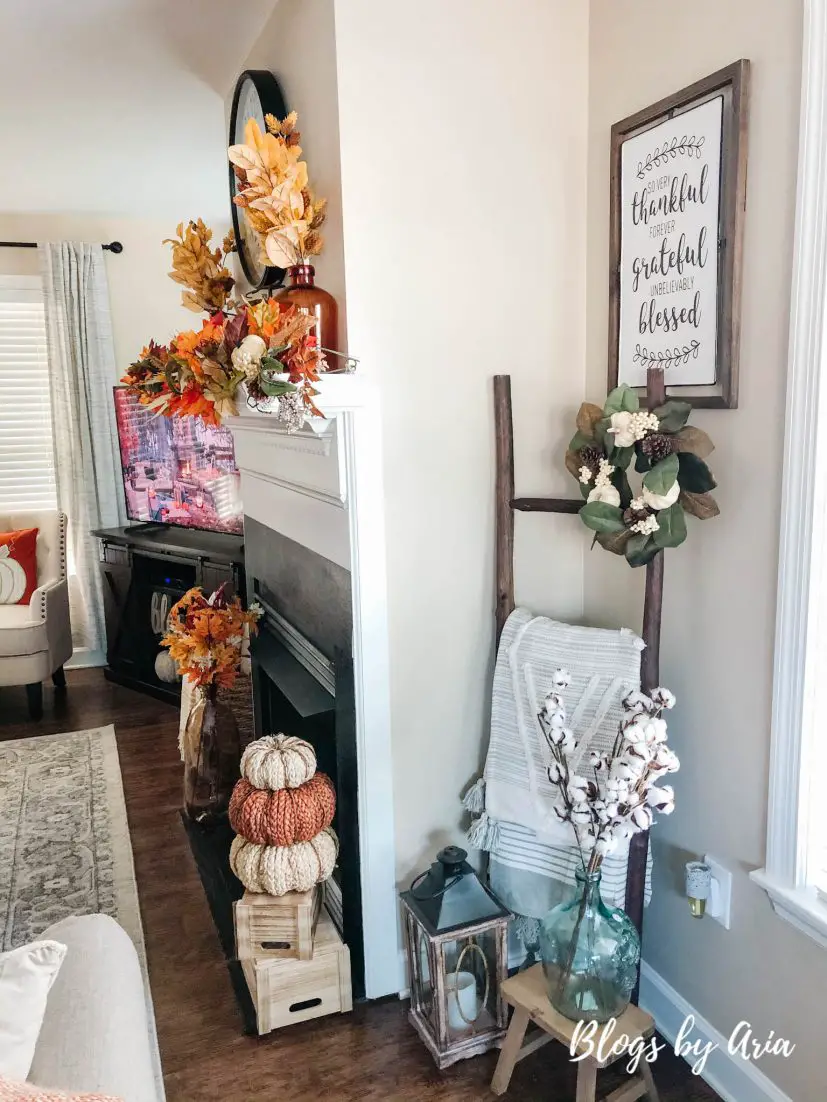 lantern | blanket ladder | blankets | mini wreath | mini bench | wall sign
This corner is brought to you by Kirkland's! It totally wasn't planned  that way, but pretty much everything except the wall sign and cotton stems come from Kirkland's.  I wasn't really loving the floor lamp over here and decided to swap it with the ladder.
I had already put the sign up otherwise I would've had it up a bit higher but I just love this little corner.  I'm thinking this is where the Christmas tree will go.  So it will change again 🙂
You may recognize the magnolia wreath from my neutral fall bookshelf.  As I sat with it on my metal scale for a few days I felt it was a bit too busy.  It's a much better fit on my blanket ladder if I do say so myself.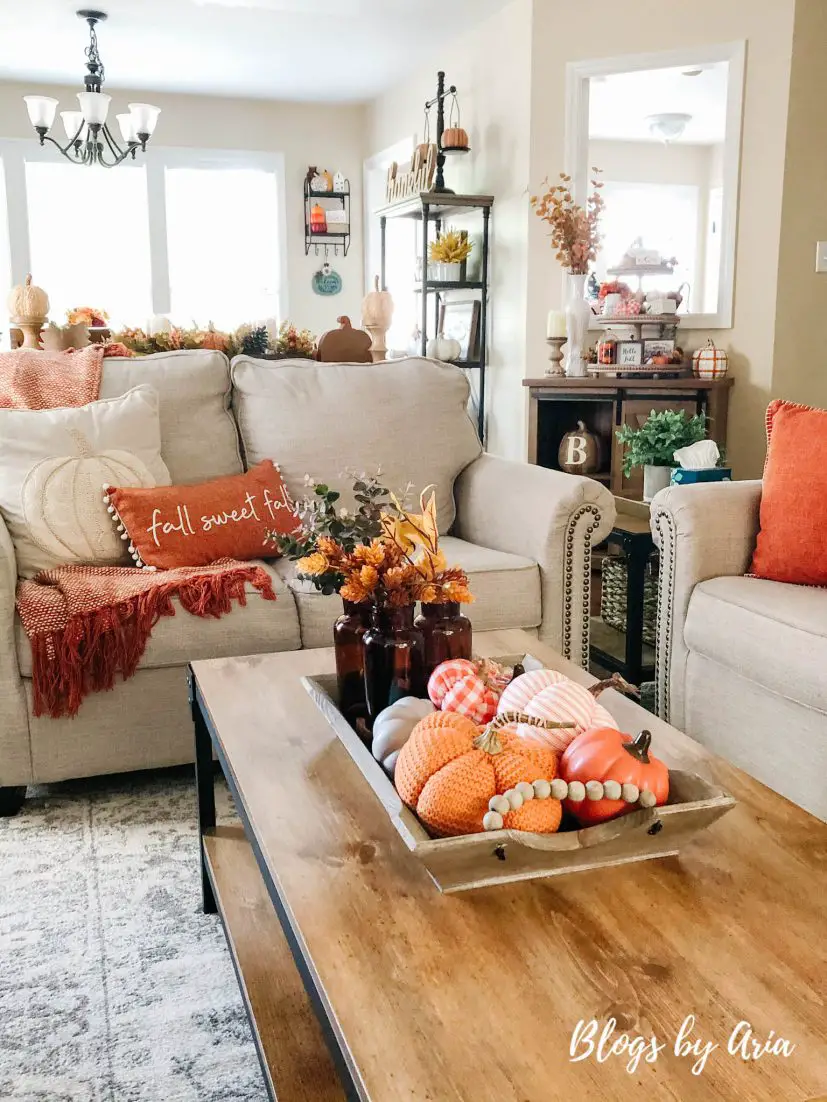 From this view you can see my dining room with my neutral fall bookshelf and my three tiered tray.  I'll share my dining room and kitchen decorated for fall very soon.
On my love seat I paired my fall sweet fall pillow with a white pumpkin sweater pillow and throw blanket from last season.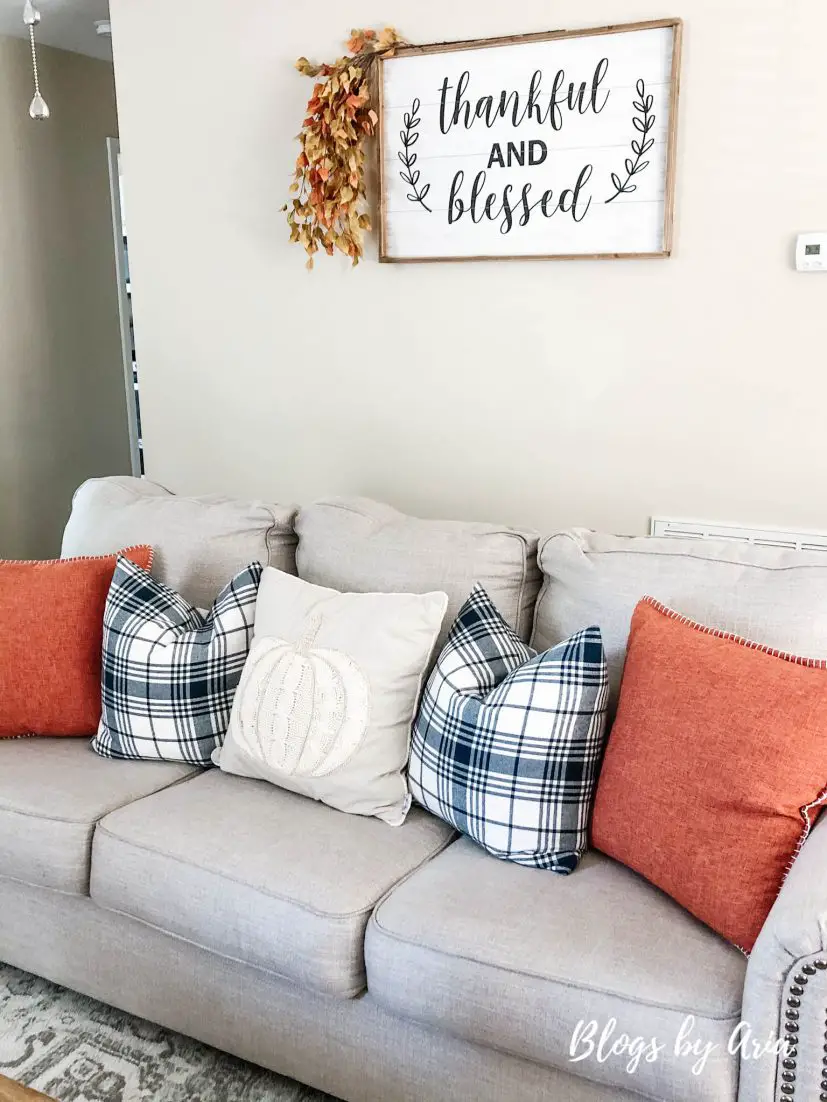 Last week I went to TJ Maxx and Home Goods and I spotted these gorgeous burnt orange pillows.  They were $19.99 for the pair and I scooped them up.  I'm sure it's the same everywhere but the supply chain at TJ Maxx and Home Goods is pretty low ever since they opened back up.  So I brought them home and decided to try them out and if they didn't work I'd take them back.
Well I love them.  I love that they bring in the color without anything added on them.  Ya'll can clearly see I love pumpkins but that doesn't mean I want them on everything!  Just on almost everything 😉
Also I thought about swapping out my blue plaid pillows for something more harvest tone but I love the pop of blue.  I use blue all year except for Christmas.  That doesn't mean that if I saw the perfect pillows on a great price that I wouldn't snap them up.  I do like this brown plaid set or these yellow plaid pillows too.
The grey pumpkin pillows are from last year's fall decor.
My thankful and blessed sign can honestly stay up year round, and it just might!  But to make it even more fall feeling, I added these branches like I used in my entryway.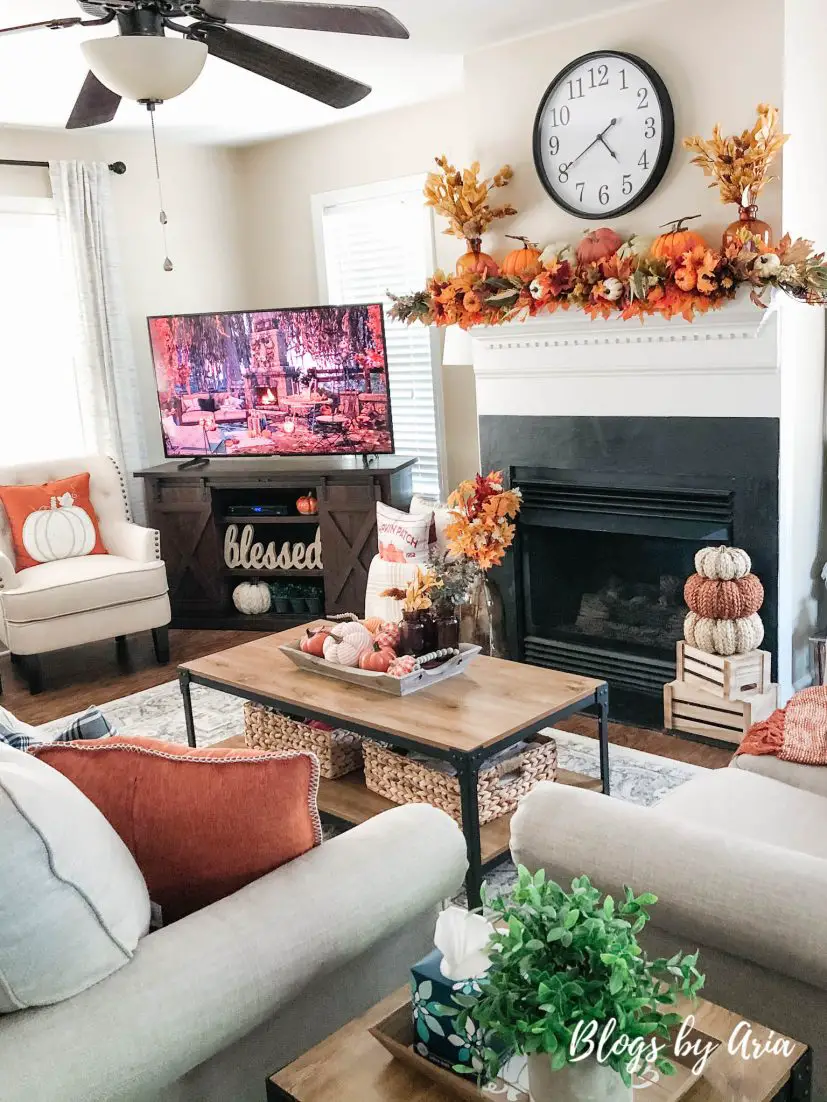 FALL COFFEE TABLE CENTERPIECE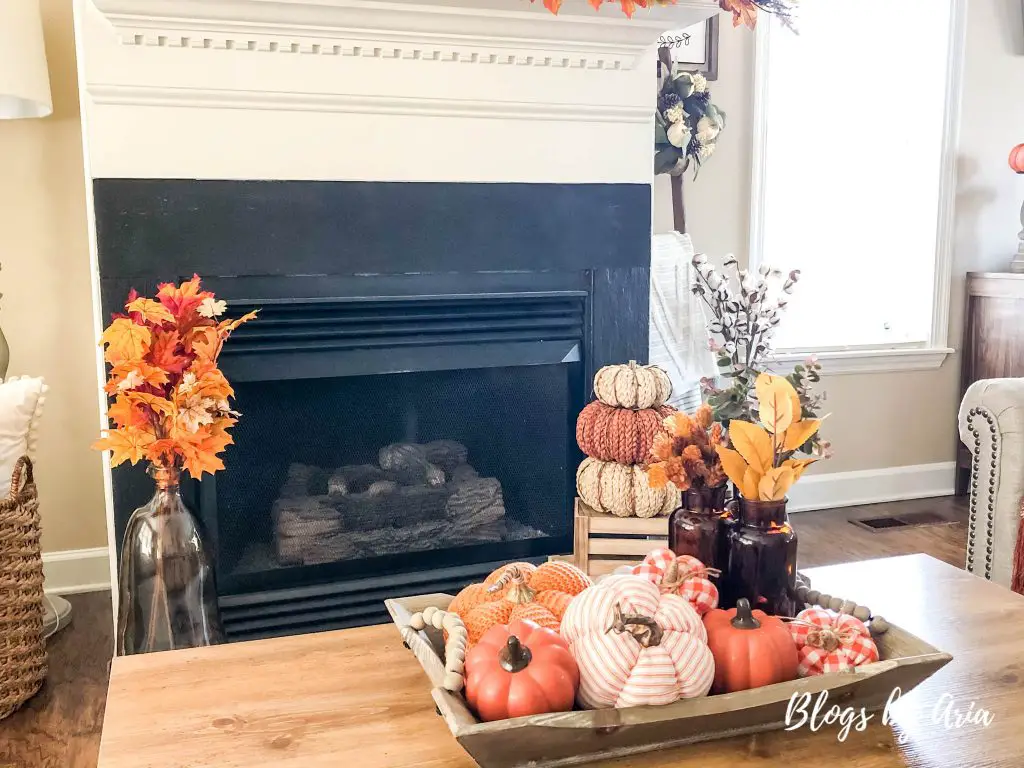 I had some inspiration with trying to create my fall coffee table centerpiece, but it didn't quite turn out the way I wanted.  So I settled on this.
This beaded tray comes in a large and small size.  I went with the larger size but honestly I'm thinking if I had chosen the smaller size it may have been easier to decorate.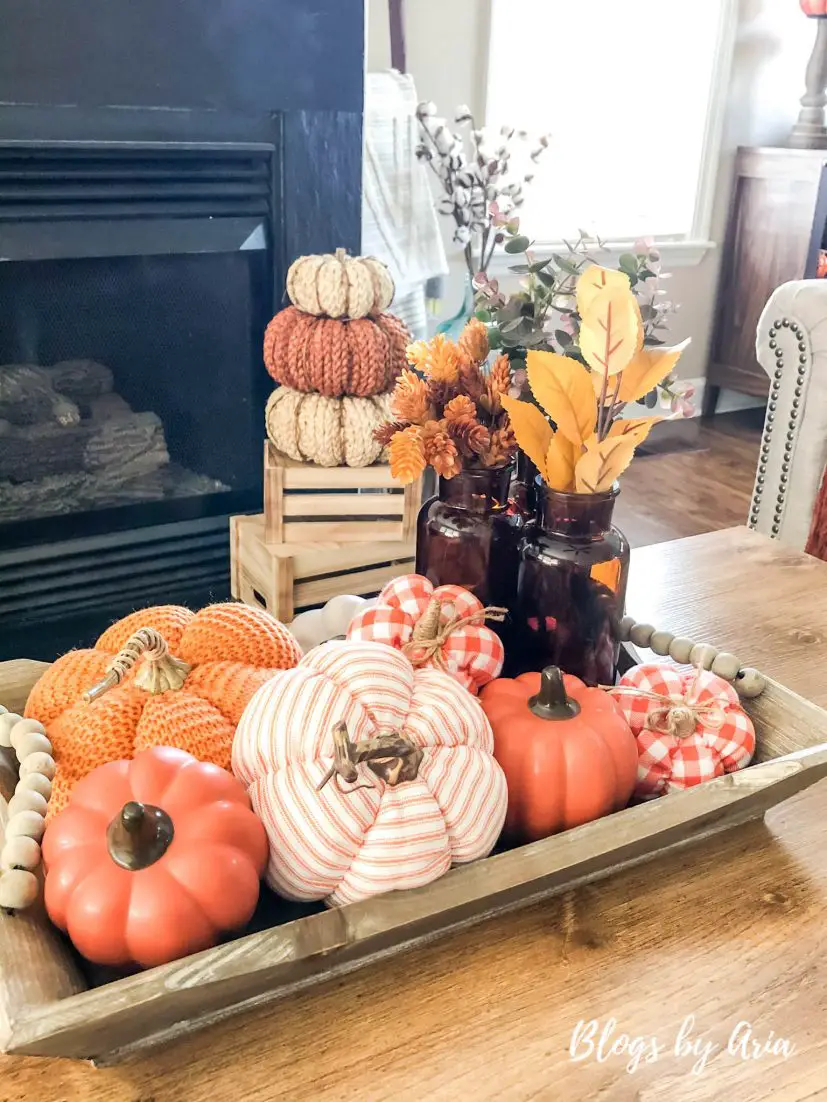 ticking stripe pumpkin | sweater pumpkin | buffalo check pumpkins
Although my centerpiece didn't quite turn out as envisioned, I do like how it has come together.  I used a mixture of soft pumpkins and ceramic pumpkins I got from the Target dollar spot.
Then I corralled a few amber bud vases together and put different small stems in them.
As of now the only part of my family room that isn't decorated for fall is this side table.  For no other reason other than I just didn't add anything to it.
If you want to see more details about my sofa table decorated for fall you can find that post here.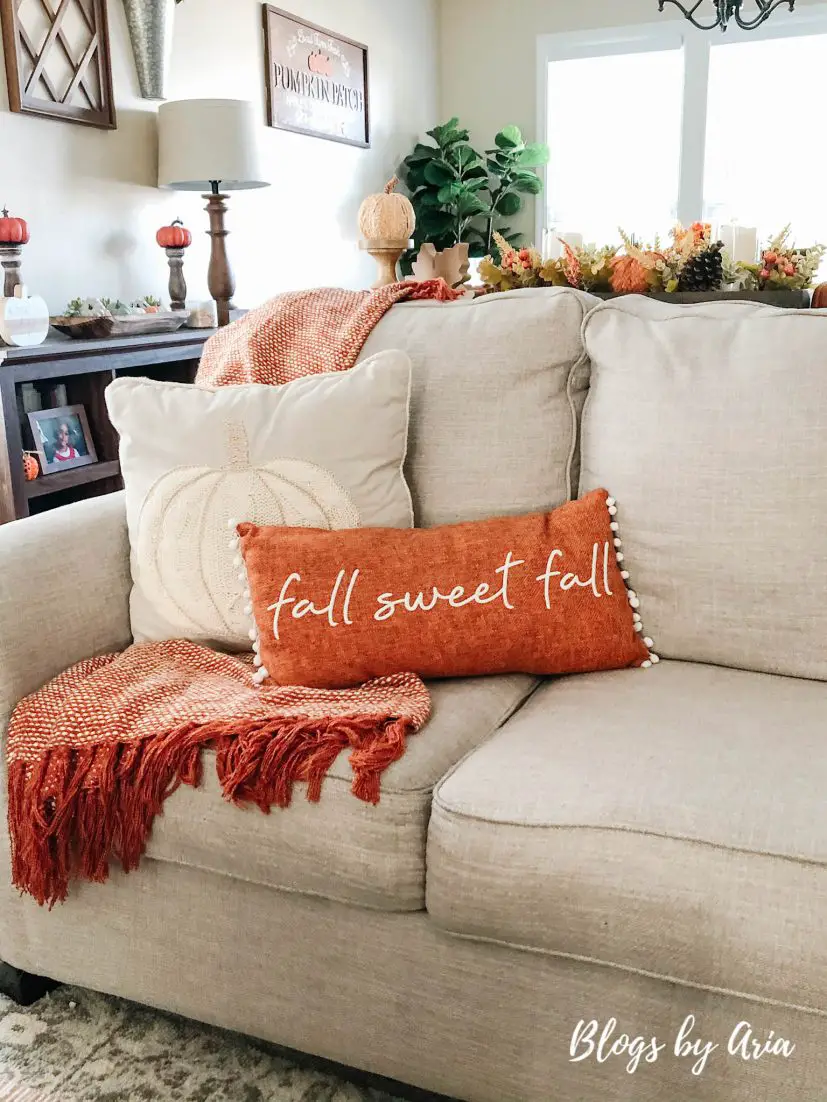 I love how my family room has turned out for fall and I hope you like it too.  Hopefully you got inspired to add a little touch of harvest in your home too.
Believe it or not, my husband likes it too.  He hates to admit it, but he likes to show his friends and colleagues some of my pictures.  That makes me so happy!
I can admit I have a lot of pumpkins.  But for so many years I wanted to decorate my home for fall.  Now that I finally can see my vision come to life, it's like a dream come true!  Soon I'll share my dining room, that you can see some of in the picture above, as well as my kitchen and powder room decorated for fall.
Until next time, Happy Fall Y'all!!!