Welcome to my autumn home tour!  I am almost finished wrapping up the fall content today with the exception of my fall front porch.  Although I decorated for fall earlier than many, I have enjoyed every bit of it.  Bringing in all of the colors and the pumpkins just makes me so happy.
Today I'm going to walk you through every space that's brimming with autumn and harvest decor.  In addition to that I'll be sharing a few spaces that you haven't seen on the blog just yet.  So grab something cozy to curl up in and let me show you my home decorated for fall.
*this post includes affiliate links for your shopping convenience, you can read more about affiliate links by reading my Disclosure*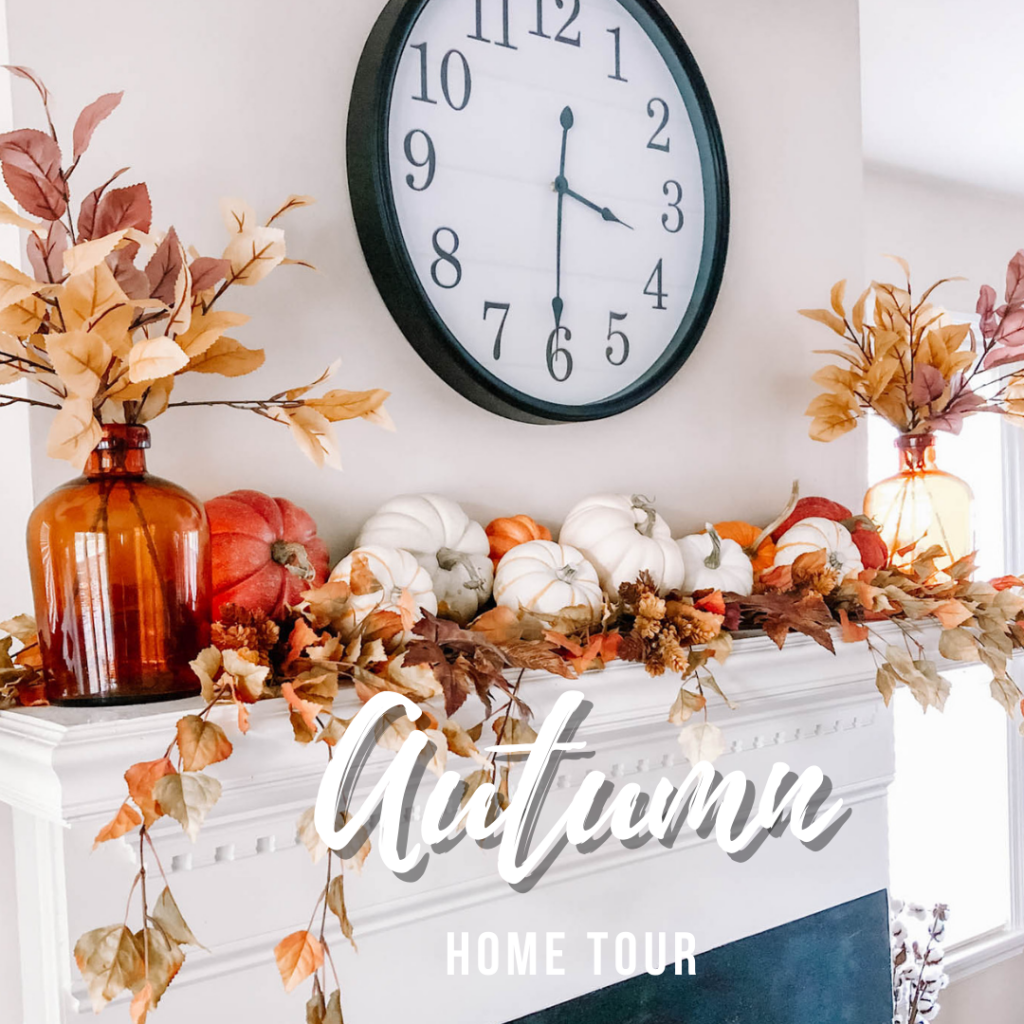 Happy fall ya'll!  It's only fitting that on this first day of my favorite season that I debut my autumn home tour!    First up in my fall home tour is the entryway.
AUTUMN ENTRYWAY DECORATING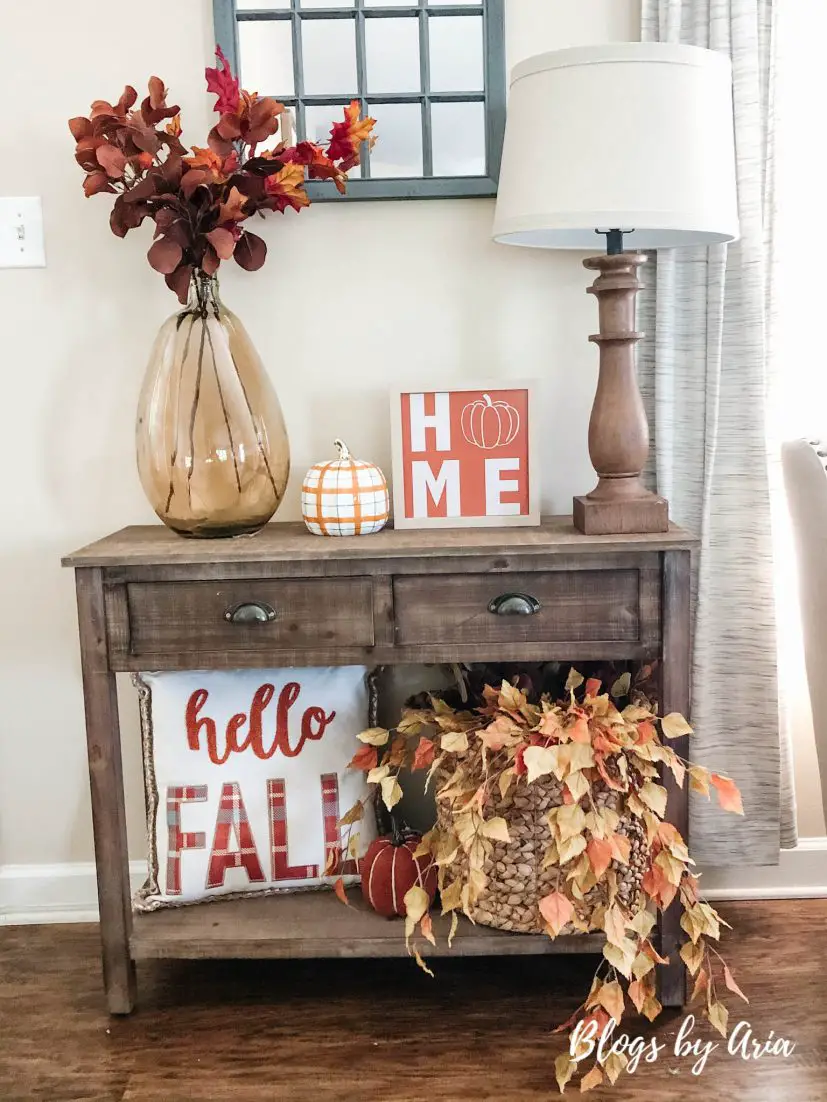 console table (also available here)| lamp | similar vase | hello fall pillow | basket | stems | home sign
When you walk into our home you'll see the living and dining room first because of the open layout.  But that doesn't mean I don't want to first welcome you with our entryway table.  I've made a couple of changes since I last shared this entryway table.
For starters, I swapped the basket of pumpkins for this hello fall pillow that I'm obsessed with!  The colors are beautiful!  In addition to the pillow exchange, I also changed the stems I used in my amber vase to these silver dollar stems that caught my eye on a Target run.  You'll notice that I still have one of the stems I used to have in there but I also took that one out too.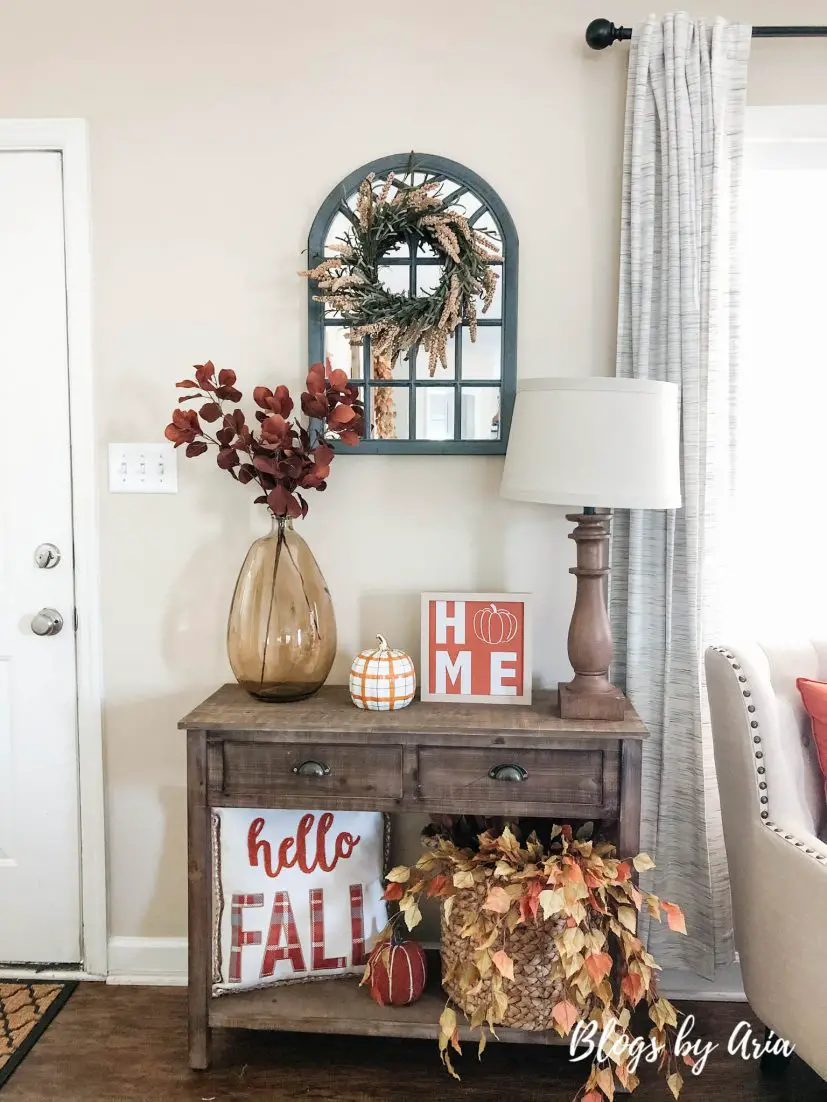 Oh and I almost forgot to share another update to the entryway table!  This mini wheat wreath from Kirkland's!  I added it to the mirror and I love how it turned out.  Mini wreaths are perfect to use on a mirror and I did get another one that you'll see later in the post.
UPDATED PUMPKIN FIREPLACE MANTEL DECOR
Next up on my autumn home tour is our family room.  About a week ago I started to get the itch to re-do my garland on my fireplace mantel.  It just started feeling really heavy in the space and I wanted a more lighter and airy feel.  But I didn't want to buy more stuff because that's the last thing I need!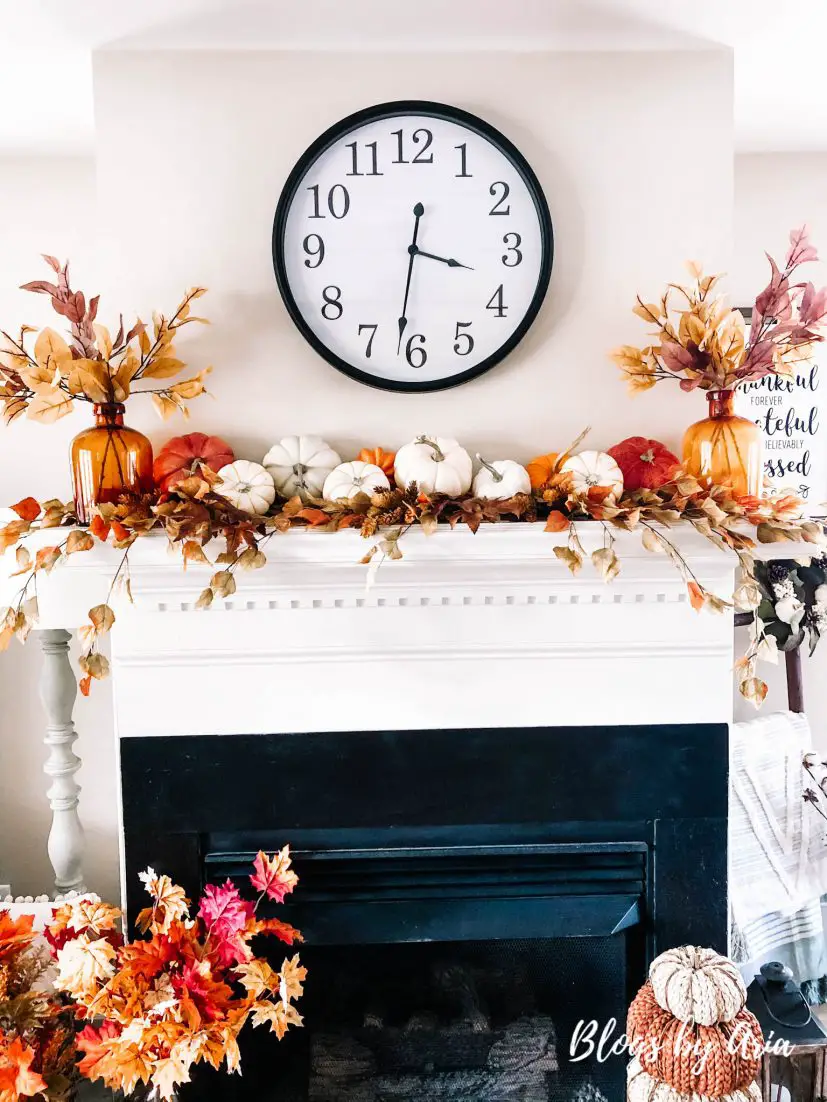 This past weekend I went to Trader Joe's to look for fantasy pumpkins for my fall front porch.  They're starting to come into stores now and I'm loving all the cool shapes and sizes.  In addition to those, I found some tiger stripe pumpkins, casper pumpkins and sparkler pumpkins at both Trader Joe's and Harris Teeter.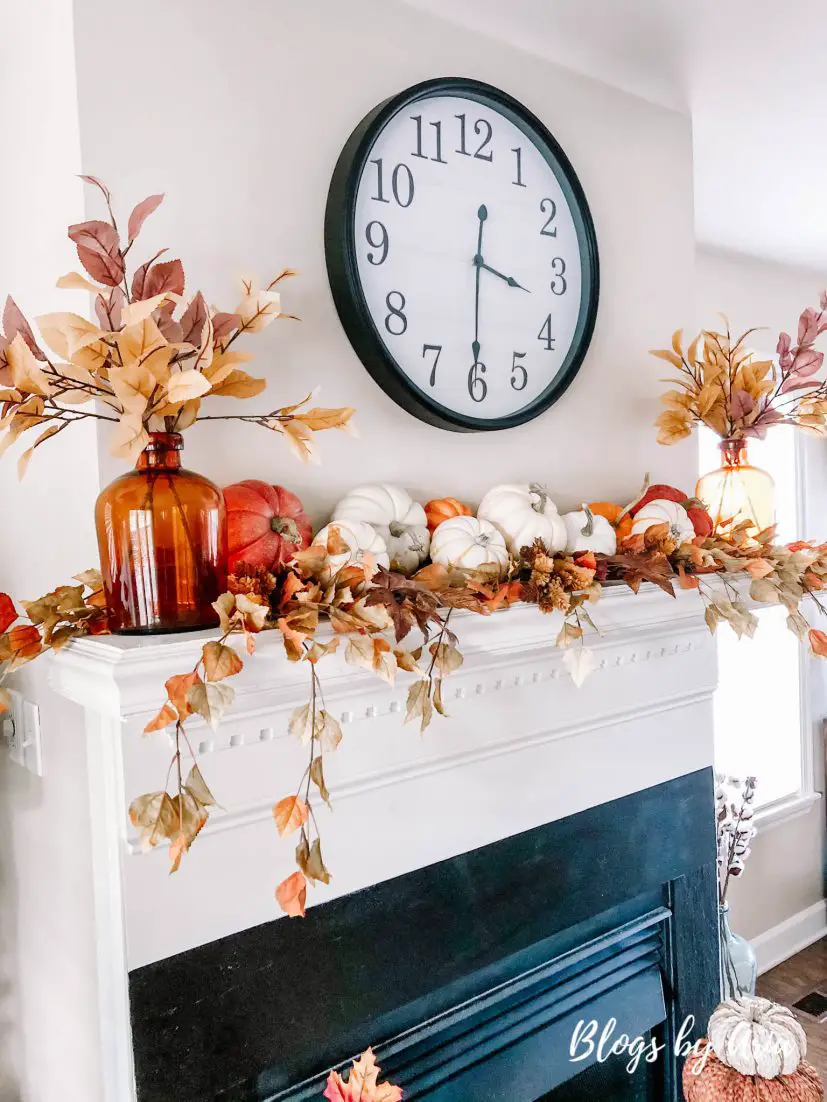 I took the fall stems that I used in my entryway basket and on my thankful sign and moved them over to the mantel.  Then I used a combination of real and faux pumpkins to create what I like to call an "organic pumpkin patch."  I'm not sure why, but that's what my brain keeps calling it.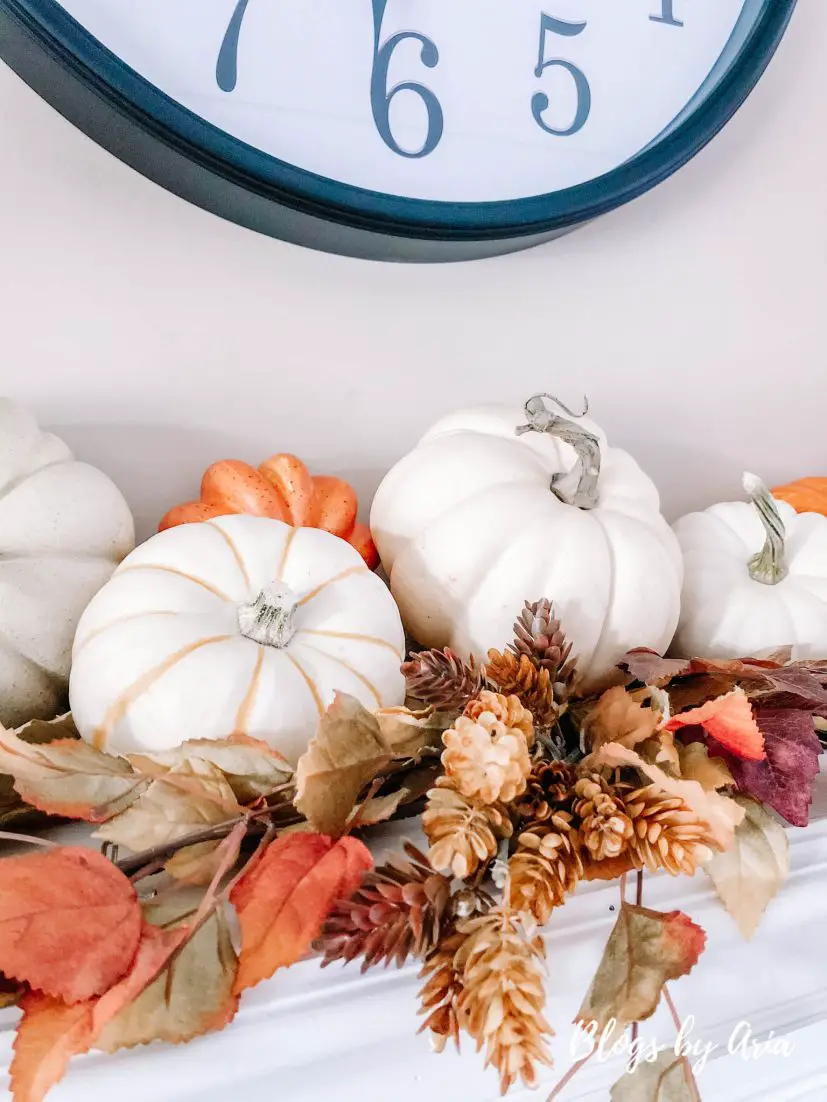 Because these are just four sets of stems, I used a few hops and other leaf picks to fill in the blank spaces.  I wasn't trying to add fullness but you don't want to see bottoms of the stems.  I found similar hops stems here.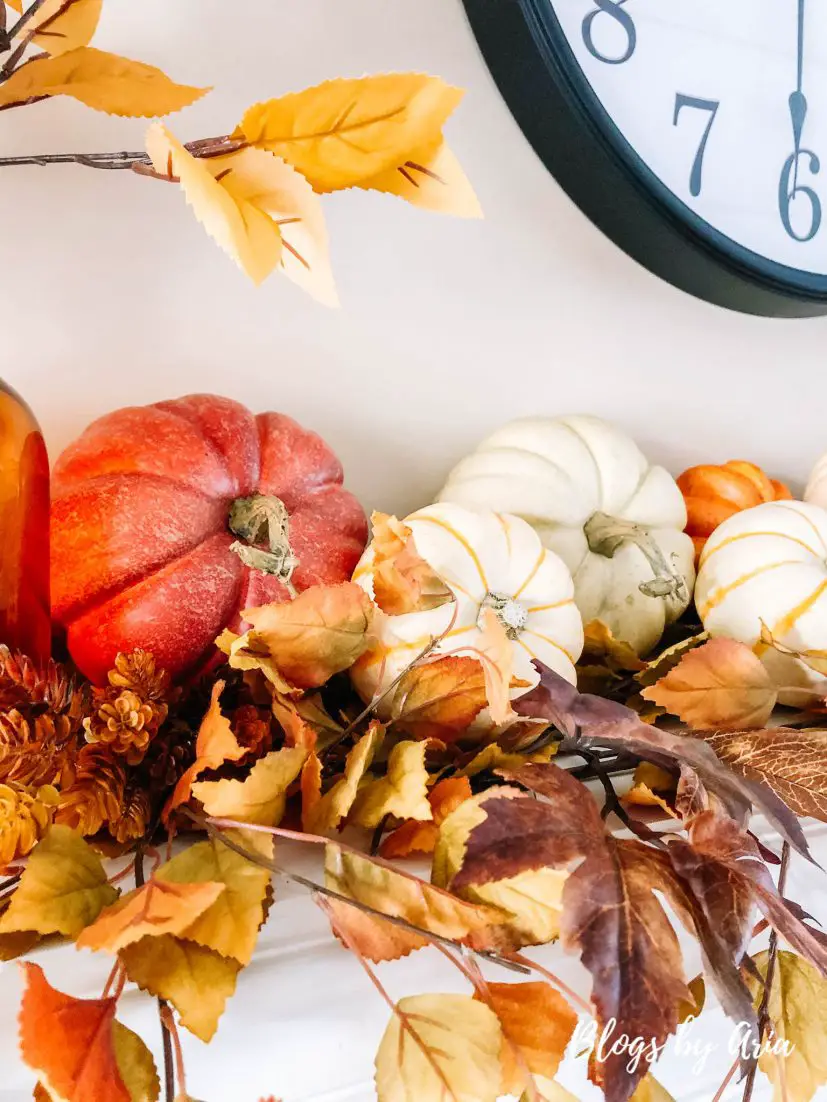 Can you tell which pumpkins are real and which ones are faux?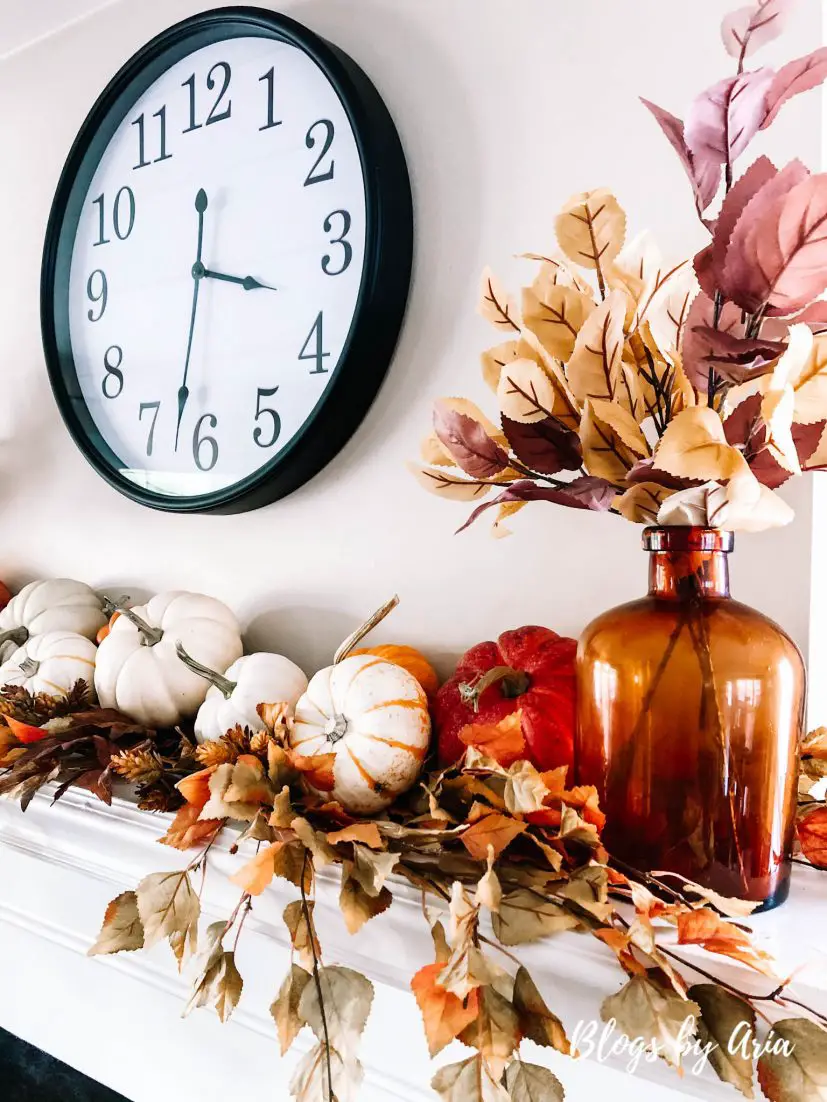 I still kept my amber vases with the stems in them, I just separated the stems a bit to make them look more organic and realistic.  I'm going to be so sad putting these vases away at the end of the season.  Love the color of them so much.
TRADITIONAL FALL LIVING ROOM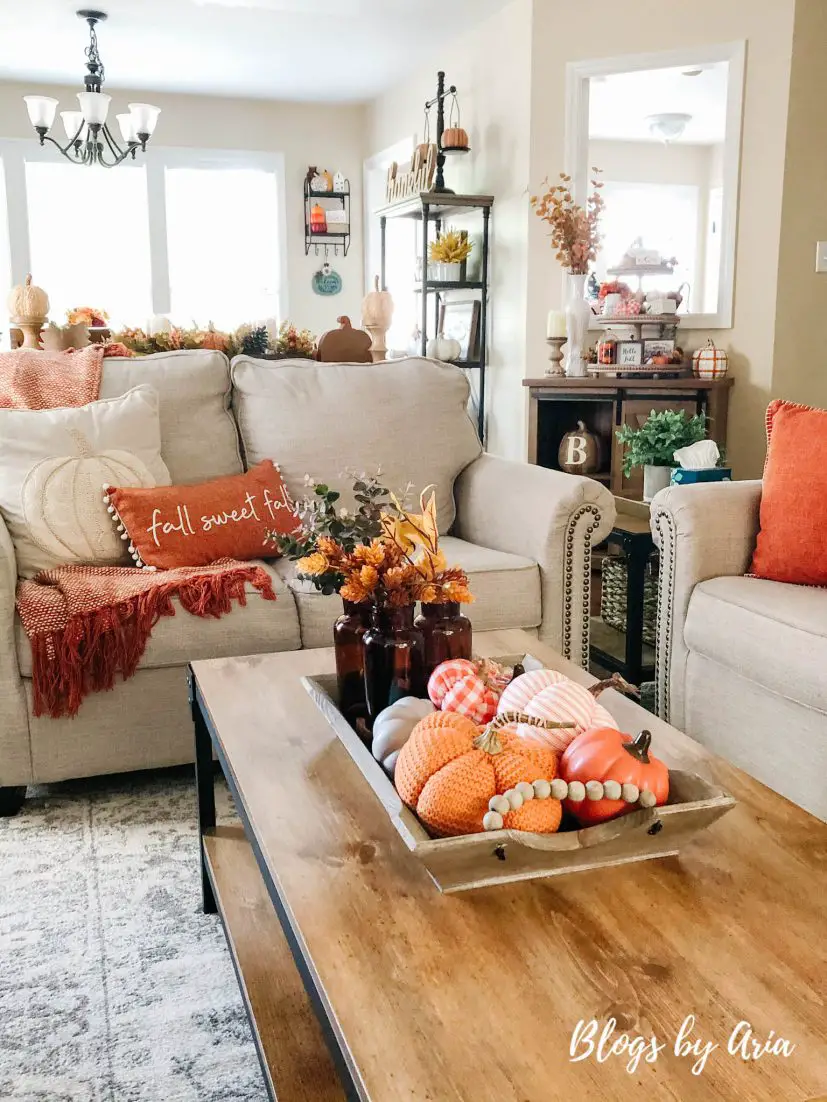 In the background you can see my tiered tray styled for fall.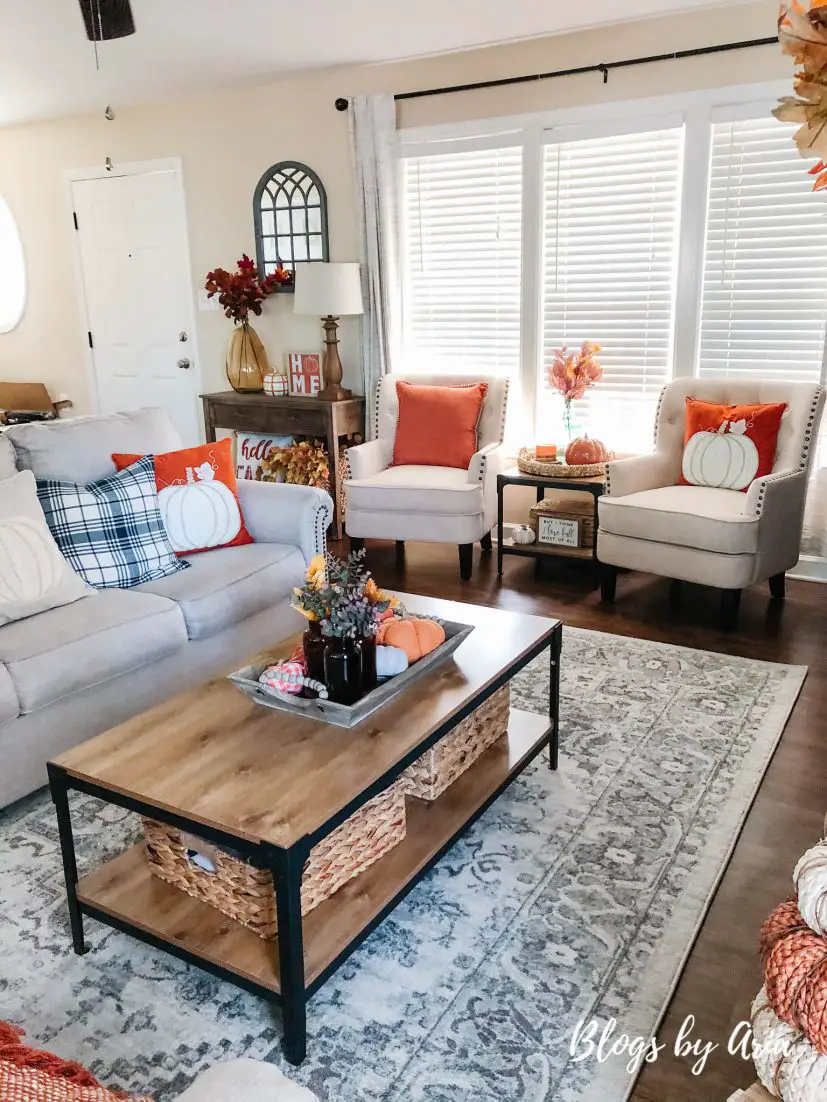 (this picture was taken when I was trying to decide pillow placement)
As for the rest of the living room, it's basically the same as before.  I didn't take an updated picture but I did take my old sweater pumpkins pillows that I used last year and put them away.  For some reason I just never loved them with the other pillows I have.  So we'll see when I pull them out next year how I feel.  If I don't have a place for them next season I'll give them away.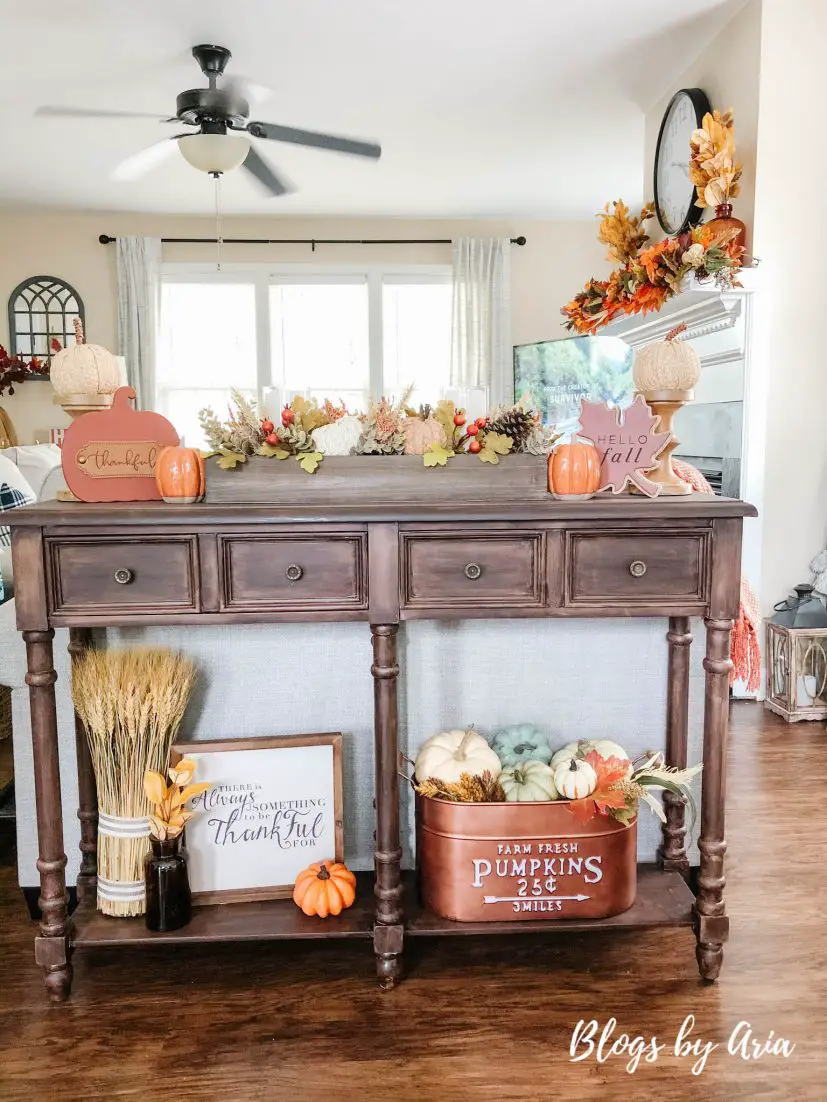 If you missed my sofa table decor post, then check out my post where I go into full details for all of the sources.
SIMPLE FALL DINING ROOM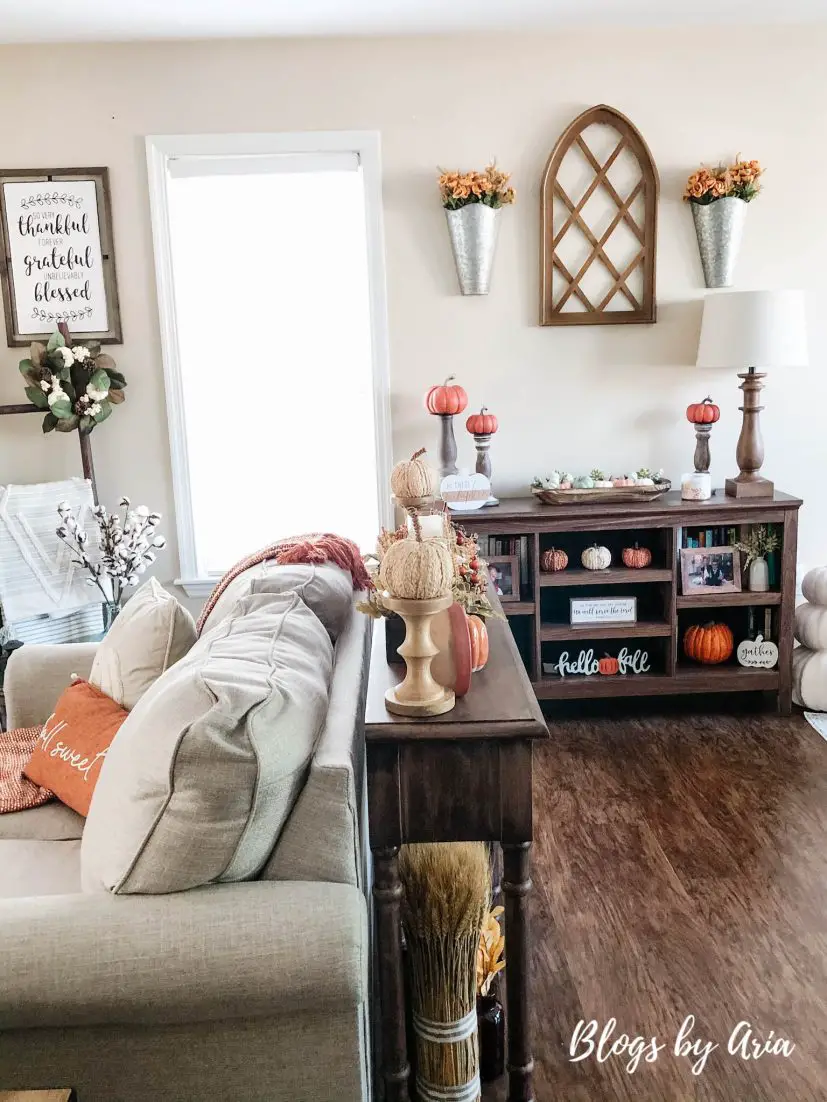 Moving into the dining room, this is a space I haven't shared on the blog yet.  Originally I had a faux pumpkin filler that I got from Hobby Lobby.  That worked fine but I didn't love it.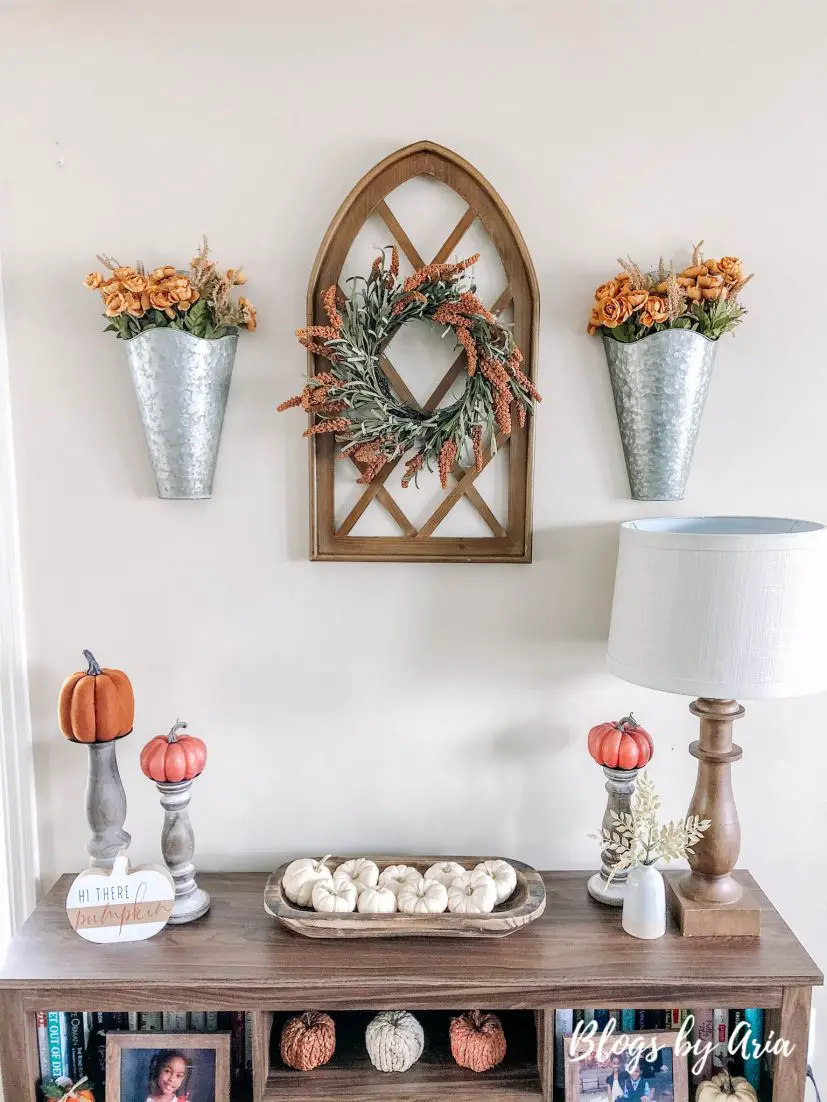 bookshelf | wall pocket | mini wreath | lamp | dough bowl | similar wall arch
The first thing I picked up when I went to Trader Joe's were these beautiful white mini pumpkins.  Yes my friend, they're real and they're so pretty!!  Immediately I swapped out my old pumpkin filler in my dough bowl and replaced them with my white mini pumpkins.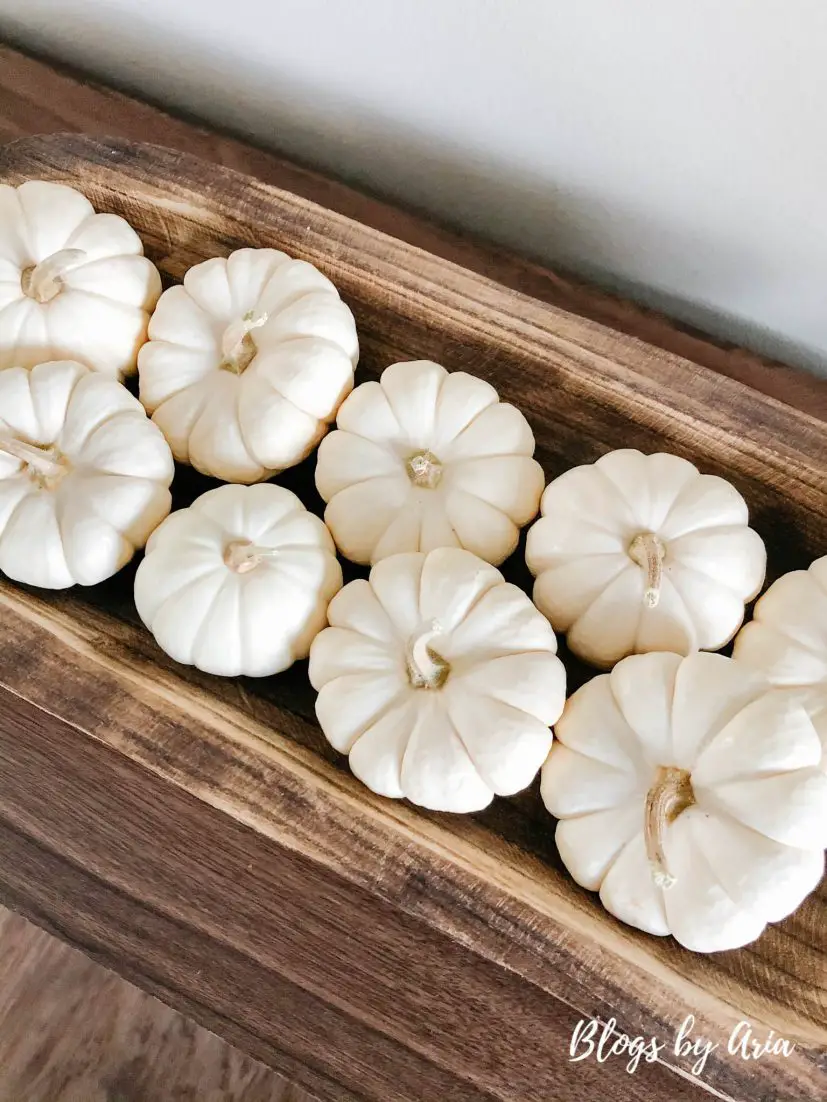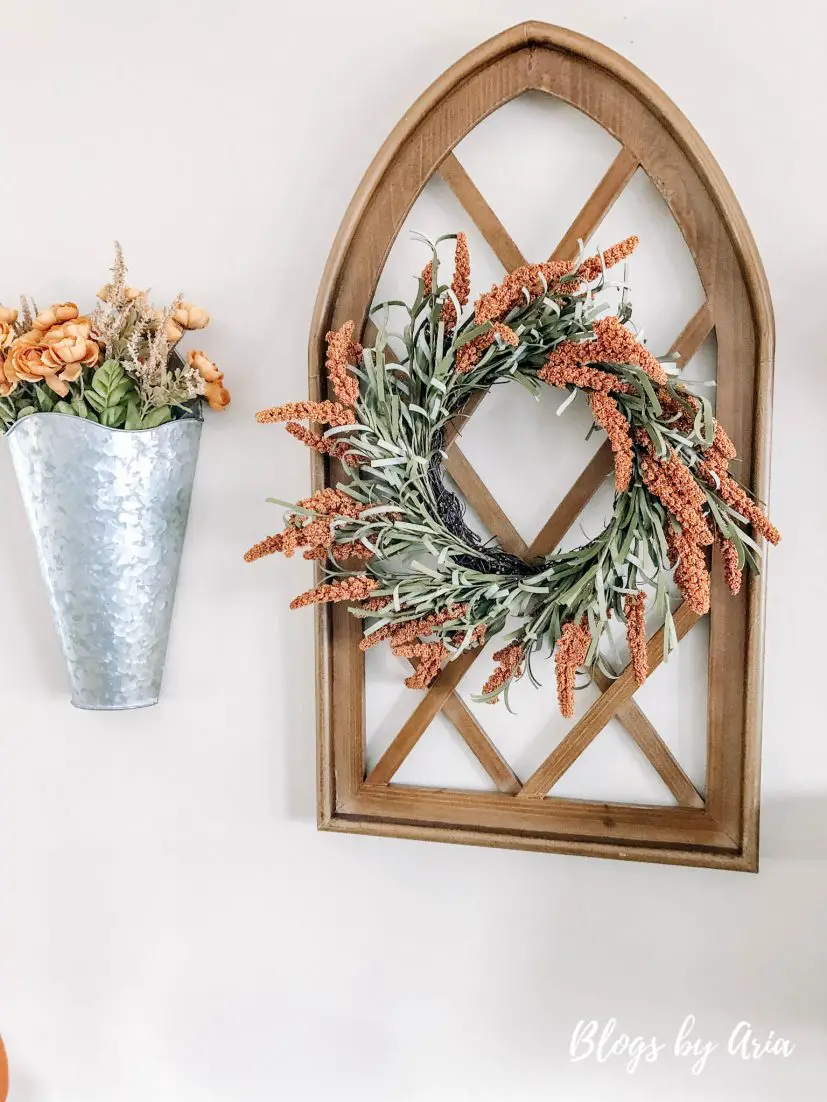 This mini wreath is the same as the one from my entryway table but this one is in the brown wheat option.
Aside from my pumpkins my favorite thing about this space are these beautiful marigold flowers I got from Joann's.  I'm not sure the specific flower but I was walking through the store one day and these caught my eye.  Each wall basket has two bunches/bouquets and they'd also be beautiful in a vase.
They worked out wonderfully because nothing else I tried looked right.  I tried cotton stems, hops stems and other fall leaves and none of them gave me the look I desired.
One of my favorite (I have so many) pieces for fall is in the dining room.  My pumpkin patch sign in my dining room.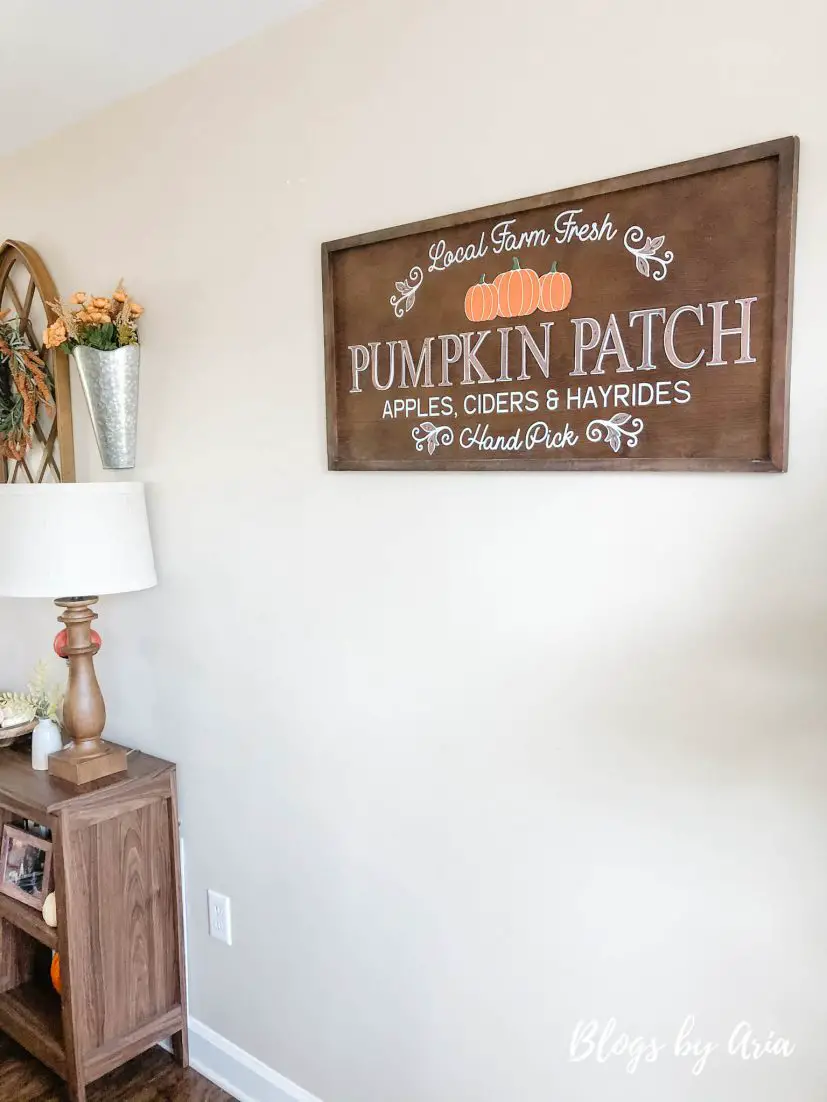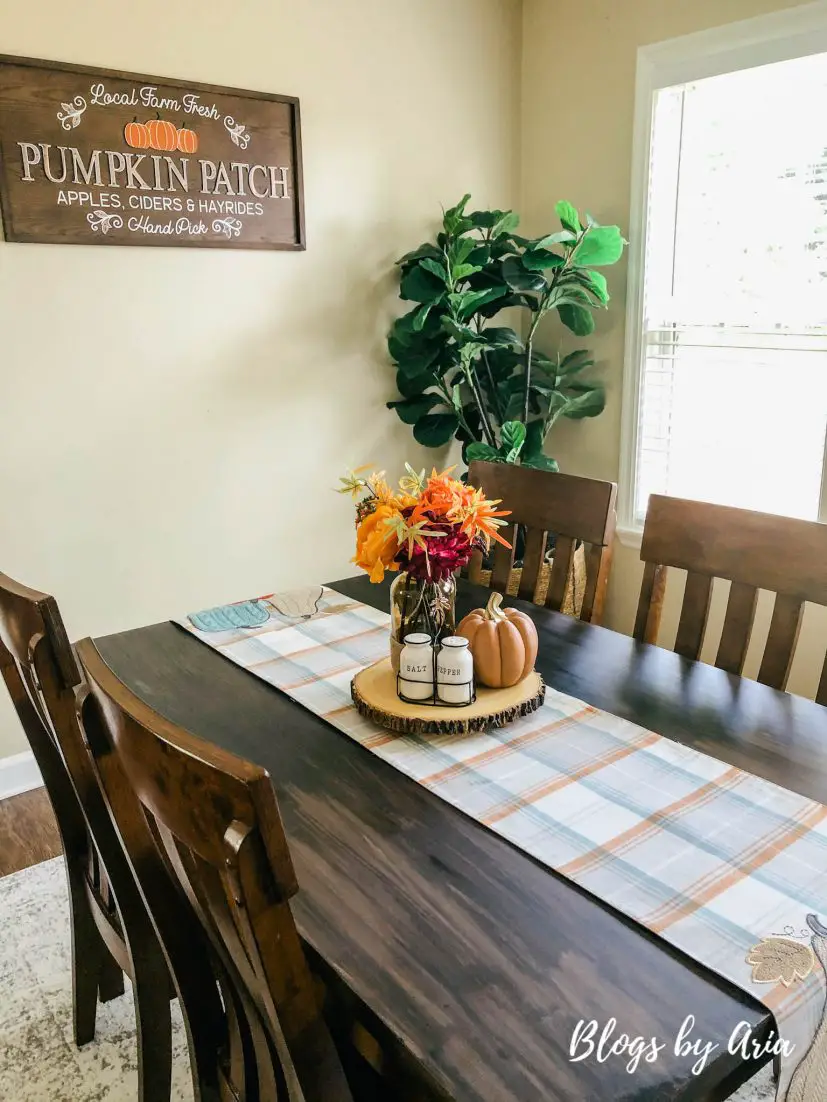 We have to keep the dining table pretty bare because we use it everyday and it's not an overly large table.  I'd love to upgrade the table to a large one, I've had my eye on this beautiful table from World Market.  I saw it in store and am obsessed by its beauty.  But for now, we're sticking with what we got.  Plus it's doing double duty as my office while I'm working from home.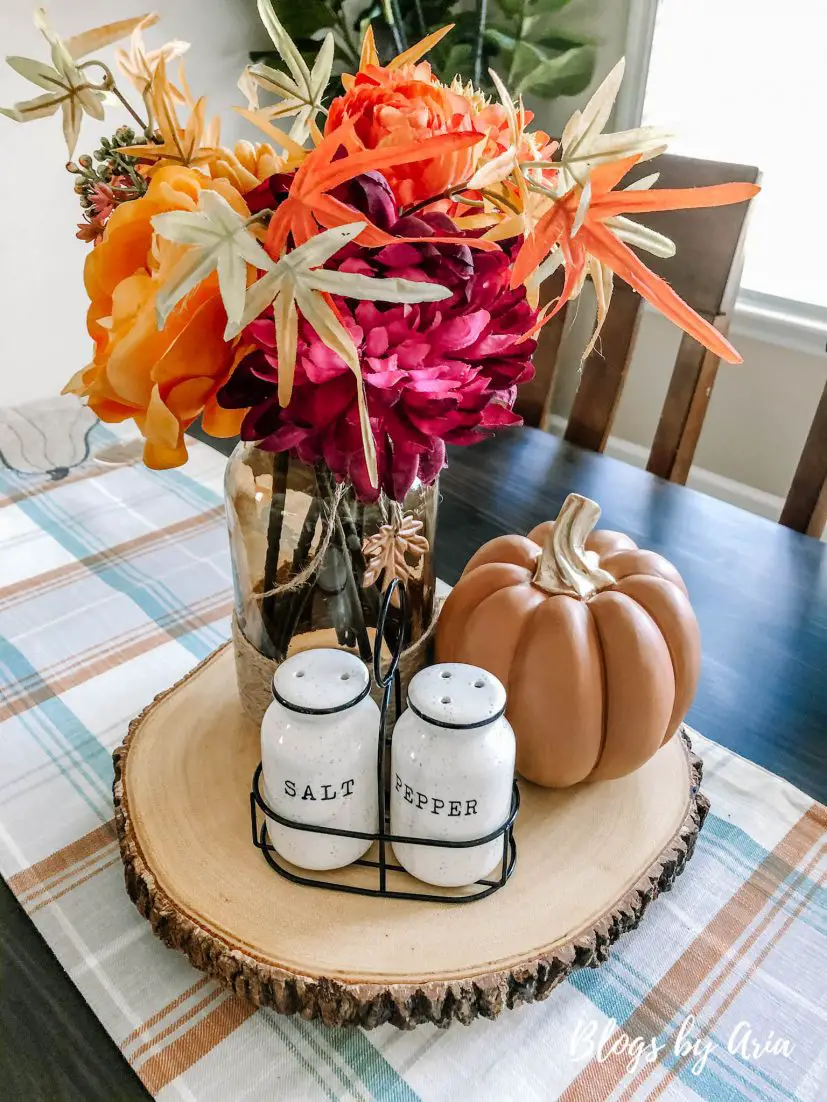 Even with these limitations I still wanted to add something to the table.  So I found this pretty autumn floral arrangement from Joann's and placed them in this light amber vase from Hobby Lobby.  Then I just added our everyday salt and pepper shaker and a small pumpkin atop this wood riser.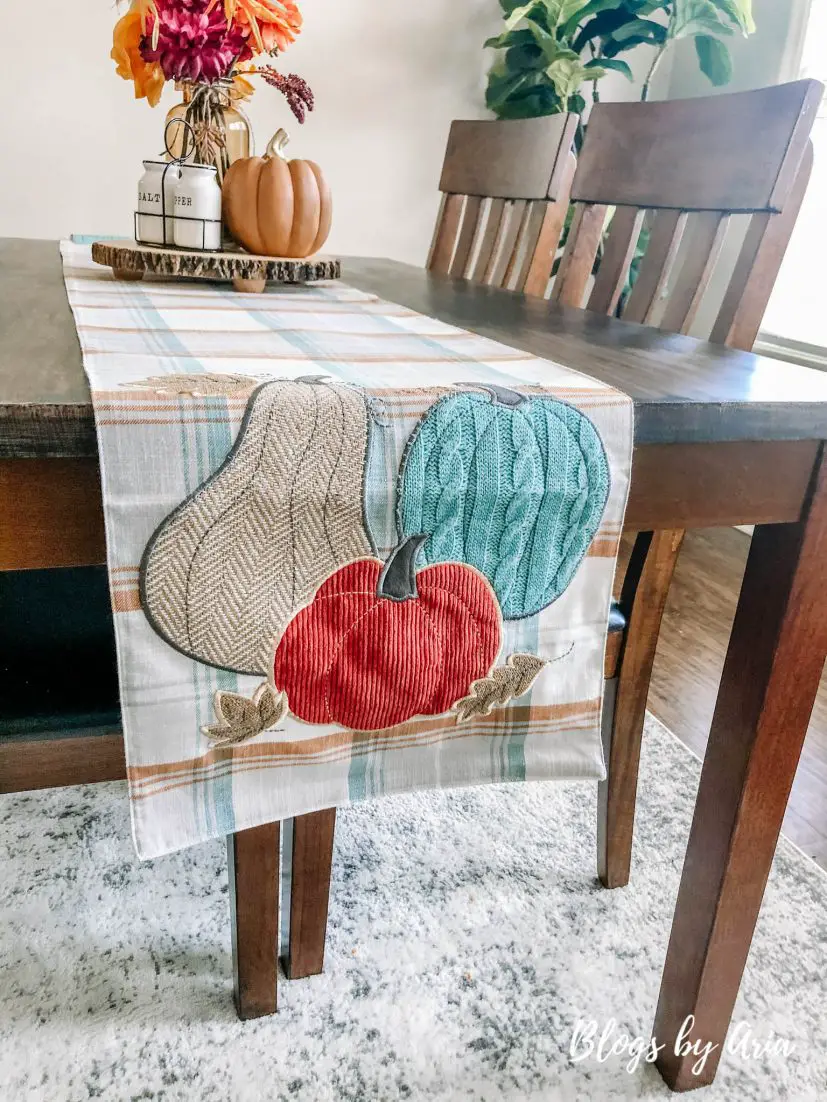 I did recently add this pretty table runner from Home Goods but my family has already gotten stains on it so I guess I'll have to put it away until we do maybe have a second dining room table.  I love the look of it though so I'm glad that I did get it.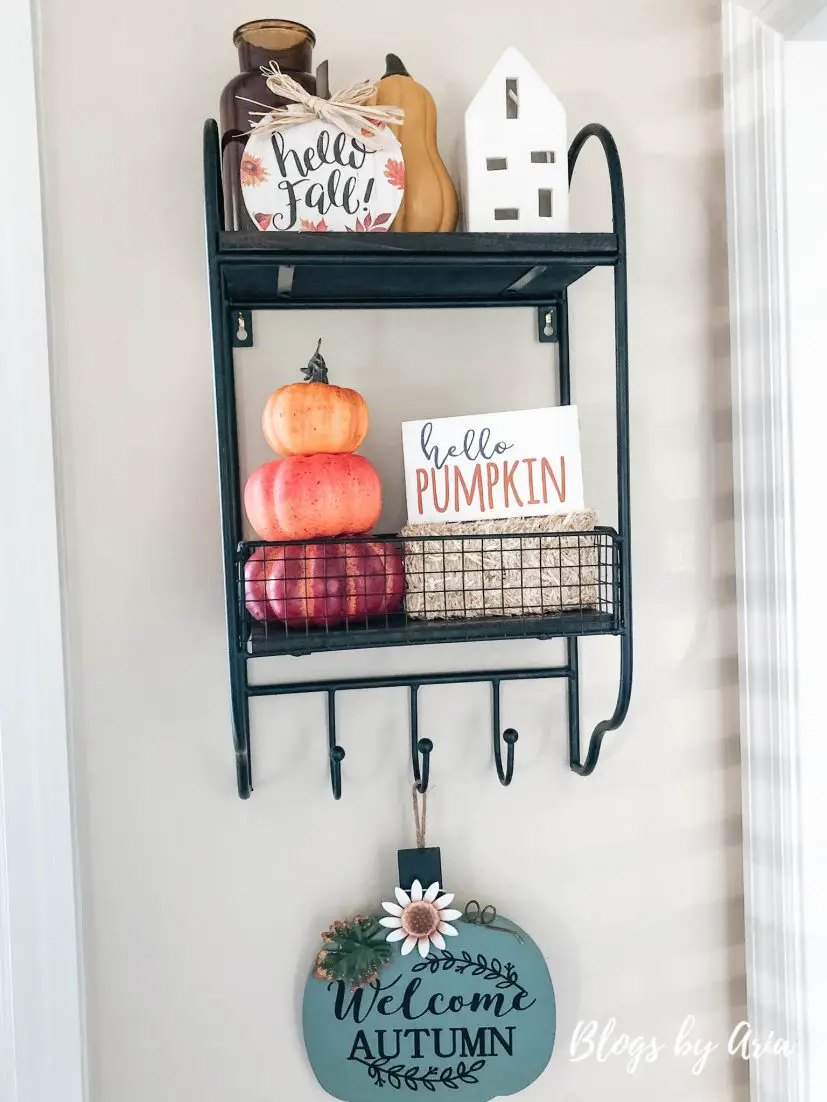 Another new spot to decorate is this two tiered wall shelf I got from Hobby Lobby.  It's a fun little spot to add a few decorative pieces.  One of my amber bud vases, a white ceramic house, yellow gourd from the Target dollar spot and a small hello fall sign are on the top shelf.
On the bottom shelf, this stacked pumpkin, mini hay bale and hello pumpkin round out the decor.  I later removed this welcome autumn sign because my son Jordan commented that it didn't look right.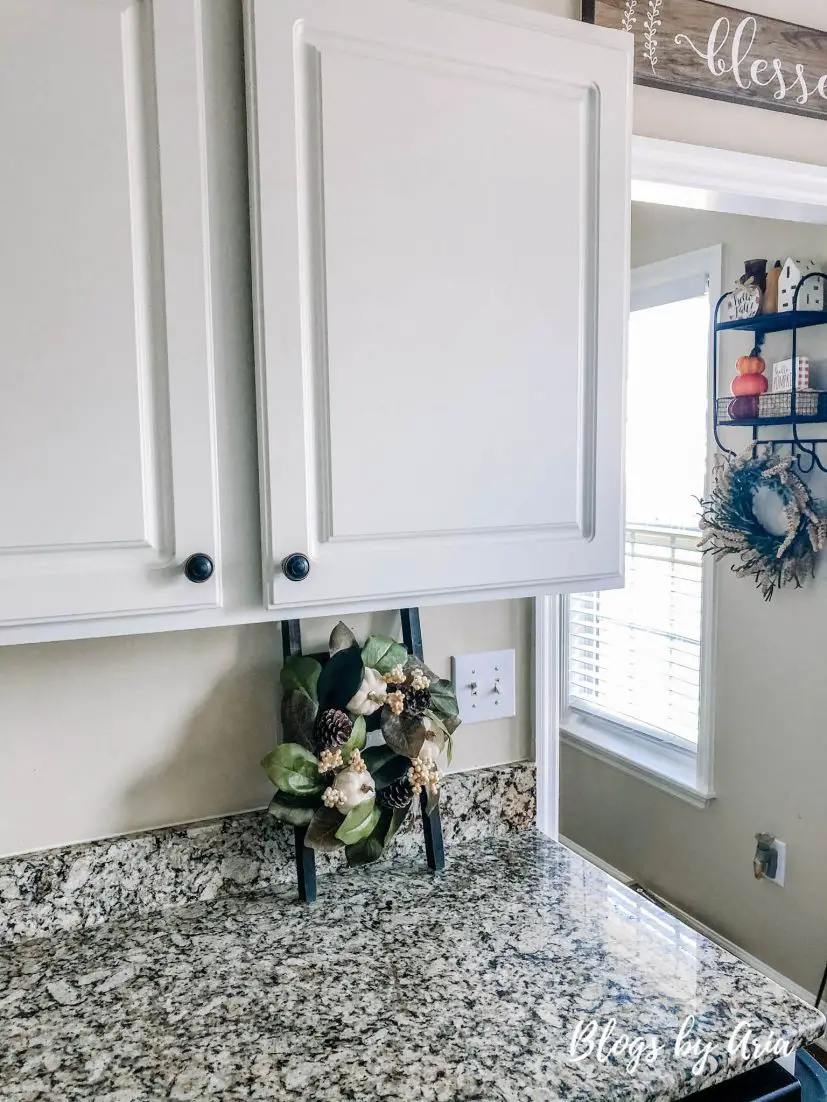 I snapped this pic when I was taking pictures of my fall kitchen decor to show that I had initially tried my mini wheat wreath out on this shelf.  And I was kind of liking it there until one day Jordan (again) came up to it and said "what is this?" and that it's a no! I was so tickled because he was really serious about not liking it 🙂  Now the bottom hooks are bare.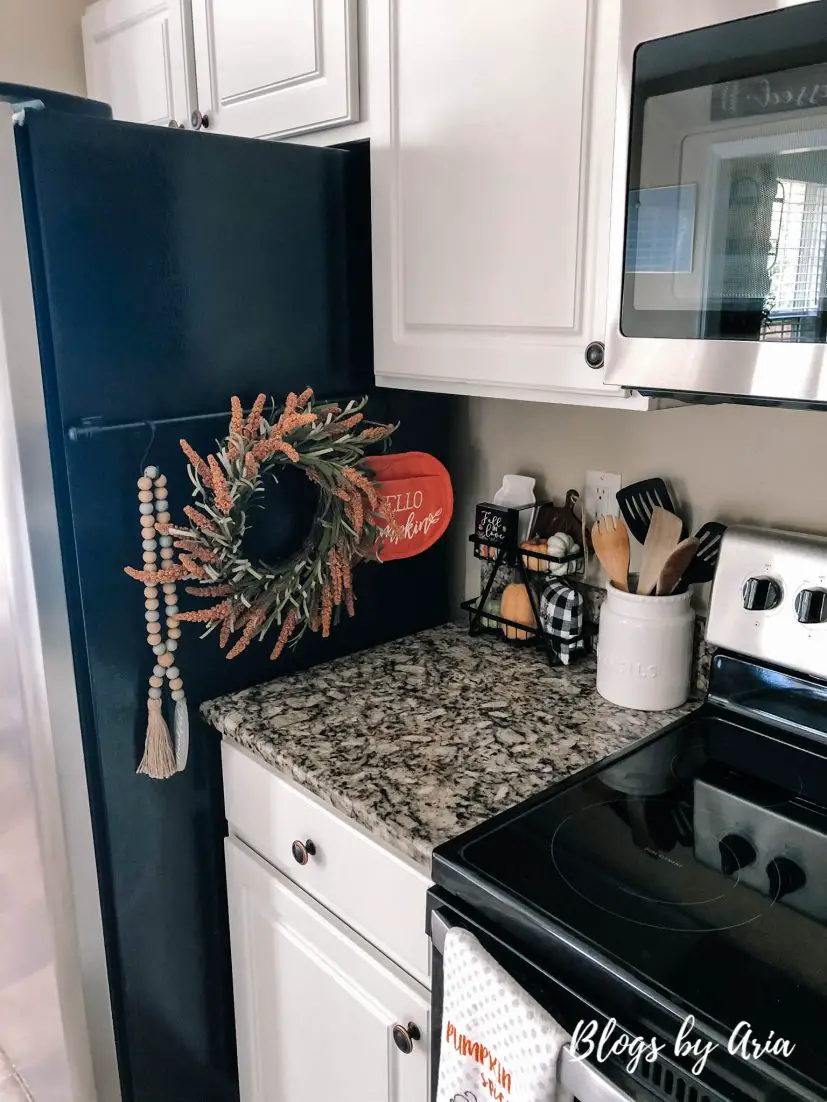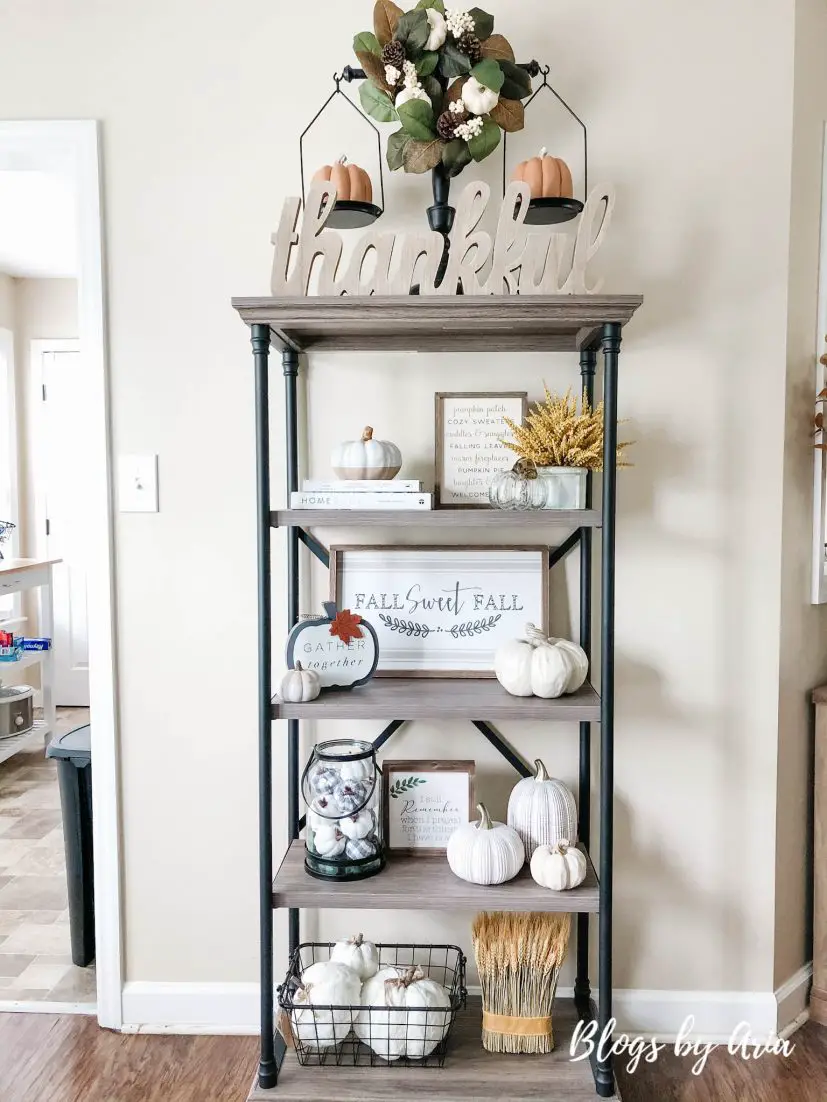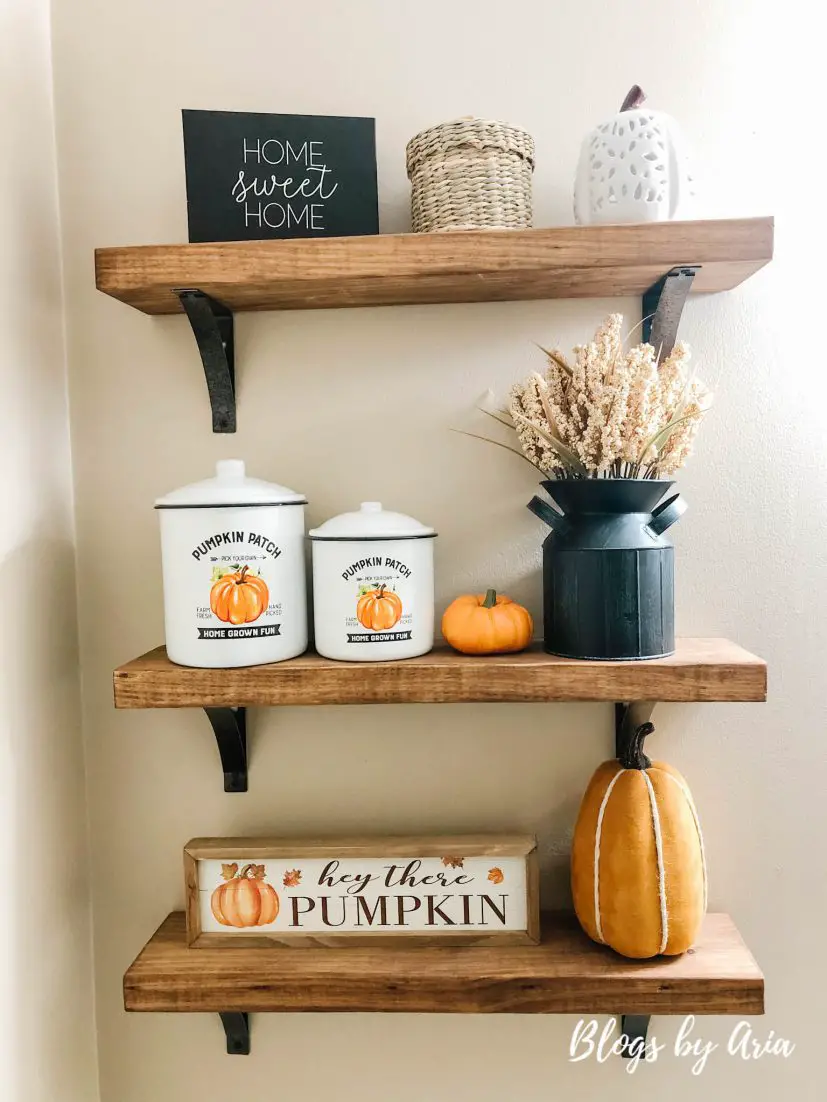 FALL BEDROOM DECOR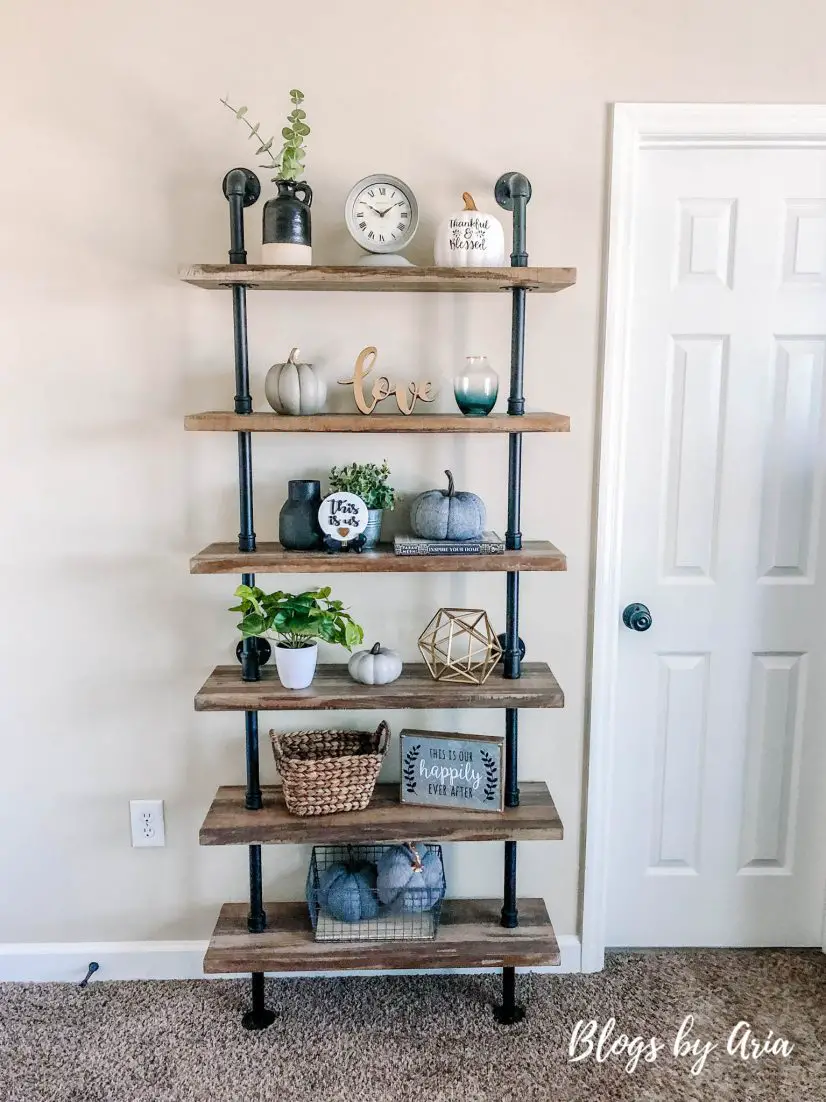 bookshelf | gray pumpkin | herringbone pumpkin
Our bedroom shelves are the final spot in my home to get a little touch of fall.  Obviously because this is our bedroom I can't add but so much even if I really wish that I could.  Our bonus room is still quite the work in progress but I still see myself really decorating the downstairs main living spaces with seasonal decor.
As you can see, just a few pumpkins in neutral tones are all I added to give a small touch of fall in our bedroom.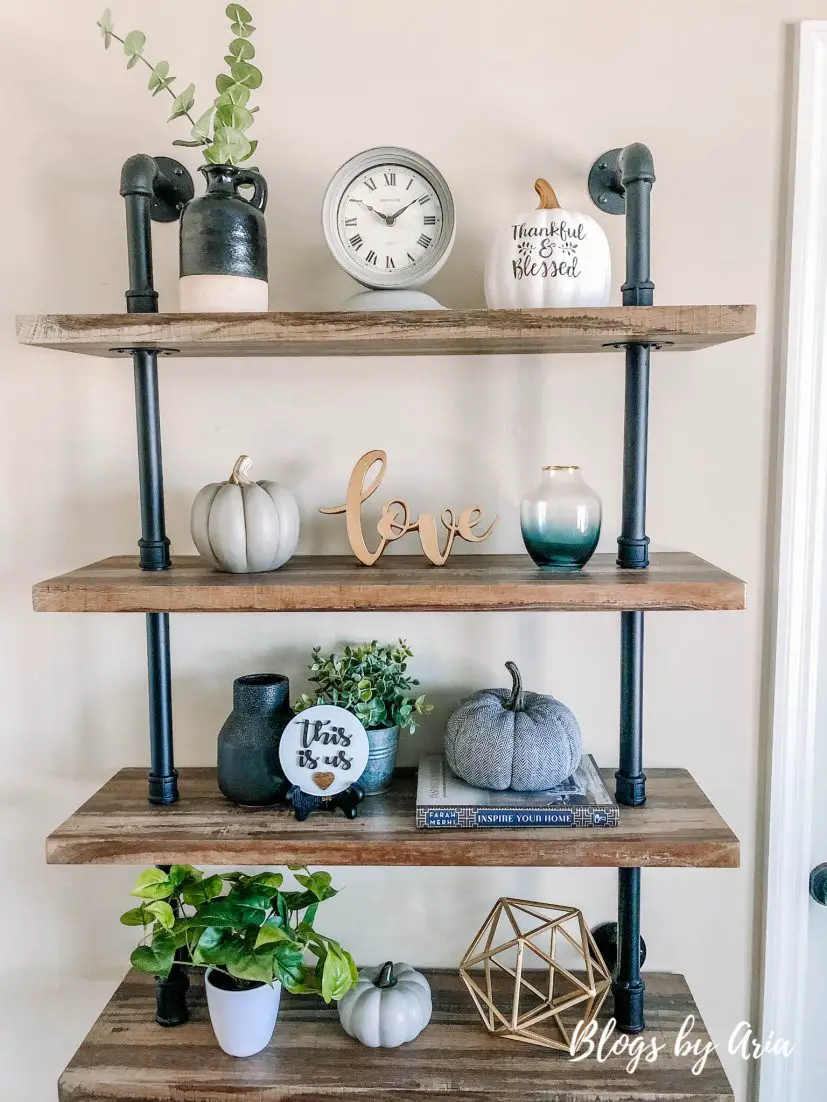 On the top shelf is a pumpkin I got two years ago from TJ Maxx.  At the time we were still new transplants to Raleigh and I just wanted a pumpkin to start my collection!  Next is this gray chalk paint pumpkin I got from Kirkland's.  It's the same as the pumpkins on my dining room book shelf, just a different color.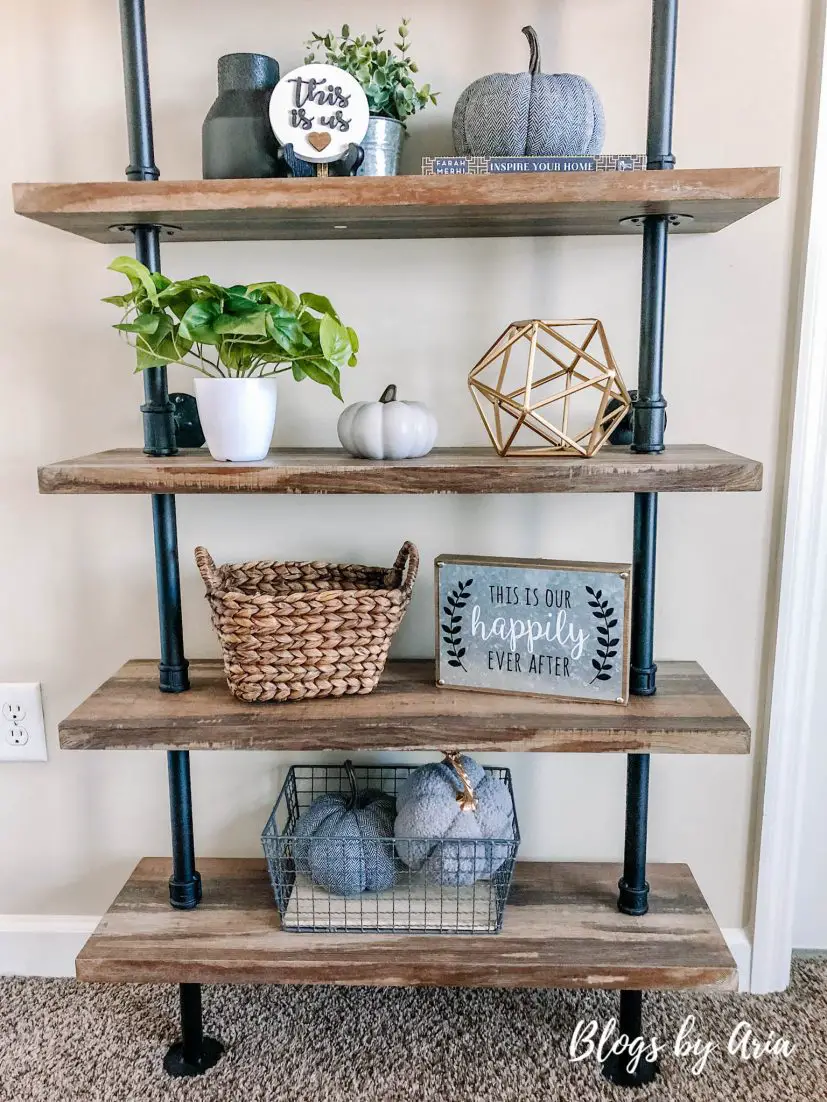 The herringbone pumpkins are from Joann's and the gray ceramic/plastic pumpkin is from the Target dollar spot along with the sweater pumpkin in the basket.
Next year I look forward to doing more with our bedroom.  I've really wanted to change our comforter to a white comforter and then I could add a cozy fall throw with maybe a couple of seasonal pillows.
That wraps up my autumn home tour!! I've thoroughly enjoyed decorating for fall this year!  It's been tons of fun and I have loved sharing it with you.  So many of you have reached out and told me that I've inspired you to decorate your home for fall and that just makes my heart so full!  Because for so many years I've wanted to be able to not only decorate like this but to share this type of content on my blog.  Now that I can, it's truly a full circle moment.  🙂
Although I have a lot of pumpkins as my son likes to point out 😉 you can totally decorate your space for fall on a budget.  Even I can admit that I have a lot of pumpkins but you don't have to do too much to bring a bit of cozy, autumn vibes into your home.  And if anything that I share inspires you in anyway I love it ♥