It's no secret how much I love shopping at Kirkland's.  So many of my decor pieces come from there.  Back in the spring I shared some of my Kirkland's home decor favorites.  With the holiday season quickly approaching I thought it would be fun to share some of my Christmas decor favorites from Kirkland's.  Many of the items I'm going to share I have either from last year or newly purchased so that I can give you a little bit of insight too.
I love Kirkland's all throughout the year, but of course my favorite time of year to shop with them is for fall and Christmas.  When it comes to Kirkland's I have been online window shopping with them for years.  I've always loved how they have something for everyone.
Walking into the store they tend to have your traditional red and green holiday decor on one side and your more neutral holiday finds on the other.  Now if you don't know, I am a full traditional Christmas girl.  I don't think I could ever go all the way neutral because I just love the Christmas colors so much!  That doesn't mean I don't enjoy seeing what everyone who does decorate neutrally does, because I do!
*this post includes affiliate links for your shopping convenience, you can read more about affiliate links by reading my Disclosure*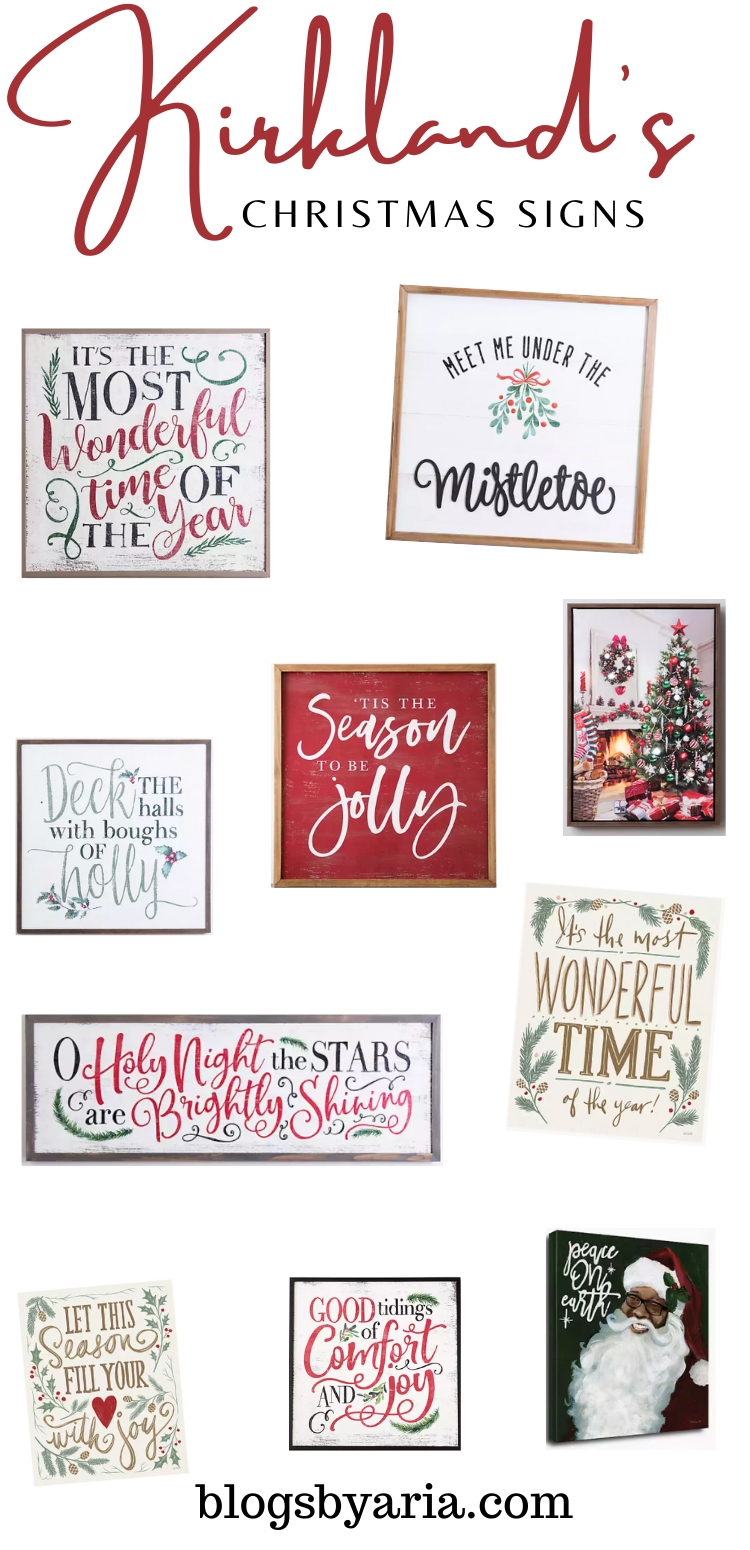 Kirkland's knocks it out of the park every single year with their Christmas wall decor.  Some of these pieces I have, some of them I want and some of them I wish I had more walls to be able to put them on!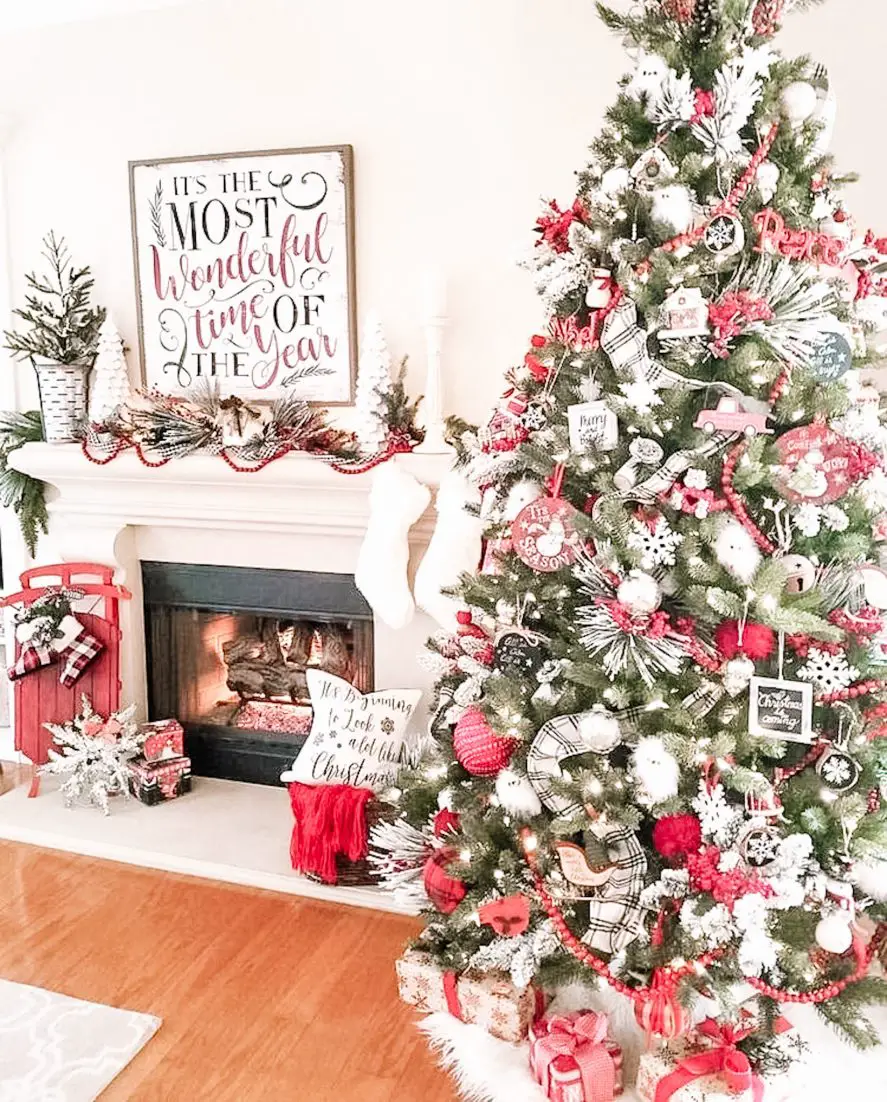 Starting with the sign I wanted so badly last year.  I shared the debacle with this sign before and I really hoped they would have it again this year.  Over the weekend I posted this on Instagram and someone commented that they do indeed have this sign again this year.  She is actually one of the buyers for Kirkland's and I'm so glad she told me.  And what a cool job that must be! 🙂
A few weeks ago I was in Apex, North Carolina looking at houses for the Parade of Homes tours.  Whenever I'm in Apex I do two things:  1) I go to Schlotzsky's deli because there's only a couple of them left in our state and 2) I go to their Kirkland's location.  It's the biggest Kirkland's store I've been in and they just have so much more than the three stores closer to me.
When I was in there I saw this super cute Under the mistletoe sign and I just loved it.  I wasn't in there to shop that day so I didn't pick it up.  But since seeing it, I couldn't get it out of my mind.  Recently during a great sale, I picked it up and I think it will be perfect over our bed.  Hopefully it works out because it's a tad bigger than I remembered.
If I had more wall space, let me rephrase that, if I hadn't already purchased a couple of signs, I'd definitely be ordering this deck the halls sign.  I love the font and the simplicity of the sign.  Although I could find a place for it, I'm going to hold off.  As we get closer to Christmas, Kirkland's has amazing sales and maybe I can get it then.  It's definitely on my list!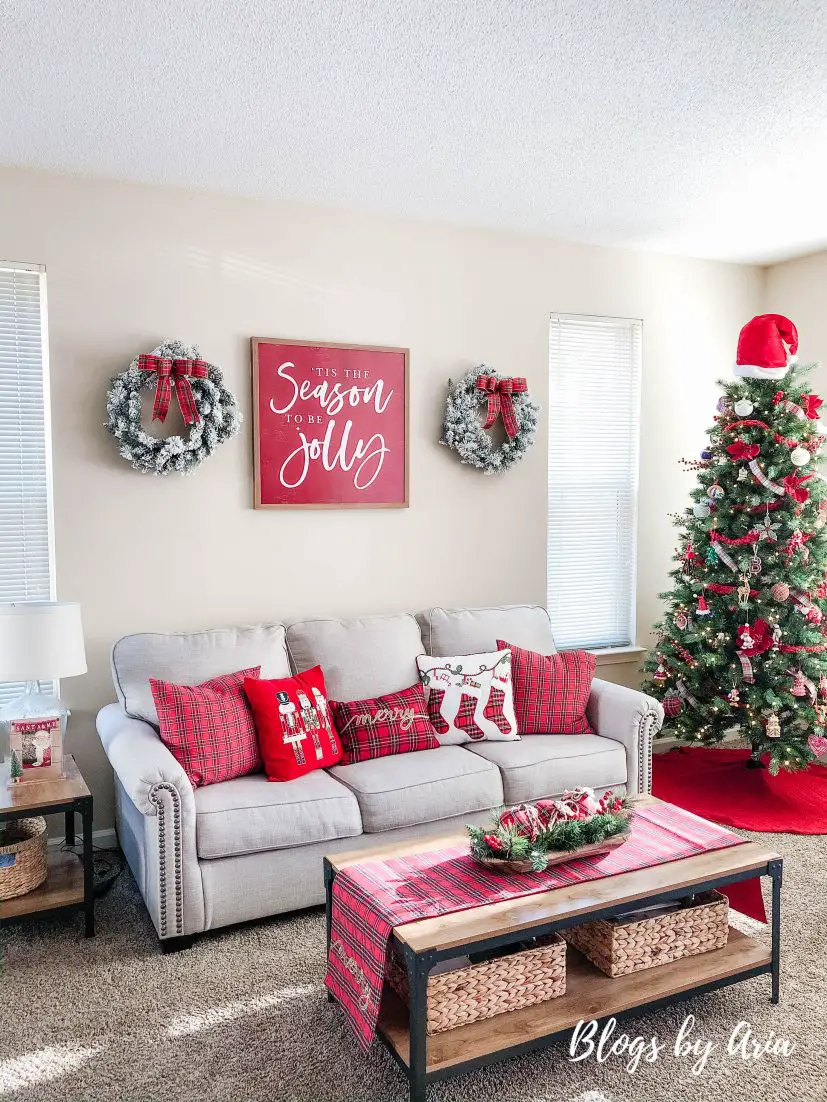 Now you already know how much I love my tis the season sign that I scored last year on an amazing deal after I couldn't get the wonderful life wall decor.  Thanks to a great sale and my birthday coupon I picked up this red sign that really popped with my decor.  Such a great find and I'm excited to use it again this year!
I love Christmas art as a way to add to holiday decor.  Kirkland's has so many great options, way too many for me to share!  But I wanted to share this one because it's my favorite that is budget friendly.  A traditional Christmas scene is my favorite!  What also makes this sign so special is the tree, wreath, fireplace and gifts all light up!  So much fun!
Can you tell that I love this style of sign Kirkland's has?  I really would love to add this Oh Holy Night sign to my collection but I don't have space for it.  And where I think I may have a spot for it, would be too matchy-matchy for my liking.  Oh well.  Can't win them all right?
Both the It's the Most Wonderful Time of the Year wall art and Let this Season Fill Your Heart with Joy wall art are from the same collection as you can see.  They're both so beautiful!
When I first saw this good tidings sign I fell in love with it.  I knew that it would ease my pain from not getting the sign last year.  I purchased this wall decor before I found out about the wonderful life sign being available, but I got it in store.
It was a tad bigger than I expected, so when I got home I put it where I plan to use it to make sure it wasn't too big and I was so so so excited with how good it looks!  I almost wanted to leave it up but I'm pacing myself 🙂  I'm so glad I got this sign on a great sale!
Like I mentioned before, Kirkland's has tons of sales closer to the holidays but I've learned that there are some things I'm not willing to take my chances with.  Some of the wall art falls into that category!
My love for black Santa runs deep and I saw this Peace on Earth Santa art and had to share it.  I didn't buy this but I did find something similar I'll share with you when I start to share my holiday decor.
KIRKLAND'S CHRISTMAS WALL DECOR
Click on the items you want to get sale alerts for or to shop!
Moving on from decorating your walls for Christmas, I wanted to share a few other holiday decor finds from Kirkland's.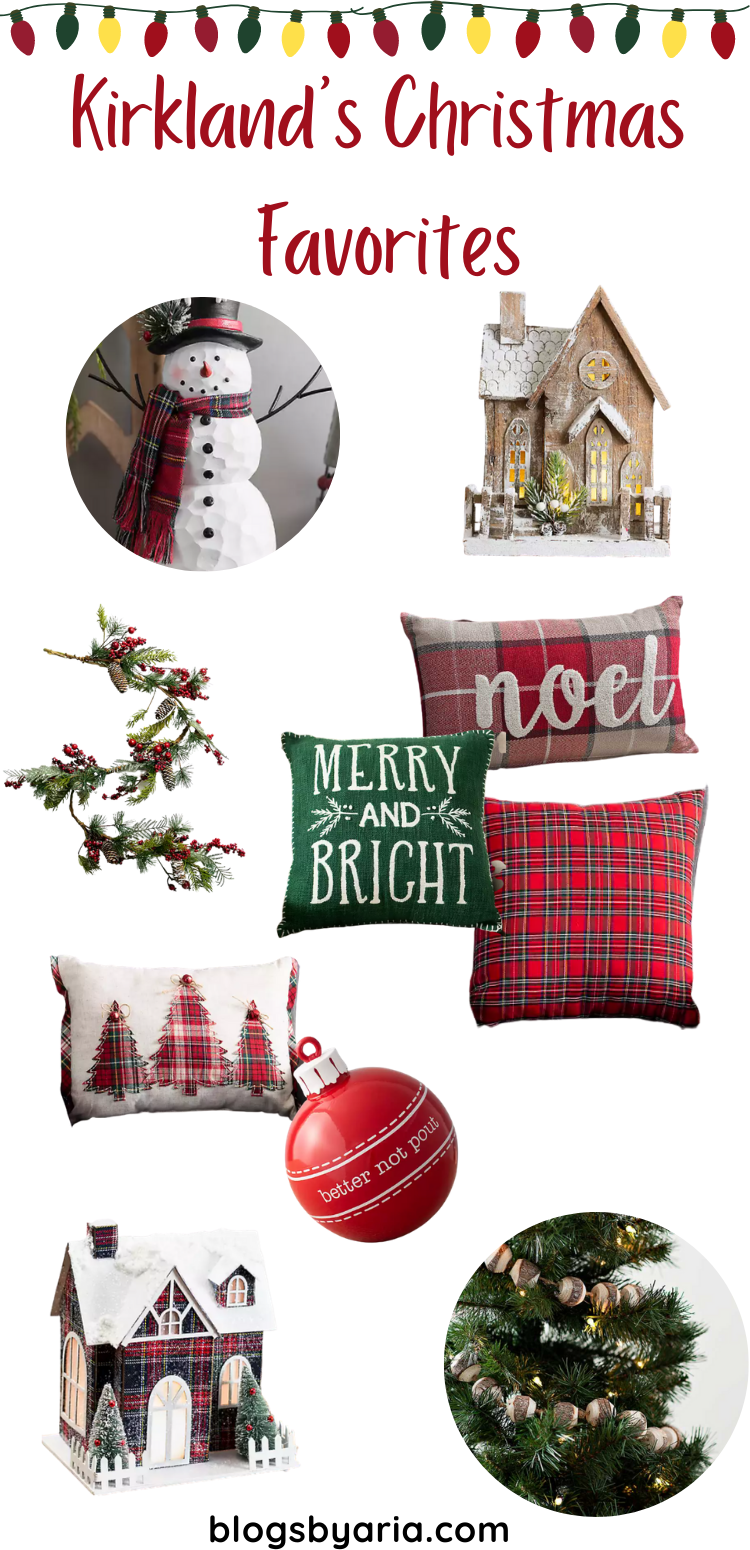 Of course I can't resist a cute snowman, especially when he's wearing a tartan plaid scarf!  In case you missed it, I have a slight obsession with all things tartan plaid.
This neutral house is perfect if you're doing a more neutral Christmas theme.  Using houses like this are great to create vignettes.
Kirkland's always has nice garland and I like this pinecone and berry garland.
When I first saw this merry and bright pillow I was drawn to it because it's such a pretty green color.  I'm naturally drawn to red but it's so pretty.  I'm staying strong though, because I do not need anymore Christmas pillows!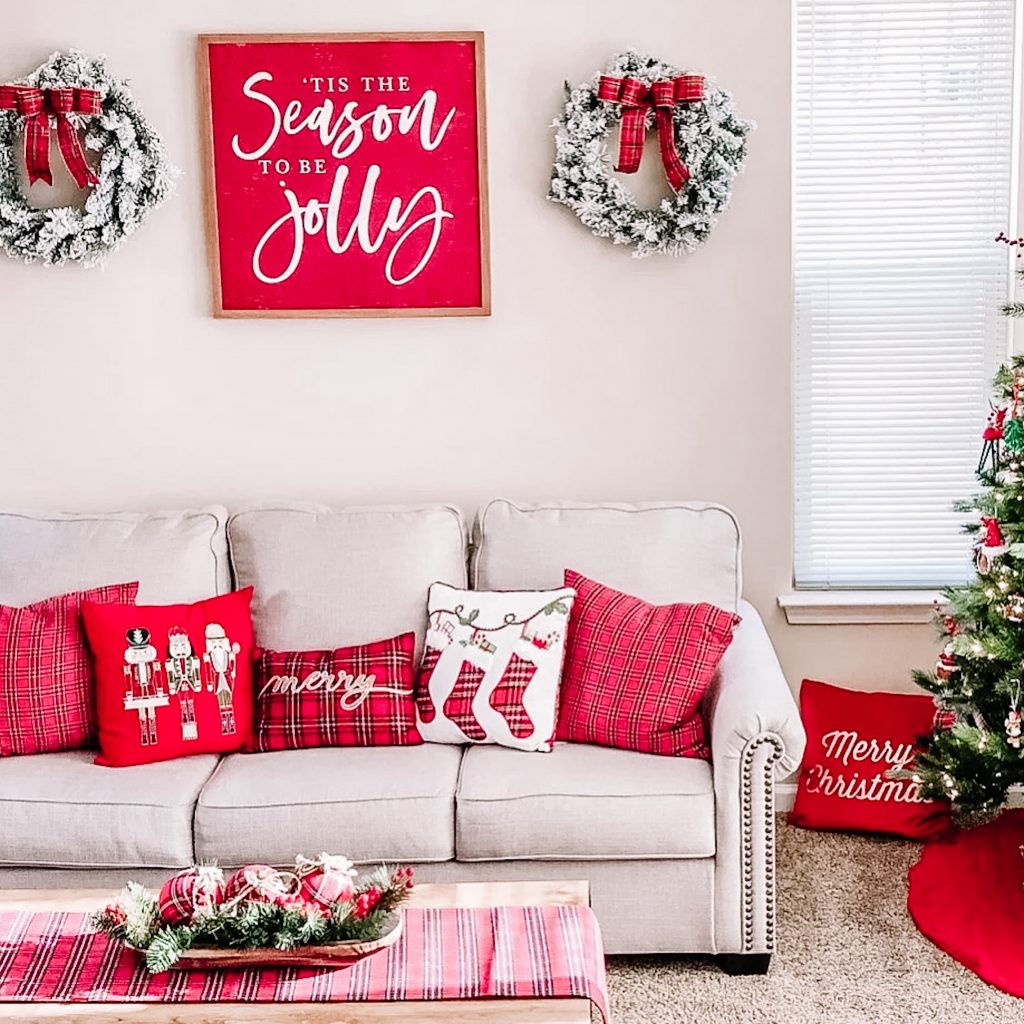 I also really like this plaid noel pillow.  There's also a merry plaid pillow too if you like them as a set.  This tartan plaid pillow I have a pair of in my collection from last year and I can't wait to pull them out again!  They're feather filled and a perfect base pillow to go along with more decorative options.
Admittedly I'm slightly tempted to pick up this plaid trees accent pillow.  Clearly it would fit right in!  But I'm staying strong!
I saw this better not pout ornament in store and I kinda wish I would've grabbed it.  It's a decorative piece, not an actual ornament and I think it would fit perfectly on my TV stand shelves.
Last year I always eyed this tartan plaid house when I was in store but I never purchased it.  I'm still eyeing it but I'm not sure if I'll be adding it to my collection.
Last but not least, I'm sharing this birch wood beaded garland because it was really popular last year.  If you decorate for the holidays with a neutral theme you'll probably want to get your hands on these now!  I can definitely appreciate the look of them even though they wouldn't fit within my Christmas decor.
Can you tell why I love Kirkland's Christmas decor so much?  I also love a lot of their tree ornaments and have a couple from this year and last year.  Check out some of the cute ones I found this year below.  When you shop in store you're buying a single ornament but online they're usually sold in sets of two or three.
I hope you found a few fun finds you may want to use during your holiday decorating this year.  I know I sure did 🙂  But you already knew that!  Until next time my friend ♥
SHOP MORE HOLIDAY DECOR FINDS