Decorating for the holidays is so fun for me.  I love to get inspired seeing so many different decorating themes and styles too.  But holiday decorating can get kind of expensive.  I like to ball on a budget and if you do too I'm sharing a few ways to add festive touches throughout your home without breaking the bank.
*this post includes affiliate links for your shopping convenience, you can read more about affiliate links by reading my Disclosure*
Before I share a few of the ways I've decorated for the holidays on a budget, I want to share a few basic thoughts:
Shop sales – The biggest way to get more bang for your buck is to shop sales.  Even better is if you shop after Christmas clearance sales.  The downside to this is 1) you may not be able to get exactly what you were looking for and 2) you may buy things that you don't like or use the following year.  Still, this is the best way to shop for holiday decor.
This year especially, the supply levels are just not there.  Before Thanksgiving my local Hobby Lobby already looked like it was after Christmas because almost everything was gone.  I've never seen that before.
Last year I didn't want to wait until Black Friday to get my new Christmas tree.  But I knew that I wanted a really nice quality tree without spending an arm and a leg.  Thankfully I was able to save $150 by getting it on Black Friday.  Yes I said $150!!
Shop thrift stores – I'm not a big thrifter, but a lot of people will go through their holiday decor bins and realize they're holding on to items they don't want anymore.  Another person's trash can be your treasure!  I'd also venture to guess that in January there will be a lot of new finds in thrift stores too.
Take hand-me-downs – If you're fortunate enough to bring some of your childhood Christmas decorations into your home now, then you have a place to start.  After college my mom gave me a box of Christmas decor from years past.  Now I have some of my ornaments that I made as a kid.  As well as ornaments that I grew up putting on the tree.
Have patience – As much as I wish I could, I didn't buy everything new this year.  It takes time to build up a holiday decor collection.  Some years you can buy more than others.  But most years, it's more feasible that you're adding a few new things at a time.
Last year in addition to getting my new tree, I got a statement wall piece, Christmas pillows and a few specific pieces to work into my tartan plaid theme.  This year I'm able to build on to what I had to make my decorating collection more full.
Now let me show you a few ideas of how to add some holiday cheer in your home without spending a lot.  And might I add, without DIY?  Because I'm not that girl, as much as I'd like to be.  Whether it's your first Christmas as an adult in your apartment, or you're in a new home, starting a family or just want some new ideas, I think you'll find something here that you can easily incorporate into your home.
FILL SOMETHING WITH ORNAMENTS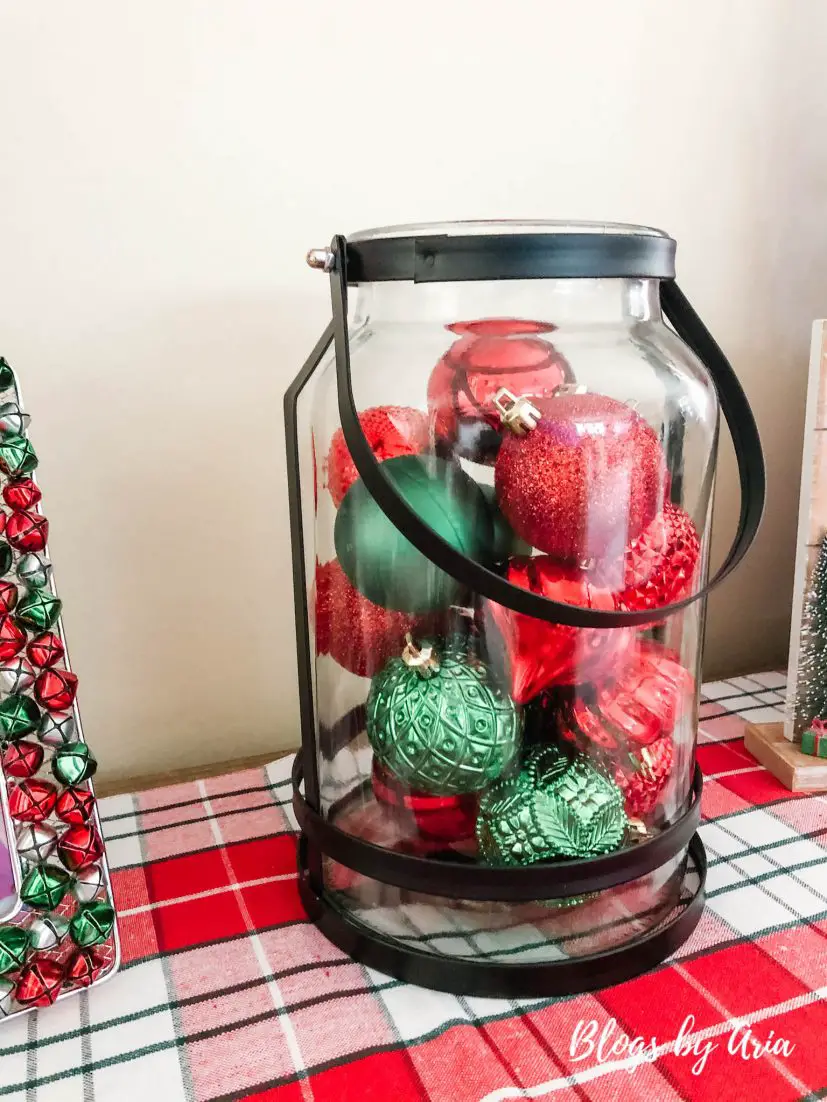 The hands-down easiest and most inexpensive way to add Christmas decor is to use a bowl or a vase or a lantern and fill it with ornaments that match your theme.  For example, here I used my glass lantern that I already had and filled it with simple ornaments that came in a large pack from Walmart for less than $5!
Word of caution:  I suggest you don't do this with glass ornaments.  But if you do have some glass ornaments you'd like to display, I think they would work better in a nice shallow bowl.  That way you're not stacking them, you're more so setting them, if that makes sense.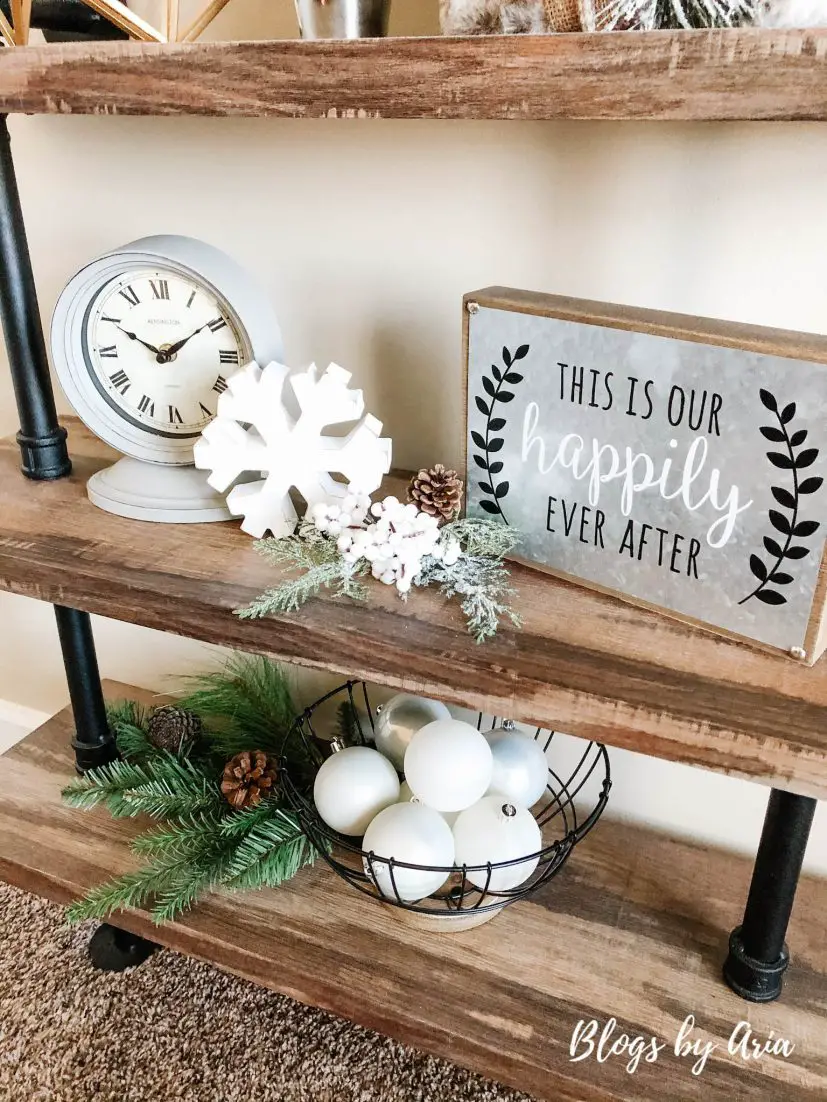 Do you have a nice serving bowl you're not using?  Use it for the ornaments!  It doesn't take a lot of ornaments to make it work either.  If you are working with a larger bowl or one that isn't see through, fill the bottom with hand towels so you're not stacking a lot of ornaments nobody will be able to see.
ADD CHRISTMAS GREENERY
Nothing adds the feeling of Christmas inside than with floral and greenery.  Sure you can add festive stems to a vase or pitcher rather inexpensively.  It's an easy way to add a big impact.  Another way to use greenery is to adorn wall decor with them.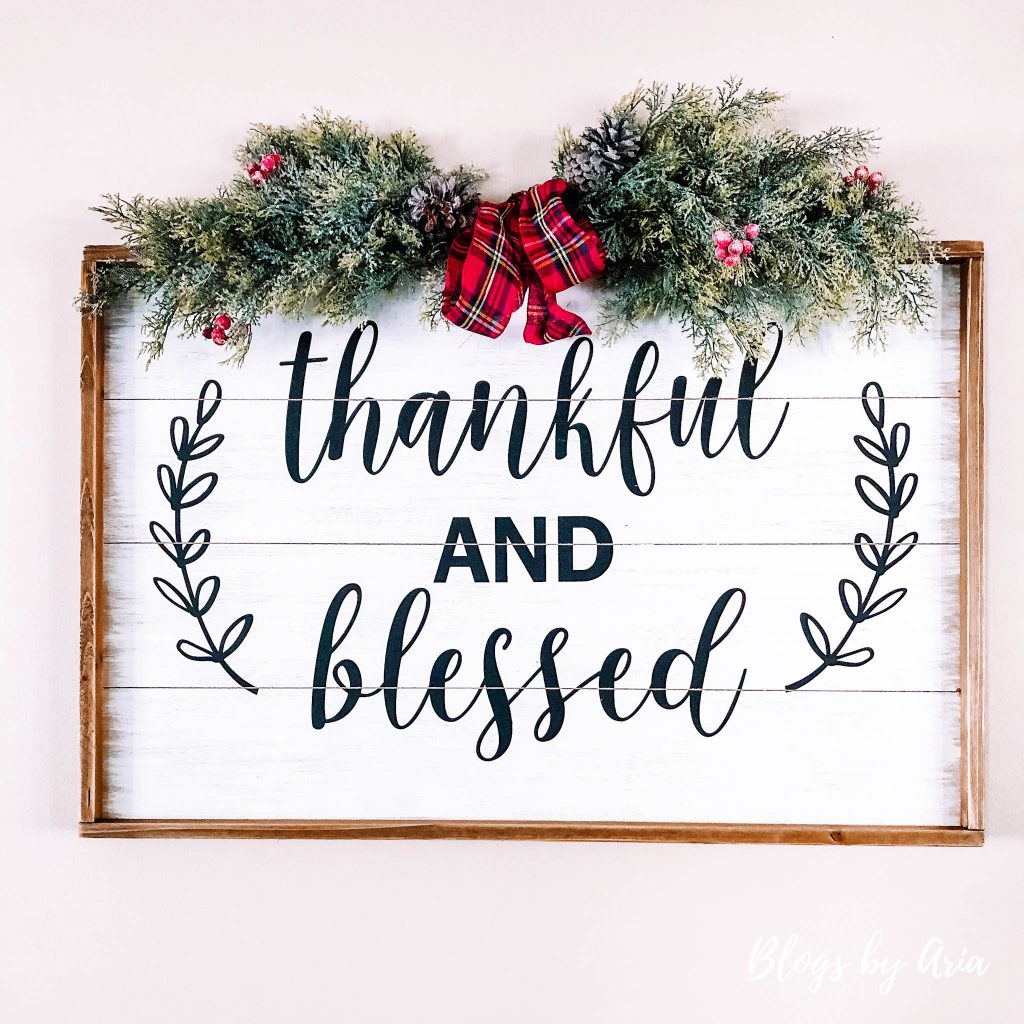 For example, I took two large stems and tied them together with a zip tie to put on top of my non-seasonal wall decor.  And voila!  It's Christmassy! This trick also works over doorways.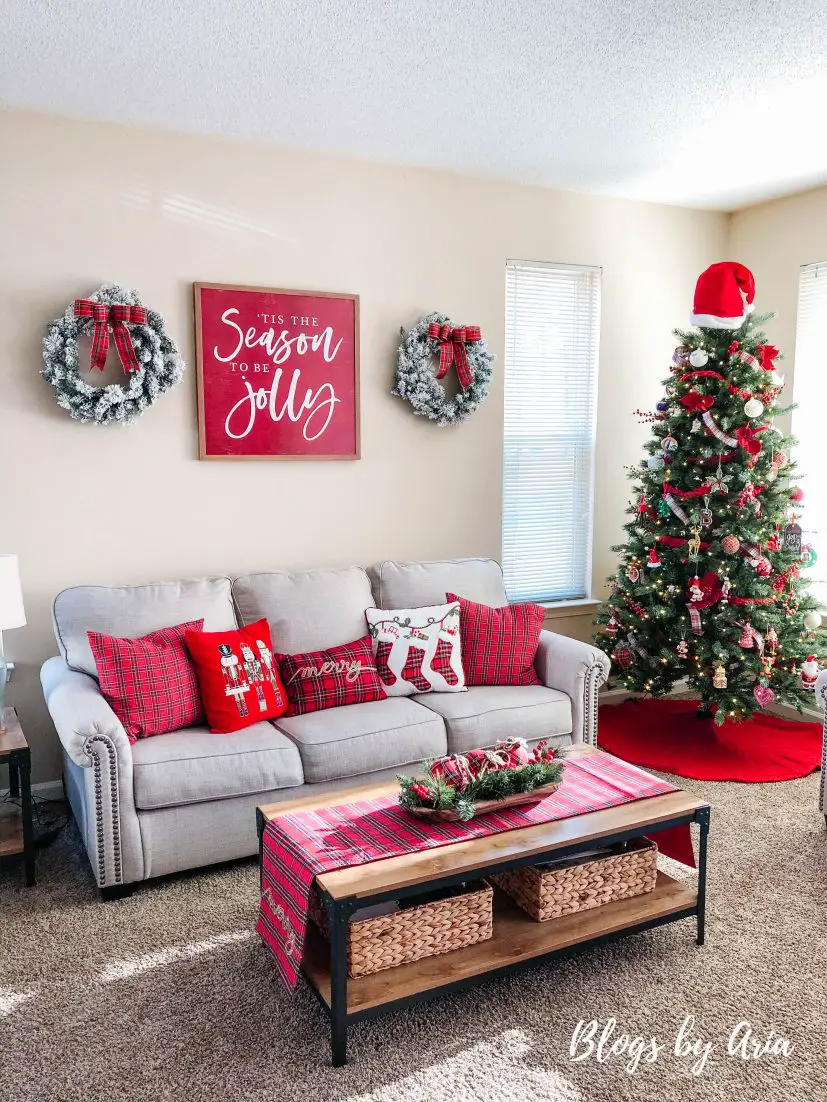 And wreathes and garland are a good option that don't have to bust the budget.  You can use a wreath for indoor wall decor and on interior doors.  We used them on our wall in our last home.  This year I'm using garland over windows and doorways too.  You'll see when I share my kitchen this year, how I turned $5 garland into a showstopper.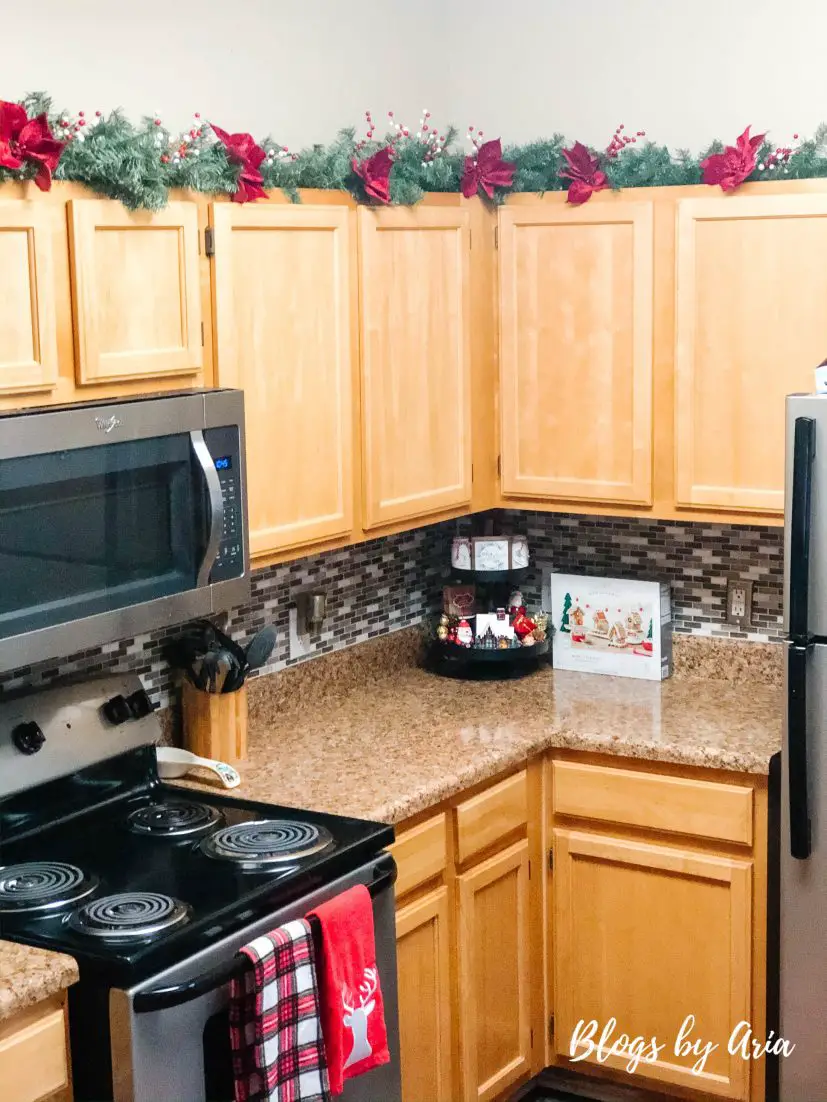 Speaking of kitchens and garland…on top of cabinetry is another inexpensive decorating trick.  Just beware that some garlands shed like crazy, I speak from experience!
DECORATE A TIERED TRAY
If you're not new here, you know I love to decorate tiered trays!  I shared a lot of Christmas tiered tray decoration here.  Styling a tier tray can be an inexpensive way to decorate for the holidays.  The smaller the tier tray the less expensive it is!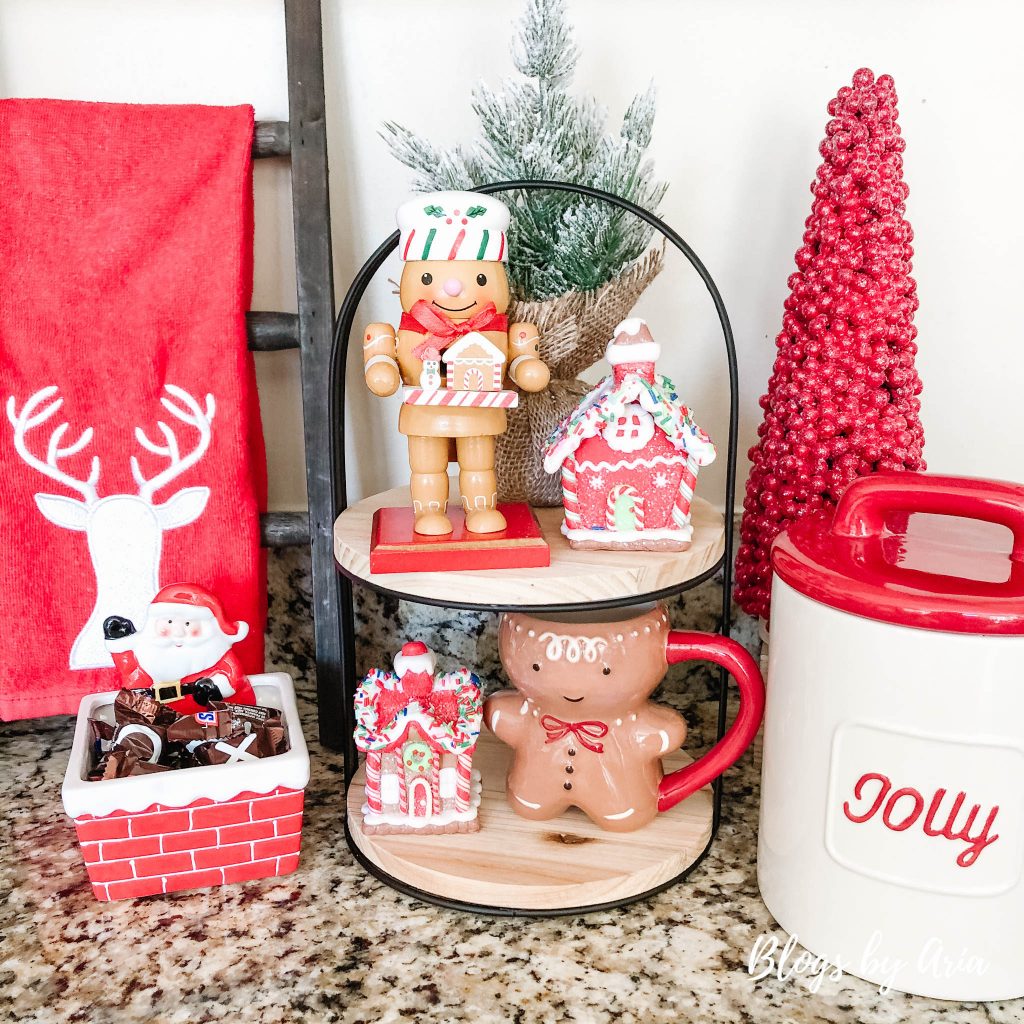 I picked up this $5 tier tray from the Target dollar spot and for around $20 completed the look.  The picture is styled for Instagram, but as for the tray itself, the most expensive item is the gingerbread nutcracker.  He's from the At Home store and is $6.99.  The two gingerbread houses are actually ornaments, I just took the hooks off.  They're also from the At Home store and I got them all for 15% off.
The little Christmas tree was $2.50 at Hobby Lobby and my favorite piece is the gingerbread mug from Target!  He's only $5 and is the cutest thing!
USE WRAPPED GIFTS AS DECOR
Whether it's under your tree or styled on a shelf, wrapping faux gifts to match your holiday decorating theme is an easy way to add that extra touch of wow.  I did this last year on my bookshelf and pulled out those same gifts this year.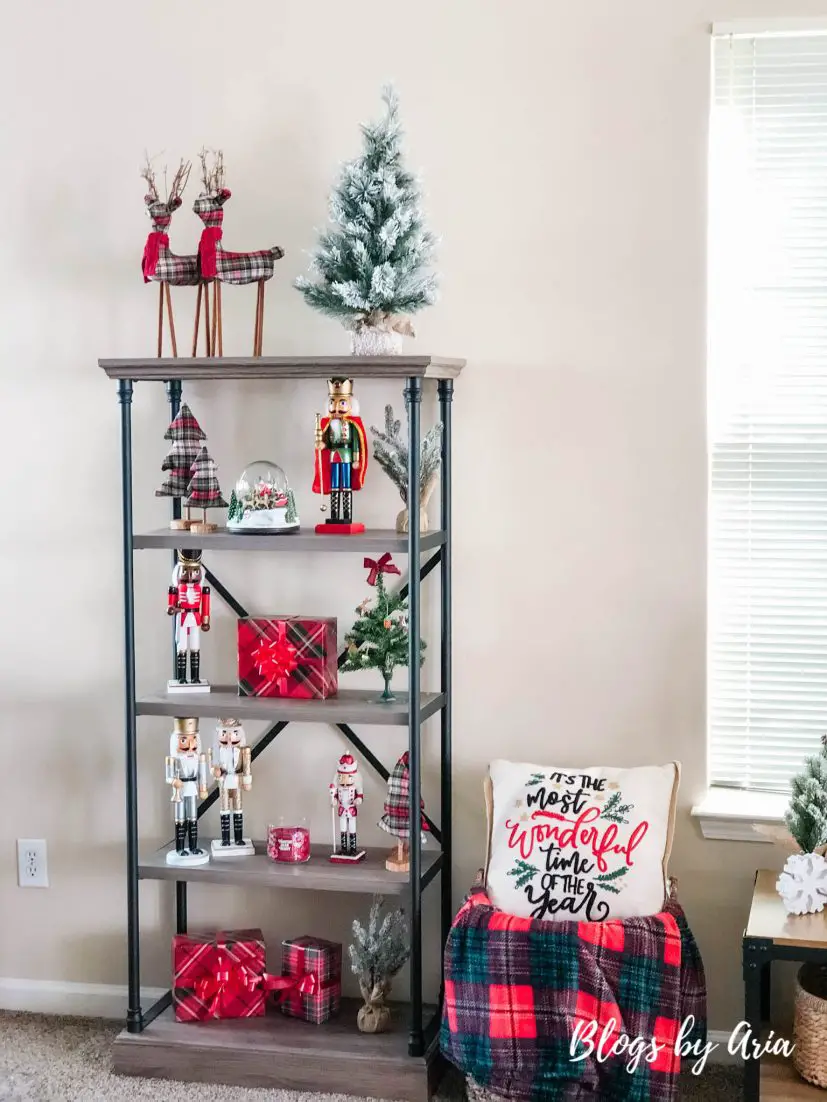 The best way to do this on a budget is to use gift boxes you already have on hand or to use shipping boxes from your online purchases.  One way I like to do it, is to buy those sturdy gift boxes from Walmart.  They come in a variety of sizes and I use them each year for our gifts.
If I'm giving a gift away to someone outside of my household, I'll use the cheap boxes that can be torn up.  But for inside my home I use these gift boxes and after all the gifts are unwrapped, I gather them back up and store them away for next year.  Most of the ones I have nest inside each other so they don't take up a ton of space.
This year I purchased a few more so I could have different sizes and they're perfect for wrapping and styling under the tree before you pull the real gifts out.  Or they're great on a shelf display.  Many stores sell faux gifts dolled up with all kinds of extras.  But you can create the same look for less money.
You can take berries and greenery off a pick and tie it on top of the gift to make it extra special.  The Container Store has tie on ornaments that are designed to adorn a gift.  I love so many of the options they have like this mistletoe and bells ornament.  These wreath toppers would work well too that I recently picked up from Target.  But you can also turn any ornament from your tree into a gift topper too.  Get creative!
ADD HOLIDAY PILLOWS
Nothing can change up a space from season to season like throw pillows.  You don't need a ton of them either.  I believe in both buying pillows and buying pillow covers.  Sometimes you just can't find what you want in a pillow cover and that's okay.  That's why I'm a fan of both.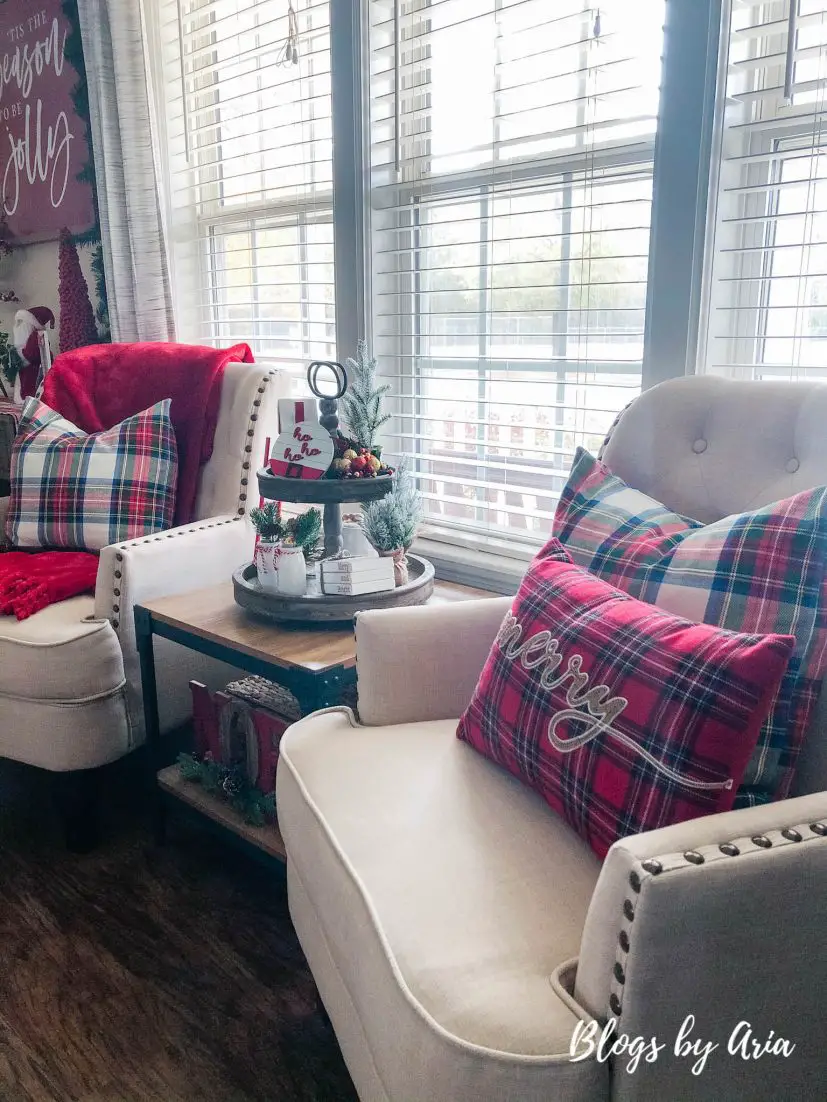 This year to go with my tartan plaid theme, I knew that I wanted to add a little more of the white tartan plaid print, also known as the Stewart plaid.  But I really didn't want to add anymore pillows to my collection, because I have too many as it is.  And I wasn't finding what I was looking for anyway.
So I decided to look for pillow covers and found this option on Etsy that had the exact print and colors that I was looking for.  Instead of buying new inserts (because the ones I already have from Amazon are smaller than the size I wanted) I took the feather filled inserts from my blue plaid pillows and put them inside these covers.  After the holiday season I'll just put them back in my everyday pillows.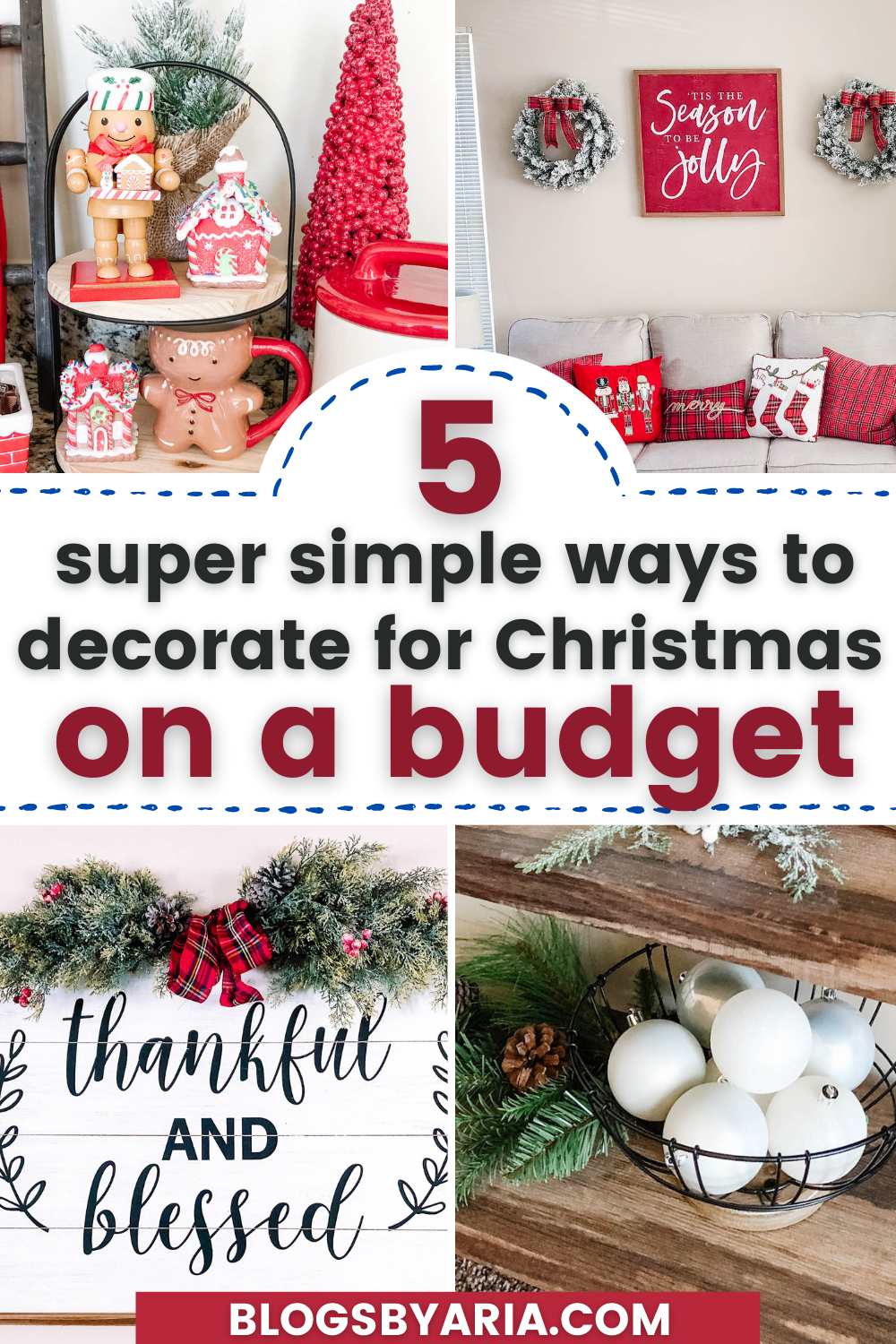 When it comes to decorating your home for the holidays it really is about doing what sparks joy for you.  Whether you prefer a minimalist style or you like an over the top look, or somewhere in between, you can absolutely create the look for less.
Hopefully you got some good ideas you can use in your home to bring in all of the Christmas vibes without spending a lot of money.  These are just a few.  Stay tuned for a lot of Christmas decorating inspiration coming your way.  I think I can finally say that I'm finished decorating.  Now I'm taking the pictures so I can share them with you here on the blog.  You won't want to miss it ♥