This is a first!  I don't think I've ever shared my bedroom on the blog but today I'm happy to share my master bedroom decorated for the holidays!  It's always been a dream of mine to have a Christmas tree in our bedroom.  Let me take you on a tour of our Christmas master bedroom.
It doesn't take much to add a festive touch to your bedroom for the Christmas season.  Last year I got us a set of holiday flannel sheets and this year, let's just say I did a whole lot more than that! 🙂
*this post includes affiliate links for your shopping convenience, you can read more about affiliate links by reading my Disclosure*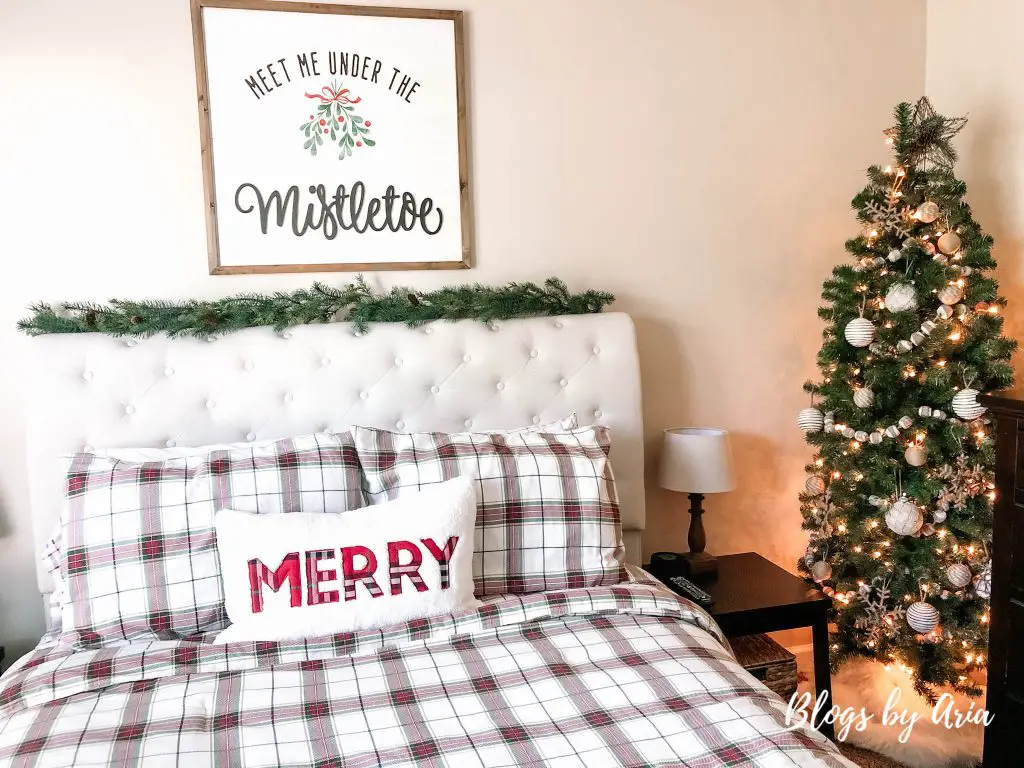 HOLIDAY MASTER BEDROOM
After years of wanting holiday bedding, I finally found this beautiful comforter set from TJ Maxx.  It's a nice heavy weight and is so comfortable!  To find a dupe for my much coveted Stewart plaid bedding from Pottery Barn for a fraction of the price was a happy day for me!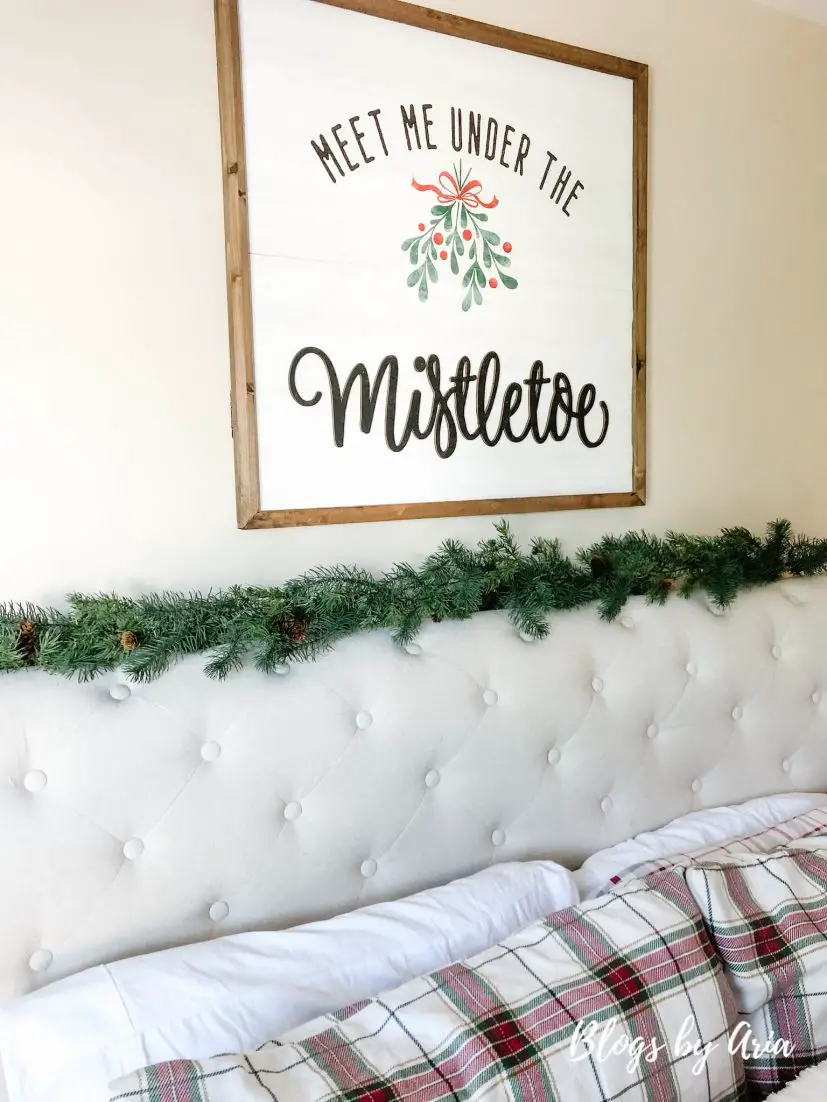 Over our bed I added this beautiful meet me under the mistletoe sign I got from Kirkland's.  When I first saw it in store it took my breath away!  And I knew it would be perfect over our bed.  You can see some of my favorite Kirkland's Christmas signs here.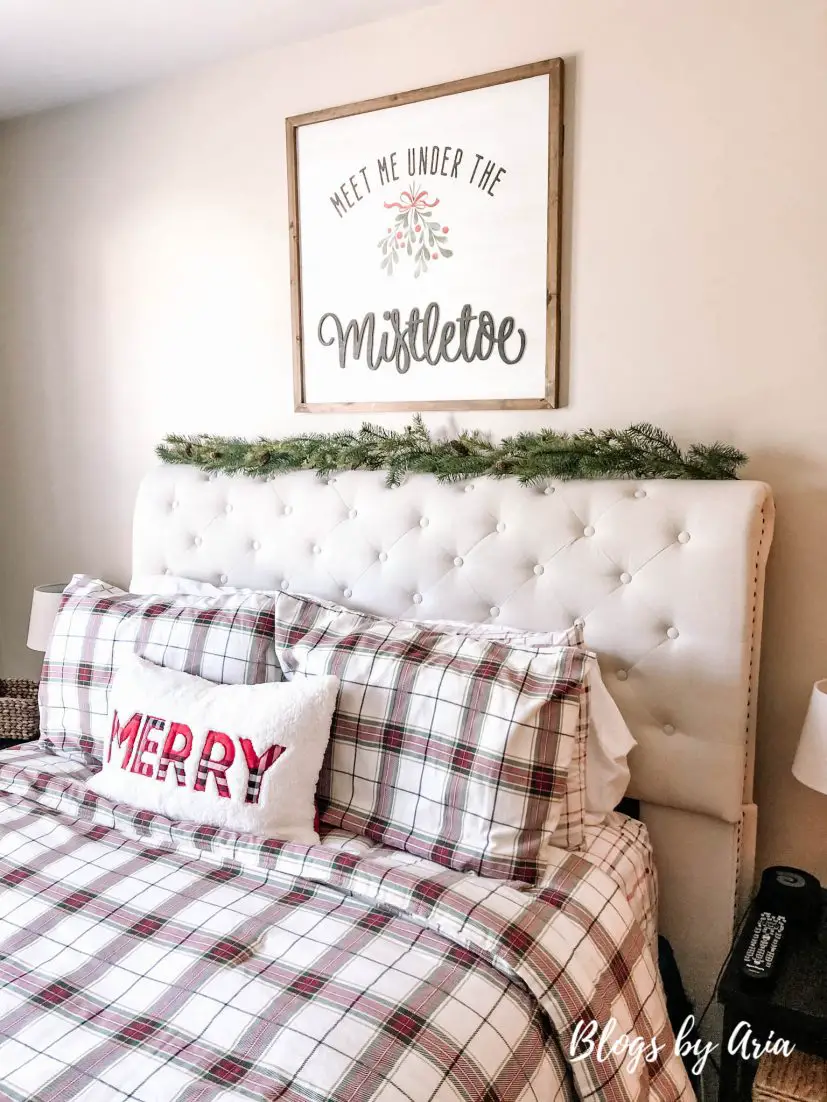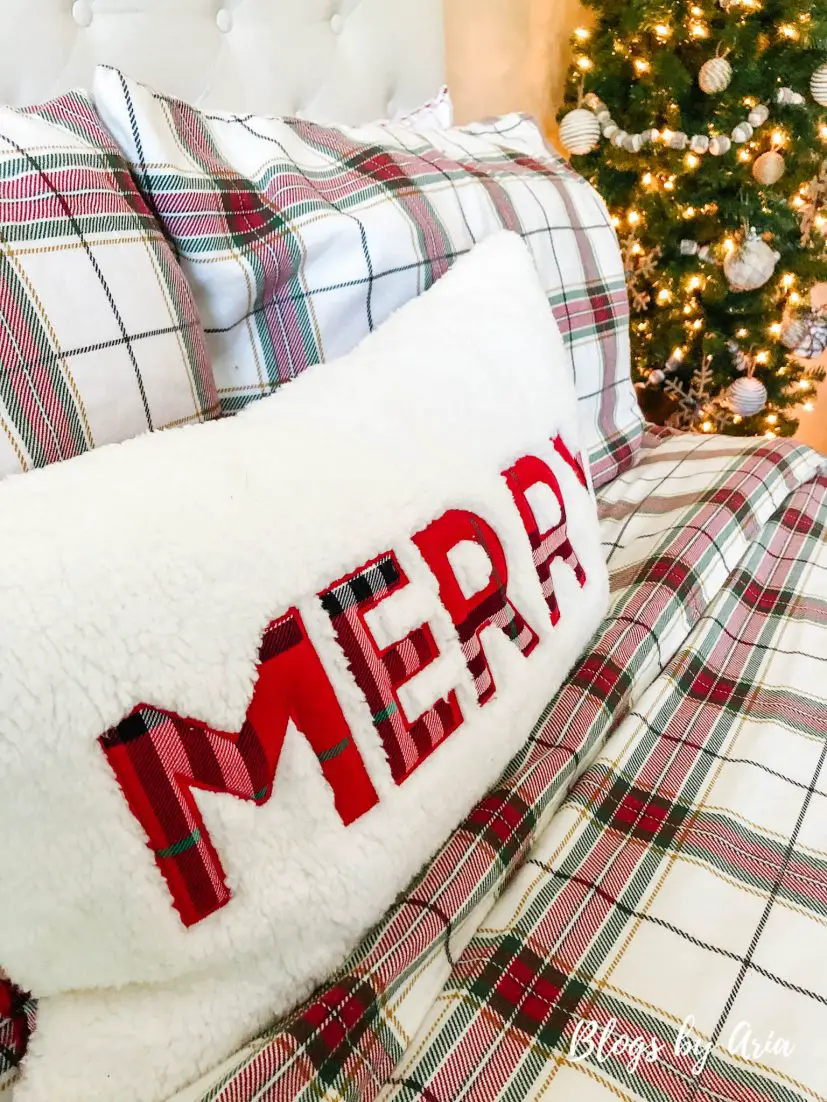 I knew that I wanted to add garland on our tufted headboard but I didn't want it to be too fussy.  This is the third garland I tried and I got it from Michael's.  I really wanted the look of a beautiful cedar garland but wasn't successful with that attempt.  Third times the charm and I like the look of this pinecone, angel pine and spruce garland.
Before I move on from the garland let me just say, I've struggled to get garland to stay up on my headboard.  I searched on Google and Pinterest and couldn't seem to find anyone really share how they attached the garland.  So After watching a few decorating videos on YouTube, I realized the trick is to use push pins.  Since it's tufted, I just have a push pin on each end to hold the ends of the garland in place.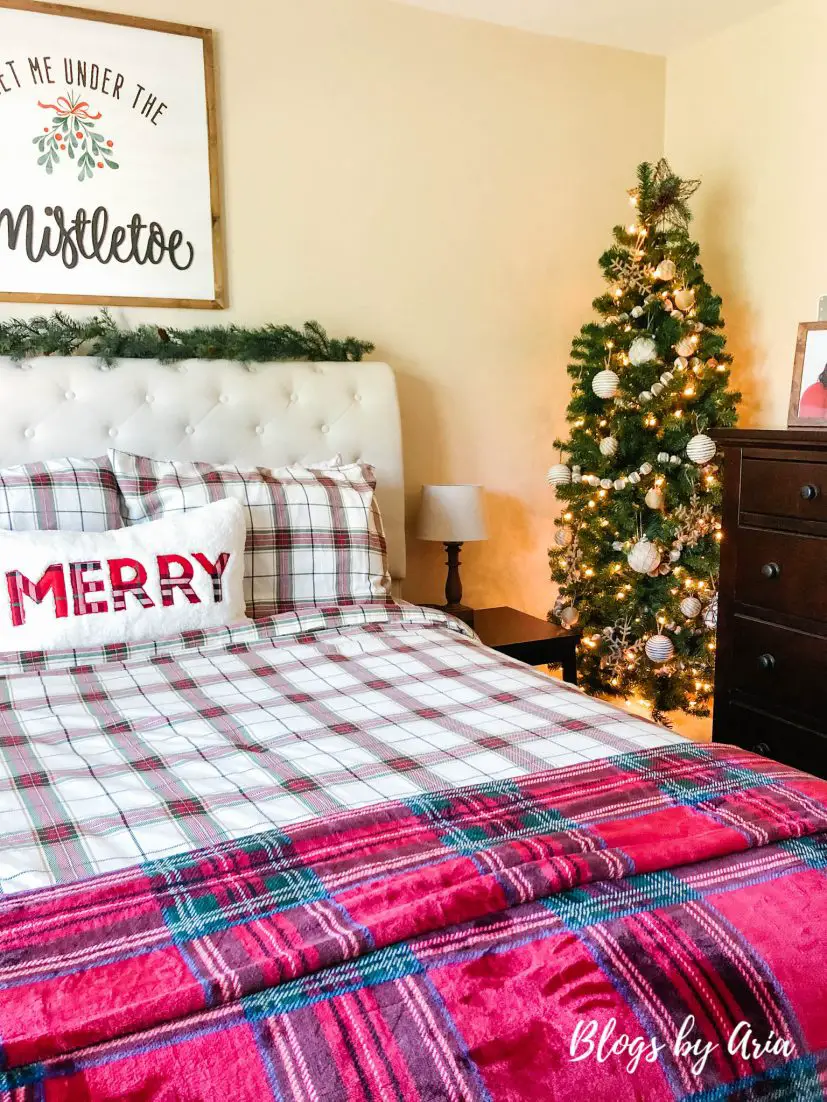 Before I found the holiday bedding set, I had already purchased this tartan plaid blanket for our bed.  Clearly it goes against the more neutral styling of our bedroom but ya'll know how much I love tartan plaid!!  Having it at the foot of the bed is great for cuddling up with.
BEDROOM CHRISTMAS TREE
It took some convincing, but I was able to get my husband on board with having a Christmas tree in our bedroom.  I'll admit, I was thinking of just putting it up anyway but I wanted him to know what to expect.  He's finally come around to accepting that I'm not ever going to do anything too crazy with decorating.  Especially not in our bedroom.
At first I was going to just add the holiday bedding, my sign and garland on our headboard and call it a day.  But since we haven't purchased larger nightstands yet, I have this empty space next to my side of the bed.  A space perfect for a slim Christmas tree.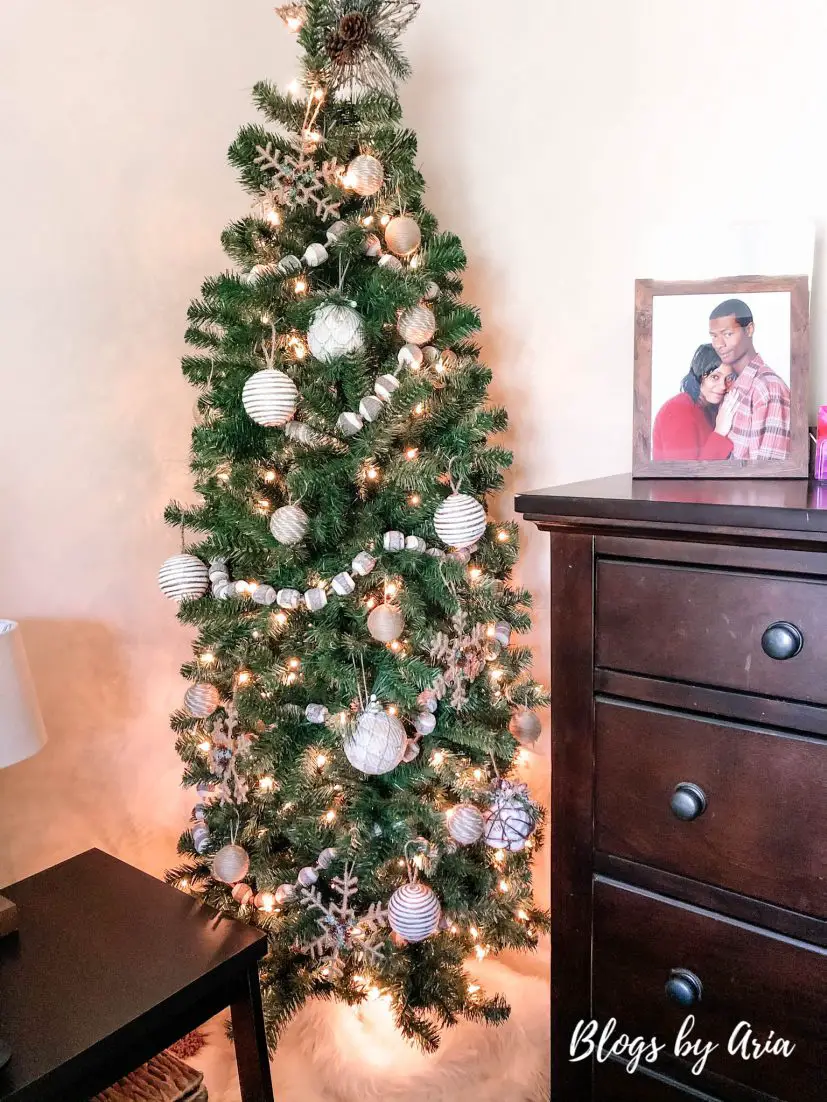 I knew that I wanted a slim tree, that wasn't too tall because we have a tray ceiling.  After looking online for something else, I saw this green spruce pencil Christmas tree and thought it would work perfectly in the space.  I got it in the 6.5′ size because we have the tray ceiling that you can't really see in the pictures.  I didn't want to go too tall, but I could have probably gone up to 7 feet.
NEUTRAL CHRISTMAS TREE DECOR
Because this tree is in our bedroom I thought it would be fun to do something a little more neutral.  With so many festive colors throughout our home for the holidays, going neutral seemed like a welcome challenge.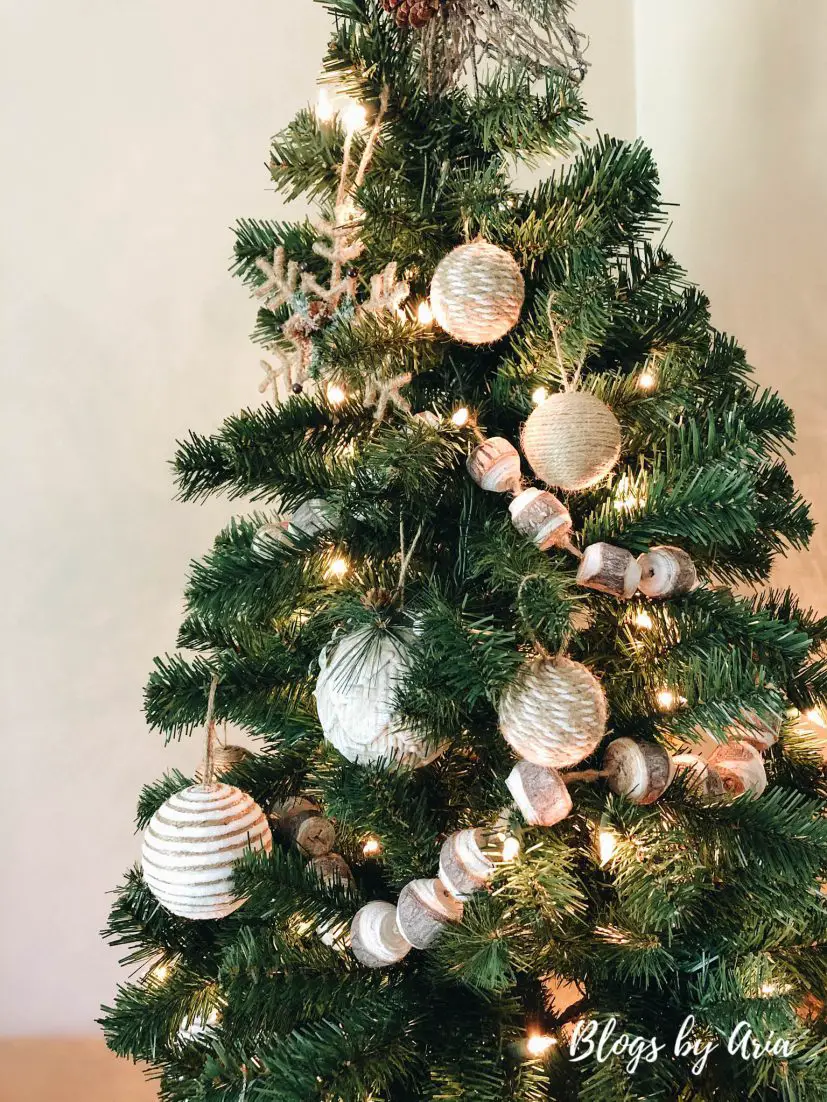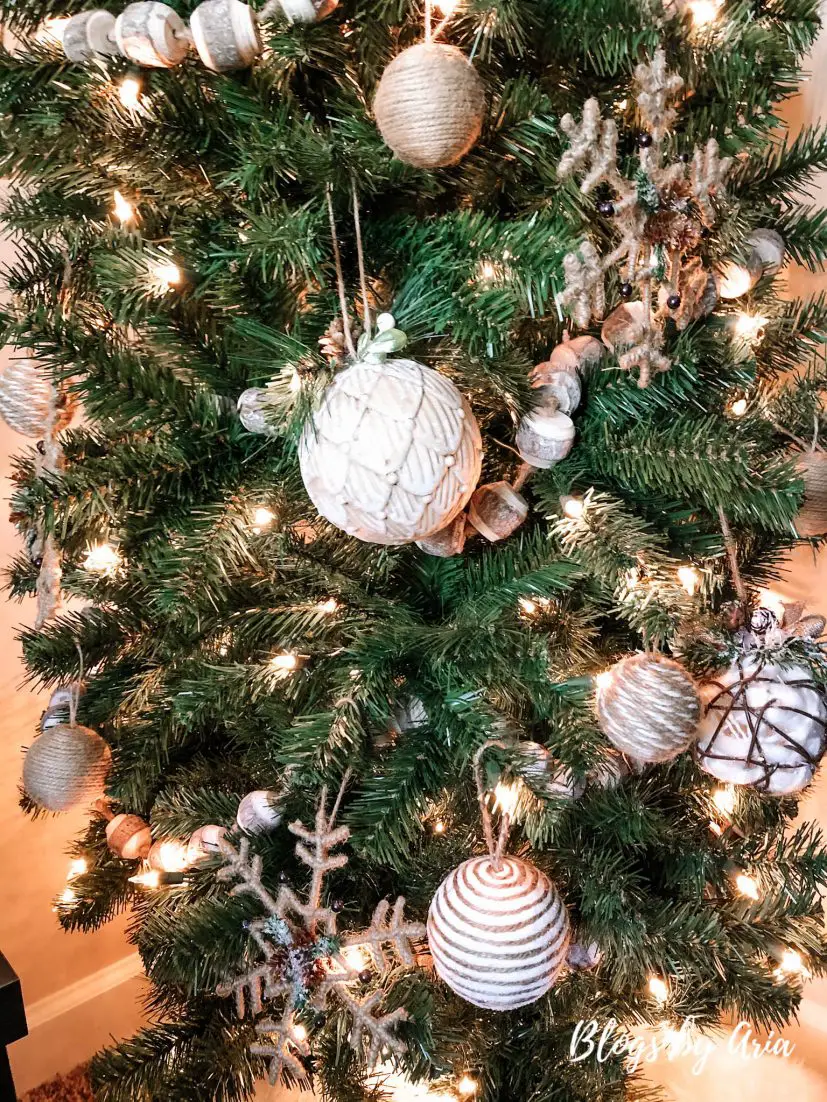 Remember when I shared my Kirkland's Christmas favorites post?  Well, the birch wood beaded garland has been something I wanted to try for awhile.  They look so great when MJ from Greyson Home uses them, I figured I could give it a try!  And I'm glad I did because I love them!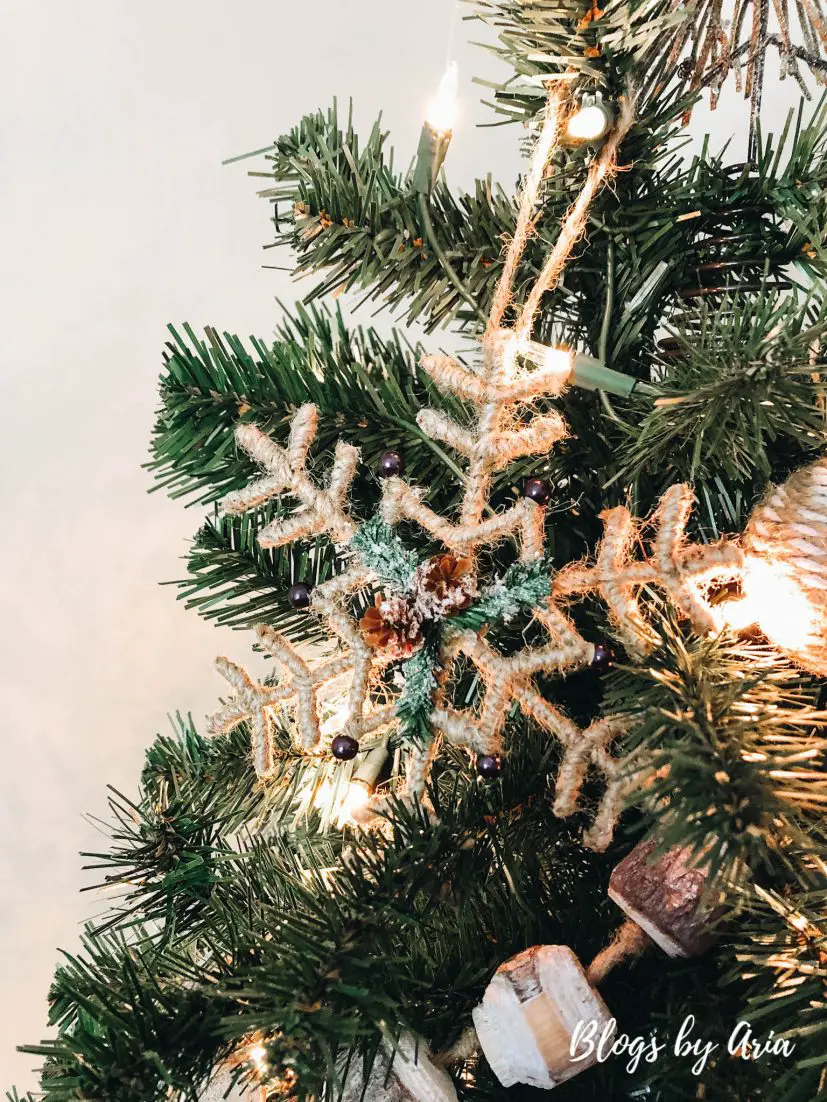 I had fun getting outside of my box and going neutral with my bedroom Christmas tree.  Many of the ornaments are from Hobby Lobby, Walmart, Kirkland's and Joann Fabrics.  Things are really selling out so quickly this year, which is part of why I wanted to decorate so early so I could share with you.
Also if you scroll up you can see the tree topper and the tree skirt.  Honestly I've given up on finding the perfect topper for this tree.  To be honest, a tree doesn't require a topper.  I picked this one that I have up from Walmart this past weekend, and took the red bow and berries off. Honestly, I'm not loving it.  I just think this tree isn't meant to be topped!
I didn't purchase a tree skirt for this tree, I just used my faux fur rug I already had and wrapped it under the tree.  If I had one with some darker faux fur it would've been even better!
CHRISTMAS BEDROOM SHELF STYLING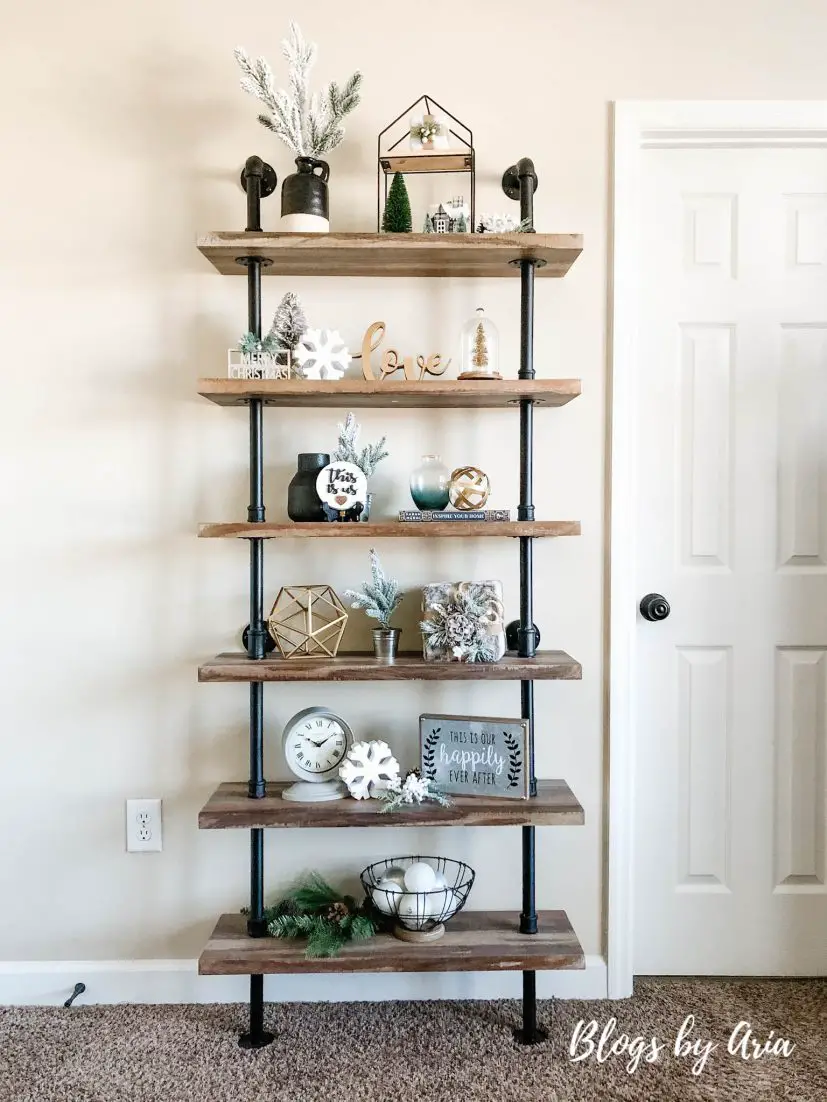 The Christmas decor doesn't end there, I added a few festive touches to our bedroom shelves.  Sometimes my shelves are more functional but for Christmas it's all about the holiday decorations!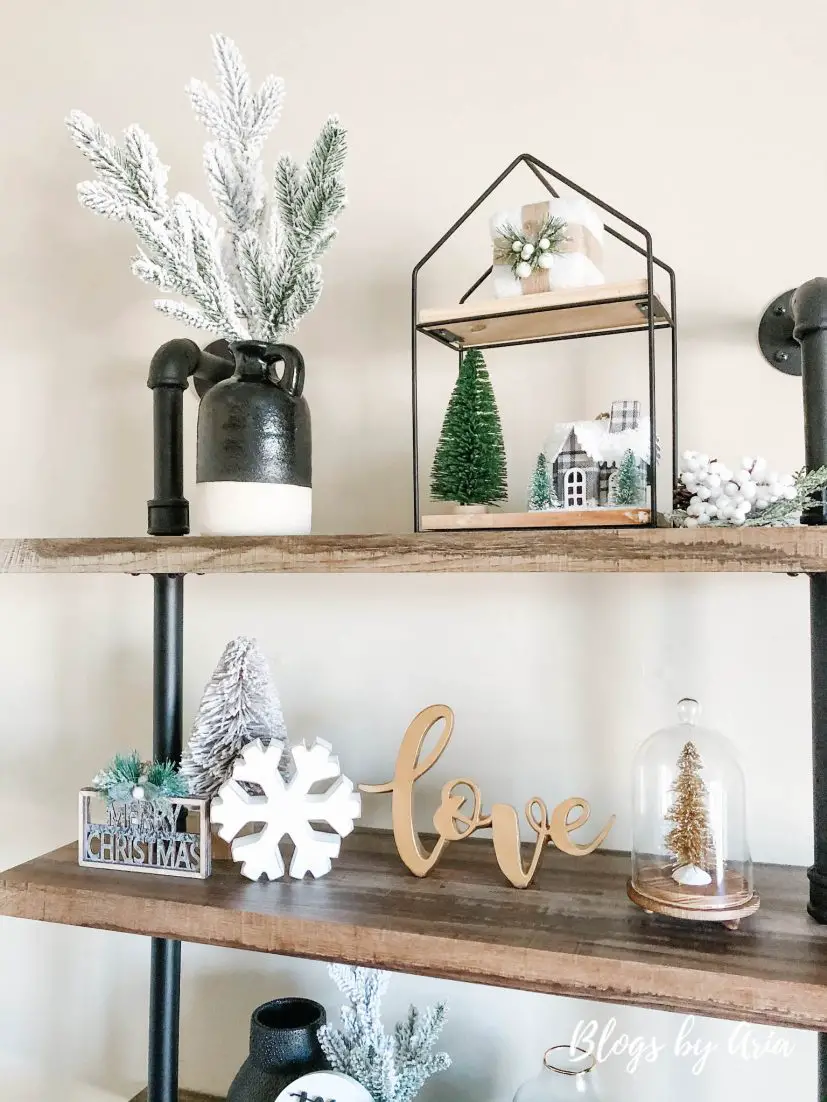 A lot of the decor is from Hobby Lobby and Target.  I'm not going to link it all because so much of the decor from Hobby Lobby is sold out online but you may be able to find them in your local store.
The flocked stem in the black jug is from Target.  Target has had so many great pieces for Christmas this year from their Wondershop line, Hearth & Hand and Threshold.  On the far right, I have a gold tree that I can't recall if I got it from Walmart or Target, inside of a mini cloche that I got from Amazon.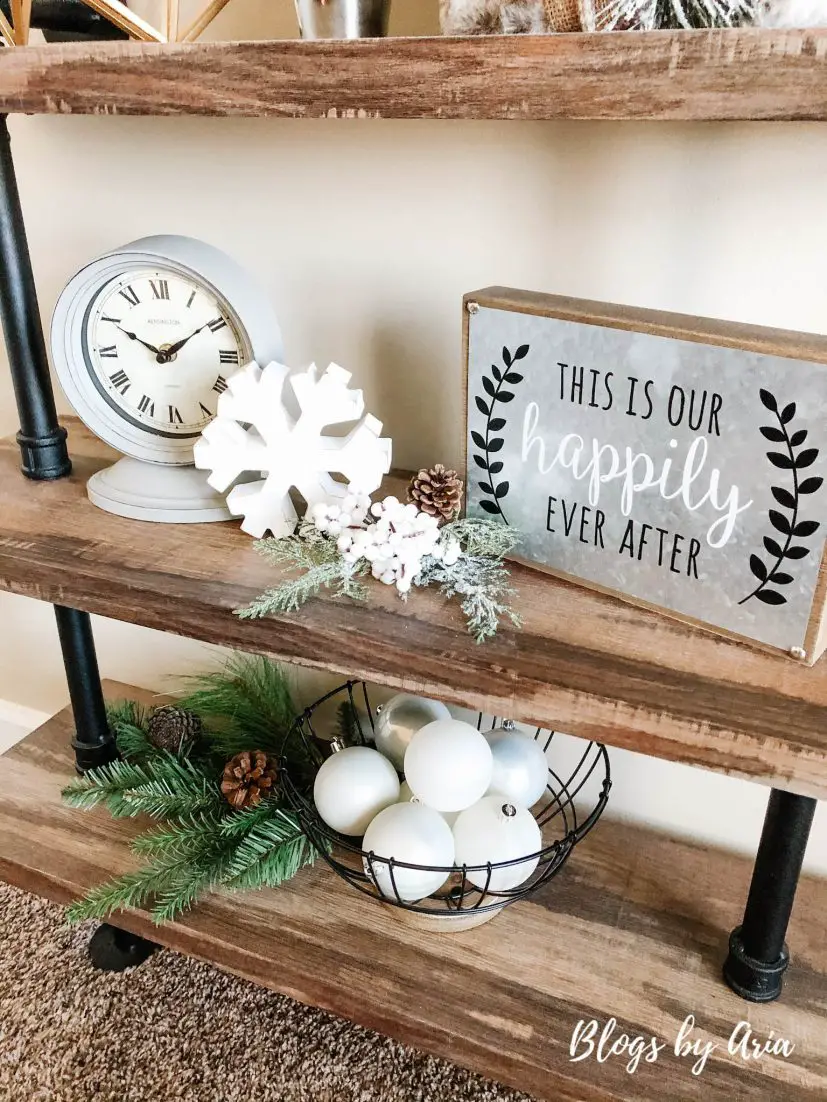 Walmart has some cute clip on picks that are a dollar or two.  I used these two neutral ones on this shelf and just tucked the clip on part behind another item.
The pinecone greenery pick is from Hobby Lobby last year, they have so many great picks!  Same thing, I just tucked it behind this bowl of neutral ornaments.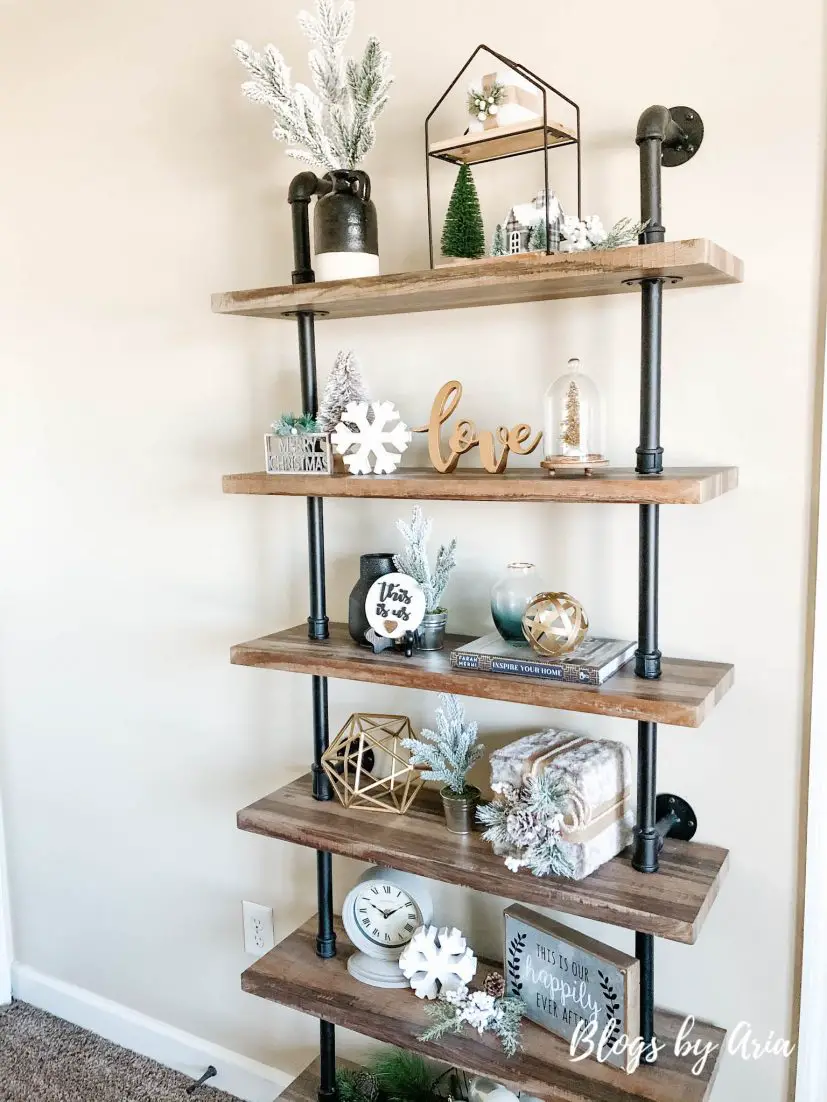 As I share more of my home decorated for the holidays you'll see I have a few of these potted mini trees.  Another fun Target find!  The faux fur present is from Hobby Lobby.  I was looking for the larger white one but I should've picked it up when I first saw it a few weeks ago because now I can't find it in store.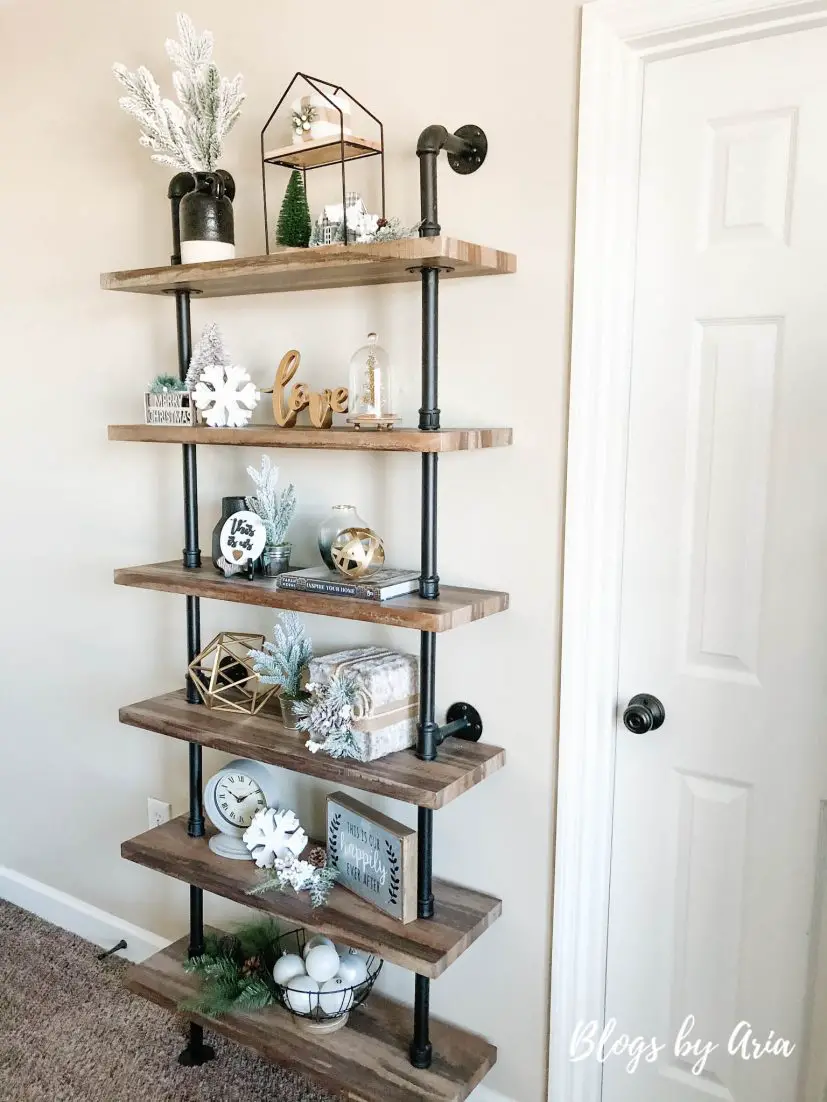 I am so thrilled with how my shelves ended up turning out!  And my whole bedroom!  I can't believe my husband was on board with all the Christmas decor in our master bedroom.  But I'm so glad he got on board and he admits that it looks really nice and cozy.
Hopefully you got some inspiration from my Christmas bedroom and you find something you may want to incorporate into your decorating this year.  It's a dream come true to finally be able to share this space with you.  Whether it's a holiday throw or pillow, a mini tree or a full size tree, try to bring some holiday cheer into your bedroom and you'll be so glad you did. ♥