Happy Monday!  Can you believe Christmas is next week?!  I know I can't, but I'm actually ready for it.  Once December first hits, the whole month seems to move at warp speed.  All of the decorations are up and all the gifts are purchased.  But I wish we had more time for Christmas movies and all of the fun festivities that the season brings.  Along with squeezing in those things, I'm also trying to squeeze in sharing all of my Christmas decor with you.  Today I'm going to show you my red plaid Christmas tree featuring tartan plaid, lots of red berries and full of ornaments!
*this post includes affiliate links for your shopping convenience, you can read more about affiliate links by reading my Disclosure*
Last year was our first year with this gorgeous Christmas tree from Home Depot.  I decorated it in tartan plaid and this year I took that up a notch or two!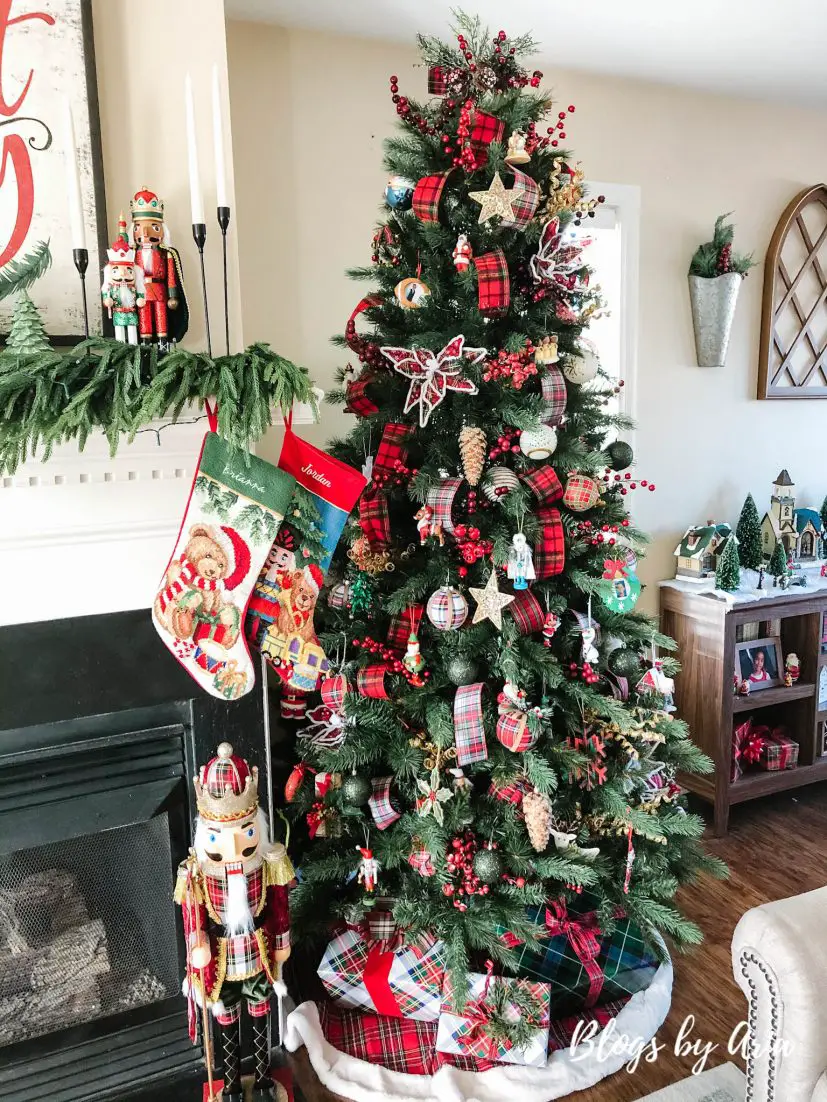 As much as I loved using my cozy knit garland, I really needed more to make an impact on this tree.  So I decided to make ribbon the star of the show.  I used three main types of ribbon all in the tartan plaid print.  A soft, flannel-like textured tartan plaid ribbon I got from Michael's, this great wired tartan ribbon from Amazon, and the Stewart tartan plaid ribbon from At Home.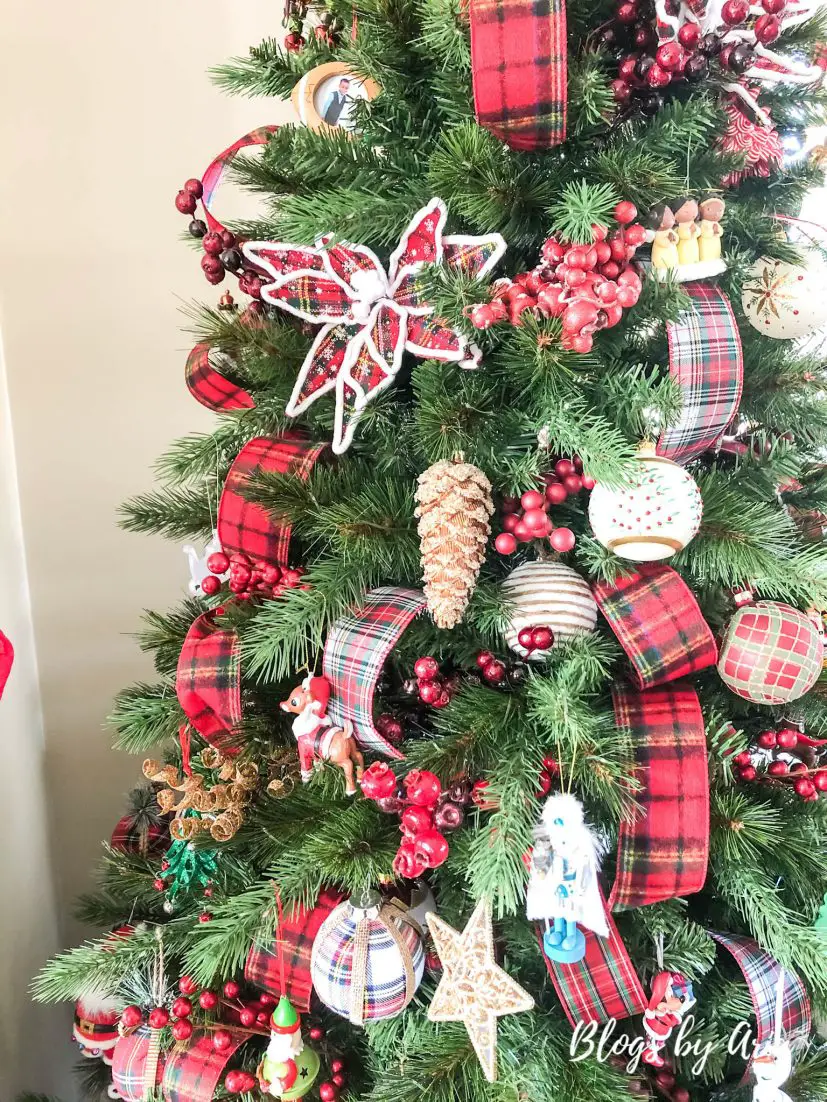 Another fun find from the At Home store were these tartan plaid poinsettia picks.  They add a unique touch.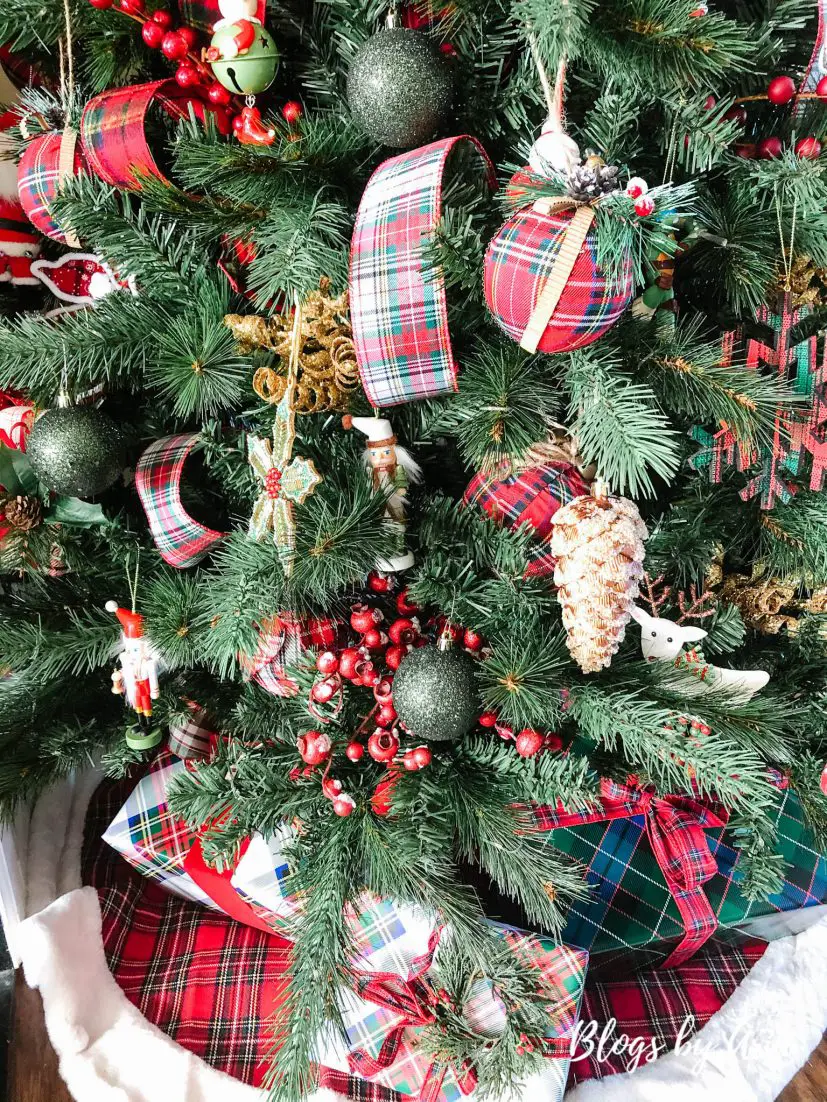 Throughout the tree I tried to bring in ornaments with tartan plaid prints.  Both in the classic red plaid and the Stewart tartan plaid.
This year (don't mind the mess on the left) I was inspired to add a lot more ornaments than I'm used to.  Usually we add a few new ornaments each year that the kids and I pick out.  Well, this year of course was very different and I did buy a few new ornaments.  And then I bought a few more.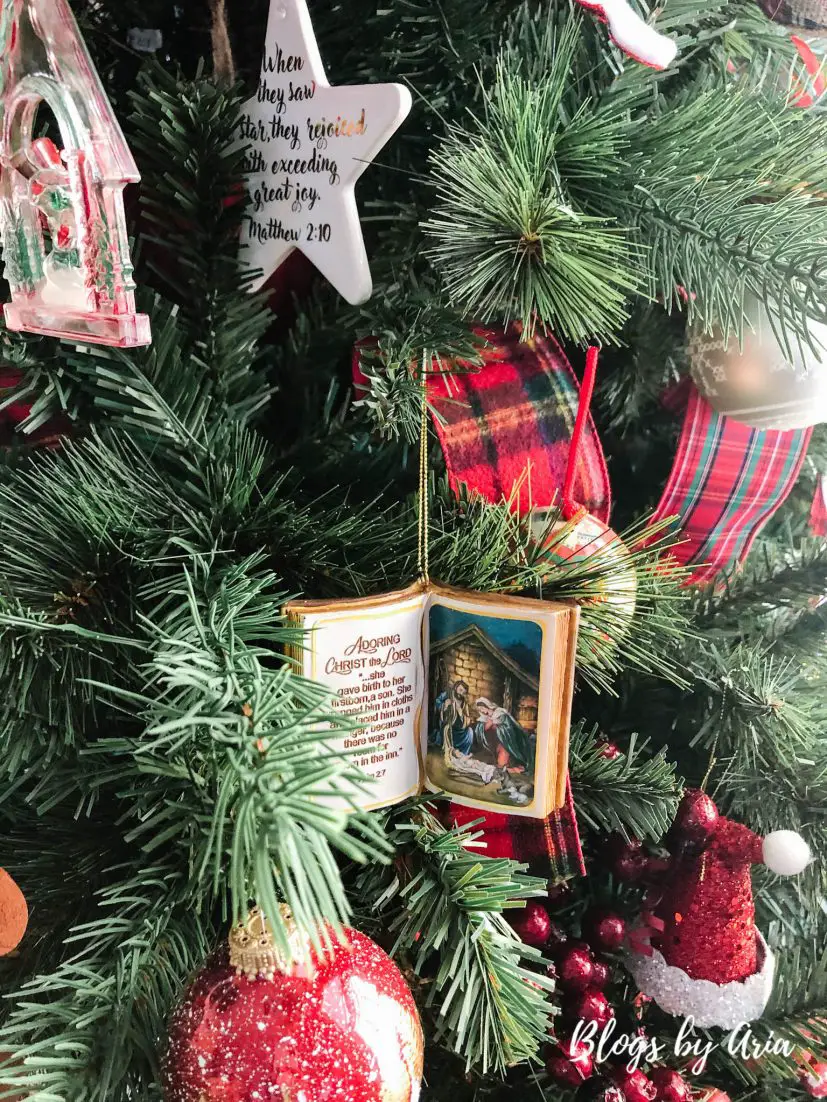 The star and the bible are both new ornaments this year I got from Hobby Lobby.  My kids aren't a fan of them, but the champagne sparkly pinecones are some of my favorite new ornaments that I got, also from Hobby Lobby.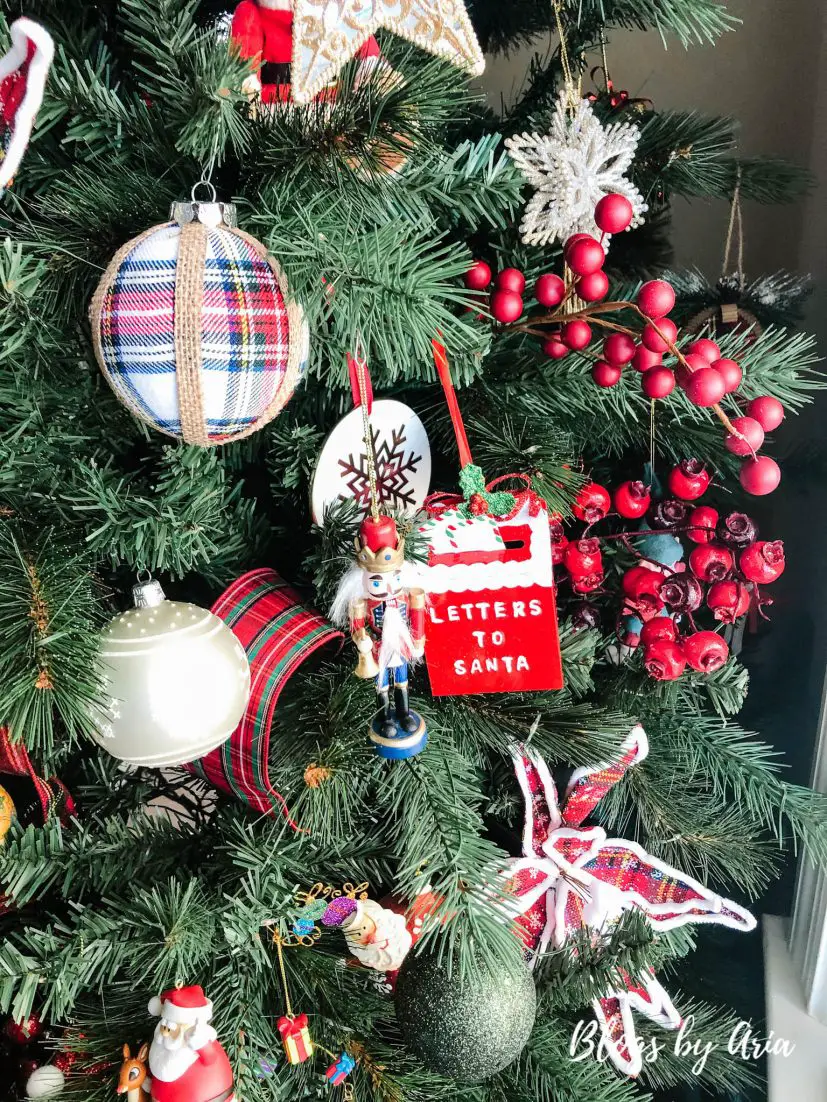 I just wanted to load up the tree with ornaments!  And with lots of berry picks.  You'll see a few of the same style berries that I have on my flocked dining room tree.  You'll also, if you look close enough will see a few of the same neutral ornaments I got for my neutral bedroom Christmas tree.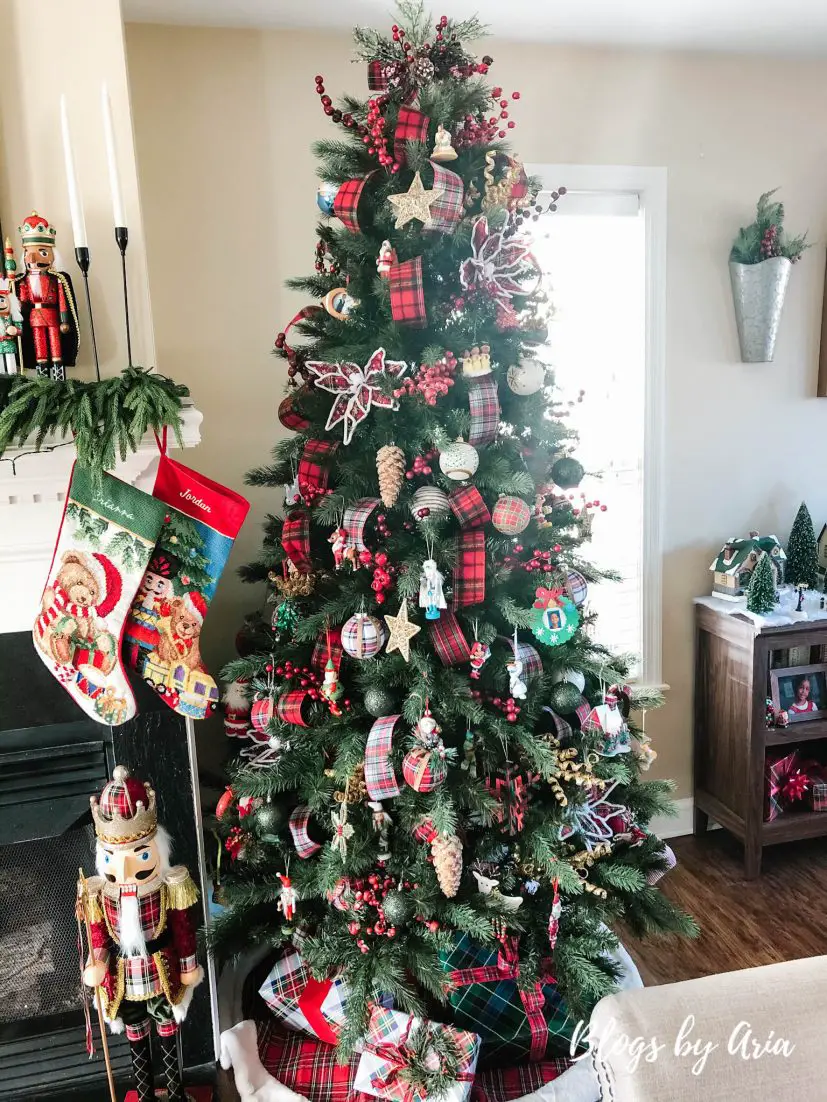 This year I also added some inexpensive gold picks just to switch things up a bit.  If I had known I wanted to add gold or silver picks, I would have had more options to choose from earlier in the shopping season.  But I do like how they add a touch of sparkle and glam.  I look forward to adding more metallics in the future.
To add more of the tartan plaid touch, I got a new tree skirt from Target.  They also had a white tartan plaid version that I was going to get but at the last minute I changed my mind.  It had a little more black than I preferred and the red tartan plaid is such a classic print, I look forward to using this one for years to come.  Underneath this tree skirt is my cable knit tree skirt from last year to give it a little oomph.
And to drive home the tartan plaid theme even more, I wrapped a couple of gifts in a couple of tartan plaid wrapping papers.  I got them from Amazon and I shared them in my ode to tartan plaid post.
Last but certainly not least, I got a new tree topper this year.  It has a tartan plaid ribbon.  The ceiling in this house is just a smidge shorter than in our previous home.  So the tree topper isn't really on the very top.  I have it wedged in there to where it still looks like the top and won't fall.  I'm so glad we didn't get a larger tree last year!
You can find all of the details of my Christmas living room here!
Every now and then I will turn on the multicolor lights for the kids.  LED multicolor is definitely not the same as traditional multicolor lighting so I rarely have the tree on this setting.  But it's still beautiful!
When it comes to decorating our Christmas tree I am always going to do our main tree with all of the ornaments.  I know so many like to have styled or themed trees.  For me, whatever tree is in our living room or family room will always be traditional and filled with ornaments that we've collected over the years.
I love our red plaid Christmas tree and it makes me smile every single day.   I'm already sad to think of taking it down.  So I will cherish it every day for the next couple of weeks. ♥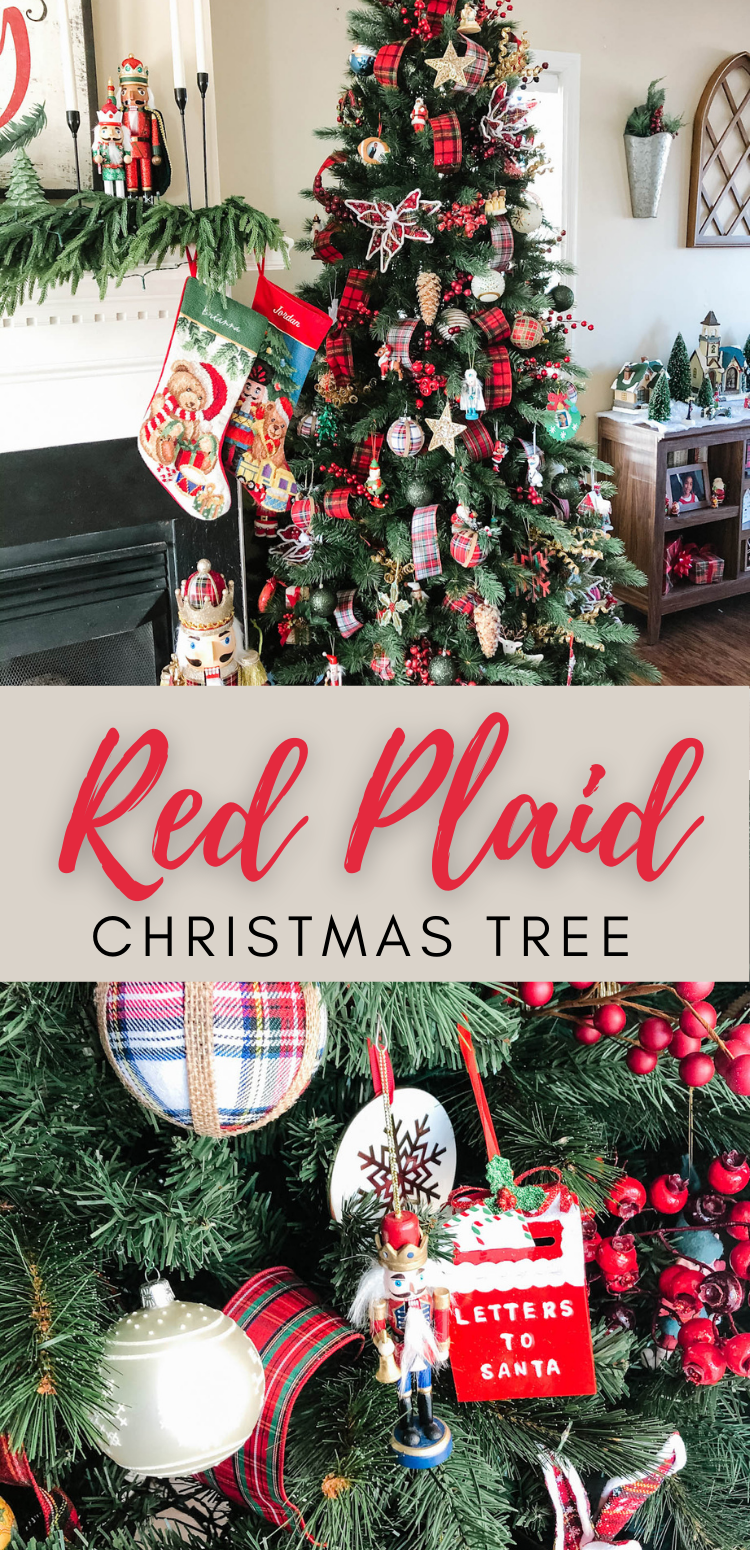 MORE HOLIDAY DECORATING POSTS