It's another beautiful day and another beautiful Parade of Homes tour!  Today we're taking a  look at Jameson Cove.  I always love to tour homes to get inspiration for my home from both a design and architectural aspect as well as for home decorating ideas.  I hope you're inspired by today's home tour too!
*this post includes affiliate links for your shopping convenience, you can read more about affiliate links by reading my Disclosure*
Jameson Cove has four bedrooms with four and a half bathrooms and comes in at 4,292 square feet.  Located in Apex, North Carolina, at the time of viewing it was listed at $929,000.
This is a very new build area, in kind of a cove style of neighborhood.  Hence the title 🙂  I viewed another home in this neighborhood which I'll be sharing soon.  I think all in all this little cove style neighborhood will have less than ten houses.
ENTRYWAY
Sometimes I can view a home more than once.  I've found that when there are a lot of Parade of Homes houses available in a neighborhood that brings more crowds.  Understandably so, because you can see a lot of homes without having to drive all over the place.
Because there weren't a lot of viewers in this particular neighborhood I came back to this house and tried to take more pictures horizontally.
You can see as you walk in how open and inviting this home is.
FORMAL DINING ROOM
I absolutely love the wall and ceiling trim work in this dining room!  The paint color is beautiful too but I couldn't quite capture it's beauty with my photos.
OPEN LIVING ROOM
I didn't get as many shots of the living room as I would have preferred but you can see how open the layout is.  And you can get a glimpse of the kitchen.
KITCHEN DESIGN
One area of the Jameson Cove house that I'm not really loving is the kitchen.  Honestly I found the kitchen rather boring.  I can appreciate the attempt to bring more light into the space with the two windows, but I really don't like the look.
BUTLER'S PANTRY
The window in the butler's pantry is a nice way to allow more light.  To me it seems more organic placed here versus the kitchen.  Frankly there's a lot of natural light that comes in to the living and eating area, I just don't see the need for the windows in the kitchen.
In addition to the cabinet pantry storage in the kitchen (which I do like) there is also a traditional pantry.  I did find it rather odd that the microwave is in here…not the fact that there is one in a pantry because I've seen that a lot.  But it's a regular microwave.  Almost as if it was an afterthought.  Maybe I'm just being picky, you tell me.
INFORMAL DINING ROOM
While I may not love the kitchen, I absolutely love the breakfast room!!  We might as well just call it the informal dining room because it far exceeds a breakfast nook.  Of course I love all of the natural light.
Here you can get a better idea of the scale of this room!  And look to the right…
COVERED PORCH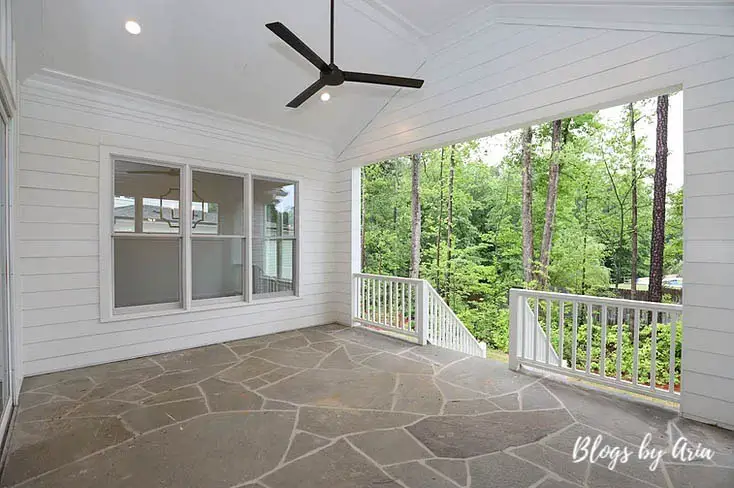 A beautiful covered porch!  The yard leaves much to be desired but I know that isn't high on everyone's priority list.
MASTER BEDROOM
The master bedroom is located on the first floor.  It features vaulted ceilings and feels very comfortable and relaxing.
MASTER BATHROOM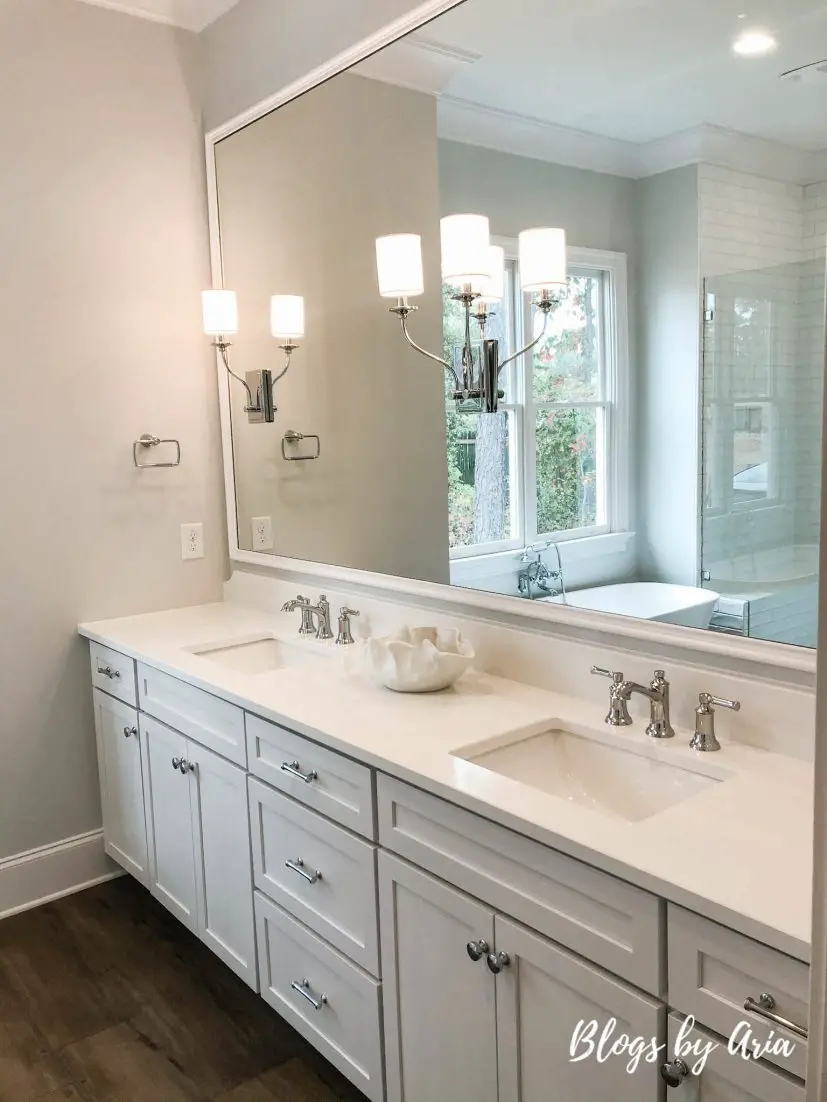 The master bathroom is a nice size and has a few features I like.  Starting with the light fixtures above the sinks.  This soaking bathtub would be lovely.  I love the clawfoot tub filler. (similar here)
The large walk in shower features a beautiful ceramic shower tile (similar here) and a distressed, vintage style shower floor tile (similar here).
WALK IN CLOSET
Another room that gets an A from me is the master closet.  I mean look at all of this storage!  I'm always a fan when a full length mirror is included in the design because it's a must have.
RECREATION ROOM
The bonus room is very comfy and cozy, perfect for kids, teens or adults.
Jameson Cove actually has a third story that features an additional bonus room or play room, a full size bathroom and unfinshed storage.  These are the stairs that lead to the third floor.  I always love when a builder makes great use of every square foot, like they did with this walk in linen closet.
BATHROOM DESIGN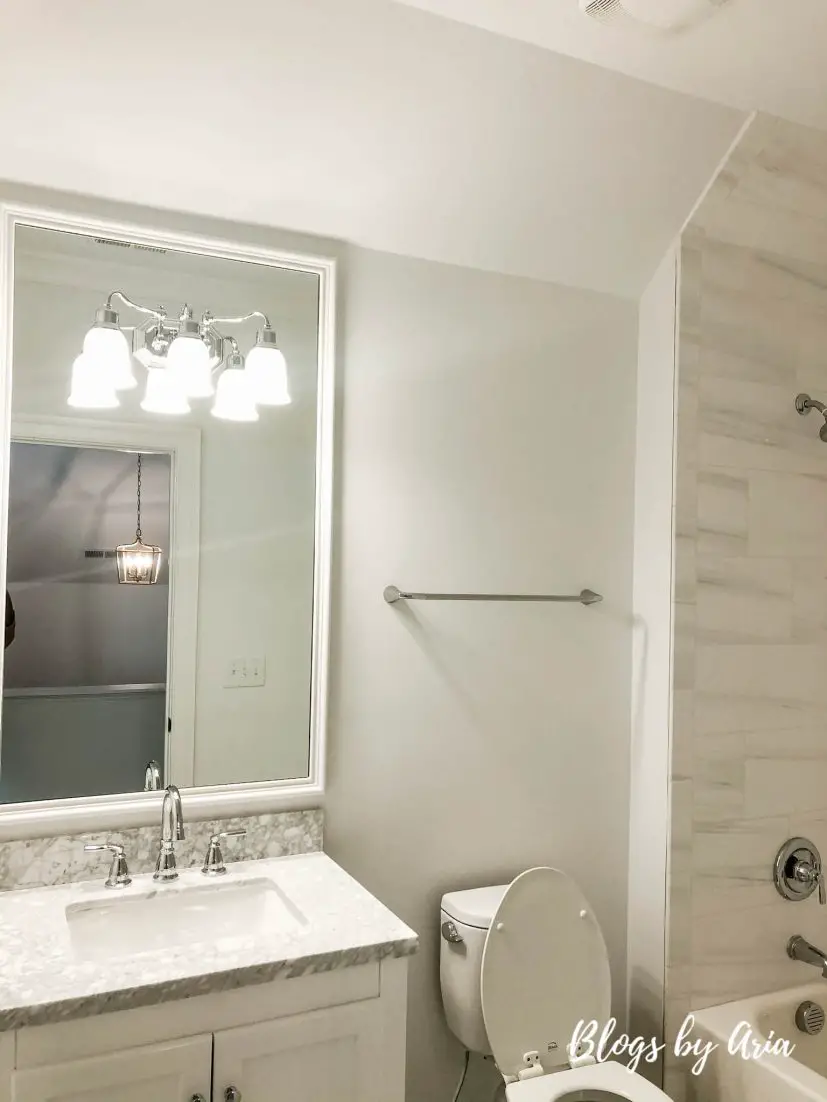 A lot of times when I tour these Parade of Homes houses they're not staged in a lot of the secondary bedrooms and spaces.  So I tend to just take pictures of the bathrooms.  I'm seeing more and more bathrooms where the light fixture is affixed to the mirror.  I really like that look, what do you think?
Hopefully you were able to get an overall look and feel of this home.  It's a nice home but I wasn't really wowed throughout the tour.  The exterior is a style that I do like but inside, I don't know, just wasn't me ya know?  Part of that could be that I tour so many beautiful homes that I almost expect to be wowed every single time.
I share so many different home styles from both an interior design and an architectural standpoint.  Some are hits and some are misses.  In every home I tour I always think to myself "would I want to live here?"  Doesn't matter the price point, majority of the time the answer is yes.  This time the answer was no.
I still like to share every home I tour to give inspiration.  There's so many more houses I have in store for you!
MORE PARADE OF HOMES TOURS